Michael K. Chen Architecture (MKCA) has designed the architectural renovation and interiors of a 4,000-square-foot apartment for a family of five on Park Avenue on Manhattan's Upper East Side. The apartment has been reorganized to adapt to the lives of a busy New York family, while preserving and accentuating the inherent grandeur of the space.
MKCA reshaped the apartment's plan to optimize circulation and the seamless transformation of the home from a series of private, independent spaces into an interconnected, spacious landscape where the family of five can gather together as well as entertain guests. This layout hinges on a pinwheel-shaped circulation zone at the apartment's core, which includes a central elevator landing, formal entrance gallery, and kitchen. Movement through these areas creates multiple opportunities to access the apartment's living spaces, including the commodious formal living room, dining room/library, den, and bedrooms, all which encircle the core. "The regulated fluidity of circulation allows for sprawl across multiple rooms, while also celebrating and activating the formal gallery space, which is such a hallmark of a classic Park Avenue apartment," says Michael K Chen, principal of Michael K Chen Architecture.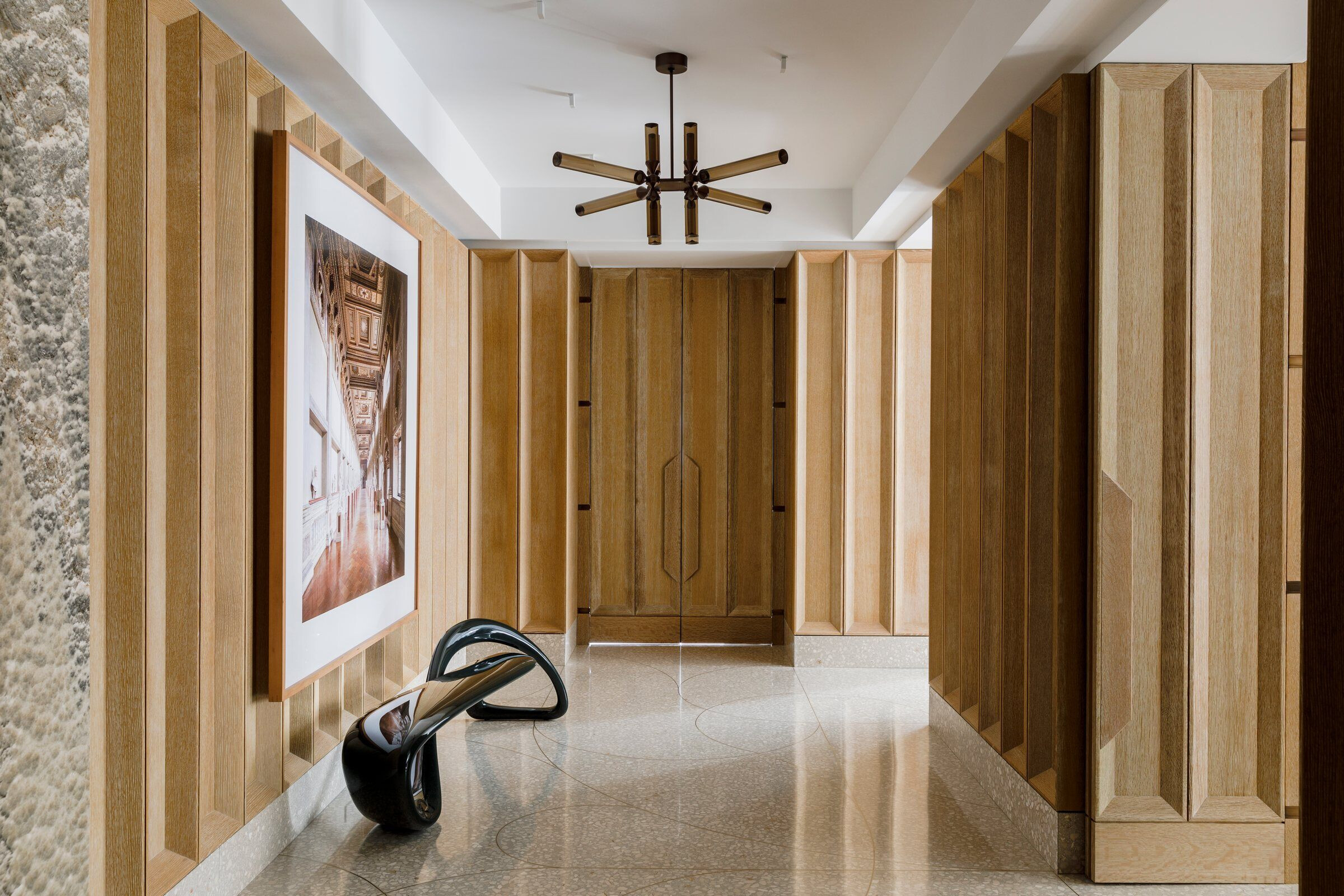 Throughout the residence, doors can be pivoted and slid away and rooms can be deliberately reconfigured as needed, affording space for the family to spend time together, which they described as a high priority, while also allowing for independent activities. This strategy is introduced upon entering the apartment from the elevator, where a full-height entry door is engineered to be held open on its pivoting hinge, and a wall between the entrance vestibule and kitchen is designed to slide away, creating free circulation around the elevator core. Additionally, the standard sheetrock partition is almost entirely banished throughout the apartment, in favor of spaces that flow freely into each other, as in the entry-kitchen-gallery, or are demarcated through thickened volumes that one passes through to move from space to space.
This overarching sense of fluidity is accentuated by the thoughtful application of materiality and volume across the residence, beginning in the entryway. A poured terrazzo floor greets visitors in the elevator vestibule, and continues through the kitchen, adjacent pantry space, mud room, rear bedroom hall, cloak room, powder room, and back to the gallery where it leads into the living, dining, and media rooms. Embedded with a custom pattern of curving brass spacers, the floor literally draws connections from space to space, through a playful and expressive pattern.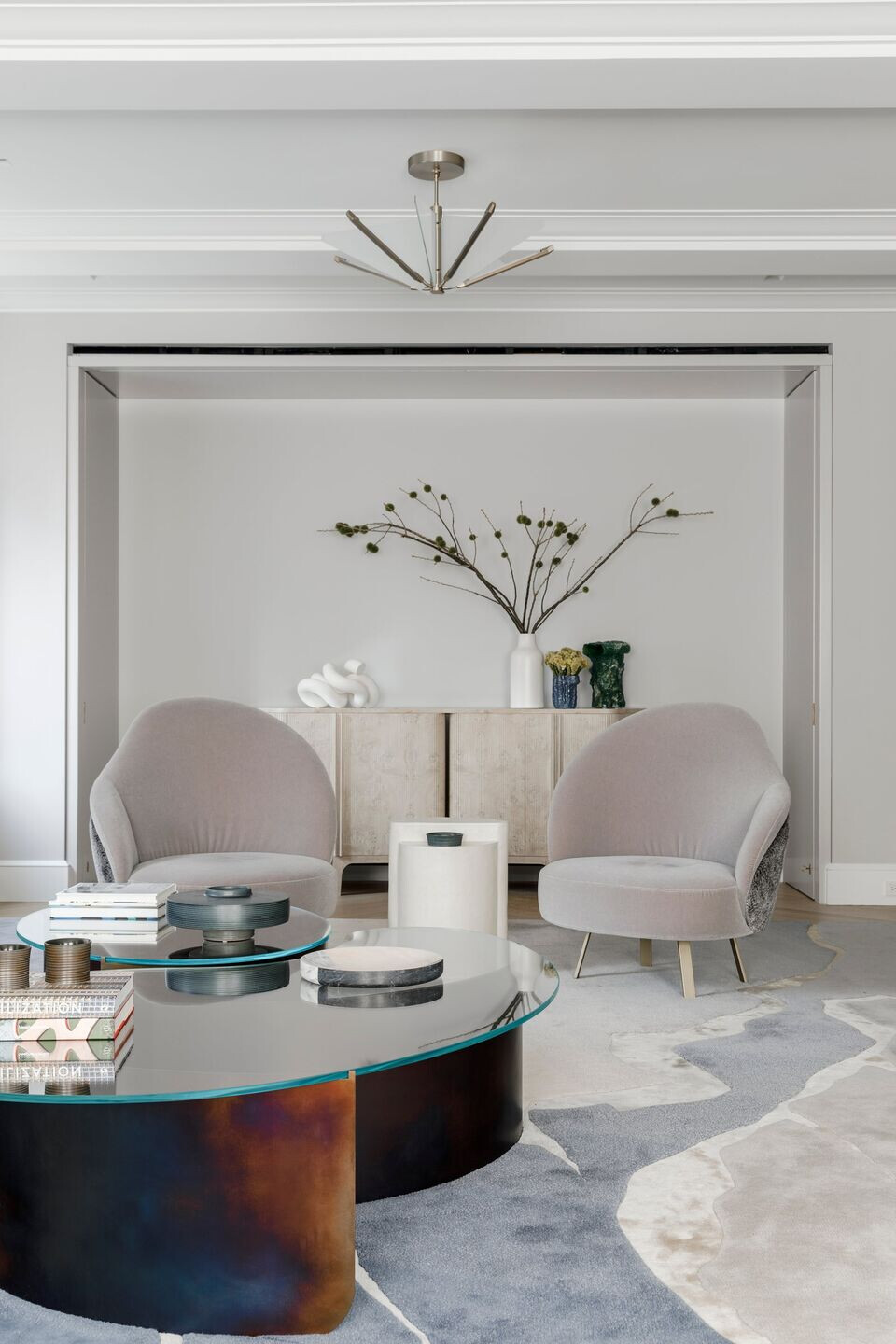 Cerused oak millwork with three-inch-deep coffers lines the entire gallery and circulation zone. While the paneling's rigorous geometry contrasts with the fluid, curvilinear pattern of the floor, it is engineered to enhance the apartment's flexibility. Leading to the den and dining room, the paneling swings closed as a pair of integrated doors with wood handles. In the gallery, lighting and hidden art hanging rails are integrated subtly into the millwork, creating a flexible display system for the family's rotating collection of contemporary photography.
Elsewhere, millwork volumes open to reveal a hidden liquor cabinet in the living room, a home office in the den, and a concealed, lift-up television and integrated display for a collection of glass artworks by Yoichi Ohira in the dining room. Paneling likewise conceals a powder room with a spectacular blue marble vanity and integrated cove lighting. All can be opened and closed with ease, catering to a range of scenarios.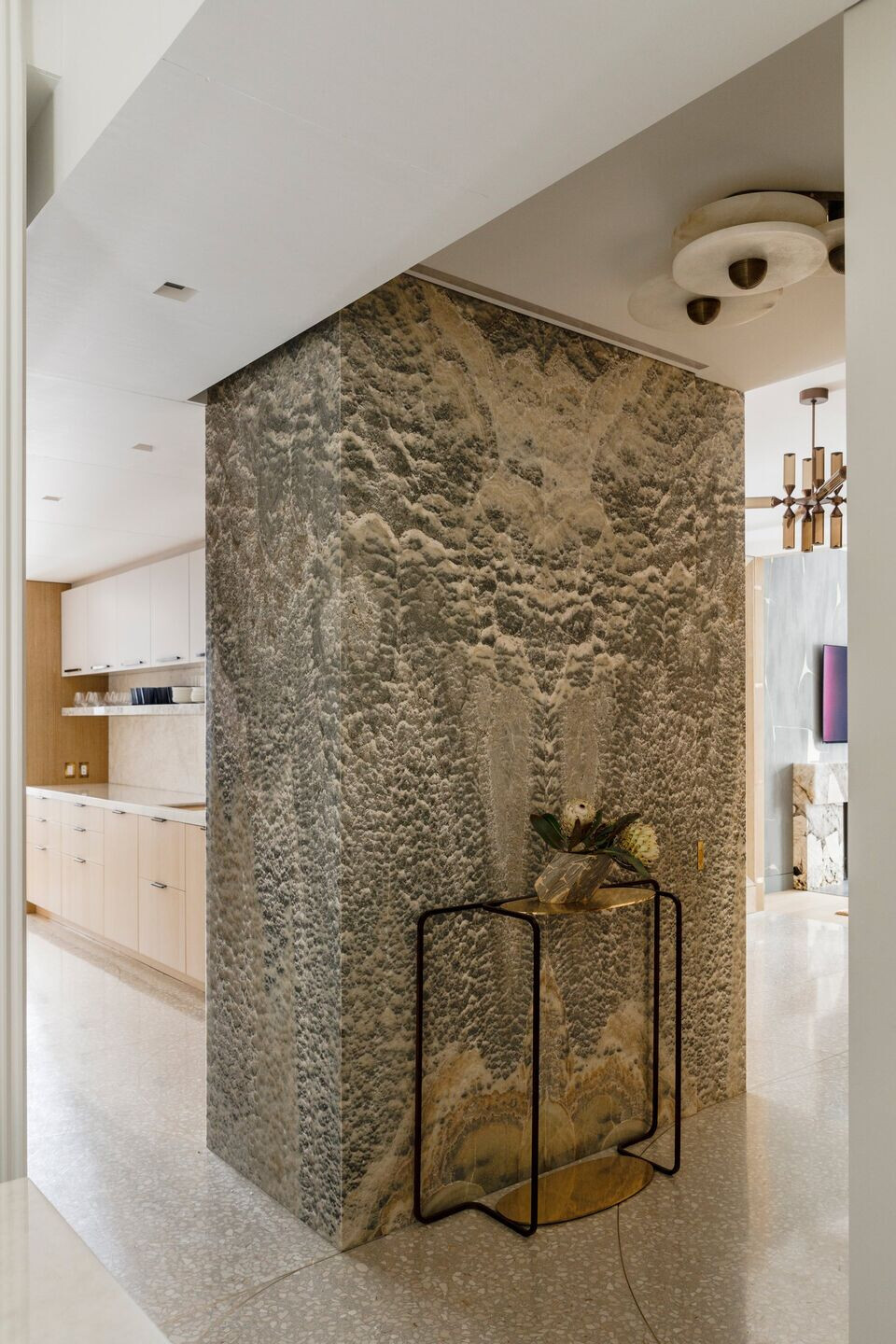 The subtle detailing of a millwork wall that reveals a pair of doors produces a visually rich and tactile environment that can be manipulated to create different spatial and social configurations. The merging of functions at all scales—from rooms that serve multiple purposes to shapeshifting furniture pieces—is a hallmark of MKCA's overarching practice and an essential component of this residence. Here, it supports the family's desire for flexible spaces that can be used either independently, by individual members of the family, or collectively.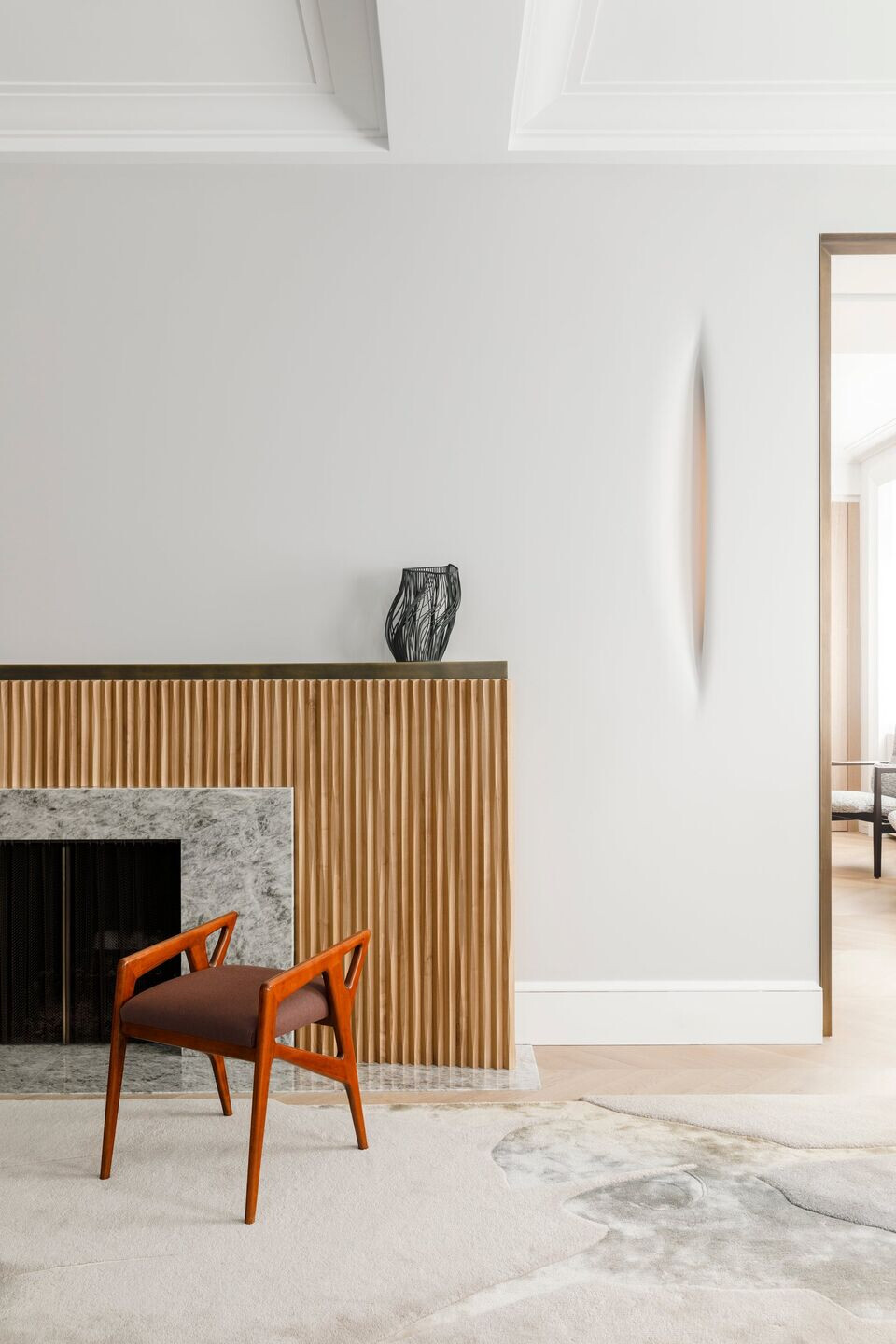 For instance, the dining area and library are fused into one, and the furniture anchoring this room transforms depending on the scenario: The table expands, the banquette breaks apart into chairs, and the chandelier swivels to the center of the room for seamless transition between family meals and formal/entertaining settings. Similarly, a large single seating group in the living room can be arranged to support numerous semi-independent zones or brought together for a group gathering. "Porosity between the dining area/library and living room means that people slip in and out of the rooms with ease. It's a space for casual family meals, reading, hanging out, playing games; and it's also a space for dramatic, large-scale, formal entertaining," says Chen.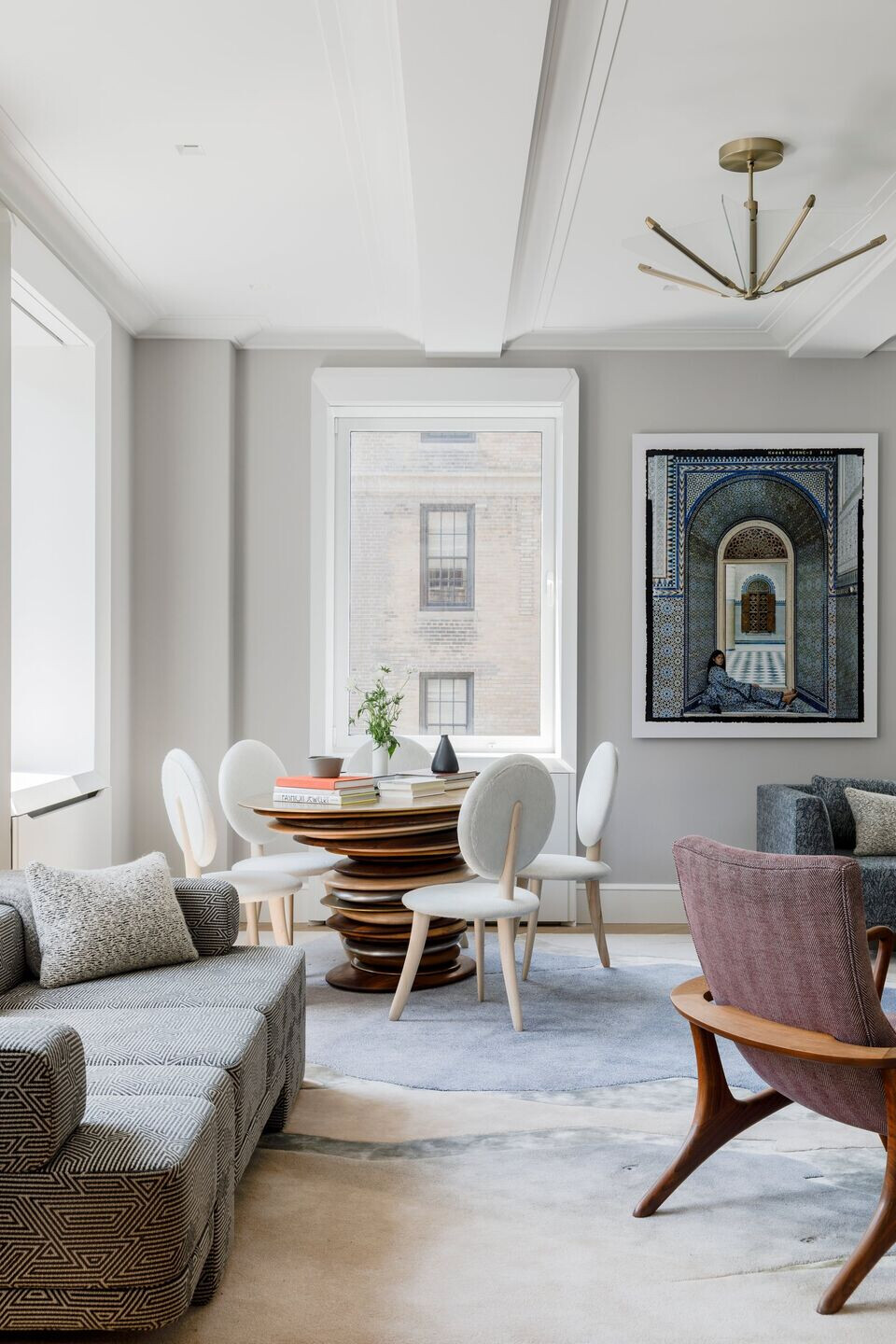 In keeping with MKCA's overarching practice, the studio has designed and commissioned custom furniture across the home, with each piece bolstering the project's emphasis on mutability, tactility, and elegance. The latest result of an ongoing collaboration between MKCA and Christopher Kurtz, the Hudson Valley-based sculptor and designer's striking 12-foot-long dining table anchors the dining area/library. The piece features an undulating, carved aluminum top fused to a rippling underlayer and base in oxidized cherry, while a custom chandelier by Ladies and Gentlemen Studio hovers above, rotating softly on a custom mechanism. "We created a process where the collaborating designers were always aware of each other's work throughout. As with all of our interiors, our approach has as much to do with connecting and creating an actual dialog between collaborators as it does with curating relationships between objects," says Chen.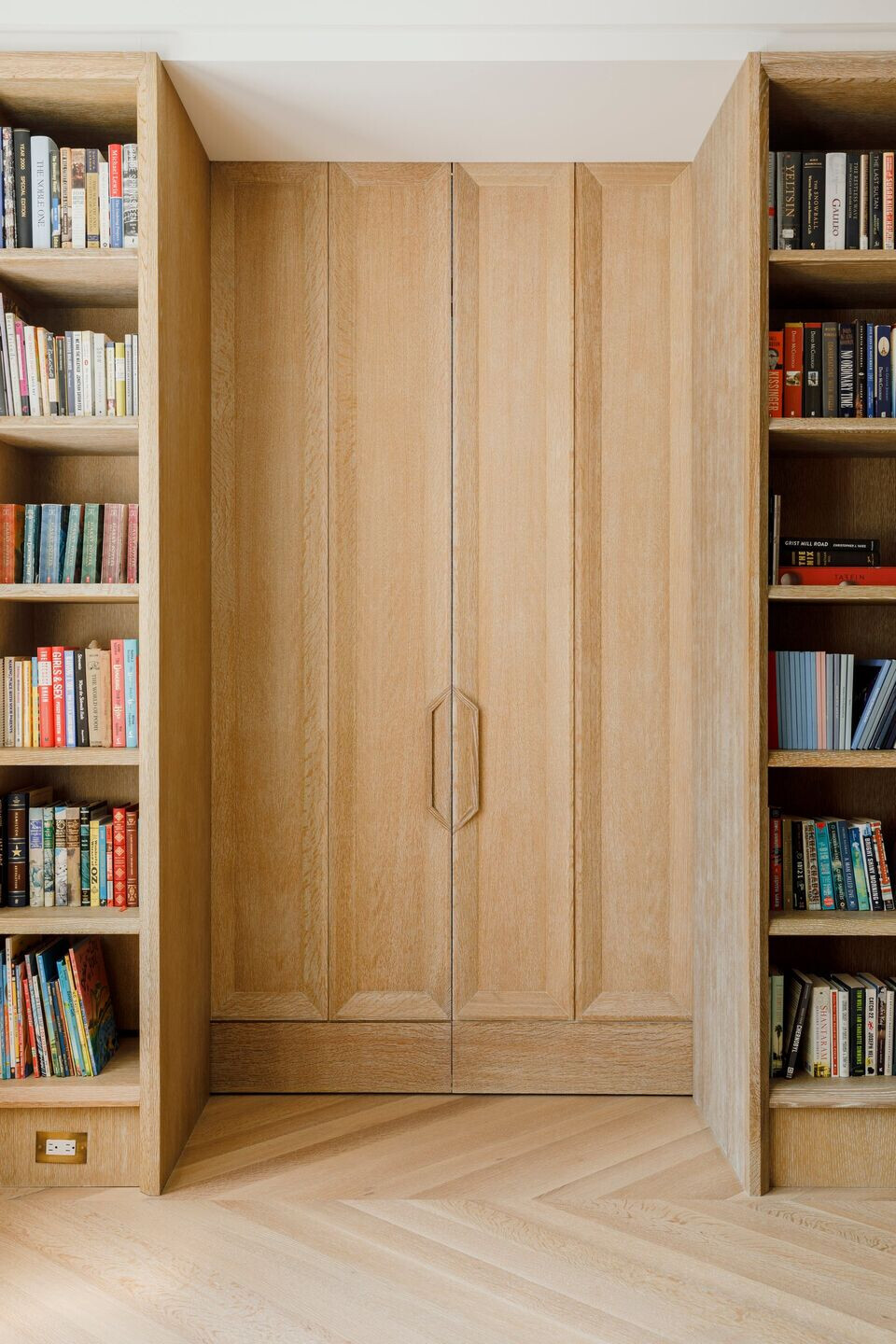 In the kitchen, a muscular island with hefty stone legs is set against ribbed walnut paneling, while the main bath is enveloped in rosy venetian plaster, pink Byzantine onyx, and Calacatta Vagli Rosato marble. Throughout the living room, Kurtz's custom carved wood sconces are enveloped within the thickened wall around the fireplace and glow gently through an integrated LED array, while his game tables and chairs resemble stacks of "pebbles" made from a mix of woods (oak, walnut, maple, cherry) and metals (aluminum and bronze). These are paired with a Poritz and Company's custom butterfly bar, whose tambour doors open to reveal a glitzy mirror and glass interior for entertaining, as well as a "Merrick" daybed by MKCA covered in a graphic chenille by Castel, a custom sofa by KGBL, covered in a Holland and Sherry wool jacquard, and a "Tsunami" coffee table in heat treated steel and glass by Kin & Company. Additionally, a pair of vintage gio ponti stools, sculptural lounge chairs by Charles Kalpakian and Vladimir Kagan, and a custom wool and silk "Fracture" rug by Fernando Mastrangelo through Edward Fields accent the space.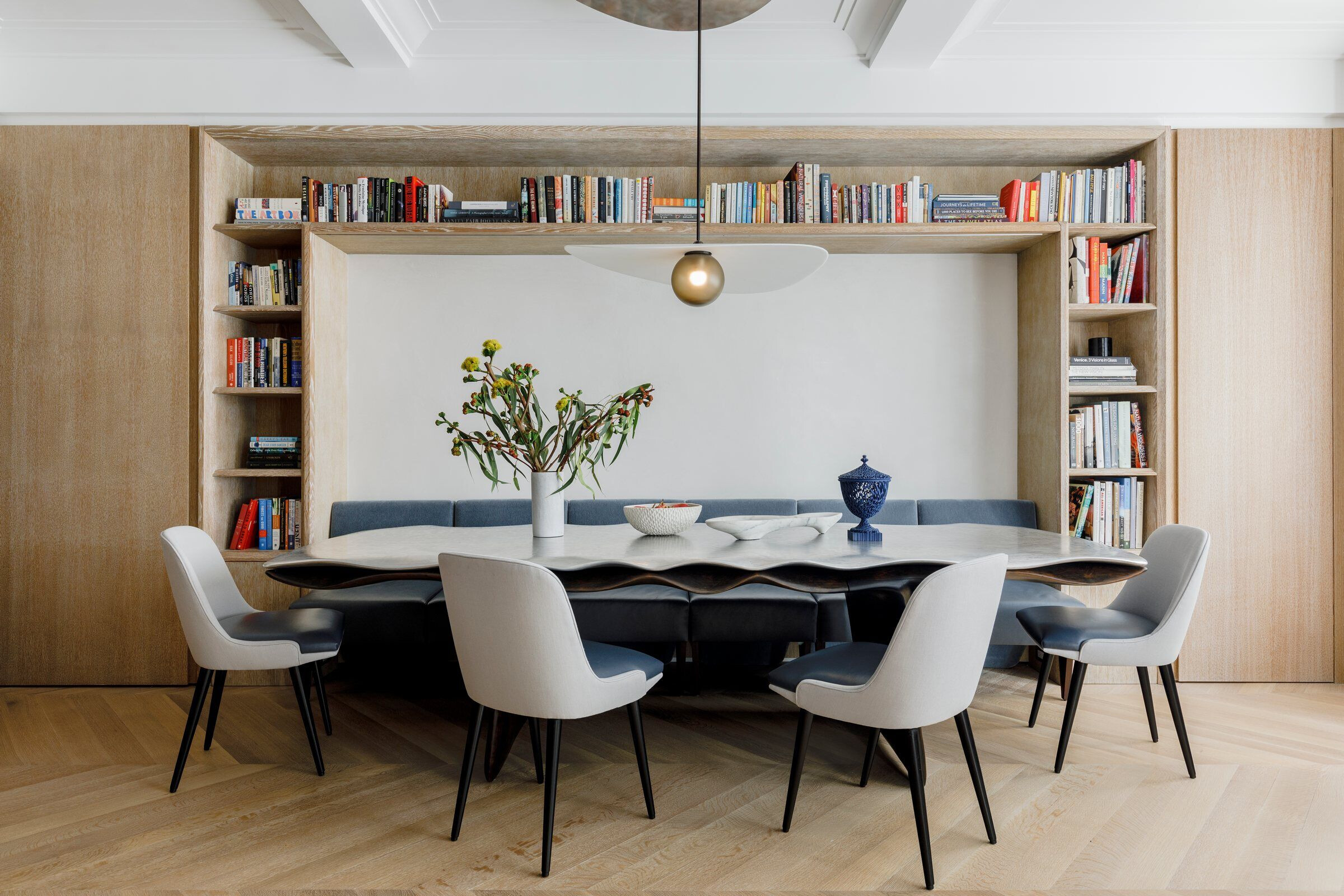 In the main bedroom, silk and sisal wallcoverings join a custom bed designed by MKCA and a custom silk carpet designed by MKCA and made by Tai Ping. The draperies are made from a custom loomed textile in wool, silk, and mohair by Hiroko Takeda. And across the playroom, a hand-printed wallcovering and graphic carpet MKCA created with Stark Carpet complement a range of vibrant, modern furnishings from Moroso and Hem.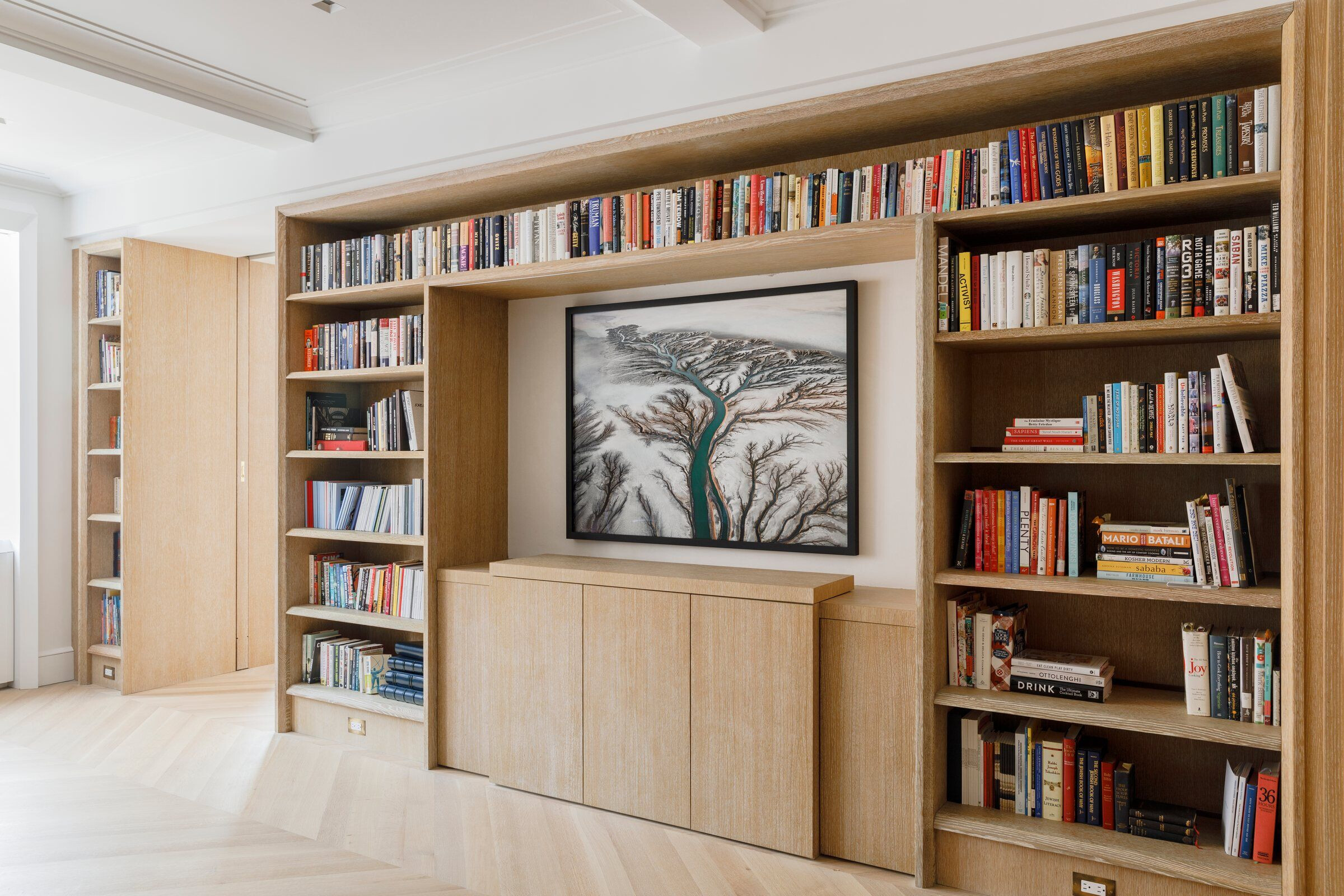 Across the residence, each of MKCA's architectural and interior interventions point back to the project's original motivation: to transform the space into a fluid, elegant modern home while also making daring architectural and aesthetic choices. "From the very beginning, these were clients who asked us to take them outside of their comfort zone. The couple had very clear ideas about how they wanted to live, and how certain rooms should function, but were interested in an approach and an aesthetic that was more adventurous and expressive, but not kooky," says Chen.
"To collaborate with clients who challenge us and who are willing to invest the time and energy into trying new things is really all we need to do our best work."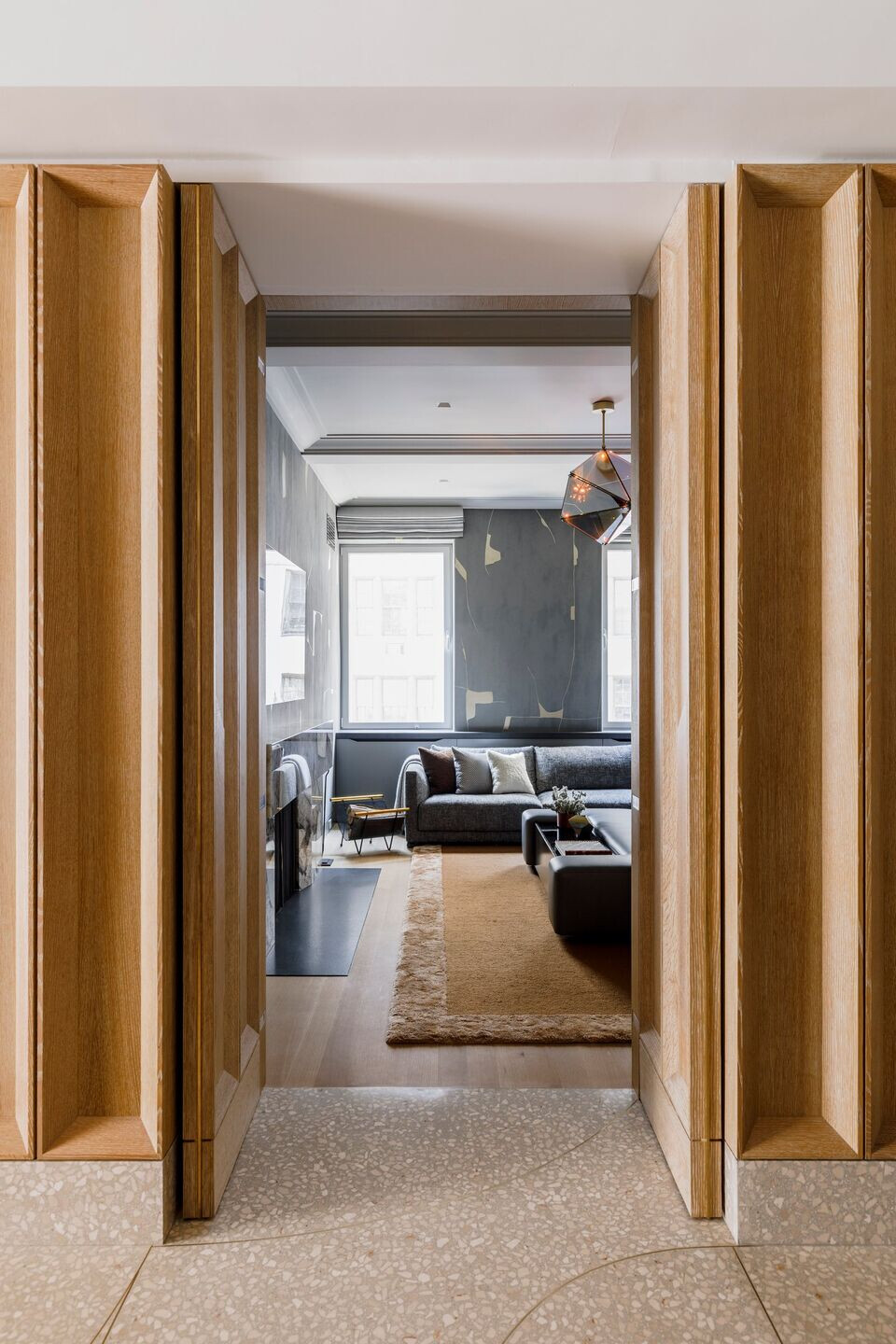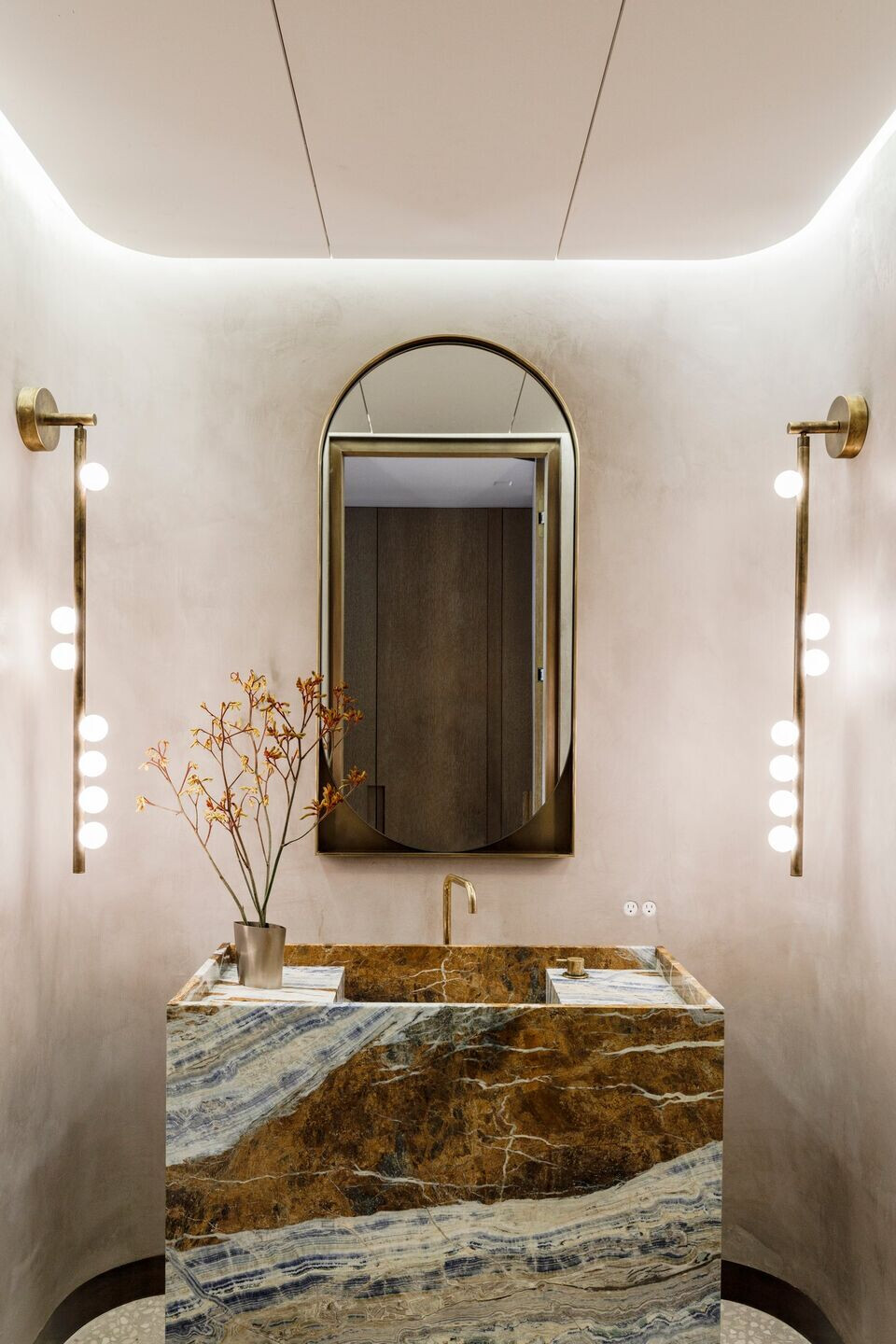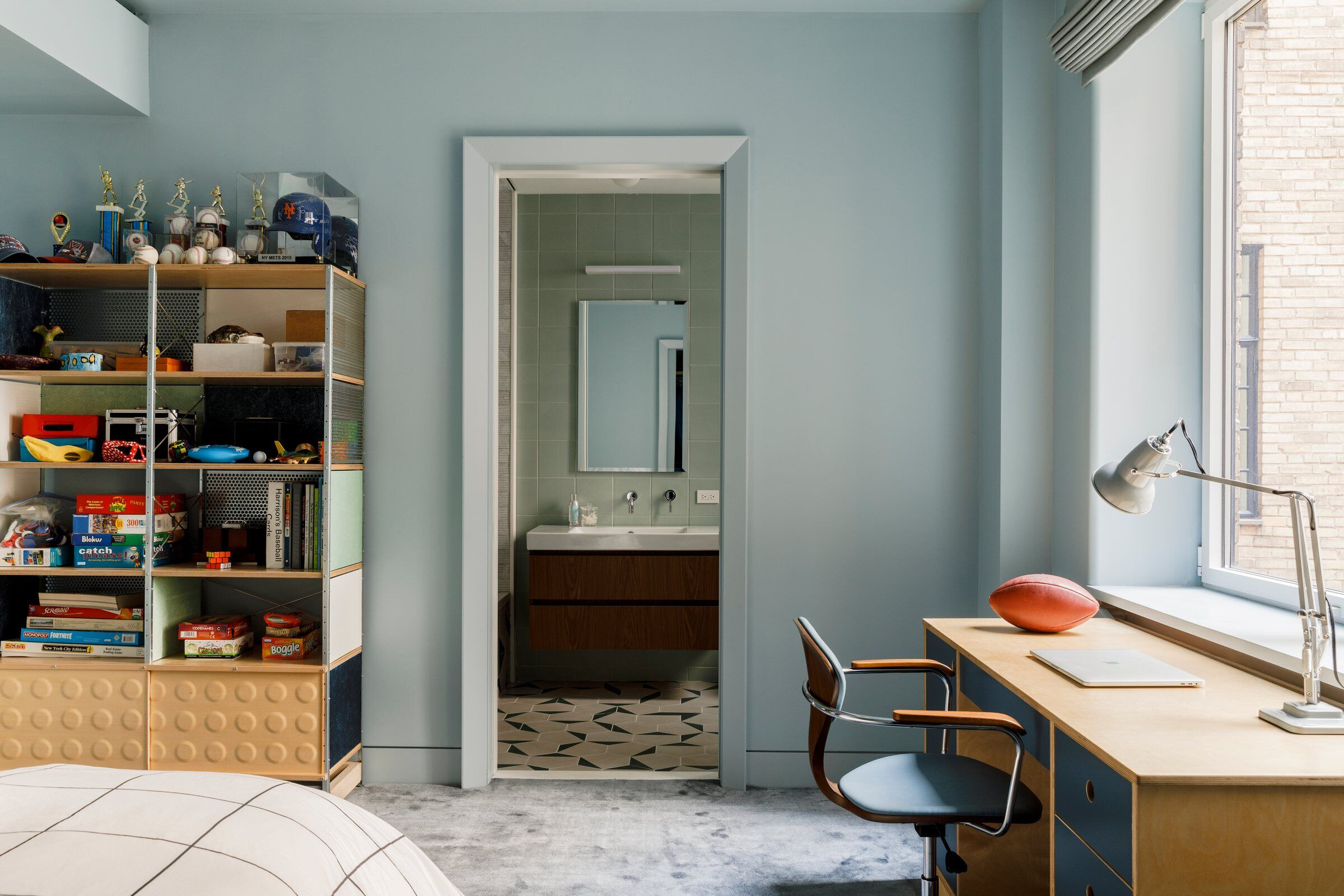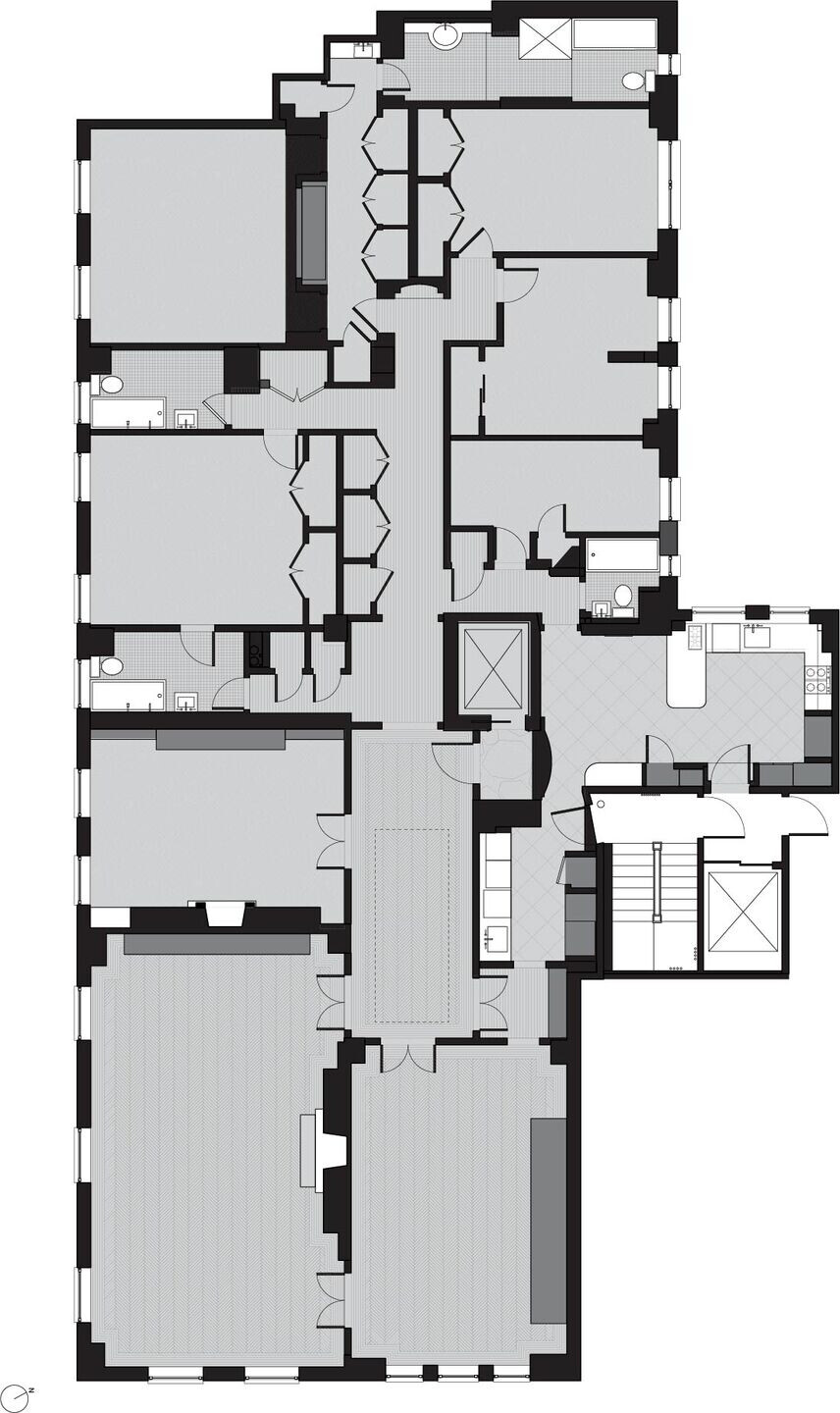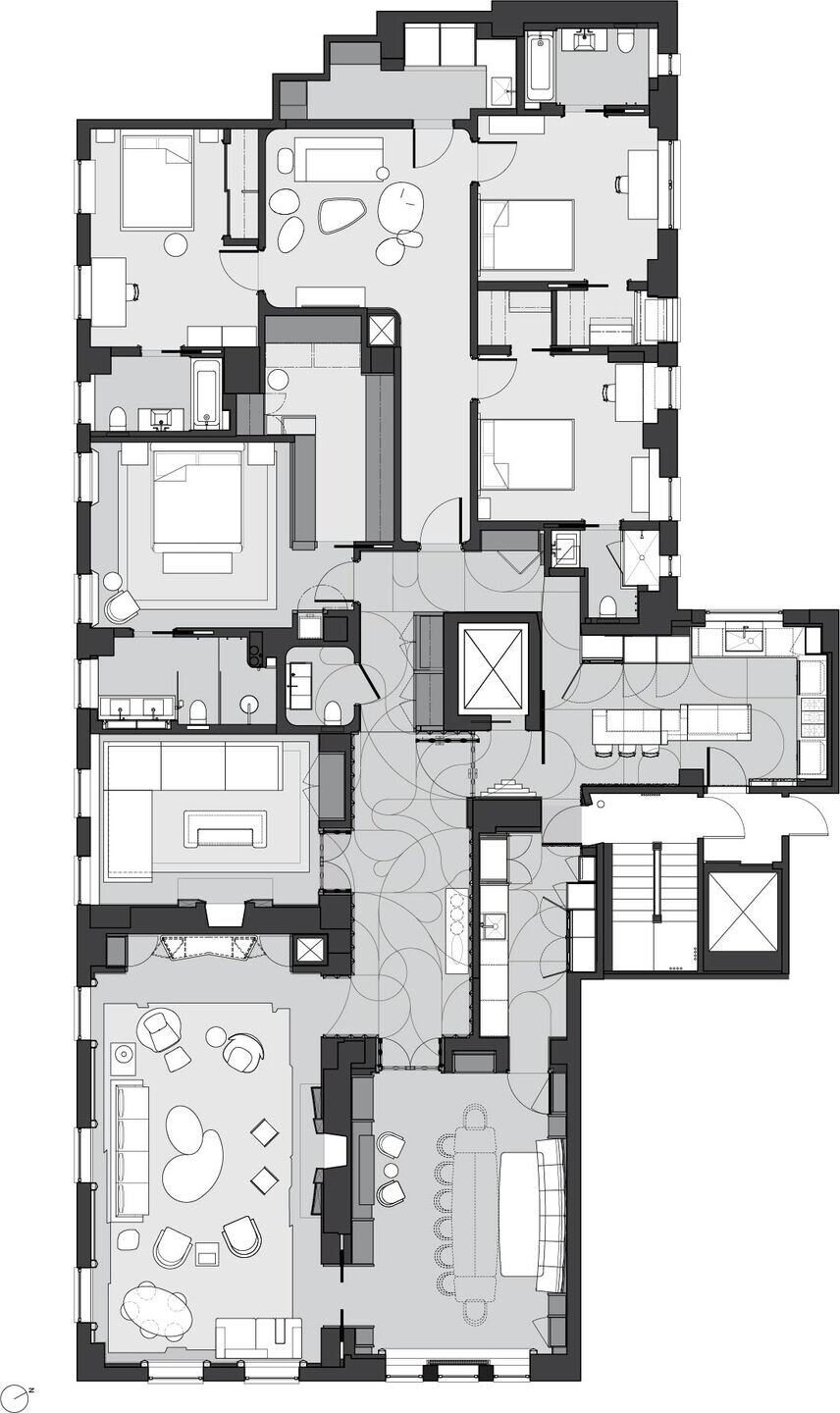 Material Used :
Elevator vestibule
● The elevator opens to face a large pier, clad in figural grey onyx.
● Wall finishes are venetian plaster.
● Console in oxidized steel and bronze is a collaboration between MKCA and Kin & Co
● Alabaster and bronze "Median" pendant by Apparatus.
● Cerused oak door pivots on a single pin via specialized hinges by Frits Jurgens. Integrated bronze hardware is by H. Theophile.
● The floor is terrazzo.
Kitchen
● Cabinetry is by Henrybuilt, with additional customization by MKCA.
● Kitchen Island is Henrybuilt with hefty stone legs and ribbed walnut cladding designed by MKCA.
● Countertops are white Cristallo quartz
● Island is a mix of Cristallo and Ice Grey marble.
● Above the island, a "Coax" pendant by John Hogan for Roll and Hill.
● Cooktop, ovens by Gaggenau. Integrated refrigerators, freezers by Subzero. Dishwashers are Miele.
● Faucet by Dornbracht
● Floor is terrazzo.
Pantry
● Floating plate shelf in Ice Grey marble.
● Countertops and backsplash are white quartz.
● Cabinetry by Henrybuilt.
● Faucet by Dornbracht
● Floor is terrazzo.
Gallery
● Deep coffered paneling in cerused white oak.
● Custom terrazzo floor with hand bent brass inlay.
● HVAC slots and art hanging integrated into the paneling.
● Two "Castle" pendants by Jason Miller for Roll and Hill.
● Photo by Candida Hofer.
● Fiberglass bench by Brodie Neill
● Thickened openings leading into the dining and media rooms can be closed off with integrated pocketing doors on harmon hinges.
Powder Room
● Stone vanity in figural Cassiopeia marble.
● Curved venetian plaster walls with LED cove lighting.
● Sconces by Lindsey Adelman.
● Custom bronze mirror by Kin and Company
● Faucet by Vola.
Living Room
● Custom faceted window casings with automated shades and radiators.
● Custom lacquered niche and cabinetry surround a custom bleached oak burl bar by Aaron Poritz. Illuminated glass and lacquer liquor cabinet at left; air conditioning unit at right.
● Vintage Gio Ponti stools sourced from Nilufar, Milan.
● KGBL custom "Liston" sofa upholstered in Holland and Sherry jacquard wool.
● Customized "Fracture" carpet by Fernando Mastrangelo through Edward Fields.
● Custom coffee table in glass and heat-tempered steel commissioned from Kin and Company.
● Custom Echo pendants by Bec Brittain.
● Custom game table and chairs by Chrisopher Kurtz.
● Integrated carved sconces by Christopher Kurtz.
● Custom bleached walnut, marble, and bronze mantel by MKCA, fabricated by JH Works
● 'Merrick' daybed by MKCA, fabricated by Dune.
● The clients' walnut vladimir Kagan lounge chair and ottoman.
● New chevron white oak floors
Dining Room
● Lined in custom cerused white oak shelving and paneling with faceted hardwood details and integral LED lighting.
● TV on a concealed motorized lift.
● Integral LED lighting and artwork hanging.
● Custom transforming chandelier designed in collaboration with Ladies and Gentlemen studio.
● Custom cold-forged aluminum and oxidized cherry dining table by Christopher Kurtz
● Custom leather and mohair banquette by MKCA, fabricated by Manzanares Furniture.
● Vintage dining chairs by Osvaldo Borsani, through Nilufar
● The Clients' armchairs Jens Risom, recovered in chenille
● Custom display unit with integral LED backlighting and accent lighting showcases the clients' collection of art glass by Yoichi Ohira.
● Photo by Edward Burtynsky
Media Room
● Cerused oak doors and millwork.
● Home office cabinetry.
● Sofa by Poliform.
● Custom leather, walnut and glass ottoman by MKCA, fabricated by Manzanares Furniture.
● Hand painted "Kintsugi" wallcovering by Porter Teleo.
● Patagonia marble fireplace.
● Fireplace screens are custom elements by Tuell and Reynolds.
● Overhead "Maxihedron" pendant by Bec Brittain for Roll and Hill.
Main Bedroom
● Custom upholstered bed by MKCA in walnut and boucle.
● Silk wallcovering by Philip Jeffries.
● Cerused and lacquered millwork.
● Main dressing room cabinetry by Poliform.
● Lounge Chair sourced from Studio Twenty Seven, covered in Loro Piana olive oil colored silk velvet, and wool boucle from Elitis.
● Custom silk carpet by MKCA, fabricated by Tai Ping.
● Custom loomed drapery textile by Hiroko Takeda.
● Vintage Italian night stands sourced via Nicholas Kilner.
● Articulated brass reading lighting by Gentner Design.
Main Bathroom
● Enveloped in rosy venetian plaster, pink Byzantine onyx, and pink and white marble.
● Custom lacquered vanity and mirror with integral lighting cove.
● Acid etched glass.
● Shower is Venetian plaster.
Den
● A hangout zone and TV space for three teenage children.
● Carpet by Stark, with a custom shape seamed on site
● Hand painted wallcovering by Sarkos
● Hem sofa
● Poufs and lounge chair by Moroso, all covered in Maharam wool.
● Side table by Hay
● Graphic machine drawing by Momo through Delimbo Gallery
● Hidden door leads to a laundry room
● Cast aluminum sconces by Louis Poulsen
Children's bedrooms and baths
● Encaustic concrete tiles by Cle
● Plumbing fittings by Jaclo
● Light futures by Cedar and Moss, Lambert et Fils, and Flos
● Stark carpet
● Eames ESU shelving unit
● Plywood desk by Casa Kids
● Norman Cherner desk chairs