The clients purchased a beautiful property on the top of a mountain and facing a permanent environmental preservation reserve. They wanted a place where they could appreciate nature and enjoy family gatherings on weekends.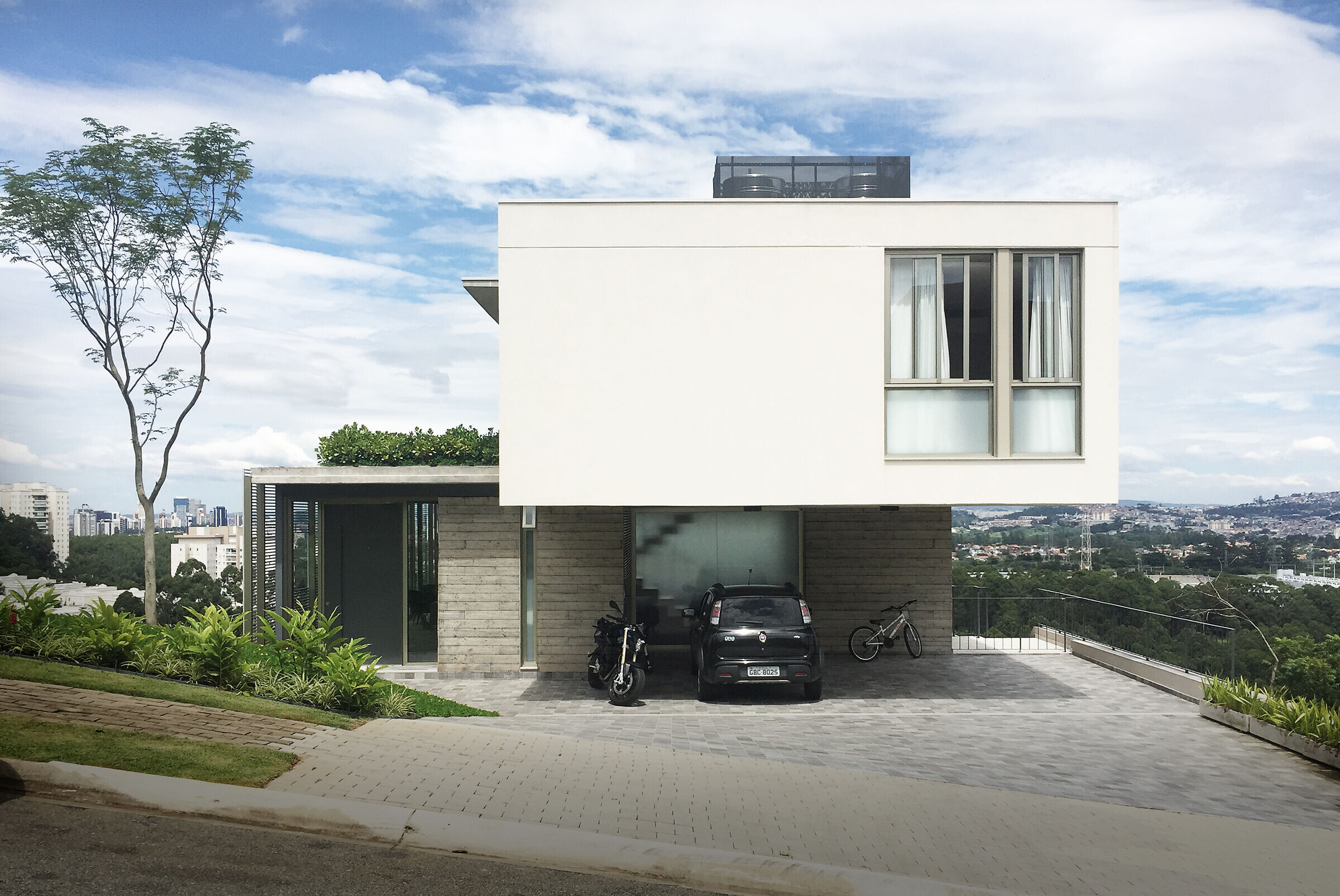 Located on a steep slope (100% slope and 12 meters) and an exuberant view, this house's main strategy is to appreciate this view from all its rooms with a slab that projects itself in direction of the slope founding the infrastructure for the house program, with one floor below and another above.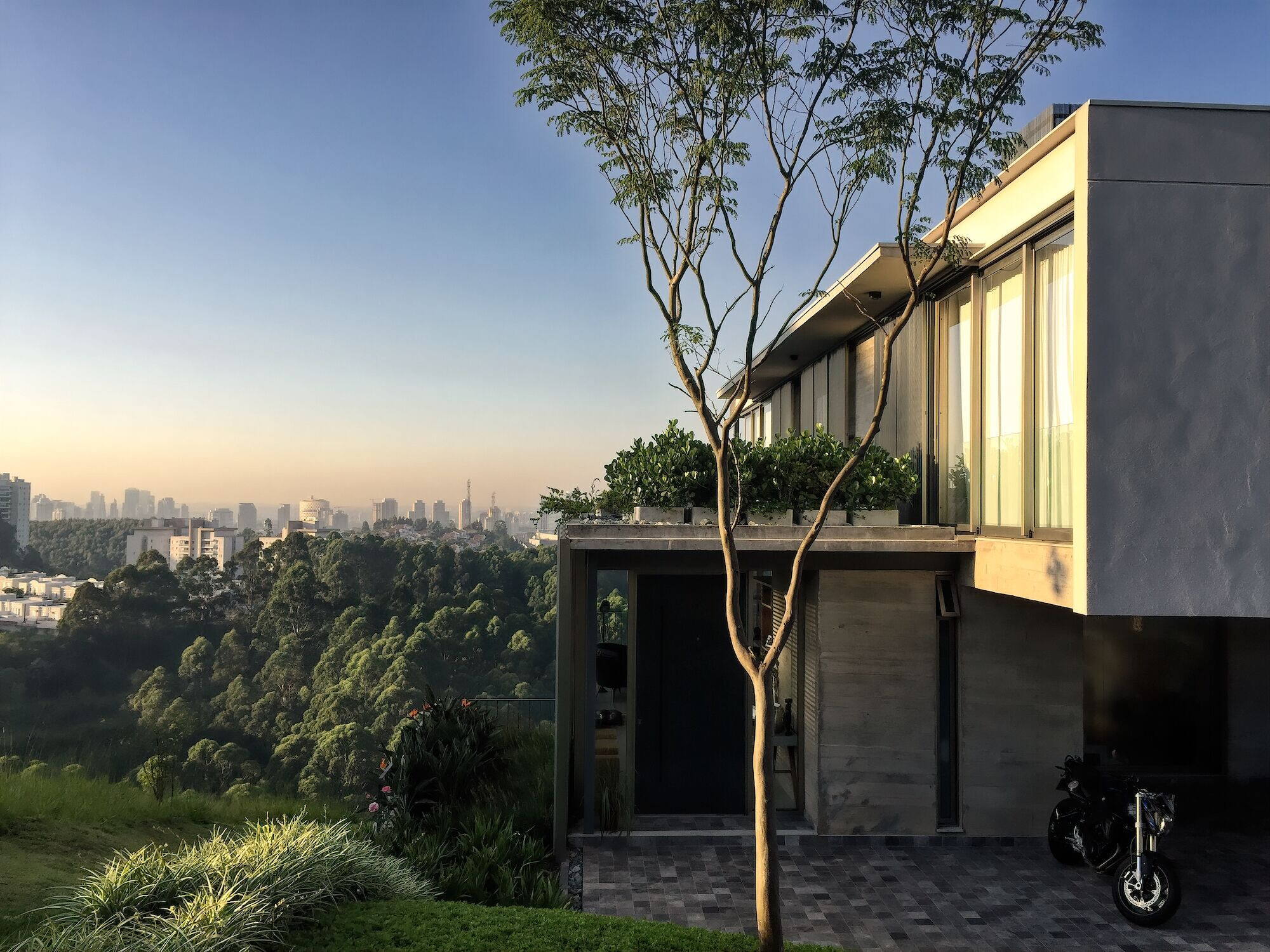 The design sums up on a 21 by 7.5m suspended volume that rises above the topography. The space under this volume generates a ground floor without walls, fully enclosed with glass, as a platform that welcomes the access from the street and promotes the essential gesture of overcoming the slope towards the view.
The bedrooms are located on the upper floor and face east, where there is full connection with the view and with the neighboring lot, which is the reserve.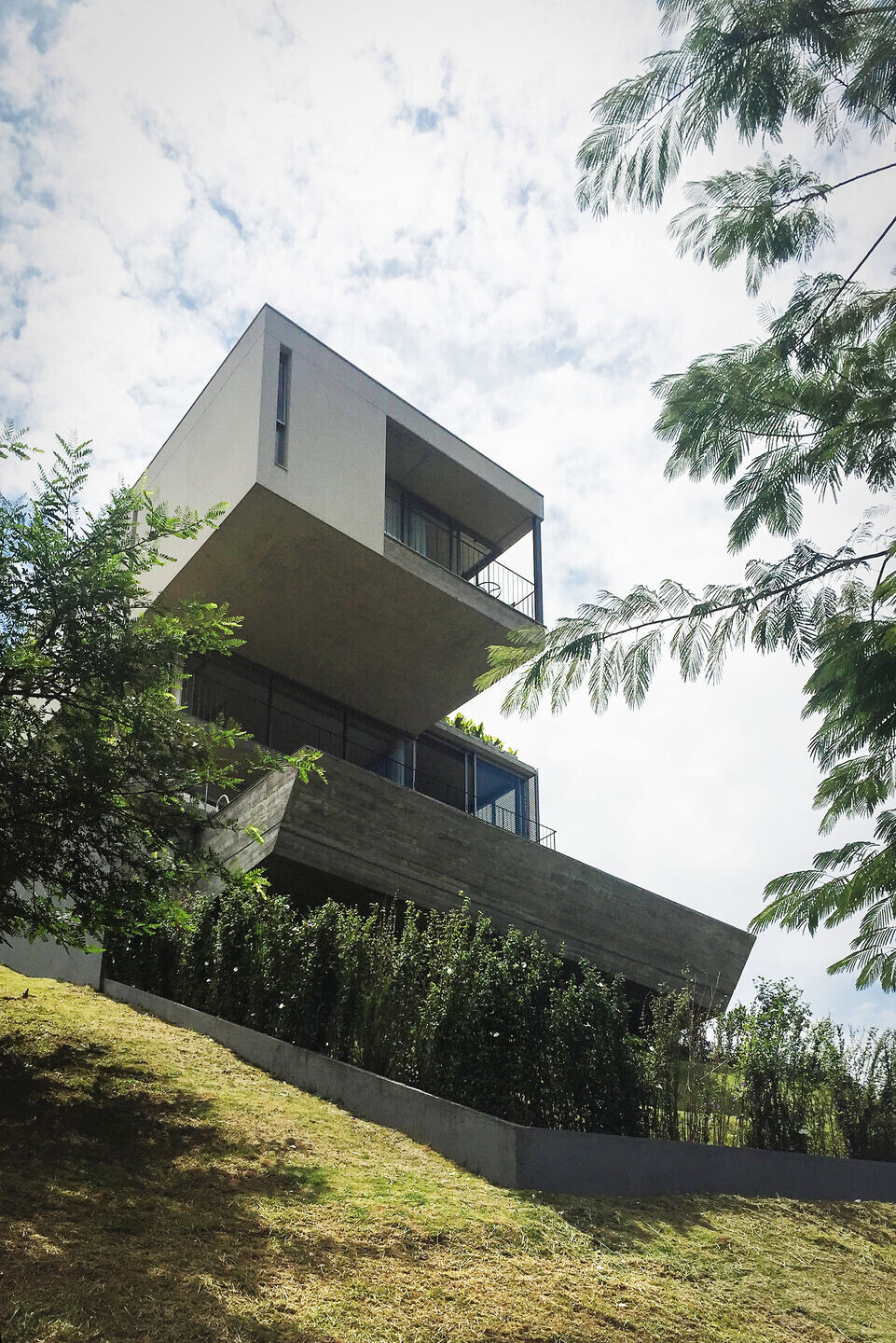 The internal spaces have abundant cross ventilation, with generous openings at opposite ends and ventilation in all rooms. The landscaping design chose for native species, in a set that frames the house in a beautiful relationship between natural and built environment. On the roof of the access volume there is a garden. Green roofs have a number of benefits: retention of rainwater, reduction of the "heat island" effect, absorption of noise pollution, filtering of air pollution.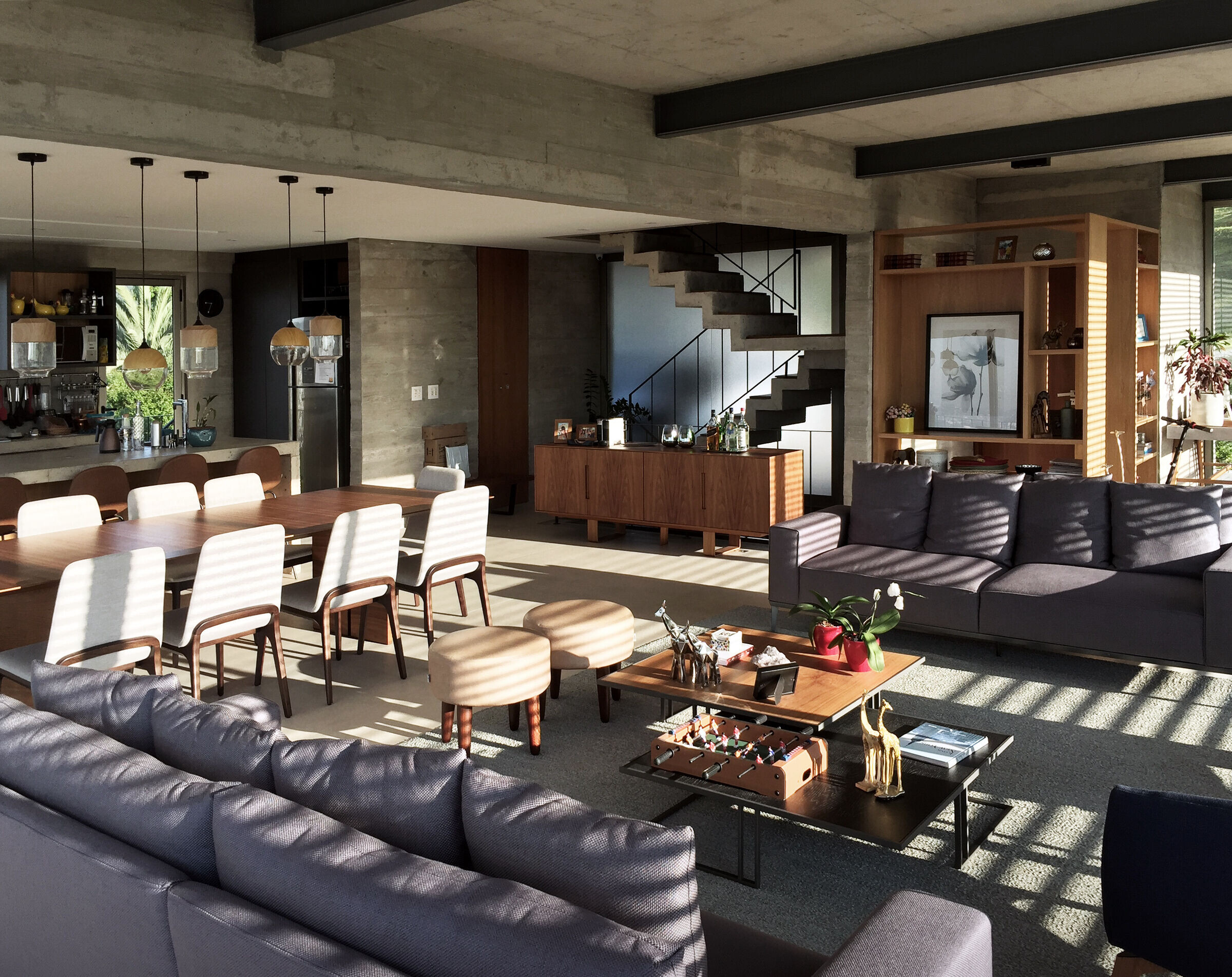 Eastern terrace shields the main living space from overheating and extends the interior spaces in the summer as a solarium. The smallest north terrace, in the middle floor, by the side of the kitchen and living room acts as the cooling off space for smoking and chatting and is oriented towards the view.
A single-family house, built rationally, with economy of resources, and at the same time, connected with the surrounding nature and with the essentiality of a shelter for family gatherings and meditation.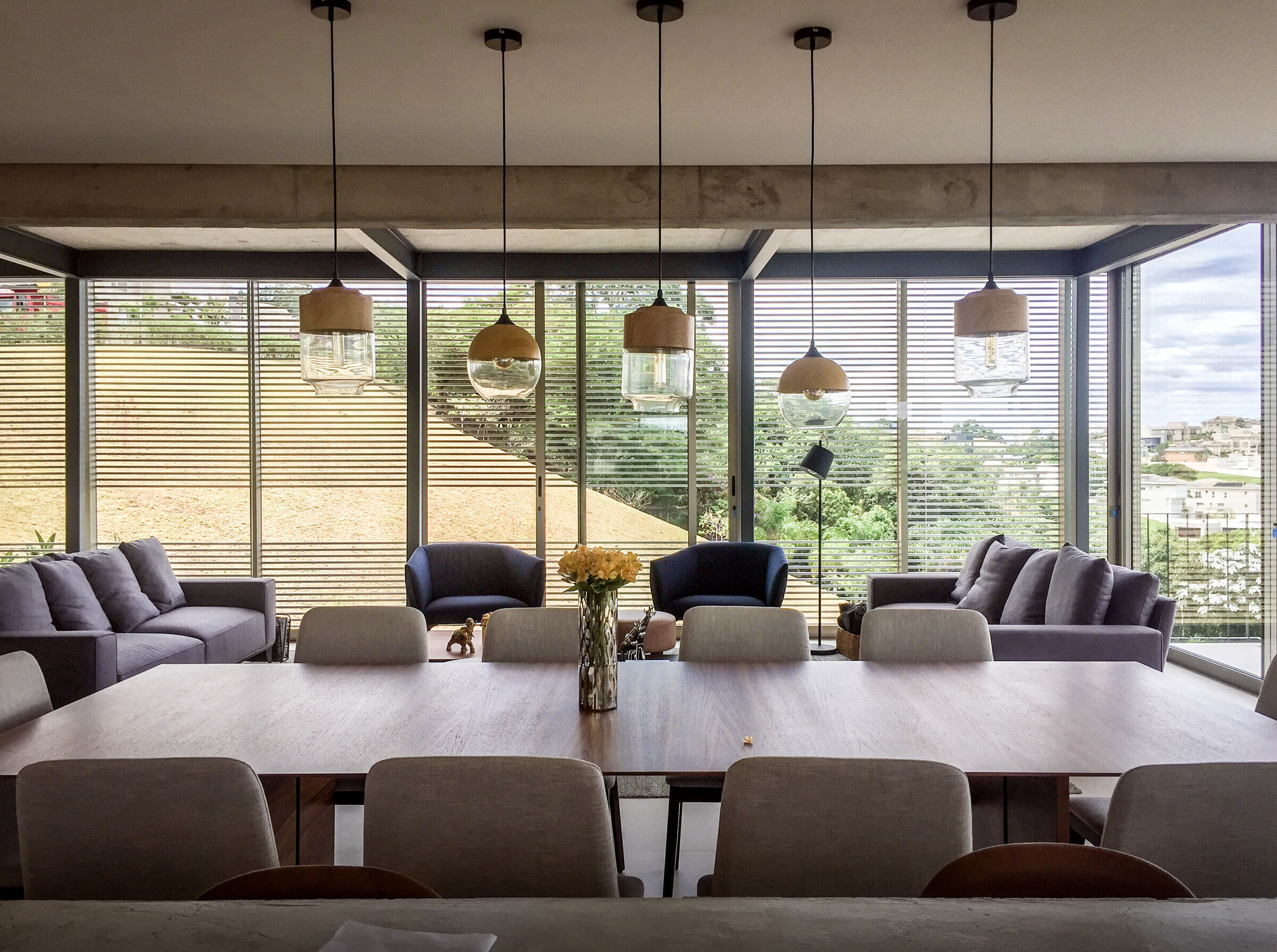 Resolving the steep inclination of the terrain in only 03 floors. The materiality of the house is concise, having glass and concrete as its fundamental expression. The structure of the house is a combination of concrete and steel: two steel beams in the roof support the large cantilevers on the upper volume. They hang the inverted slabs of the first floor by means of tie rods. On the ground floor there is a system of horizontal aluminum louvers (facing the east facade) that protects the social sector of the house from the direct morning sun and gives privacy to its interior, protecting it from street observers. This element promotes pleasant lighting without impeding the enjoyment of the stunning view at any time of the day or night.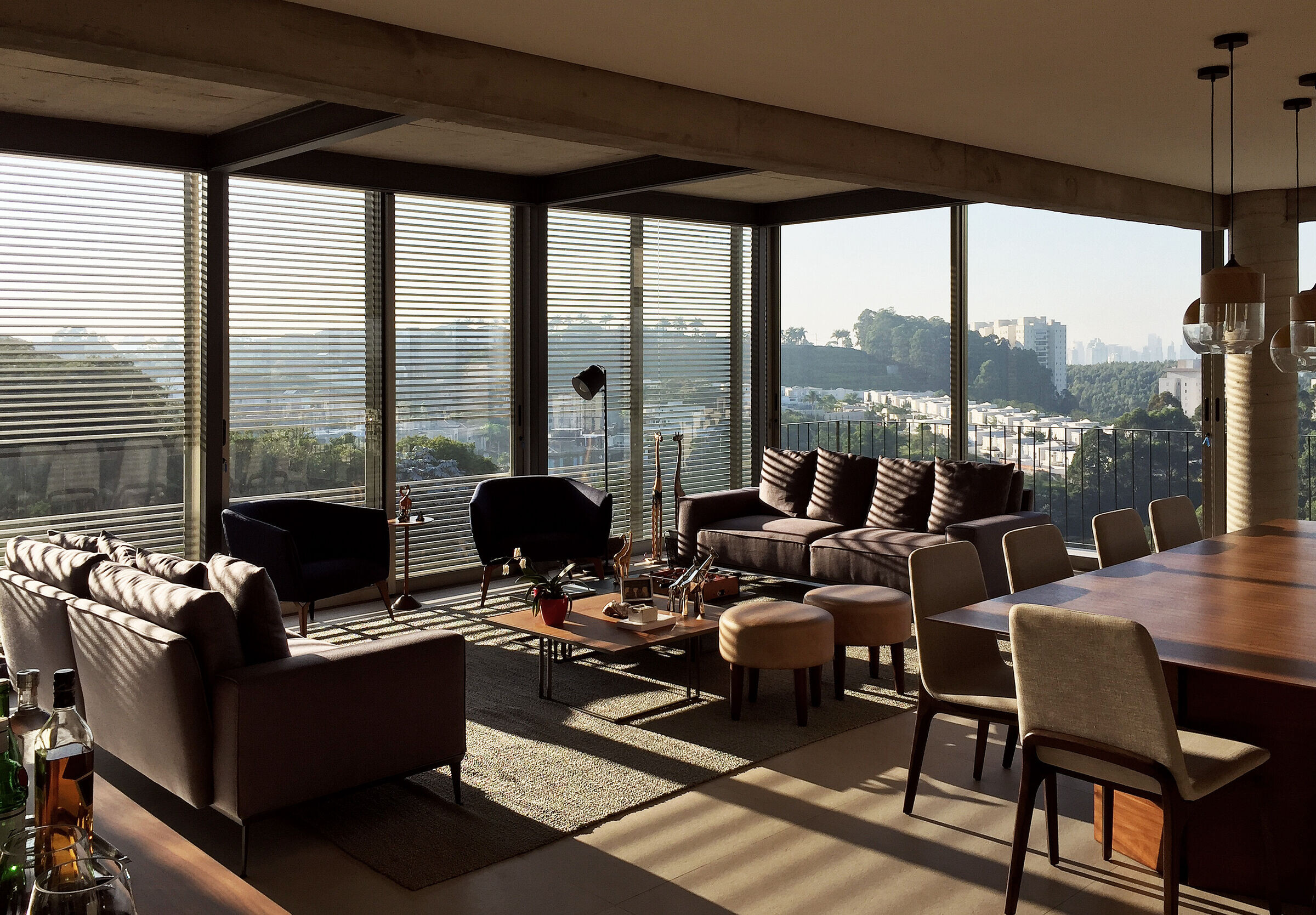 Team:
Architects: SAU | Studio Arquitetura Urbanismo
Main architect: André Biselli Sauaia
Architecture team: Pedro Siqueira
Structure: Rodrigo Freitas
Instalations: Ramoska Castellani
Landscape design: Barbieri Gorski
Photographers: André Biselli Sauaia, Alex Haiashida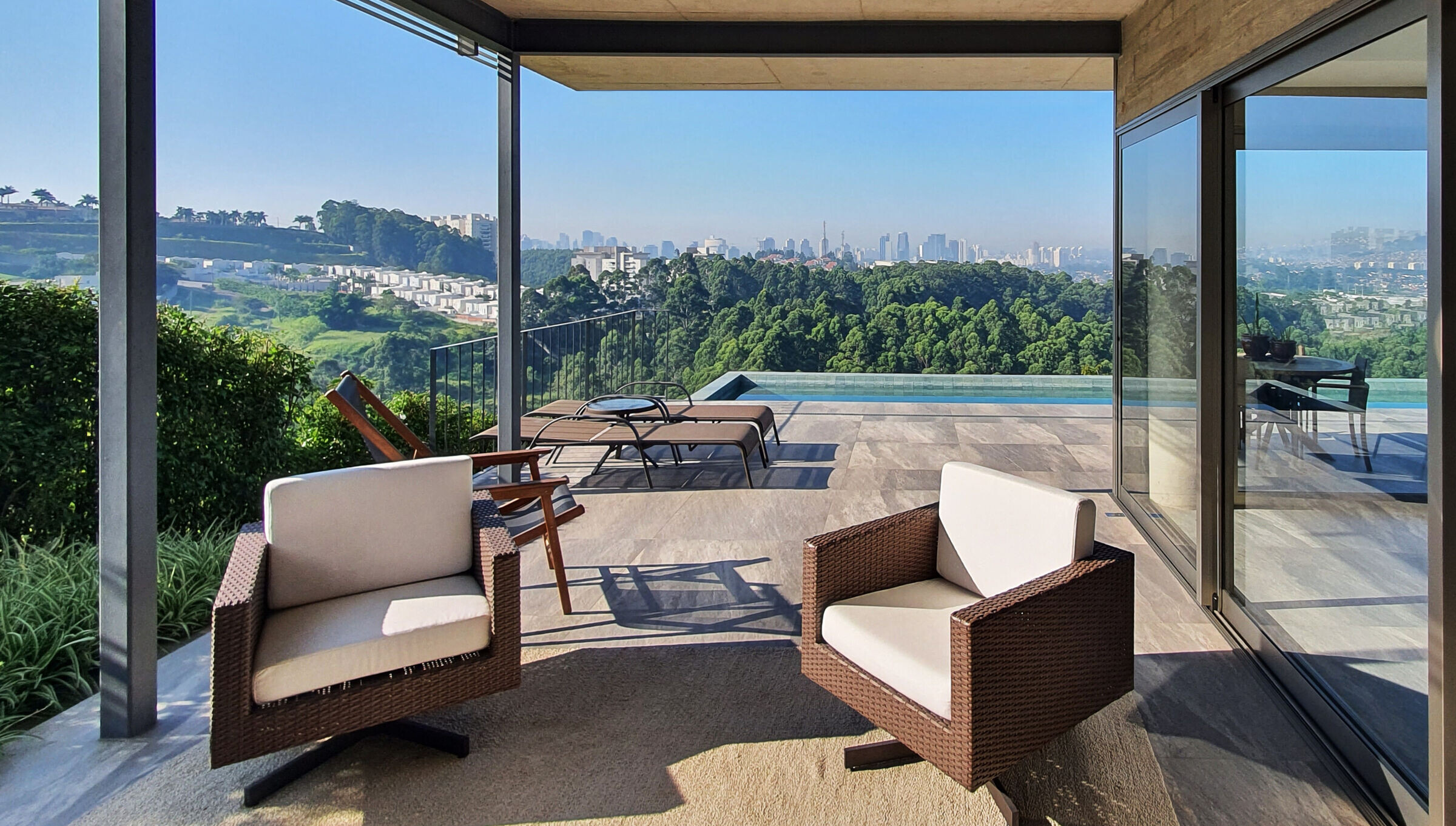 Materials Used:
Facade cladding: Slatted Aluminum, Zeloart
Flooring: Concrete, Granitorre
Flooring: Porcelain tile, Portobello
Flooring: Wood, Gaiotto
Doors: Wood, Gaiotto
Metal beams: Gerdau
Windows: Aluminium, Zeloart
Roofing: Waterproofed slab, Alwitra
Interior lighting: Light fixtures, Reka Iluminação
Kitchen Sink: Mekal
Perforated plates: Xteel
Coif: Tuboar
Bathroom metals: Deca
Floors: Portobello
Grill: Construflama