A young, dynamic family imagined loft living in a 19th century Georgian brownstone set in the heart of Boston's historic Back Bay, complete with open entertaining spaces for parties and private living areas for replenishing. An ambitious 30-month transformation completed in 2021 turned this multi-unit townhouse into a 14,000 square foot, five-story single-family residence.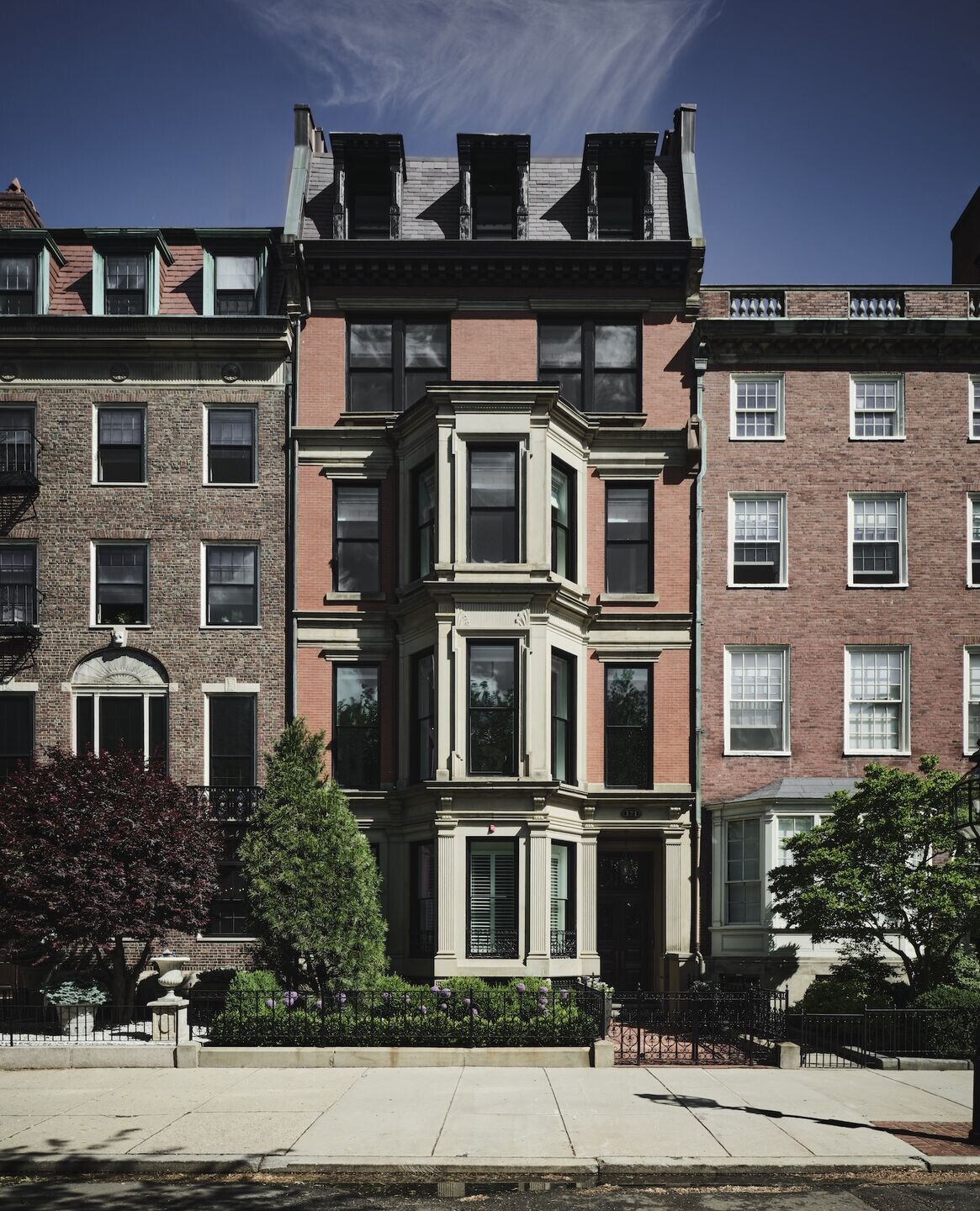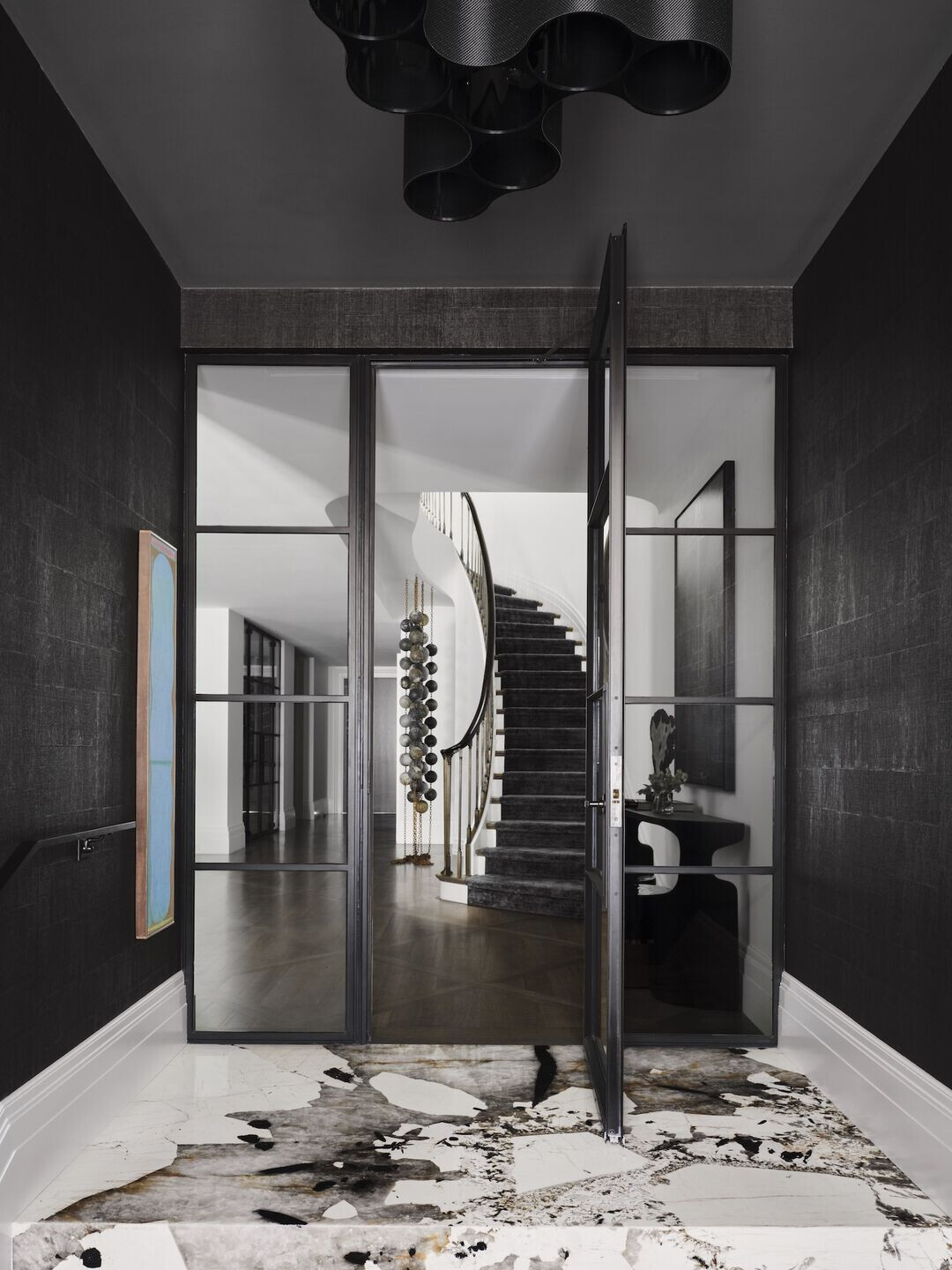 It was clear from the beginning that this surprisingly contemporary home would start a new aesthetic conversation in the historic Back Bay. A juxtaposition between time-honored and ultramodern is repeated throughout the property with stained paneled interior doors, exaggerated proportion, a monochromatic palette, and edgy leather-wrapped hardware.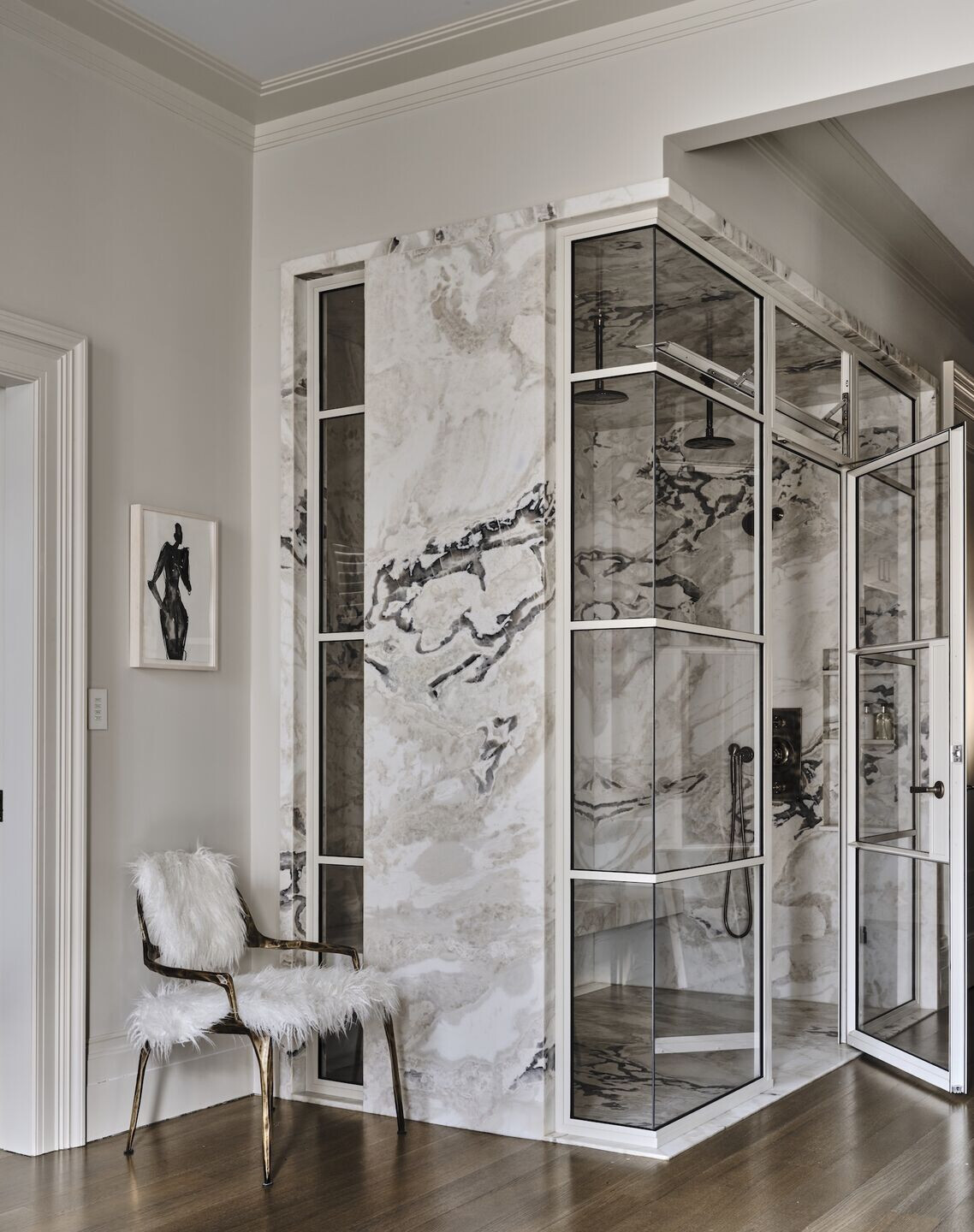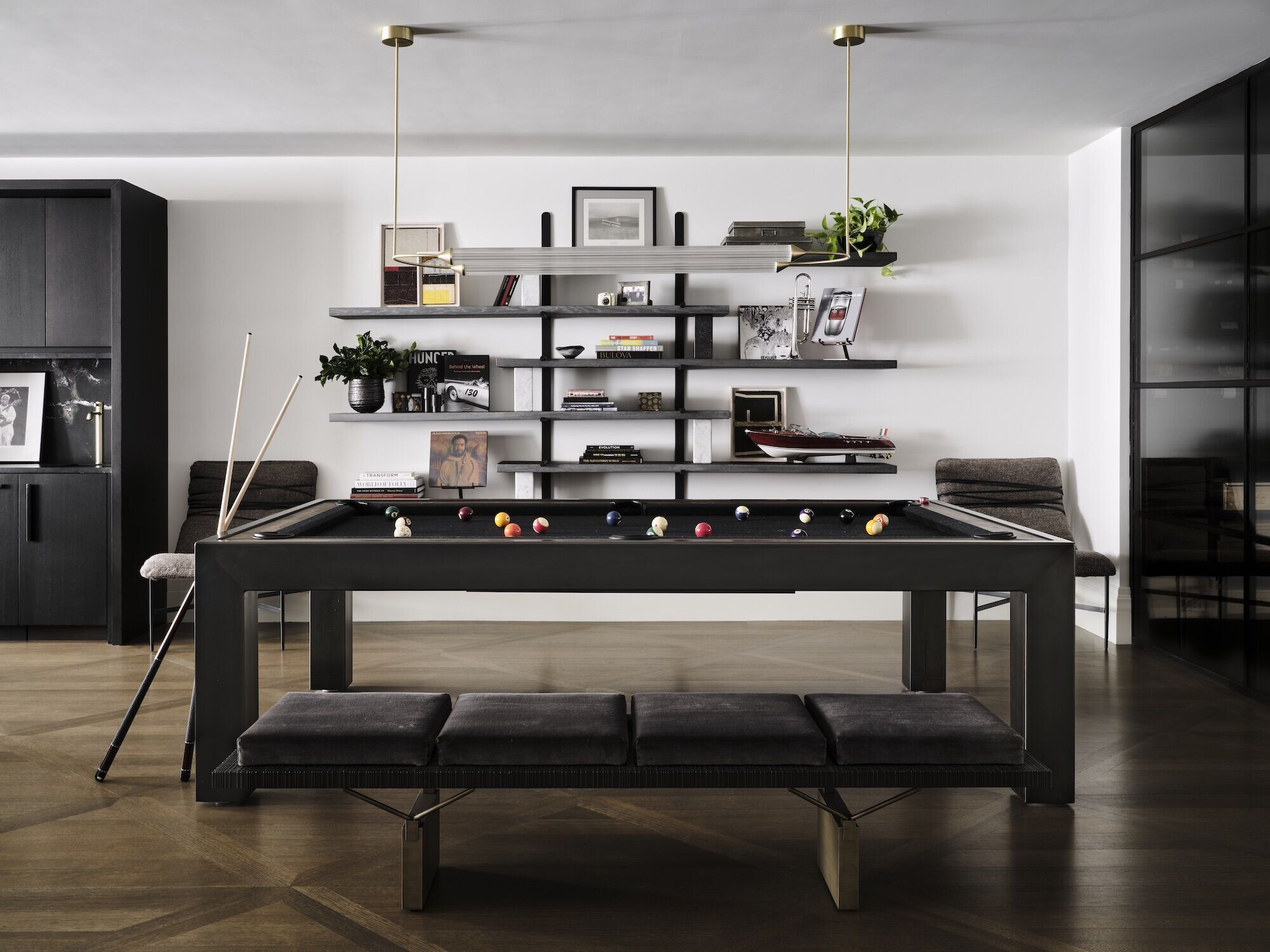 From the street view, the home appears deceptively conventional with a trio of bow windows. But inside it's a masterclass in contrasts, starting with the dramatic vestibule with its industrial doors, stone slab floor, sensuous lighting, and textured walls. Inside the front hall, the eye fixates on the remarkable, five-story elliptical stairwell. An art installation of imperfect spheres suspended from rusted chain descends from 15 feet. Common areas are painted Benjamin Moore's Oxford White to give a gallery feel that sets the stage for dramatic architectural encounters and quiet, casual moments.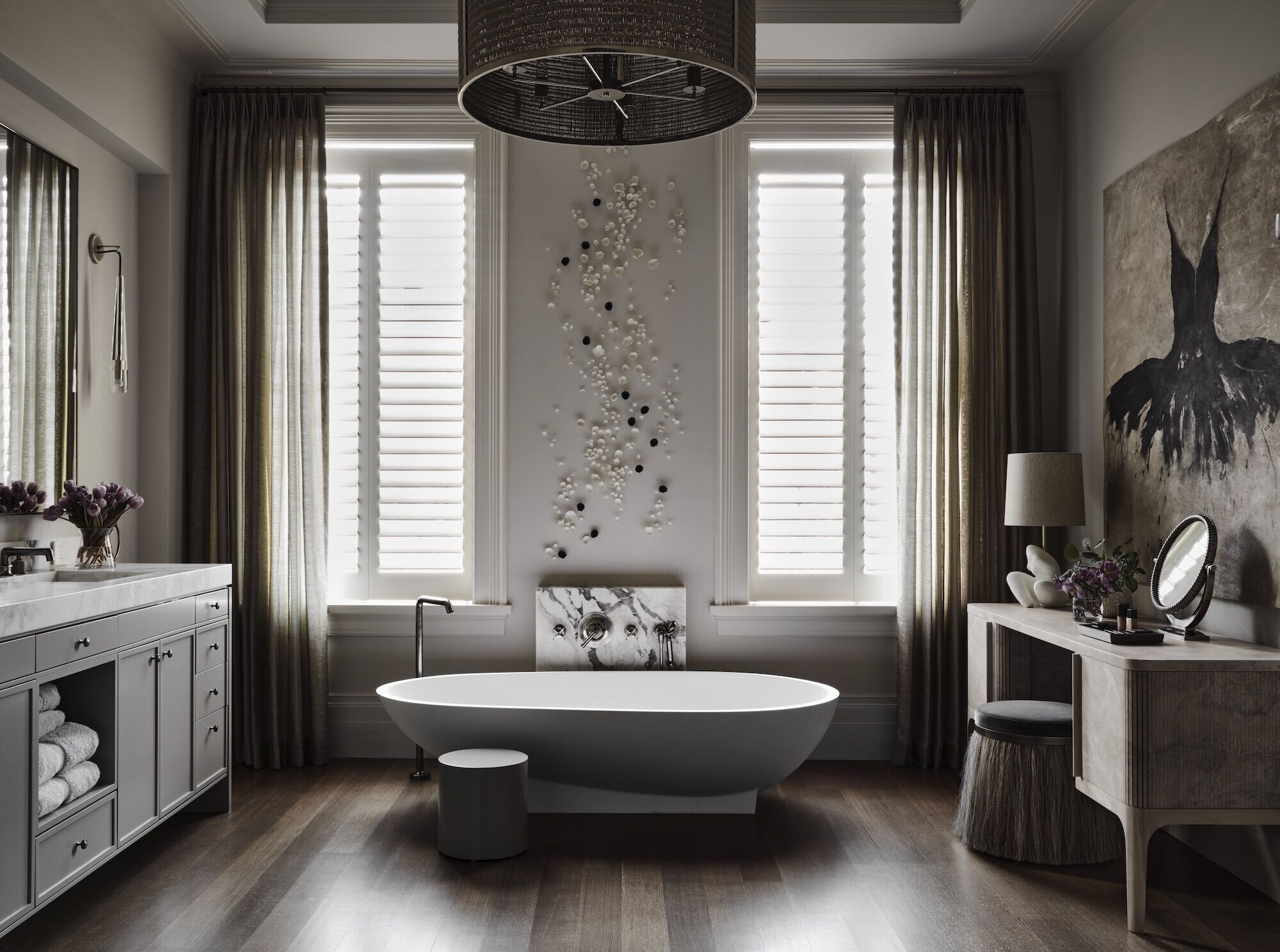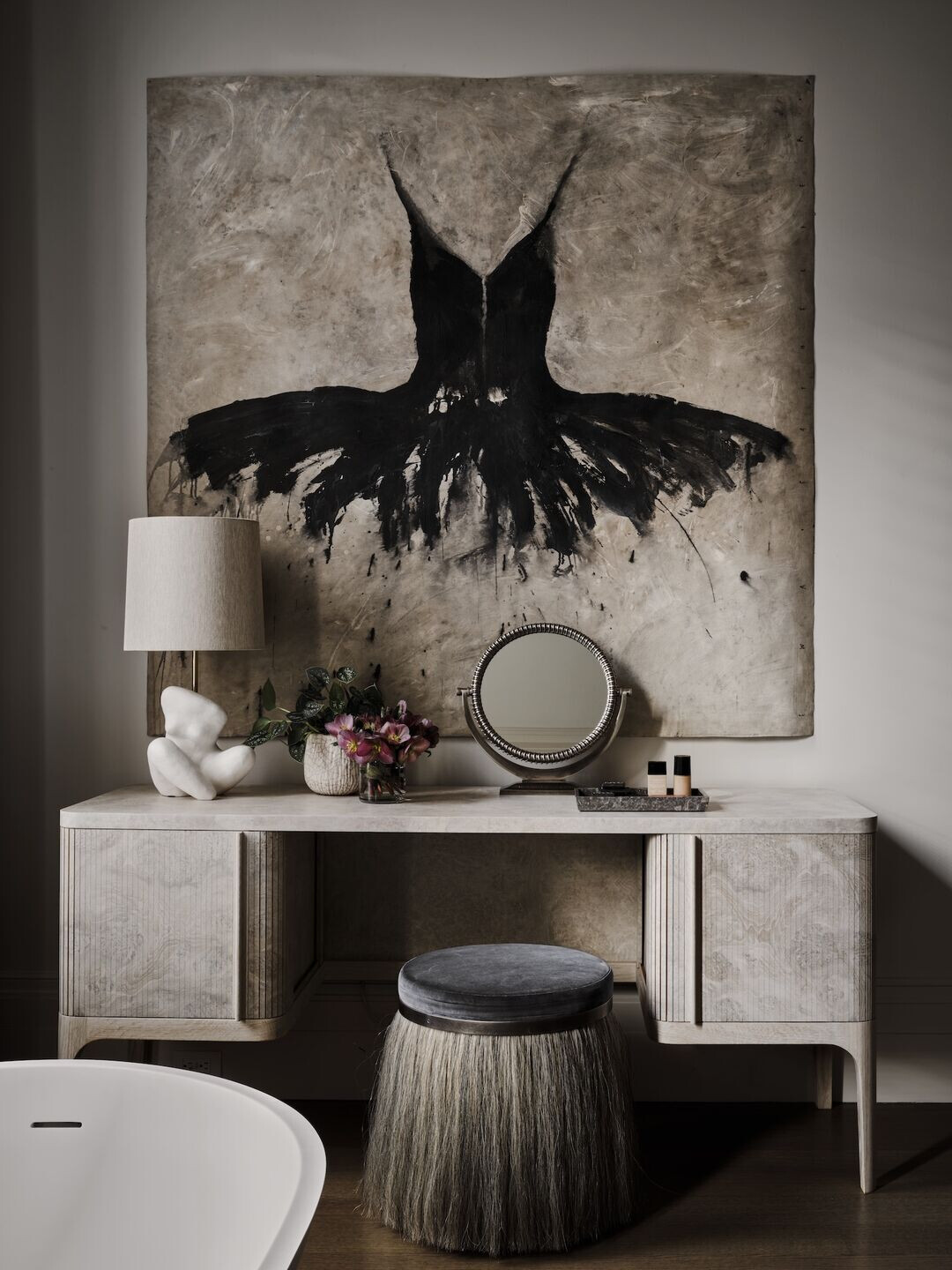 The open-plan second floor is the heart of the home, accessed from the dining room. Sensual custom lighting design over the table softens hard edges and balances the functionality of the adjoining eat-in kitchen with its industrial stained white oak cabinetry. Upstairs, the primary suite provides a remarkably serene urban respite.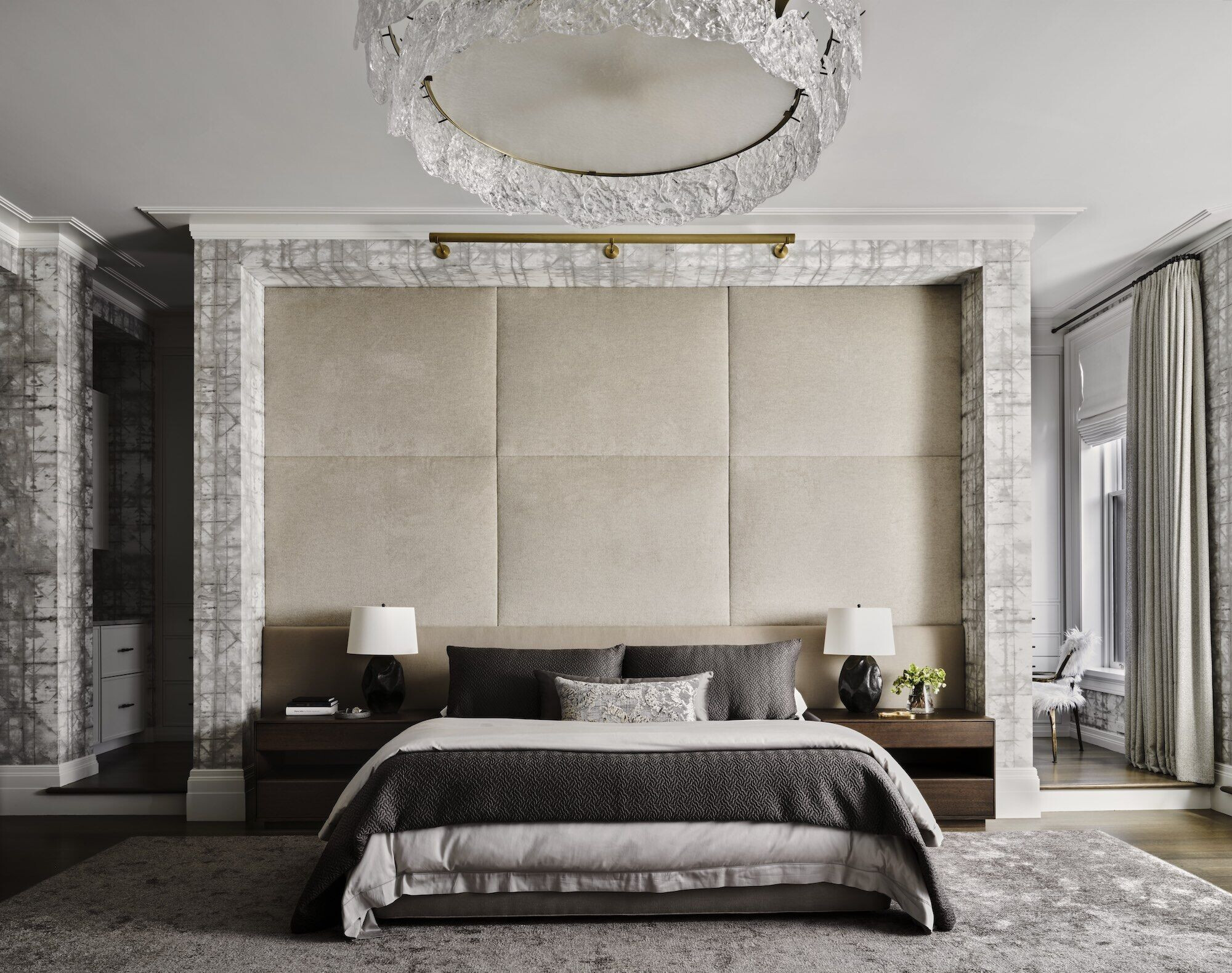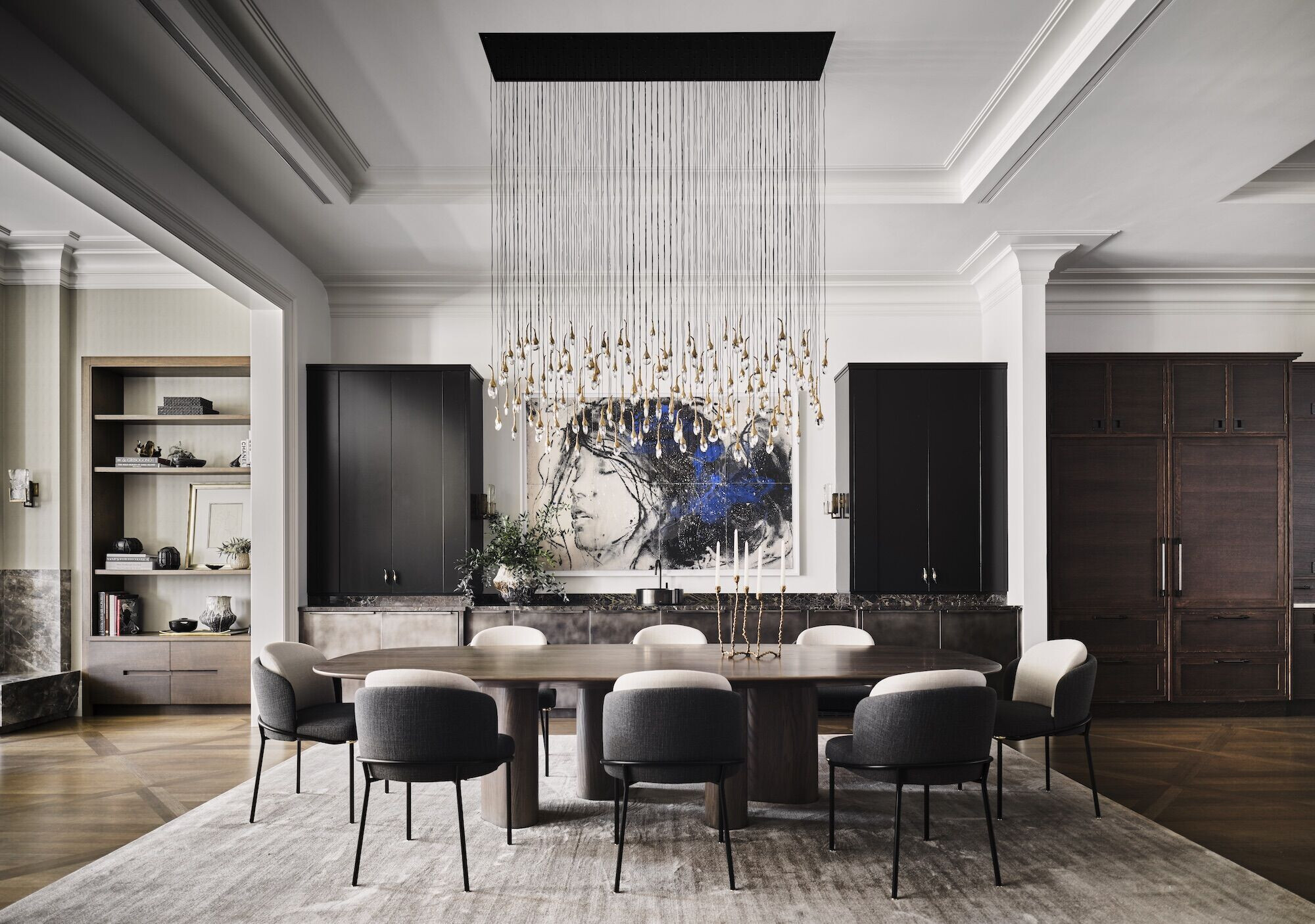 From the bespoke wine room to the sultry elevator, and roof lounge boasting sweeping views of the city skyline—this residence is the opposite of staid. And yet, despite the sophistication, the design is grounded enough to allow the clients' two children free reign.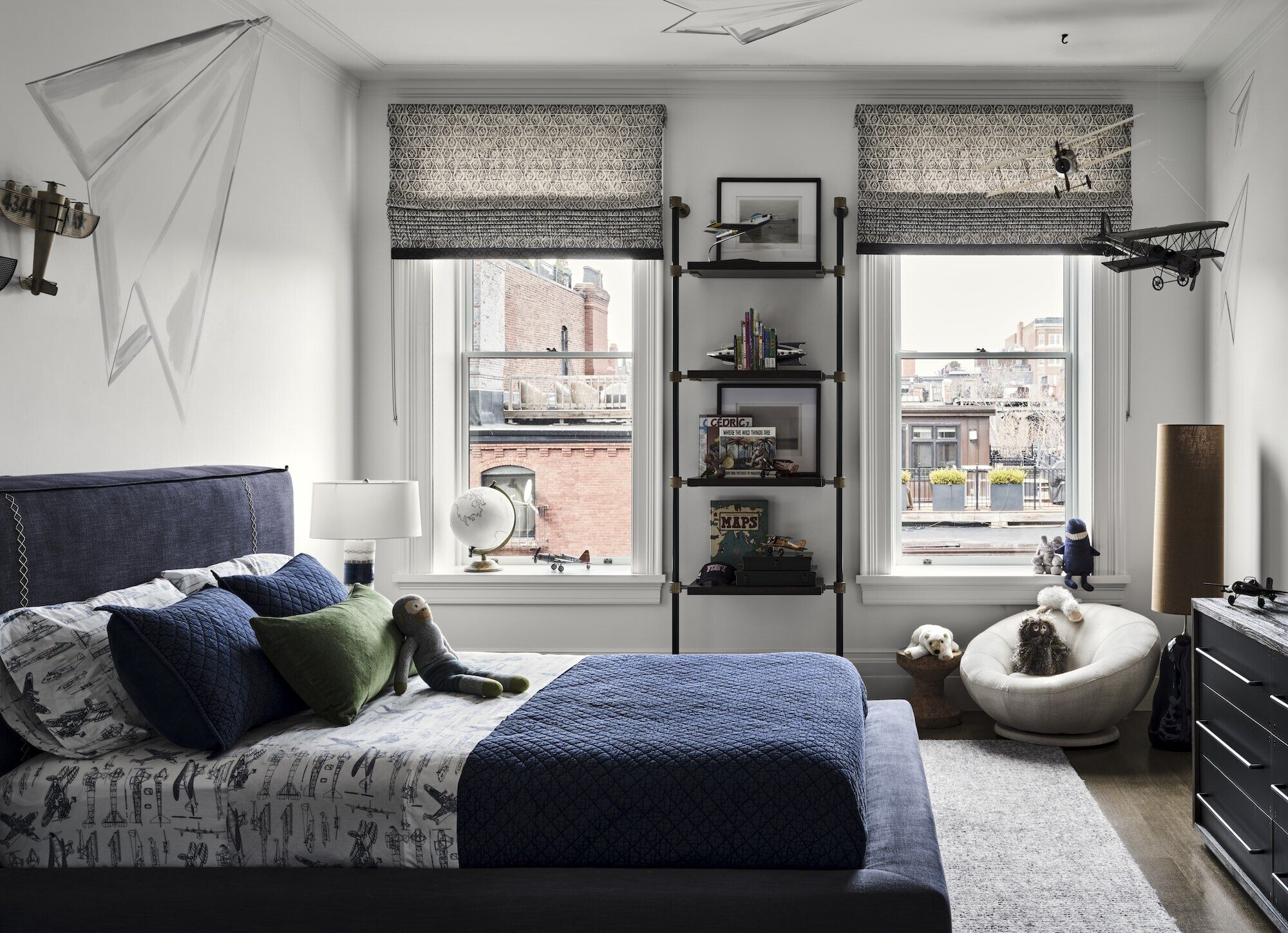 Team:
Design: Nicole Hogarty Designs
Construction: JW Construction
Photographer: Douglas Friedman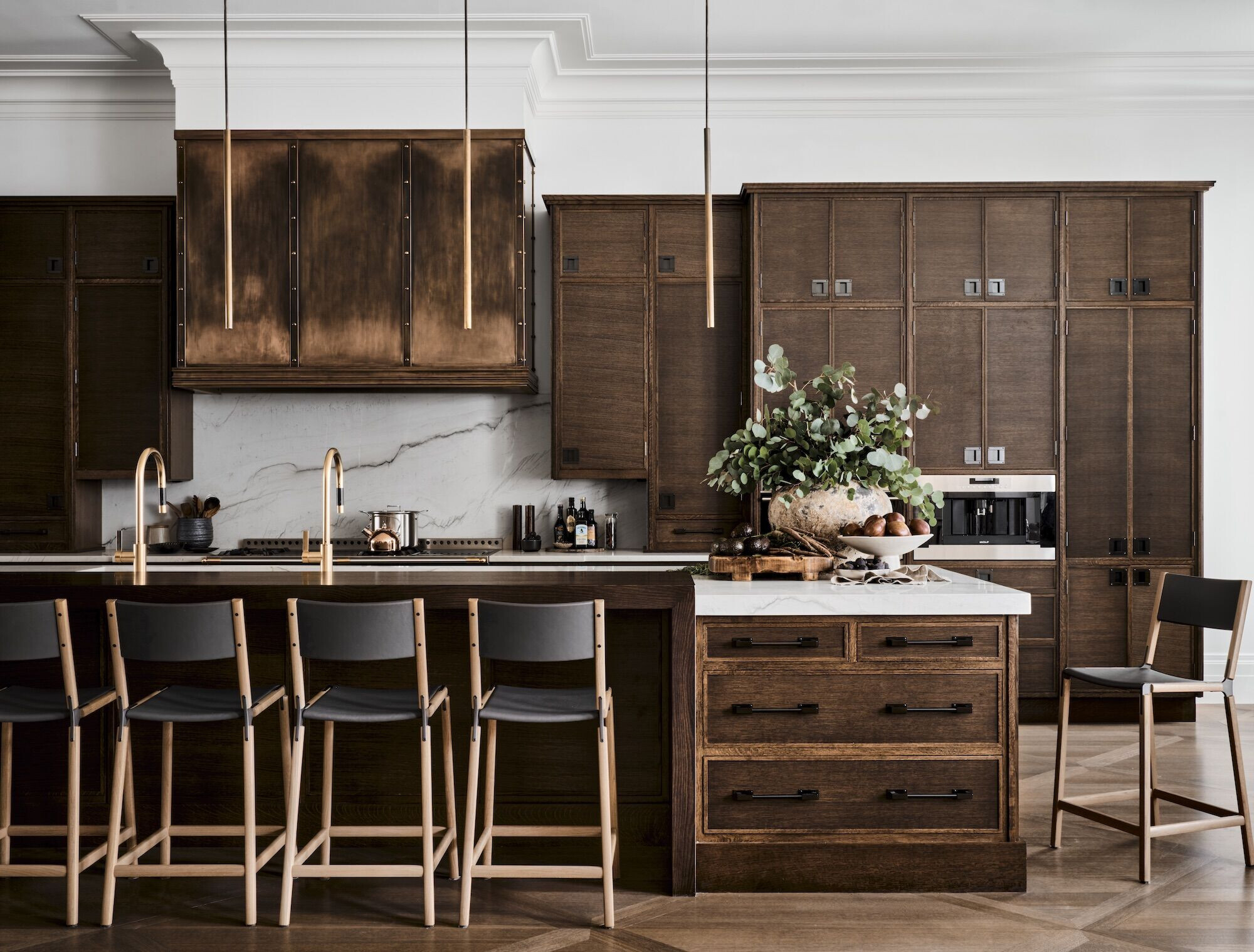 Materials Used:
Lighting fixtures: Ralph Pucci, Apparatus, Giopato & Coombes, Ochre, Remains, Holly Hunt, Boca Do Lobo, John Pomp, Gregorius Pineo, Jonathan Browning, Lekker Home, Workstead from DShop, Restoration Hardware, Hector Finch, Urban Electric
Stone: Primary Bath - Caribbean Island, Kitchen - Aria Quartzite, Foyer - Patagonia
Door Hardware: Turnstyle
Wallcoverings: Porter Teleo, Elitis, Holly Hunt
Furnishings: CASTE, Avenue Road, Dennis Miller, Jeff Soderbergh, Inc. , Minotti, Fyrn, Amuneal , Partners in Design, Restoration Hardware, Pottery Barn
Plumbing Fixtures: Waterworks, Dornbracht, Agape Spoon Tub