La Gloria, the global leather brand has opened its first store in Bangladesh, designed by MSH Atelier, underpinned by a sustainable ethos and care for the environment in its materiality and operation. While La Gloria is well known for their uncompromising dedication towards producing fine grade leather products, the owners of this company have always been pulled by diverse design ideas. From the beginning of their business, they exported products in several countries.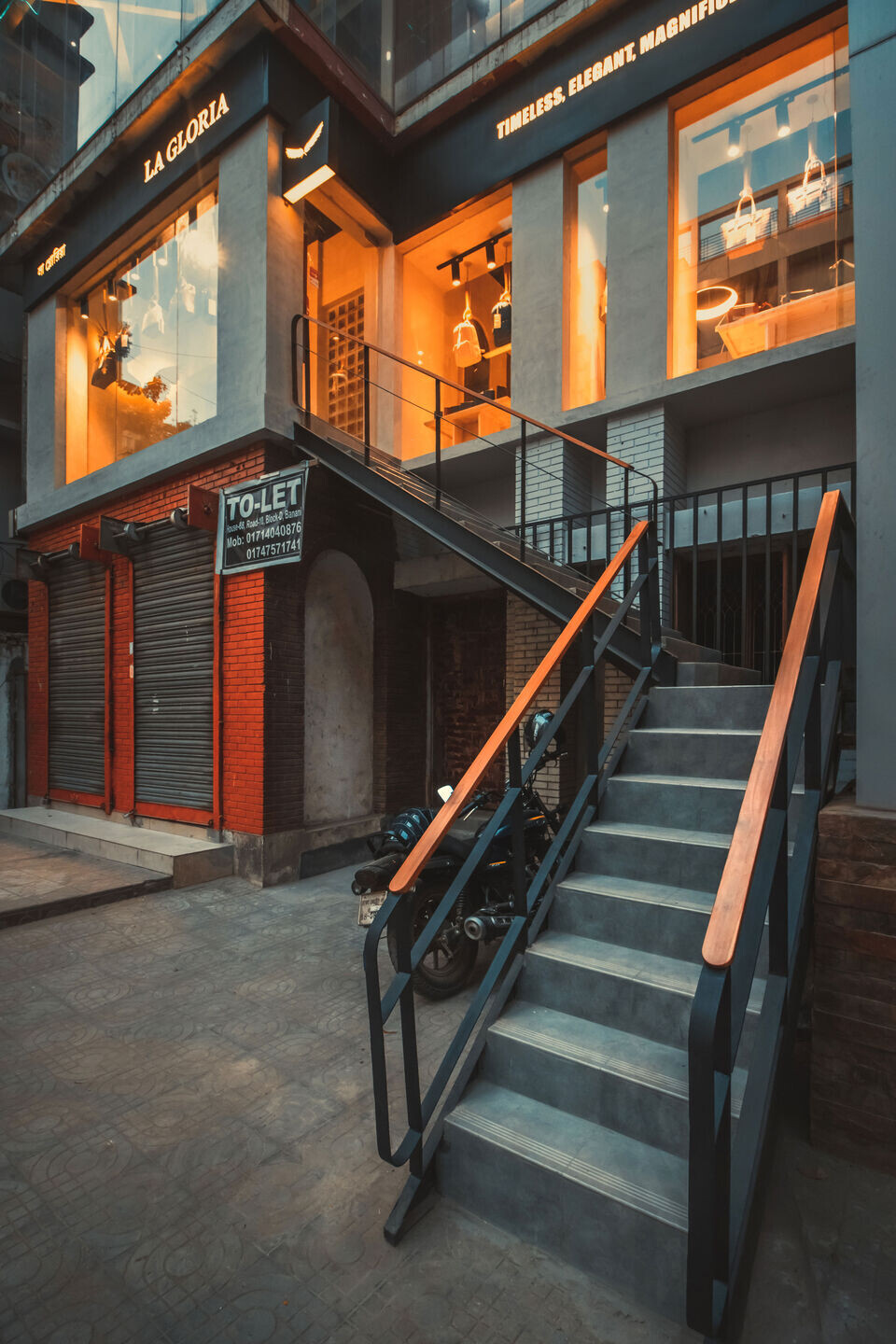 After successfully operating several stores worldwide, La Gloria decided to launch their flagship store in Bangladesh. Now it is located at the street of Banani 10. It was a huge challenge for the design team to renovate an old building for this store from outside and inside. Most of the old electrical and ducting pipe had to be somehow repaired or replaced. This 'L-shape' store is designed very sensitively to make it 'cozy' for customers. With a 1,500 sqft space to implement contemporary design styles, this store had a limitation with a single congested entry which pushed the design team to rethink the entry.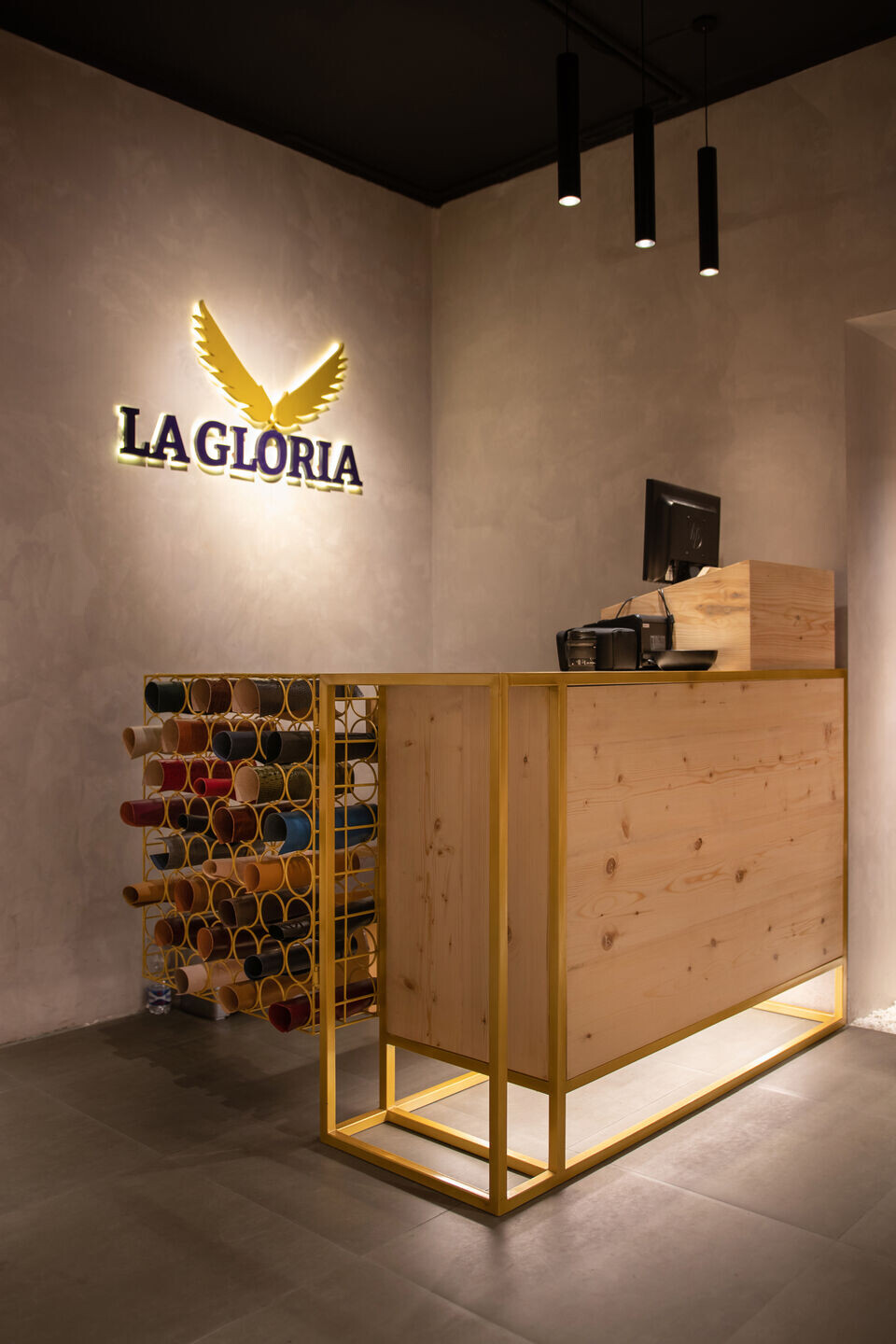 Leather is a very dedicated material and it was a huge pressure for the design team to pursue the pioneering brand in that location. After getting approval for design, it became a responsibility for the construction team to make that dream come true.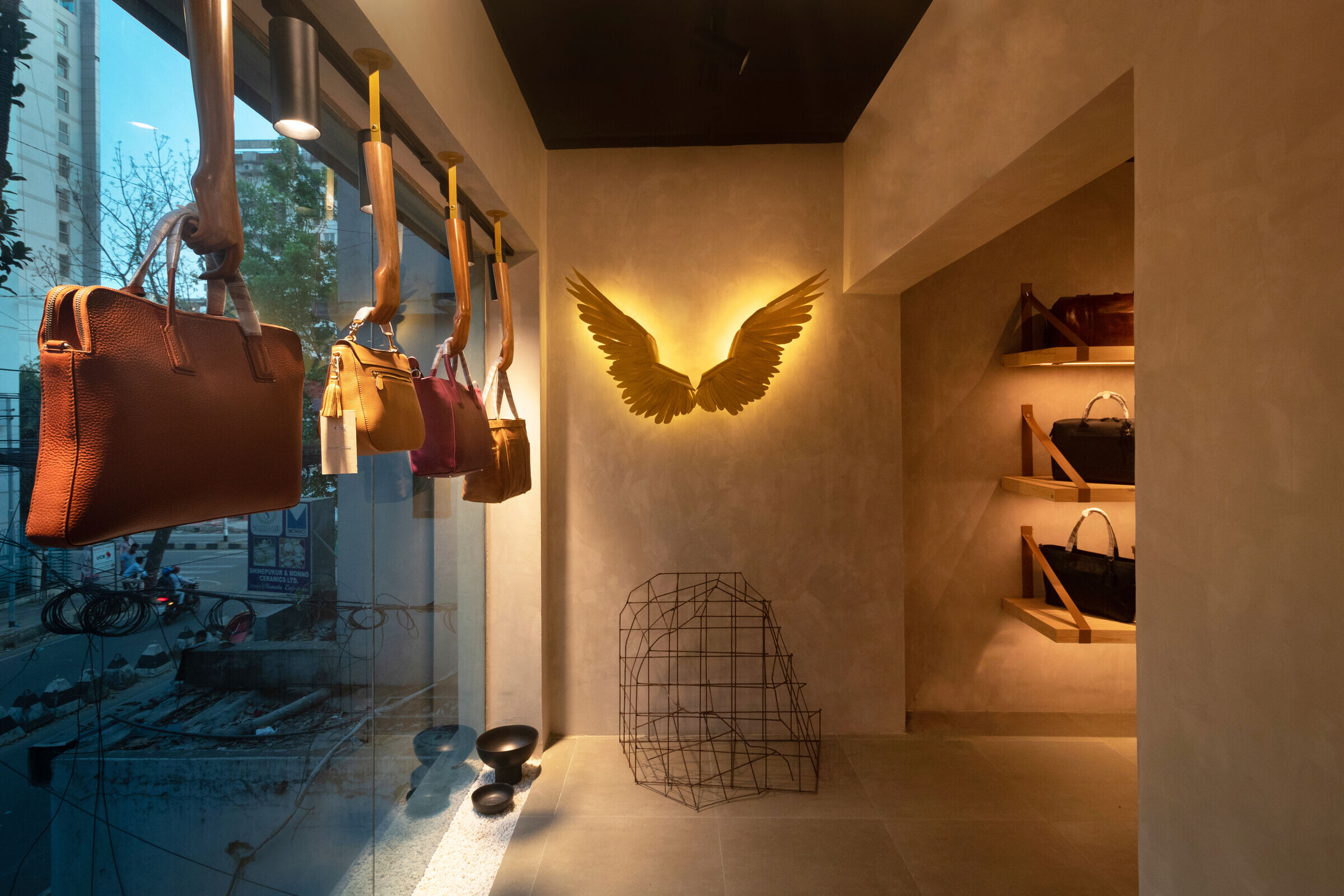 Leather has always called out to some of the dark and mostly alike materials to accompany. So it had to be wood, steel and leather, as the base material for this design. Every design element of this store is unique and portable. Most of the time, interior designs do not tend to be portable in both the style and the usability. But from the beginning, the design team tried to develop a rather non-conventional portable design approach.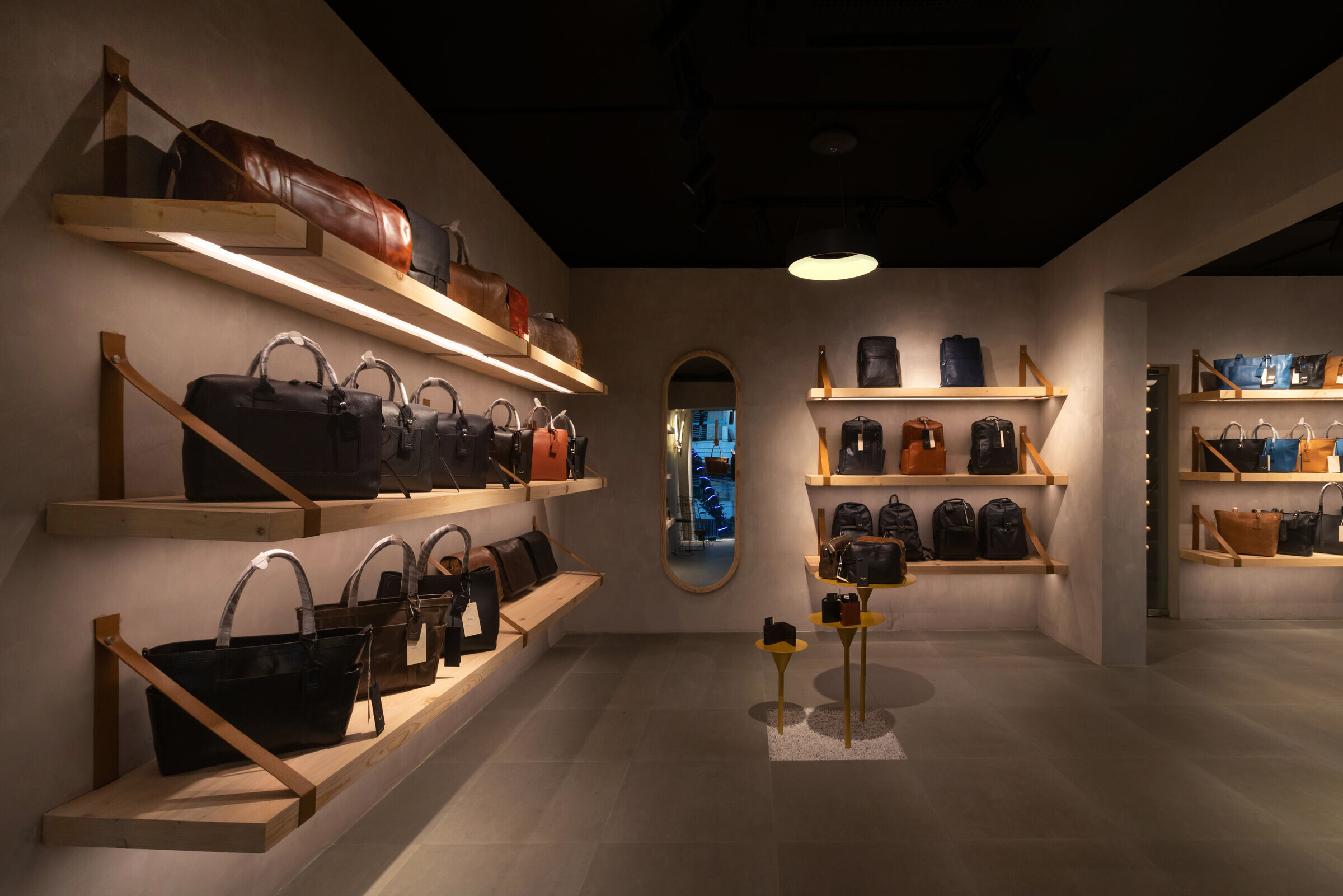 Nonetheless, the idea that guided the design in this direction is surprisingly very familiar and obvious one. In delta, people use objects as furniture which generally have multi-functional purpose and minimal approach. Through this design, one can find that example has been reincarnated in a contemporary way. Also, not to mention, people are very dynamic and transformative in the delta area. While coping with the ever changing unpredictable way of nature in this region, people have been developing and using the most versatile and multi purpose yet simple tools to use in their livelihood. That inspiration helps the design team to reach that goal.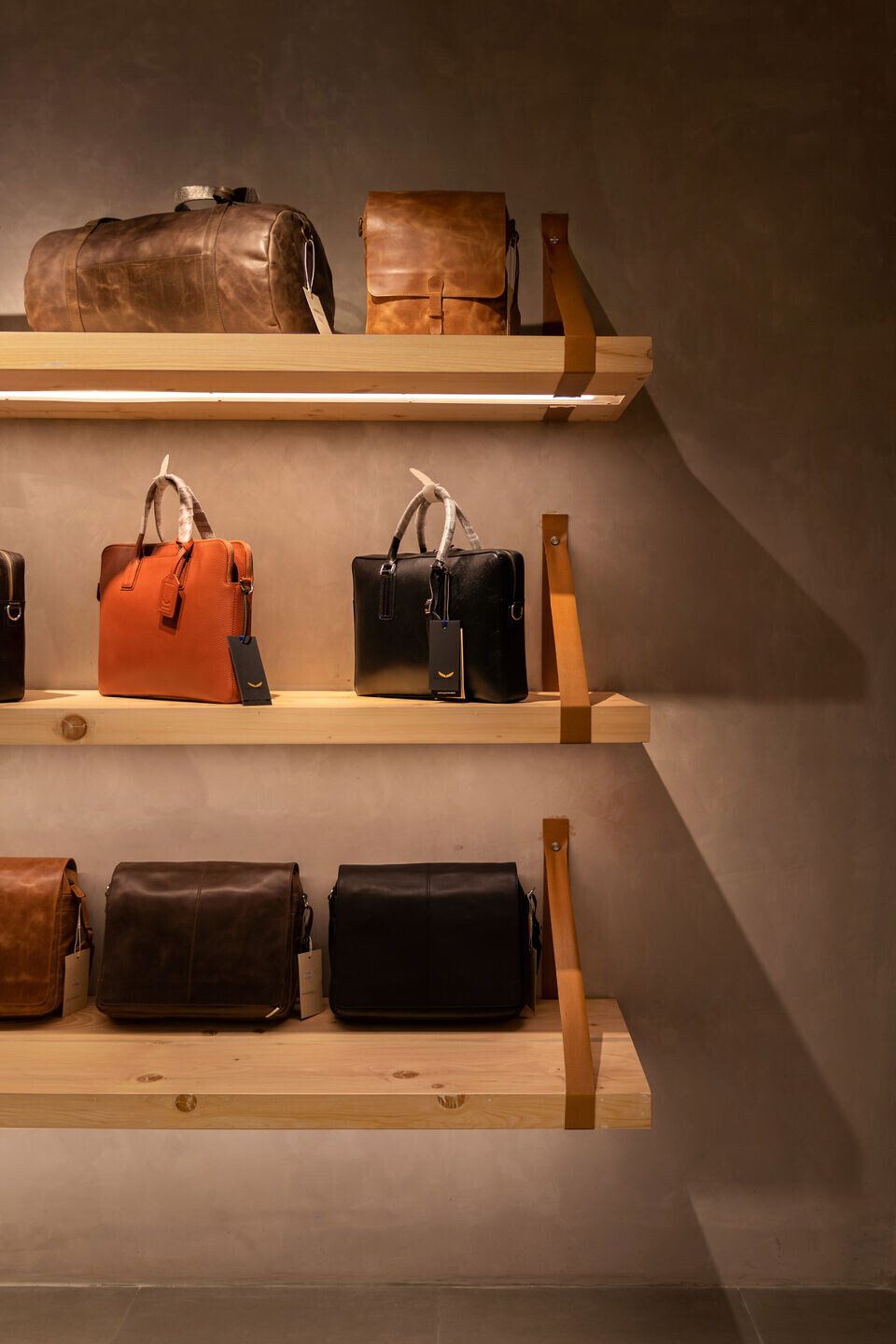 Free flowing plan with cement textured wall become the background for the products. Exposed electrical duct and HAVC units are merged with the black ceiling which gives a less distracted enclosure for the interior. Warm wooden shelves give the platform for showcasing exclusive bags, wallets, belts etc. Central spaces of two rooms are dedicated to newly arrived products on a portable stool which has a golden touch in design. There is no partition wall in the store area. A frosted door has divided the office area from product displaying area. Peg board and gold painted steel frames are used to put the products in various ways.
Anyone can enter into the store by using an exposed stair from ground floor to first floor and can use an internal stair to get down. A polished red wall is designed for exclusive ladies bags in this store. In daytime, daylight easily enters the store through windows. Those windows have some symbolic hands for displaying bags which are sculpted from pine wood.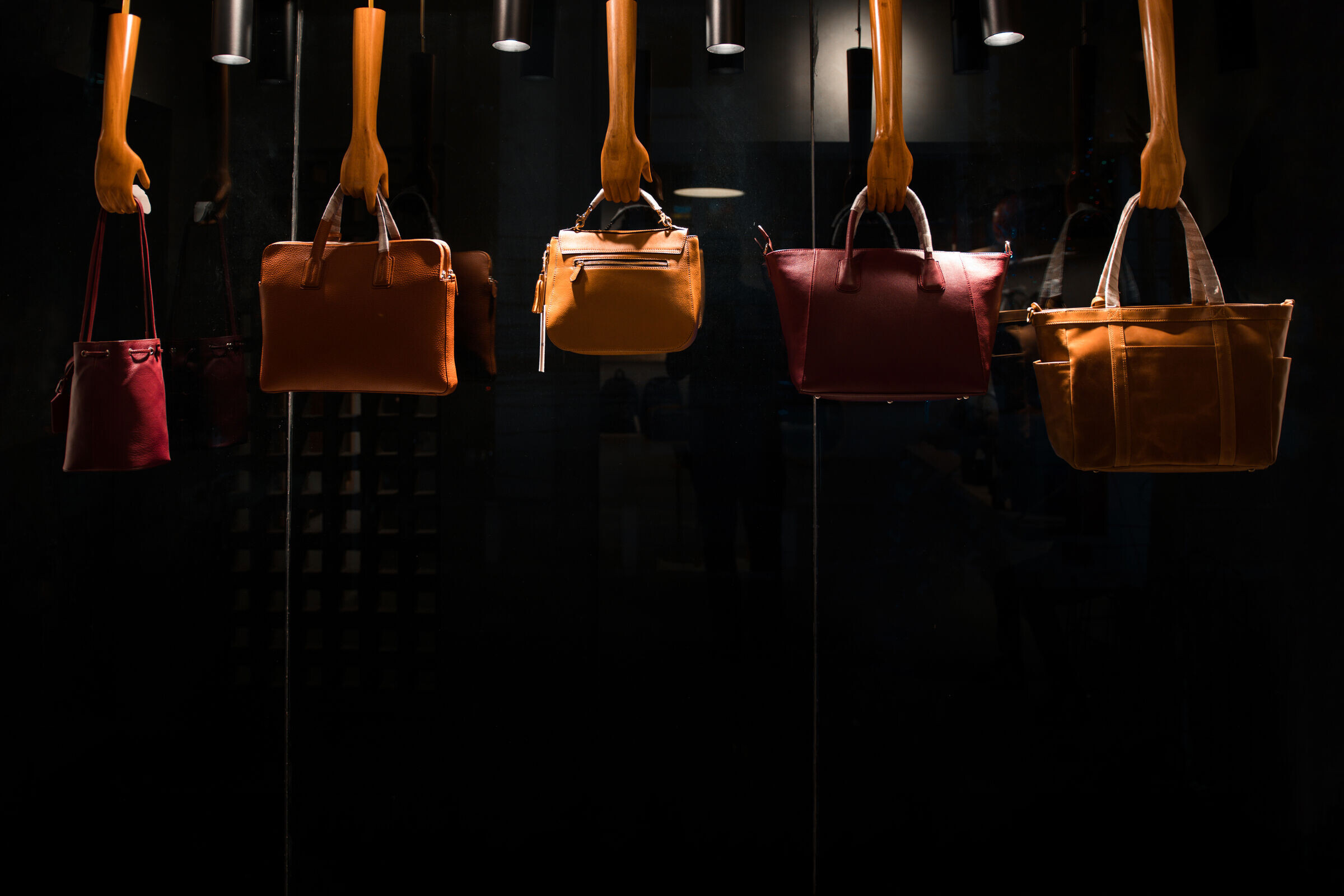 An internal store and office room is included in the design. Business meetings and staff resting areas are included in the office zone. Construction team carefully sculpted the space as proposed design. And it is essential to mention that the Client's demands and suggestions were very helpful to achieve a fine grade design quality.
Overall, the design reflects contemporary fashion sense and timelessness. The dark ambiance of the outer surroundings of the store actually compliments the lighting features, which are installed to catch the attention of any passersby at night.