Natalyia and Ivan Trofimov have designed a flat in an early 20th century apartment block and shared their views on how to make a classic interior modern and relevant.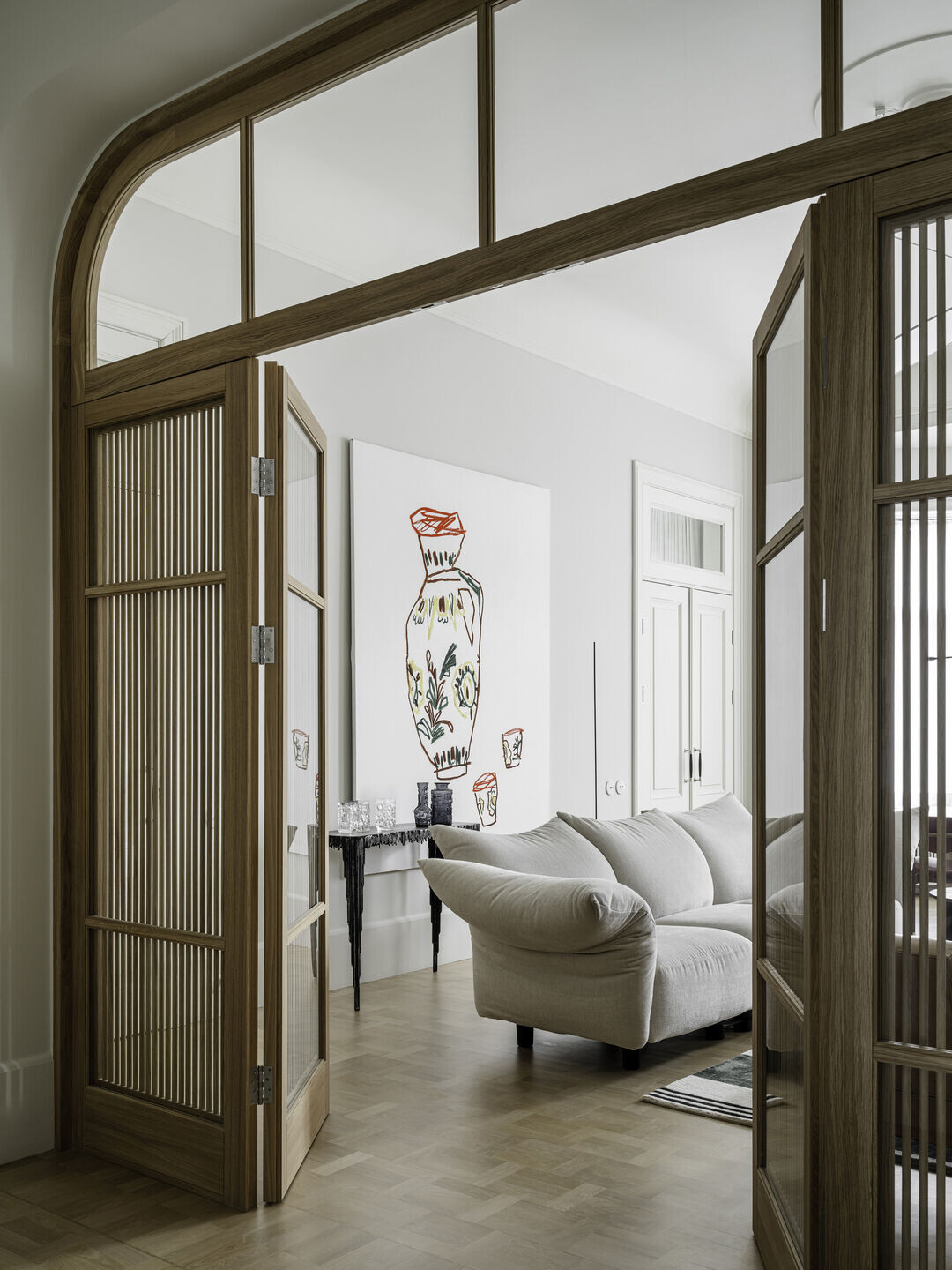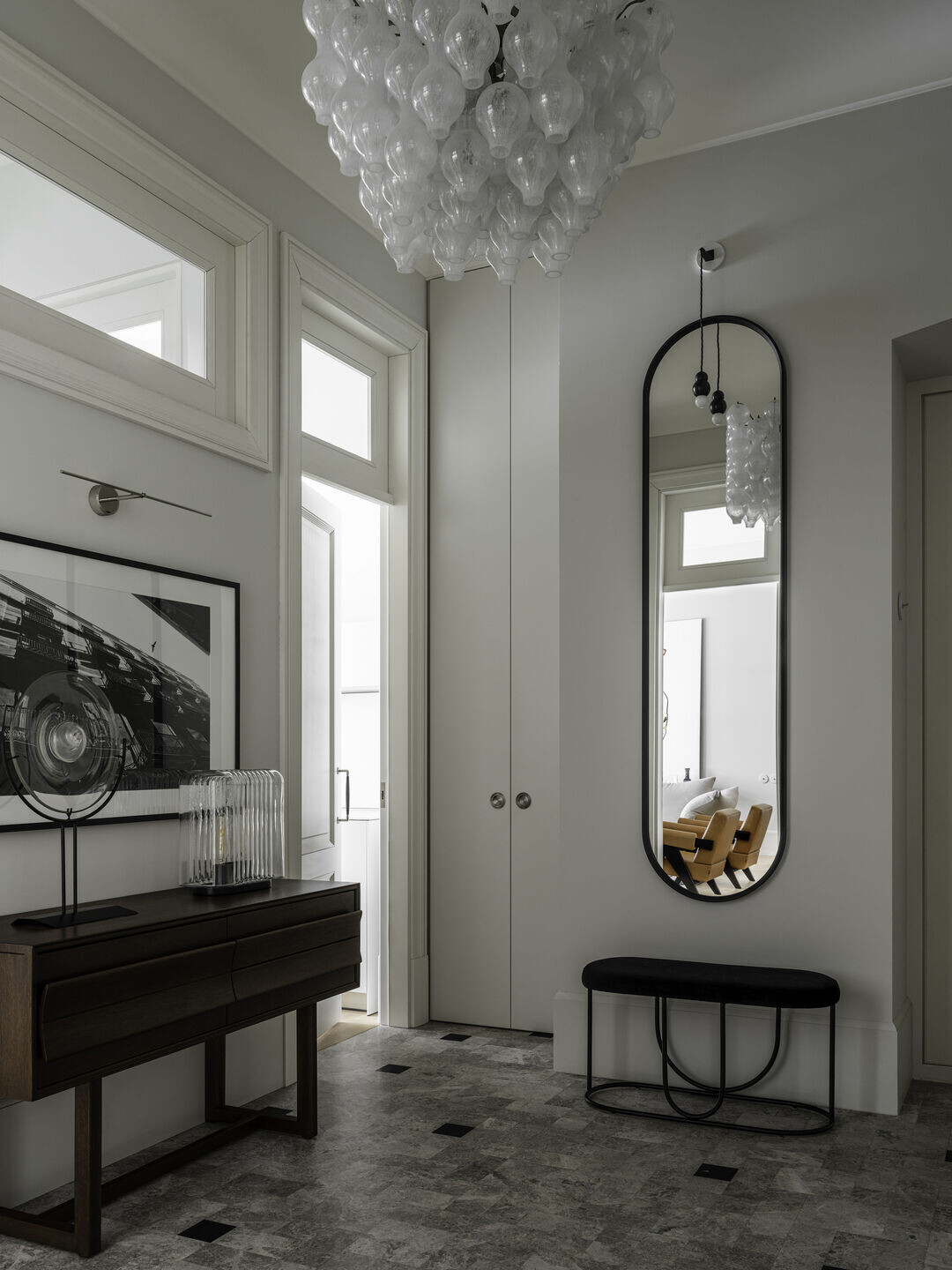 The clients contacted the Blockstudio architects while they were still looking at available options. "That's an ideal moment," say both Natalyia and Ivan simultaneously. "Apart from the obvious pros and cons, any space has hidden issues and opportunities that only an architect can detect."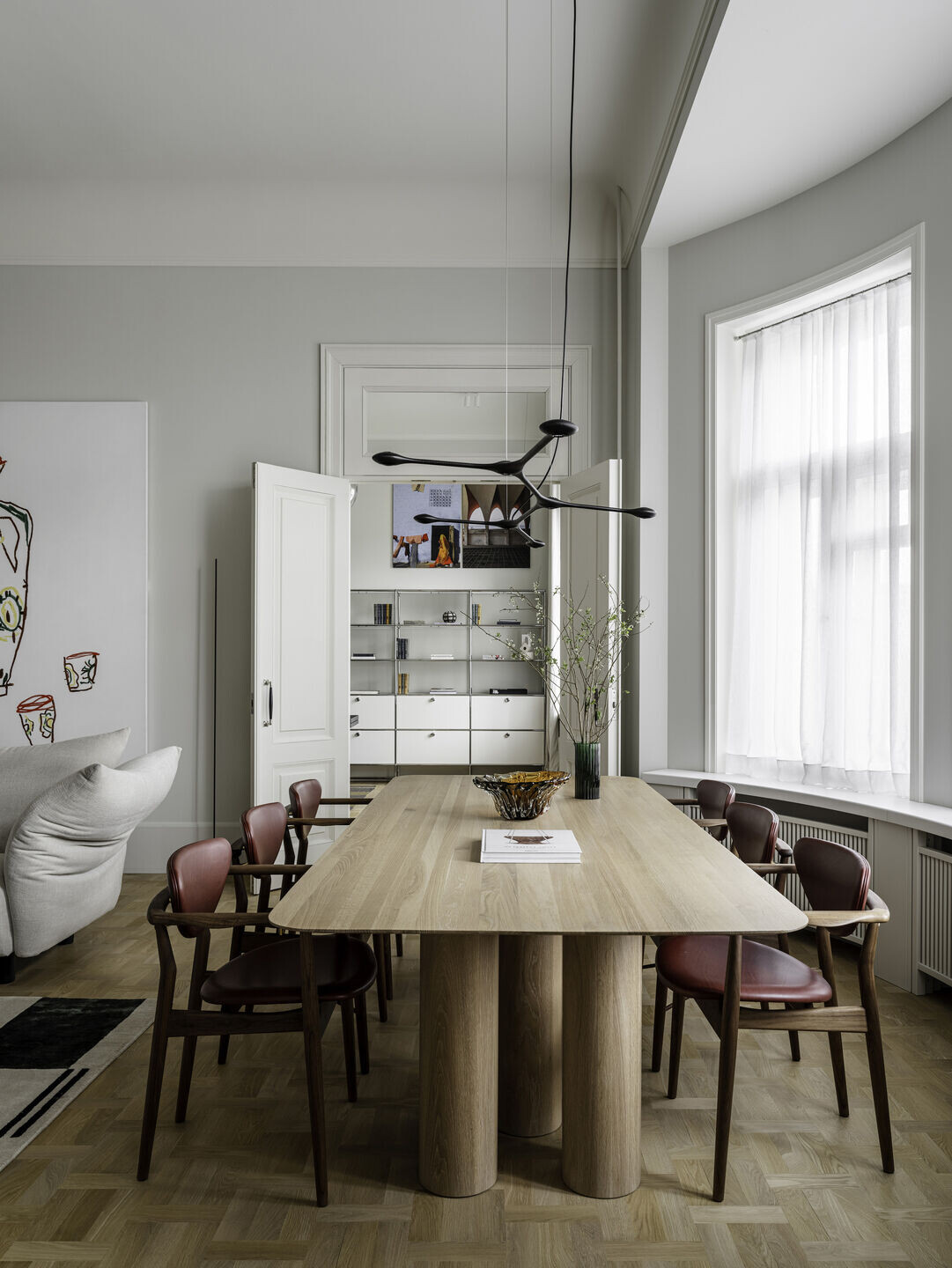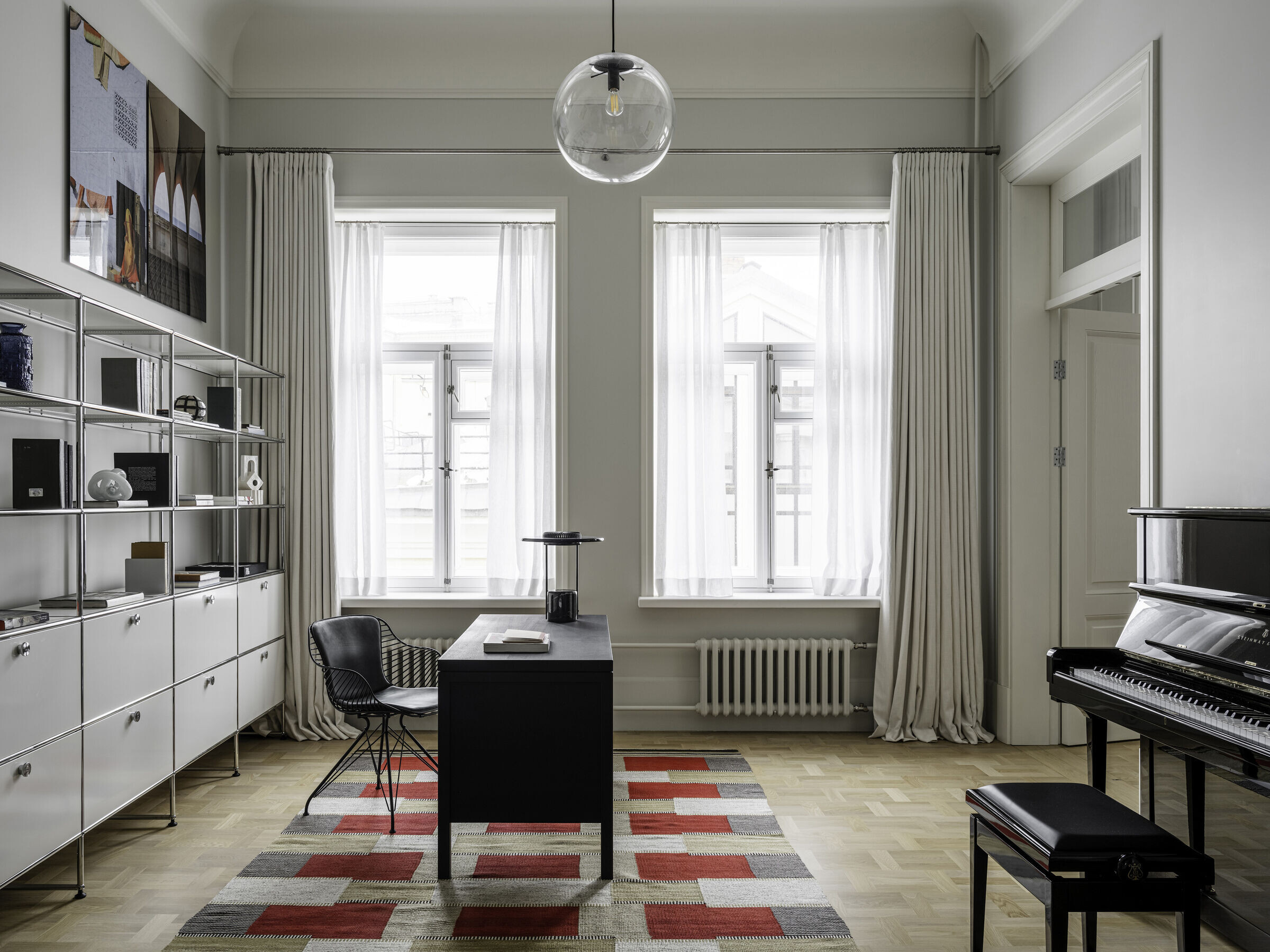 Among the flat's obvious advantages were its size (203 sq. m), very high ceilings (4.3 m) and 13 windows. But most importantly the flat lent itself to a complete redesign that allowed the architects to let natural light into all the rooms – from the bathroom to the entrance hall. Sunlight penetrating the farthest corners of a flat through fanlight, borrowed light and glass partitions marks out Blockstudio's style, as does enfilade design. The sitting room, dining room and study are located on one axis, while the private rooms are accessible through a hall with a grand portal with swing doors. "When designing this structure, we had a mental picture of a classic wooden screen – elegant, light, yet very functional," says Natalyia. "Hanging oak panels that could be easily removed when it is necessary to clean the glass or to make the structure even more transparent fold the glazing of the doors."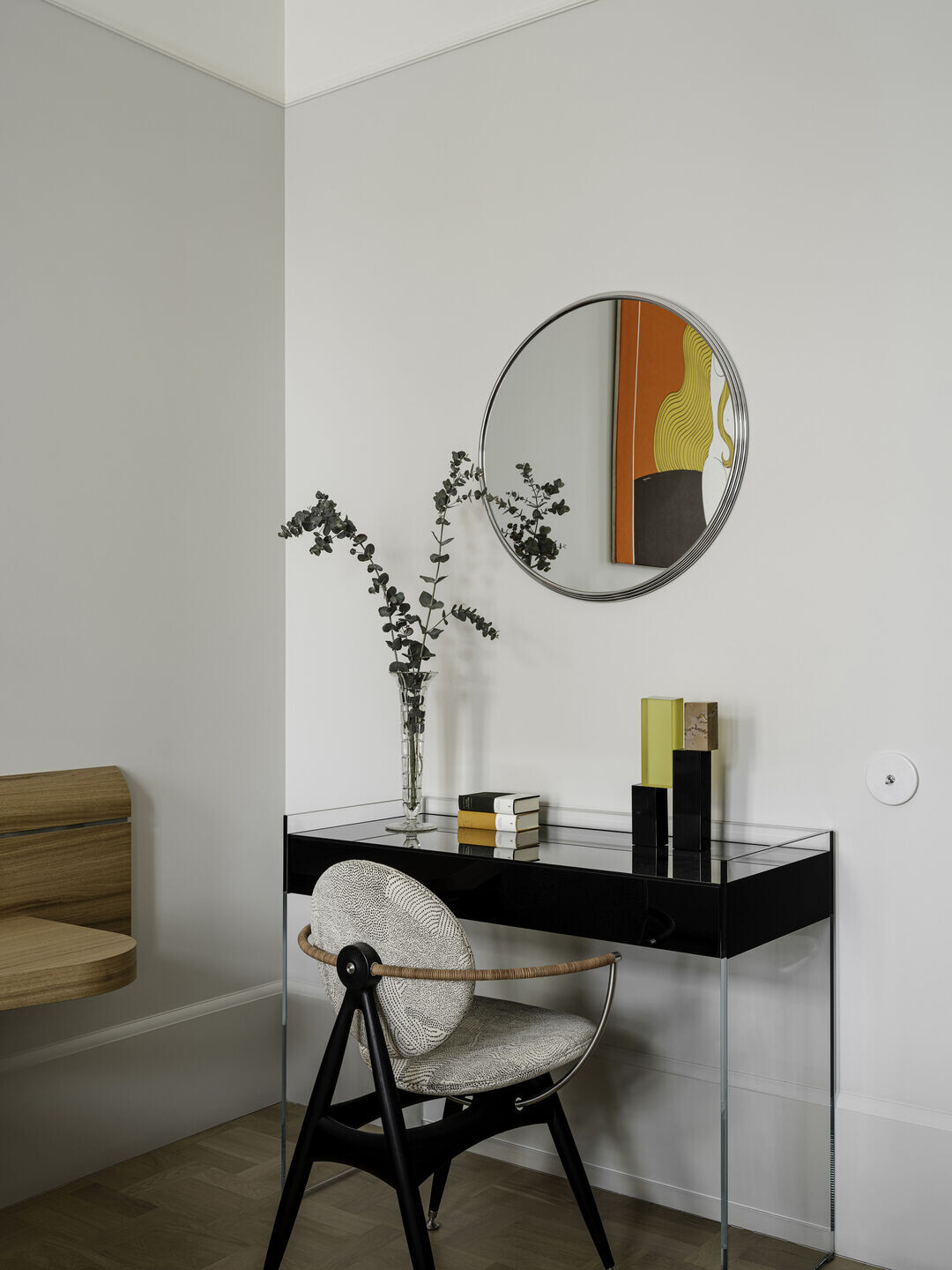 "While the basic design revolves around classic architectural approaches, we used contrasting details to set it off," says Ivan. "For example, we used laconic curved gypsum plaster cornices to form a dome-like space and a simple fireplace mantel made of natural stone creates a sense of rhythm owing to its wavy trim. A minimalistic kitchen practically blends with the wall, and to re-enforce the image, the exhaust hood is built into a box with a moulded cornice decorated by a panel of an aged mirror and metal to create an illusion of lightness." "That is our first project with practically no built-in lighting and so many chandeliers," continues Natalyia. "There are angle lamps only in the library to highlight art. The rest are pendant lights, sconces and floor lamps – the decision prompted by the high ceilings. We chose each light as an art object, just as we did when selecting furniture, décor, modern art and even a cat bed. By the way, talking of cats – while the construction was in progress, we provided for special cat trap doors in the walls and a cat's 'personal lavatory'. That is also important as true luxury lies in the details."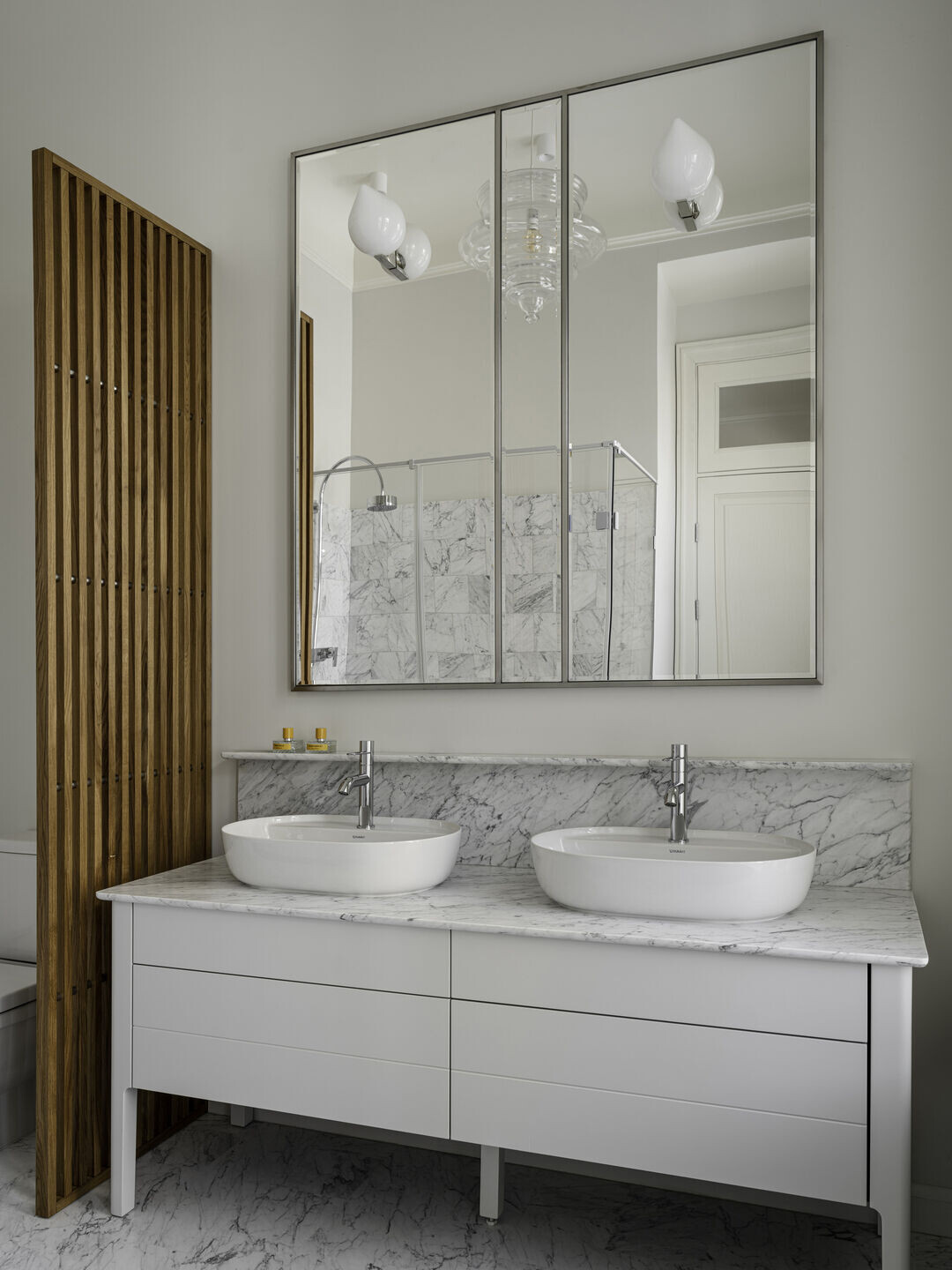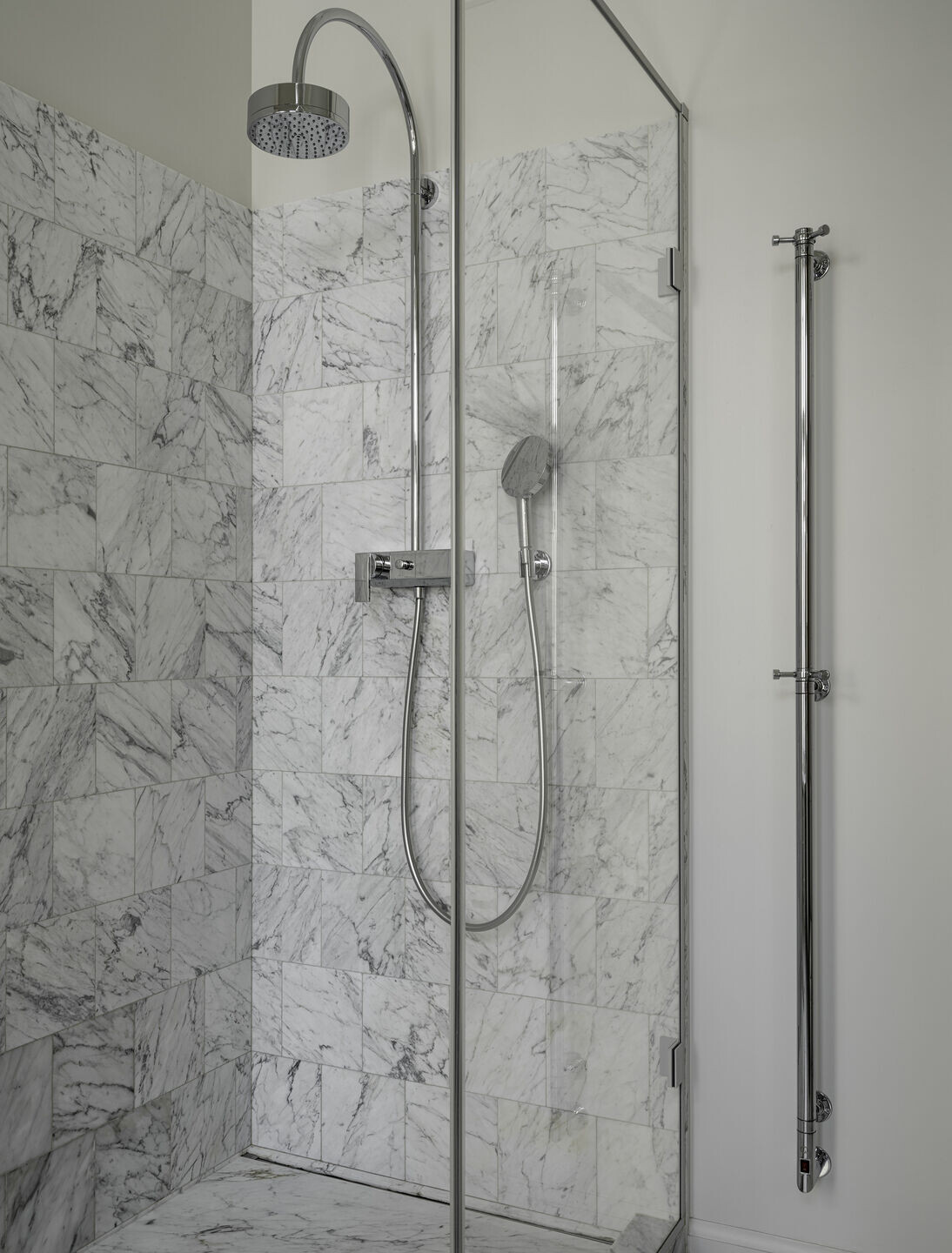 Team:
Architecture Firm: Blockstudio
Architects: Natalia and Ivan Trofimov
Photographer: Mikhail Loskutov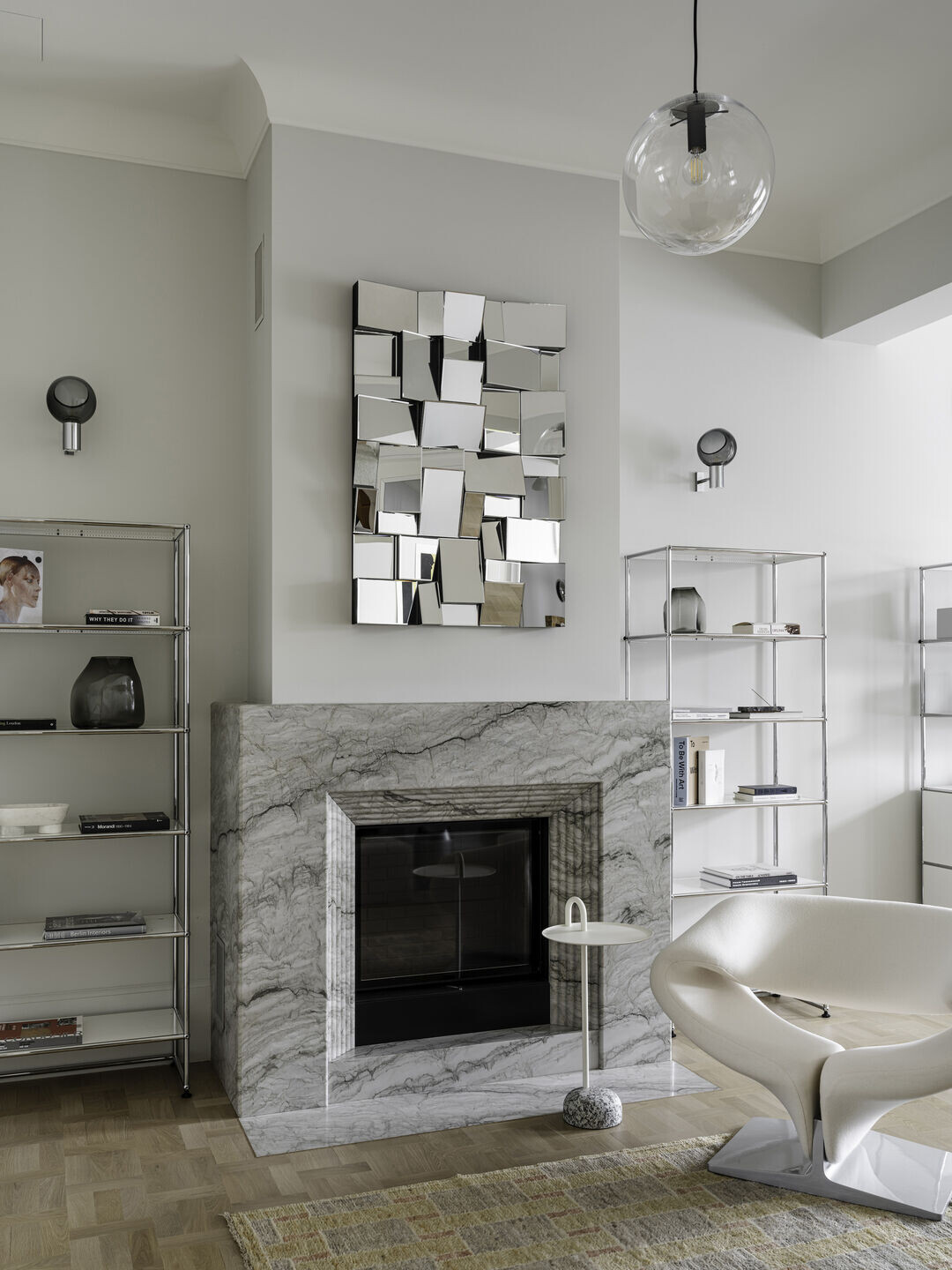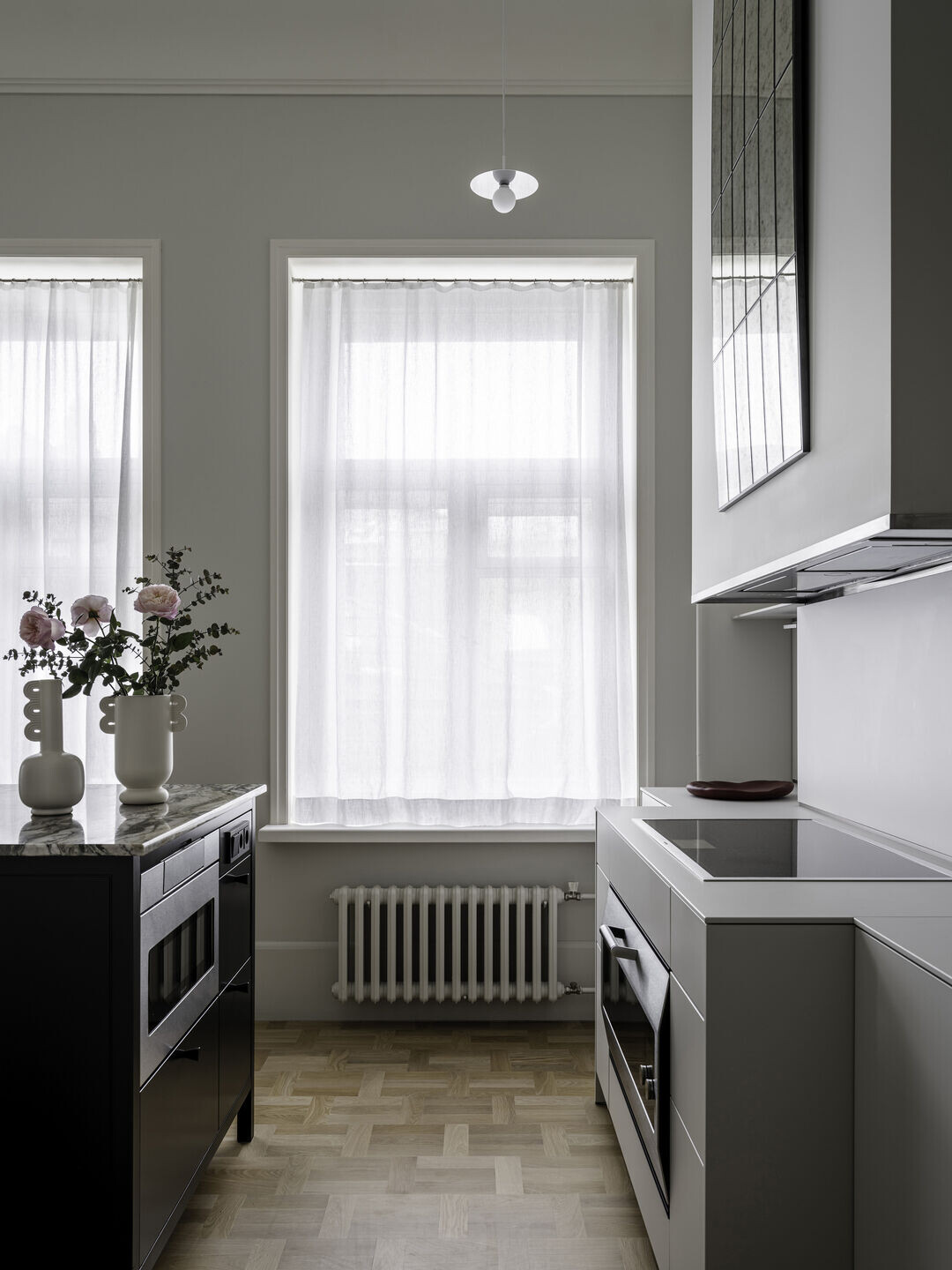 Materials Used:
Cabinet:
Tech.light Delta light
Shelves USM
Near chimney are vases by Bolia, GK Concept
Near table are vases by Lisa Fedotova, LF Ceramics and sculptures by Anna Gracheva, Leto Ceramic and Sklo, GK Concept
Table Time and style
Table lamp
Ceiling lamp ClassiCon
Chair Overgaard & Dyrman
Piano Steinway
Panel
Wall lamps
White armchair Ribbon, Artifort, GK Concept
Table Hay, GK Concept
Photo on the wall by Alexey Narodizkiy
Sitting room:
Lamp INGO MAURER Flying Disc
Table Tre Sekel, Artilleriet
Chairs Finn Juhl
Celling lamp Tokio Carbon Light
Table Zanotta, Giro
Black table, Ethnicraft, L'Appartment
Comode Cappelini, Luxor
Wall lamps Roll & Hill, Eclipse Sconce
Armchairs Cassina
Sofa Edra
Black console Jordanartisan, Design dealer
Picture on the wall (red) by Natalia Zanchevskaya
Picture on the wall (white) by Alexey Dubinsky, Art Sample
Carpet CC-tapis
Kitchen:
Bulthaup
Lamp Flos, Noctambule Suspension
Chairs Fredericia
Lamps Atelier Areti
Vases by Ferm Living, GK Concept
Radiators Viadrus Kalor
Mirror designed by Blockstudio
Master bedroom:
Textiles Ateliertati
Celling lamp Vistosi
Table lamp &Tradition, GK Concept
Sconce Marset
On the dressing table is a sculpture by Lev Yefimov.
Chair Overgaard & Dyrman
Table Glasitalia
Bathroom
Lamp Lasvit
Wall lamps Michael Anastassiades
Corridor:
Bench Massproductions
Mirror Glasitalia
Commode Time & style Factory, Amsterdam
Wall lamp Michael Anastassiades
Lamp Karakter – Copenhagen
Lamp Catellanismith
Ceiling lamp @brodach_selection
Photo on the wall by Trofimov Ivan, Blockstudio
Hall:
Lamp Flos
Bathroom:
Vases by Lisa Fedotova, LF Ceramics
Room with stairs:
Vase by Bagarata Ceramics near the window
Bench Massproductions
Lamp