The Covid-19 pandemic has brought the inadequacies of India's healthcare programmes to light. Deficient infrastructure and unaffordable medical services created multiple challenges, adding significant stress to the already fragile healthcare system.
Paras Healthcare is one of India's largest healthcare chains whose vision has tremendous synergy with India's burgeoning middle-class population that longs for an affordable rendition of high-quality healthcare. Paras Hospital is an upcoming super-speciality hospital located in the heart of Kanpur, Uttar Pradesh. The state-of-the-art facility promises to offer specialised healthcare services in India's most populous state. Accommodating more than 400 beds and over 100 intensive care beds, the hospital will house a dedicated department for oncology medicine with two Linear Accelerators and Nuclear Medicine, among other highly advanced departments and technologies.
The design for Paras Healthcare emanates from three guiding principles woven together seamlessly to create a highly functional, flexible and resilient hospital building – sustainability, streamlined operations and users' experience.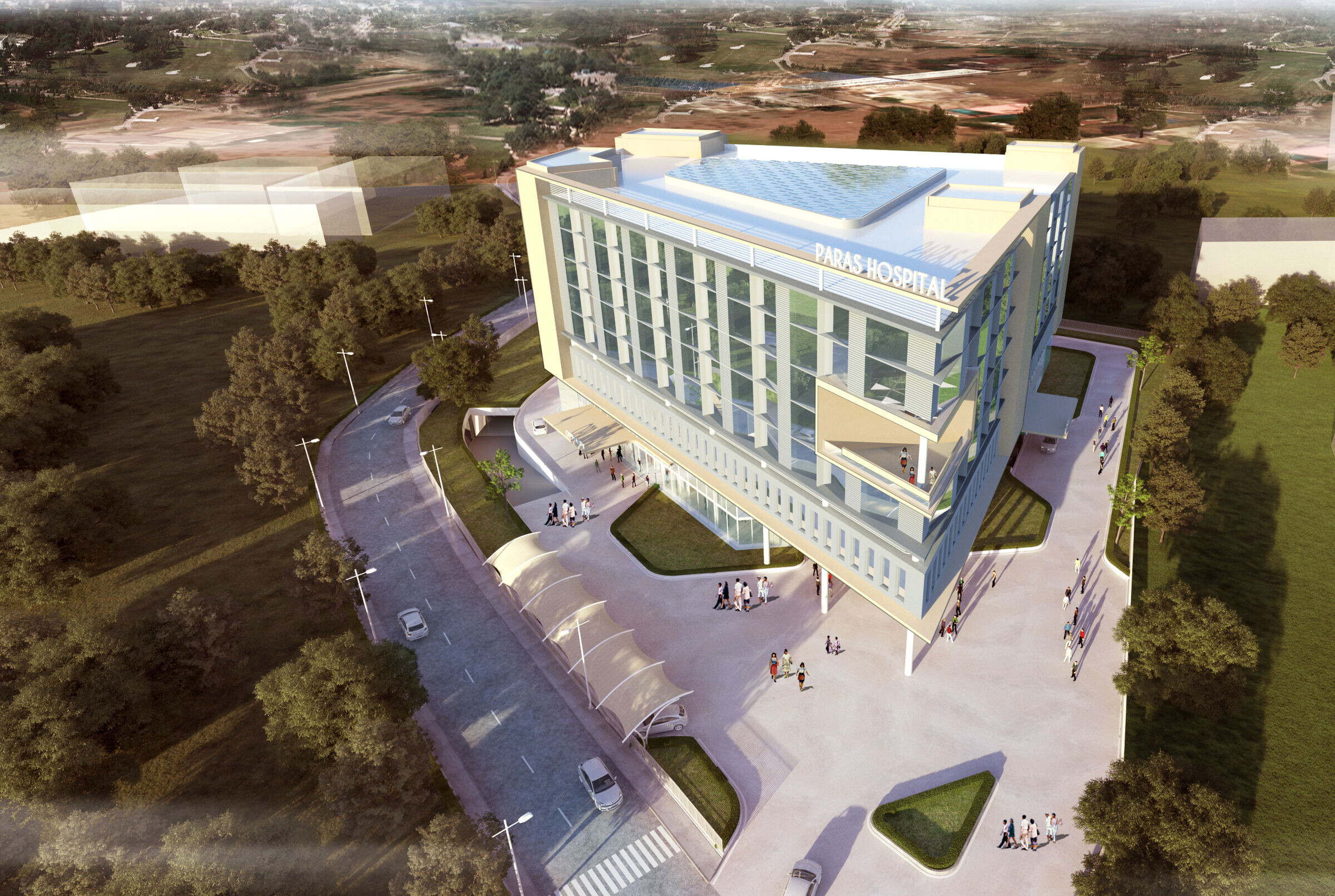 Adapting and Reusing
Imbibing a sustainable approach at the core of the design process, Paras Hospital adaptively re-uses an existing structure – trimming down the time and cost that typically goes into setting up a healthcare facility of this scale. The narrow floor space depth and low floor heights of the existing structure posed challenges to the operation and efficiency of the hospital. However, strategic programming and zoning enabled seamless augmentation of services. The architects extended the existing floor plate by 10 feet along the internal periphery of the courtyard, creating a consistent modular circulation spine across all floors.
Functional Efficiency
A radical interpretation of a 'Breitfuss' model, the hospital is designed to enable seamless operations, shorter walking distances for the staff and visitors in a consolidated building with a recognisable main entrance. The strategically carved out green terrace and inviting entrance lend a semiotic form to the building, and the hospital manifests itself as an icon in the city of Kanpur.
Paras Hospital houses the emergency, ambulatory care and surgical departments on the lower floors, in-patient wards on the upper floors with a service floor sandwiched in between. Outlining a monumental central courtyard, these departments are planned along a circulation corridor that acts as a robust wayfinding tool for patients and caregivers. The large volumes of this landscaped atrium yield a warm, inviting environment for patients that stimulates healing and comfort, flooding the area with natural light and greenery.
The program design for this hospital incorporates a significantly high number of single rooms by formulating a newer typology of a small single rooming measuring 160-180 sq. ft. This is inconsistent with India's conventional healthcare planning ethos, which focuses on creating multi-patient wards and scaling up the bed number, jeopardising infection control and increasing patient risks.
The modular patient rooms are designed to minimise errors and ensure optimum efficiency for the healthcare staff. Warm, healing colours and natural material palettes in patient rooms attempt to reduce stress and promote healing. The windows in each patient room are optimised to provide expansive lines of sight from the patient head to outdoors views, bring in light and enhance the patient experience.
Furthermore, the departments are planned to effectively segregate infectious and non-infectious patients during viral outbreaks like the Covid-19. Flexible spaces that can be reconfigured to accommodate additional beds and variable mechanical support systems ensure optimum utilisation of spaces during such challenging times.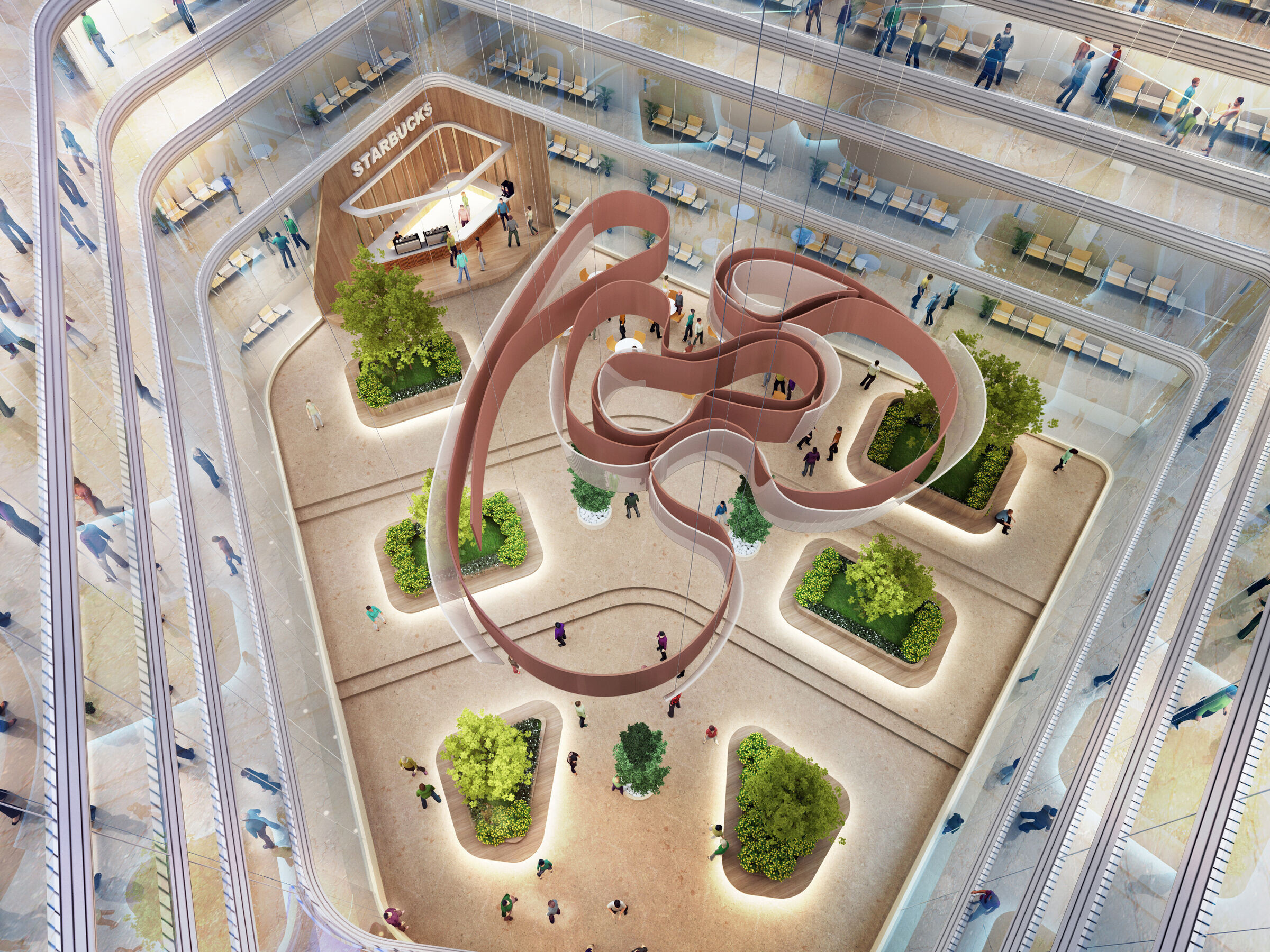 Patient Safety and Experience
These design and planning strategies stem from 'Evidence-based Design' principles and encourage healing and reduce stress among patients, caregivers, and staff. Guided by these principles, the design also integrates several biophilic elements like plants and natural light, safe and enclosed outdoor spaces for patients and caregivers that are known to alleviate stress and promote healing.
Often ailing patients experience a loss of control over their surroundings, causing stress. Thoughtfully designed and accessible healing gardens in the building offer a sense of control to patients and encourage movement and exercise. These landscaped pockets also double up as cultural congregation spaces, while the outdoor patios are designed as extended break rooms for staff. In addition, the courtyard at the third level intends to be a sanctuary for ailing patients. Safe, outdoor spaces like these have proven to be salutogenic and trigger recovery.
With an end goal to enhance the patient experience or what CDA connotes as HuX (Healthcare User Experience), the proposed design involves careful analysis of end-user trajectories in and around the building. Subsequently, it enhances the user experience of each category of end-user by incorporating certain positive distractions and support elements aimed at reducing stress and enabling comfort, both physical and physiological. In addition to a LEED Gold rating, the project also aims to be WELL compliant.
With strategic interventions, meticulous planning and holistic utilisation of the existing structure, Paras Hospital sets new benchmarks for contemporary healthcare infrastructure in India.