• The Parkwood Institute is a new 450,000 sq. ft., four-storey 168-bed psychiatric hospital located on an existing hospital site joined to the existing rehabilitation and veteran's hospital. This general psychiatric facility has a clinical focus on adolescent psychiatry, assessment, dual diagnosis, concurrent disorders, geriatric psychiatry, mood and anxiety disorders, and psychosis. The building is connected to the existing Parkwood Hospital, Western Counties Building and to the new parking garage via underground tunnels. The Parkwood Institute has a chapel and courtyard with a labyrinth, four secured courtyards for patients, and secured outdoor seating, adjacent to the food services area, for patients and visitors.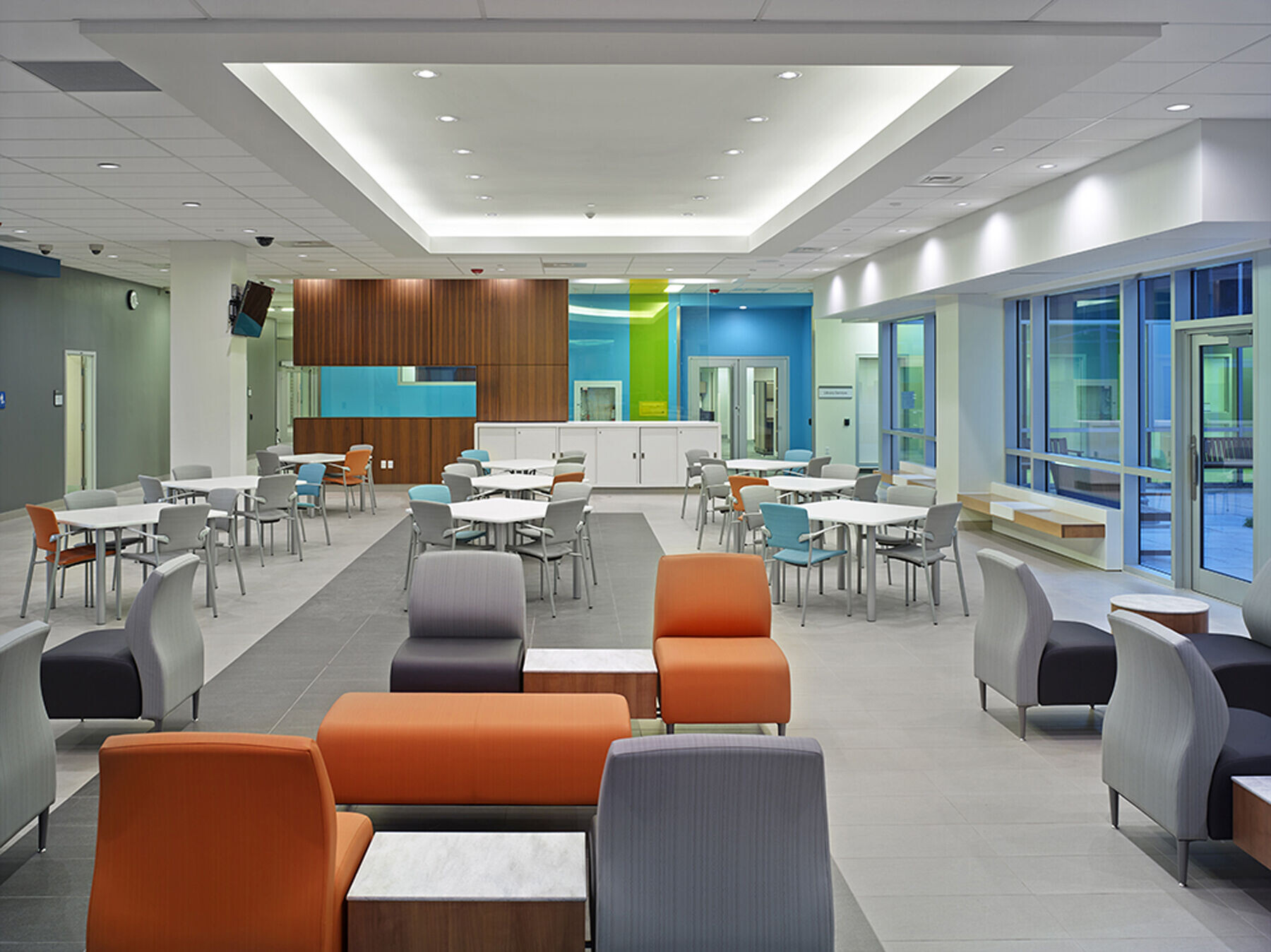 • Parkin was challenged to design the facilities in order for the Forensic Program to provide an environment that facilitates the advancement of forensic psychiatry. Parkin utilized and embodied a model of care in the design of the home units, neighbourhoods and downtown called Psycho-Social Rehabilitation (PSR), which promotes individual healing that is rooted in personal goals, family involvement, support, and community interaction, and enables people with mental illness to lead full, meaningful lives while coping with a mental illness. In order to contribute to a cascade of increasingly greater levels of liberty which supports the PSRmodel and the clients' recovery and healing, Parkin designed a mental health setting that offers minimum and double-locked medium secure environment and single-locked areas.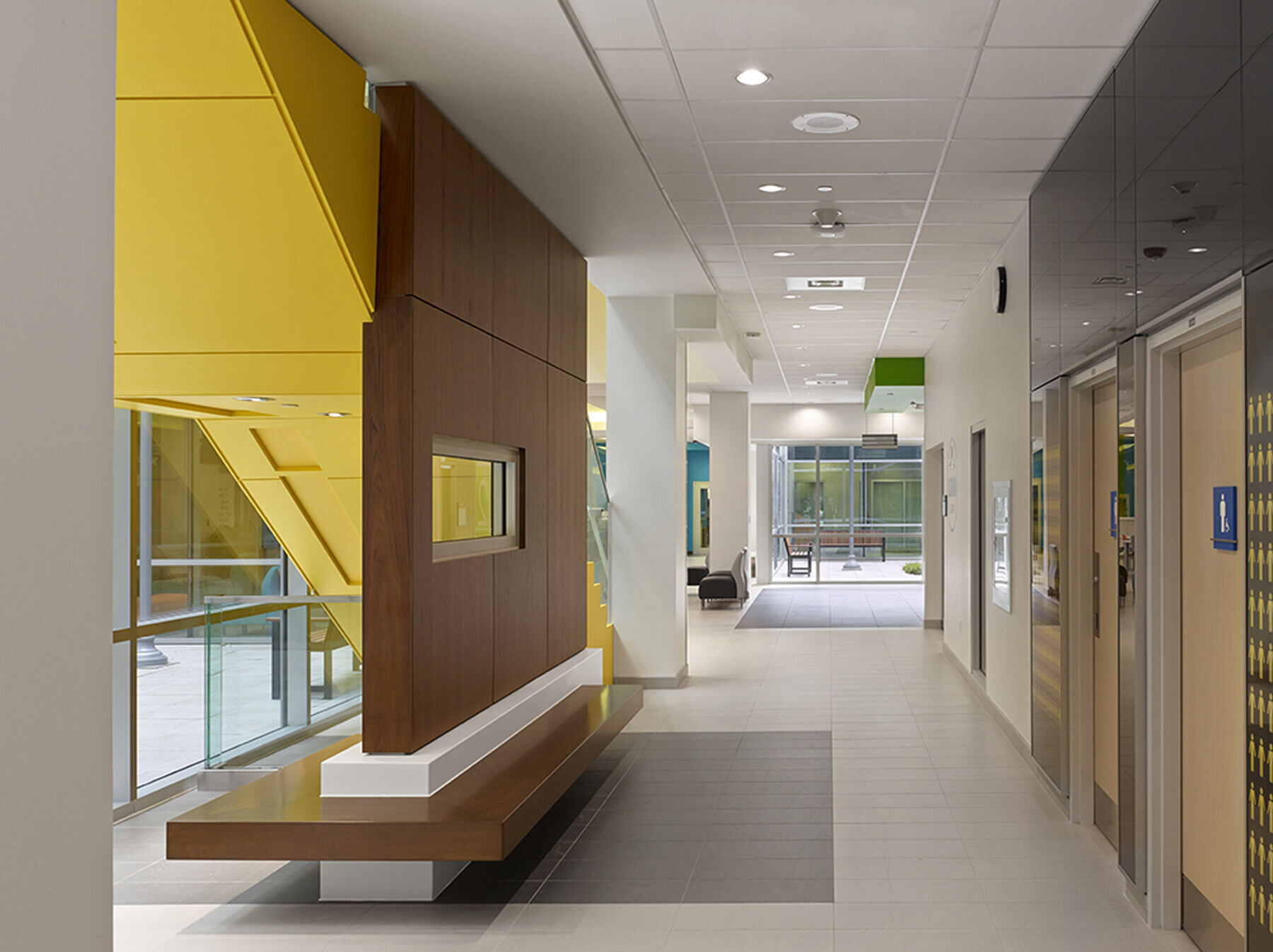 What materials did you choose and why?
As an Evidence-Based Design Accreditation and Certification (EDAC) Advocate Firm, Parkin is familiar with the approach to evidence-based design (EBD) and had onsite healthcare design researchers who undertook studies to develop strategies of creating normalized patient experiences as well as designs and materials to prevent spread of infections and provide safe and secure healing environments. EBD innovations were developed that contributed to improved patient experiences, safe courtyard spaces to provide outdoor spaceto various patient populations, and architectural colour and material cues for simple and intuitive wayfinding. All materials were selected to meet EBD findings and sustainable initiatives to meet LEED certification requirements.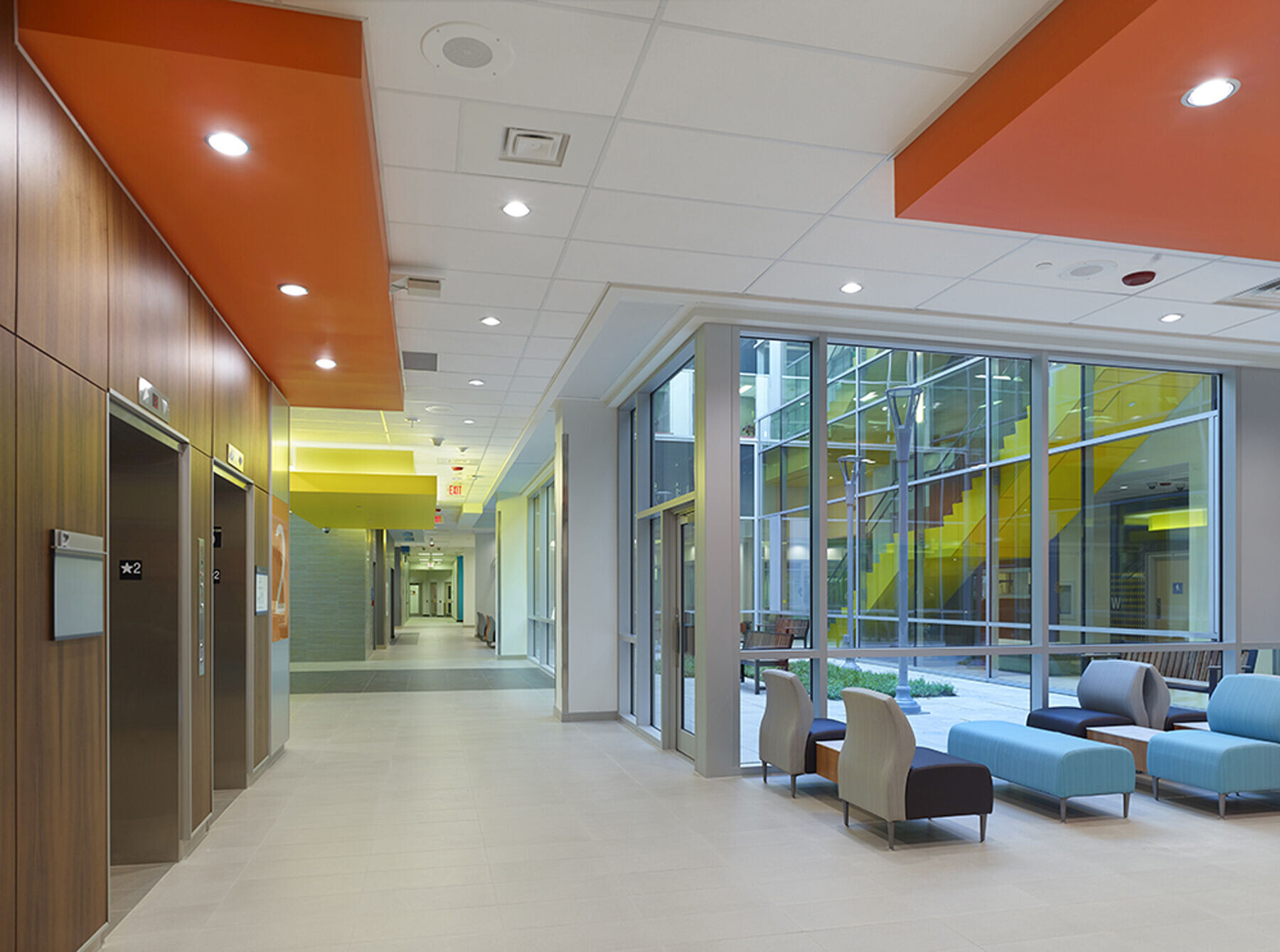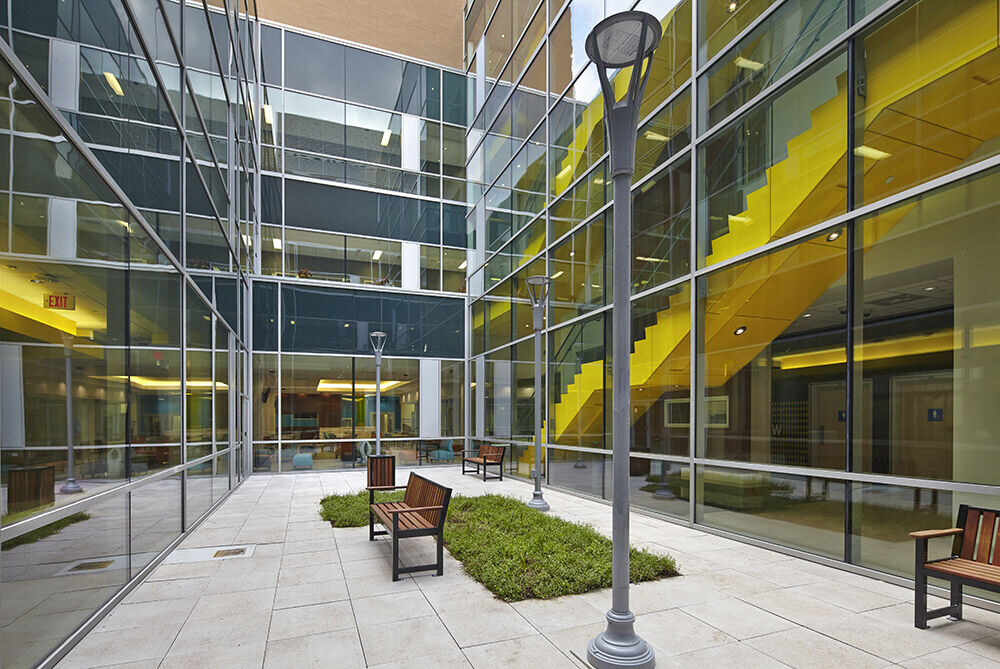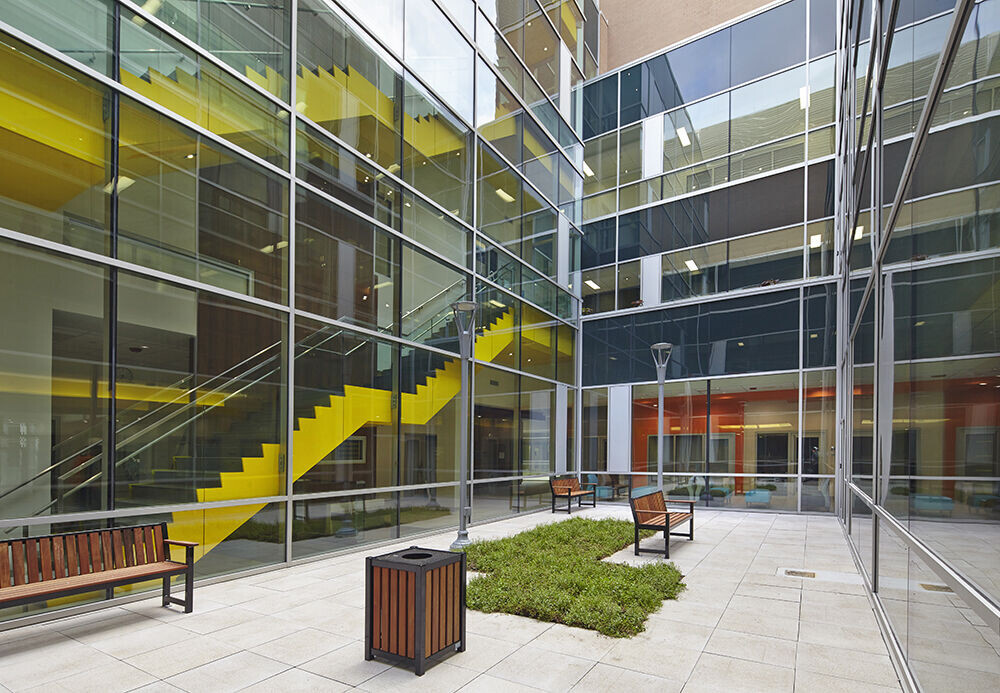 Material Used :
Façade Cladding:
Hastings & Aziz Ltd. - Preformed horizontal metal cladding system
Flooring:
Linoleum Sheet Flooring(Most of the clinical and non-public corridors etc):, Forbo Marmoleum
Patient Washroom flooring: Seamless Resin, Sika, Sikafloor® 2000 Quartz Coloré
Carpet tile in non-clinical admin areas: Shaw Contract, Glimmer Carpet Tile Flashpoint
Public Space Ceramic Floor Tile: Centura, Basaltina Ceramic tile, 12"x24"
Doors:
Pocket Plastic Laminate Doors, Continental Cabinet Company, materials and finishes as noted below:
FOR BUILDINGS A AND B:
PLAM-03 - "FASHION GREY"
PT-03 - "SILVER QUILL"
FOR C2-162:
PLAM-03 - "FASHION GREY"
PT-03 - "SILVER QUILL"
FOR C2-111
PLAM-04 - "NORTH SEA"
PT-04 - "SEAL GREY"
ICU Type Doors:
Stanley Access Technologies Dura-Care ICU/CCU Manual Door System
Plastic Laminate Doors: Upper Canada Specialty Hardware, Colour -Arborite Tatami Kori P‐257CA
Windows:
Pressed Steel Frames Upper Canada Specialty Hardware
Lighting:
A1 Fixture: Philips CFI Lamp T8 1x4 Recessed Fluorescent Full Size Lens t8 Lamp
Furniture:
Furniture by Judy Newcombe Design Associates Inc. Lounge Furniture Krug Zola line