This 3800 sq. ft. single family residence is located on a +/-2.5 acre Urban Western Washington site which includes a class (3) salmon stream running through the property.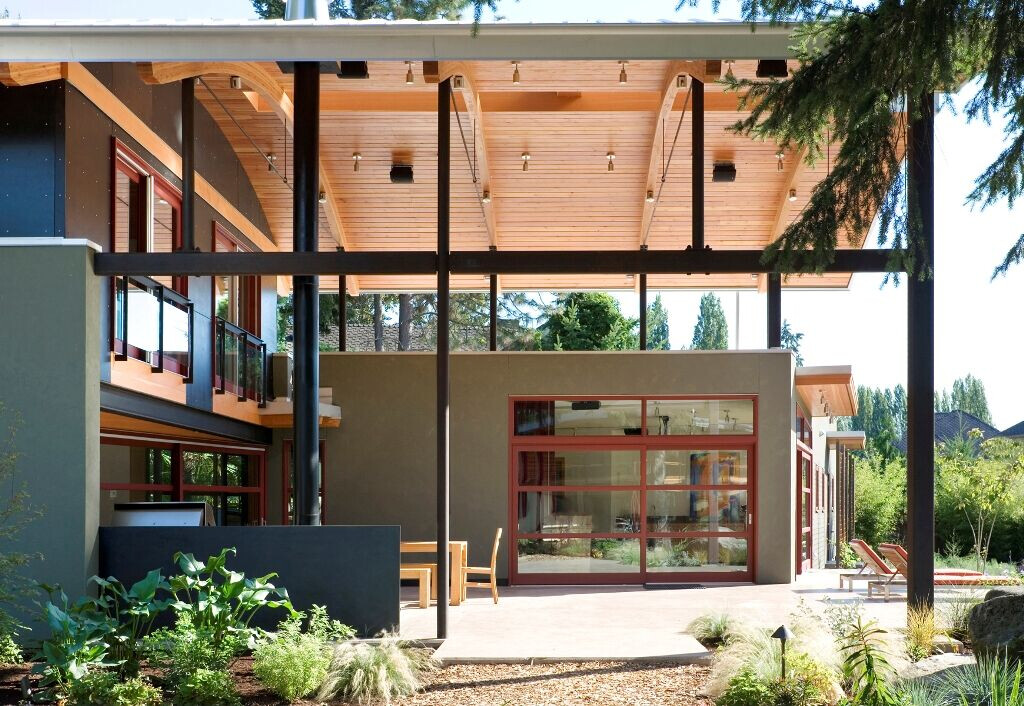 Developed from the owner's concept to create a converted warehouse loft space in a private park the design of the house called for open and flexible interior and exterior spaces. The main entry is intimate, open and inviting. The main double height vaulted ceiling living space combines the family room, dining area and kitchen w/ a second floor study and catwalk both which are hung from the exposed wood and steel structure above. The main curved roof form is bisected along the peak w/ a continuous skylight. The roof extends out and creates a 1200 square foot covered patio. The finished material selection is focused on reinforcing a seamless transition between interior and exterior. The interior integral color concrete floor continues through the covered patio and down into the landscape eventually becoming green jointed pavers.
The lower floor also includes (2) bedrooms, a bathroom etc. away from the main living space separating the lively open space from the intimate quiet spaces. The open master suite includes the master bedroom, bathroom and walk in closet. W/ o using traditional floor to ceiling walls the spaces are divided w/ wood cabinetry and can be closed off using sliding partitions. The continuous skylight floods the suite w/ natural light.
The landscape features include a rain garden for on site storm water retention and irrigation, wood chip paths and an open meadow.
The passive and active heating, cooling and ventilation systems employed make the home energy efficient. The main building block of the home is an Insulated Concrete Form (ICF) system made from recycled wood chip fibers. Reclaimed wood is used throughout the interior and exterior of house for trim and wood work. Low VOC materials and finishes are used throughout.