The restaurant building is located in the Primorskiy Victory Park, in the center of St. Petersburg, in the western part of the Krestovsky Island. Regular flat site occupies part of the alluvial beach on the western shore of a small harbor on the bank of the Malaya Nevka River. From the west and east to the site adjoins the park walking area.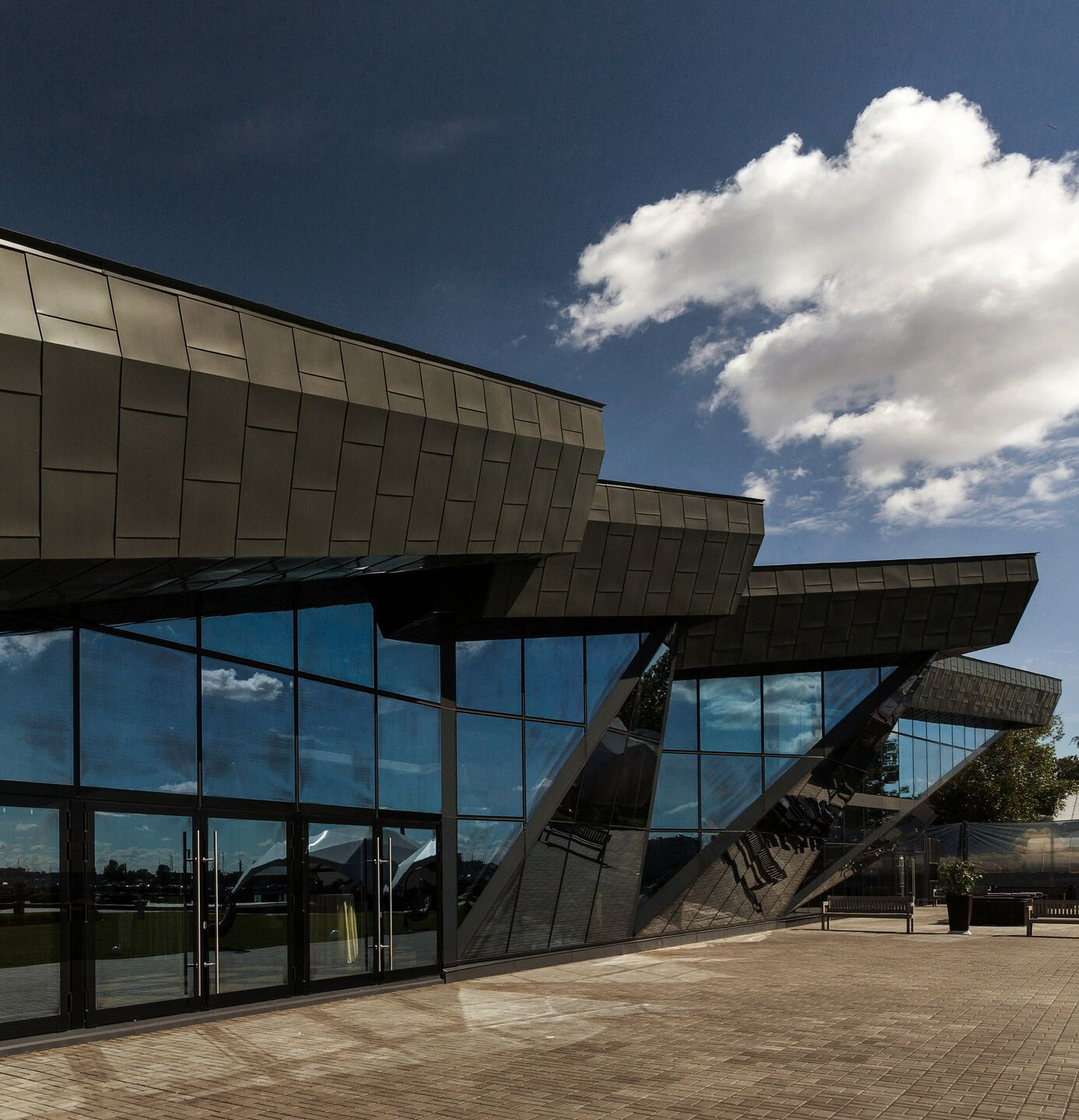 The building is a volume of complex shape, rectangular in plan, with dimensions of 50x26 meters, a height of 9 meters, with a pitched greened roof. Overall plan dimensions and location on the site, the projected building repeats the structure of the restaurant, which was located on the site until 2009 and was destroyed as a result of a fire.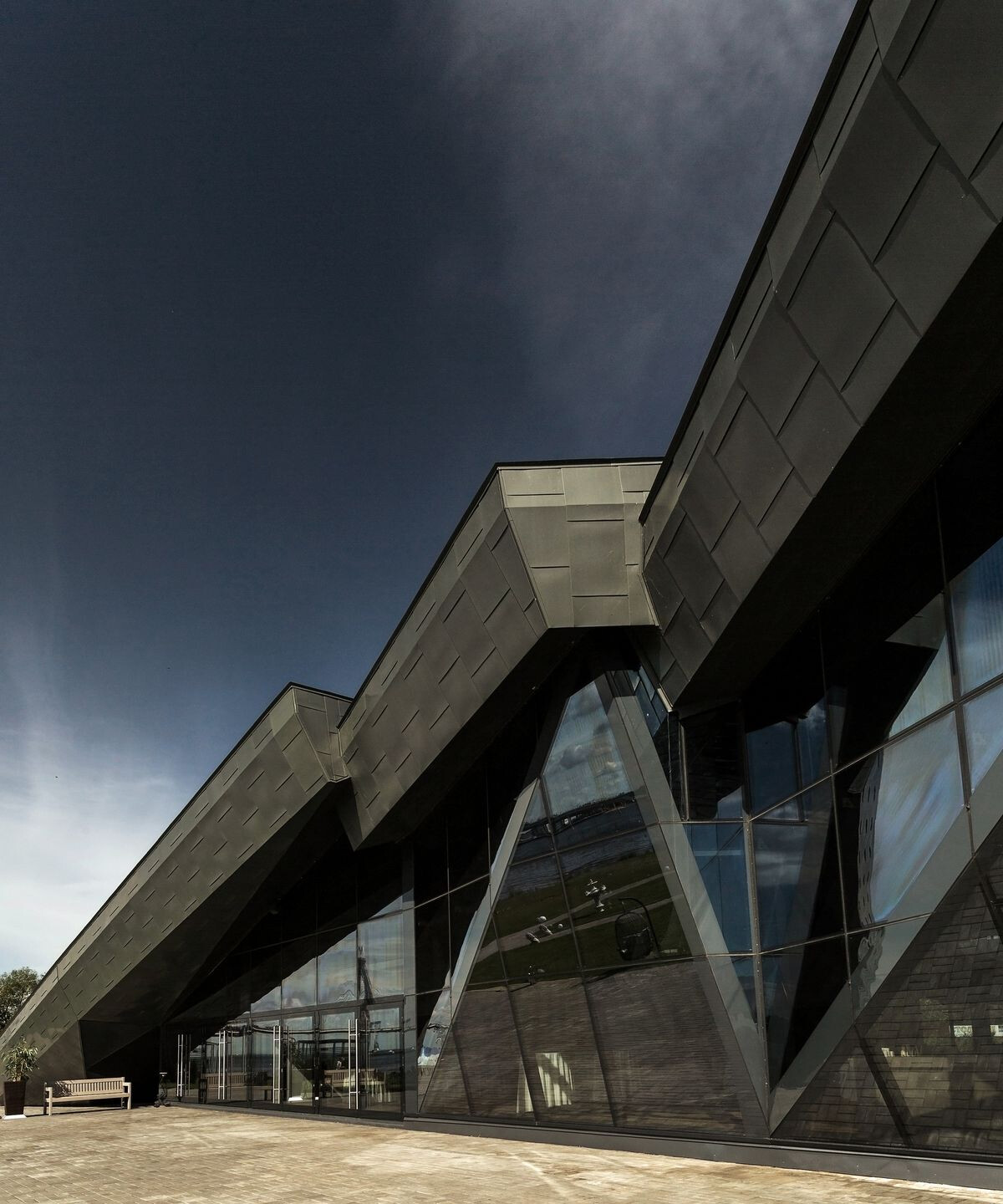 In the project proposals for the development of the park in the 1940s - 1950s. this fragment was supposed to be included in the general composition of the park (a system of park paths, observation platforms, a landscaping device, the inclusion of recreational facilities: a boat station, arbors, beach development along the Malaya Nevka shore). In accordance with the projects of the 1940s-1950s, the park composition in the area under consideration was only partially realized. The architectural solution of the restaurant, executed in the style of "landscape architecture", develops the idea of ​​the author of the project of Primorskiy Victory Park A.S. Nikolsky to create park pavilions in the form of an "inhabited landscape".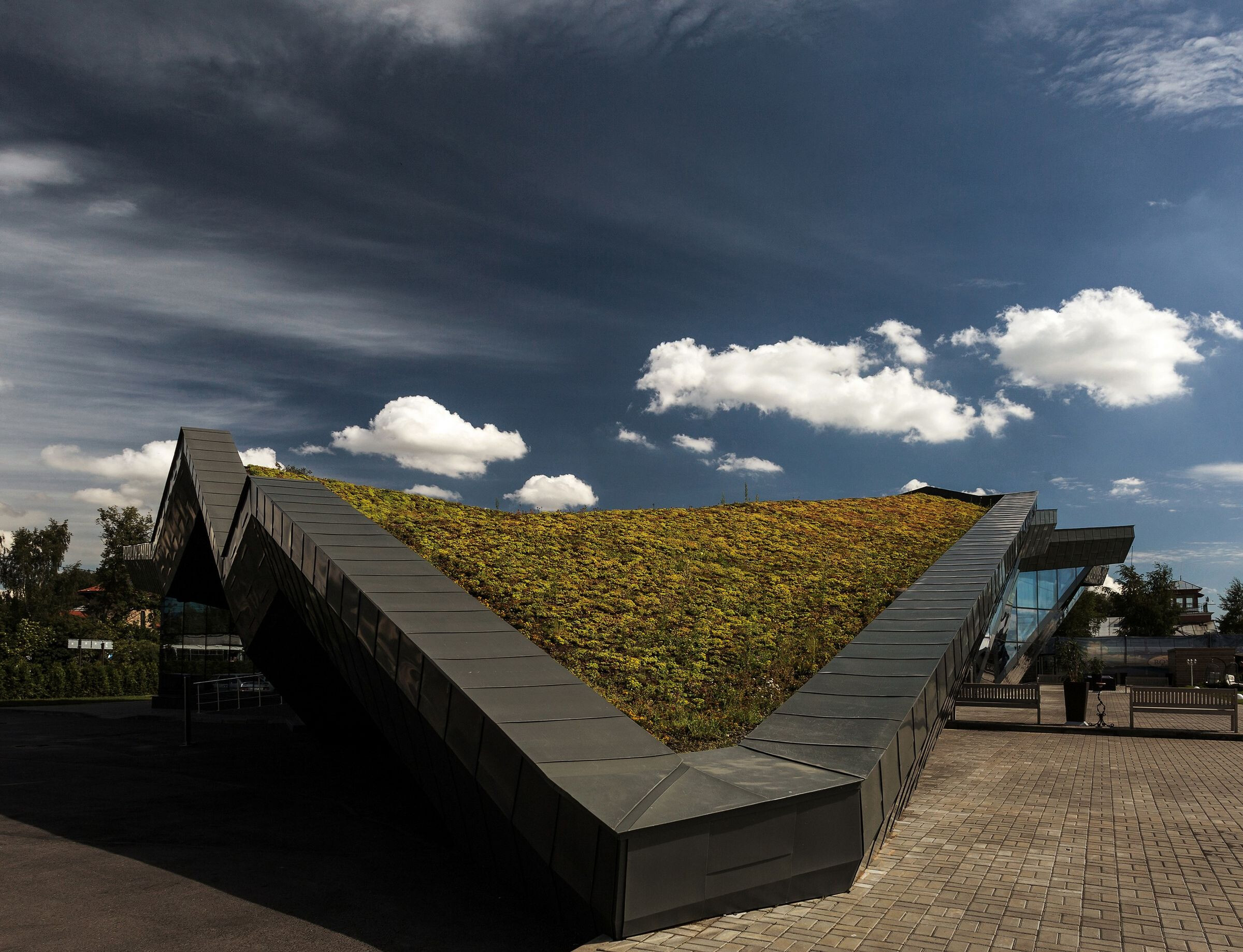 The folded shape of the green roof, the overhangs and ledges from the ground make it possible to "merge" the building with the surrounding landscape, to achieve the integration of the form into the surrounding park environment. There is a terrace on the roof of the restaurant.
The high level of groundwater represented a great difficulty in the construction. The base of the building is a monolithic reinforced concrete foundation plate. Bearing structure is a prefabricated metal frame. Fencing structures are made of structural glazing using the Reyaers aluminum profile. The roof - operated, is solved in the form of a folded construction of complex shape, which is a corrugated profile laid on metal ferms. On the corrugated board a pie of the "green roof" is arranged. When covering parapets, firewalls and wide cornices of the roof of the restaurant, titanium-zinc panels of Rheinzink were used.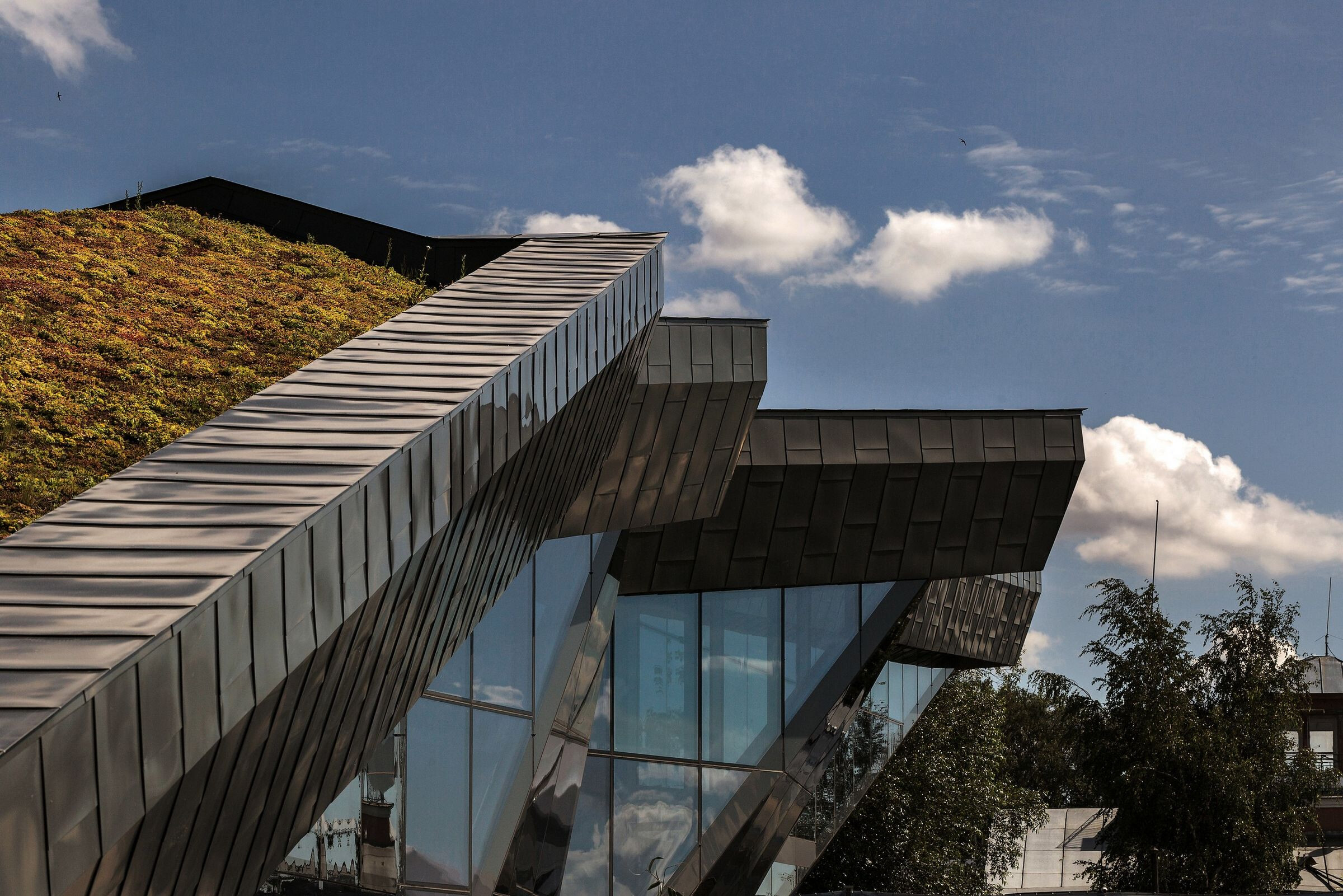 Large glazing planes, contrasting with a folded roof, provide an opportunity to organize a good view of the water area of ​​the Malaya Nevka River.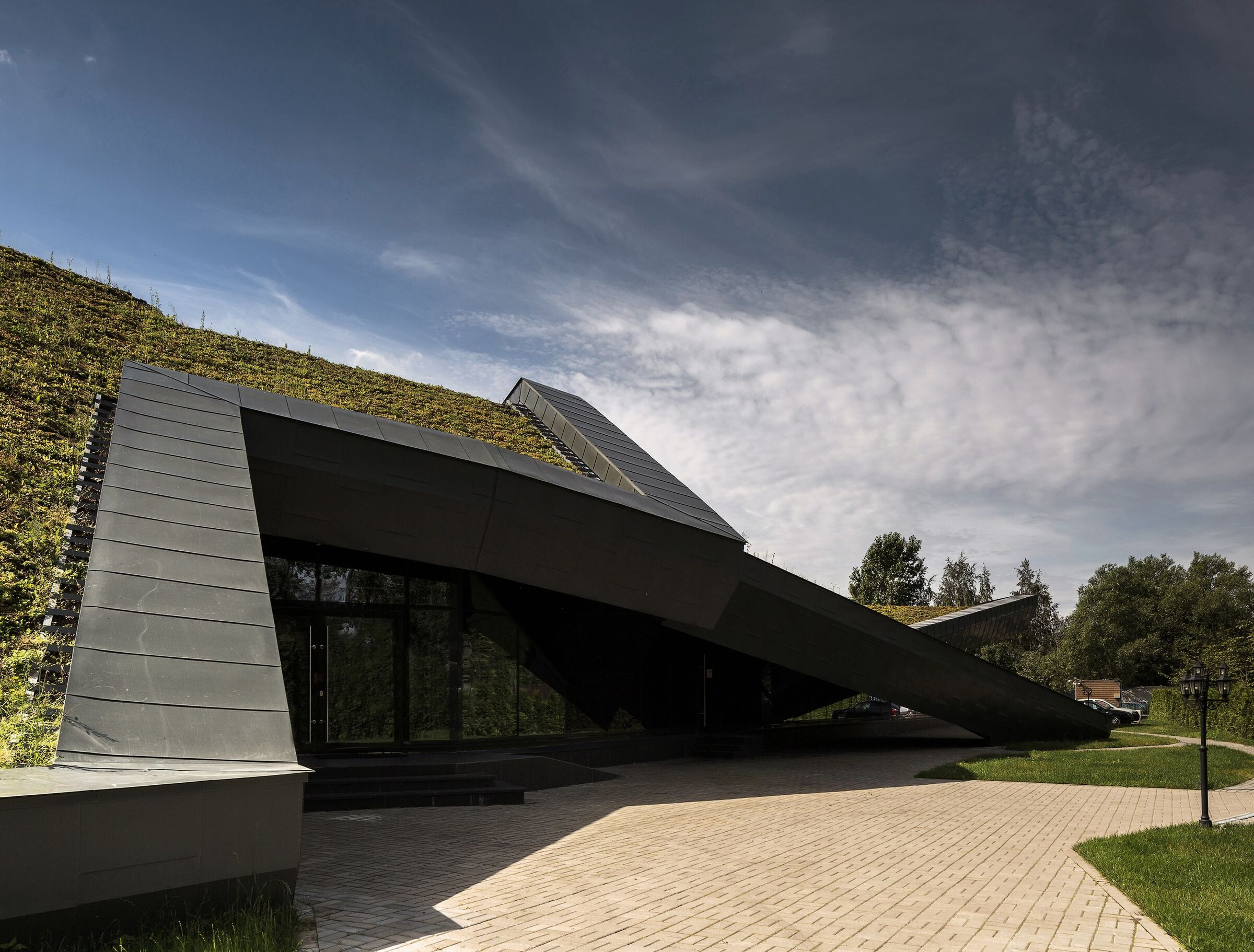 Material Used:
1. RHEINZINK / Titanium-Zinc Panels «prePATINAschiefergrau»
2. ReynaersAluminium / façade and roof system «CW 50-SC»
3. AGC Yourglass / toughenable glass «Stopray Vision-50T»