Deeply understanding the personality and individualities of those who inhabit the space is Flipê's main goal when thinking about a project, it represents our quest through architecture to value differences, make a space Home, welcoming and personal. Create with individuality, unique spaces like each Being, alive and changeable. In this project, the social area represents affections, family and friends.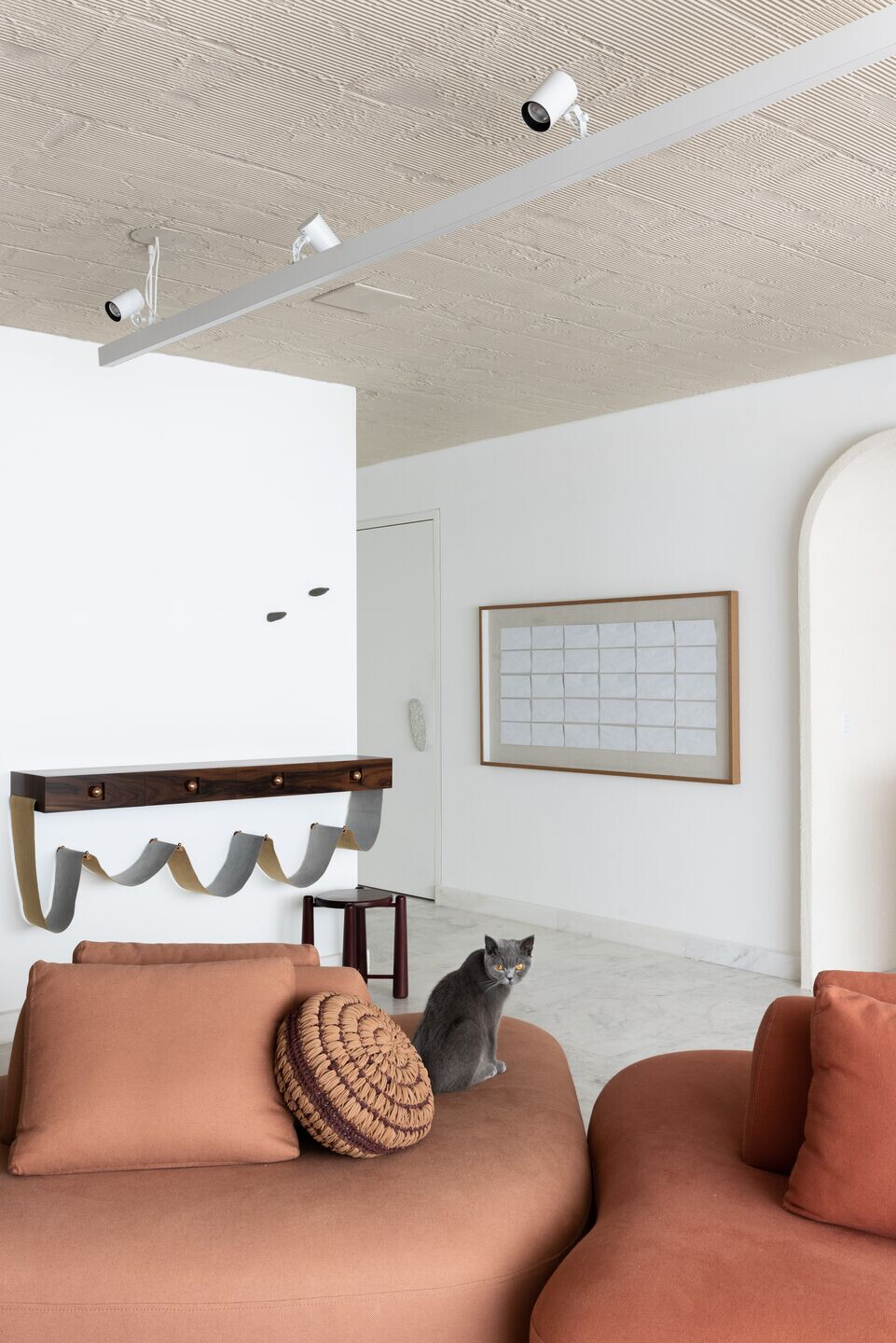 The concept of the RR apartment is born around a sculptural bar, which represents an important role in the social dynamics of the couple who live there. Neutral, clean in aesthetics, but important and welcoming in concept, it embraces and governs the dynamics of the whole. Many of the pre-existing basic elements are used and re signified, they take a new form to be part of a new concept and identity, which does not necessarily need to start from scratch, annul to rebuild.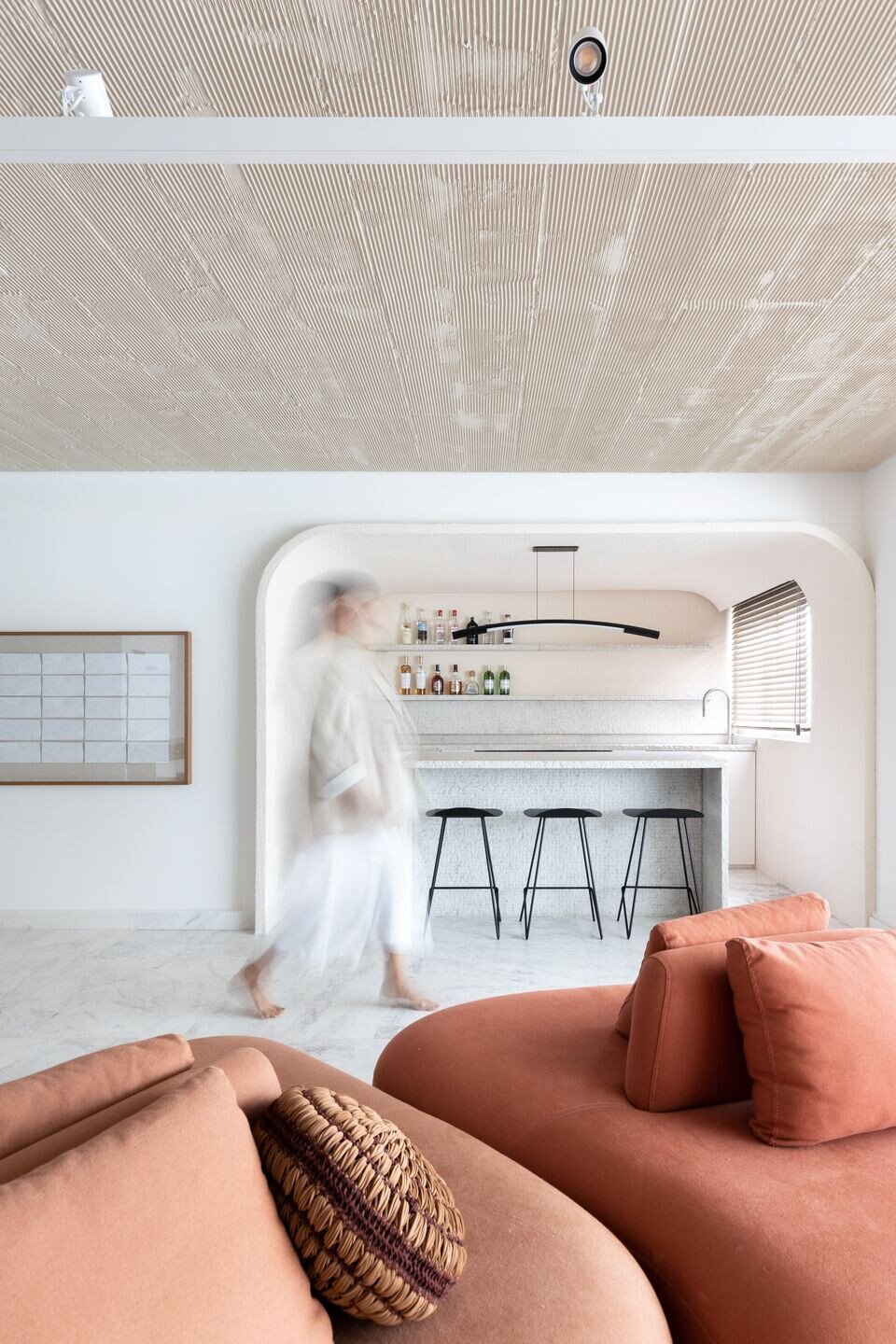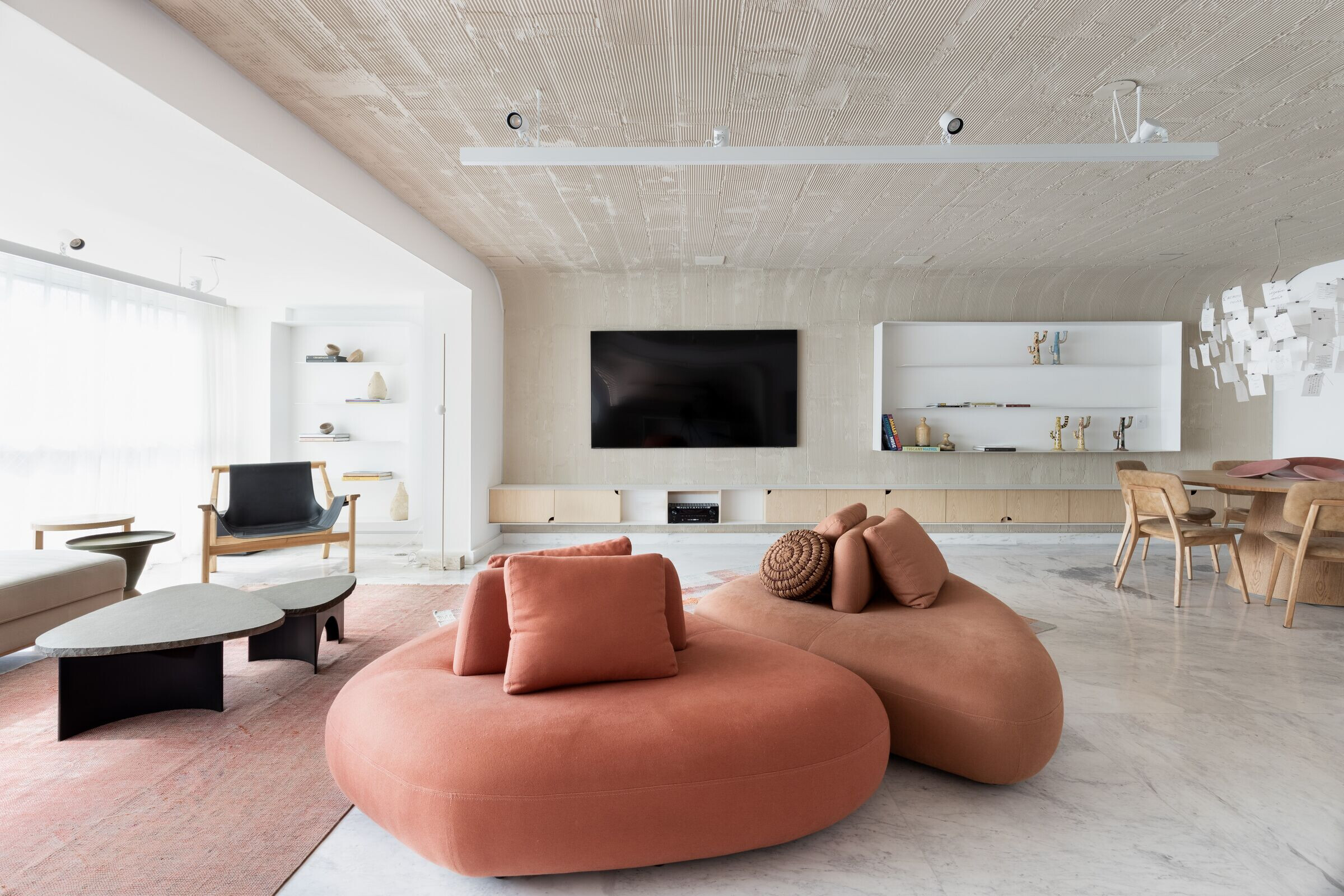 There were few demolition interventions, we kept the original floors, doors and frames, some countertops and cabinet interiors in perfect condition, bringing these as a resignified basis for a completely new space. The result was the complete transformation of atmosphere, functions and spatial sensation, which don't refer to the previous one that did not please customers, but in a more sustainable way and avoiding waste. The living room with an integrated floor plan does not have rigid environments, the organic sofa in the center connects all the other poles and allows many dynamics to be created.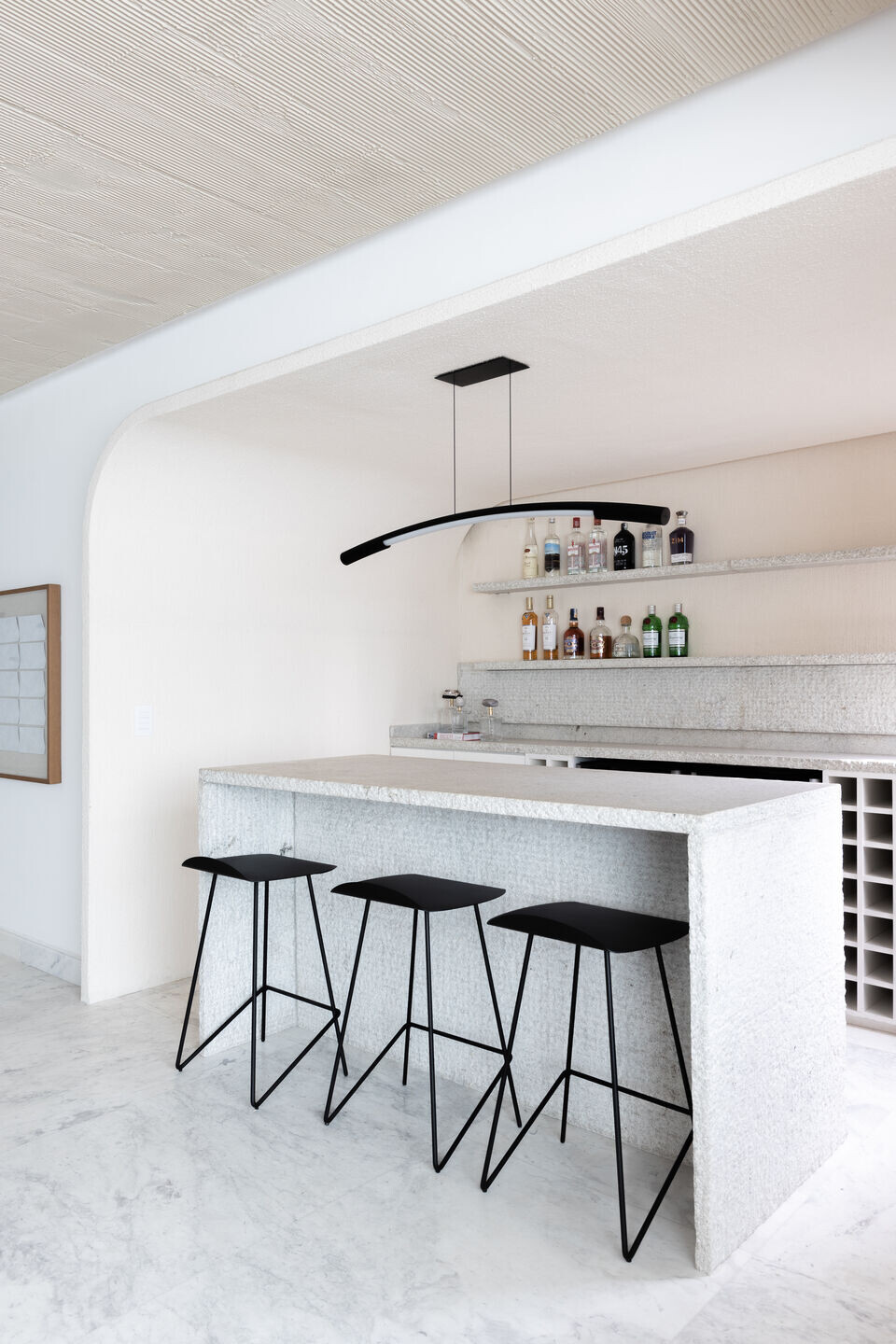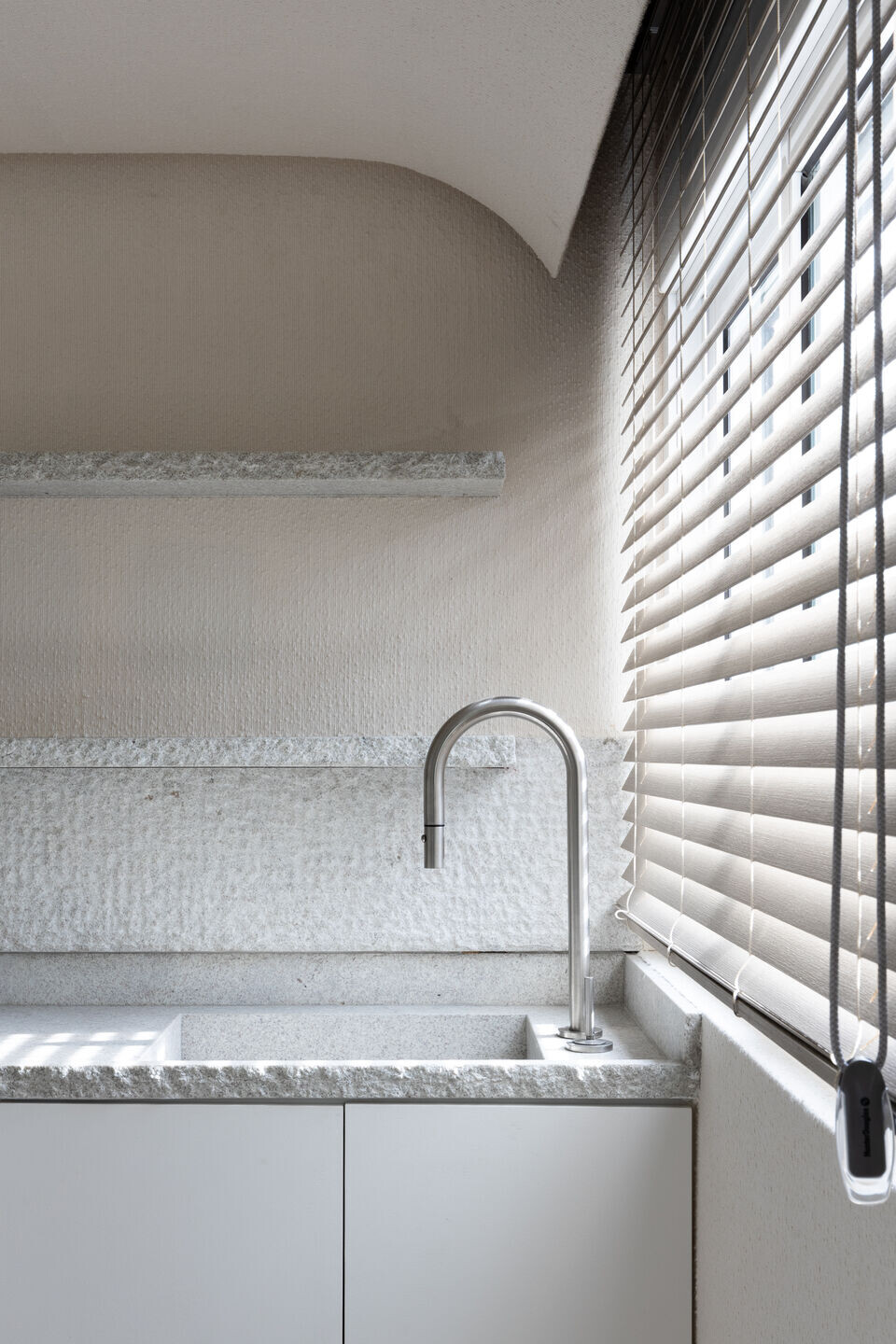 The spaces can be occupied in parts or as a whole, for private moments for two or receiving many people. The base brings the union of the sophisticated and the natural, taking advantage of some existing elements, but creating a clear and modern atmosphere. The texture on the wall that follows the ceiling was developed through many studies and experiments for this project, seeking to create a warm and natural contrast with the existing marble floor, sophisticated and cold.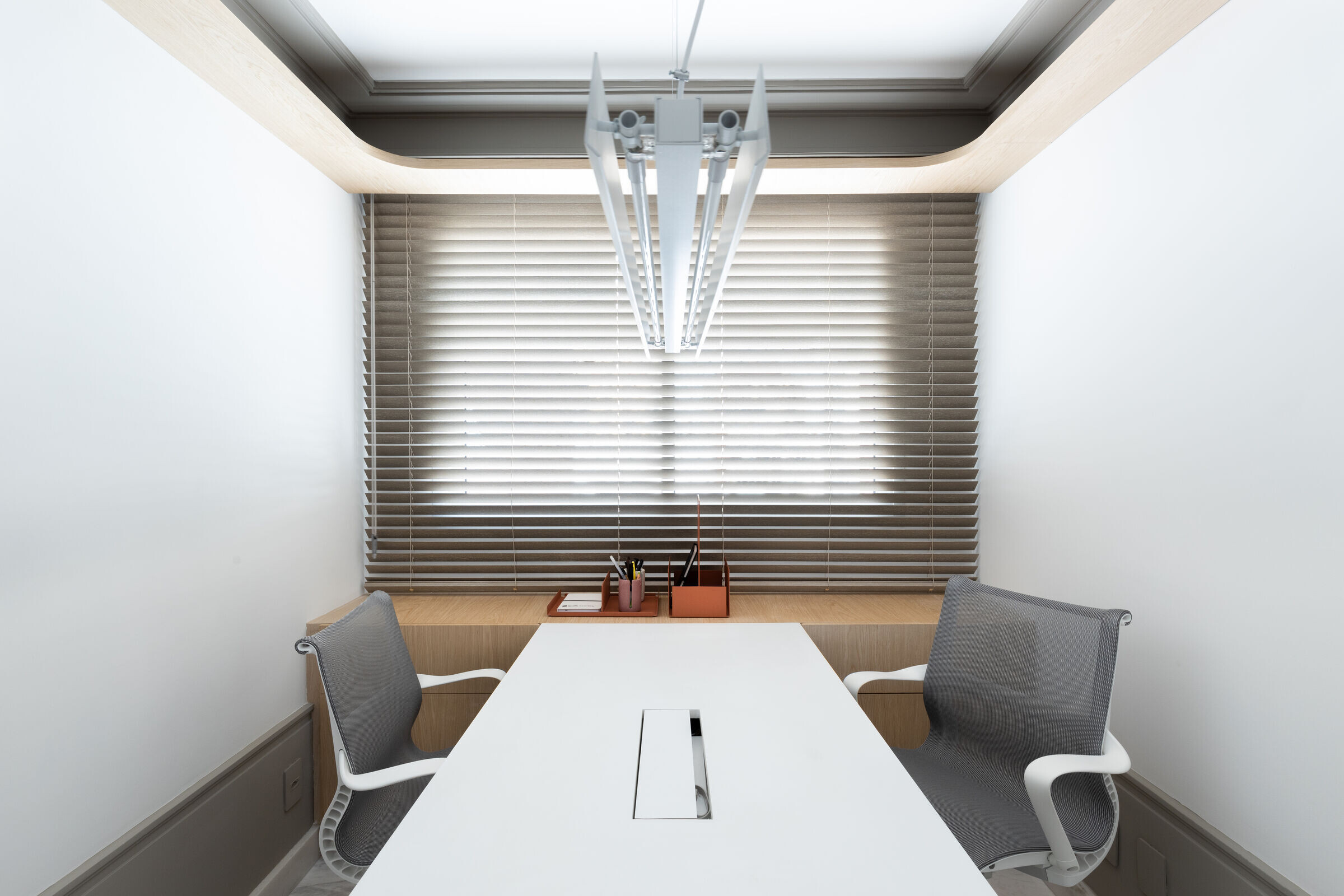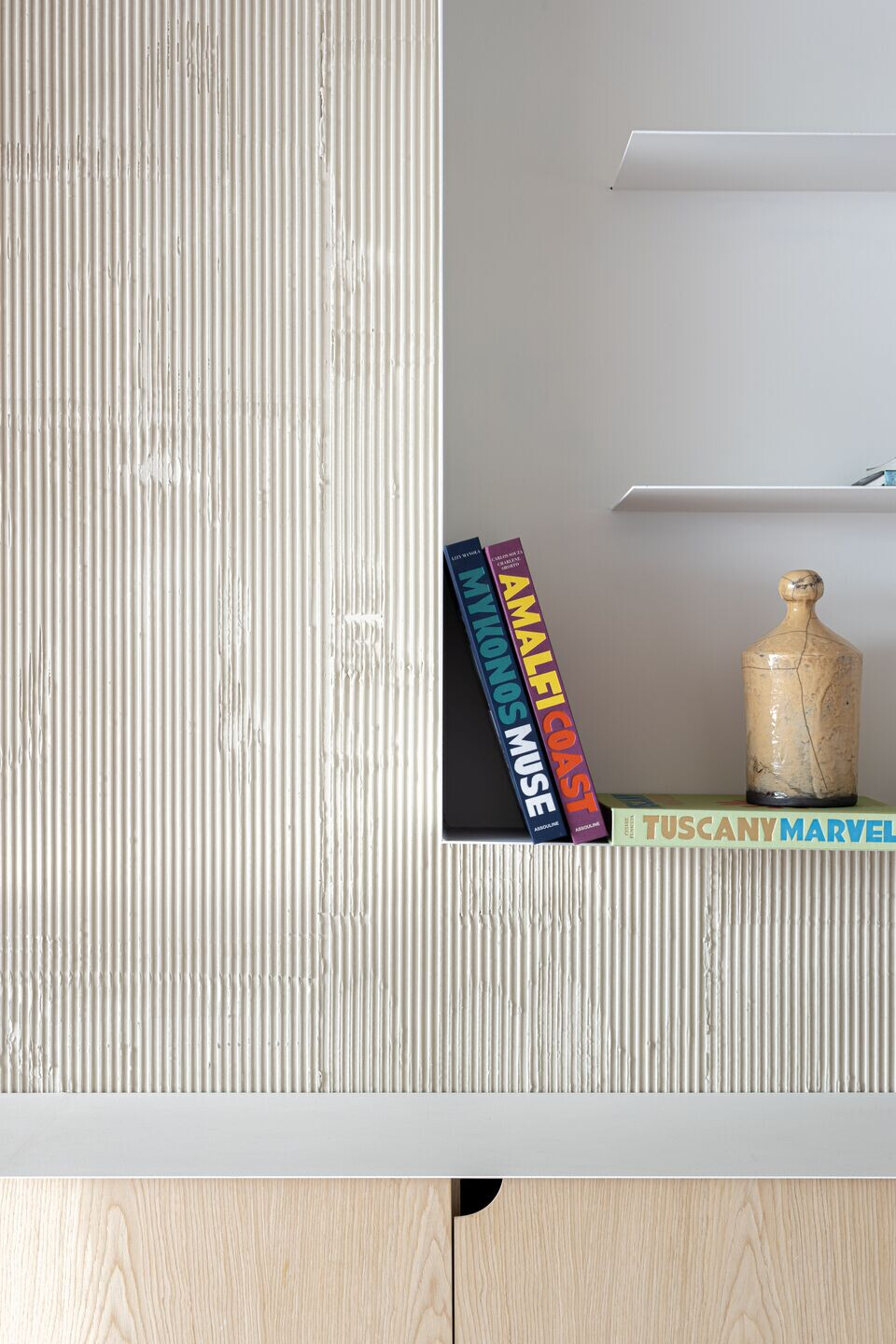 As well as the bar all covered in fabric, which brings a more intimate and welcoming air to this environment, which represents the encounter and affection, both with rounded shapes at the corners, giving the feeling of cocoons. All in more sober and clear tones, in contrast to furniture and objects with touches of color, mostly earthy tones, create a personal and lively atmosphere. The intimate areas follow the concept and personality of the social ones, creating a cohesive apartment with the face of the residents.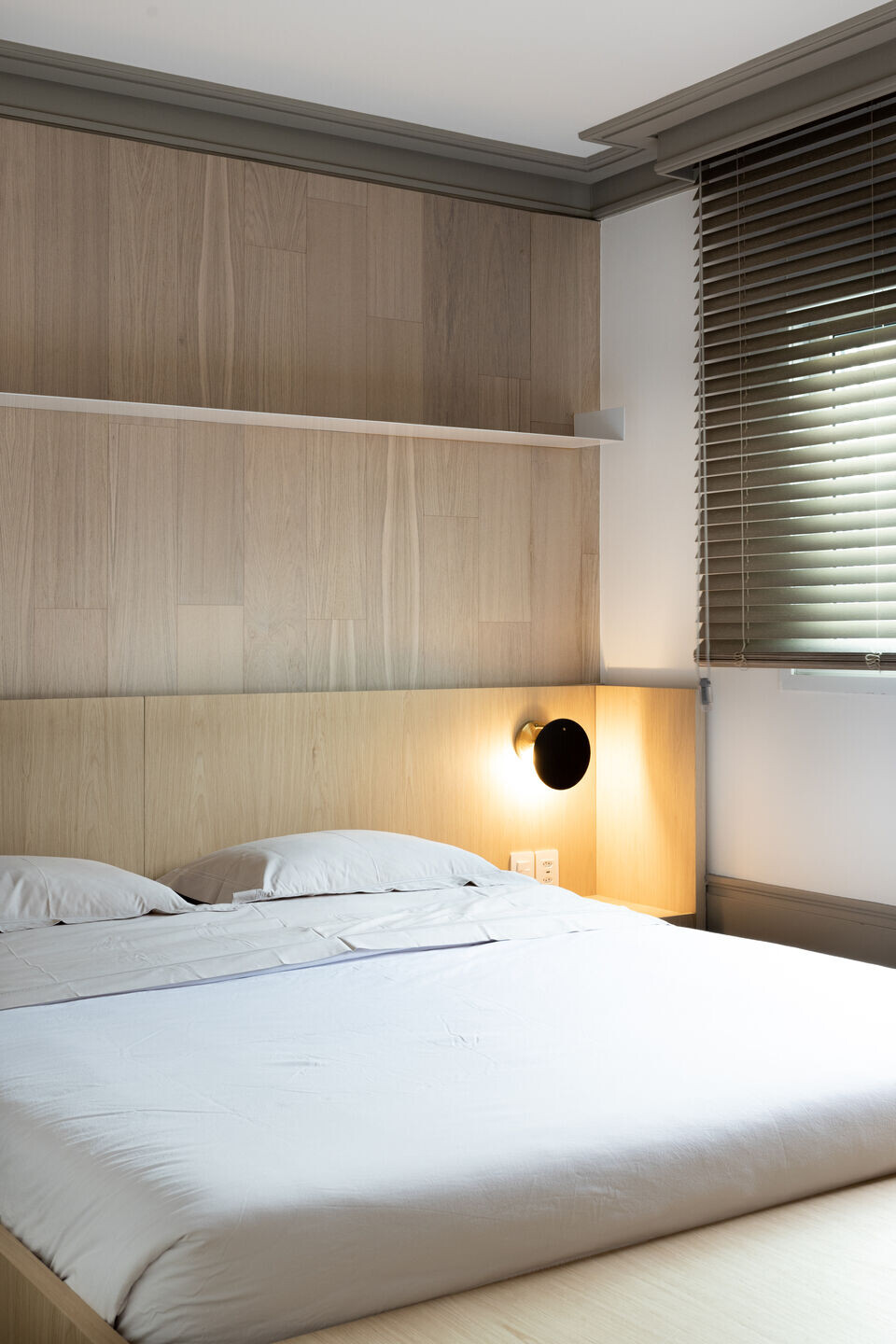 Light wood and texture appear more abundantly, to create more peaceful spaces. The lines and drawings bring in themselves rounded and more organic shapes as a continuity of social environments. The existing frames, with a more classic look, gain a touch of color, assuming a new language and dialogue with the proposed contrast.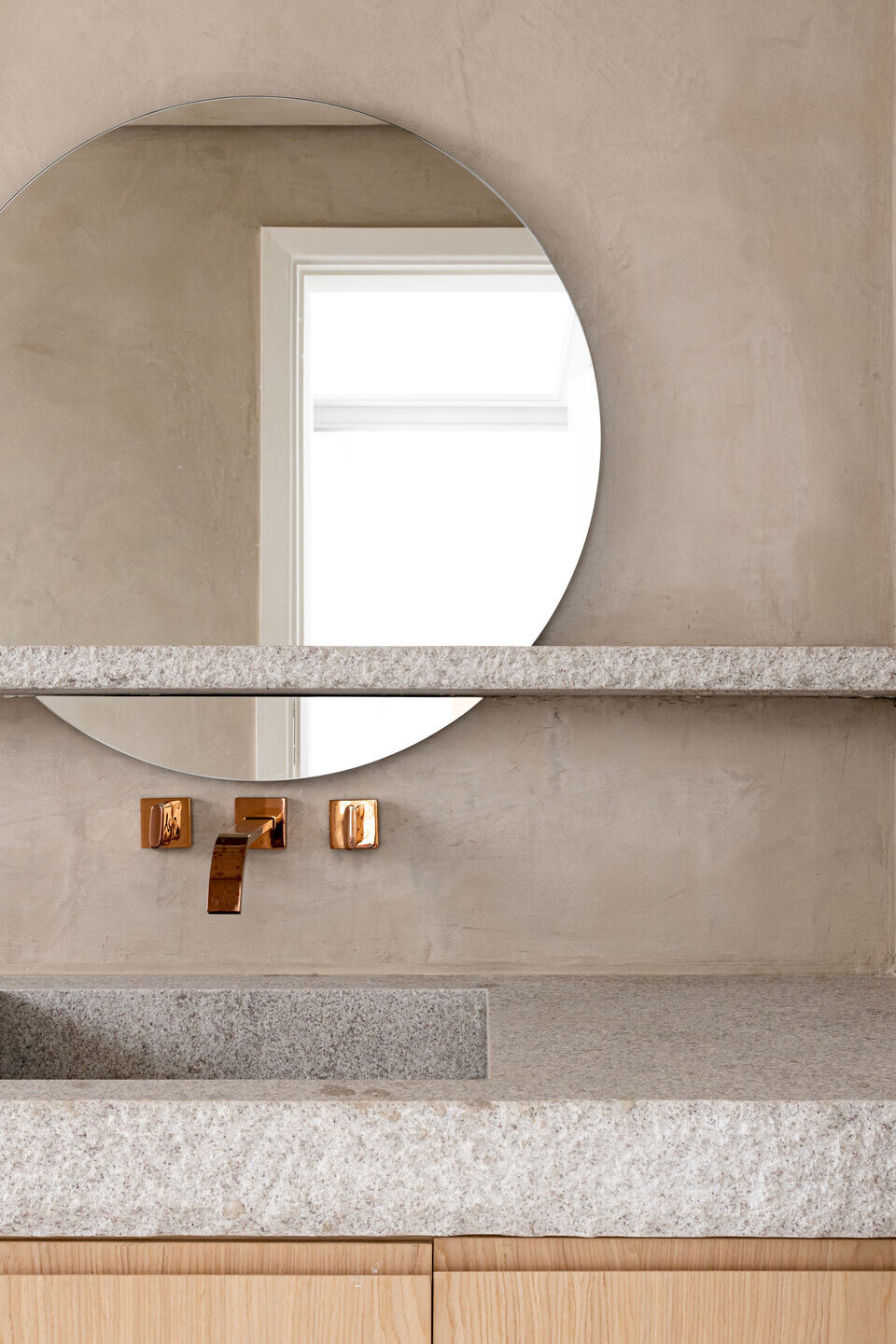 Team:
Architects: flipê arquitetura
Other participants: Giovanna Arruda, Julie Benattar, Grace Helen Francisco
Photographer: Gabriela Mestriner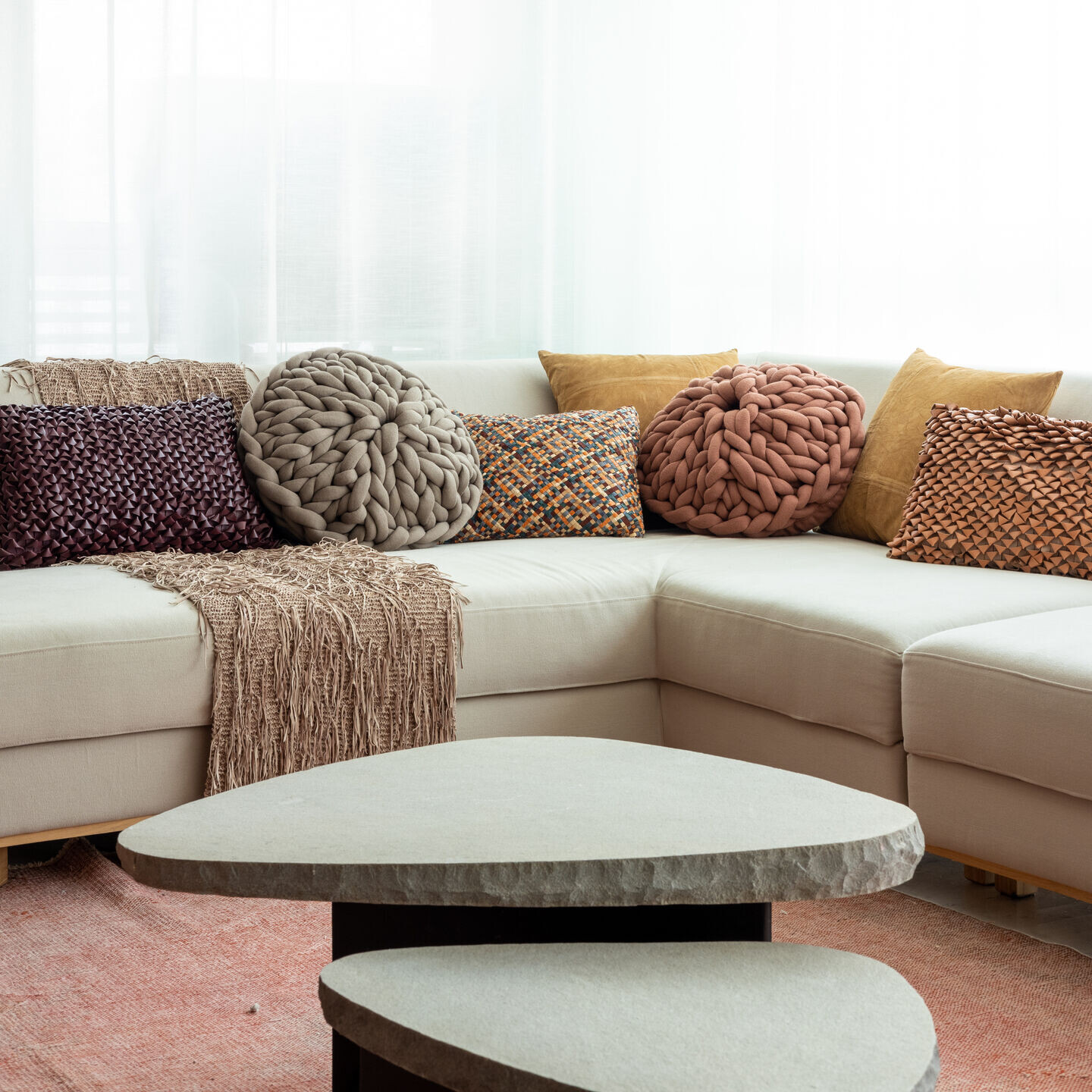 Materials used:
Construction company: Bricks Engenharia
Woodwork: ALG Marcenaria
Granite stone bench: MG Marmoré
Hydraulic metals: Deca
Ruler light fixtures: Reka
Dining room pendant light: Ingo Mauer - Faz Iluminação
Bar pendant light: Wentz Design
Wall sideboard: Etel
Round Sofas ans puff: Firma Casa
Bar stools: Cremme
Coffe table: Refúgio Design
Bar lining fabric: JRJ tecidos
Carpet: Phenicia Concept
Objects: Dpot objetos e LS design