Float 52', Mr. Rossmassler and Ms. Purcell's prototype and personal Barge Yacht, a two-story home with a third-story roof deck, is part beach club and part loft space. The minimalist design features an open plan layout on the first and second decks with flexible furnishings allowing for a variety of configurations and uses. The first deck offers a galley style kitchen designed with ombré kitchen cabinetry and a recessing bar/kitchen window for indoor/outdoor entertaining. A retractable full wall-width glass garage door flanks the open living area. A 12x12 foot hydraulic aft ramp on this deck is ideal for launching small watercraft, lounging, and landing to shore. The first deck also includes a full bath with a composting toilet.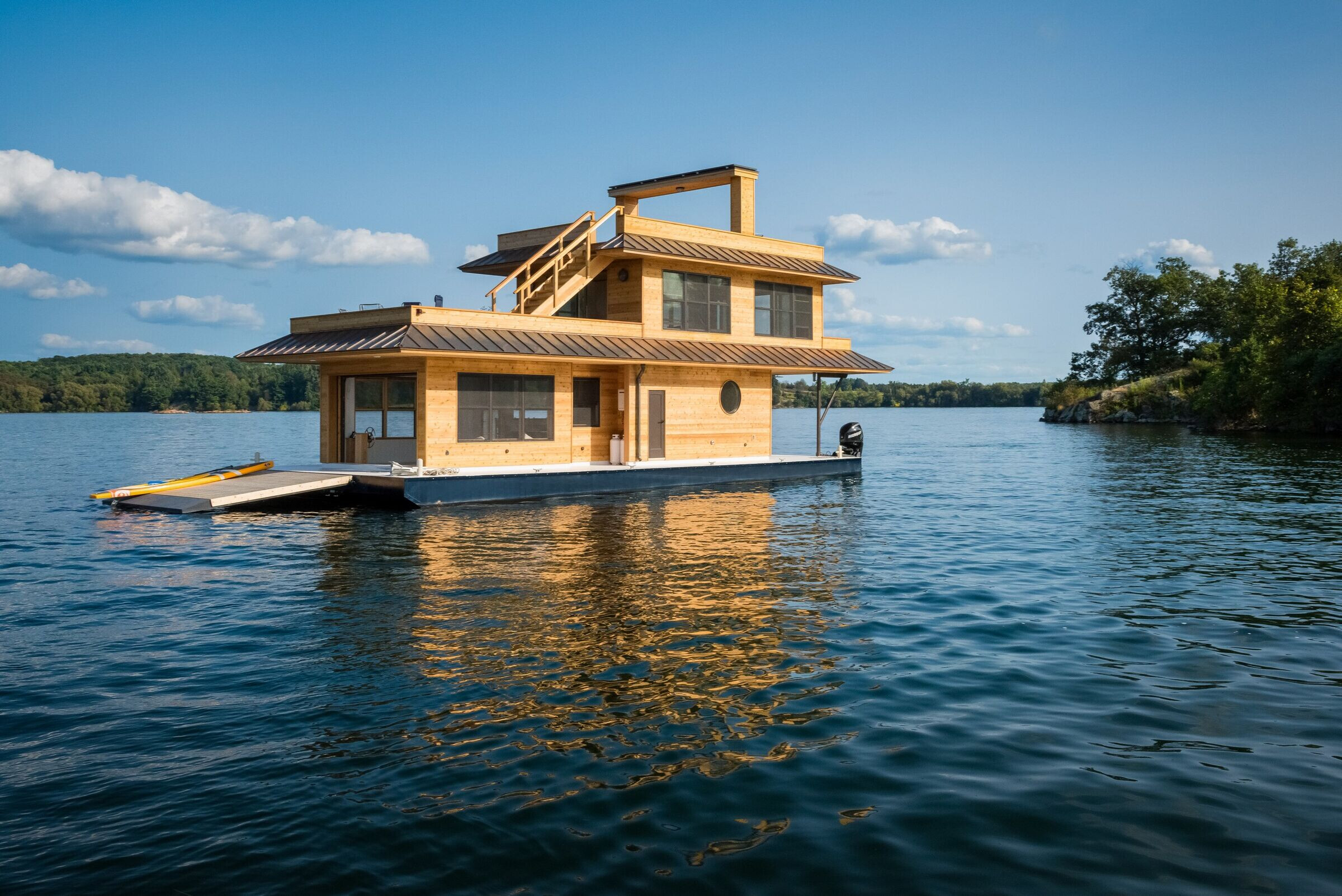 The center deck includes an open bedroom and office area. A greywater filtration system feeds the garden on the open outdoor deck.
The Barge Yacht boasts a solar panel pergola above the bridge on the upper deck. The owner is able to captain the boat from two helm stations, one is located in interior living area of the lower deck one is located on the upper deck.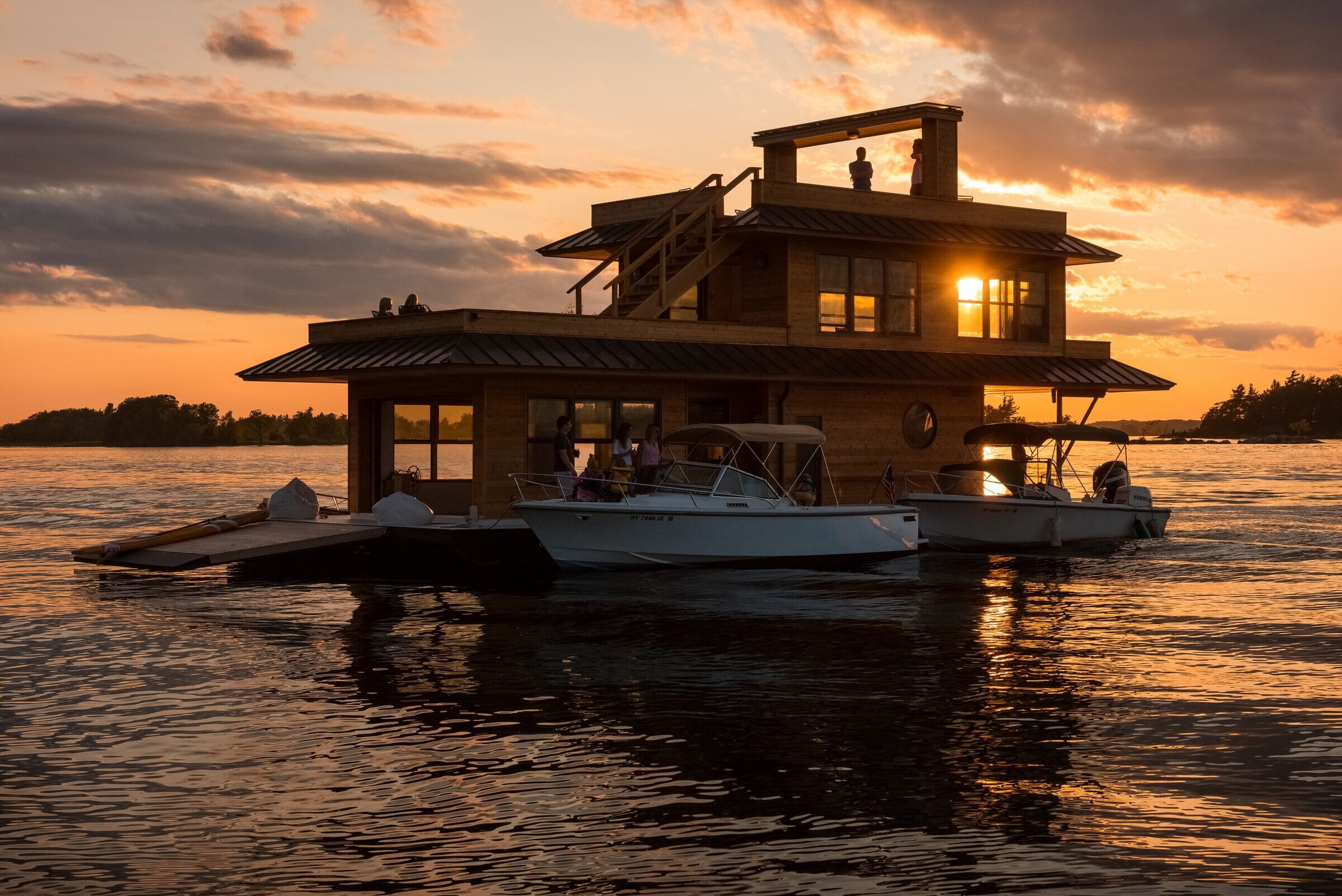 Project description:
The idea for the St. Lawrence Barge Yacht was first cultivated by Rich Rossmassler and Julia Purcell of Thousand Islands and Brooklyn, New York, when they determined that a moveable and flexible water-based home boasting the opportunity for ever-changing scenery and perspective would best fit their lifestyles. Mr. Rossmassler and Ms. Purcell teamed up with Thousand Islands-based architect Jonathan Taylor, Ms. Purcell's father, experienced residential and boat builder Tim Purcell, and other industry leaders to create the first St. Lawrence Barge Yacht, which was completed in Summer 2017.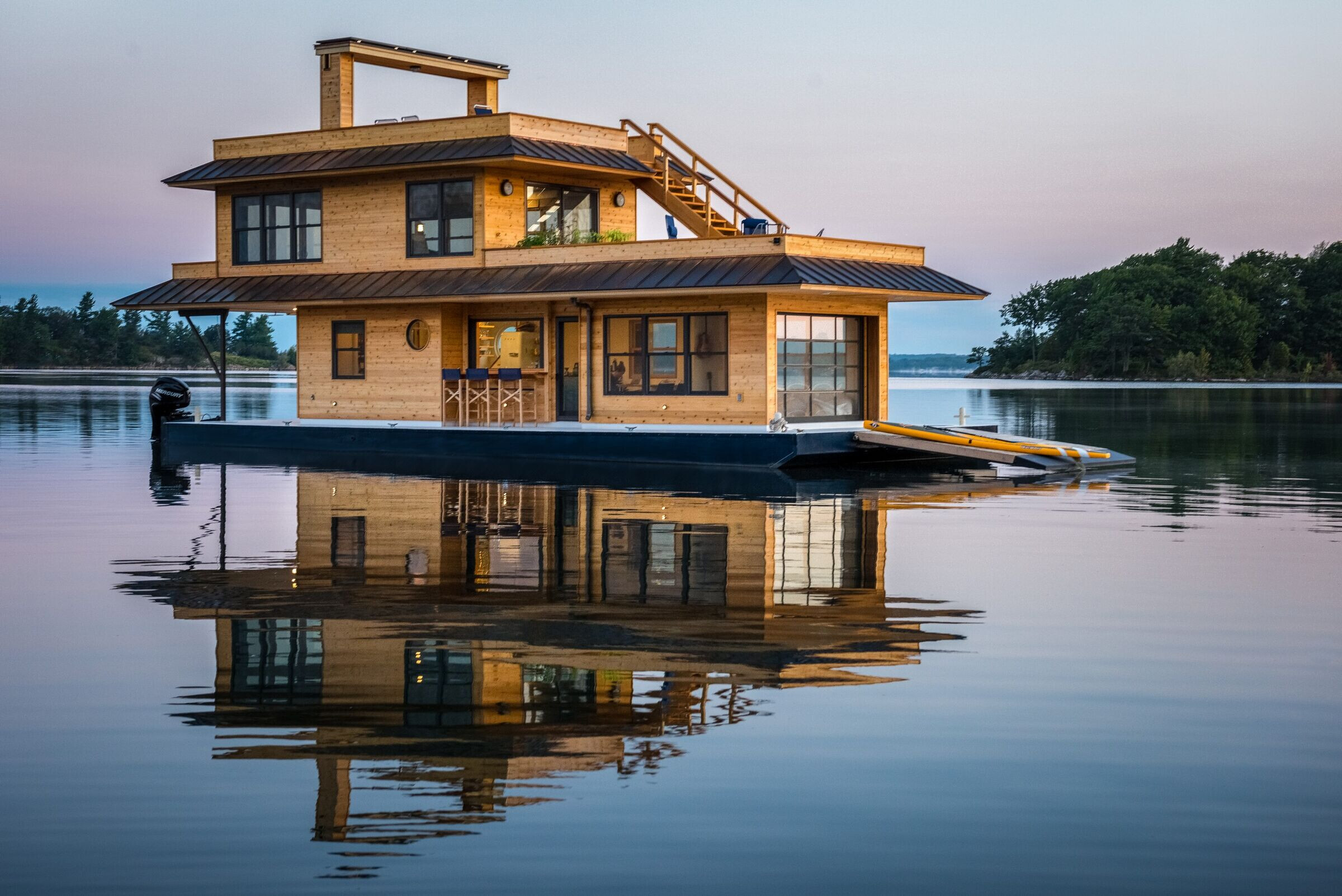 Form and functionality were equally important to the owners when helping to plan the design and construction of Float 52'. Jonathan Taylor, Principal of Taylored Architecture, worked with the owners to bring their sketches into reality, providing concepts for design integration and construction detailing on the house portion of the project. Aesthetic features include sharp contemporary angles, walls of bronze Marvin Integrity Windows, and expansive indoor/outdoor openings. Natural, sustainable, recyclable, and biodegradable material choices were selected wherever possible.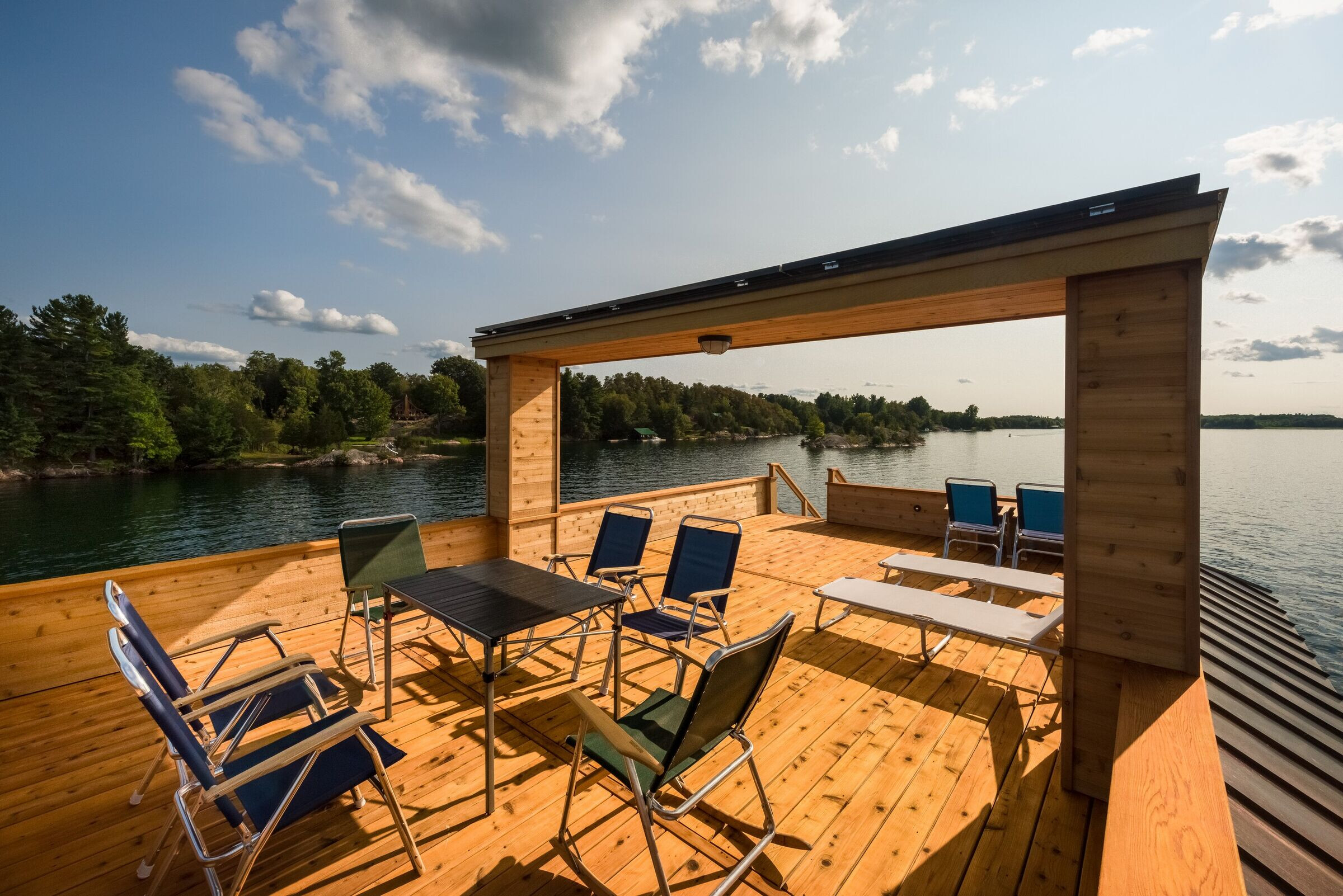 Float 52' was constructed with a steel hull, cedar clad wood frame, and copper standing seam overhangs. The vessel boasts more than 100 feet of dock space along starboard and port sides, providing ample room for visitors and support vessels. Float 52' is powered by two Mercury Verado 175 hp outboard engines. Hydraulic brackets provide additional trim control and allow motors to be serviced and winterized while the vessel is iced.
Through the design and construction of Float 52', the team has learned how to streamline the process for prospective owners of St. Lawrence Barge Yachts. St. Lawrence Barge Yachts are custom built, and therefore, may be customized to fit a variety of lifestyles and needs.