Reconstruction of history
They do not always build offices in new modern administrative buildings with doubled floor and modular layout system. Sometimes, the company decides to stay in their long-term headquarters and renovate it. Even if it has some bad predisposition and restrictions, but also it's own Genium loci and history. This was the case of the Trade Fides technological company, which is a specialist on safety systems and IT technology. It has been based in the wider center of Brno, which transforms into a modern administrative city center. They decided to insert modern offices into the existing building.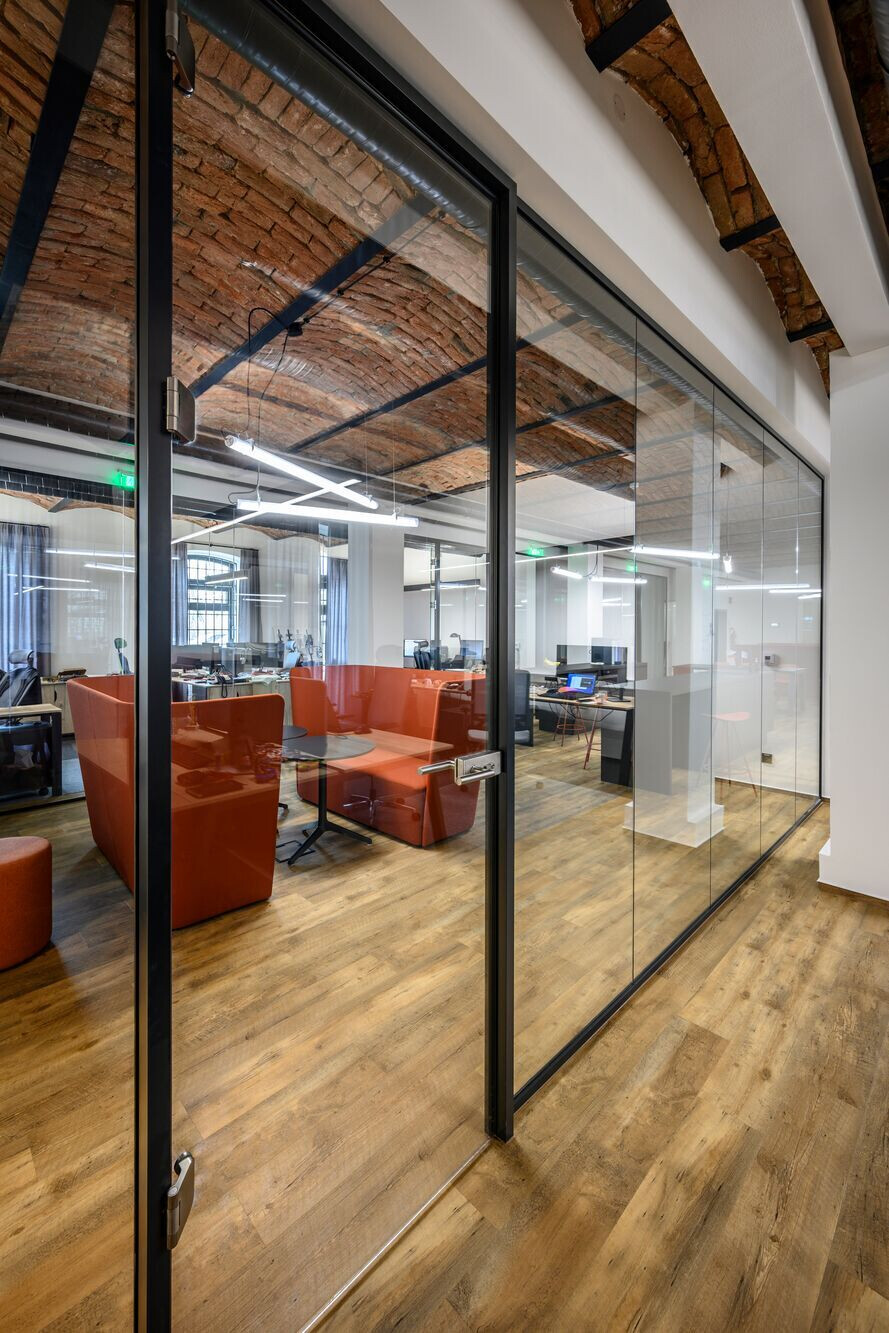 Modern environment in historic object
New spaces located on the ground floor of a two-storey building from the 19th century. History is clear not only from the exterior of the building, but especially after entering new offices. Vaulted ceilings are made of steel beams and burnt bricks. No modern acoustic cassette ceilings, these ceilings remember the golden era of the industrial Brno from the second half of the 19th and the beginning of the 20th century, when there were starch and chemical plants in this area. Black-lacquered beams complement the same color and subtle frames of glass partitions. These are designed according to the type of use of the room single or double glazed to meet the sounds of the acoustic well-being of all users. In addition, the entire partitions optically enlarge the space and, if necessary, there are curtain systems, which also excellently solves the acoustics of smaller meeting rooms. Due to the diversity of space, there are several types of doors and closing.
The distinctive and unifying element is a wooden floor in a dark shade design that creates a cozy modern space in combination with black lacquered elements. The furniture is elected minimalistic in black and gray design supplemented with wooden desks. The main central space is revived by red seats with increased backs for more privacy.
Because the space is very limited in terms of access to daylight, artificial lighting in the interior plays an important role. There is a combination of solitaire led LED chandeliers in line designs, workplace lighting and spot lighting in the corridors, which in combination with partitions creates interesting lights, reflections and shadows. All lights are again performed in black varnishing as well as granted air conditioning distribution under arched ceilings.