The goal of the initial phase of this project was to create an emphatic and highly visible main entrance to the botanical gardens while addressing the peripheral condition at a major entryway into the university campus.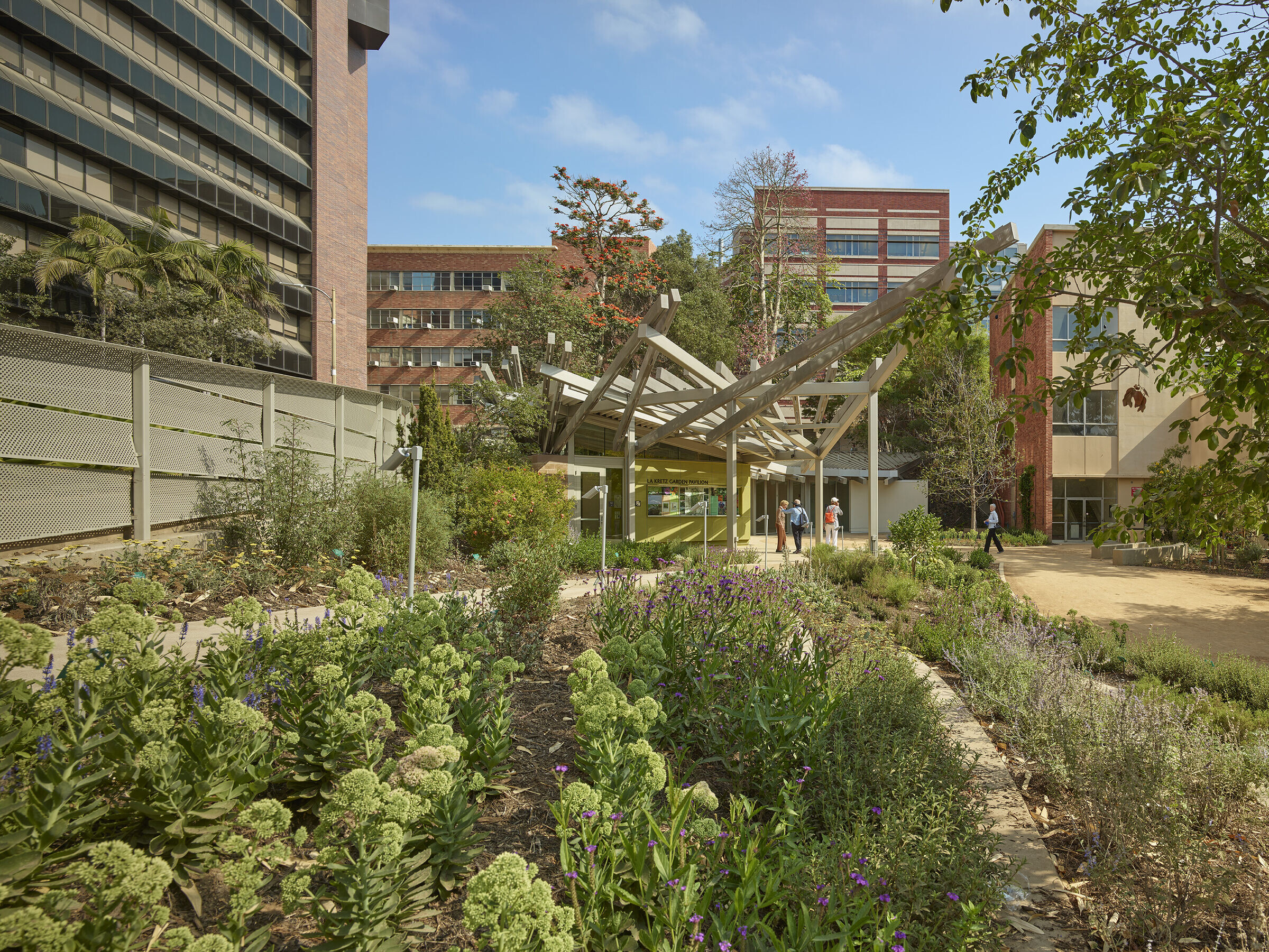 The new procession weaves the botanical garden entry promenade with the adjacent streets to integrate the garden's edge fully into the campus. This further emphasizes the perception of the garden as an educational laboratory and cultural amenity.
A major design challenge was to provide a fully accessible path to a new lower-level garden plaza along with an existing steep grade. Lining the new accessible path is a guardrail system made dynamic through a simple play of geometry with perforated bent aluminum planes that reflect light and shadows and allow views in and out of the garden.
Future phases of this project intend to include a vibrant educational center serving the university and public; provide a campus amenity contributing to the quality of life in the community, and develop a support system for the garden.
Awards
Sustainable Innovation Honor Award, Los Angeles Business Council, 2019
Design Award for Excellence in Design, Southern California Development Forum, 2018
Best of Year Honoree, Interior Design Magazine, 2017
Educational Award, Southern California Development Forum, 2017
Location
707 Tiverton Drive, Los Angeles, CA 90095
Square footage
Building: 2,400 SF
Site: 7.5 acre garden
Site Area: 25 Acres
Design Collaborators
Architect: Lehrer Architects LA
Structural: Nous Engineering
Structural: William Koh and Associates
Owner/Developer: UCLA Capital Programs / John D'amico
Civil Engineer: Barbara L. Hall, PE, Inc
Lighting Designer: KGM Architectural Lighting
Landscape Architect: Studio MLA
MEP Engineer: Donald F. Dickerson Associates