Webster Avenue is a new residential community for low-income families and formerly homeless individuals in the Tremont neighborhood, Bronx, New York.
Developed by Breaking Ground, an innovative non-profit organization dedicated to ending homelessness, the two residences are designed to provide healthy and sustainable housing by incorporating high-performance building systems and biophilic design. Supporting Breaking Ground's innovative programming and essential services, the residences meld social and environmental sustainability, creating a safe space from which to build positive change.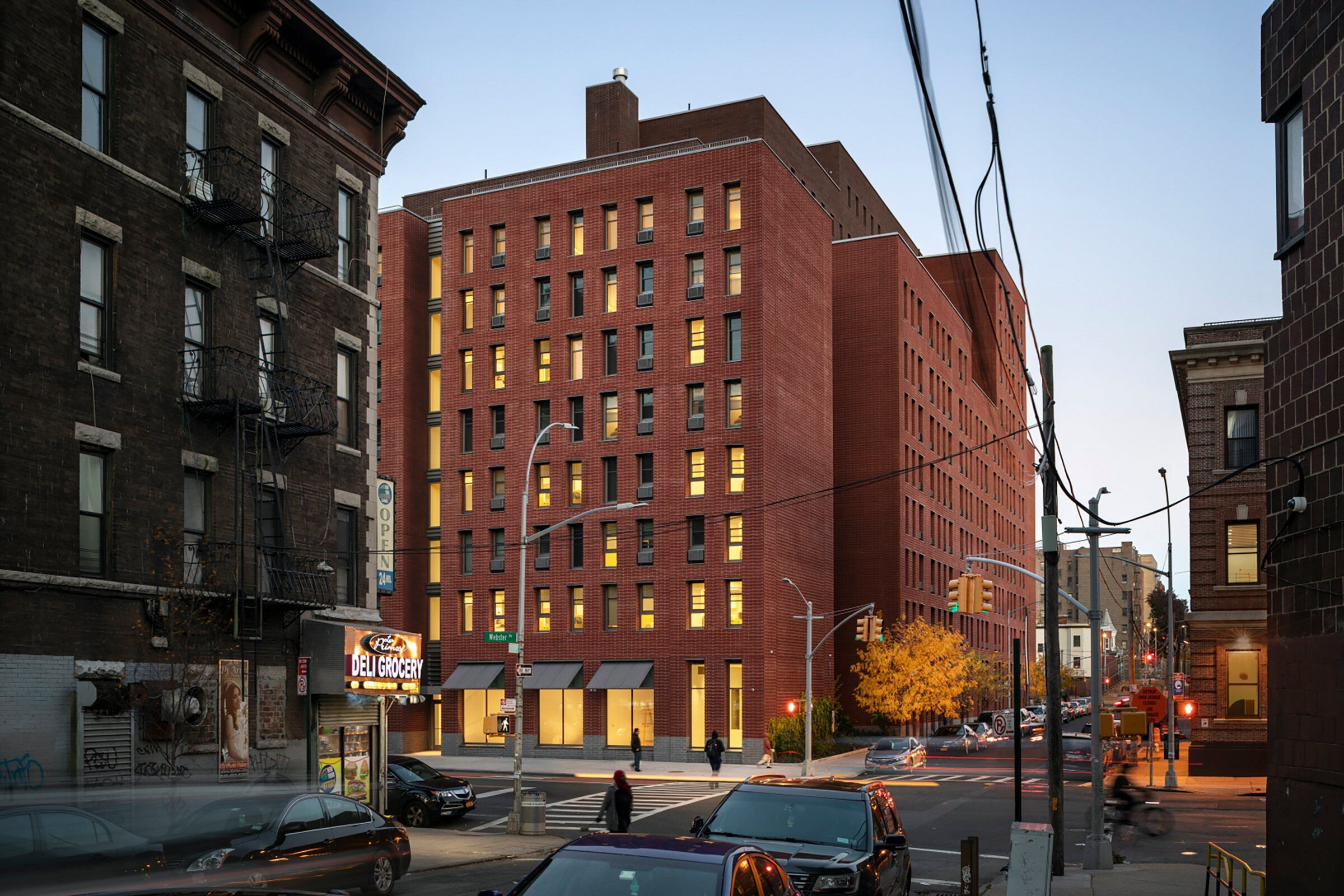 The community is located on an empty, formerly industrial site, sandwiched between Metro-North's Harlem Line and the busy, residential thoroughfare of Webster Avenue. The two adjacent buildings occupy 411 East 178th Street (Webster Residence), which includes supportive housing with on-site social services, and 4275 Park Avenue (Park House), providing a mix of affordable efficiencies to three bedrooms. Designed as a seamless composition, the two buildings blend into one another, filling the gap in the urban fabric. At the public face, the street wall is restored using brick and stone and a deep façade inspired by the neighboring early-20th-century buildings.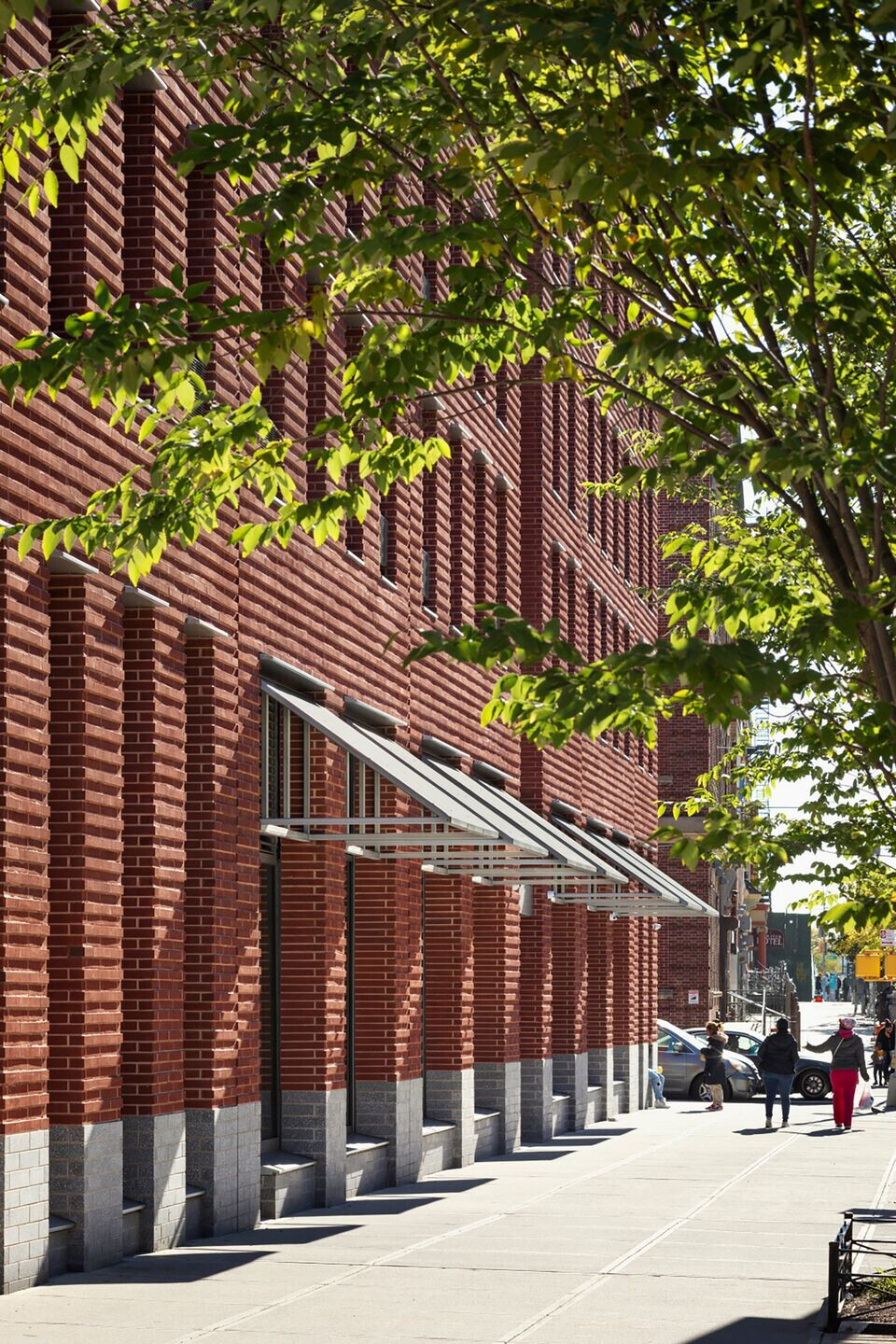 The simple, elegant façades are a combination of warm red, and dark rich-oxide brick, alternate rows protruding and receding by half an inch, creating an undulating biomimetic surface reminiscent of ocean sand or tree bark patterns. The heavy masonry conveys a sense of permanence and allows a highly efficient exterior envelope, qualifying for Zone Green benefits that allow additional floor area for affordable housing.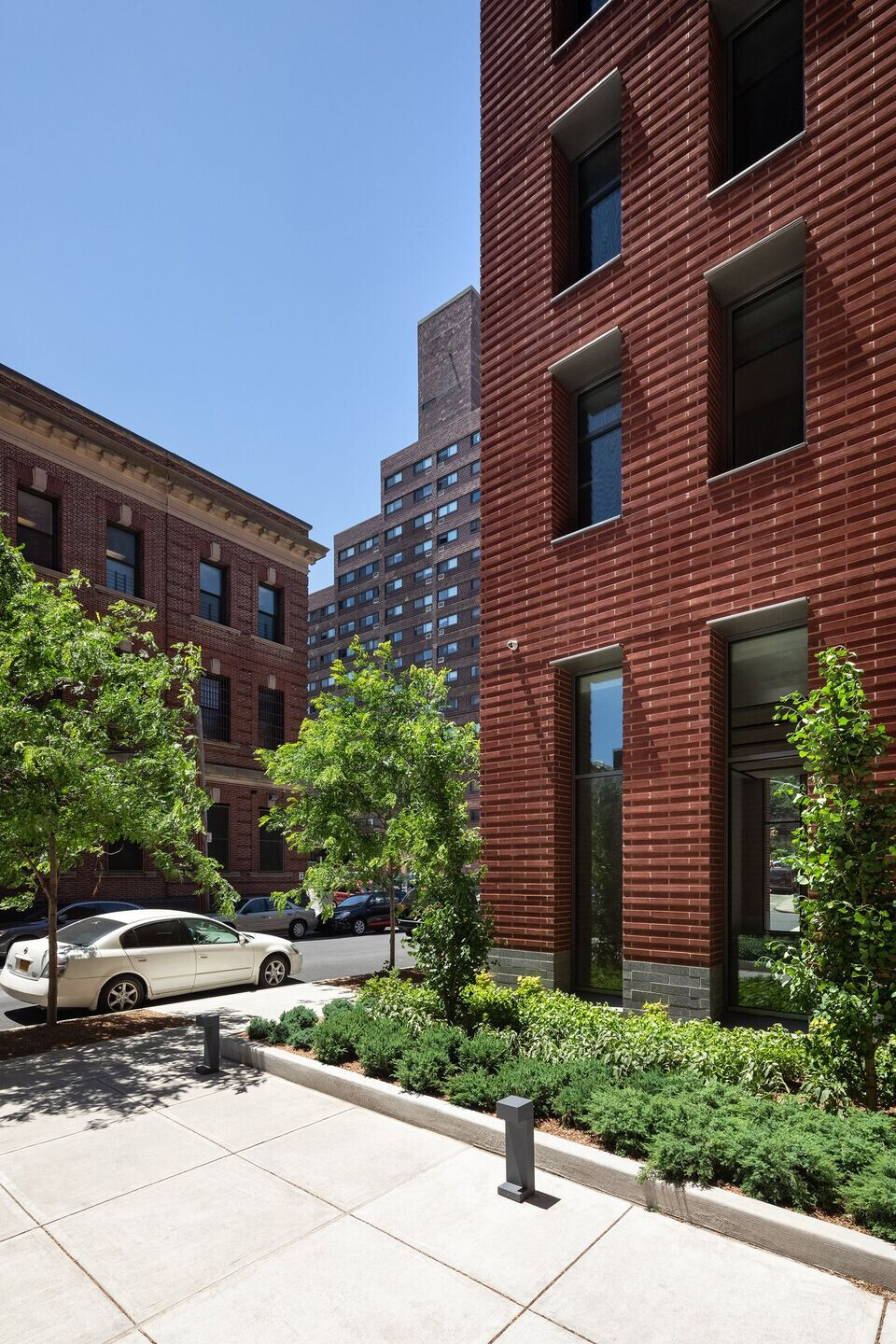 The interiors are designed to ensure a healthy indoor environment with low- or non-VOC materials, access to nature and natural light, and elements of biophilic design including natural analogue finishes. Daylit exposures in the elevator vestibules and common areas are oriented to outdoor green spaces to promote resident well-being through restorative connections to nature. Sections of the exterior wall are recessed to create small public gardens and the two buildings are linked by a planted central courtyard shared by residents. Both structures feature green roofs and Webster Residence's roof is accessible for recreational use with views towards Julius Richman Park, and to the Manhattan Skyline. The buildings are designed to earn their Enterprise Green Communities certification through sustainable design strategies.
What was the brief?
To create a safe, healthy, and secure residential space for at-risk communities in the Bronx.
The design features sustainability and resiliency features such as infrastructure for future generator installation, water conservation measures (storm water retention, native and drought resistant plantings), high—performance windows that block out noise and reduce heat loss, and individual environmental control in every unit.
What were the key challenges?
To achieve our ambitious sustainability, performance, and open space goals on a limited budget
What materials did you choose and why?
Low- or non-VOC materials
Materials that recall patterns found in nature
Team:
• Architect: COOKFOX Architects, DPC
Richard A. Cook, Partner
Peter Aaron, Associate Partner
Darin Reynolds, Senior Associate
Katharine Ives, Associate
Vincent Linarello, Associate
Miha Brezavšček, Associate
Emily Greene, Associate
Ben Harrison
Dan Rogers
• Client: Breaking Ground Community
• General Contractor: Mega Contracting Group, LLC
• MEP: Rodkin Cardinale
• Structural: Murray Engineering
• Civil: Brooker Engineering
• Geotech: Mueser Rutledge Engineers
• Lighting: ONELUX Studio
• Expeditor: William Vitacco Associates
• Code: William Vitacco Associates
• Zoning: William Vitacco Associates
• Landscape Architect: Terrain Landscape Architecture
• Enterprise Green Comm.: Steven Winters Associates
• Renderings: COOKFOX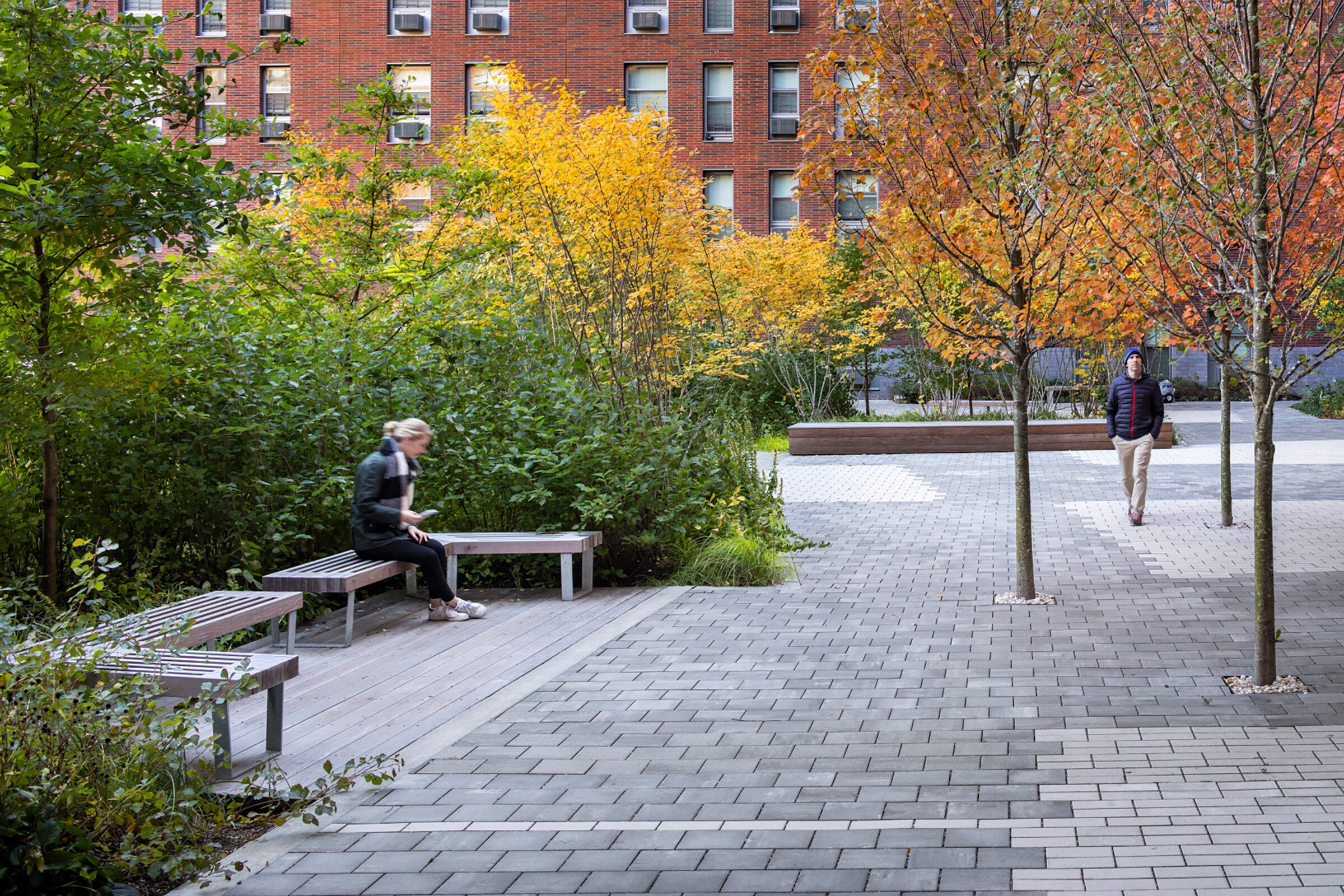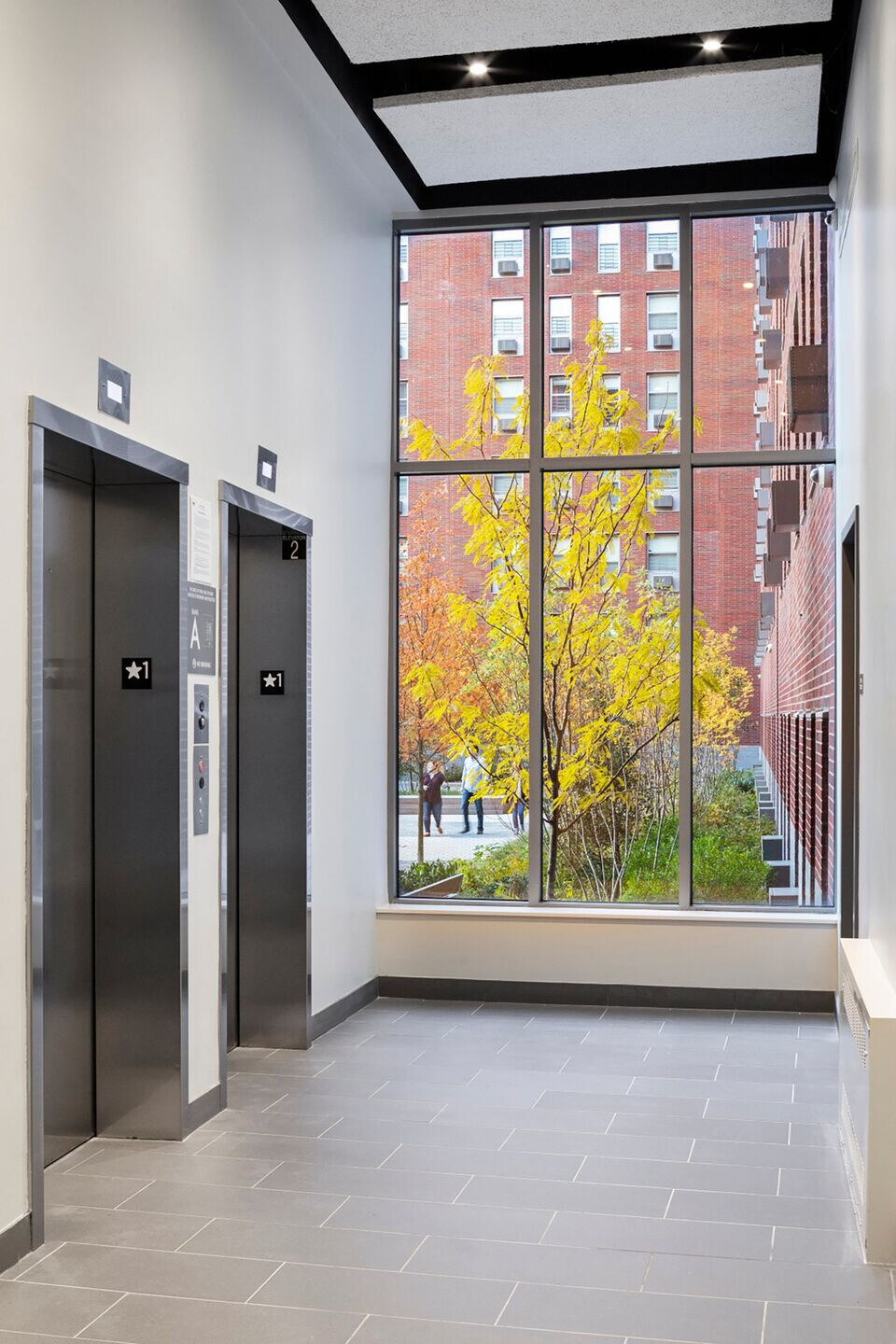 Material Used:
1. Facade cladding: Brick (Watsontown), in alternating recessed coursing
2. Flooring: Bio-Based Tile (Armstrong Striations)
3. Doors: Metal, fire-rated
4. Windows: Aluminum (Quaker), Insulated Low-E Glazing
5. Storefront & Entry: Aluminum (Kawneer), Insulated Low-E Glazing
6. Roofing: SBS-modified Bitumen (Soprema), Green Roof
7. Interior lighting: all LED, Various types and brands