Located in a residential area of Shimokitazawa recently reclaimed due to the railroad being moved underground, the ryokan is well-equipped to welcome tourists visiting Tokyo and doubles as a gathering place for locals. In addition to guest rooms, the two-building complex comprises a tea lounge, Japanese restaurant, public onsen, and spa facility that accommodates day use.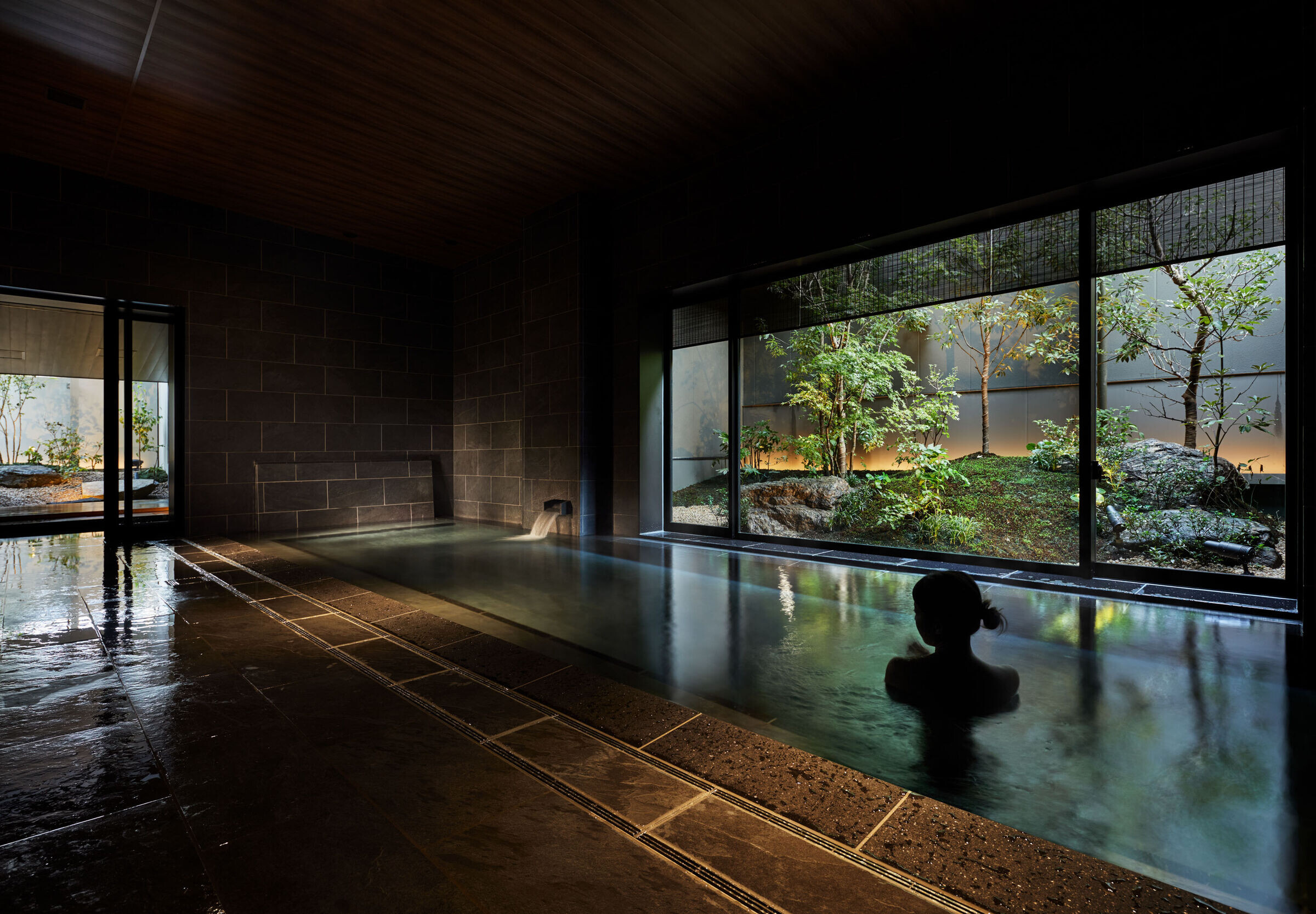 Yuen is a ryokan (Japanese inn) project that strives to enhance the appeal of its surrounding neighborhood, thereby valuing the history of the site and its significance for the local community. This site, Setagaya-Daita in Tokyo, is located in a quiet residential area in the center of the city where some historical residences remain.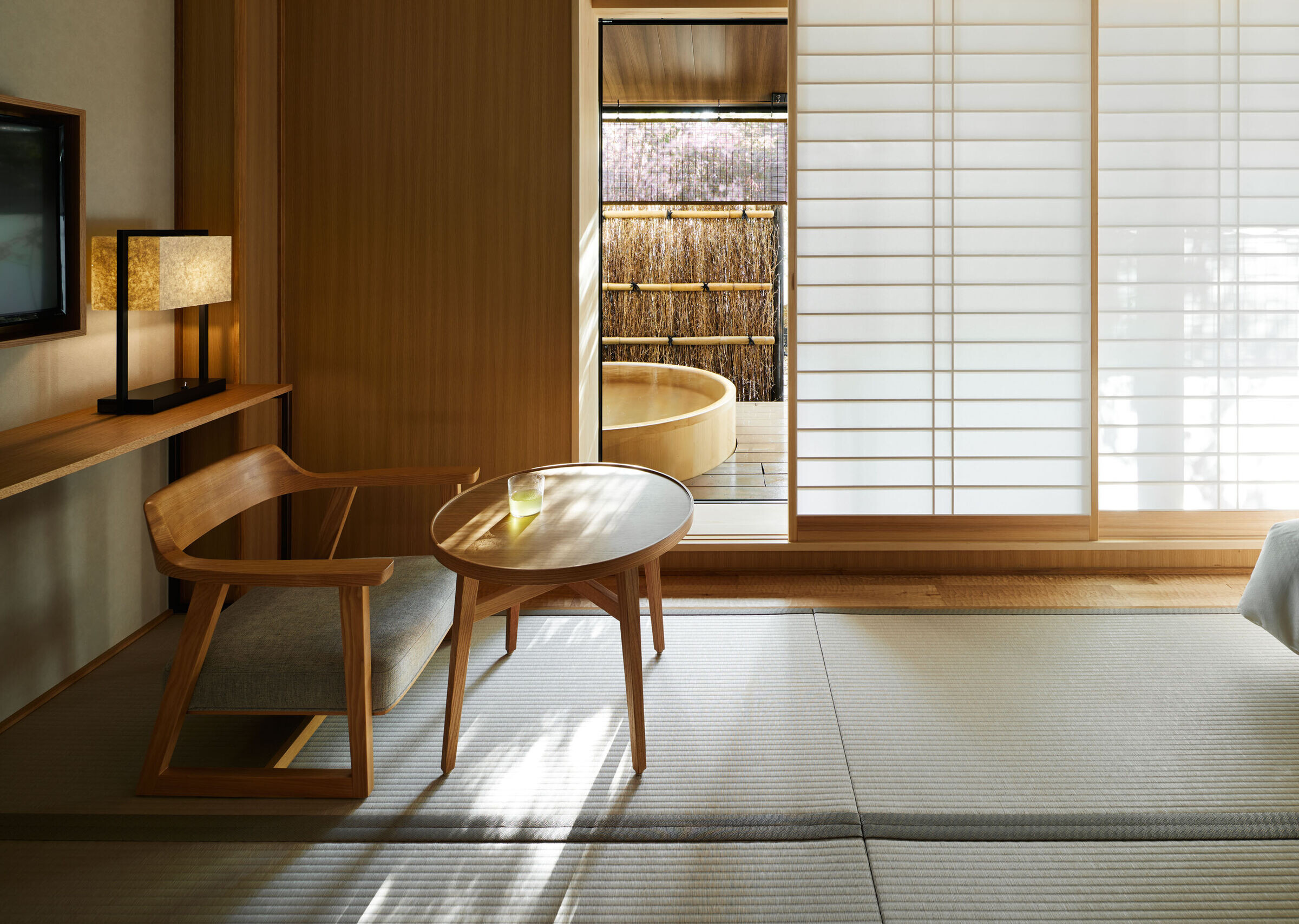 This hotel consists of two buildings, the main building and the annex located right next to the local train station. This configuration is rare in Tokyo but creates a one-of-a-kind streetscape. The main building houses the front desk and lobby, a tea lounge, a Japanese restaurant as well as a public bath. The single story annex houses a spa and guest rooms designed for long-term stays. Our goal was to give the structures the look and feel of a renovated mansion-turned-ryokan as if the building had always occupied the lot.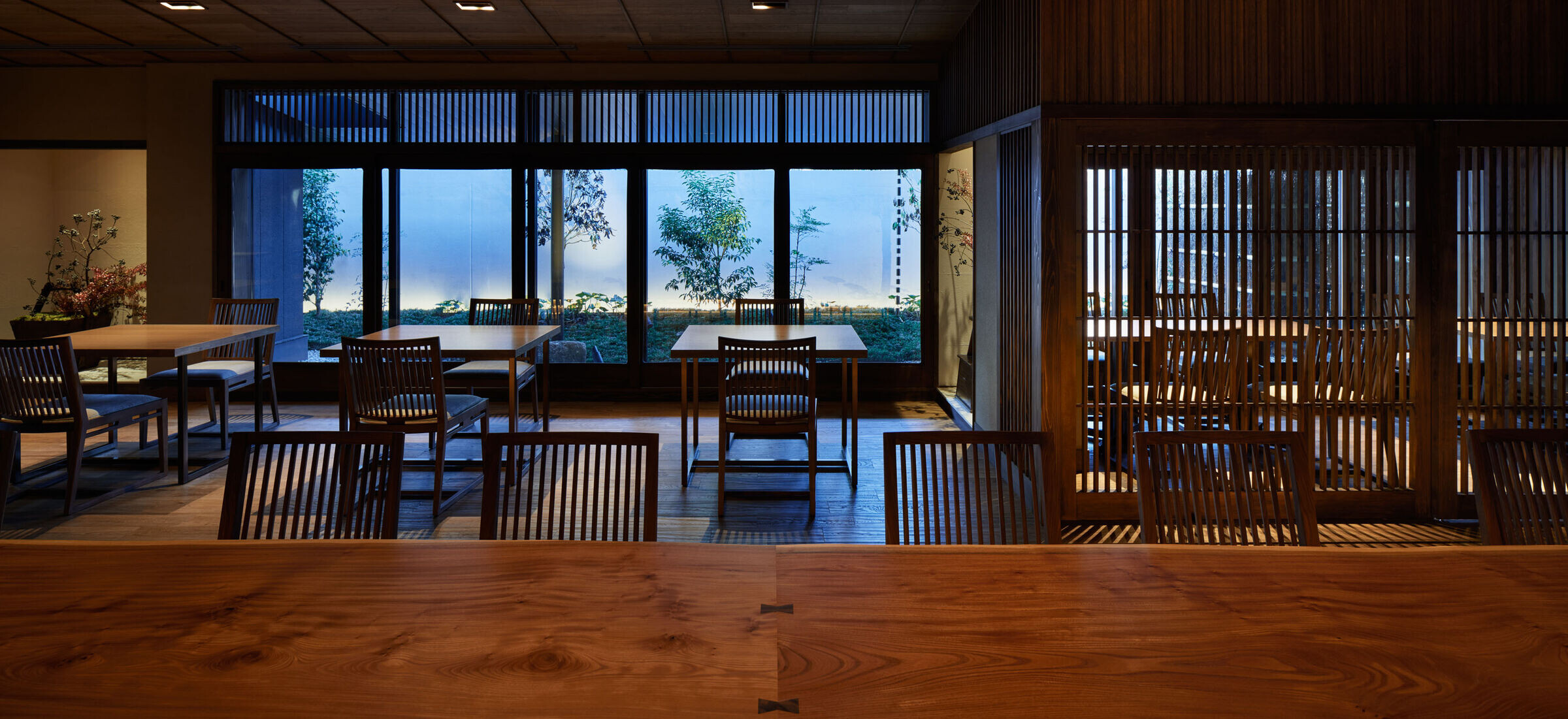 For common areas, we wanted to create a space embodying the history of Daita by incorporating fixtures and materials acquired from a century-old thatched-roofed mansion from the neighborhood. Around the hotel, you'll find historic fittings seamlessly blended with modern architectural techniques such as wooden ceilings, plastered walls and stone floors, creating a sophisticated atmosphere with texture, contrast and depth. Guestrooms average at around 22 square meters in size and come in a variety of layouts: traditional Japanese rooms with veranda, rooms with wide windows and maisonette rooms. All rooms require guests to take off their shoes in the entrance as the unique textures of the tatami and wooden floors are best enjoyed with bare feet.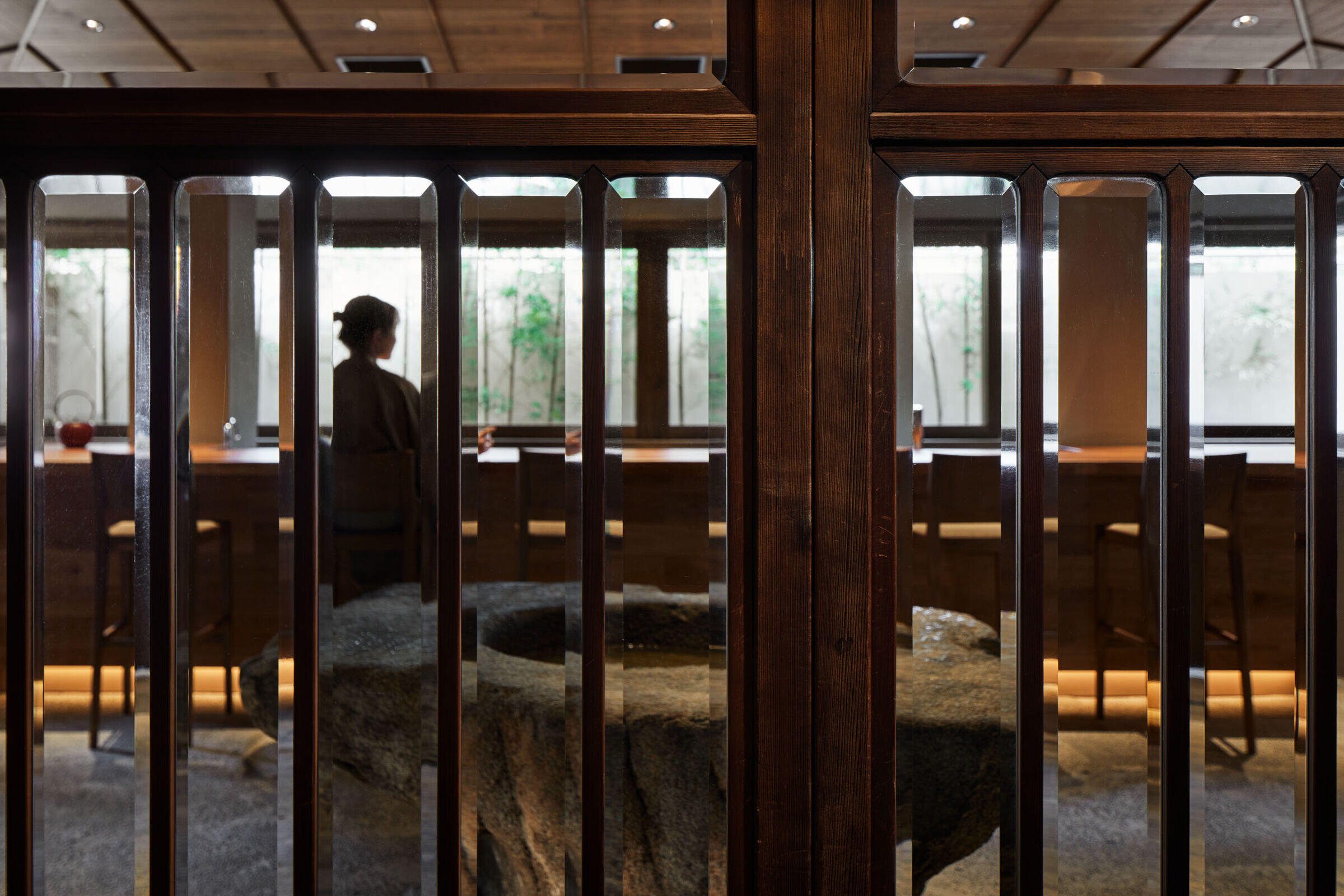 Choosing to include a tea lounge in the design was a way to honor the genealogy of the site, which is said to have been a tea farm in the past. Both indoor and outdoor seating areas maximize the greenery of the adjacent street for a sense of seclusion. Hot spring water from Hakone, a region south-west of Tokyo famous for its mineral-rich water, is transported to the hotel regularly to provide guests an authentic hot spring experience. The hotel's public bath also comes with a garden view, background music inspired by the springwaters of Mount Fuji and a sauna with original aroma mists.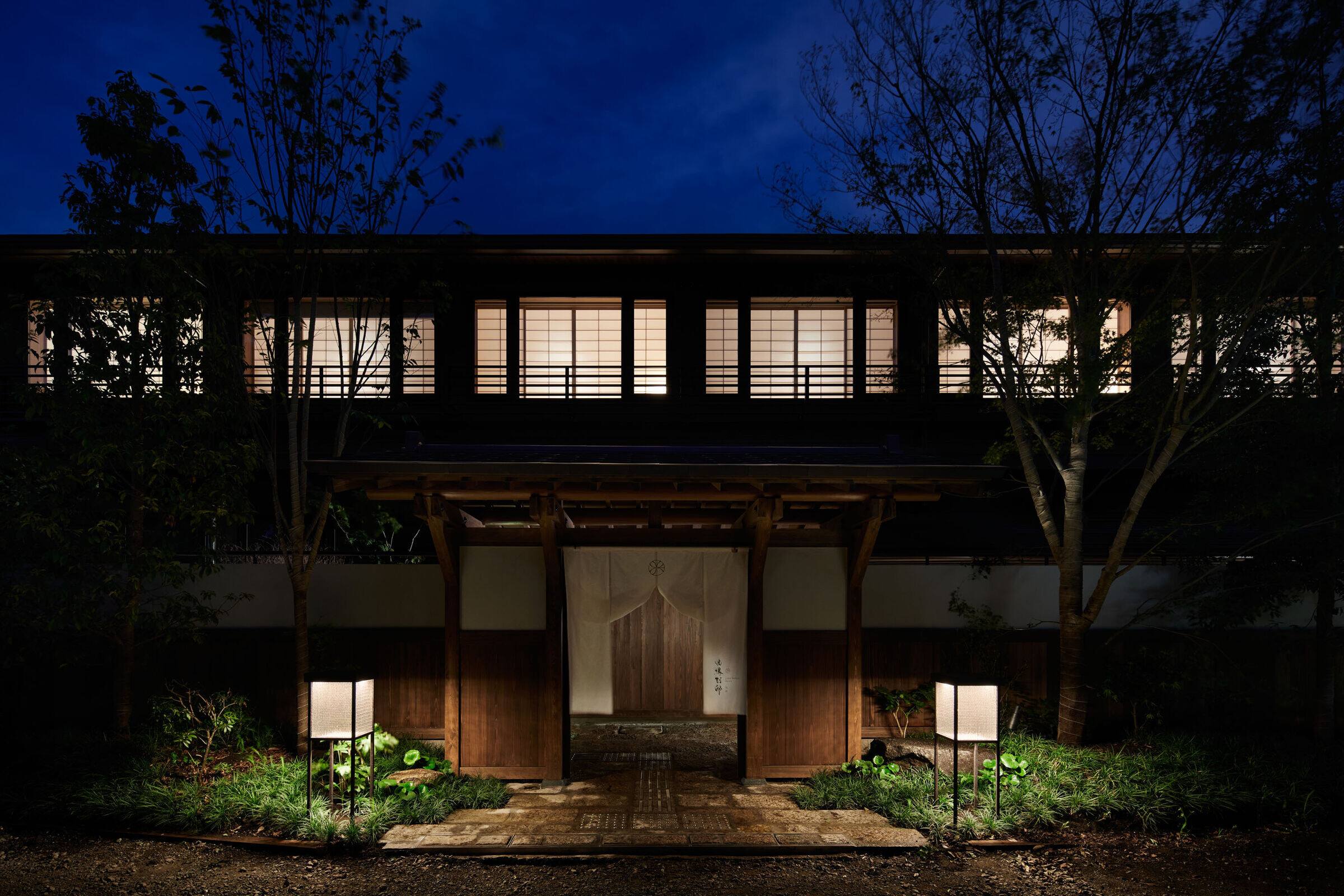 Material Used :
1. Facade Painting – Jolipad, AICA
2. Interior wall finish (Lobby, Restaurant, Tea salon, 1F Corridor) - Tsuchi Wall (mud wall), Fujiwara Chemical
3.Interior wall finish (Restaurant: range hood・Tokonoma) – LOKTA Japanese paper, KAMISM
4. Interior floor finish (Lobby) – Slate Tile, su+
5. Inteiror floor finish (Tea salon) – Stone Fine (Exposed Finish Concrete), YABUHARA
6. Inteiror wall and floor finish (Onsen) – Waterfall (Ceramic tile), RIVIERA
7. 2F Corridor wall finish – Wall paper, SANGETSU
8. Room Interior wall - Wall paper, SANGETSU
9. Room floor finish (Tatami) – Seiryu with edging (Tatami using Japanese wover paper), Daiken
10. Room floor finish (Flooring) – Oak Naguri finish, MARUHON
11. Sliding door・Ranma・Stone (Tea salon) - Used materialfrom a century - old that ched - roofed mansion from the neighborhood