Foreco is an innovative and professional company in the field of timber products with a history of over 30 years. The company has worldwide procurement activities complemented with production and sales operations in the Netherlands. The company is leading as an early adaptor with wood protection and sustainable development. Within several national and international innovation networks the company has managed to make a significant contribution to the development of award-winning new technologies for wood protection and wood modification. As part of its business Foreco incorporates market leading wood protection technologies from Arch Timber Protection, who offers innovative products, application systems and supports services for the preservative and fire retardant protection of timber. The success of the company is built on integrating technology, driving innovation and co-operation within the timber industry. Foreco works with some of the most recognised and respected products brands of Arch Timber Protection, such as TANALITH wood preservative for WaxedWood as well as DRICON and NON-COM Exterior fire retardant technologies for SafeWood and SafeWood Select. Foreco is active in three different sections: timber-trade and production, timber-constructions and playgrounds. In Dalfsen the company holds a stock of over 15.000m3 with a wide range of timber species at a terrain of 60.000 m2. With IJreka Playgrounds we offer professional, sustainable and innovative products and solutions for recreational areas and playgrounds. Our timber-constructions company Foreco Timber Constructions in Noordeloos is specialized in assembling and placement of timber products and prefab components in renovation and building projects. With professional and innovative planning and production methods it holds a strong reputation as a reliable and flexible partner. Among our clients are large building companies, water boards, municipalities, schools, recreation enterprises, and many private companies and consumers in Europe. Focusing on quality and sustainable relations with our partners Foreco is able to expand the opportunities of timber as a durable, safe and attractive building material.
Foreco Product
NobelWood®
Foreco
Based on wood modification Foreco introduced NobelWood®, an award-winning alternative for tropical hardwood. It offers durable and sustainable product...
Other Facades Products
Member Promotion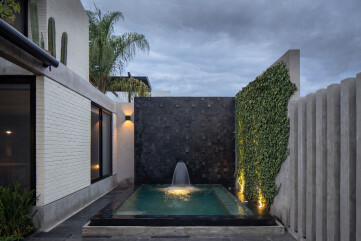 Black Lava
Sukabumi Stone Mexico
Black Lava stone is a basalt derived from volcanic rocks extracted from Indonesia. It can serve as a complement to SUKABUMI stone or be applied indivi...
YOW 225 H
YKK AP America Inc.
The YOW 225 H Impact Resistant Operable Window has been designed and engineered to the highest standards to provide a hurricane impact resistant windo...
Our Products are Used in Projects by
Projects with Products from Foreco
Inspiration in Facades
Member Promotion


Christian Flatscher


Creative Photo Room

Creative Photo Room

Creative Photo Room

Creative Photo Room

HQ
Foreco Netherlands
Dalmsholterweg 5, Dalfsen, Netherlands
Is this your brand and would you like to remove content from other manufacturers on your brand page?
Contact Archello