40 knots House by Iranian Architects : habibeh madjdabadi + alireza mashadimirza
Innovative low-cost techniques that reinterpret traditional brick facades.
Persian carpets are world renowned, and bricks have a strong relationship with Iranian historical architecture. Here they are fused into a contemporary facade that appears as a collection of intricately interwoven modules. Creating a small and low budget apartment building in Tehran does not leave much space for creativity, yet an architect can try to do something with the material, textures, outer envelope and light. In light of that, a modern interpretation of the ancient mashrabiyya was conceived by using the bricks available on the local market. In order to reduce costs in the construction of this five-storey building, unskilled workers, unable to read technical drawings, were employed instead of master craftsmen. All the construction data was transformed into simple instructions to be recited by the supervisor during every fixing, resulting in a protruding irregular geometry, designed brick by brick, a system invented by watching carpet weavers in traditional workshops. The building has been entirely covered with a mesh of bricks impaled on rod bars as contiguous pearl necklaces. The distances between the bricks have been adjusted to create an opaque effect, through which light does not pass, while when there is a window behind the mesh, it becomes a transparent grid.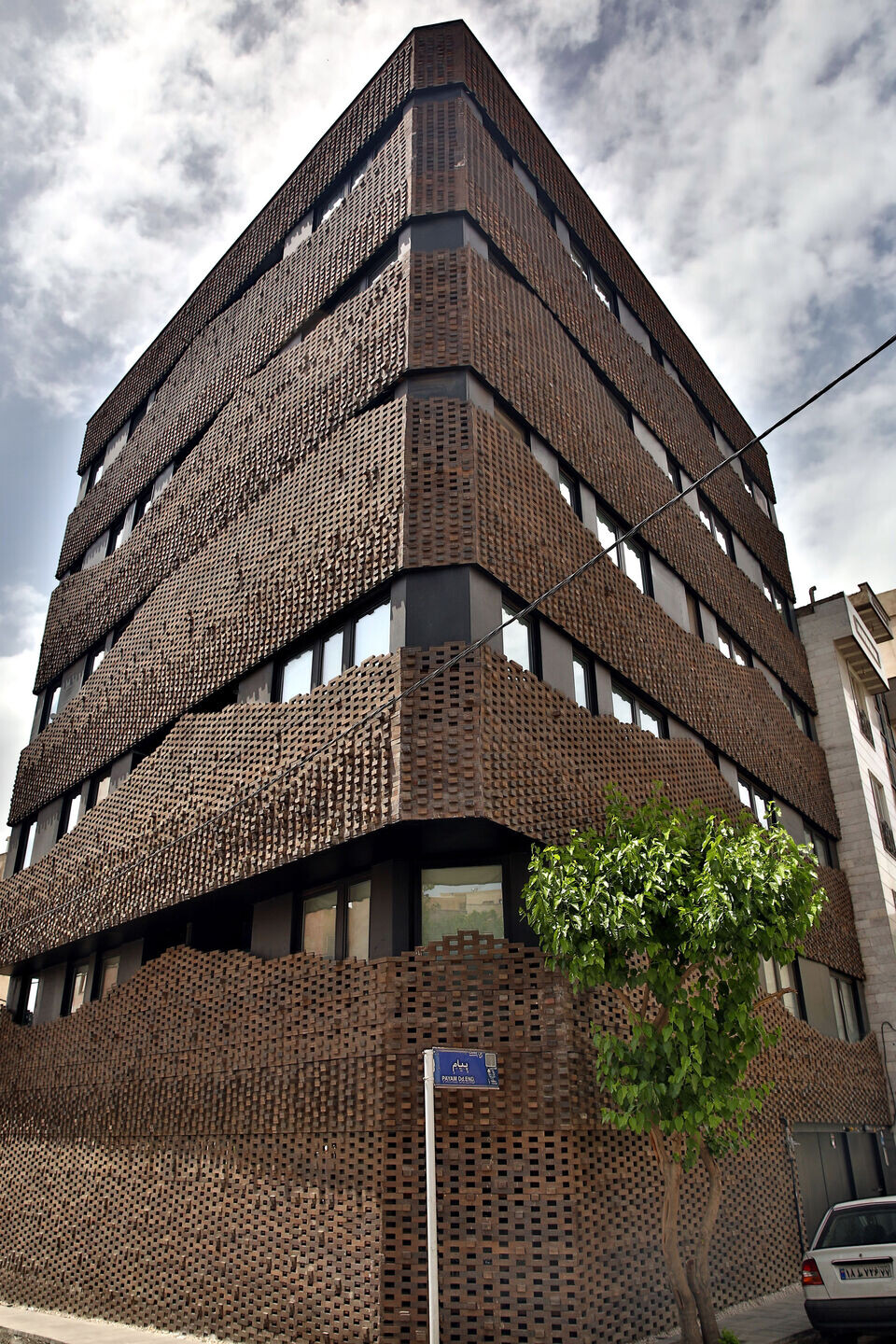 while persian carpets are world renowned, bricks have a strong relationship with iranian historical architecture. in this building, 'the house of 40 knots' by habibeh madjdabadi and alireza mashhadimirza, the two entities are fused into a contemporary façade that appears as a collection of intricately interwoven modules.
in textile factories, two people work together to make a carpet – one reads the instructions while the other sits behind the scaffold and makes the braids. the architects elaborate by saying, 'the one who reads the instruction does not necessarily know how to knit. she reads the instructions, usually with a rhythm, and like a song: two reds, a yellow below, two blue . . . those instructions are usually drawn on checkered papers.' the handmade exterior of this residence is also made using a similar system. one craftsman reads and the other places raised, filler, and hollow bricks in corresponding supporting bars between L profiles. due to this technique, there is no need for phase drawings and the construction sequence can be performed through a series of simple, localized labors. workers can lay down the clay blocks row by row without having to understand the concept of whole façade.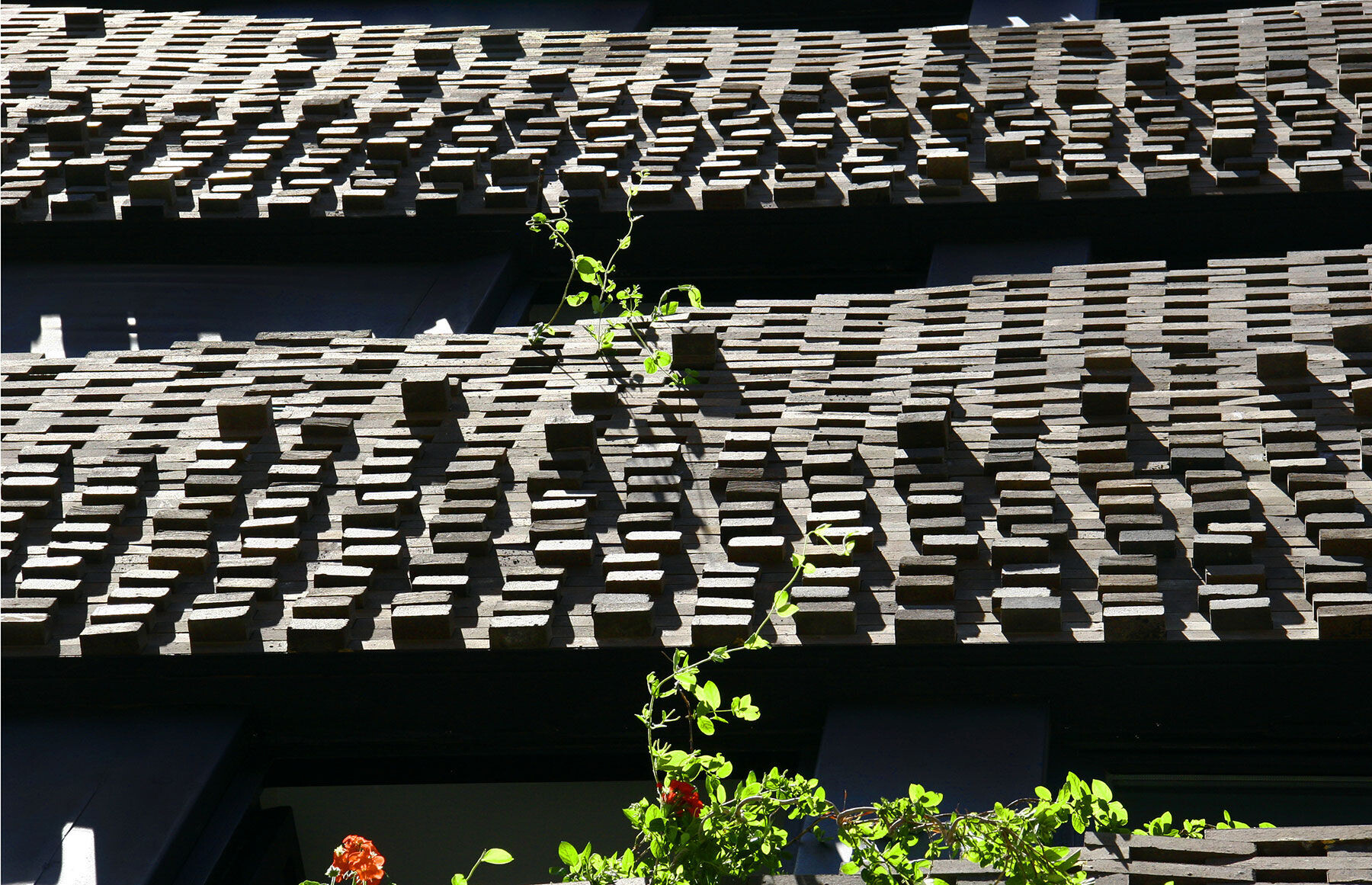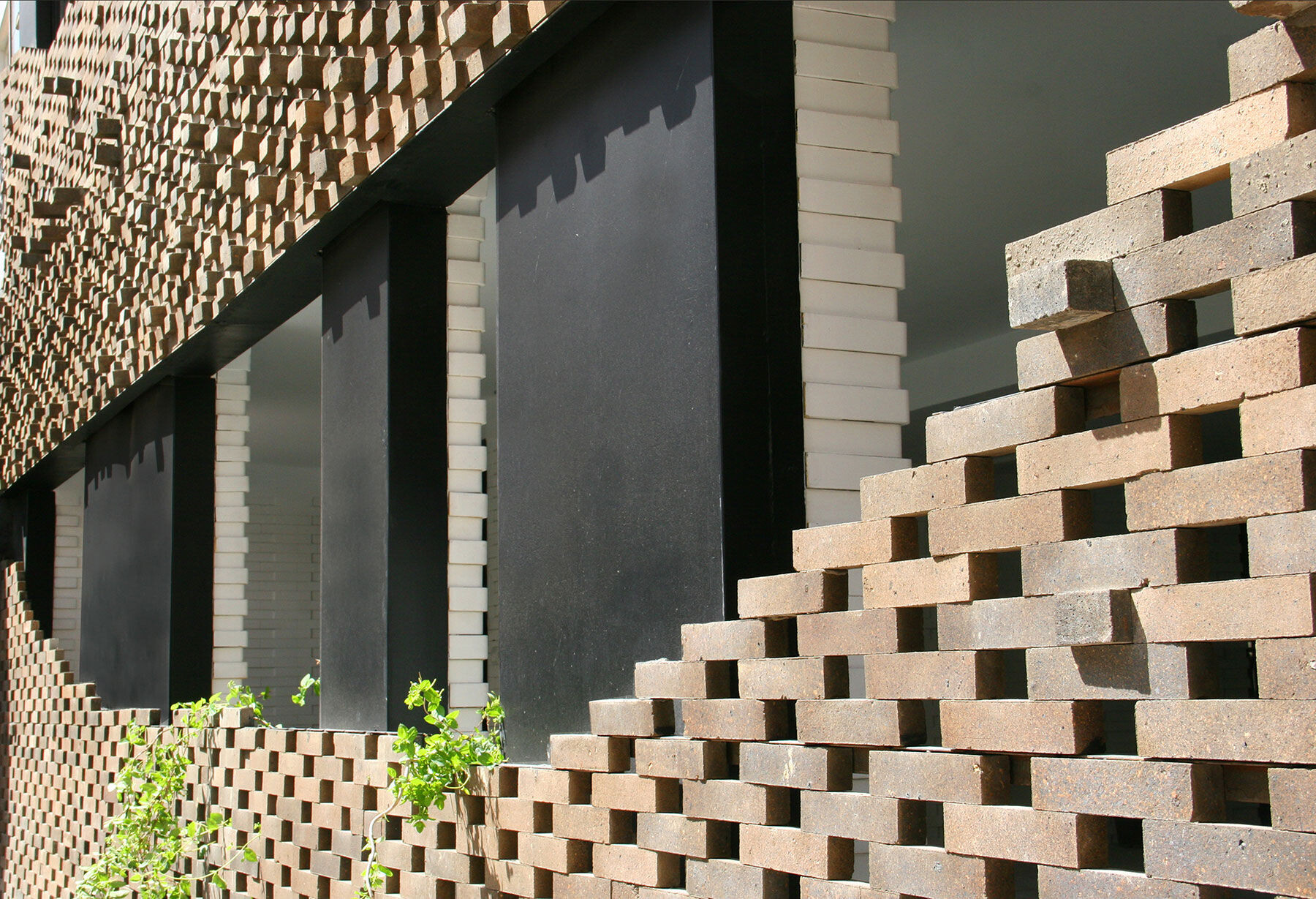 as the result is thought to be one unified object, madjdabadi and mashhadimirza intentionally avoided designing different components separately. instead, the aesthetic is defined by a series of loose rules that allow both sides of the repeated units to be visible. from the outside, they appear as an integrated texture, and from the inside, they appear as window parapets embedded into the masonry. also, a standard cube geometry is used at various scales: in the protrusions of the outer surface, in planters of the fencing, and in shelves of the interior.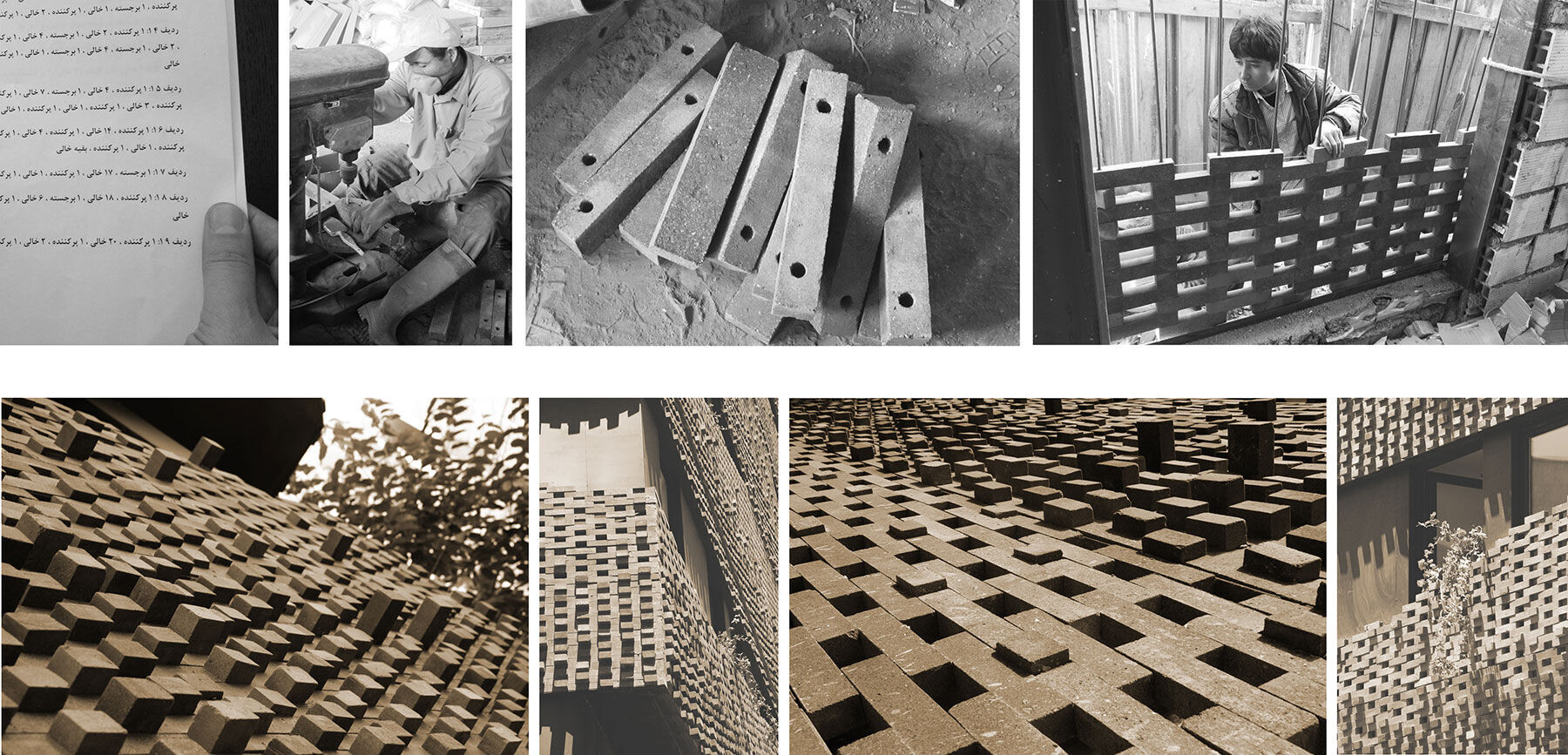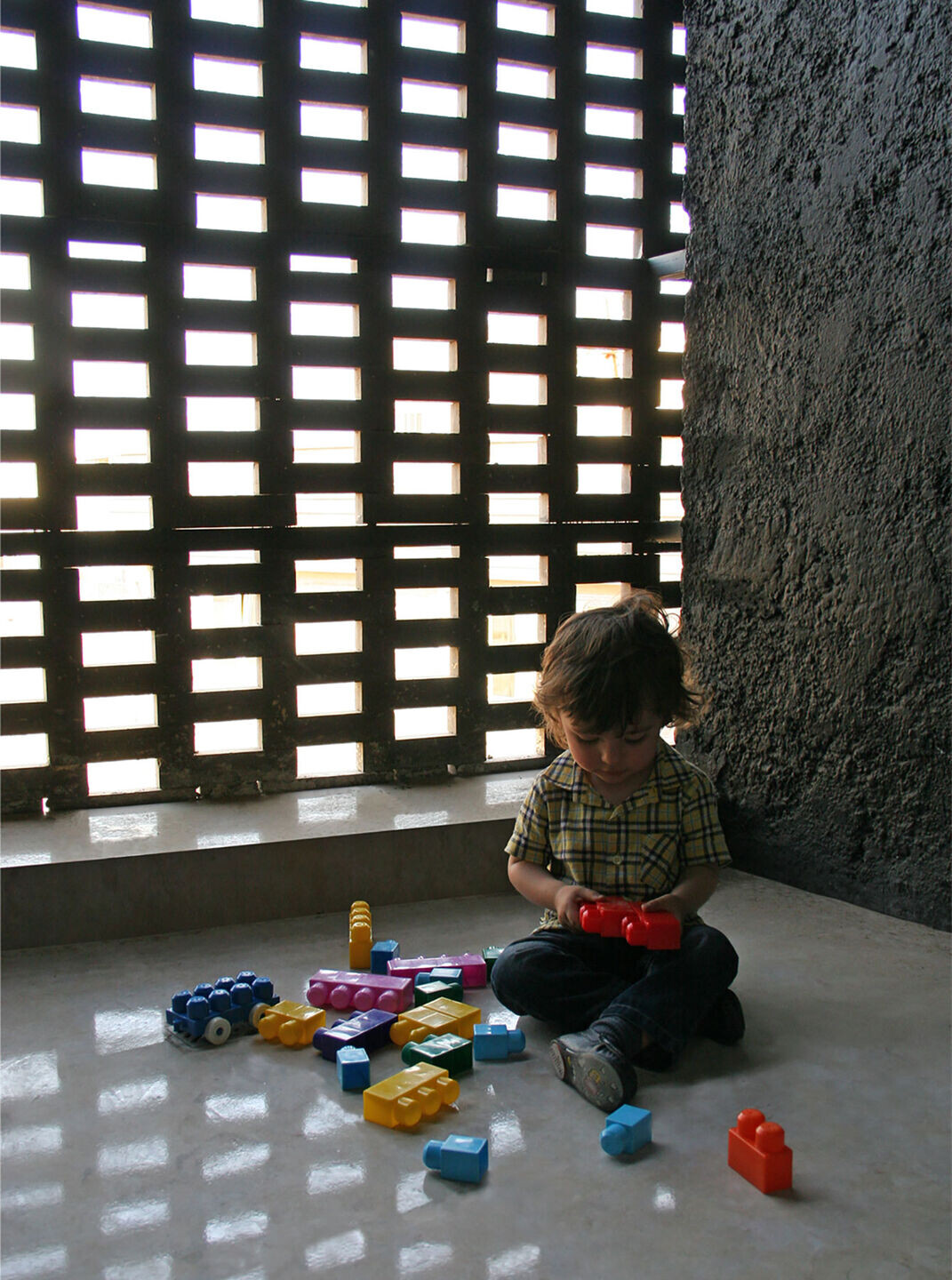 Architects: Habibeh Madjdabadi & Alireza Mashadimirza
Location:Tehran,Sattarkhan district
Area:242 sqm (plot size) -1313 sqm (built area)
Date:2014
Client:Alireza Zahed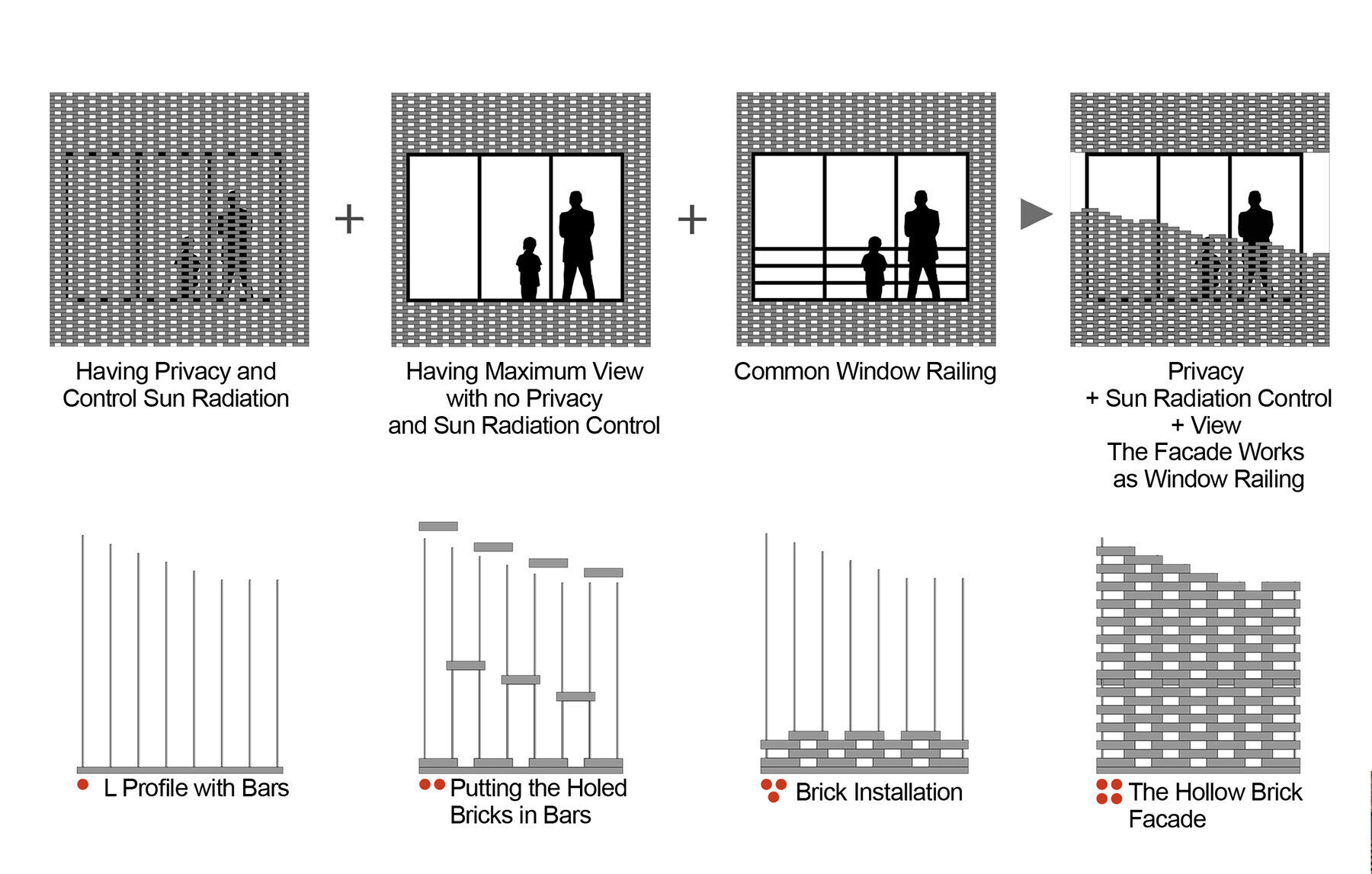 finalist aga khan award 2016
Shortlisted in world wide brick award 2014
3rd place of MEMAR Award 2014