This terrace house in Sydney's Darling Point was transformed from its former dark and pokey dual occupancy, into a bright and contemporary home for its owners. The existing envelope of the terrace was maintained, with new openings created and new facades to the street and the harbour. The interior was entirely opened up to allow views to Rushcutters Bay from even the furthest depths of the house, and carved out to create soaring ceilings and voids, allowing light to penetrate every corner.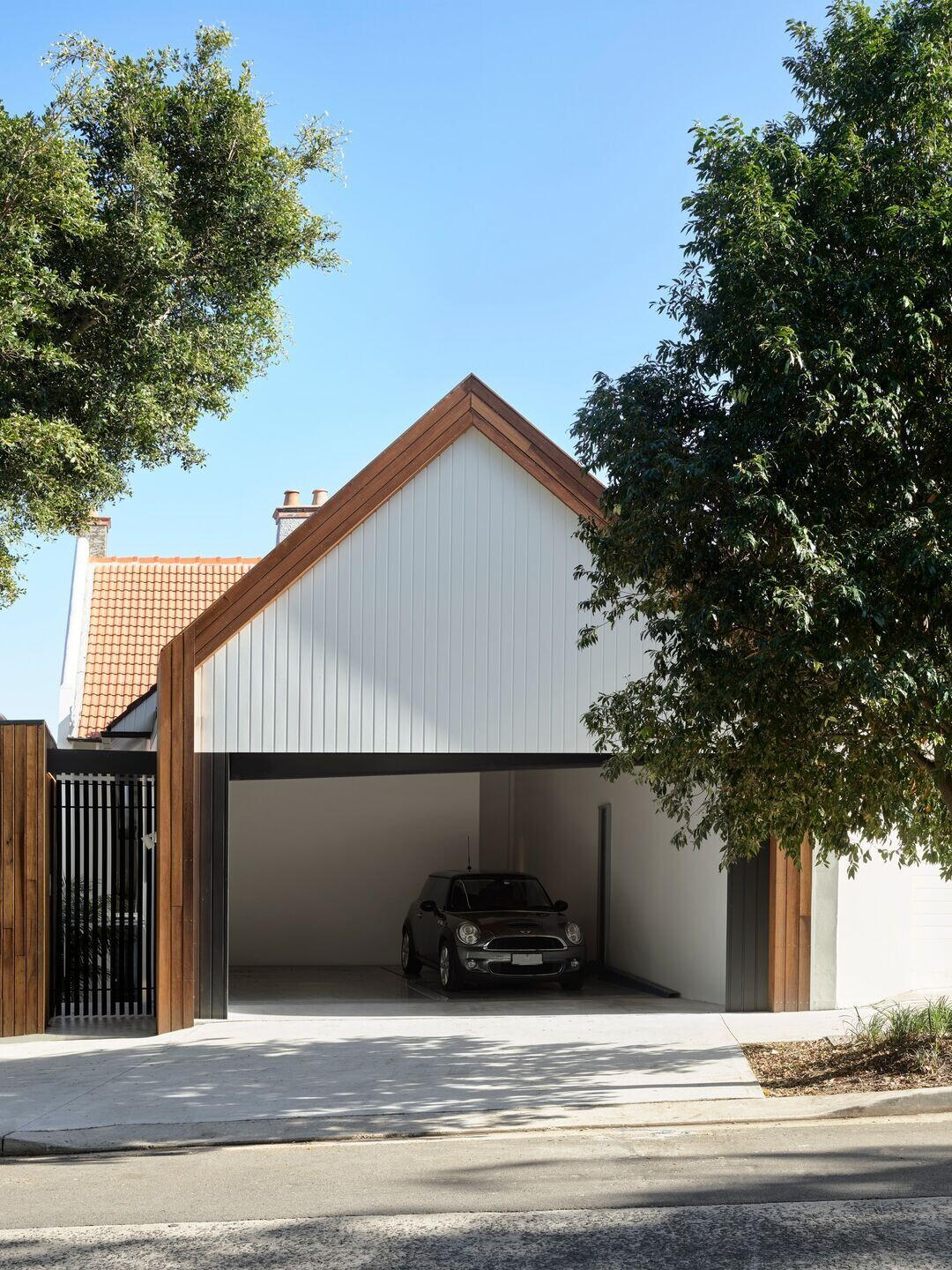 Deceptive from the front, this 7.5m wide site proposes only a neat, pitched roof garage and gate to the street. Through the gate glimpses of the sails in Rushcutters Bay are visible through a towering slot window. A thin slice of garden, water and courtyard is created at the entry, bringing visitors down a slanted concrete stair to the front door. Inside they are met with a stone stair that leads the eye up into a central void, cut to the west with a long skylight, flooding the space with sunlight. The void marks the heart of the home, over the expansive kitchen and monolithic stone island bench.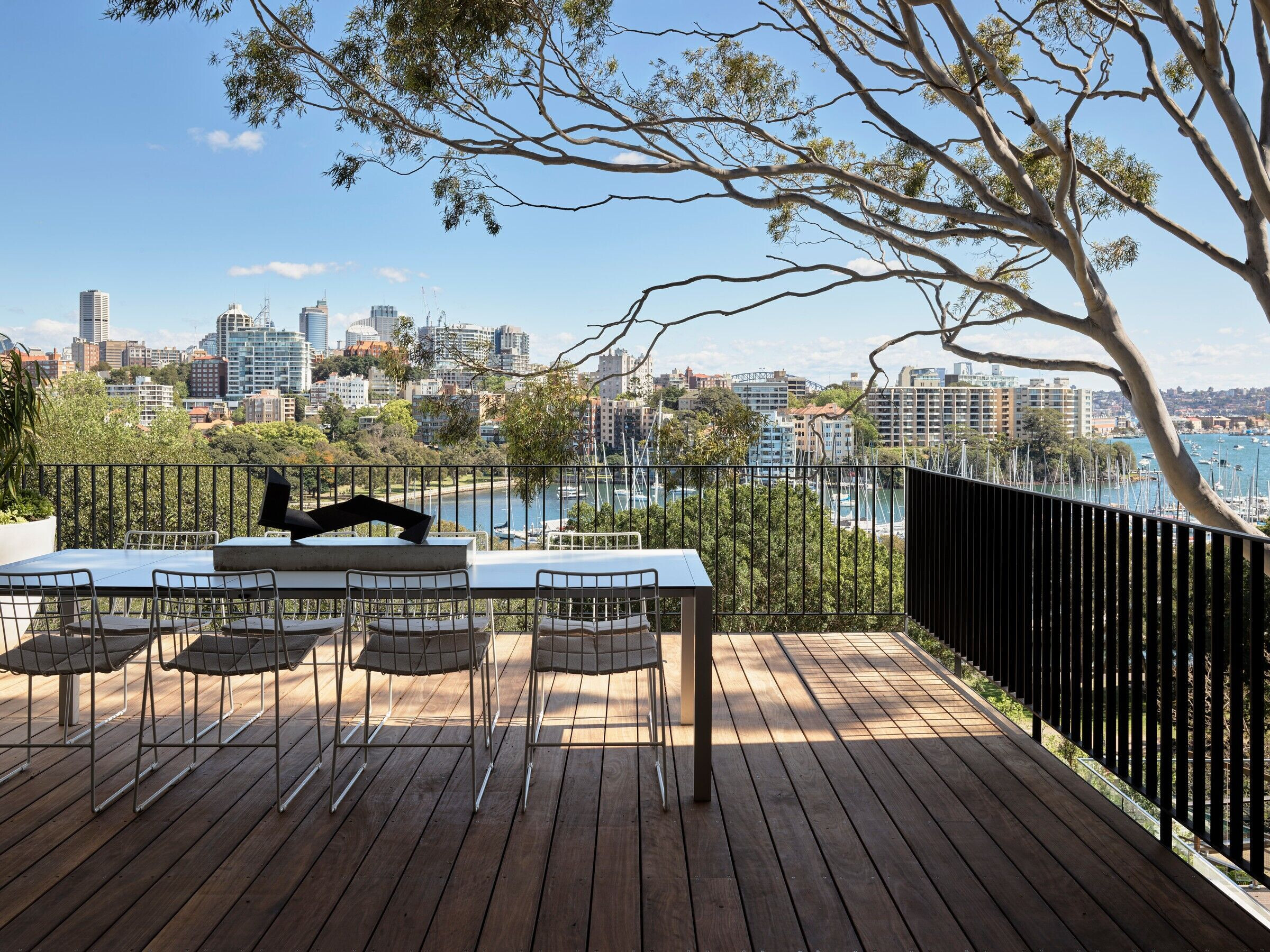 Internally modest rooms are given height and drama with generous ceilings that are softly curved and appear to be without edges. This endlessness provides a feeling of connection through every space in the home. Raw and honest materials are used throughout - the warm oak timber floors ground the soaring ceilings, stone is carefully selected for special moments, oak battening in the joinery accentuates the verticality of the spaces, and smooth concrete vanities float despite their weight.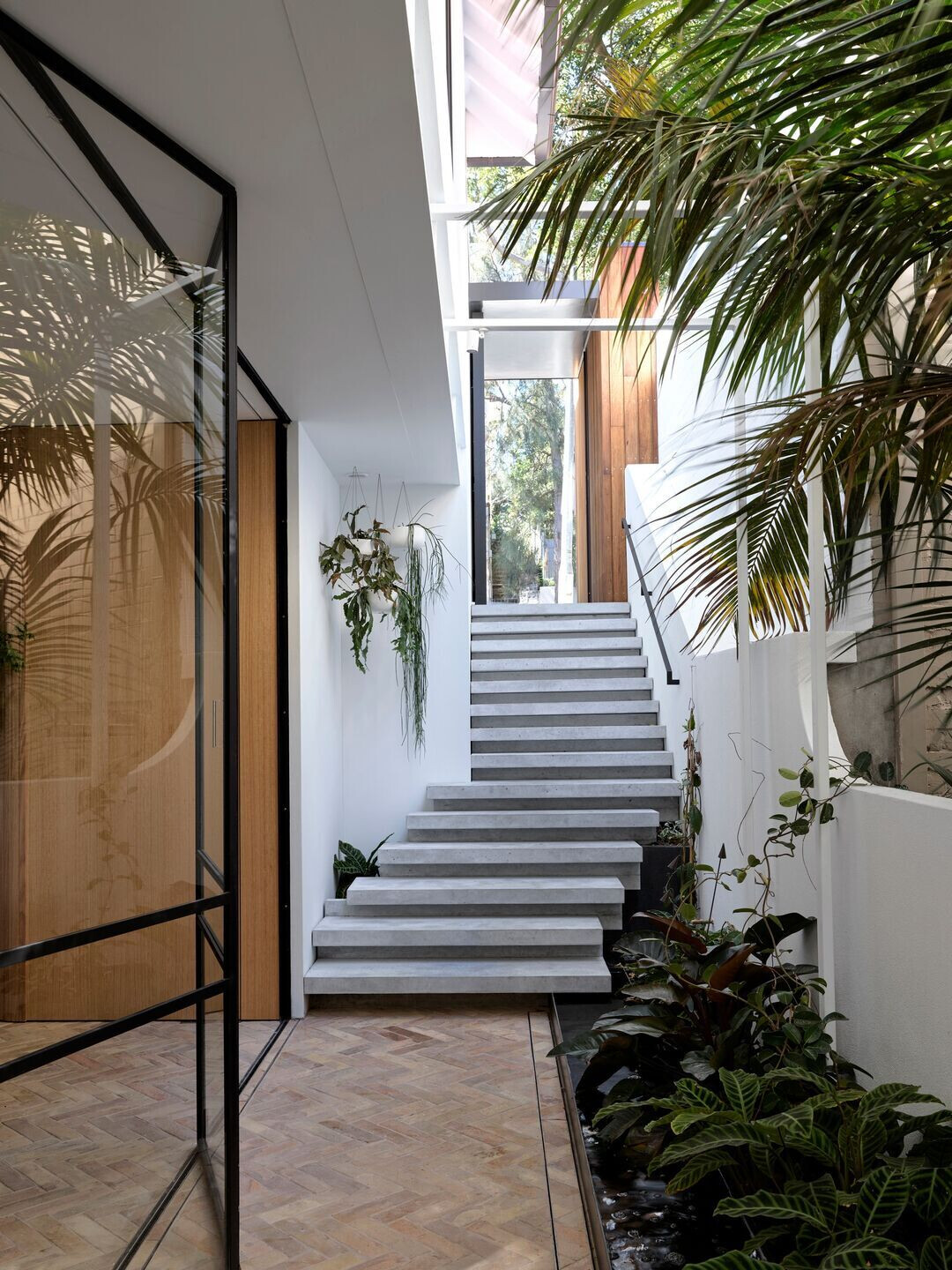 At the rear the contemporary façade mimics a modern play on the original architecture, curved balustrades and framed openings are reinterpreted in steel and glass, and the tall pitch of the existing roof is accentuated, framed in a timber surround that returns down the party wall. An infinity edge pool leans out toward the harbour, and floating decks step down and hang over the water.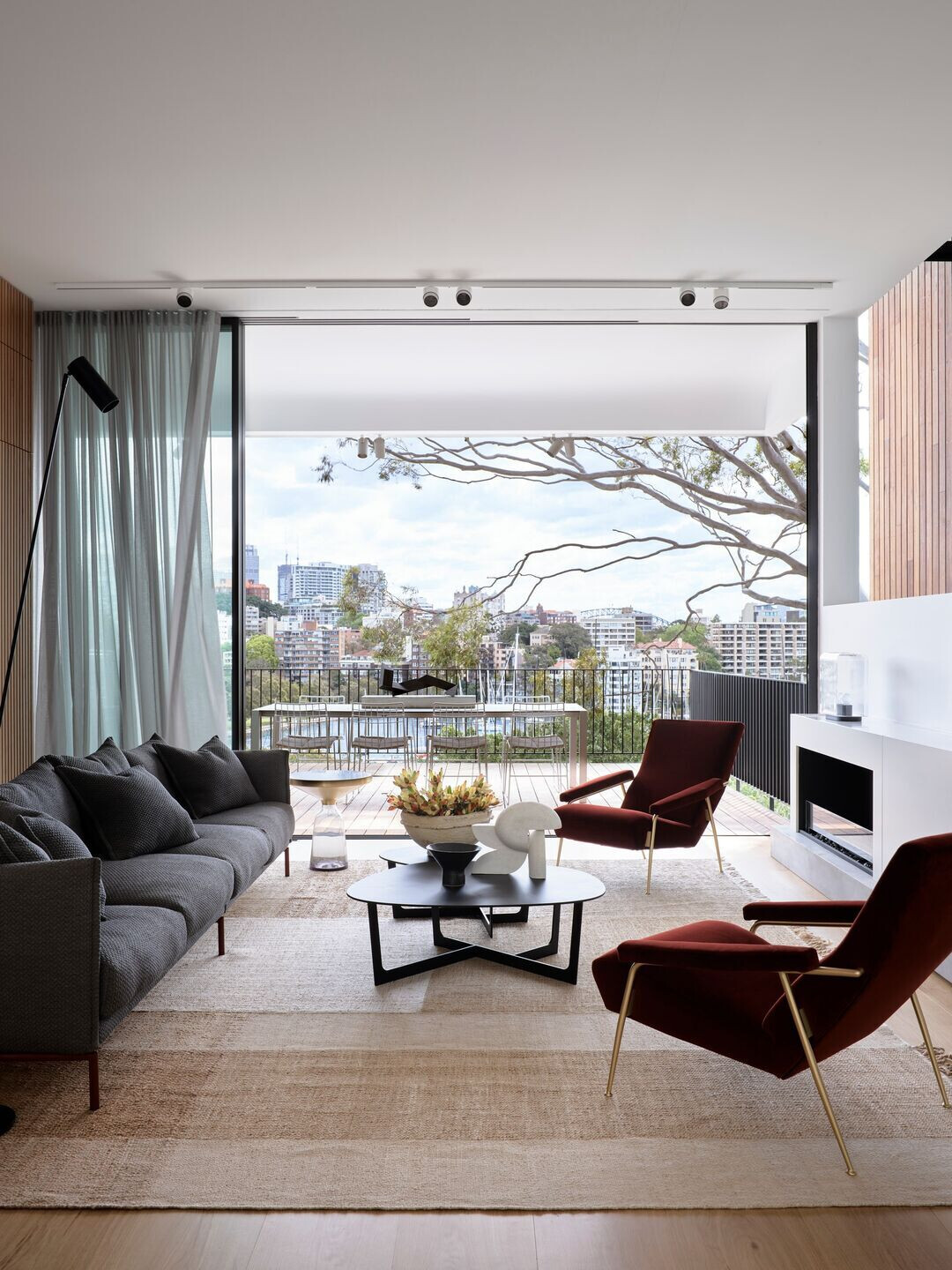 The home is a response to clever contemporary living within the tight constrains of an existing structure. Maximising access to light and views, as well as functional daily living. Oh, and an extraordinary 3m long aquarium too (of course!).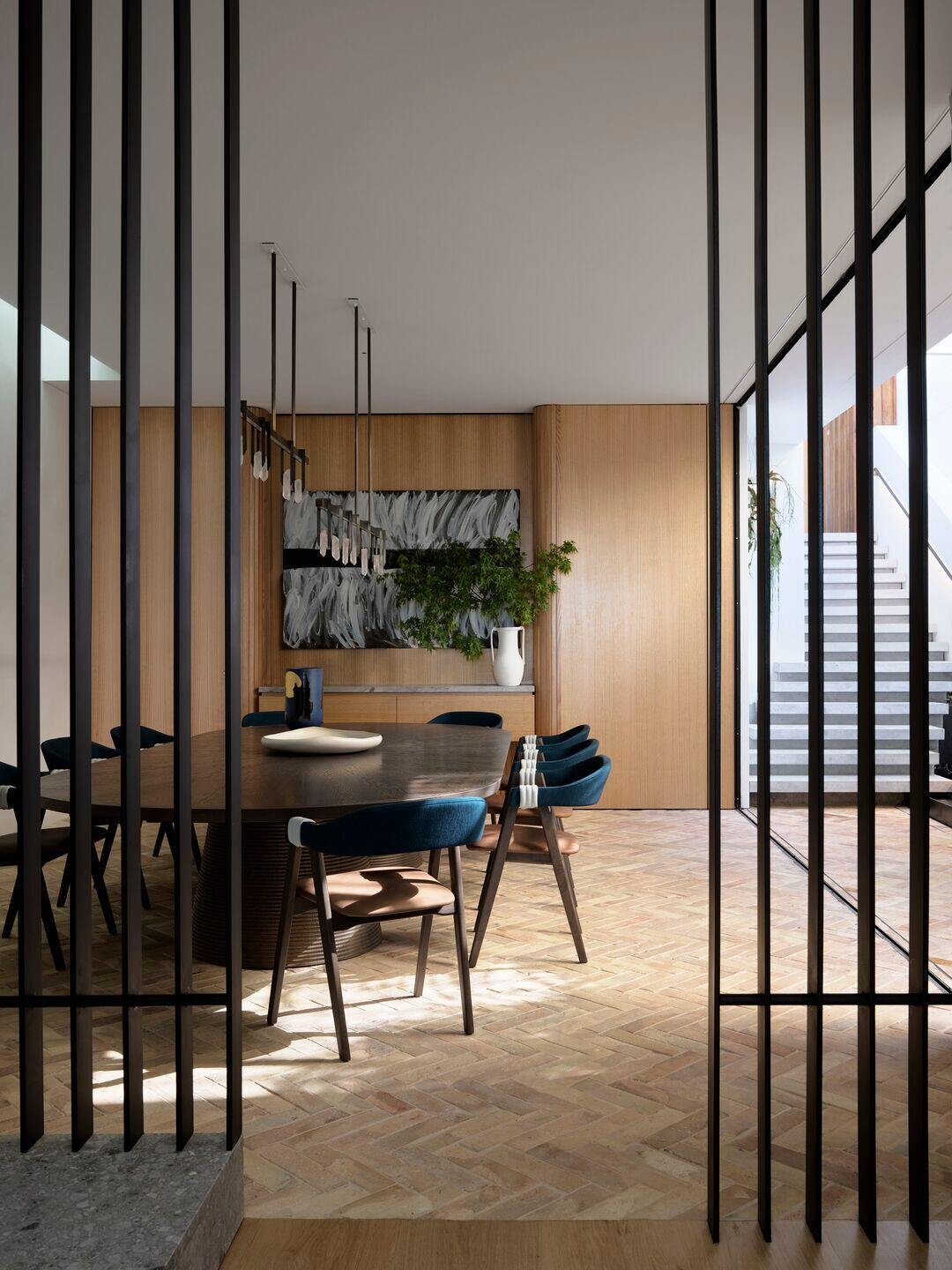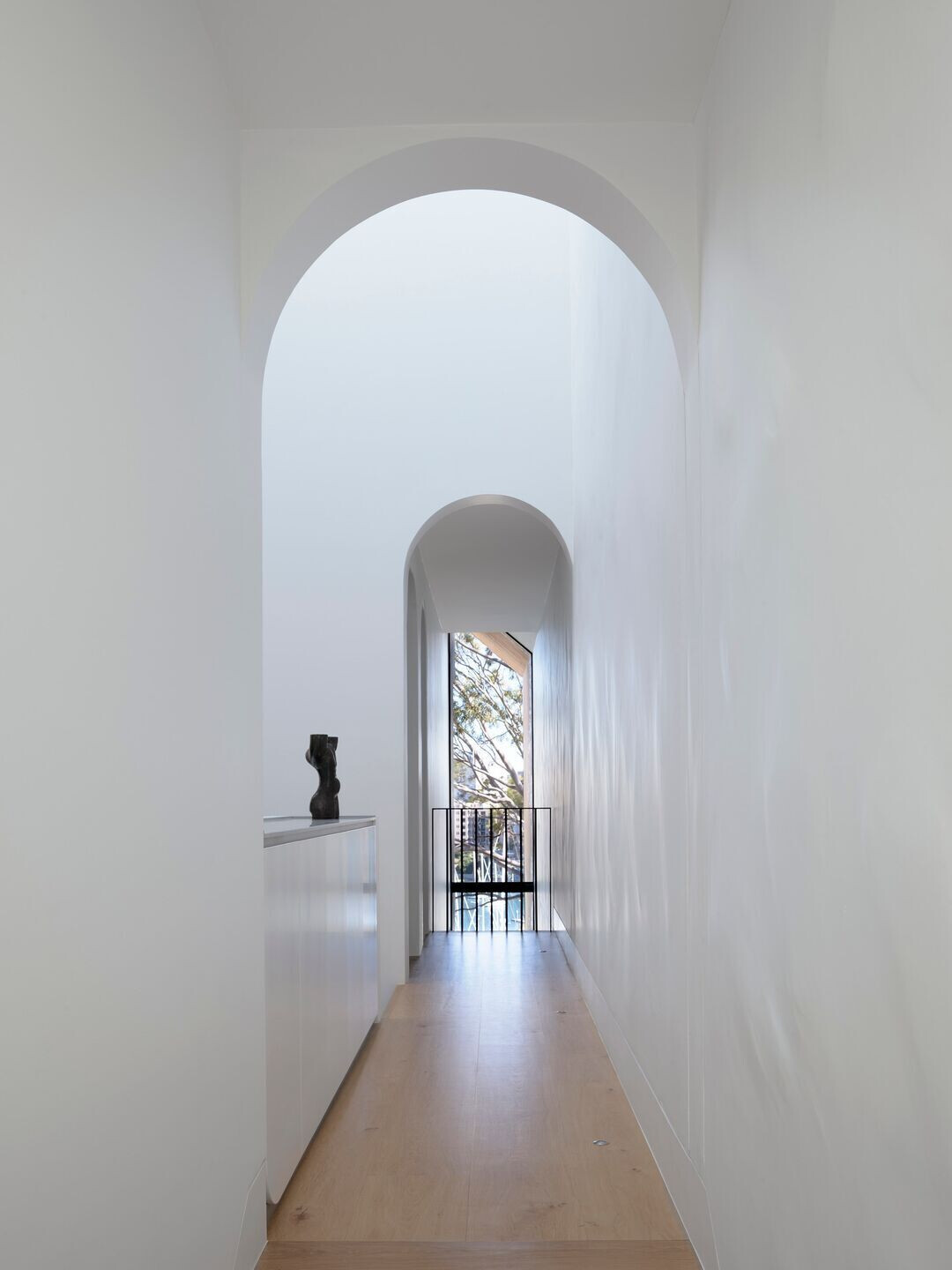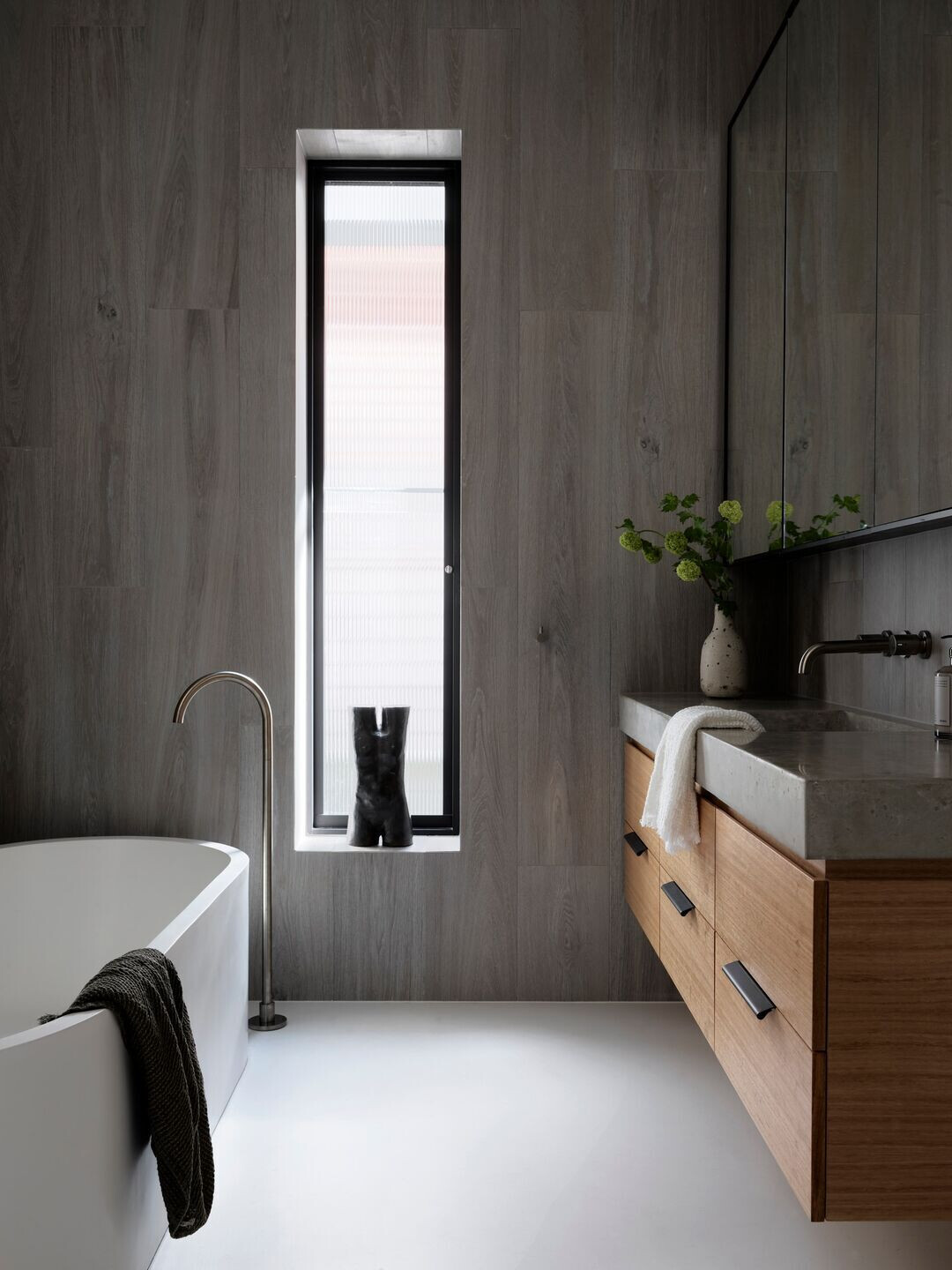 Material Used :
Facade cladding: Hardwood timber cladding – blackbutt by North South Carpentry
Windows: Aluminium - AJ aluminium
Roofing: Existing tile roof / New tiled garage roof tiles from Monier
Interior lighting: Iguzzini and Koda / Dining room pendant – Christopher Boots / Custom benchtop mounted LED design by Bronwyn Litera, made by ADesign Studio
Interior furniture: Hub Furniture, Jardan and Cult
Flooring:
- Wooden Timber Floors: Eterno Massivo Oak Timber Floor Boards, Precision Flooring
- Porcelain Tiles: Nebraska Tea Matt Timber Look, Earp Bros; Tanzania Silver Matt Timber Look, Earp Bros; Boston Stone, Earp Bros;
- Brick Tile Floors: Malina Terracotta Light Parquet Tile, Gather and Co
Doors:
Internal doors: Solid timber with paint finish by builder / Internal door hardware 'Niki' from Designer Doorware
External Doors:
Dining room and Master Bed - Steel Frame bifold system by Brio (Fabricator: All Metal Projects)
Living room – Aluminium - AJ aluminium
Front door by North South Carpentry