The site is located in a quiet township, Multai, in the central state of India, Madhya Pradesh. Its proximity to a school and college campus means that it caters to a prominent student body and with a burgeoning cafe culture beginning to emerge amongst the youth, it offers them a slice of the city life.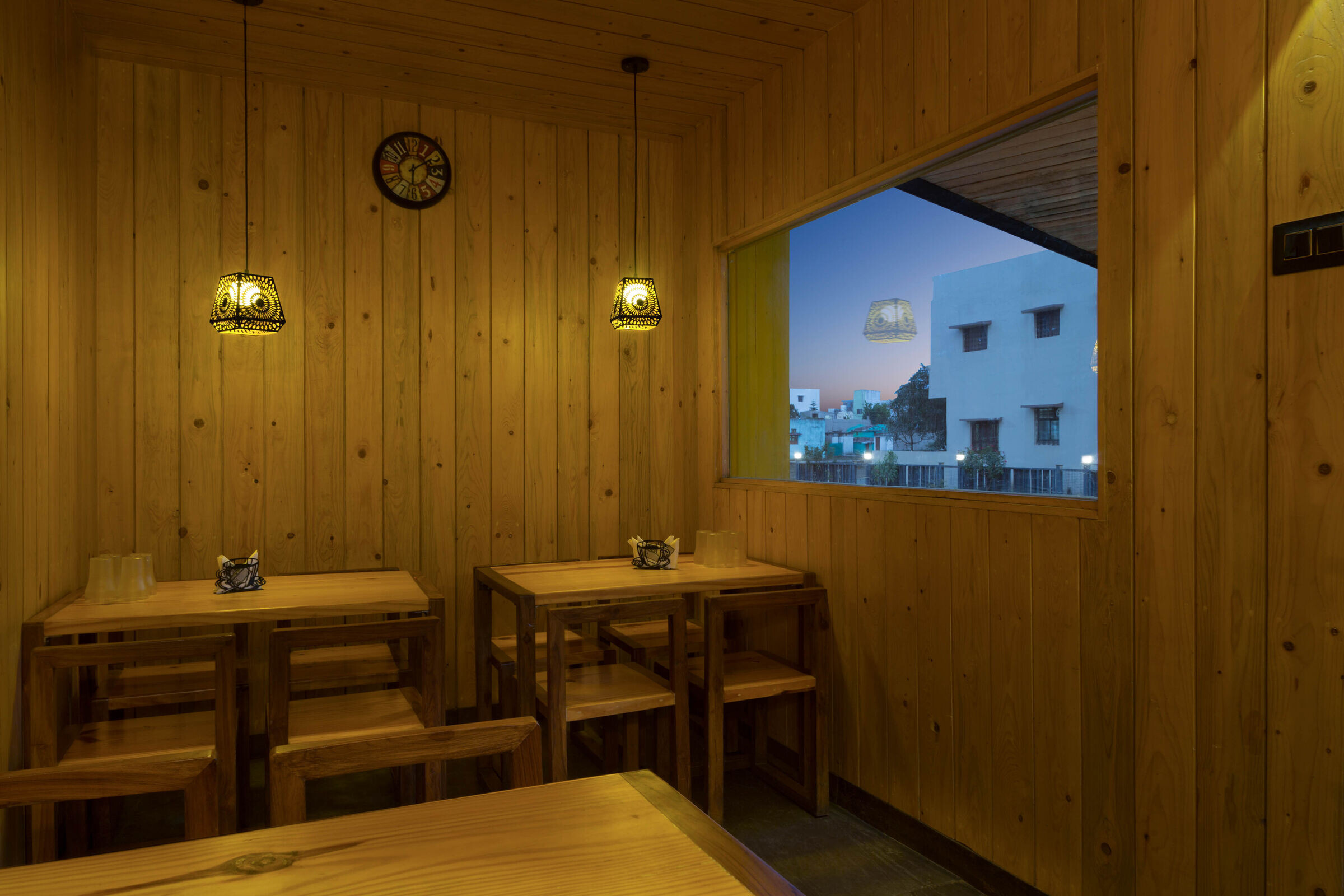 Owner of the café. Mr. Shivam Agrawal, a young entrepreneur believes in catering to the needs of the youth and providing them with best and unique environment.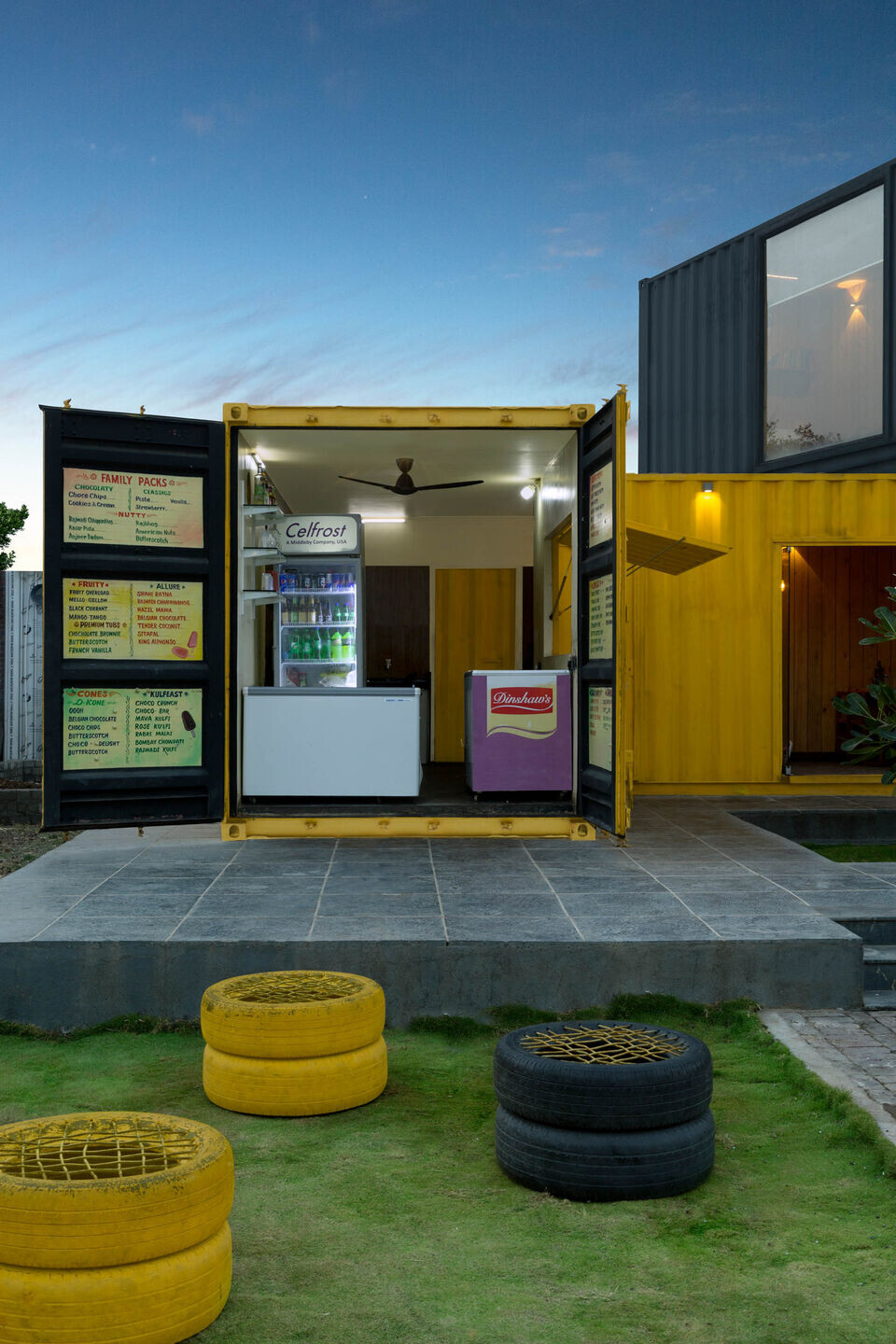 In the spirit of adhering to the client's brief, the architects took inspiration from the flourishing trend of cargotecture that is not only unconventional but also rustic. Therefore, as key design elements, shipping containers were chosen. The cafe's space-making was a playful process of exploration and experimentation with two industrial-grade 8x40 feet high containers. The café is in the southwest corner of the site so that the voluminous form is eye-catching from the road junction. With a low plinth on the ground floor, by breaking open one of the containers in an 'L' shape, spaces for an ice cream parlor, kitchen, and a cash counter with a small seating area have been carved out.
The upper container is dynamically tilted 22 degrees to the North, with the cantilever soaring 6 meters into the air. This arrangement of massing formed a courtyard space in the center. The stub columns at the back support the cantilevered part. This counterweight technique helped to create the space for toilets at the back and the outdoor seating area at the front. The upper floor houses a mechanically ventilated dining space and a reading nook with a play area for children. Large openings offer the diners an aerial view of the courtyard and soft-scape below.
During the day, the vibrant yellow color, which is known to stimulate hunger, is visible and, during the night, the black cantilevered container disappears into the dark, allowing the warm lights above and the cozy interiors to create an inviting space. The dining spaces have been added with recycled packing wood and are dimly lit in warm colors to create a rustic and cozy space which is in striking contrast to the industrial look of the containers.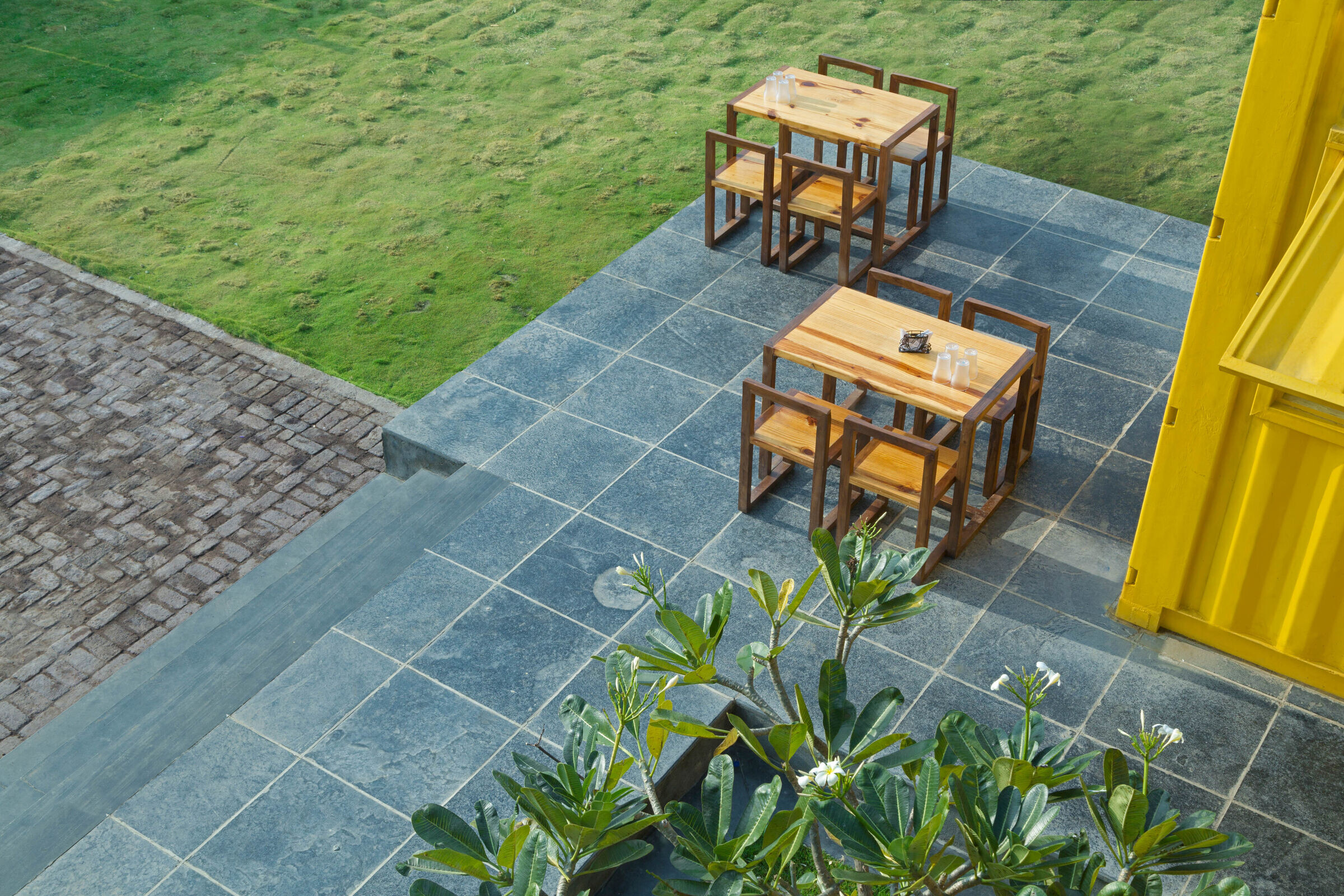 80% of the project uses recycled materials, the rest being natural materials. All construction was done on-site by local labor, including carpenters and fabricators. The flooring of the interior spaces has a mandana stone finish. The floor is paved using discarded bricks and, the plinth has been finished with natural kadappa stone tiles. Scrap metal was upcycled and used for the staircase. Recycled packing wood was used for the tables and benches of outdoor seating areas. Notwithstanding its distance from the city, the cafe functions as an integral part of the community fabric and offers something new, different, and exciting for the public to enjoy.