Located inside a new, luxury multifamily residence in Boston's Back Bay, Four51 Penthouse was conceived as a 'home base' for a couple and their family of children and grandchildren. The design team faced the challenge of incorporating the clients' desire for a clean, minimal space into the historic context of the neighborhood.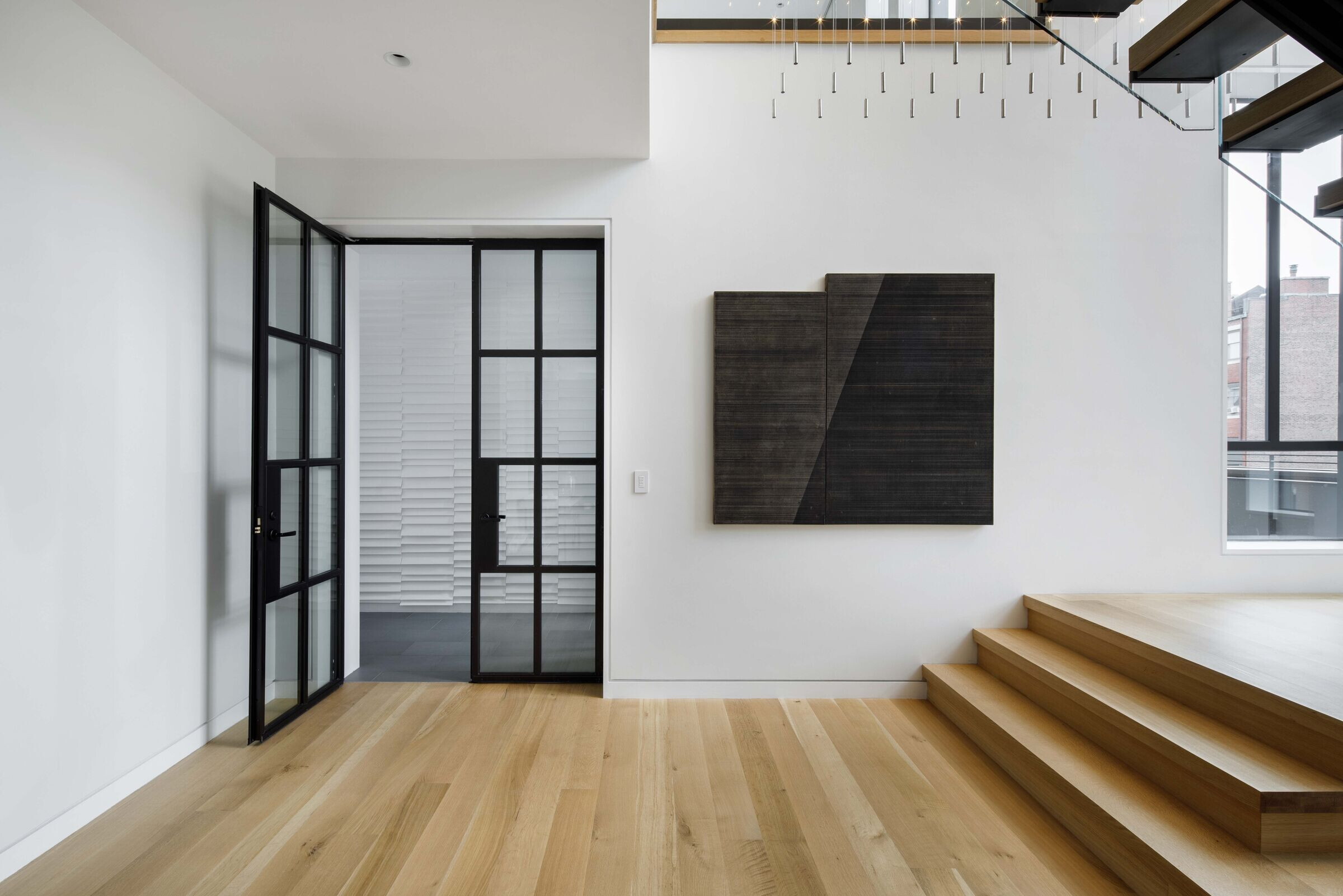 The subsequent residence was borne from a curated selection of natural, carefully-crafted elements that work together to create a modern identity amidst the tradition and formality of its surroundings.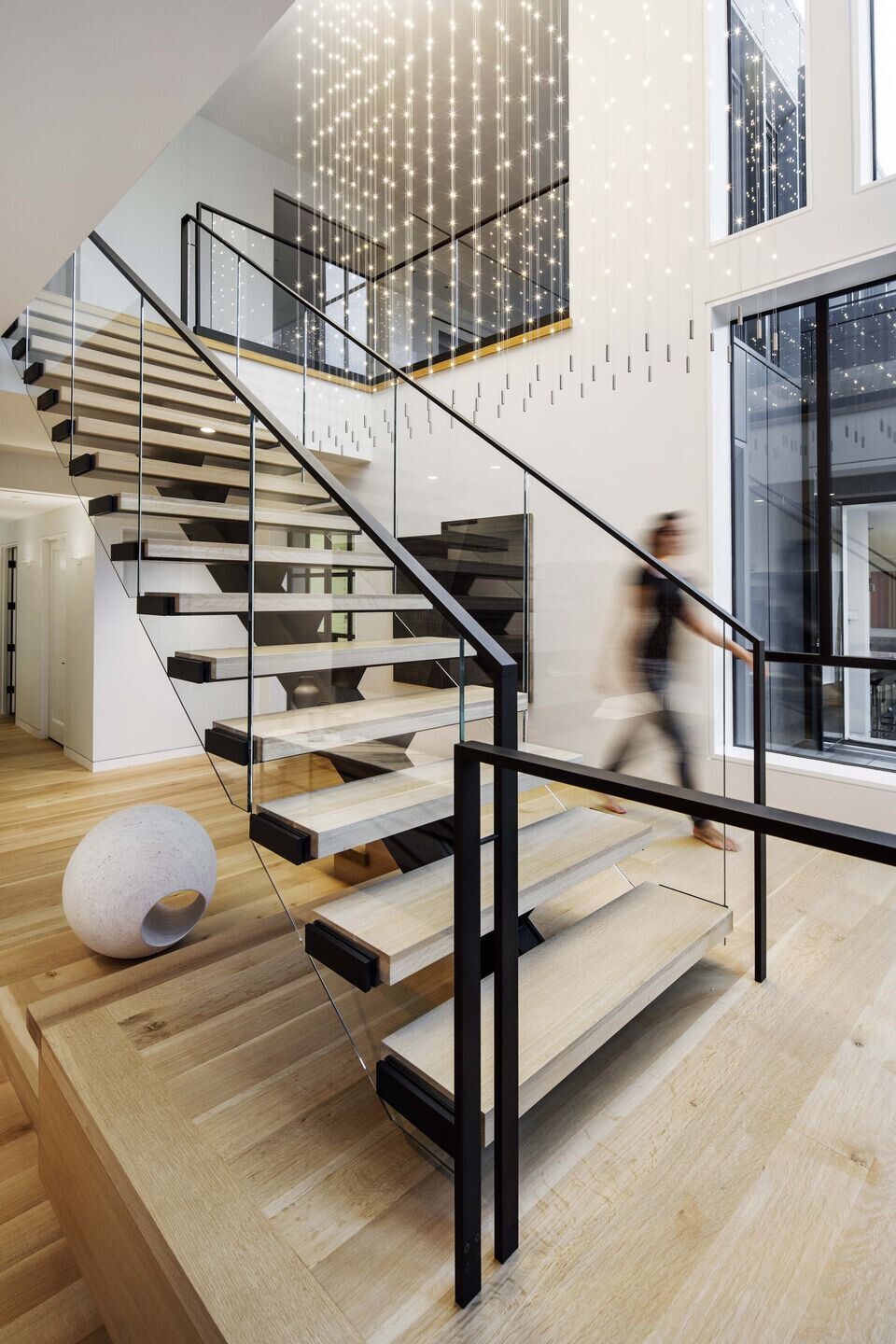 The duplex is connected by a double-height atrium, featuring a custom light 'curtain' installation that illuminates a black steel and glass stair. Designed in collaboration with Studio 1Thousand, the installation comprises two light volumes that slip past one another into the large great room, creating a visual bridge and a screen between upstairs and downstairs, and the living and dining areas.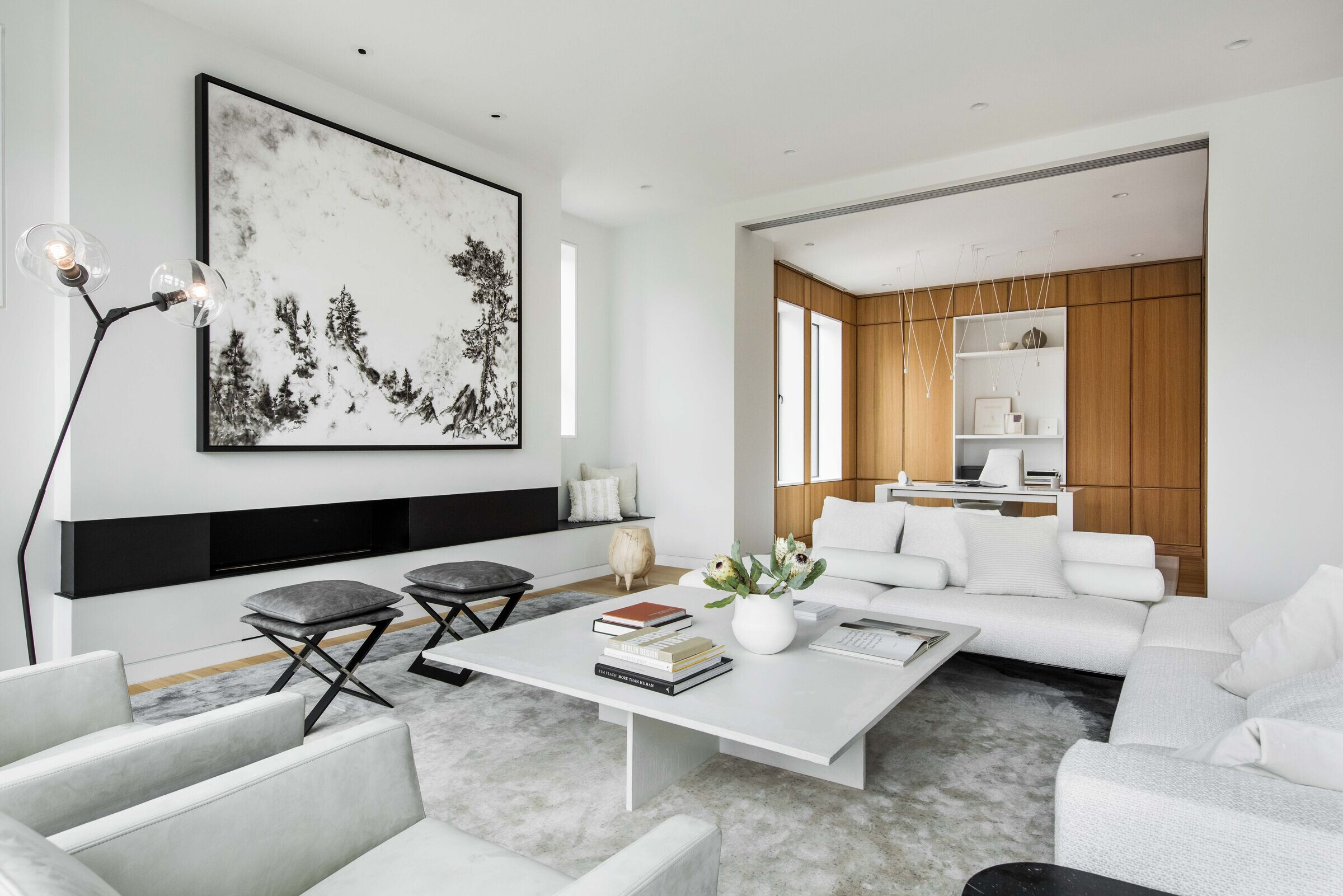 Unique metalwork, such as the custom-built stair, celebrates the client's background in developing innovative technology for detailed metal fabrication. Similarly, black steel windows punctuate the home's street view, framing Boston's characteristic red brickwork. Outside, the penthouse includes multiple terraces with 360-degree skyline views.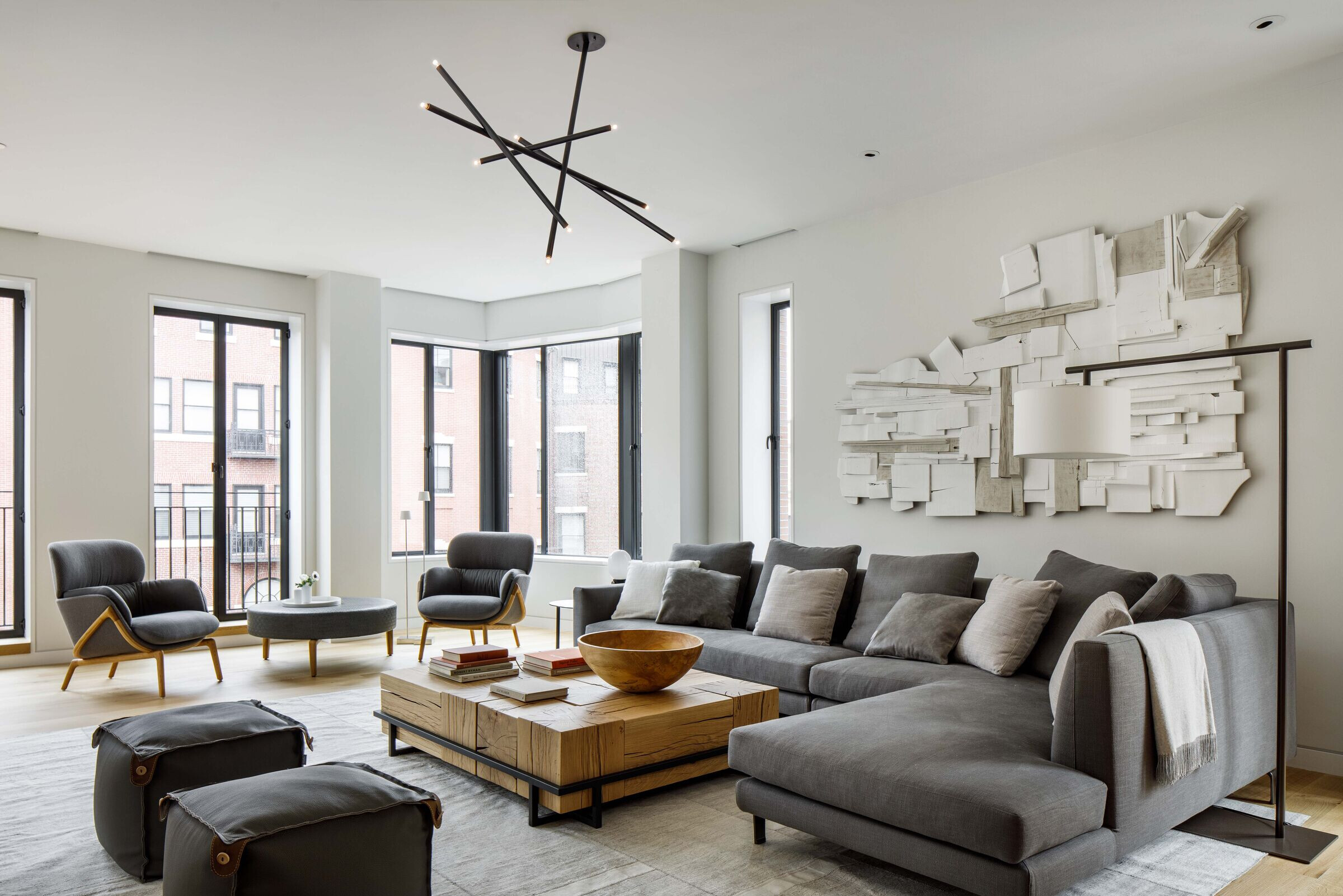 The concept behind Four51 Penthouse is a celebration of American industrial design and supports the work of emerging artists and craftspeople. This focus inspired the use of unassuming, organic materials and layered, natural textures, such as woven paper carpets, clay walls, wild silk, and folded paper wall coverings. The design team collaborated with bespoke North and Central American furniture and lighting designers to impart a level of domestic authenticity and distinctiveness to the home. Such collaborations use modest, utilitarian materials, such as plywood, concrete, marble, and blackened steel, to yield functional artwork.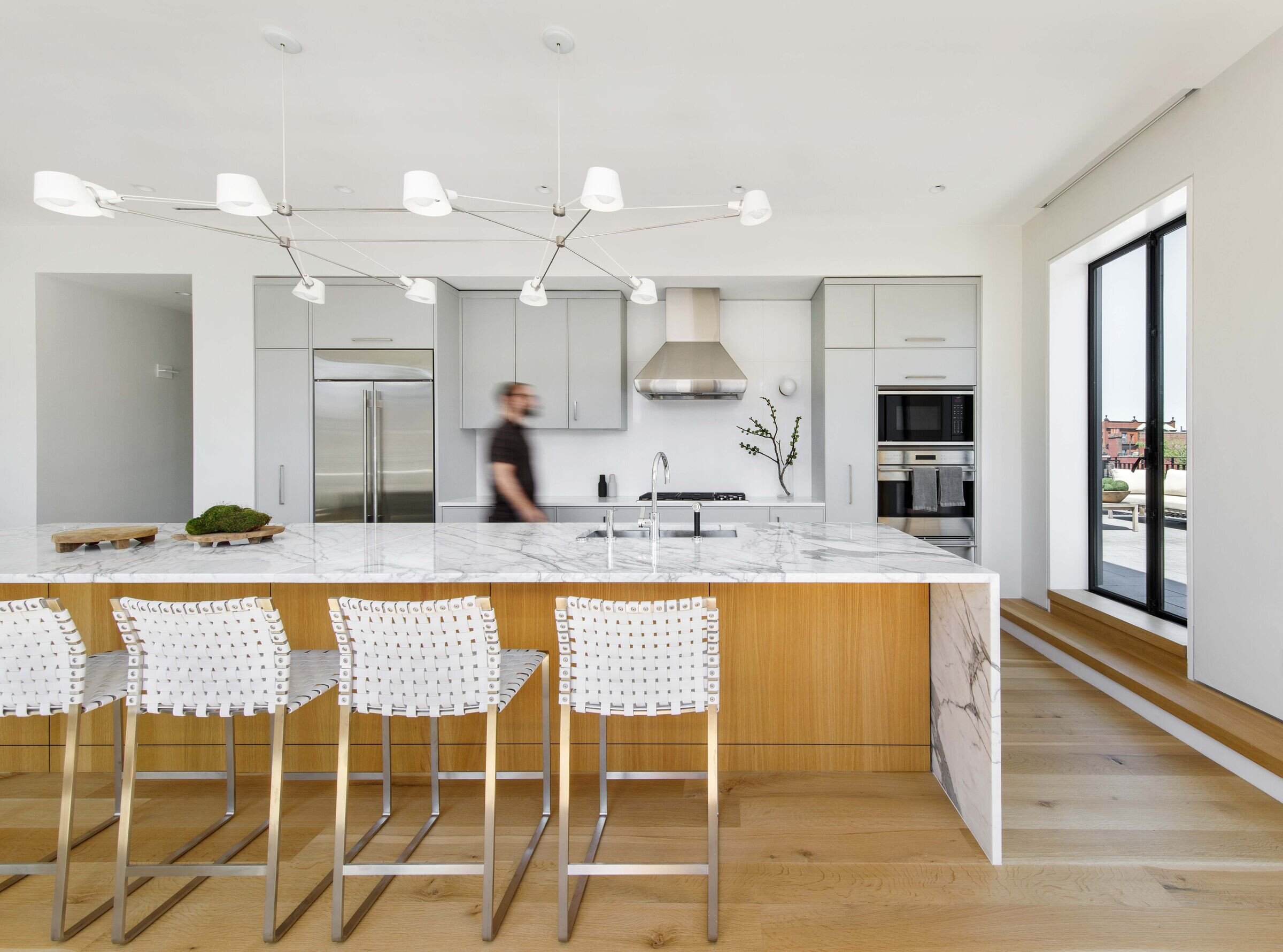 Design partnerships with textile and wallpaper manufacturers produced custom, handmade flat weave rugs and stitched, hand-pleated wallpapers that integrate softer details into the home. A level of humility exists in the forms throughout the penthouse, honoring the client's wish for a timeless, meditative space. All in all, the engagement of such craftspeople serves a dual goal: to support and elevate great design as well as those working tirelessly to create it.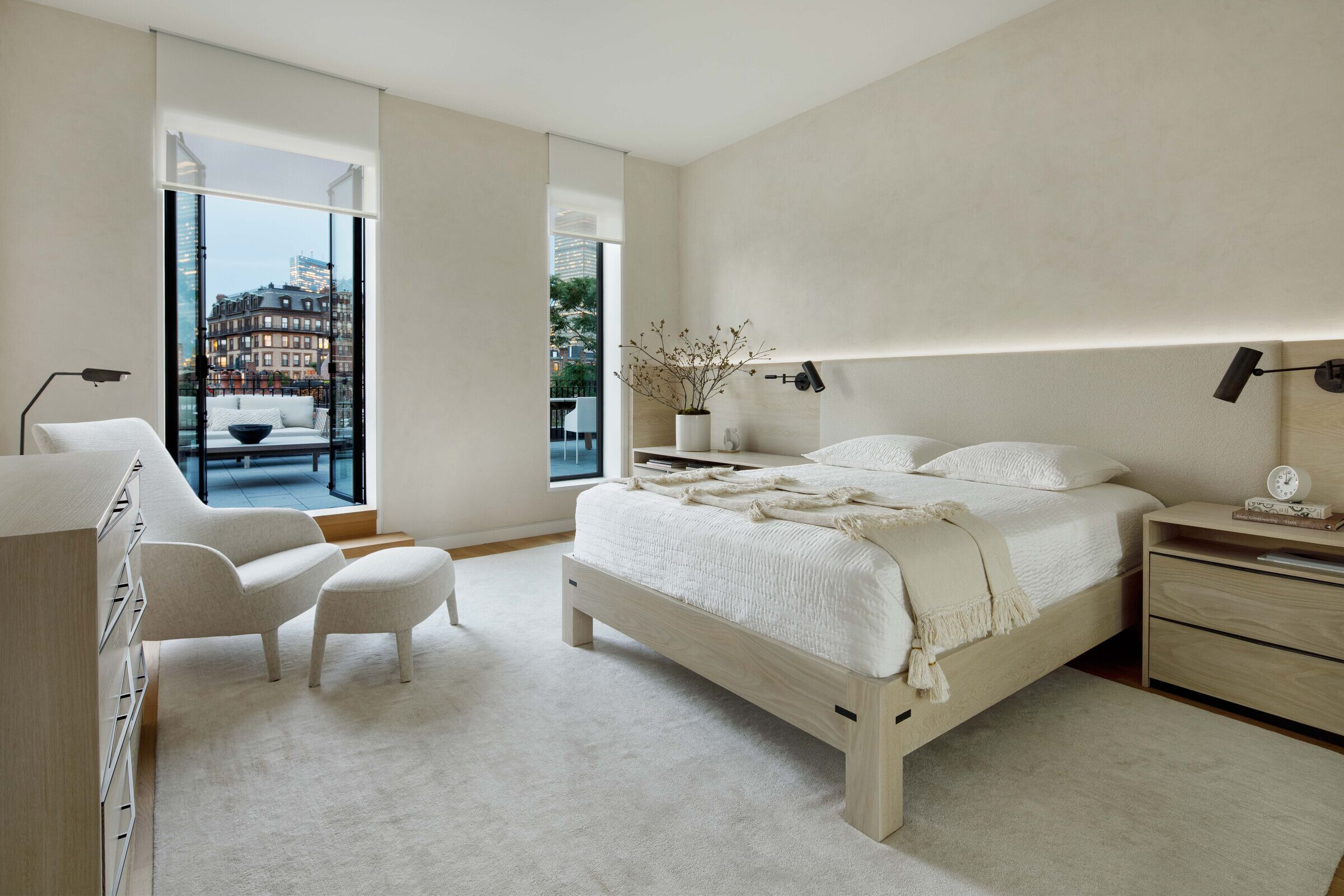 Metaphorically, the artwork in the space was curated in the same spirit of celebrating unexpected and humble materials in abstract ways. Featured in the home are pieces by artists Blaise Rosenthal, who produces geometric paintings with dragged charcoal on raw canvases, and Sheila Gallagher, known for her monochromatic landscapes created with the use of smoke.
From architecture to artwork, the design team strove to honor the ethos of place and time. The residence is intended to marry the rich architectural character of its location and its time-honored emphasis on craft within a contemporary home.