Summary
In search for the best talent, Hermes recognised that they needed to rethink how they used their head office. They approached Officeinsight to help them create a new purpose for their space with employee wellbeing at its core. With the use of cutting-edge technology and collaborative environments, the space allows employees to thrive. From the high-impact reception area to the staff restaurant, each area is equipped to allow the ultimate flexible working experience with seamless integration to remote workers.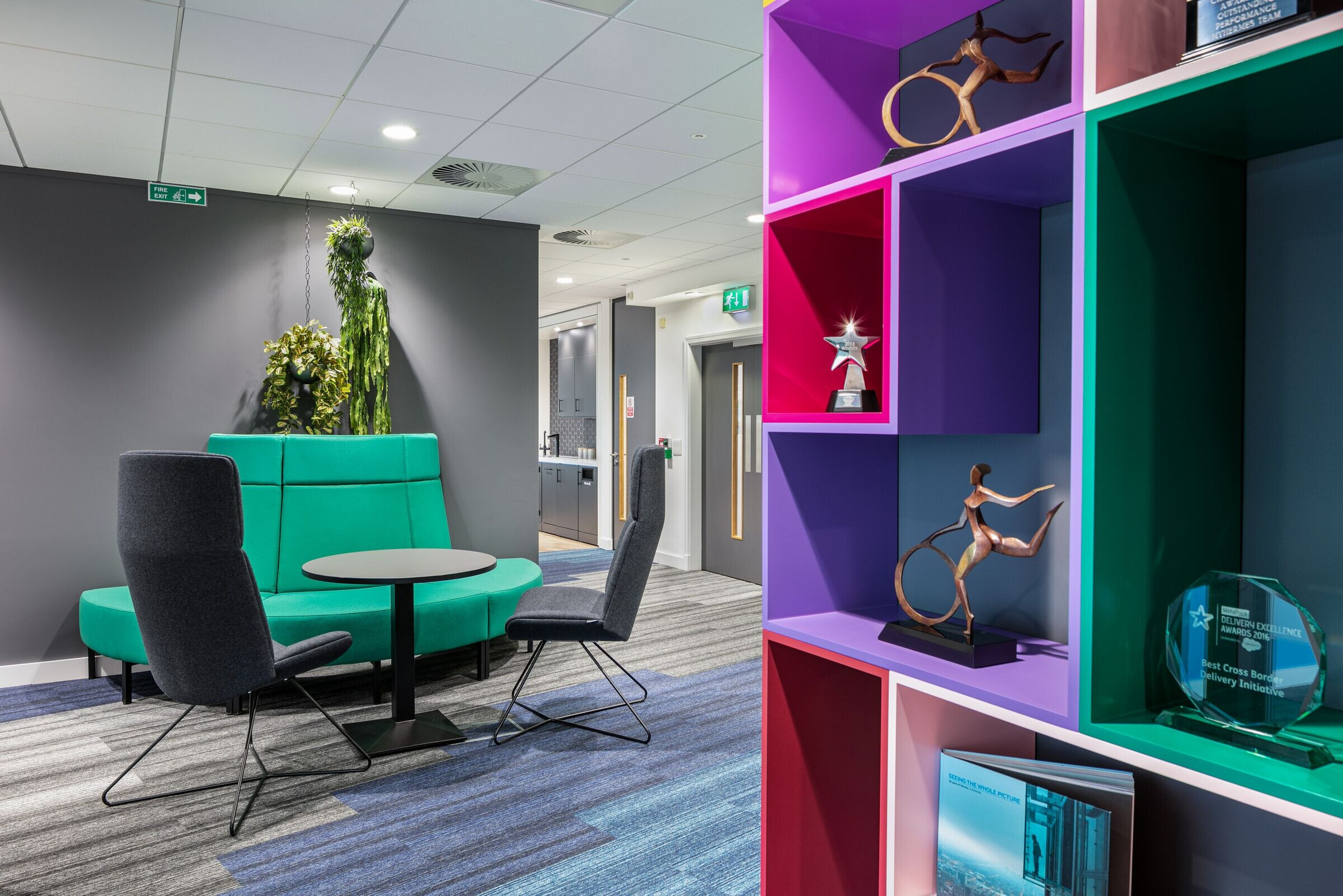 Exceptional design including materials and products
Throughout the design evolution for Hermes, there was a constant strive to incorporate unique and effective materials to ensure thatthe level of innovation throughout the workspace matched the ever-changing market they work in and place the emphasis on employee wellbeing.To highlight the Hermes parcel journey, standard LED linear lights were re-imagined to create custom miniature models. Ensuring highemployee satisfaction, integrated storage solutions were pushed to their limits by using every inch of wall space available to maximiseflexibility throughout the office. Walls consisted of shelving units, a pull out file store, cloak space lockers, archive store, recycling, refuseand confidential waste, along with tea points, meeting points and quiet work areas!
Both visually impressive and very hygienic - non porous Corian wash troughs were installed in all washrooms to accentuate the modern and contemporary design. Throughout the office, perimeter columns were clad with wall talker to ensure that every inch ofthe space was maximised and custom 'goal post design' write on screens were used for team collaboration, tinted Perspex were usedto optimise the light and visibility throughout each wing.The very necessary emergency lighting by the stairways were adapted by using non-traditional lighting which blended well with therest of the contemporary design and to enhance the visual impact upon entry of the building. PET felt screens with custom design wereincorporated on workstations which not only offered acoustic benefits but additionally promoted Hermes as a brand and contributedto the aesthetic.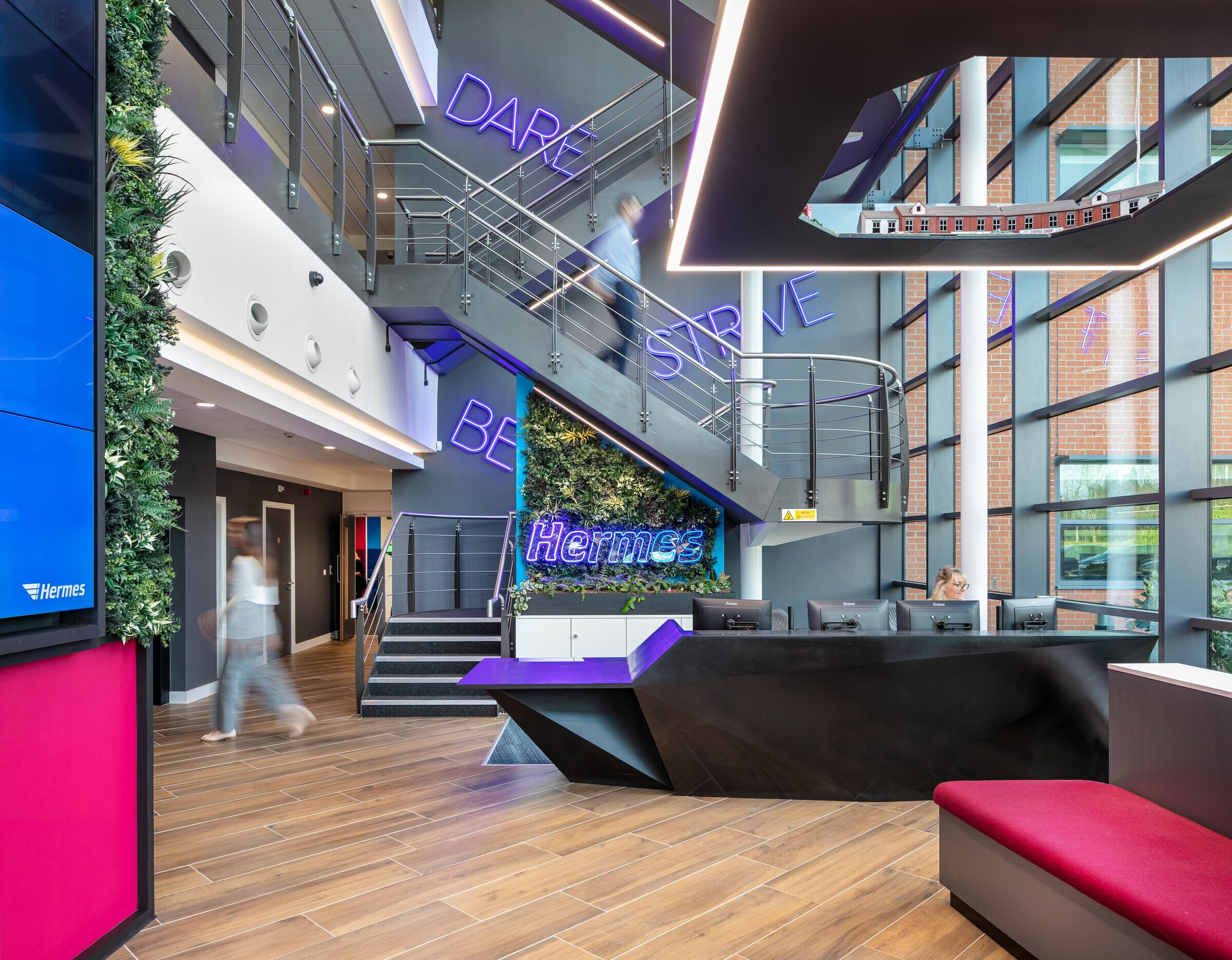 Support of HR attraction & retention strategies
Prioritising employee wellbeing was a main aim when designing and including fully inclusive concepts so that employees enjoyed theirexperience at Hermes. The washrooms highlight this as they all have the same finish - male, female and accessible WC's included. Abeautiful shower was also installed in the same finish which whilst having a homey feel, tempts many to walk or cycle to work.Working closely with the Hermes HR team made sure that each individual had everything they needed to carry out their job asseamlessly as they could, this was done for the director and management to cleaners and visiting delivery people. Each wing has a teapoint, AV areas to connect with teammates working remotely, private meeting areas, quiet spaces, collaborative spaces, storage,lockers and cloak space.The second floor is home to a large staff canteen with a commercial kitchen and a fantastic menu that's displayed on a one displayscreen. Efforts were made to ensure the journey through the space had capabilities of offering, impromptu meetings. The Hermes DNAand brand drove and influenced the design to offer a clear vision of Hermes and its internal culture to any interviewees.Visual interest encouraged daily exercise as staff and visitors would hopefully choose to take the stairs as opposed to the lift, to enjoythe miniature scenes with the 3 pendent lights, although the design was integrated into the lifts, to allow anyone opting to take thisroute, to enjoy the same experience.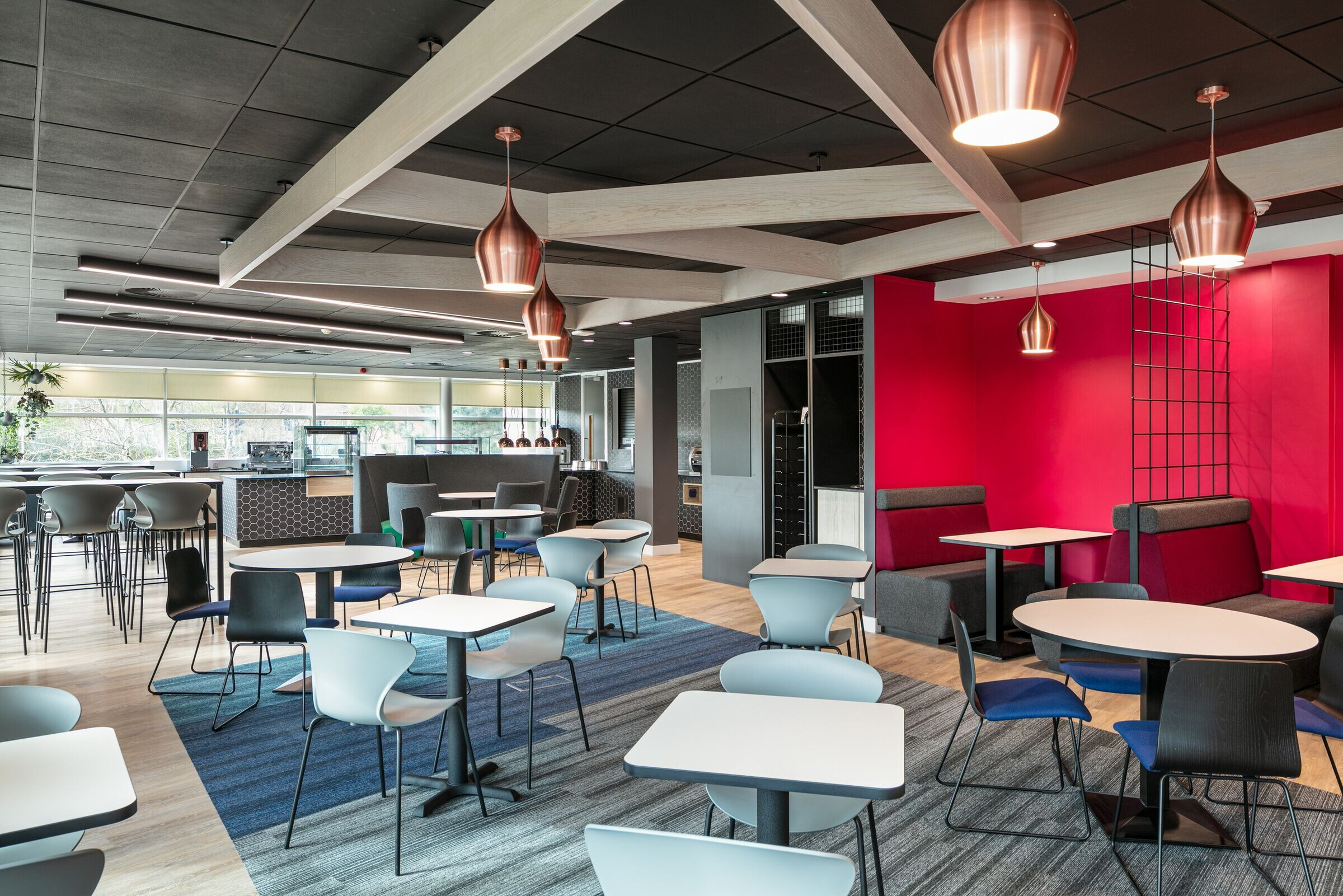 Environmental impact
Most importantly, a conscious effort was made to improve the long-term sustainability of the office. With easily-accessed recycle pointsintegrated within each of the six wings of the space, everyone in the office naturally feels compelled to recycle. Within each tea station,boiling taps were installed to avoid water wastage. With its carbon neutral journey, Interface carpets were used throughout the designand LVT flooring, made with sustainable practices and its well-known durability.Avoiding landfill and re-purposing was a priority for many existing materials throughout the building, which was made possible with agood clean! Such was the case for the ceilings all over the building, and some of the existing furniture. LED lights were used throughoutthe design, and in all cases replaced neon lights yet still were highly effective. In order to maximise interaction with the natural world,biophilia was blended into the furniture as part of the overall design. Made from responsibly farmed New Zealand lambswool, Camirablazer fabric was also incorporated where possible.Porcelain timber-look tiles were used, which require less maintenance but are longer lasting which in turn means having a lesser impacton the environment. Corian wash troughs - a low VOC product- contributed to an overall minimal impact on air quality.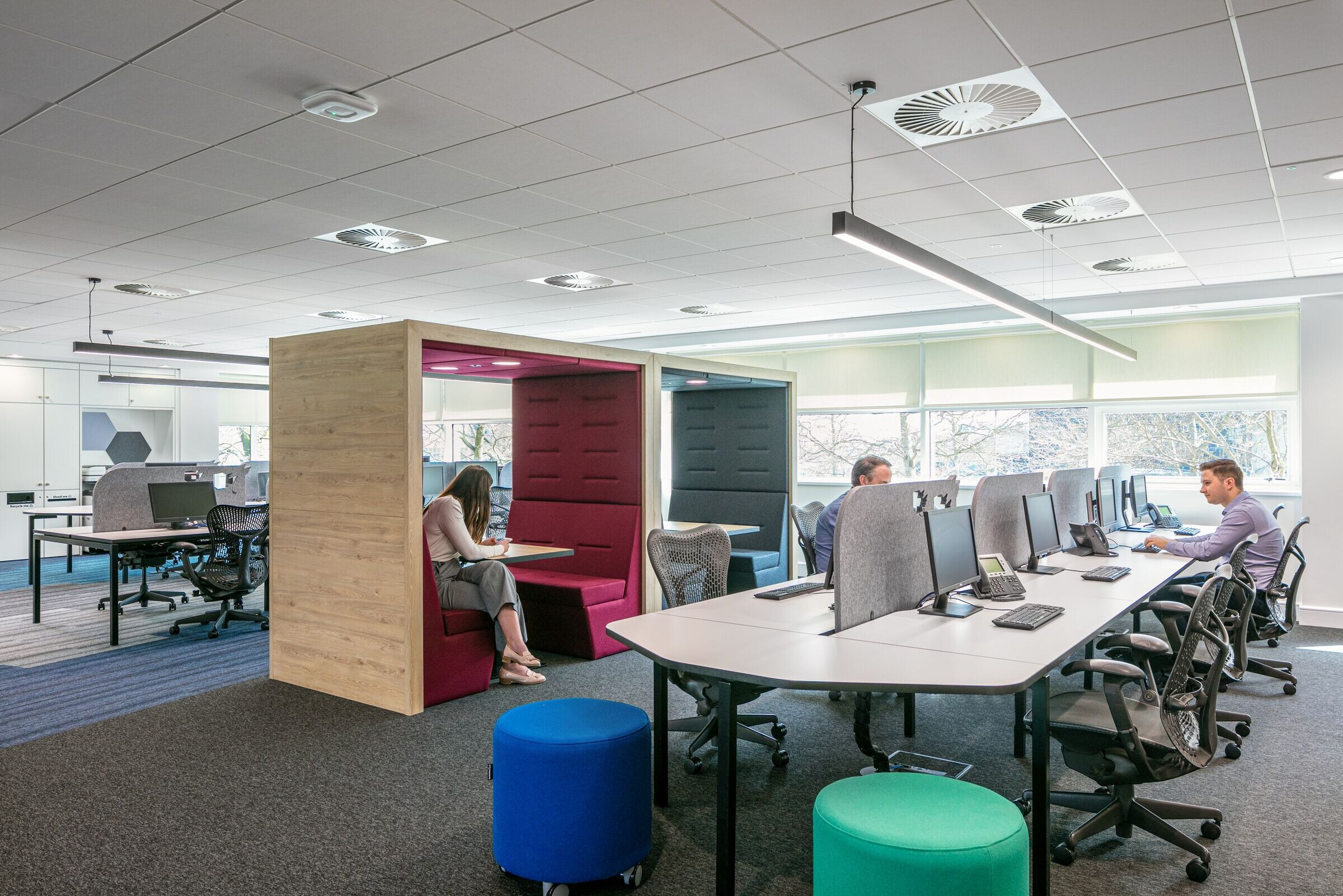 Creativity, originality & impact
With creativity at the core of Hermes's interactions, it was crucial for this to be radiated in the design to allow for maximum originalityand inspiration. The use of a subtle, yet dramatic lighting feature symbolises the Hermes ecosystem as a whole, and the averagejourney of a parcel.Home technology is demonstrated throughout the client meeting area and vibrant collaborative stand-up meeting rooms reflect thevery strands of Hermes DNA as to 'think inside the box'. There are open audio-visual meeting and collaborative spaces for both staffand visitors, which successfully promote the Hermes local store parcel drop off points. A large 5000x2200mm display screen wasinstalled in the reception area to have an impressive visual impact, which is accentuated by contemporary, custom joinery, brandcolours and blended with a faux green wall. Aimed to reflect the clients DNA, custom LED neon-style signage with the words 'DO' 'DARE''STRIVE' 'BE' are placed near the stairway.A custom Corian reception desk with an integrated laptop store and heating is enjoyed by the staff, with additional custom reception
seating with parcel drop off and print in store facilities. Having a switch manifestation in the director's office, allows for privacy when itsneeded.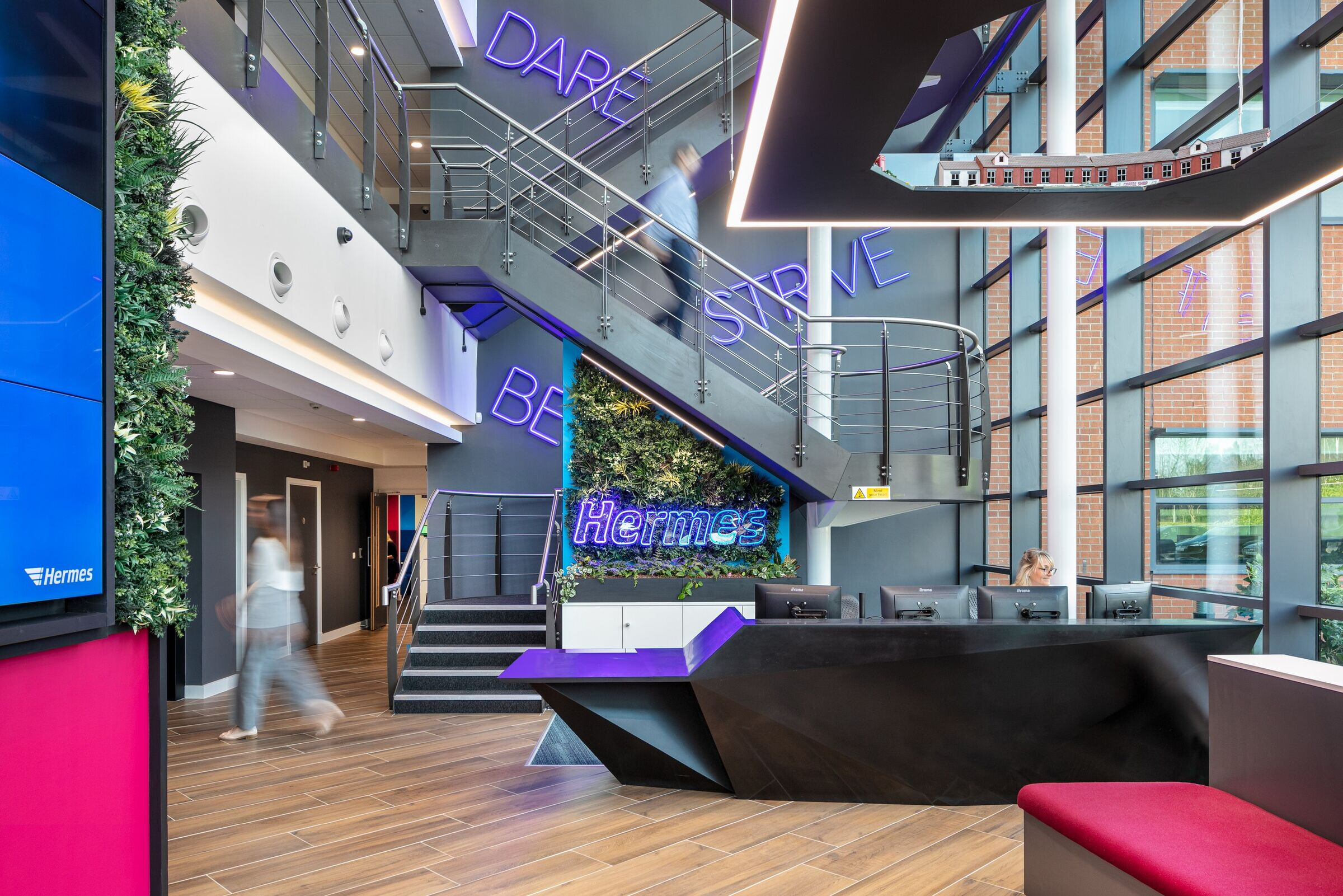 Achievement of Client's business and design objectives
Following the unquestionable success of the Hermes Tech Hub, in the city centre of Leeds, we were invited to the head office in Morley,to meet with the director that called this place home, yet this three storey building, which housed 200+ staff, was out dated and nolonger fit for purpose. Hermes, who had grown significantly, often invited potential clients to meet in the office, some meetings couldlast a day and the facilities were not up to scratch.Heavily used, but with little seating space, the staff canteen forced many staff to eat at their desk, meaning they missed out on muchneeded interaction. Hermes vision for the space was to create an immersive, interactive experience for staff and visitors. Whilst staffhave the ability to work from home, Hermes wanted to create an environment that encouraged the staff to work onsite andsomewhere they could feel proud to work in. Hermes recognised the importance of design following our TechHub success and werestarting to see staff choosing to work there rather than the main office space.With this at the forefront, we set-out to design an experience that, along with the clients journey, could showcase a number of Hermestechnologies. We created the WOW entrance with a large display screen, bespoke seating and a striking reception desk. Ceramicflooring and hexagonal entrance matting were introduced to lure you into the space, with a captivating reminder of the Hermes DNAthat all staff embody 'DO DARE STRIVE BE'.