Inverse House is a major renovation of a dwelling located along the fairway of the 14th hole of Austin Country Club's golf course. This home challenges the typology of an ordinary two-story house by inverting the relationship between public and private. First, the common living, kitchen, and dining areas are elevated to the second floor while private family spaces are tucked below. Second, these spaces look out to the active public space of the golf course, instead of a private backyard.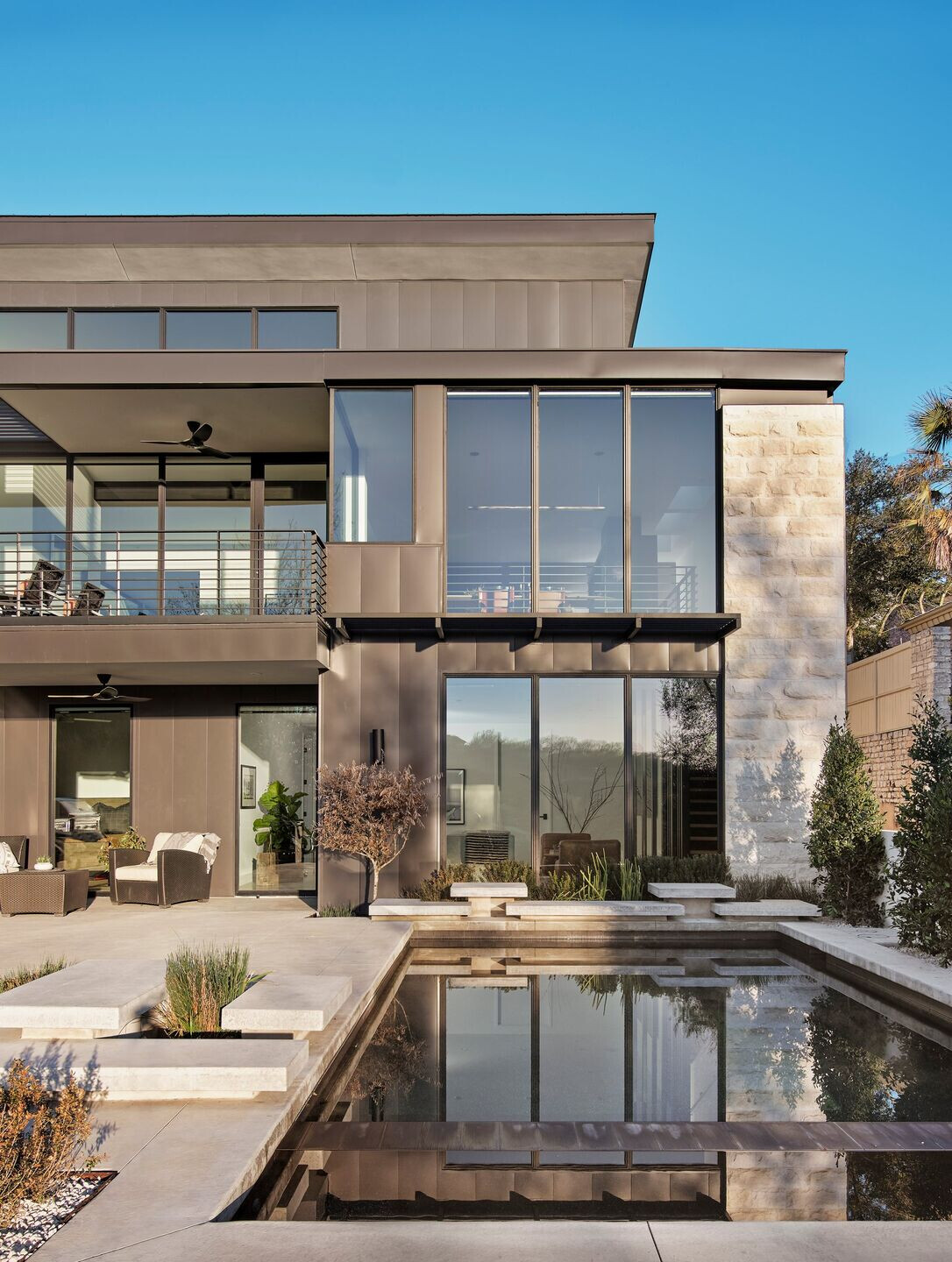 Additionally, the design of Inverse House reimagines the existing house's main features as their opposites. The gable roofline became a butterfly. The public kitchen and dining areas swapped locations with the private owners' suite. Formerly indoor space became an outdoor patio. These inversions recast a formerly dark, segmented interior into a clean-lined, open plan, characterized by dynamic natural light.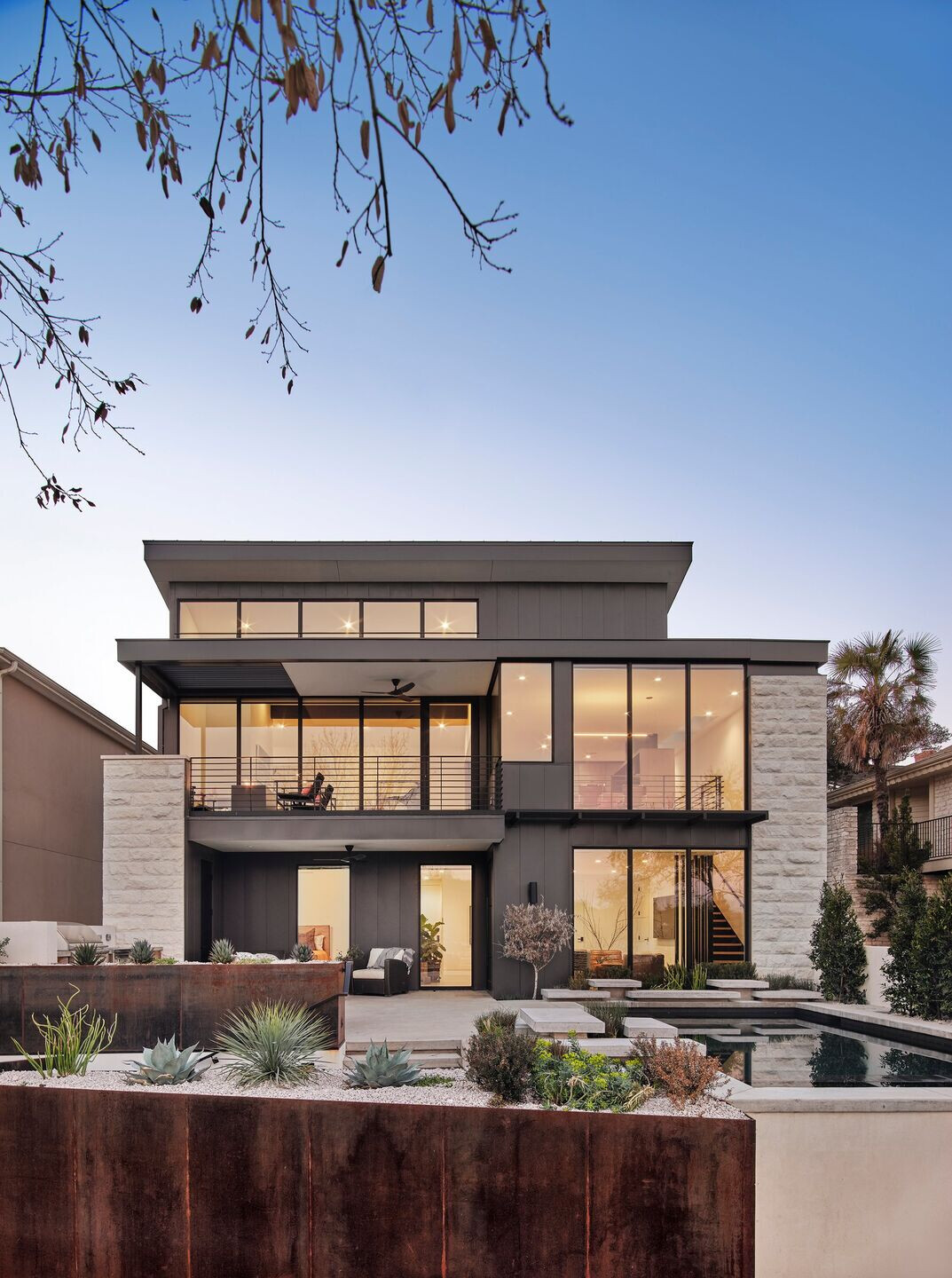 The design embraces the homeowners' association requirement for mostly opaque stone party walls on two sides, and therefore focuses on a series of moves to calibrate daylight. These moves sculpt the space of the home in both plan and section, form and function. Inverting the gable roof allowed clerestory windows to be added on the east and west sides of the house, bringing sunlight deeper into the footprint. The interior functions of the home were pulled away from the exterior walls to create light wells that serve as both interior circulation spaces and exterior living areas. The street level floor plate is pulled back from the exterior wall to allow light from a two-story window to pour into the lower-level family room. Skylights allow light to wash down the walls and reflect into the interior of the home. A patio is created by pulling the exterior wall away from the original home's sidewall to create indoor-outdoor connections and add light to the owners' suite without sacrificing privacy.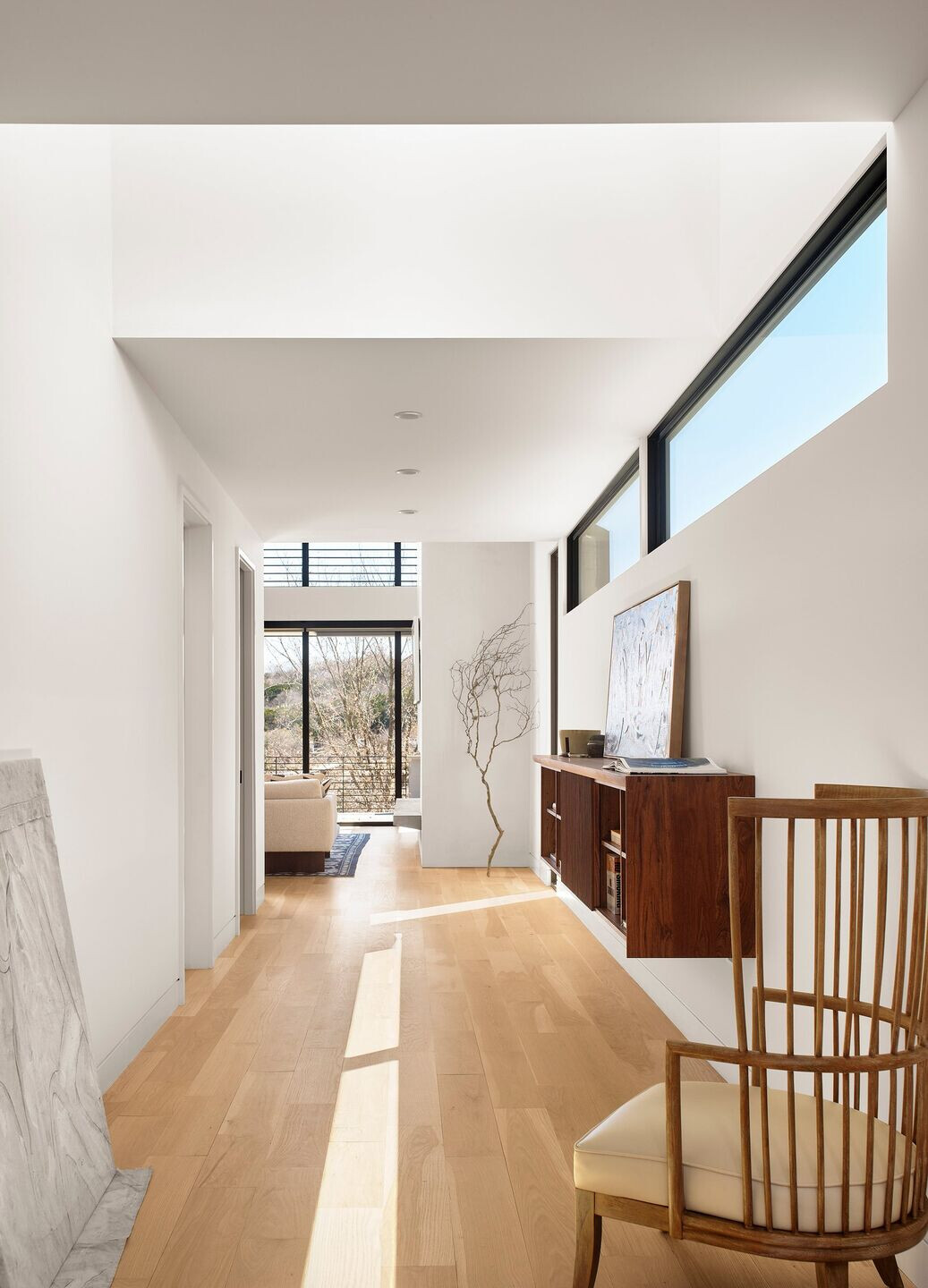 Natural materials inside and out ground the home's human scale and tactile experience, while minimal details provide a canvas for light and frame views to the hills beyond. Texas limestone walls, white oak flooring, stained maple cabinetry, plaster shower walls, and unfinished brass hardware that will patina with age are complemented by new walls composed of metal panels and glass, steel railings and stringers, flush base trim, and a large, exposed beam in the in the lower level. On the exterior, light colored limestone walls define the locations of existing exterior walls and a datum from which springs new roof and wall geometries clad in dark metal panel and glass.
Team:
Architect: Matt Fajkus Architecture
Architecture Design Team: Matt Fajkus, Sarah Johnson, David Birt, Sarah Wassel
Contractor: Melde Construction Company
Landscape: Lisa Shubin Design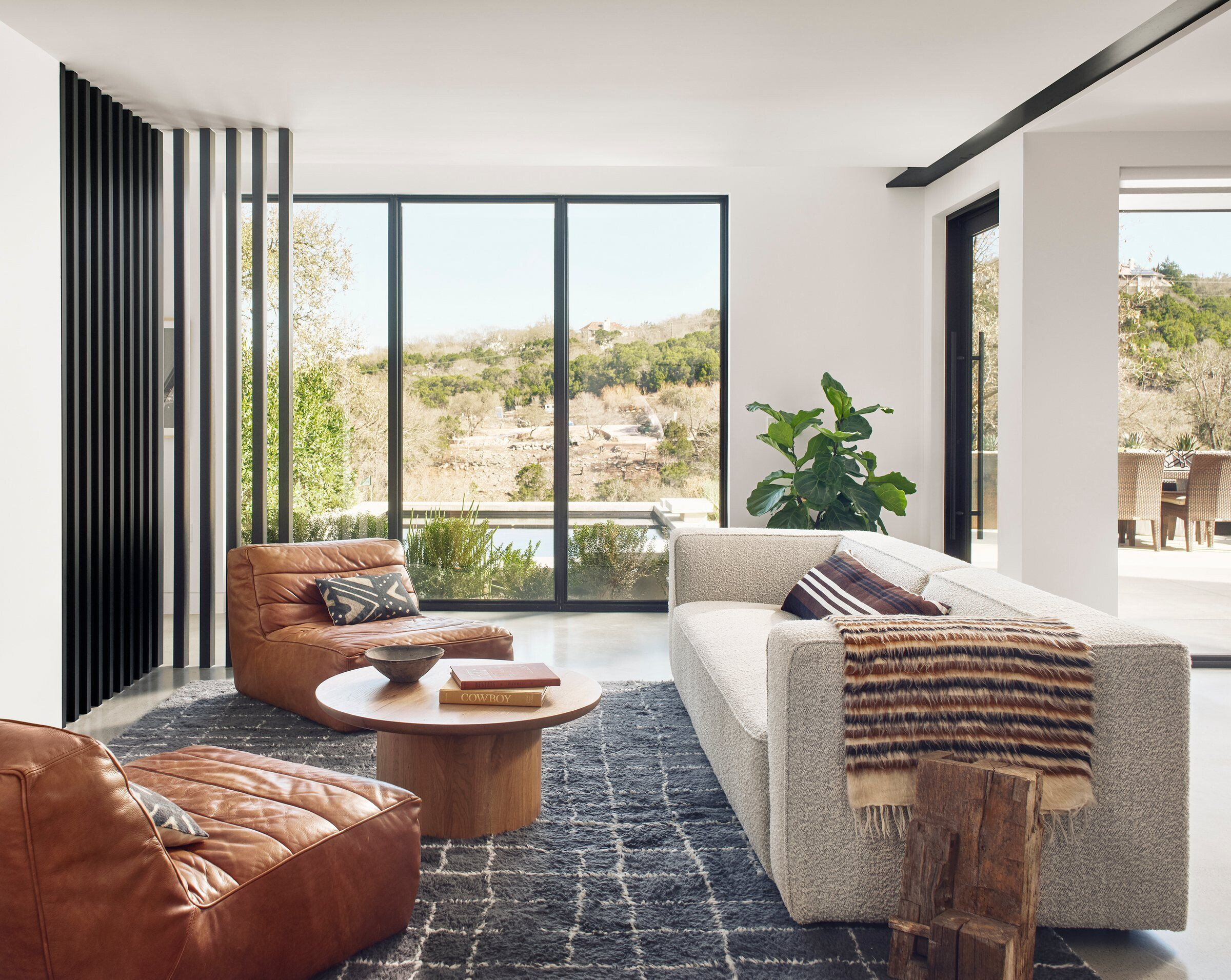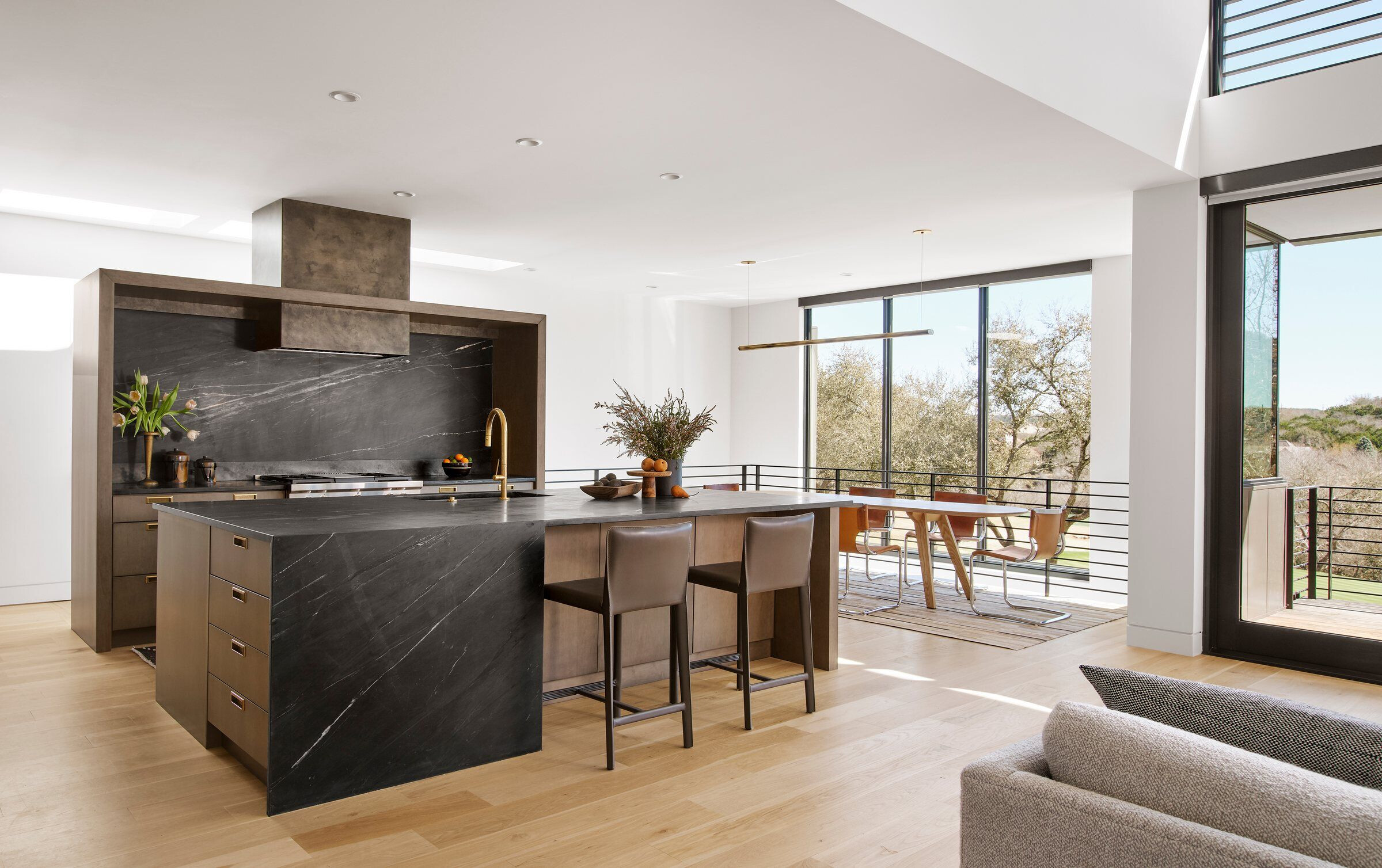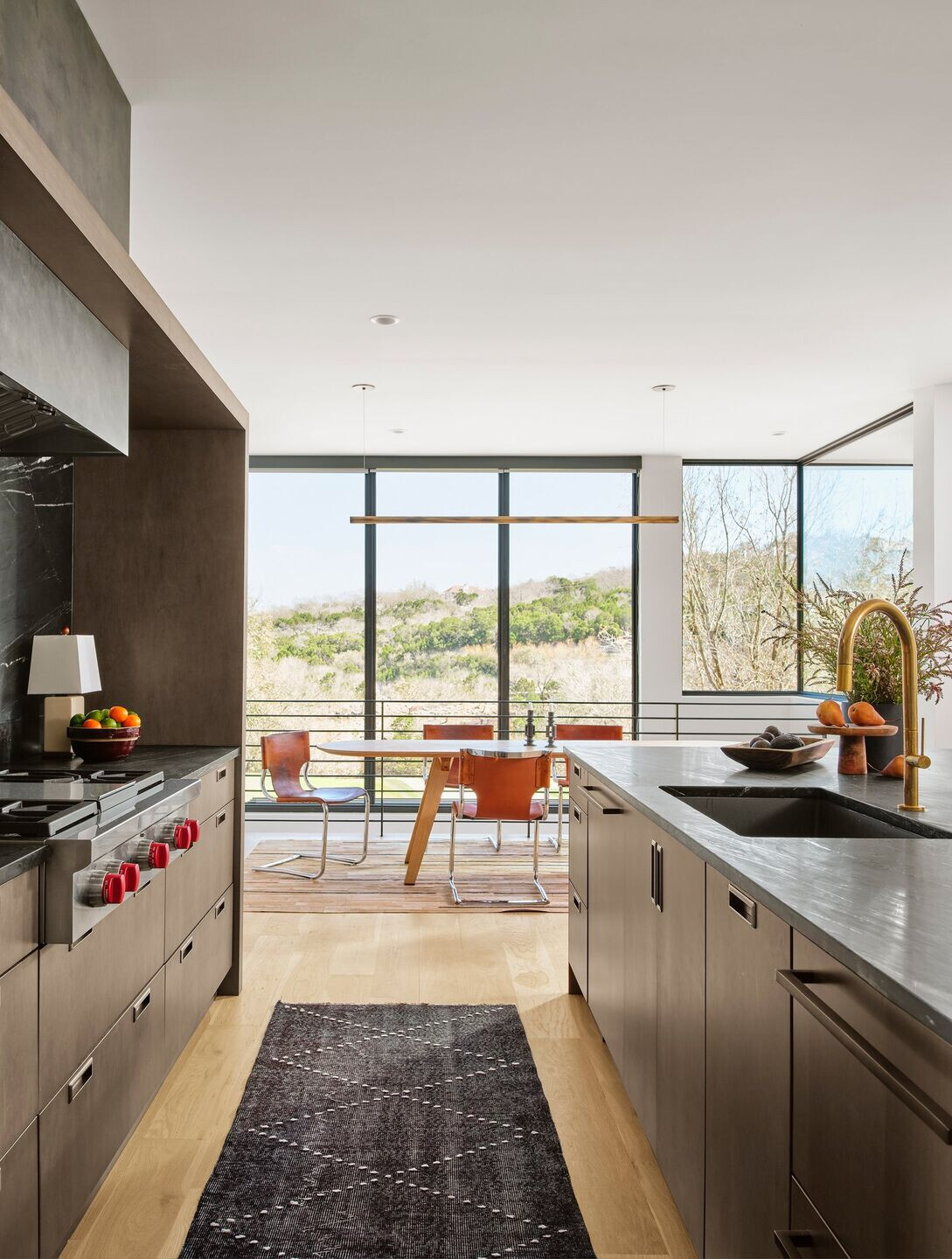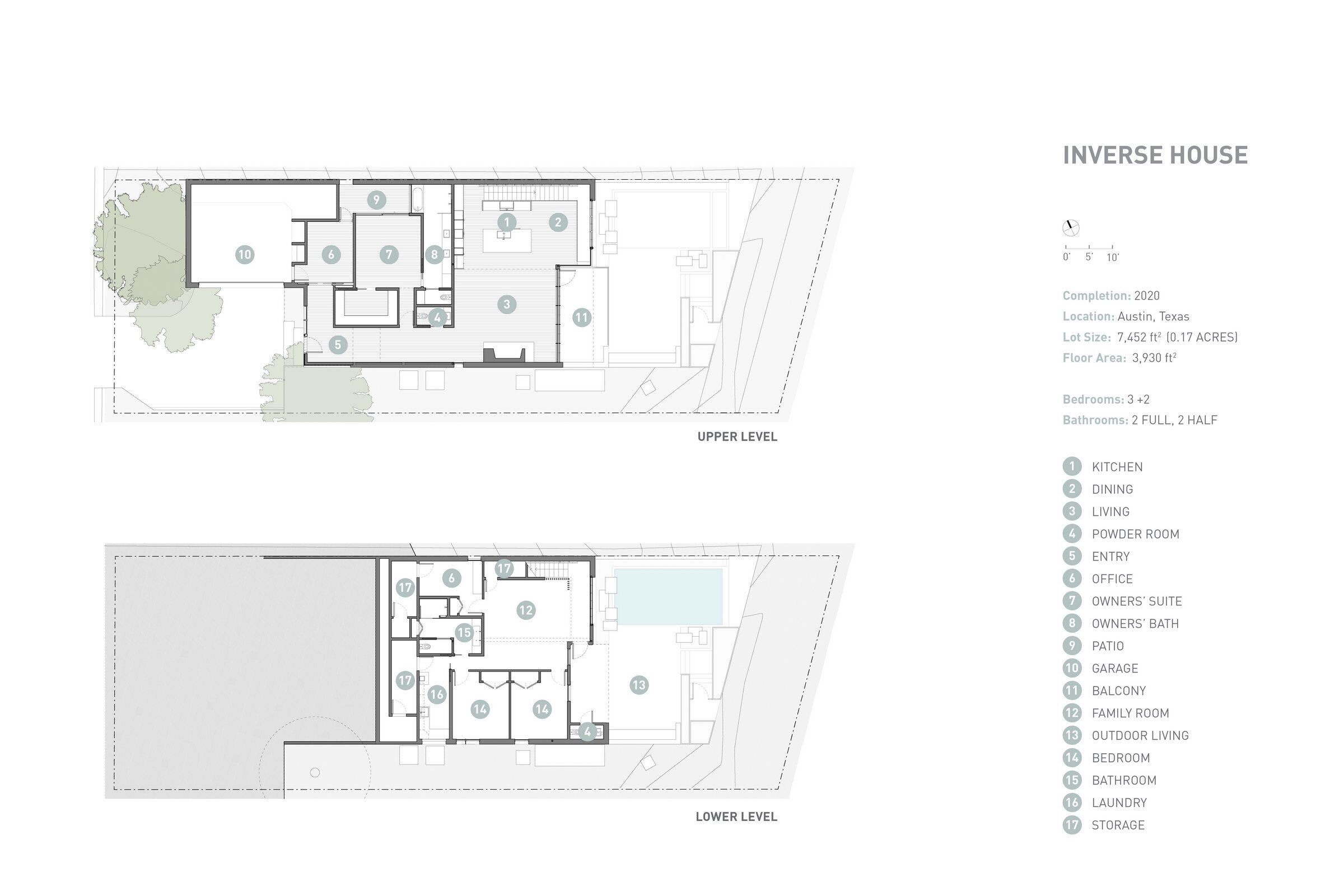 Material Used :
1. Steel Fabrication: Austin Iron
2. Kitchen & Powder Room Cabinets: Stained maple with brass inserts, shelving. Recessed drawer pulls by Lee Valley Hardware.
3. Kitchen Backsplash & Vent Hood Surround: Steel
4. Brass Faucets: California Faucets in unlacquered brass
5. Appliances: 36" Wolf Cooktop; 30" Sub-Zero Refrigeration Columns and Drawers; Scotsman Icemaker; Bosch Dishwasher
6. Wood Floors: Wide Plank White Oak Hardwood
7. Windows & Doors: Western Window Systems
8. Light Fixtures: Haiku Burnished Brass Chandelier by Daikon (Dining Room); Juniper Thin Lighting System in Brass (Powder Room & Owners' Bath); Shield Sconce by Luke Lamp Co (Owners' Office/Lounge)
9. Tile: Ann Sacks
10. Wallpaper: Grasscloth by Kelly Ventura