Kactus is a contemporary café in the heart of Saudi Arabia's energetic capital, Riyadh. 4SPACE has designed this eatery in highly Instagrammable colours of vintage pinks and greens. The textures and fabrics used to create interest are oak, steel, leather, terrazzo, bold curved mirrors, a wall full of letters, and plenty of cacti. The café is an expression of international and contemporary lifestyles that celebrate youthfulness and culinary abundance. Kactus is an impressive 230 square metres of glorious space that nods to the 1950s and cleverly blended with industrial touches with corrugated wooden walls and clever pipe lighting.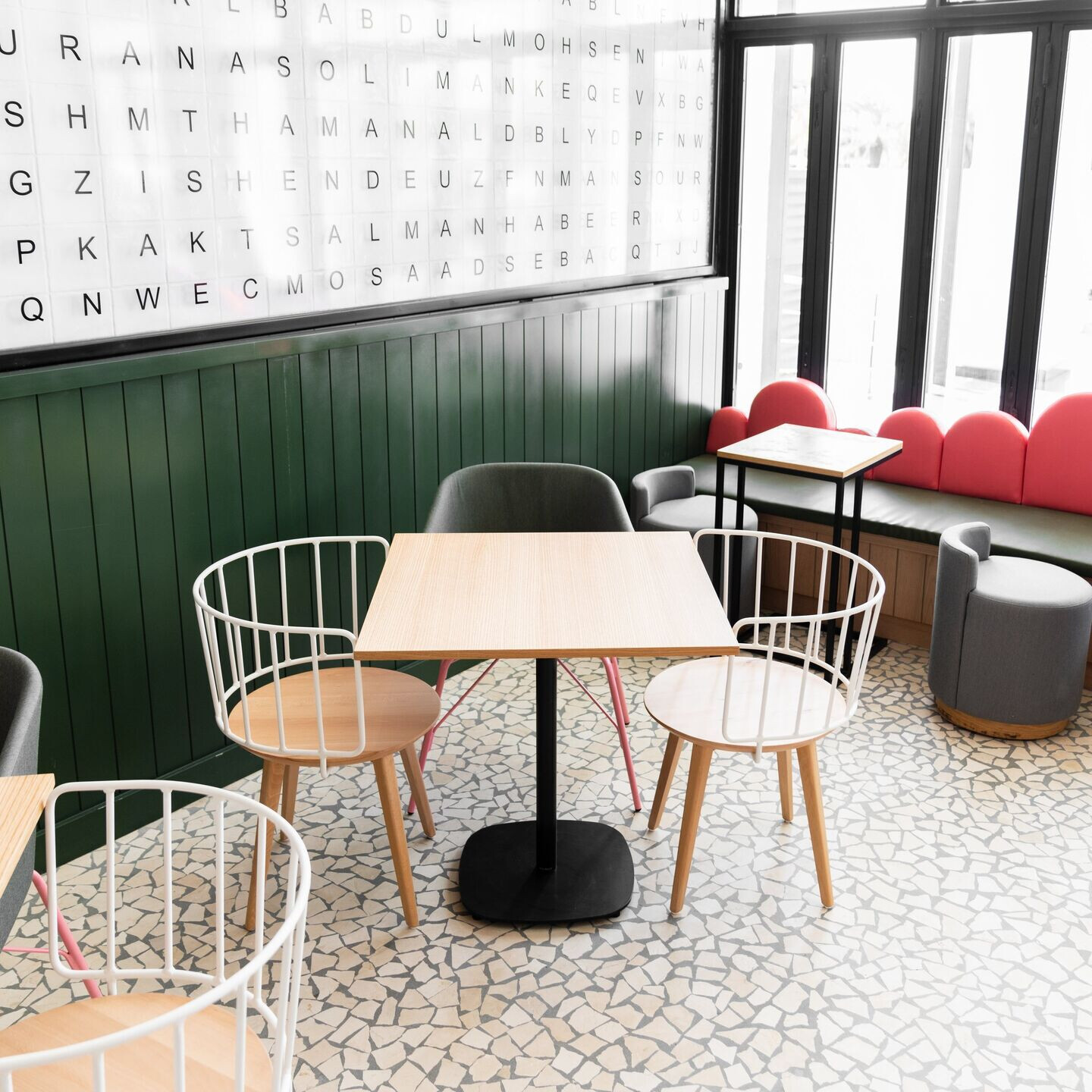 Project brief
The client's brief was simple. They wanted Kactus to look bright, fun, lively, quirky, inviting and comfortable. The use of various textures allows a sense of depth and discovery to keep diners coming back to their favourite city spot. Cactus plants are used throughout the design and are the central focus of desert biophilic living.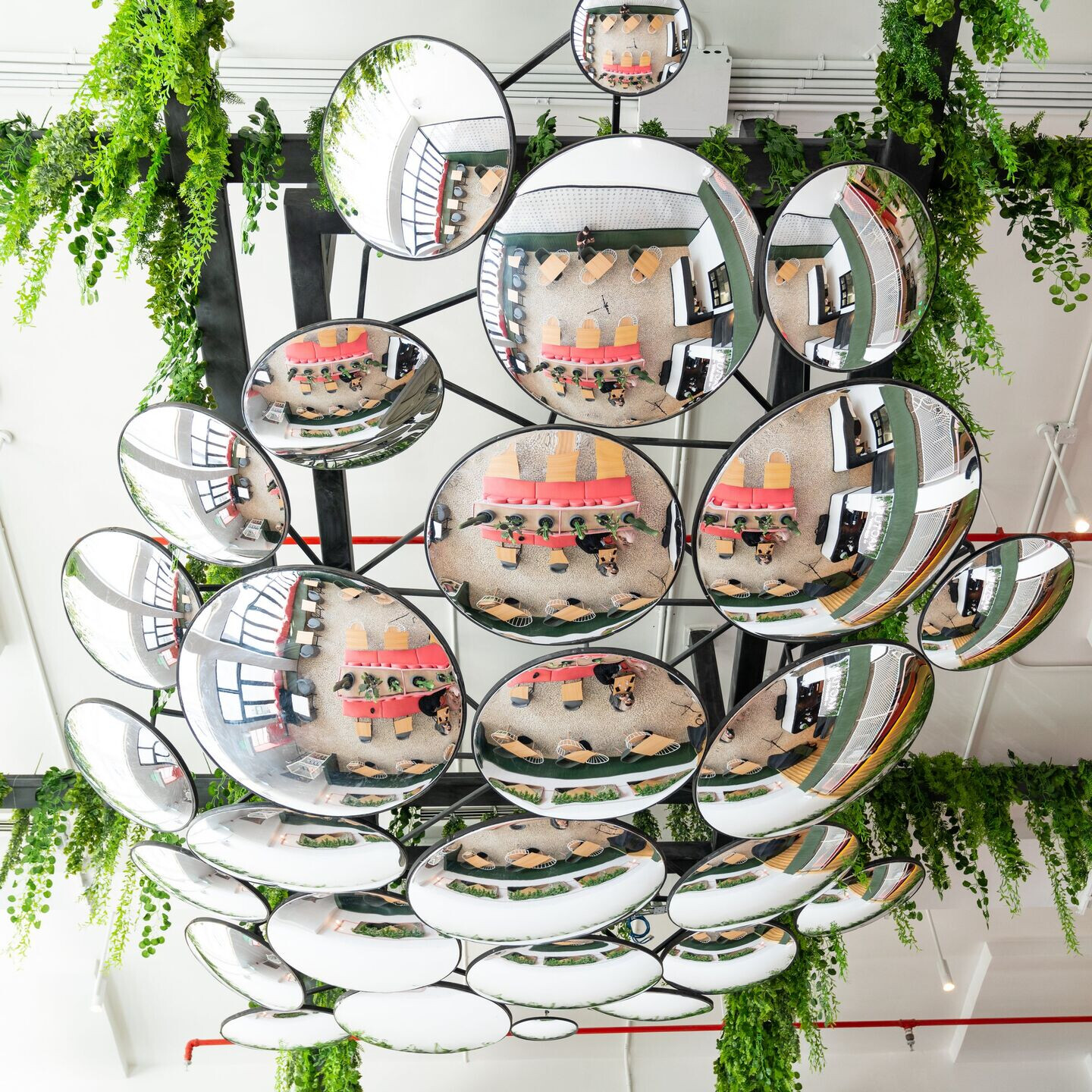 Concept
Kactus has a modern, chic, tasteful, and contemporary design and was wholly inspired by the fascinating xerophytes. The cactus is a collection of interesting plants that have adapted to live in extreme conditions and harsh environments. Cacti are found in arid, hot deserts across the world. Xerophytes have curious, almost animated features to prevent water loss, including thick, fleshy leaves covered in waxy, spiky and hairy coatings. Kactus allows patrons to connect to nature within a city environment. 4SPACE has paid attention to the unique requirements of desert biophilic design to create a refreshing atmosphere. Think baby-boomer years in Saguaro National Park and towering green desert sentinels that pepper endless landscapes under flushed pink skies.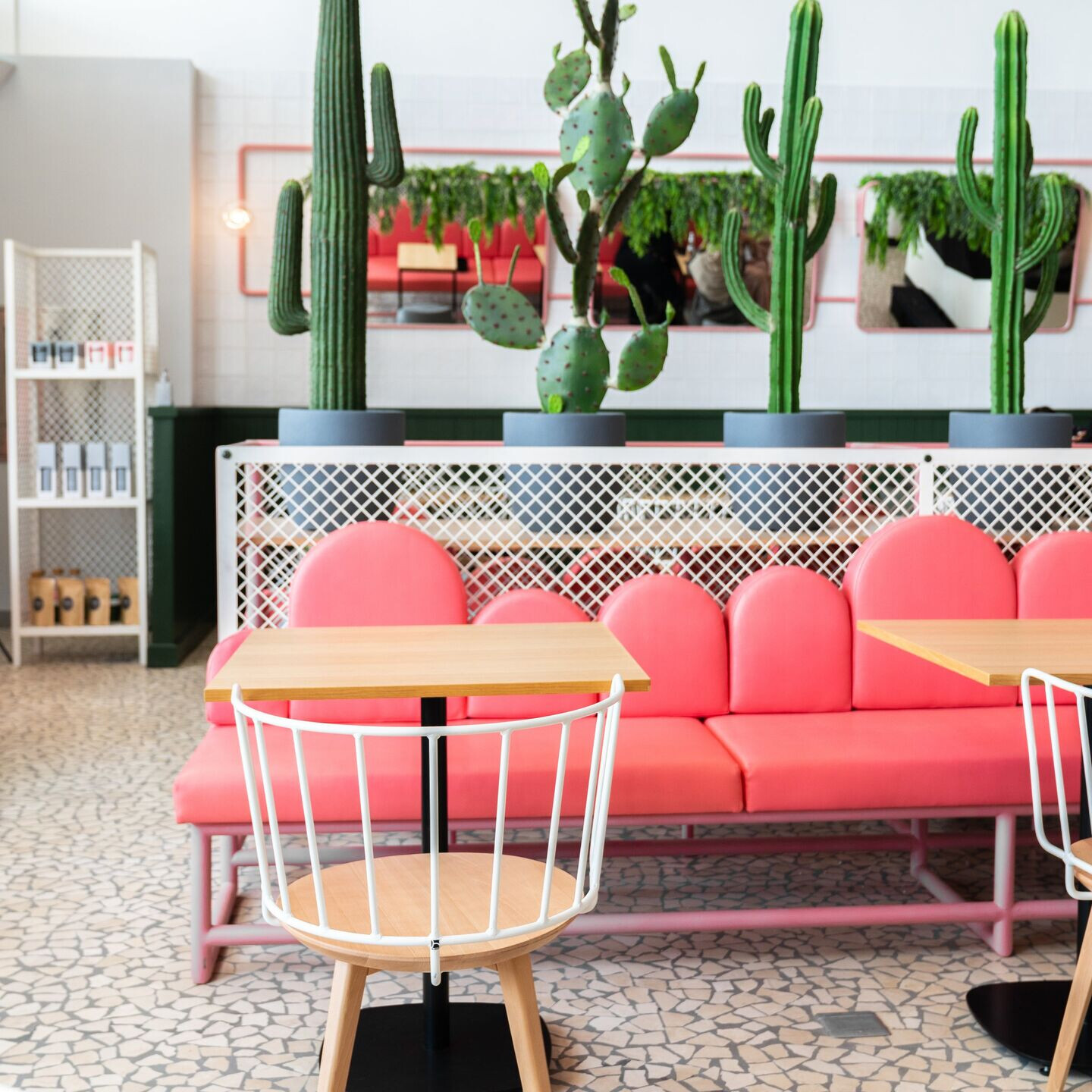 Various design elements
4SPACE has highlighted an open ceiling concept with beams, hanging plants, and linear lighting at the mezzanine level. The walls and ceiling are kept clean and white and provide an unadorned backdrop for strong accent colours. A seemingly haphazardly placed lens mirror installation provides a central focus. Clever placement of a pink vending machine door, the expansive crossword wall and cacti of various heights, shapes and sizes provide a beautifully screwball vibe.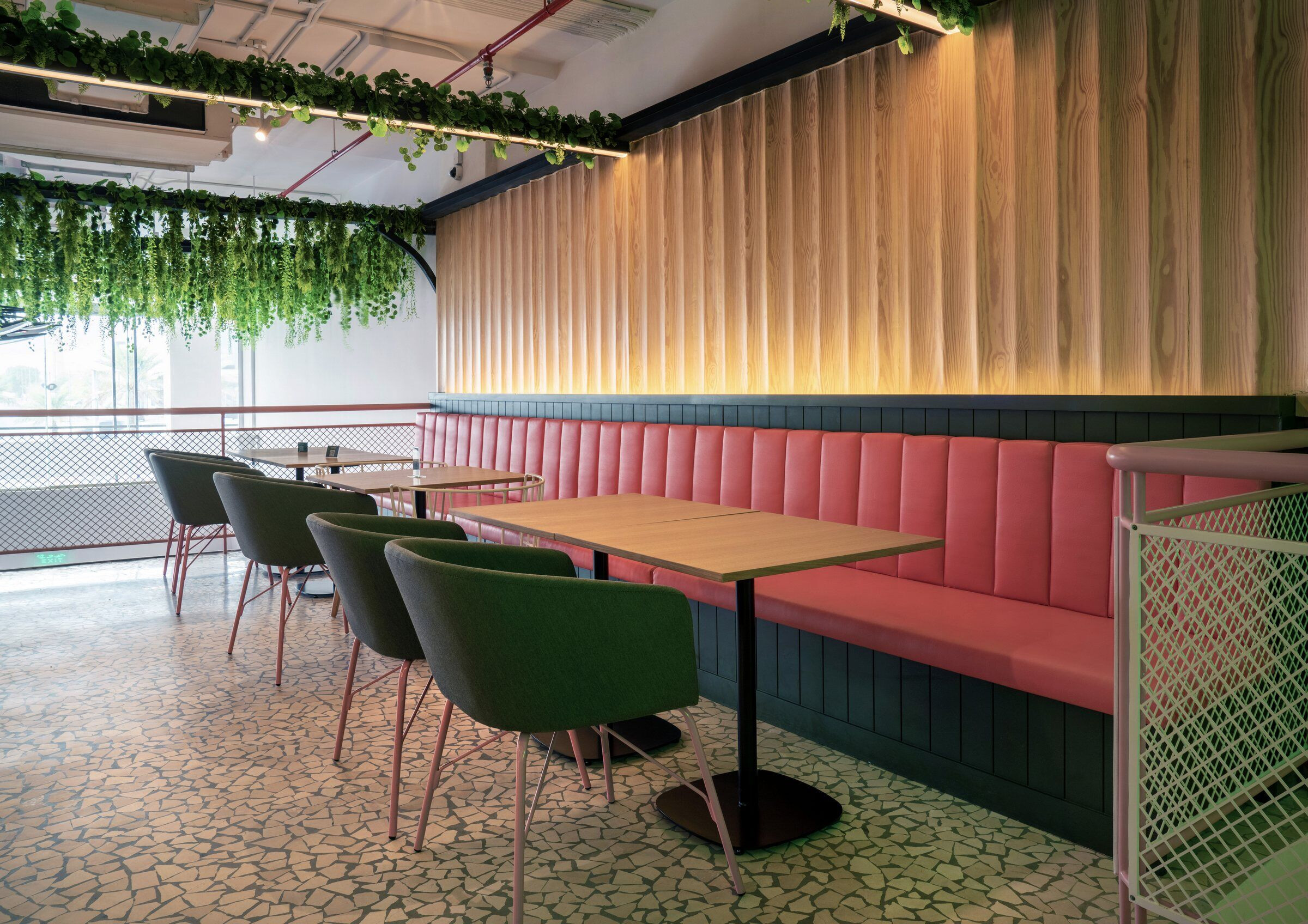 About the execution
4SPACE carefully selected expert artisans to fit out Kactus; they communicated frequently with their contractors to ensure a snag-free delivery.
About the ambience
Bright, fun, lively, quirky, inviting, comfy and minimalist.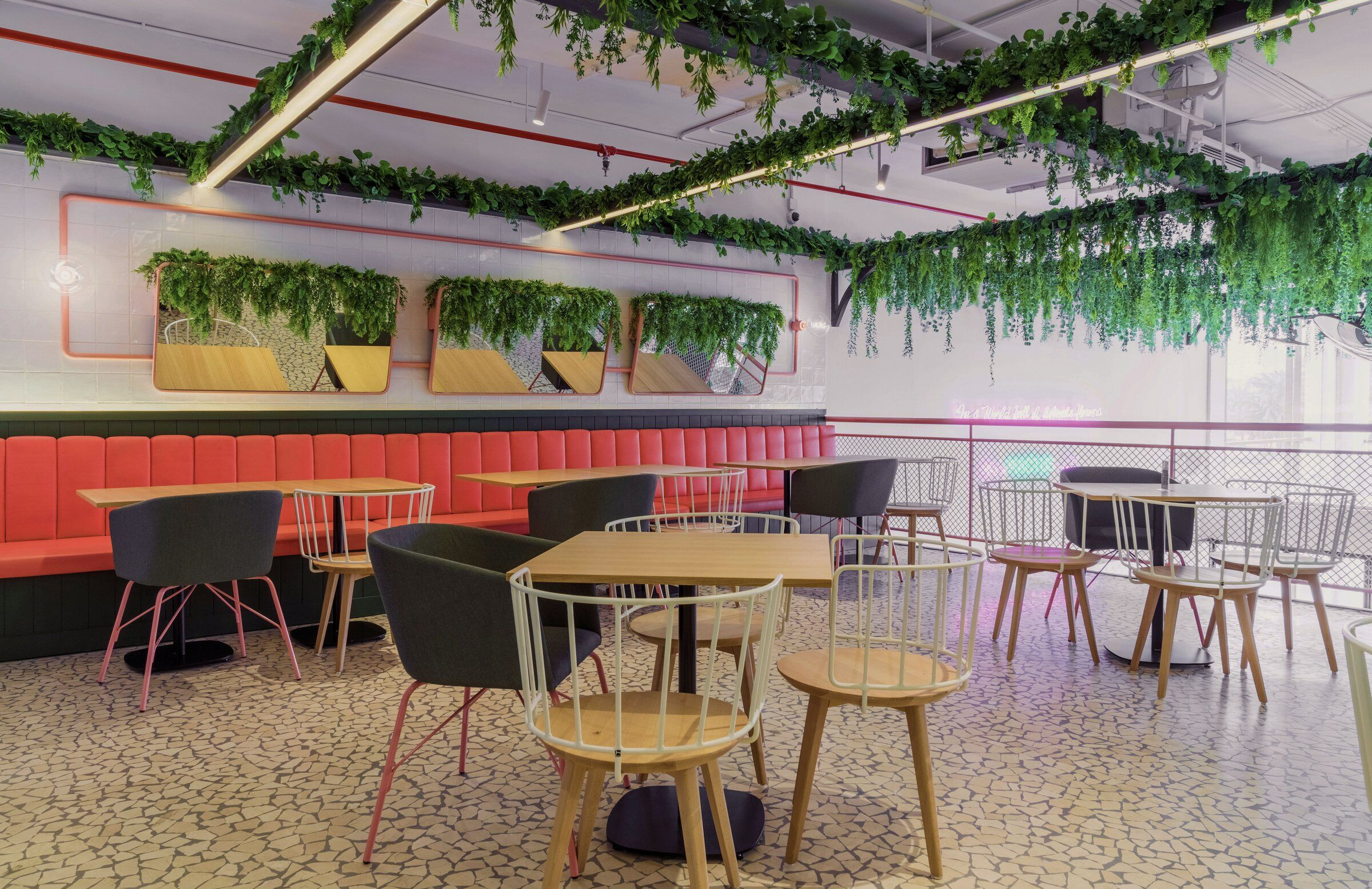 Challenges overcome
The pandemic gave 4SPACE various challenges to overcome. Long-distance communication was necessary to manage contractors in Saudi Arabia. International product deliveries were also a challenge due to reduced shipping and logistics.
Unique features
Various fun features throughout Kactus encourage interaction and provide clever illusions and photographic opportunities for social media platforms. The mirror-clad ceilings create playful reflections whilst the crossword wall allows patrons to find their names in the pools of letters on the walls. Neon cacti lights adorn the walls of the café. The café entrance is designed as a pink vending machine door that provides an element of excitement and joy upon arrival.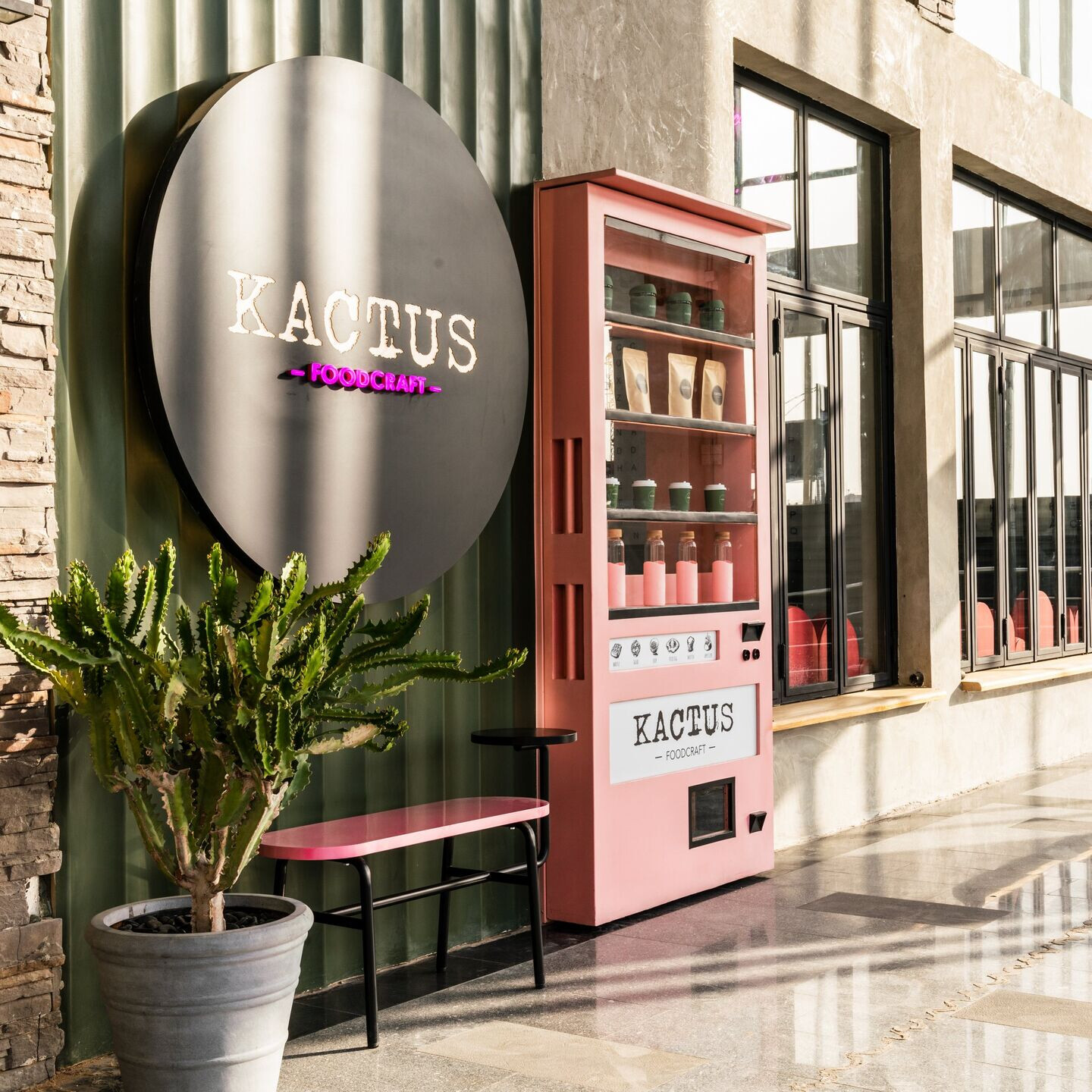 Material selection
4SPACE has chosen multi-texture materials and used polished oakwood, steel, leather, and terrazzo throughout. The colours chosen are calm vintage hues of pink and green. Various complementary-coloured neon signs adorn the walls, and verdant plans hang fluidly from the beamed ceilings.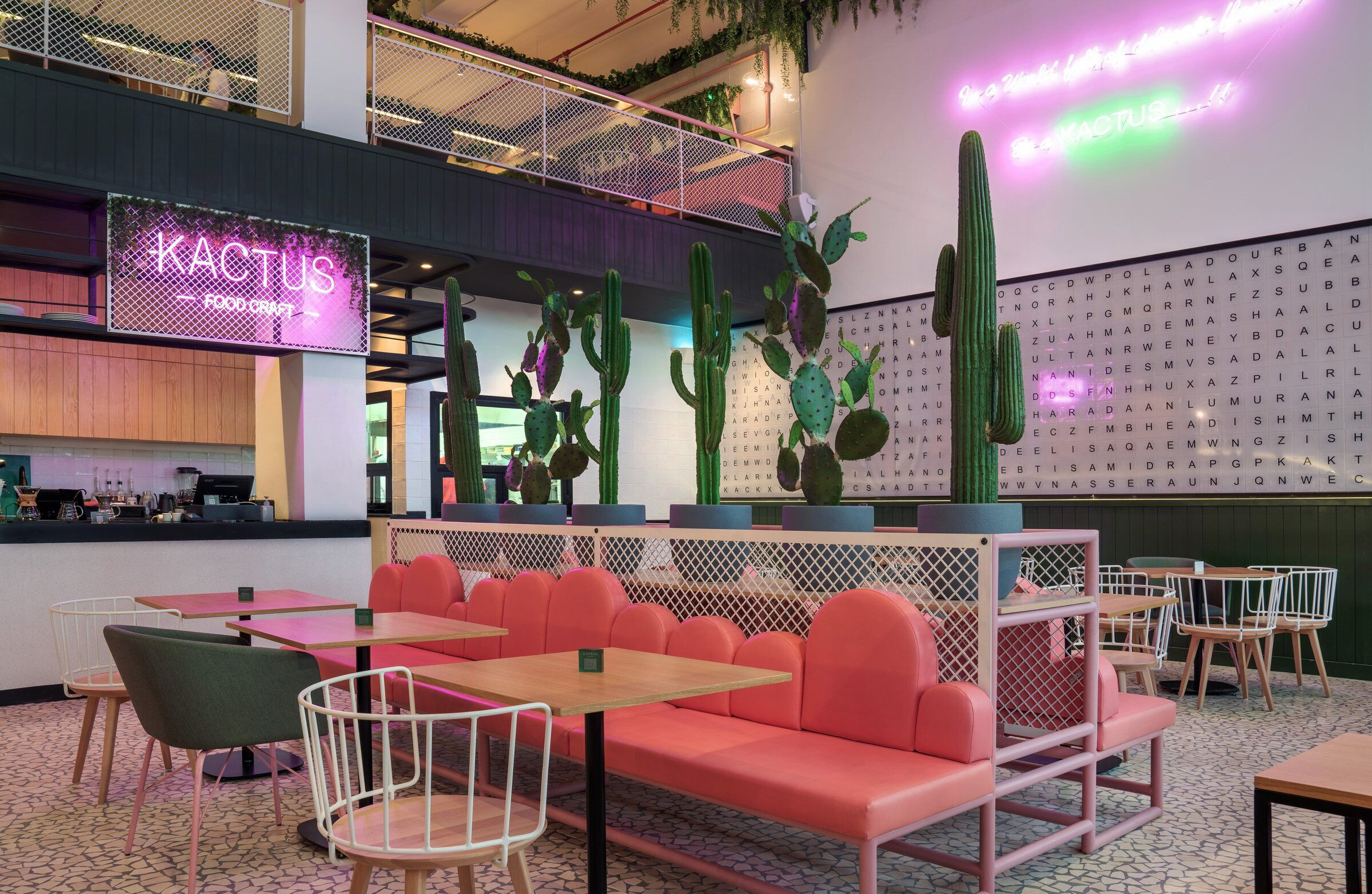 Furniture chosen
Furniture is minimalistic, and much has been taken from the 'interiors 360' collection. Two handcrafted banquette seating arrangements are shaped like oversized bunny-ears cacti in pink leather.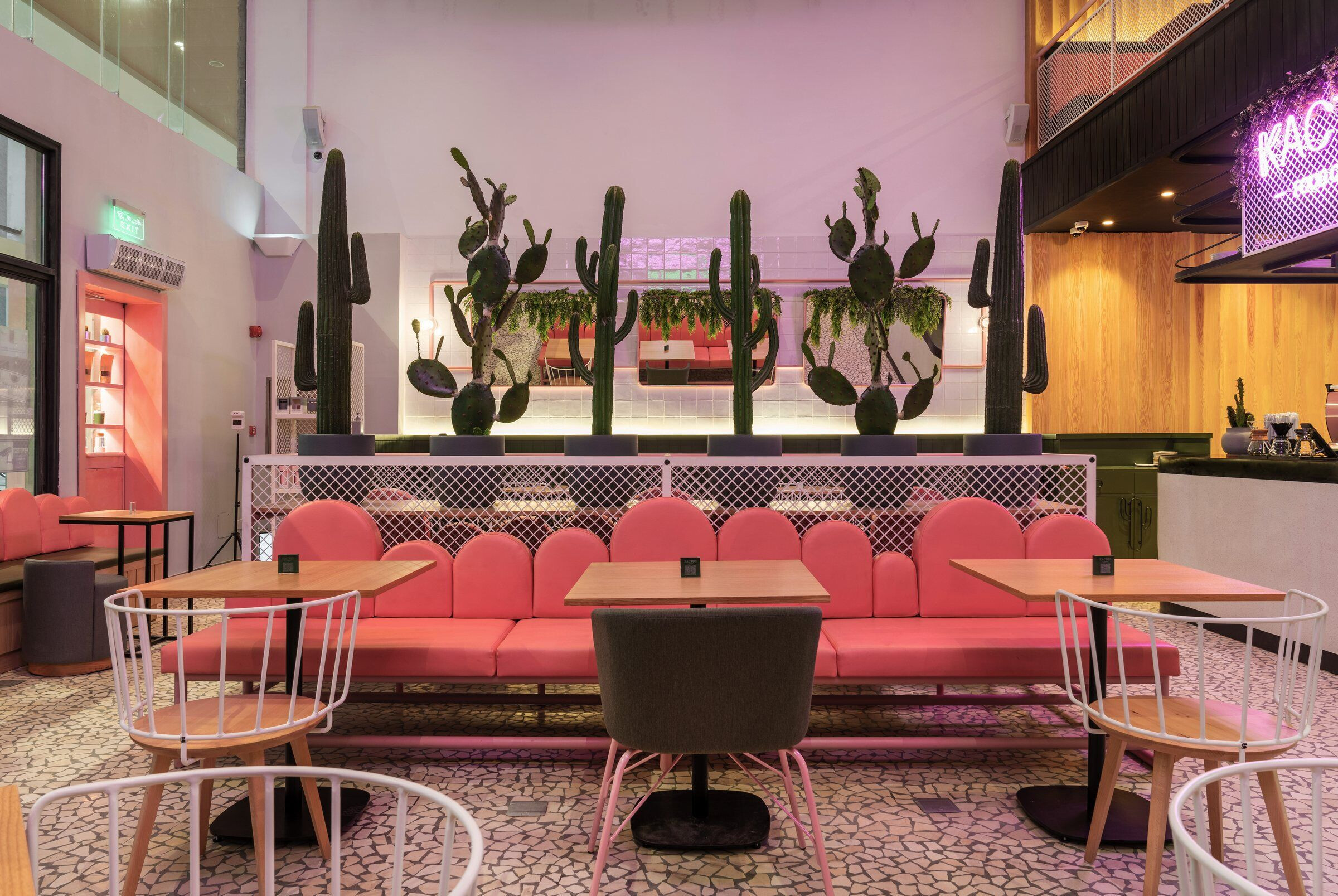 The standout of this project and why
Kactus provides an inclusive and fun setting for people from diverse, multicultural backgrounds. The contemporary and ultra-modern design encourages interaction between people and on social media. The eye-catching façade and retro branding which was designed by the 4SPACE branding team is a significant statement on a busy sand-coloured Riyadh street.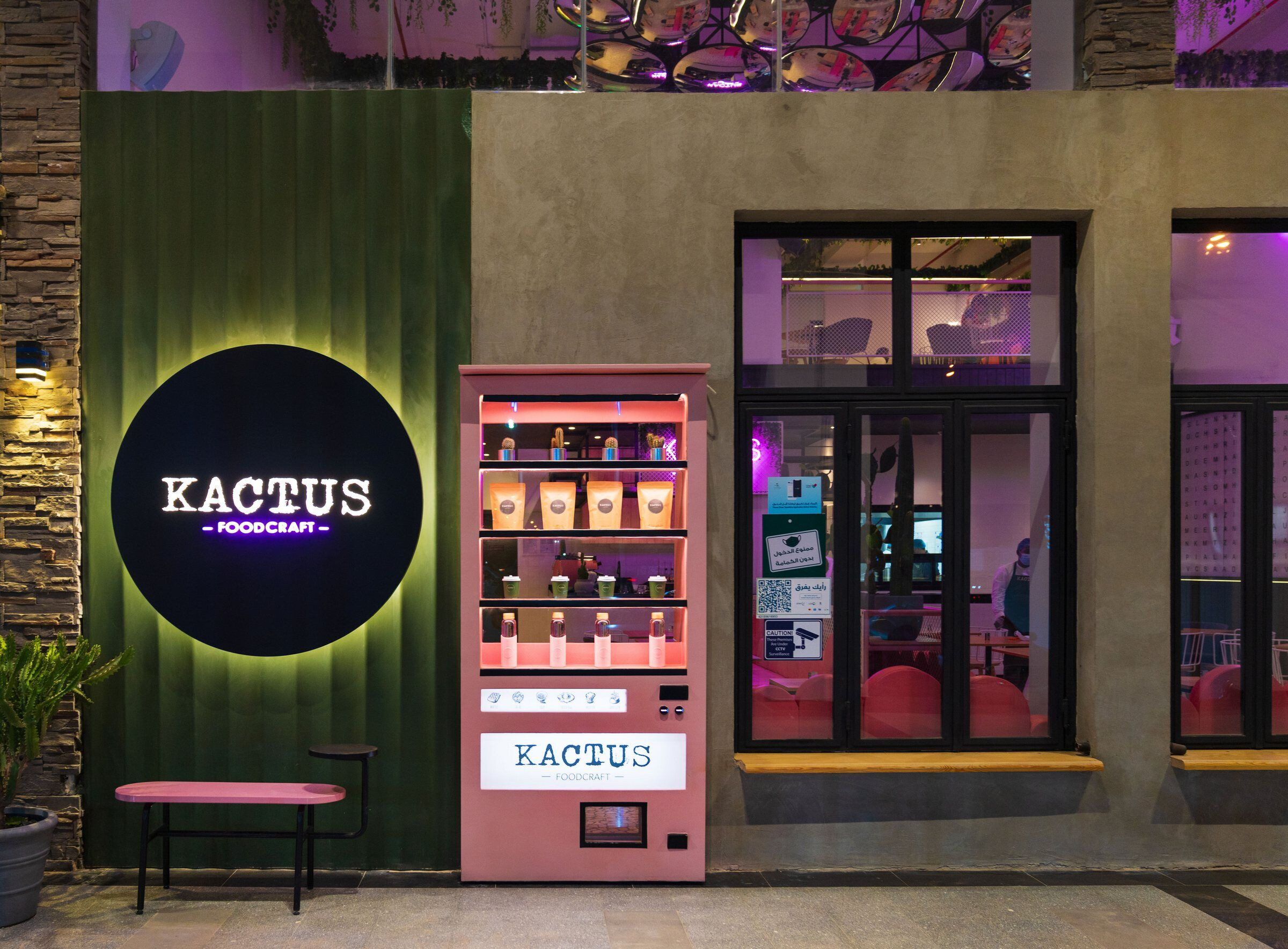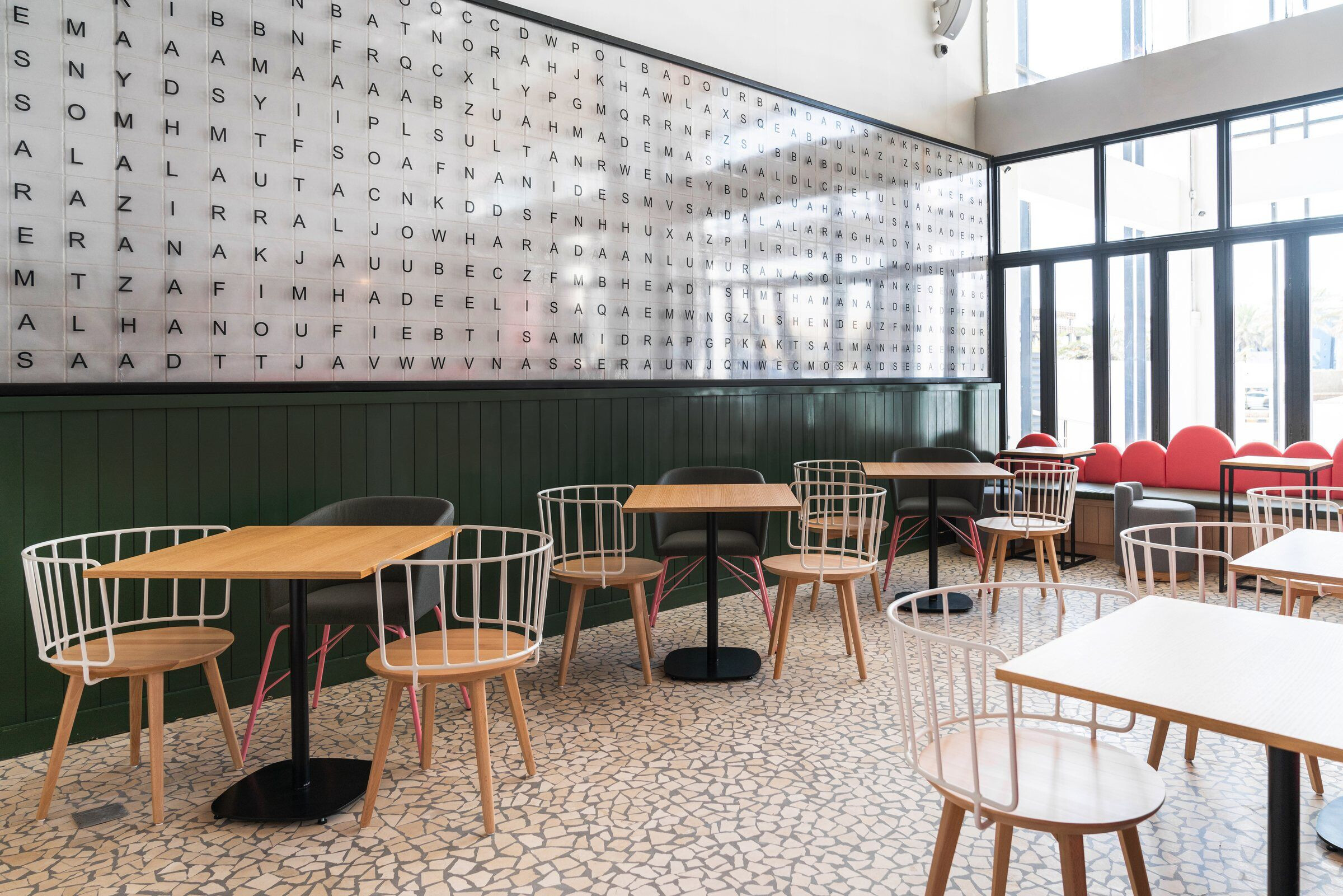 Material Used :
1. Interior 360 - Furniture
2. The rest was done custom and locally....