Project information:
- Project name: LengKeng Coffee
- Interior design: CONN Design (http://conndesign.vn/)
- Lead architect: Architect Tran Thi Hong Trang
- Location: S605.01S11 Vinhomes Grand Park, District 9, HCMC.
- Area: 80m2
- Completion time: 12/2022

"High-speed train" to Japan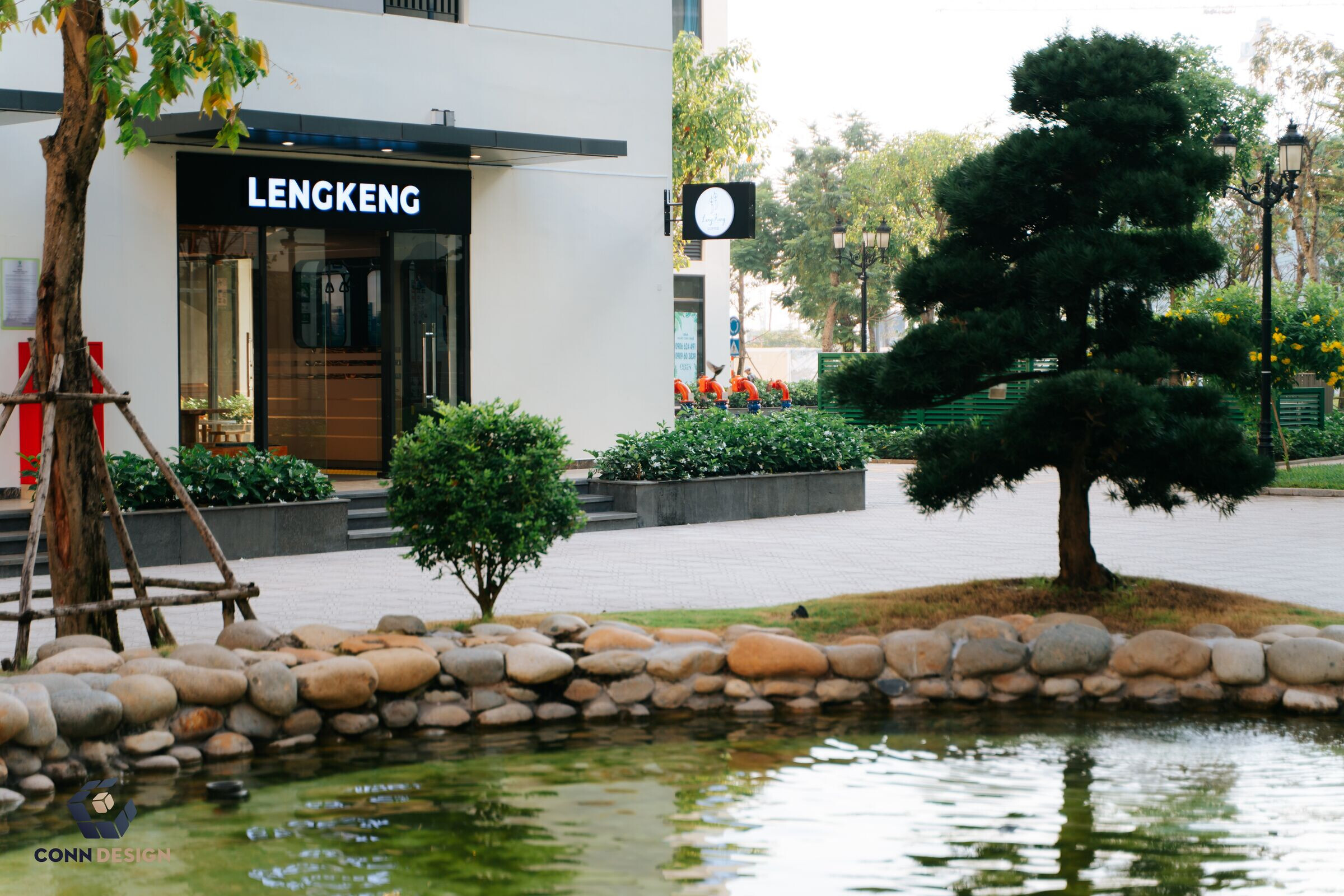 A "trip" to Japan and an interesting subway experience has been recreated at the LengKeng Coffee project - with an area of 80m2 located at the shophouse Vinhomes Grand Park in District 9. This is a pretty check-in place. Great for young people who love Japan and are passionate about enjoying the new and lovely coffee shop space.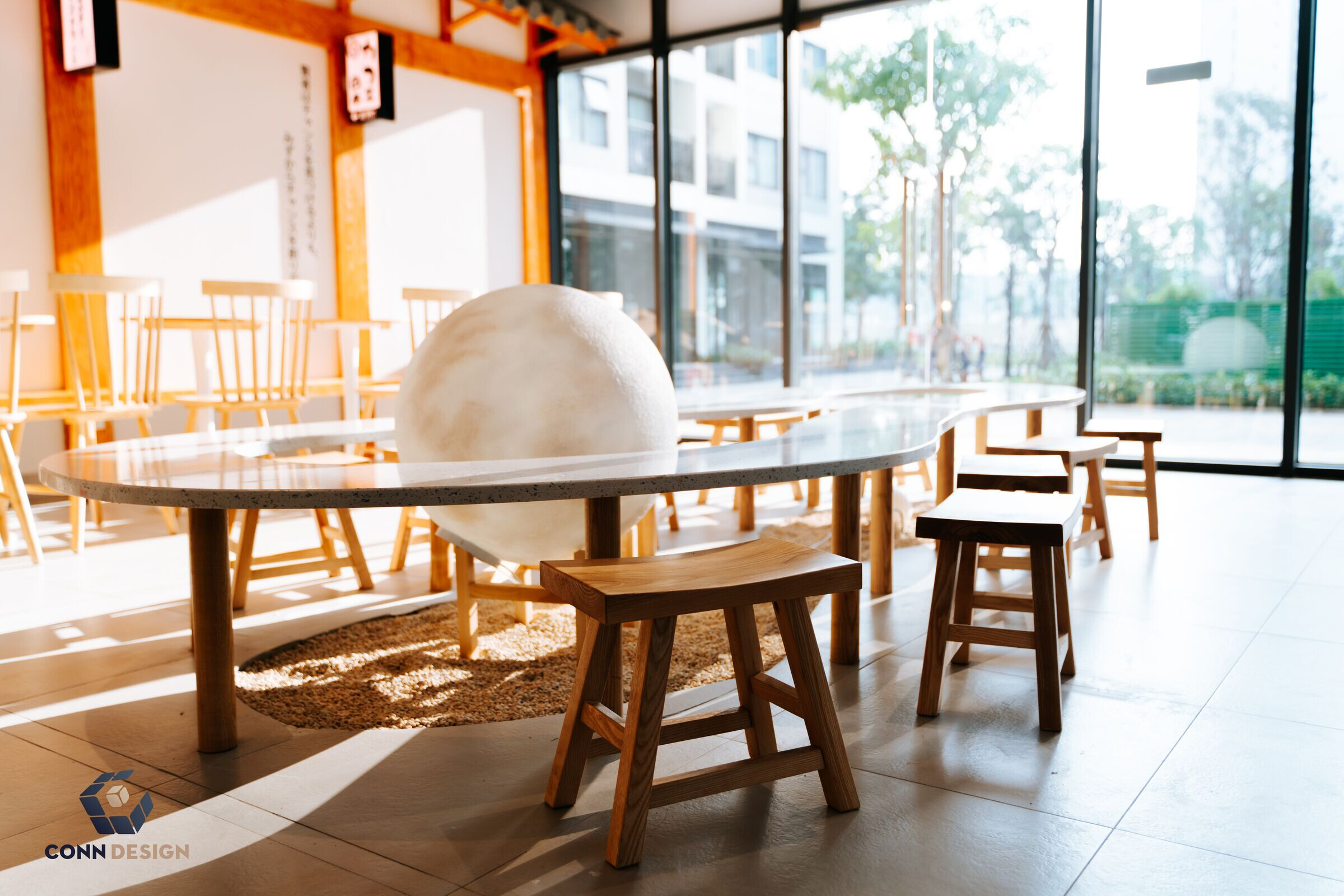 LengKeng Coffee at shophouse area Vinhomes Grand Park District 9
Coming to LengKeng Coffee, you will experience the journey to visit a miniature Japan. Starting the trip, you set foot down the street from a subway car, then a moonlit park next to rows of houses with bold Japanese culture. A special feature here is a moon with warm light lying quietly on the stone background, very meditative.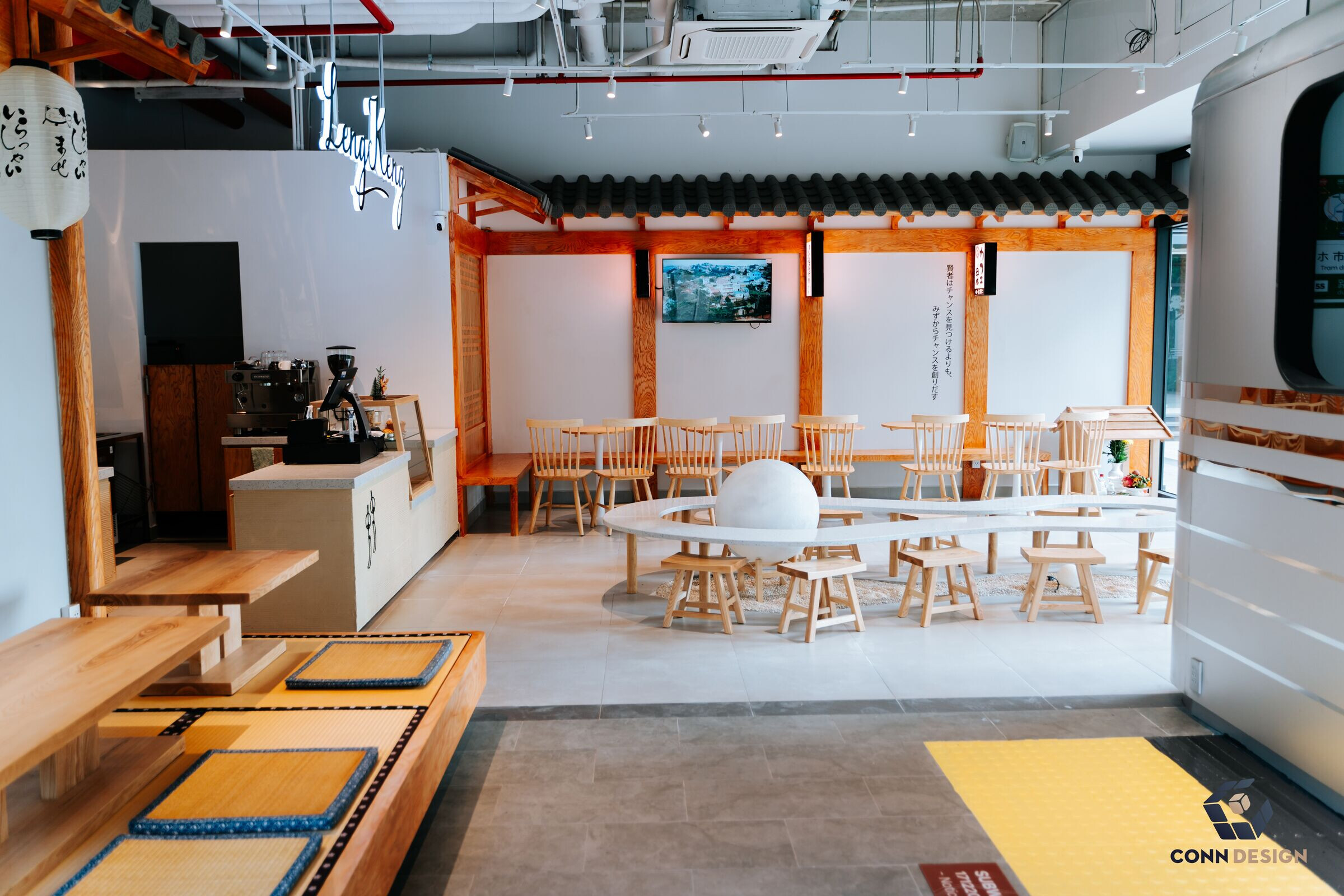 Overview of bold Japanese interior space
The design towards a quiet, poetic space creates ideal conditions for customers to choose as a place to study and work. Above all, if you are passionate about photography, you cannot miss it because LengKeng has countless beautiful virtual living angles.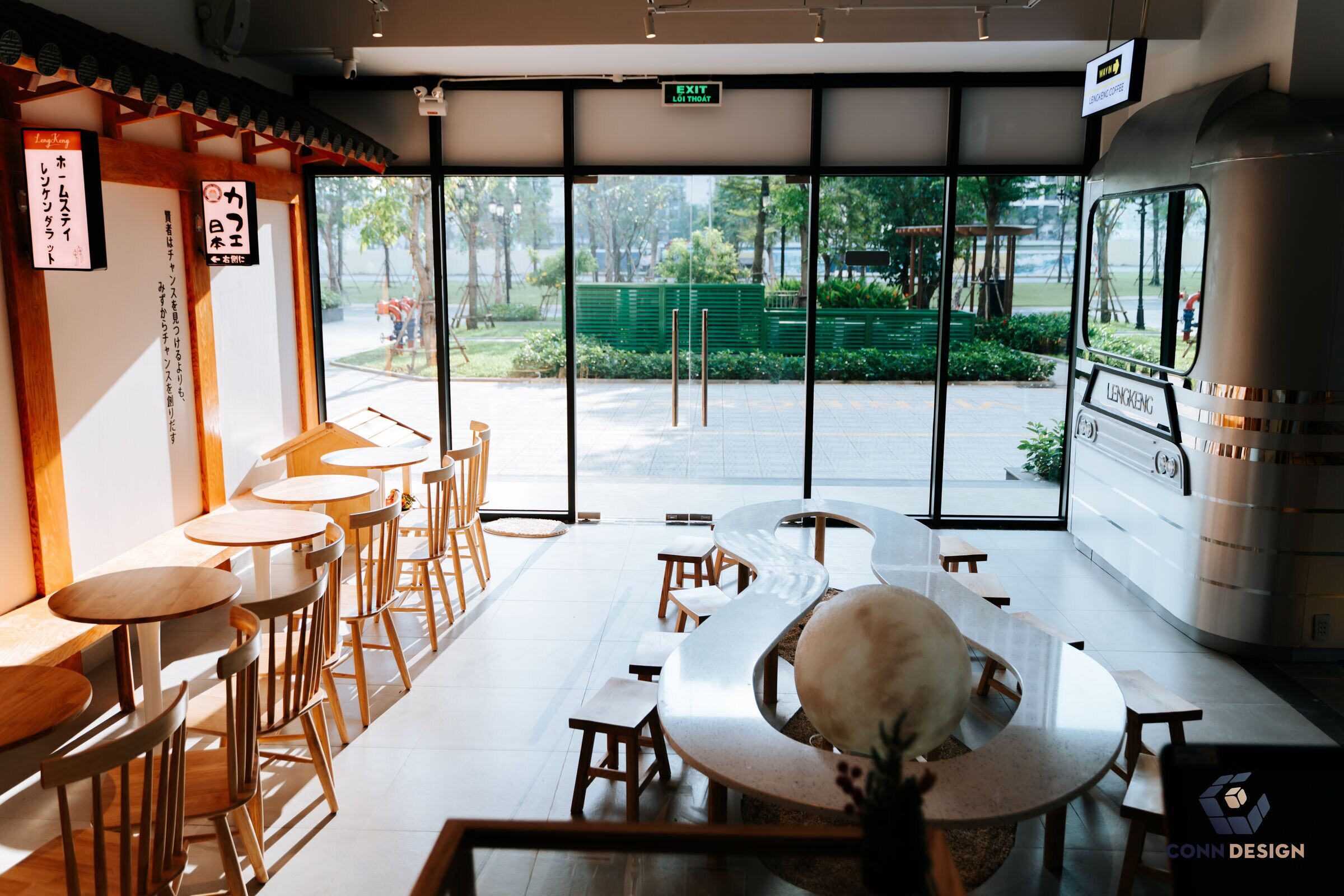 Carefully each light box has the style of a sidewalk shop
Ensure spacious space, easy to move and experience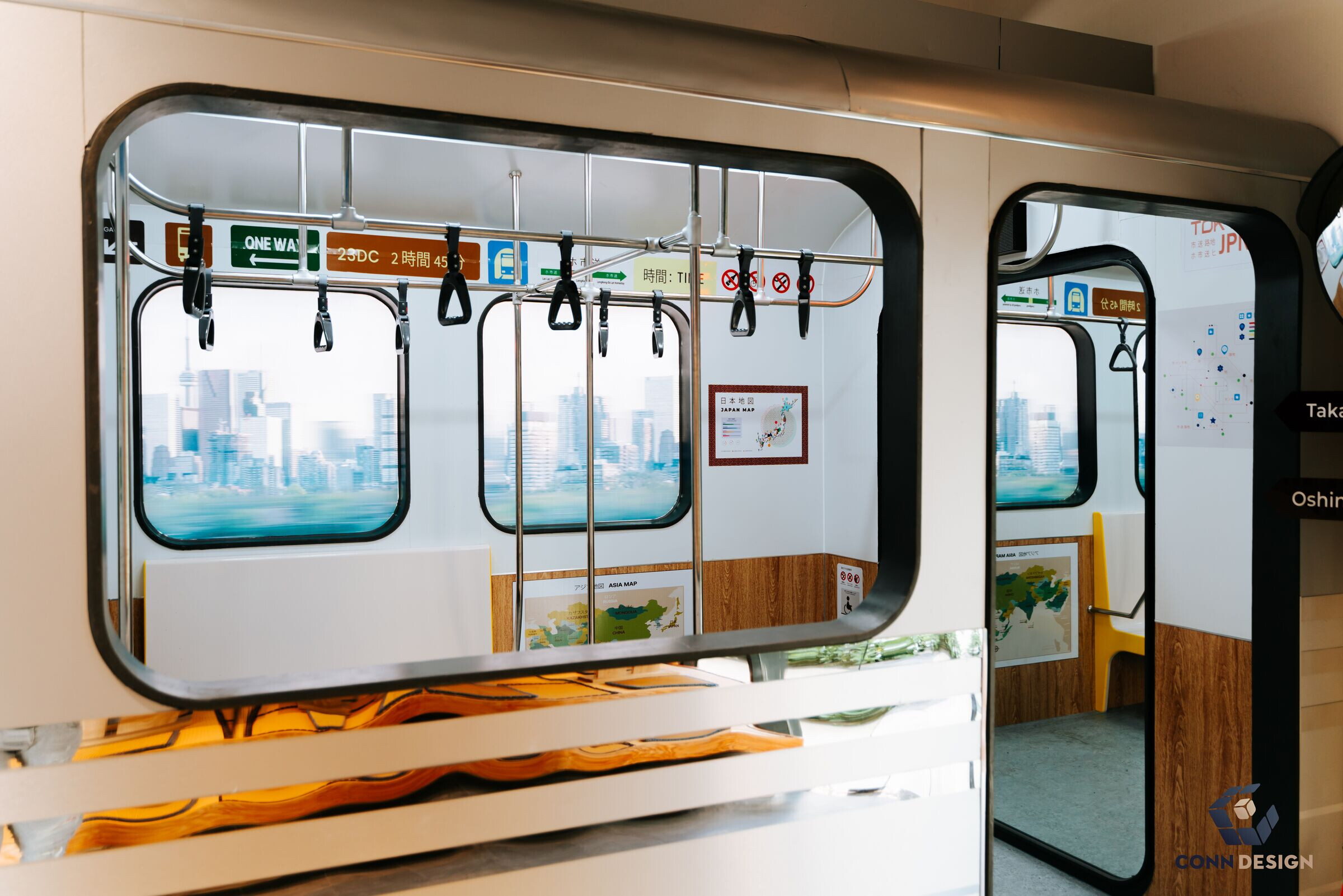 Typical Japanese interior at Leng Keng Coffee
LengKeng Coffee is shaped in Japanese style with unmistakable features such as tatami mats, subway cars, Japanese roofs, sand and stones,... combined with a Japanese-style park garden right next to Vinhomes Grand Park , what a perfect match, hard to find anywhere other than LengKeng Coffee.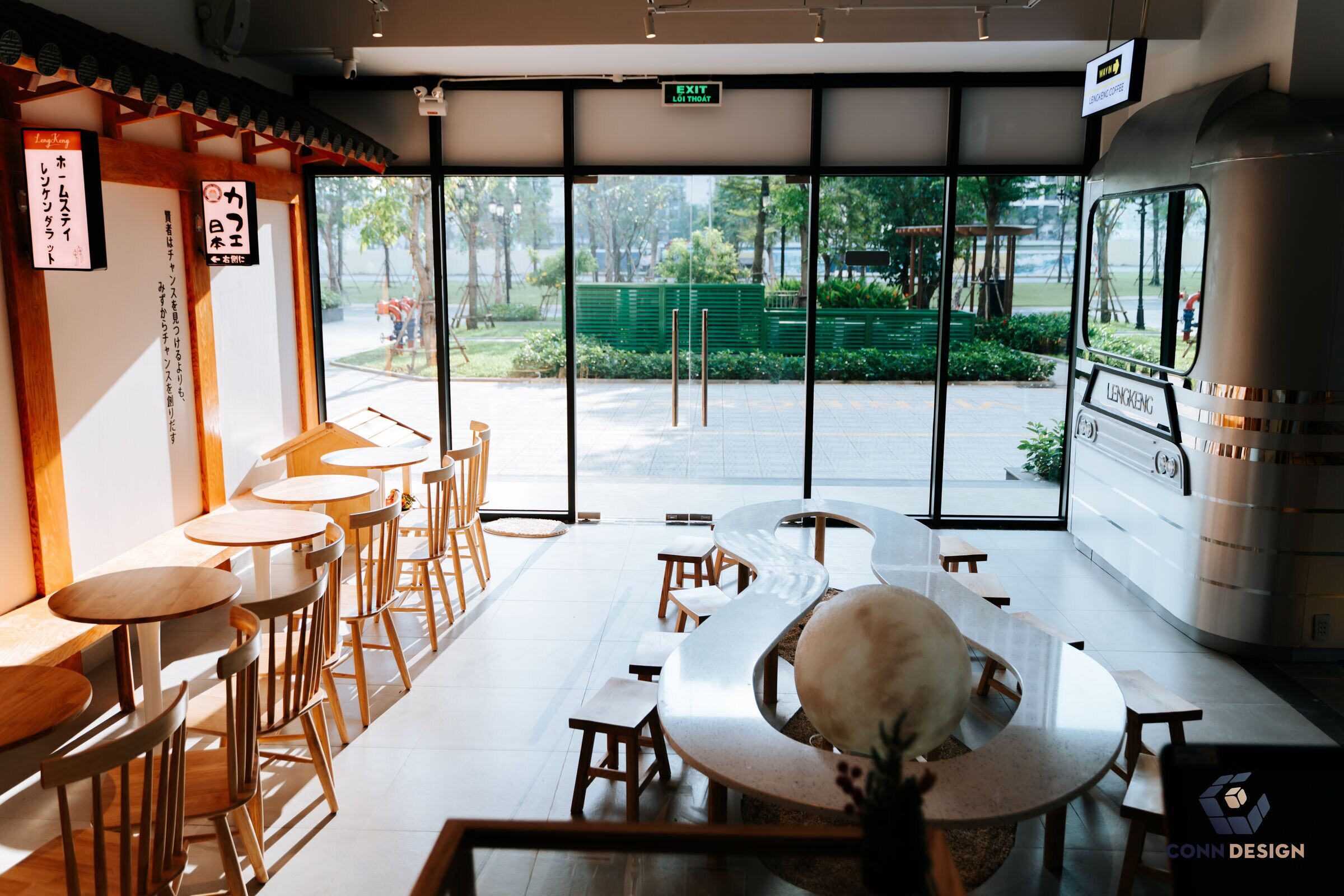 Pair with a Japanese-style park in a cool outdoor campus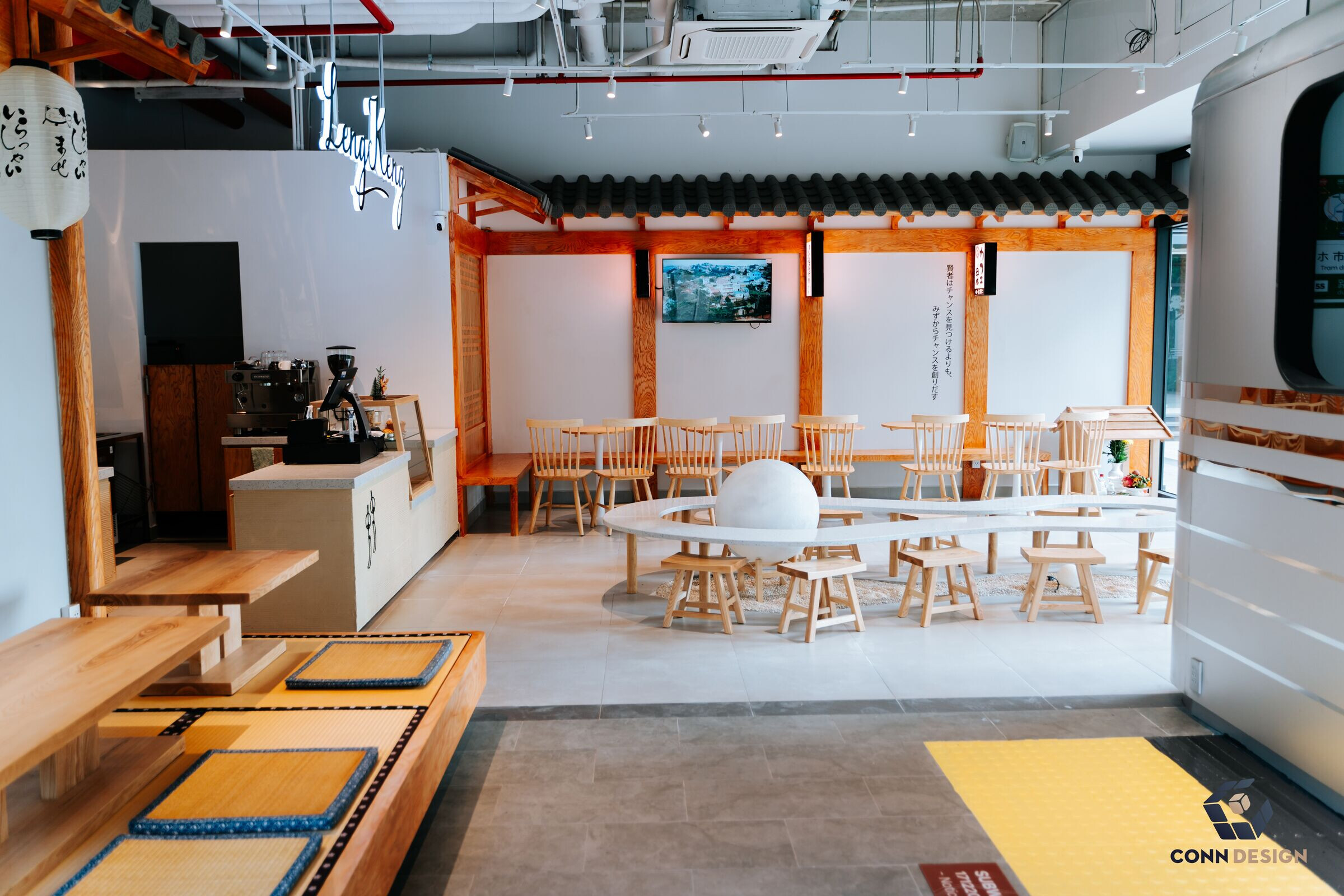 The entire space of the moonlit park along with the Japanese roof is invested and recreated based on a neighborhood with Japanese-style shops and houses. Featuring the signature Shoji door, Tatami mats make customers excited when coming to the shop. Although it has a small area, every corner of LengKeng Coffee also brings something new and beautiful for customers to enjoy and "check-in" virtual living.
Tatami mat typical of cherry blossom country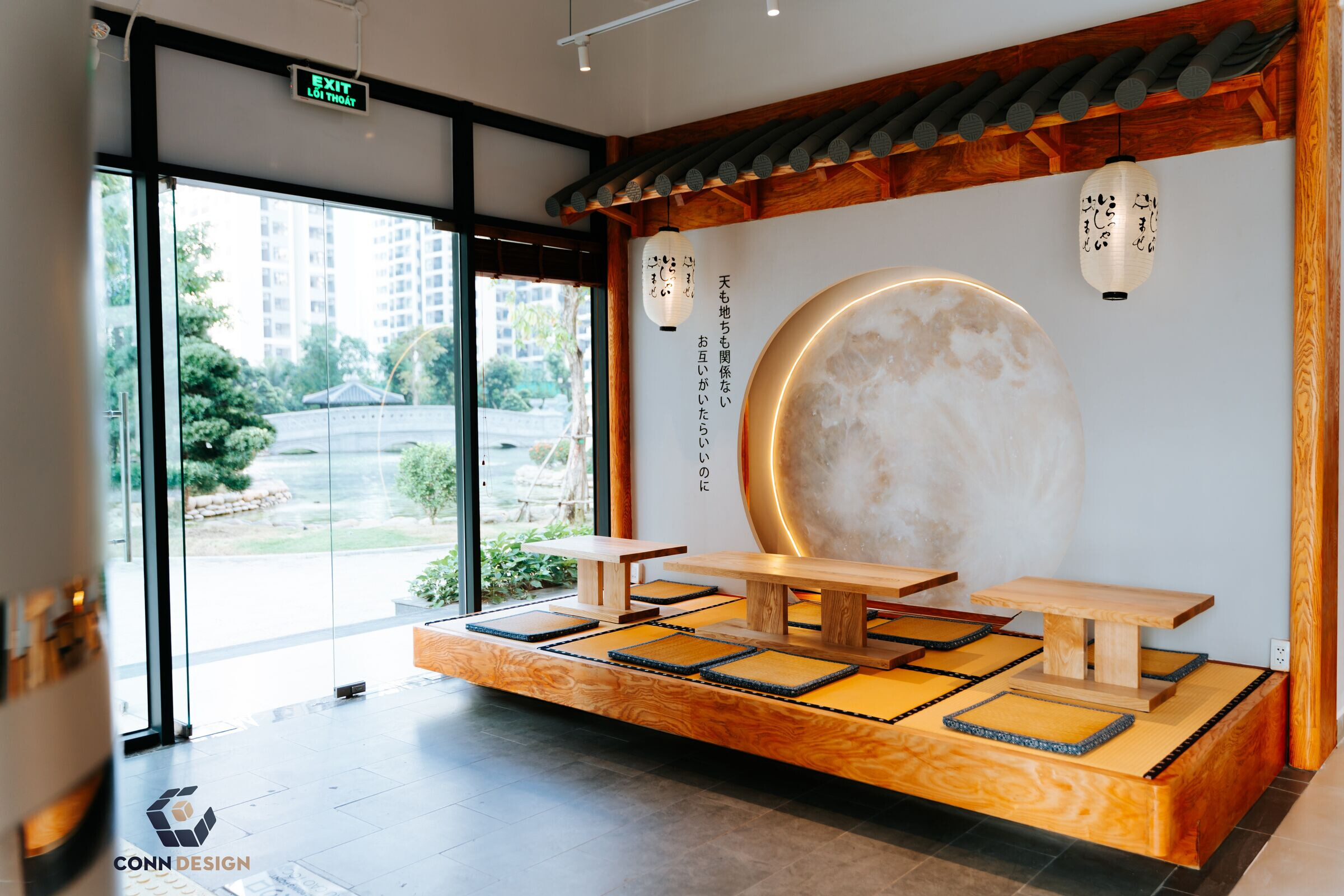 When implementing the project, CONN Design faced a modern architectural structure, so to fulfill the request from the investor - Ancient Japanese style, we came up with a solution that perfectly combines the ancient Japanese style. and modern Japanese style, to balance and utilize space in the most reasonable way.
Combination of ancient Japanese and modern Japanese furniture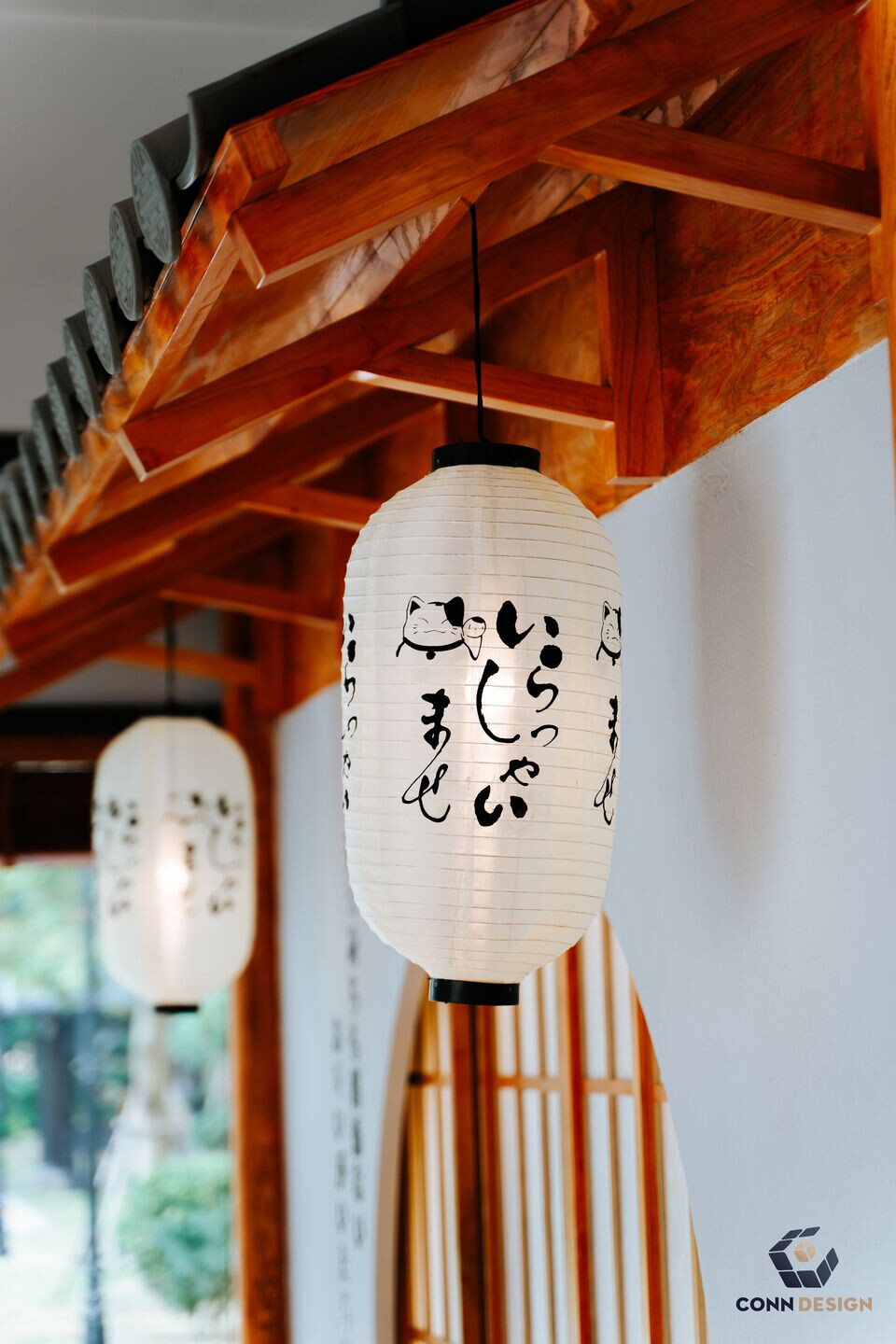 Featured at LengKeng Coffee
We call LengKeng Coffee a "high-speed train" to the land of cherry blossoms, because the most interesting thing is in the train car - the feature of the Japanese office lifestyle is reproduced as real as possible here. When implementing ideas, beautiful items often cost a lot of money, but CONN Design has adjusted to achieve perfection for the project, moreover, it also optimizes costs for investors with resources. certain main.
The construction team of CONN Design had to go through many hurdles in terms of researching wagon materials, detailed interior details to each specific handle to be able to complete the unique feature of the project.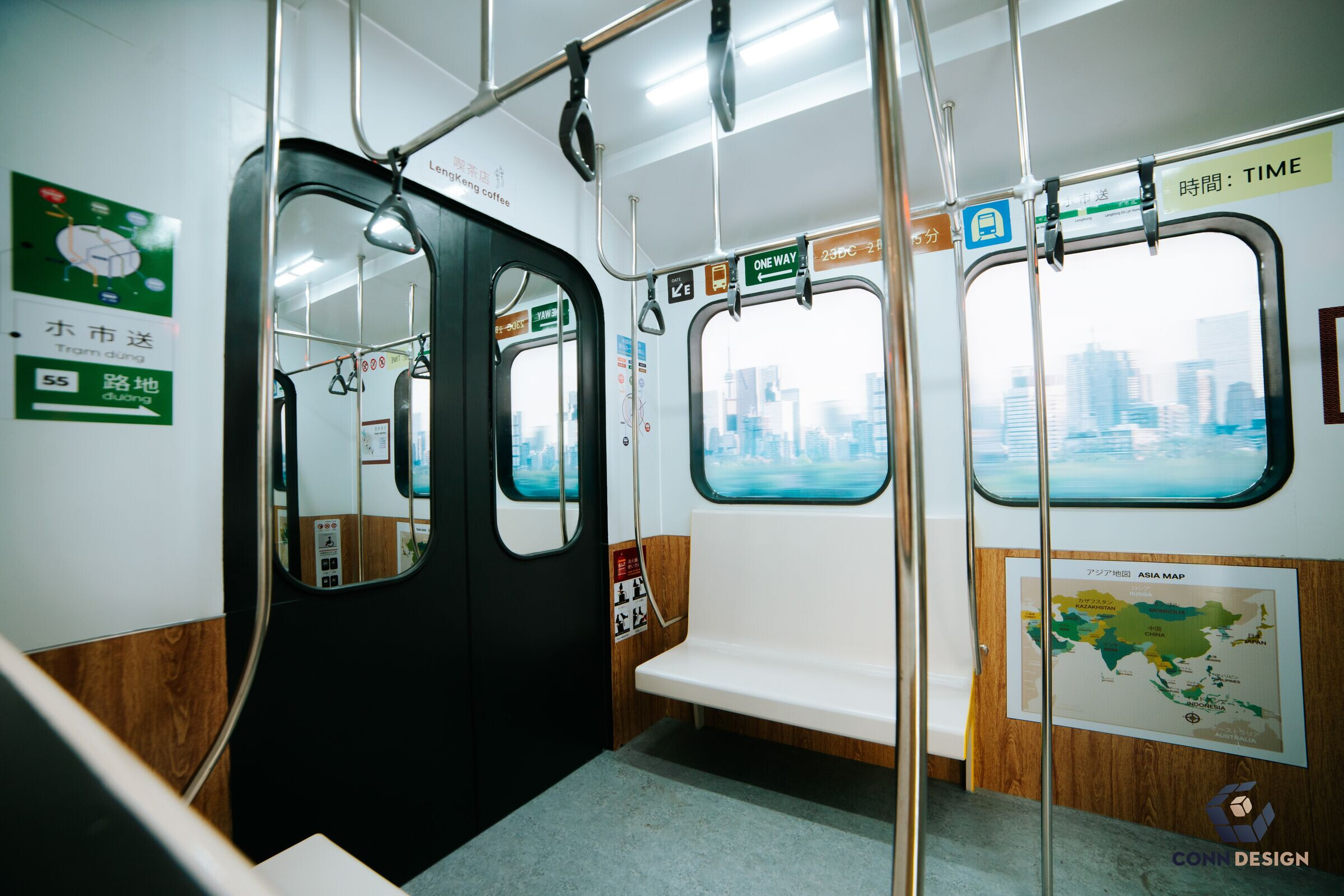 If you have time and have a vibe with the typical architecture and interior of Japan, try coming to LengKeng Coffee to immerse yourself in a space that is meticulously invested, thoughtful to every detail. details. We firmly believe that this will be a new and interesting coffee experience.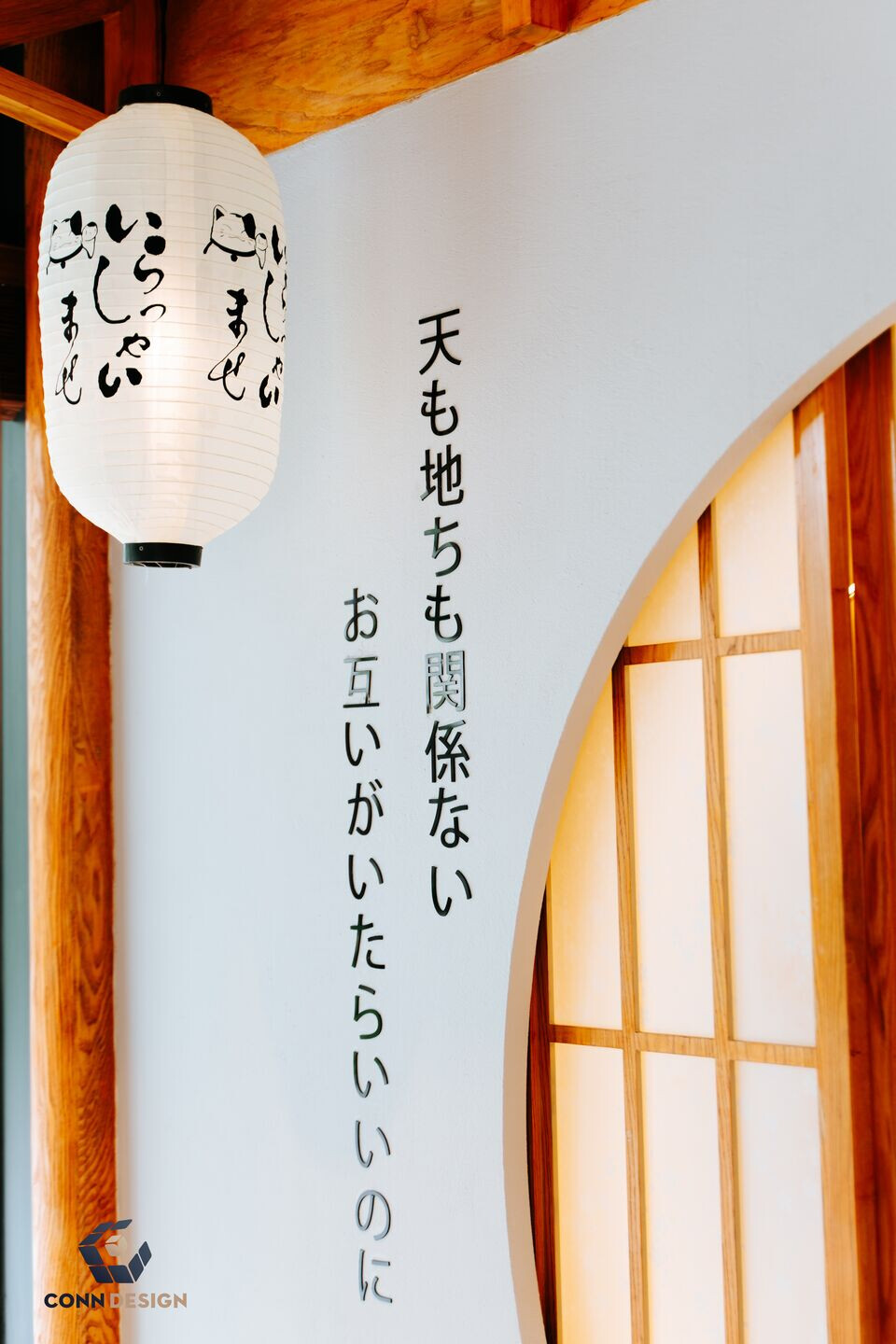 With experience in designing and constructing many interior projects in Ho Chi Minh City and other surrounding areas, CONN Design hopes to have the opportunity to continue to launch more interesting and novel projects to work with. with investors to form effective and successful business models.
LengKeng Coffee is a pride of CONN Design team. We are improving ourselves to better serve our customers, please follow CONN Design to enjoy the next beautiful, special and impressive works!