Through letters or symbols, with the stroke of a pen or the tap of a keyboard, writing has been a vital communication tool for centuries. From handwritten letters to modern social media, writing empowers people to express themselves.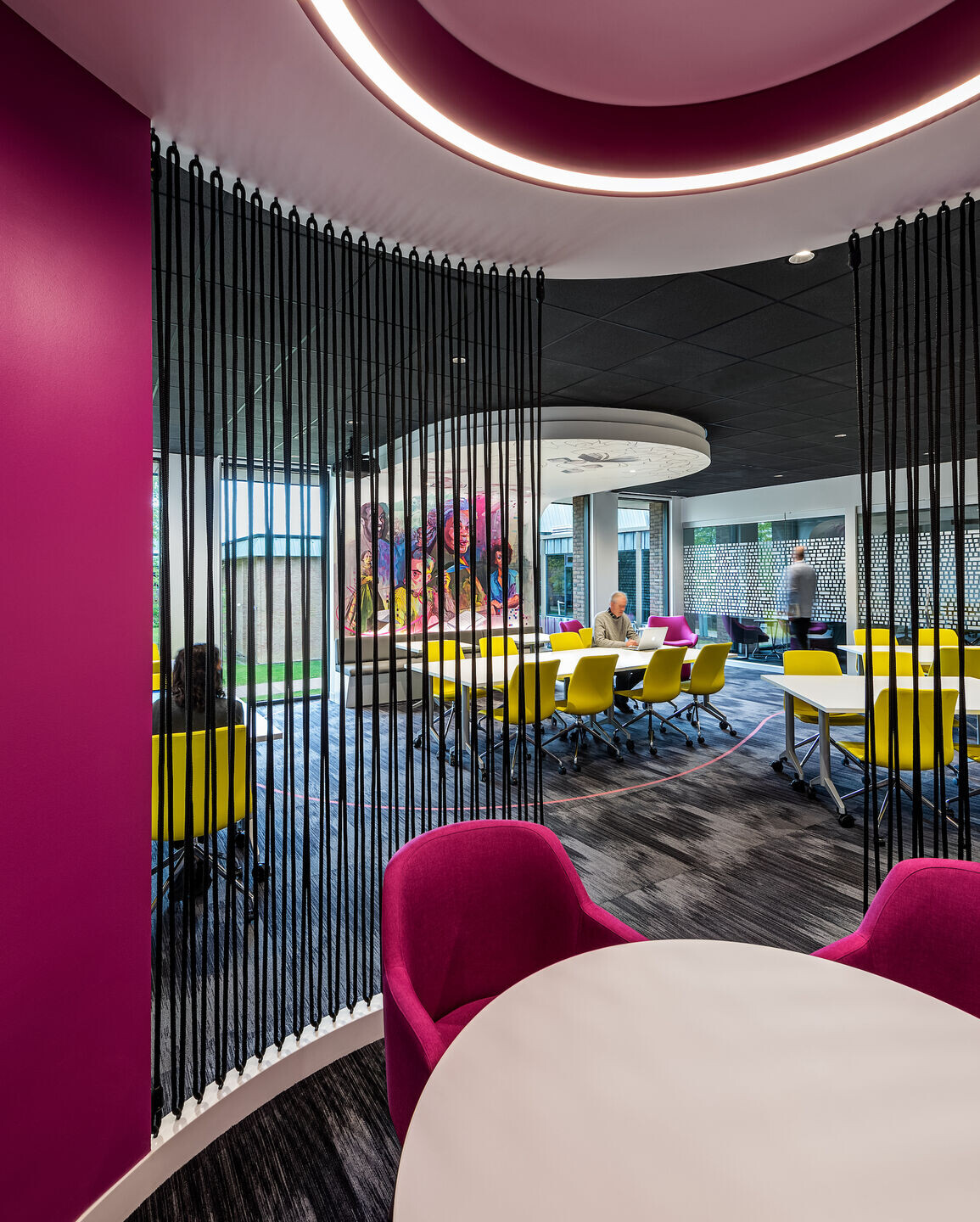 The writing center's design takes inspiration from all forms of writing, establishing a whimsical space that encourages students to be creative. The color palette is primarily black and white with punches of color throughout. The design concept is a take on the children's book "Harold and the Purple Crayon," where a pen leads users through the room. A line from the "pen" starts on the carpet at the entrance and dances up the wall, morphing into 3-dimensional light fixtures and metal shelving. The pen's line then jumps off the wall, weaving up and down into the divider screen for a semi-private meeting space. A final scribble across the floor draws users to a custom mural by a local artist that highlights significant writers of the past and present. On the other side of the room, keyboard keys CNC cut out of solid surface material add texture to the walls and give a nod to modern writing instruments. The keys transform into a 2-dimensional pattern on the adjacent glass privacy screens for offices and terminate at the colorful mural, where all of the design details converge. The custom mural features legendary writers Hart Crane, Langston Hughes, Toni Morrison, Harriet Beecher Stowe, Rita Dove, and Louis Bromfield.
The writing center at LCCC's Stocker Center for the Arts provides students with a relaxed and flexible space to focus on their writing. With playful graphics and unique collaboration spaces, the center is an academic haven where creativity and student connections thrive.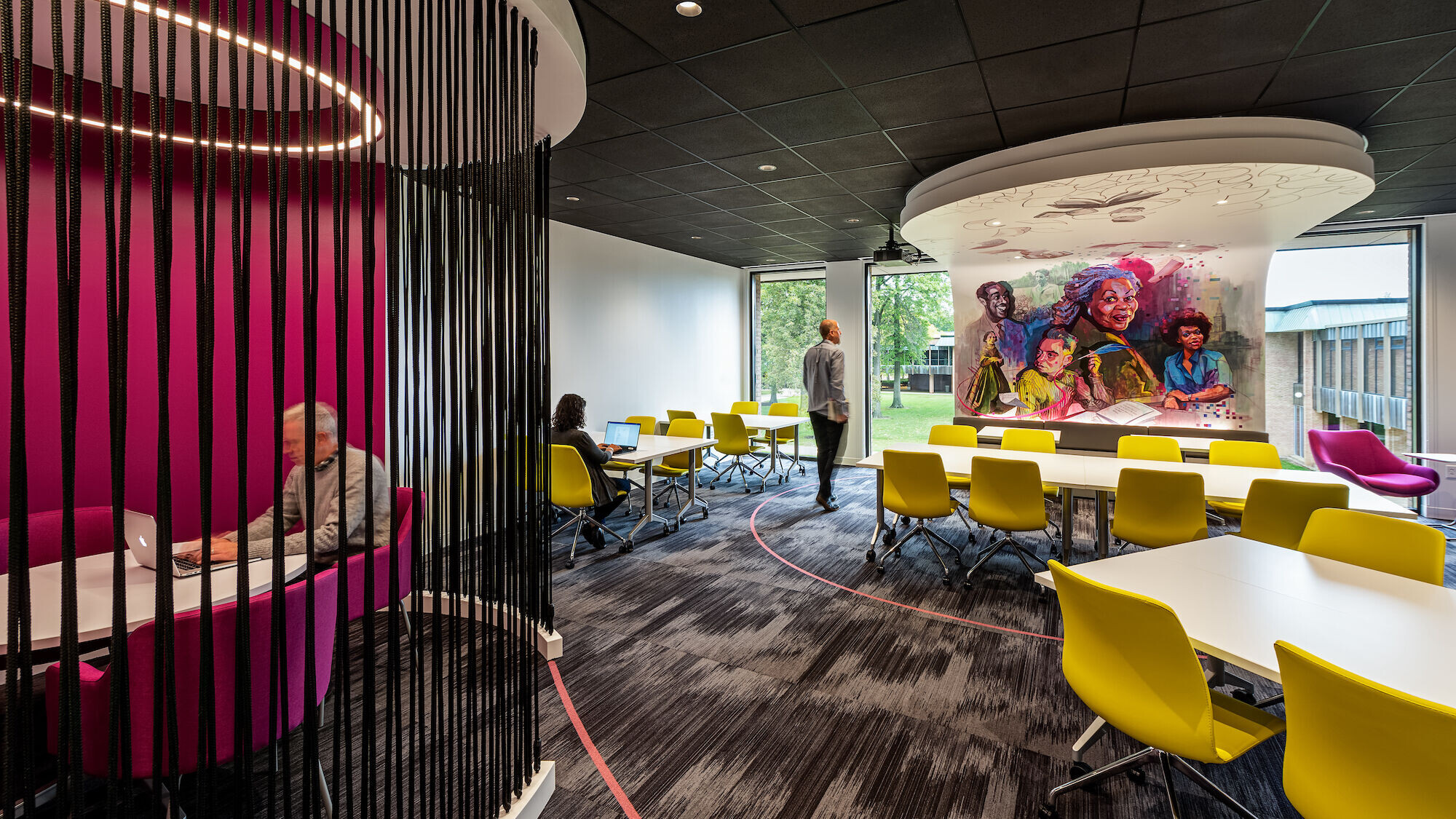 Team:
Architects: Bialosky Cleveland
Builder: Engelke Construction
Mural Artist: Derek Brennan
Solid Surface Custom Fabricator: M.R. Walls
Photographer: Christian Phillips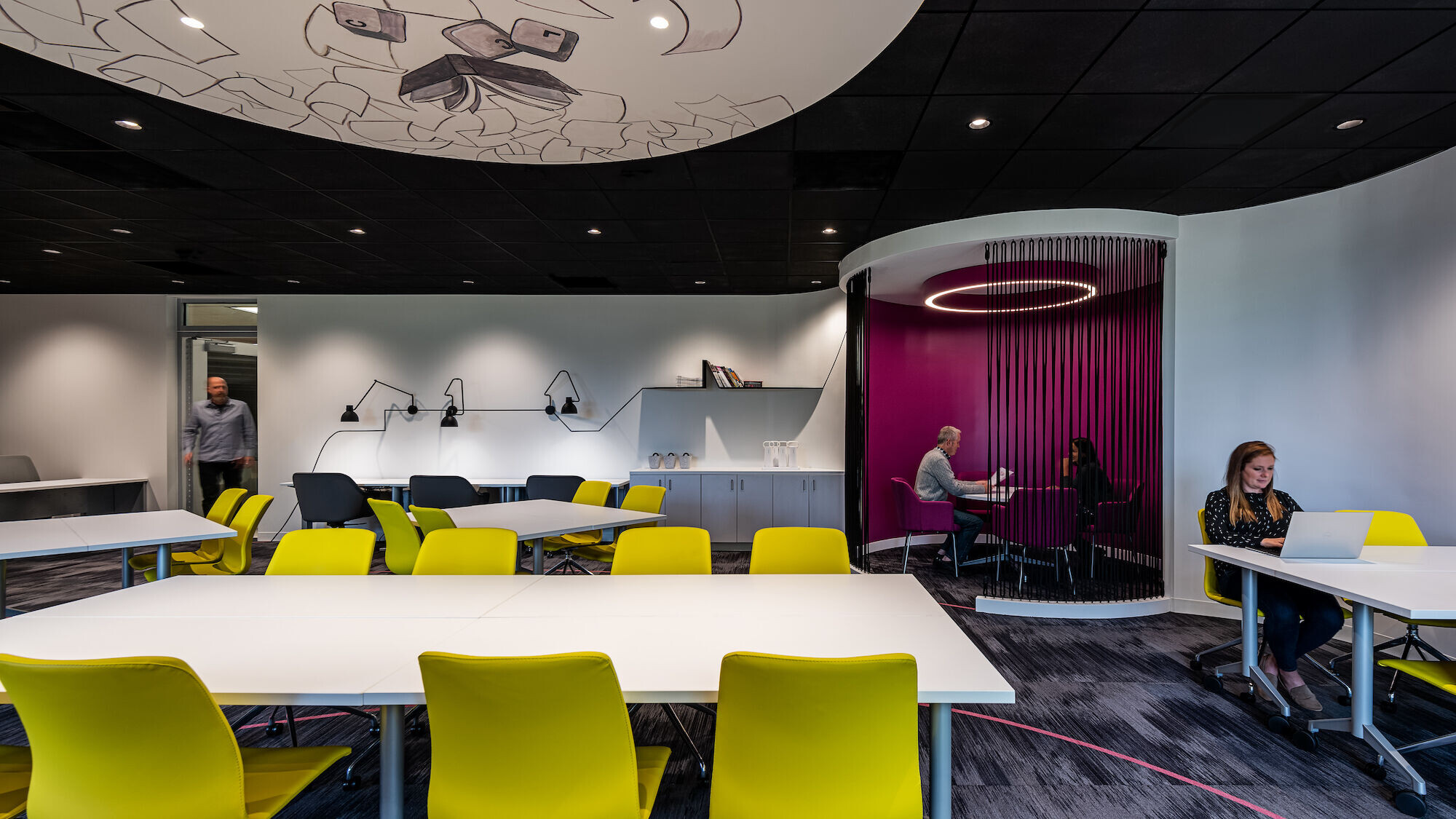 Materials Used:
Flooring: Milliken – Custom pattern in Live Circuit Product
Doors: C.R.Laurence Door System
Windows: WA Wilson Fully Tempered "TempRite" Interior Glass
Interior lighting: Solera Circular Pendant
Interior furniture: OFS Chairs, Kimball Lounge Furniture, Hightower Occasional Table, ERG Tables, Steelcase Study Carrels, Millwork and rope divider by Custom Fabricators, Inc.