Behind this brownstone's staid poker face, the interior plays a duet with the outdoors. Our Park Slope addition boasts two extensions: one at the rear yard and one at the rooftop. But these in turn generate half a dozen outdoor spaces. Walls of glass divided by Mondrian mullions provide broad views out to the green spaces. And both extensions are clad in black metal panels.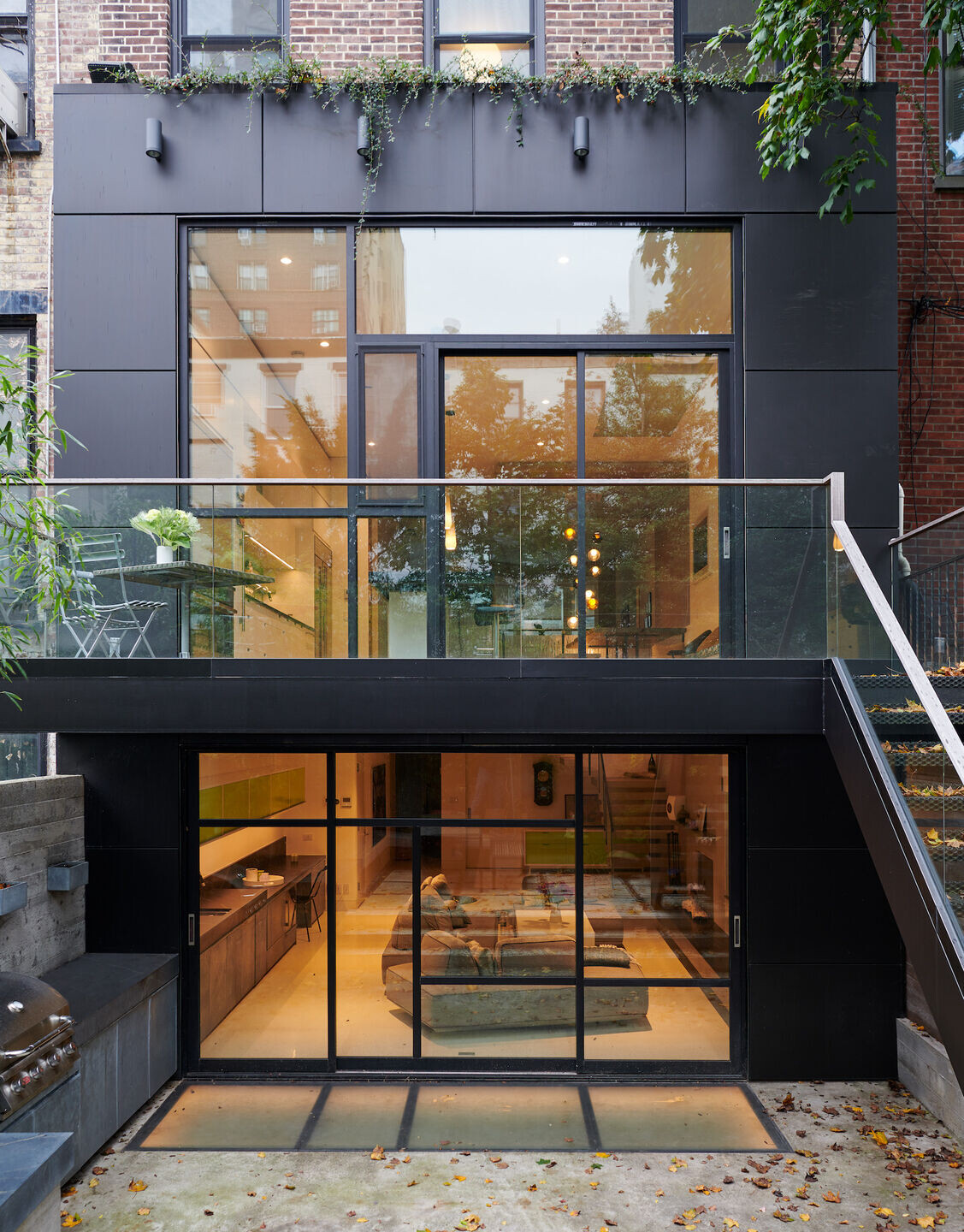 We split the backyard into two levels–a low court for grilling and a raised garden for meditation. Passing through the rear wall, the soapstone wet bar morphs into an outdoor kitchen and, as the garden steps up, continues as a stone bench. Up the rear stair, you climb to a deck off the kitchen with a perf metal floor and a glass railing. Above that, a ledge outside a bedroom offers another perch for greenery. And lastly, the roof tops out with two more decks–a large one for entertaining and, up a high stone stair, a small one for skyline views.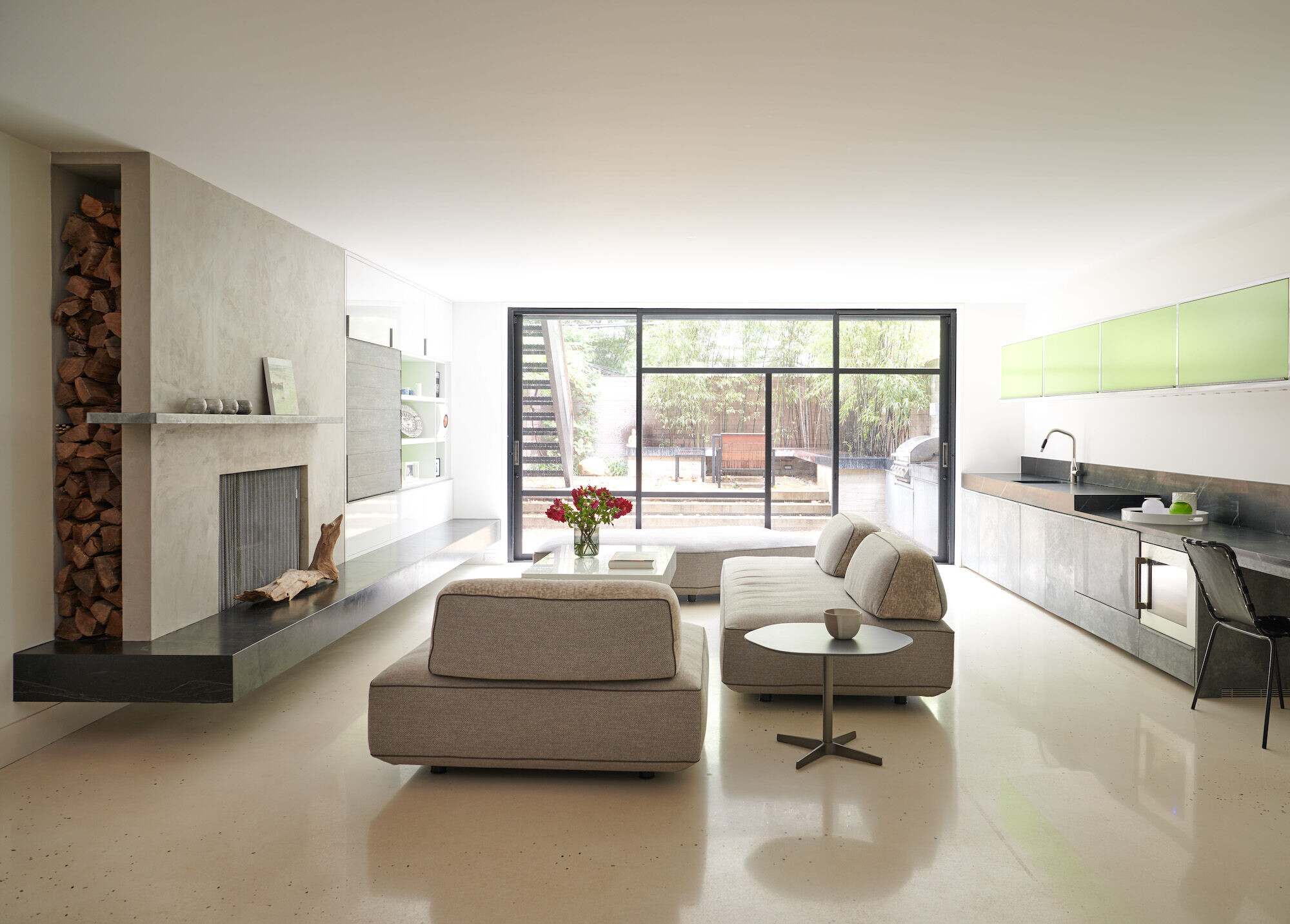 Indoors, a wall of white lacquered panels hides the pantry, coat closet, and a verdant powder room. Opposite this, we relocated the main stair to a new opening in the middle of the first floor. These floating wood treads emerge from a wall draped in grooved bamboo down to polished concrete floors. For the railings upstairs, we used a piano-key pattern inspired by our musician clients. Here, solid oak stair treads cantilever from the wall, then turn up 90° to form a balustrade. We put a soundproof music room in the cellar for drum practice at full volume.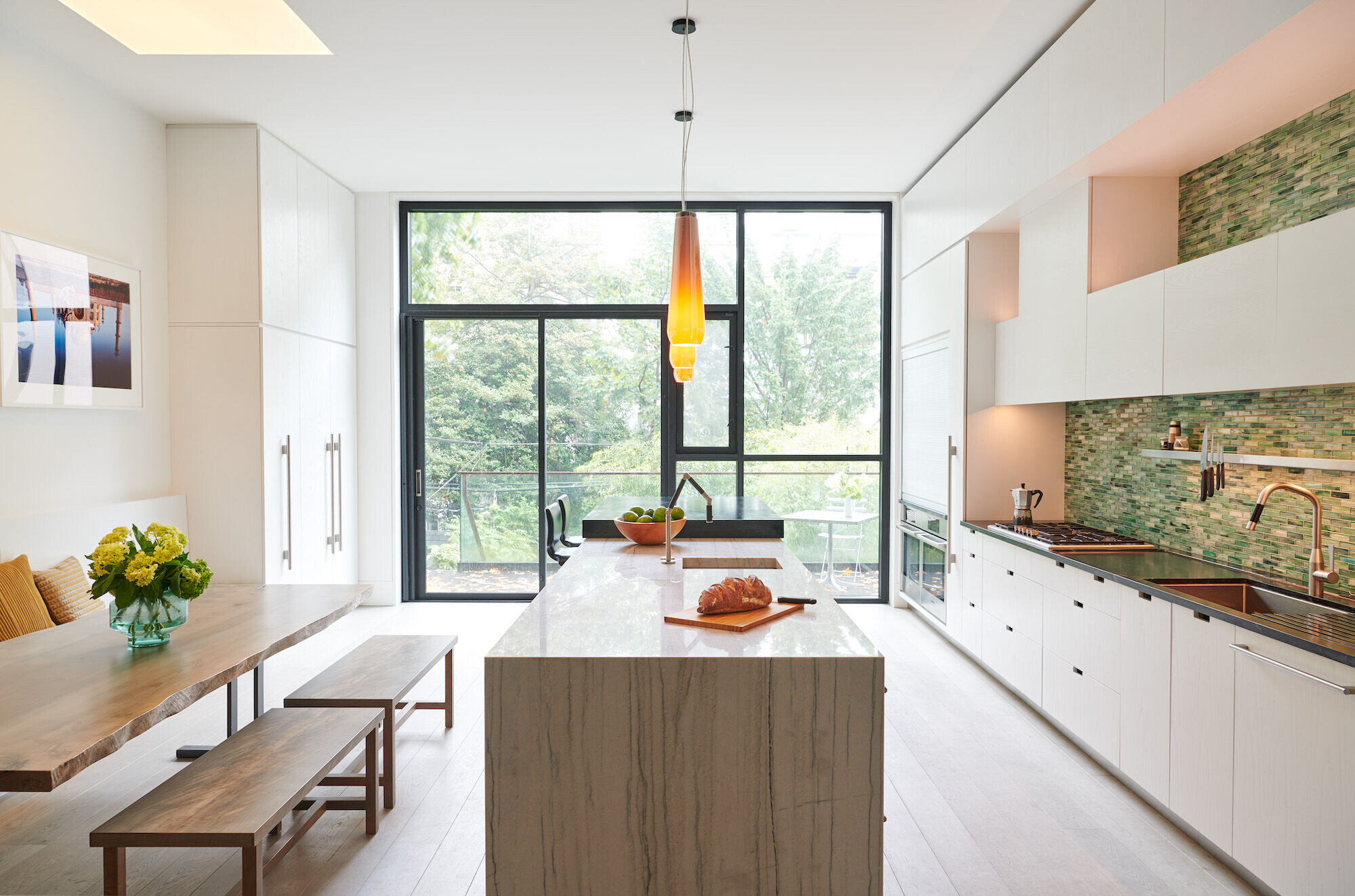 Windows: Storefront framing shall be TC470 Series with T200 Series operable lites.Sliding doors to be ULT 5000 Series. Swinging doors to be NS212 Series narrow stile doors. All framing to be finished class 1 Anodized Black.Provide removable screens at all operable windows,frame in black anodized and mesh in charcoal fiberglass. Sliding door pulls shall be Futura Flush Handle with standard thumbturn at interior side only located below pull. Swinging door handles shall be Dallas Series Handle with interior keyed cylinder only located below handles. Inswing Casement and Hopper windows handles shall be CAM locks. Provide 30-degree limit arm on hopper windows and 90-degree limit arm on outswing doors. All hardware shall be black to match windows. Glass shall be 1"insulated clear Low-E glazing units, Viracon VE1-2M or equal,U.O.N. All glass to be tempered. | Arcadia Architectural Products.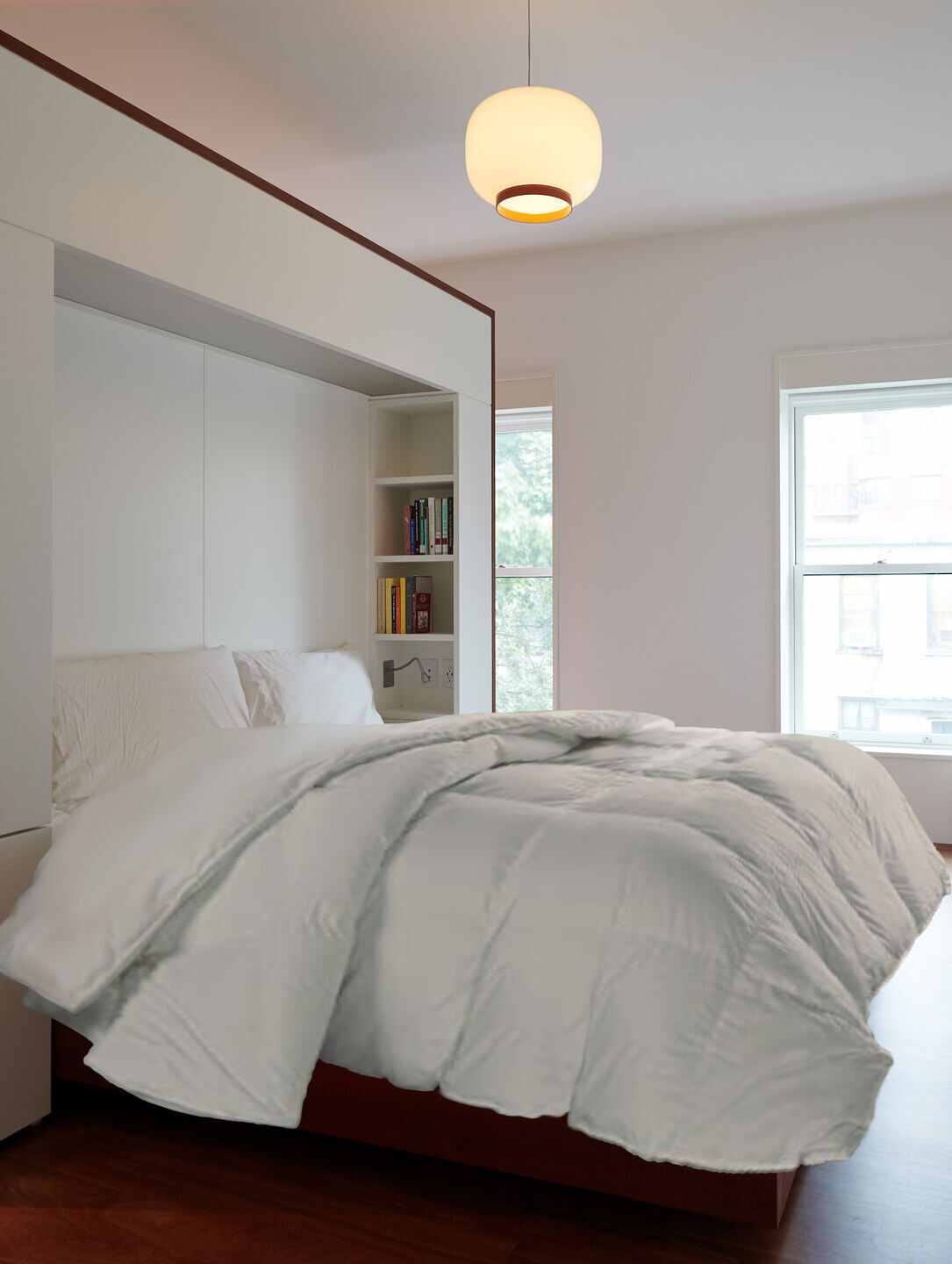 Desk: NUBO Desk wall-mount work desk by GamFratesi, in natural oak veneer
beech plywood with Divina MD 433 Orange fabric. | Ligne Roset
Coat Rack: Piano Rack Large, oak, natural oiled finish | Peruse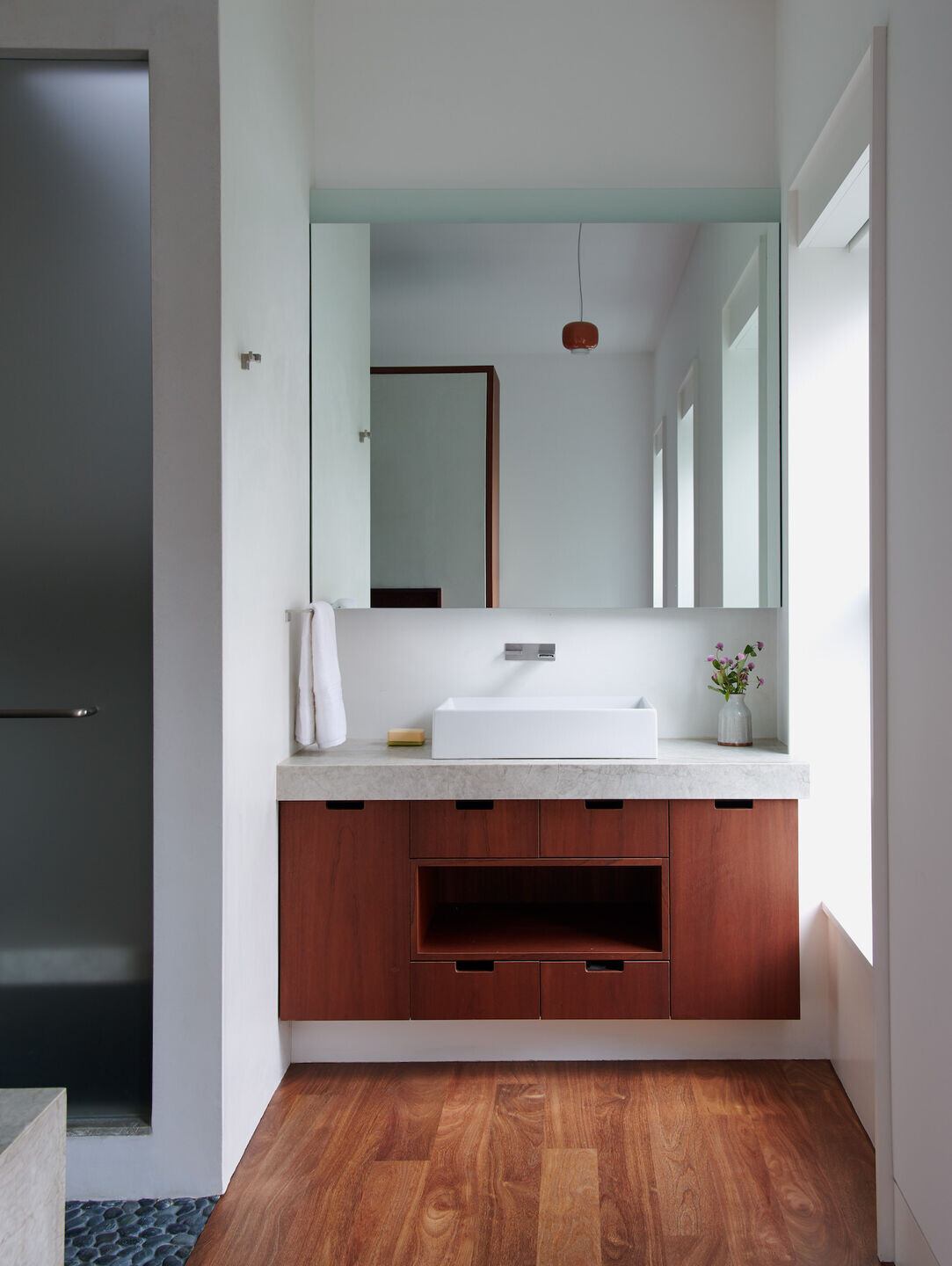 Walkable Skylight: Skyfloor thermally broken walkable skylight, flush installation.
Frame shall be T-mullion with black finish and integrated LED. Top layer glazing
shall be Sevasa Lunaris-X. | Glass Flooring Systems, Inc.
Team:
Architects: Delson or Sherman Architects pc
General Contractor: Tatra Renovation
Structural Engineer: Angelos Georgopoulos
Expediter: J. Callahan Consulting, Inc.
Photographer: Jason Schmidt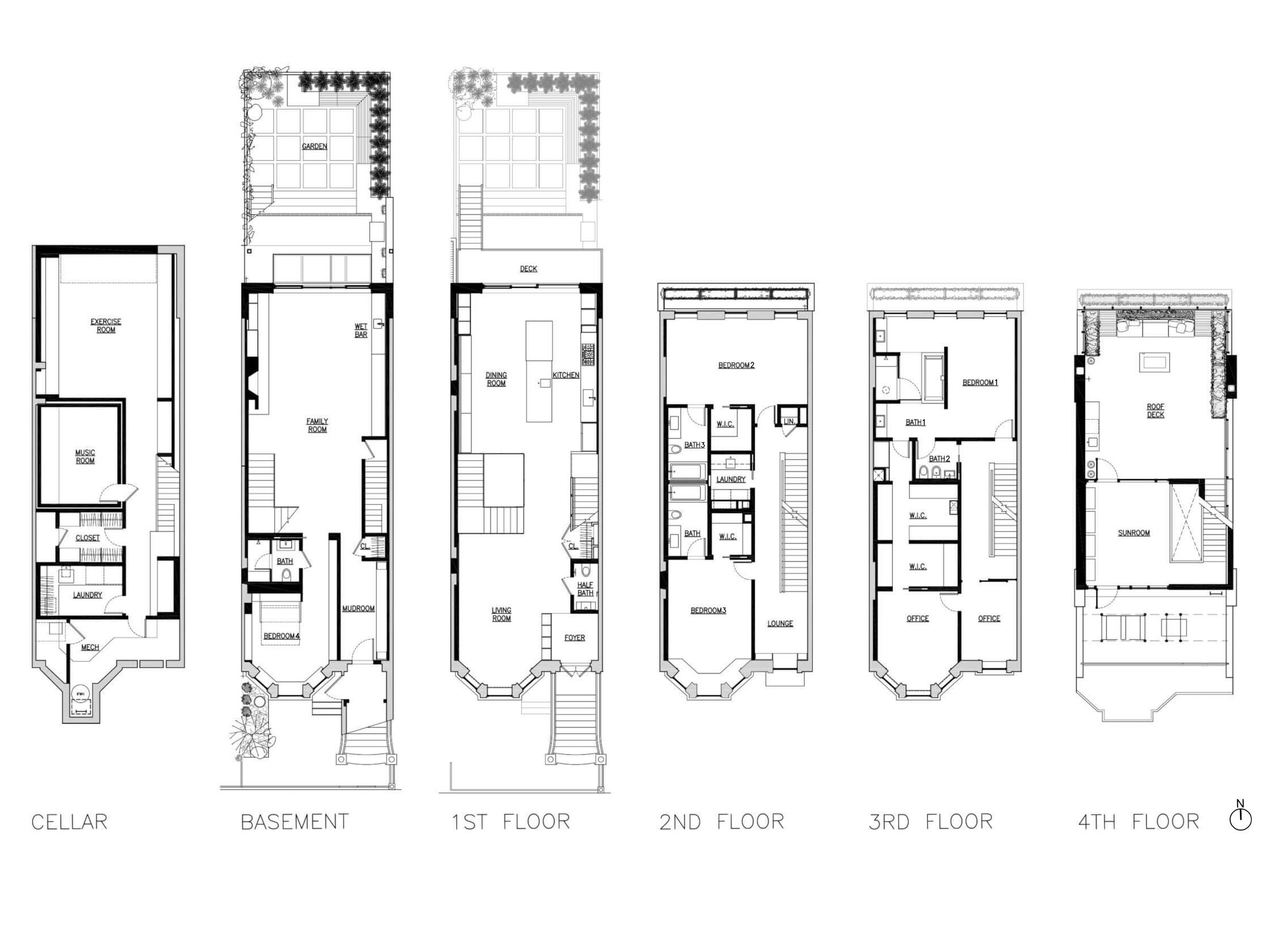 Materials Used:
Rear Facade Cladding: Anodized aluminum panel wall system in class 1 black
anodized finish, .08" thickness with ¼" joints. | Dri-Design
Flooring: Engineered prefinished Prime Grade Live Sawn White Oak flooring with
hardwax oil white wash (no pin knots and sap lines; no fill). 3/4" thick x 7" wide,
random lengths averaging 6'-8' long. | Madera Trade
Door Hardware: Model 10-1058 levers with Model 17-1731-00401 round rose, in
satin stainless steel finish (6204). | FSB