Pedrali at Pyrgos Restaurant to taste the unforgettable sunset of Santorini
The furniture of the Italian company in the restaurant of the Greek island
Breathtaking view, Aegean typical flavours, 100% Made in Pedrali comfort. The guests of Pyrgos Restaurant in Santorini can enjoy not only a unique panorama, but also the great comfort given by the furniture of the Italian company. An ideal place to taste a refreshing lunch or an unforgettable dinner with the best dishes of the Greek and Mediterranean cuisine, enjoyable after a walk on Perissa and Kamari beaches or through Fira streets.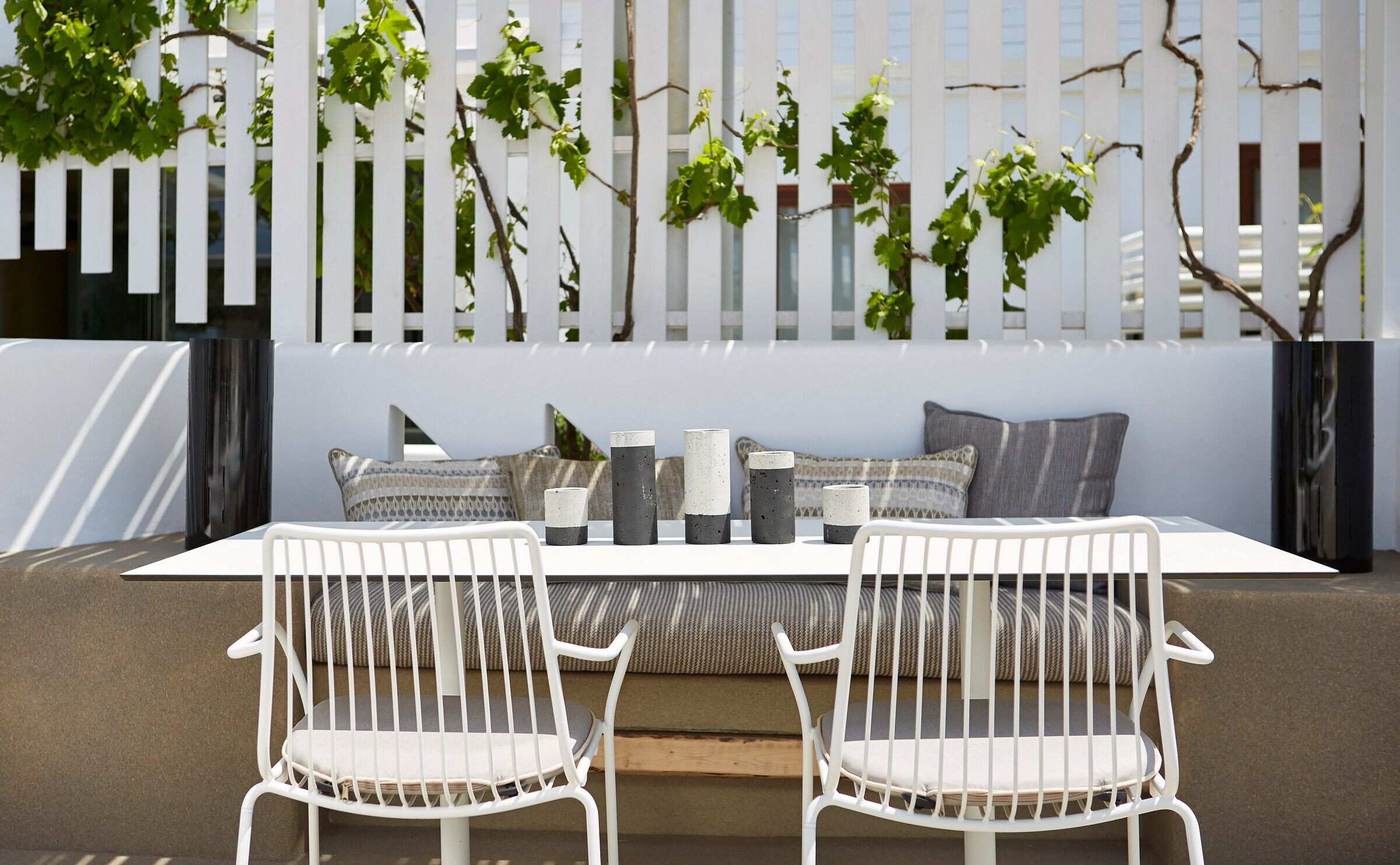 The sophisticated design, extreme comfort and extraordinary reliability of Pedrali furniture, which can age gracefully and resist to the action of atmospheric agents and sea breeze as well as adapt themselves to high Mediterranean temperatures, are among the ingredients of the stylistic and architectural recent renewal project of this historic location, curated by the architecture studio L11 – Katerina Vasileiadou Annette Bitouni Interior Design.
The restaurant has great panoramic views across the island and it's also possible to admire the enchanting sunset. In the garden, that can welcome from 80 to 150 persons, chairs and armchairs of Nolita collection, designed by CMP Design completely made of steel, have enhanced their markedly outdoor spirit: proposed in the white version, that perfectly camouflage with the Greek landscape, they are mixed with Nemea wood seatings, conceived by CMP Design, and tables Bold and Arki-Table, creating an ideal place to share relaxing moments.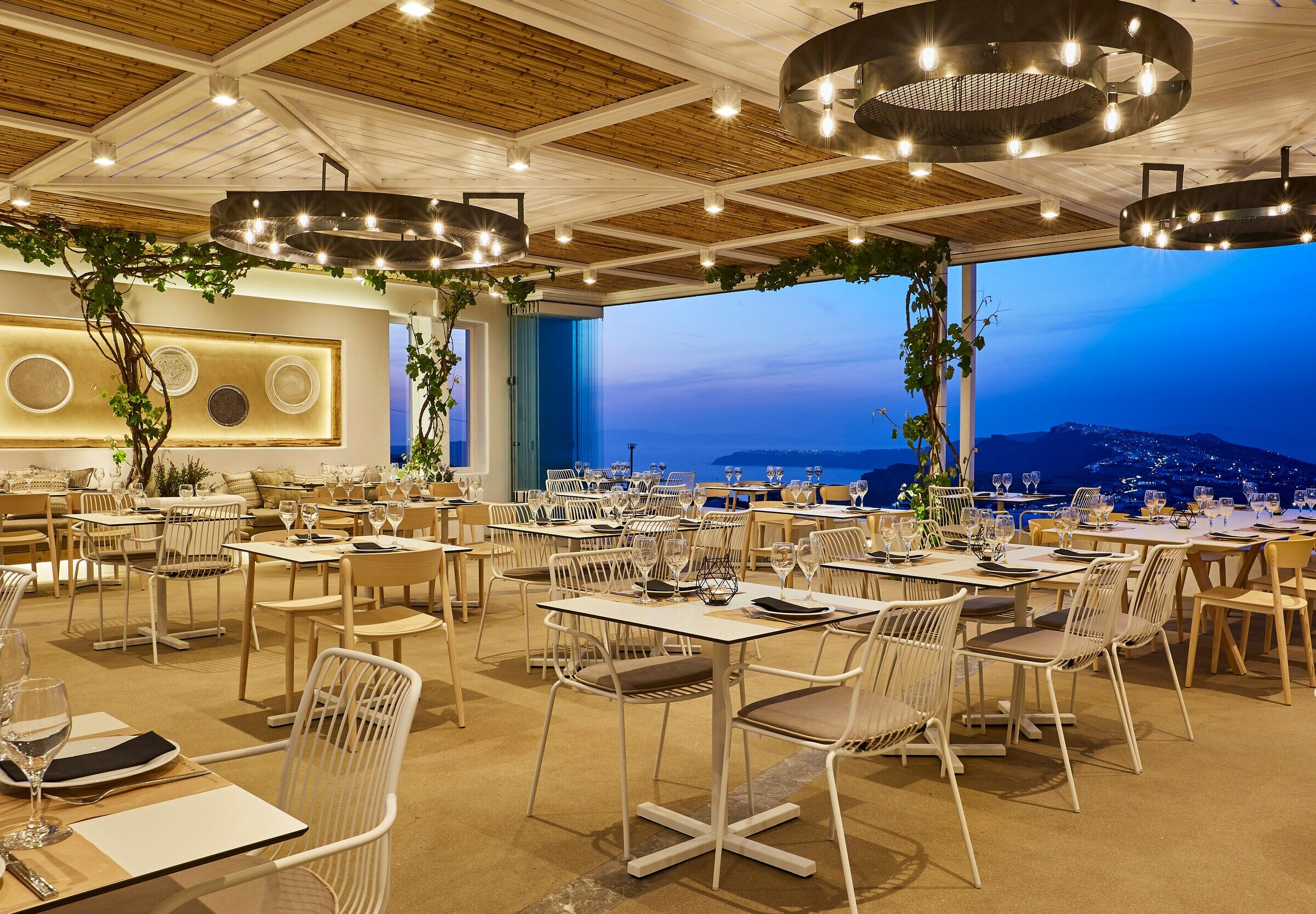 In the restaurant the detailing is very careful, waitings included. Before the main course guests can drink a cocktail or taste finger food in small and intimate lounge areas, created by the lively yellow barstools of Nolita collection and Concrete tables designed by Pio and Tito Toso, whose strength is guaranteed by the concrete base.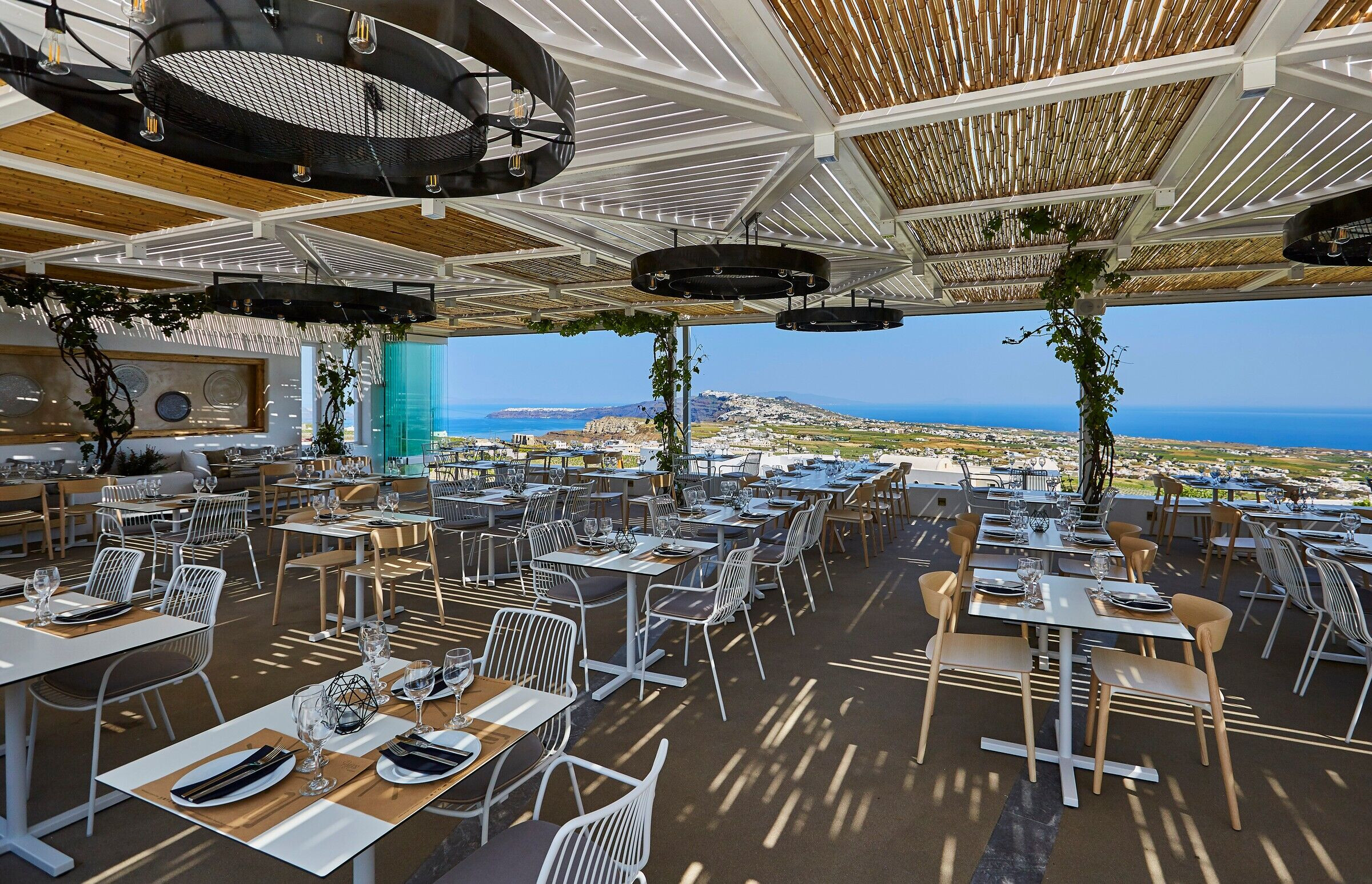 Pyrgos restaurant
The restaurant is placed in the name-sake village, built on the top of a hill right at the center of the island, which still retains the characteristics of the Venetian fortification. The village is located in the middle of the highest point of the island, fortified by the Serenissima Repubblica of Venice in 1400 with a castle that can be visited also nowadays. In such a historical and poetical location the restaurant, founded in 1988, has a family tradition that has been continuing for nearly 30 years.