A Tel Aviv apartment designed for a family of 5 with 3 young children.
The design concept tests the thin line between groundedness and airiness, between silence and strength. A careful palette of natural materials, light coloured, lightly textured, subtle but present, was assembled gradually.
The fantastic starting point of natural light and natural ventilation were very satisfying.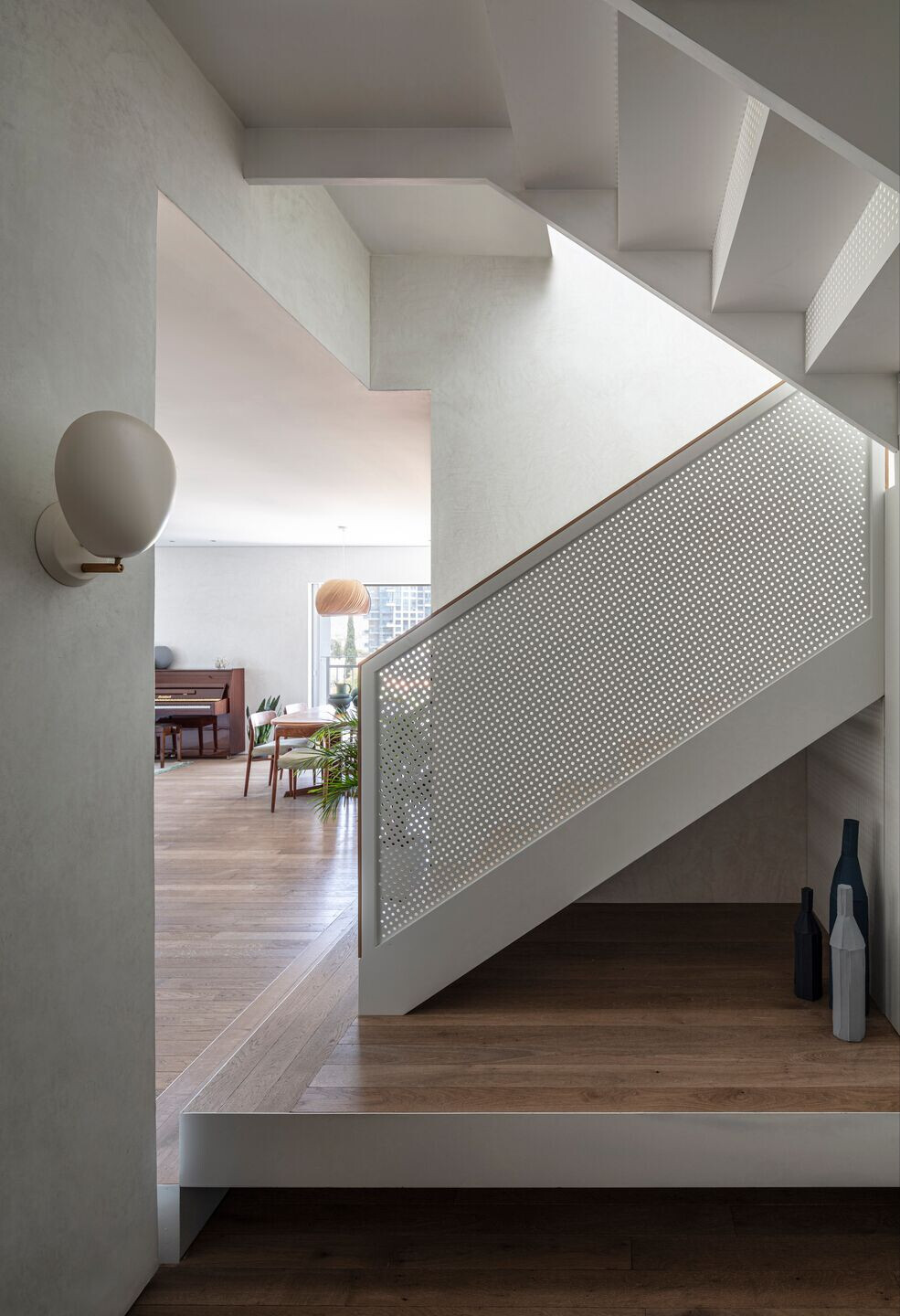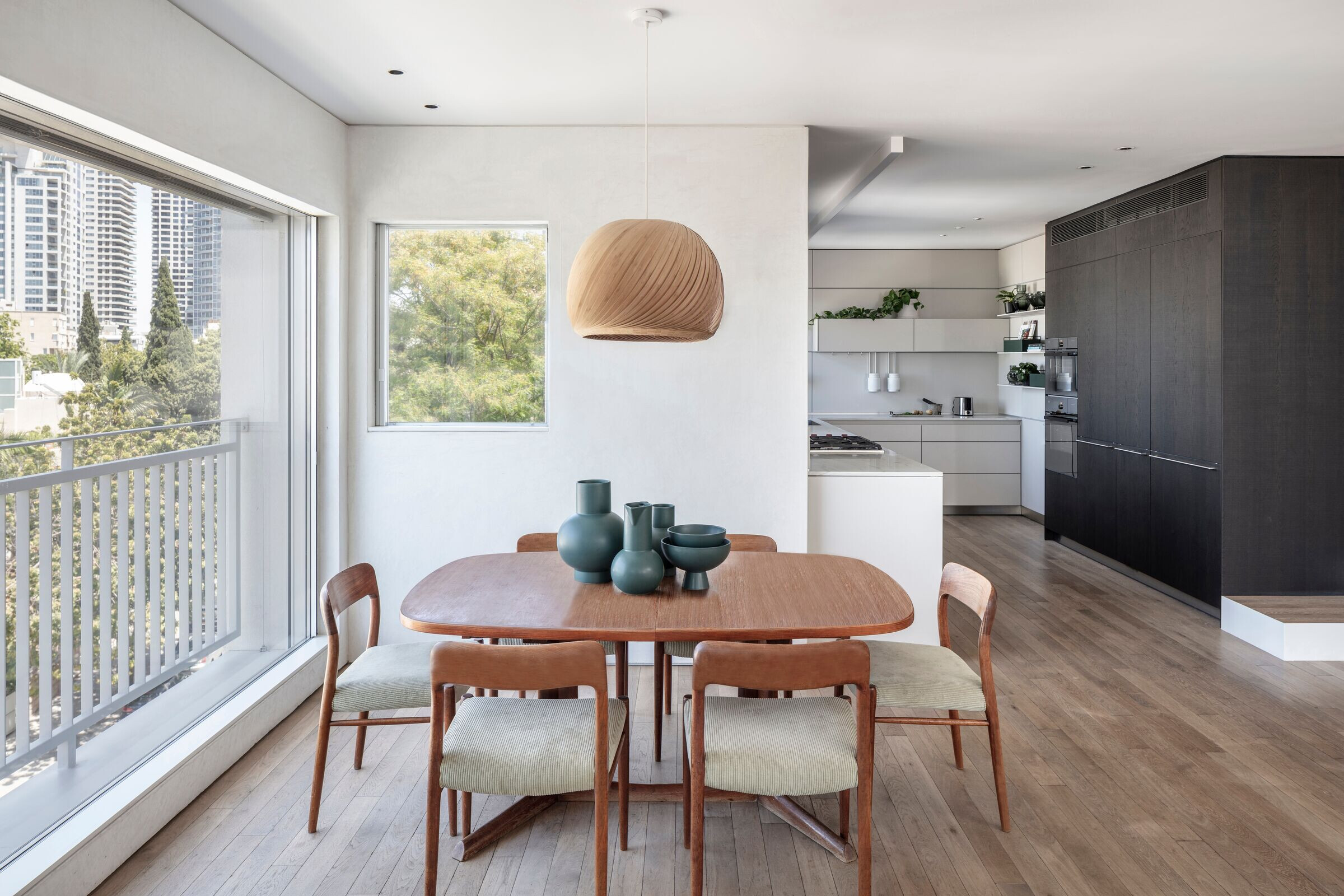 The bedrooms are all located in the southern part of the apartment, overlooking a beautiful public garden. The kitchen, lounge and stairs to the roof terrace are located on the northern part with 3 natural air directions.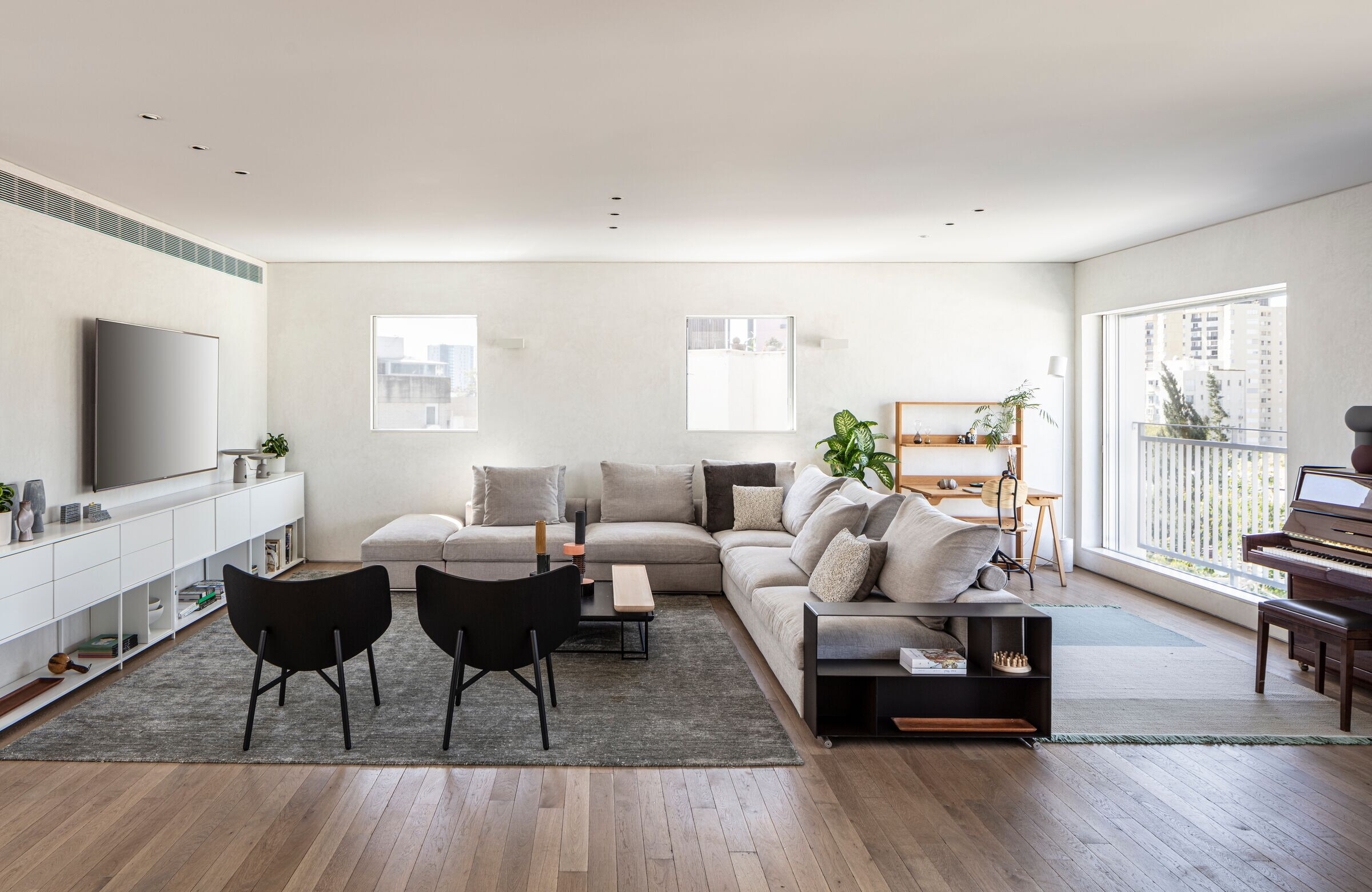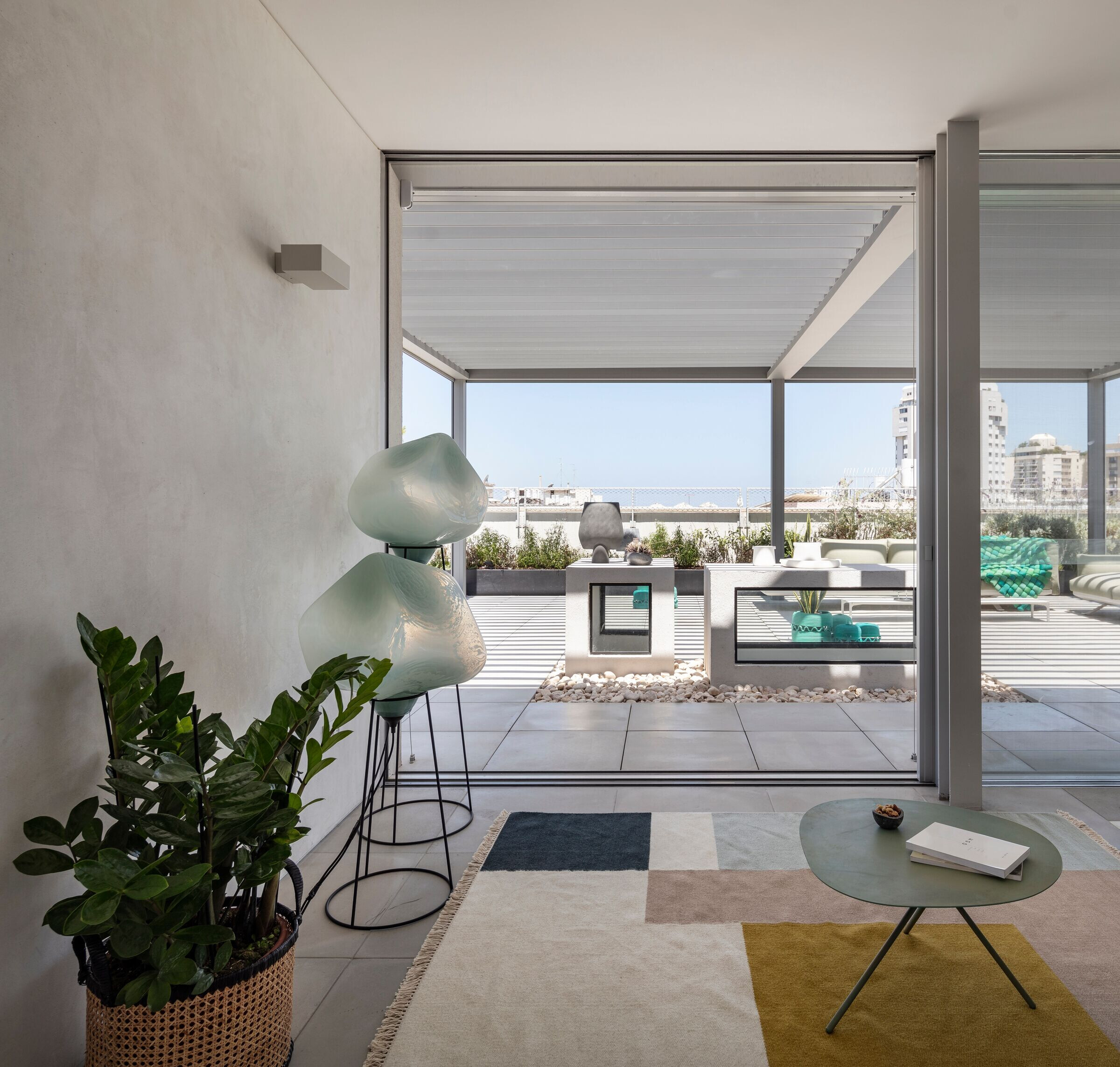 In the beginning of the process a few key areas were chosen in which we decided to puncture the roof with skylights in order to introduce daylight to the deeper parts of the apartment and to allow plants to grow. The skylights are openable and improve circulation of natural air inside the apartment. The staircase which is located by the entrance door, in the centre of the space, was designed with great care to celebrate and accentuate the connection to the roof and the lightness of movement in space but also to allow a resting point, a pause to sit down on the way in or out, with the first two risers as wide benches wrapping an existing supporting column and spreading towards the kitchen.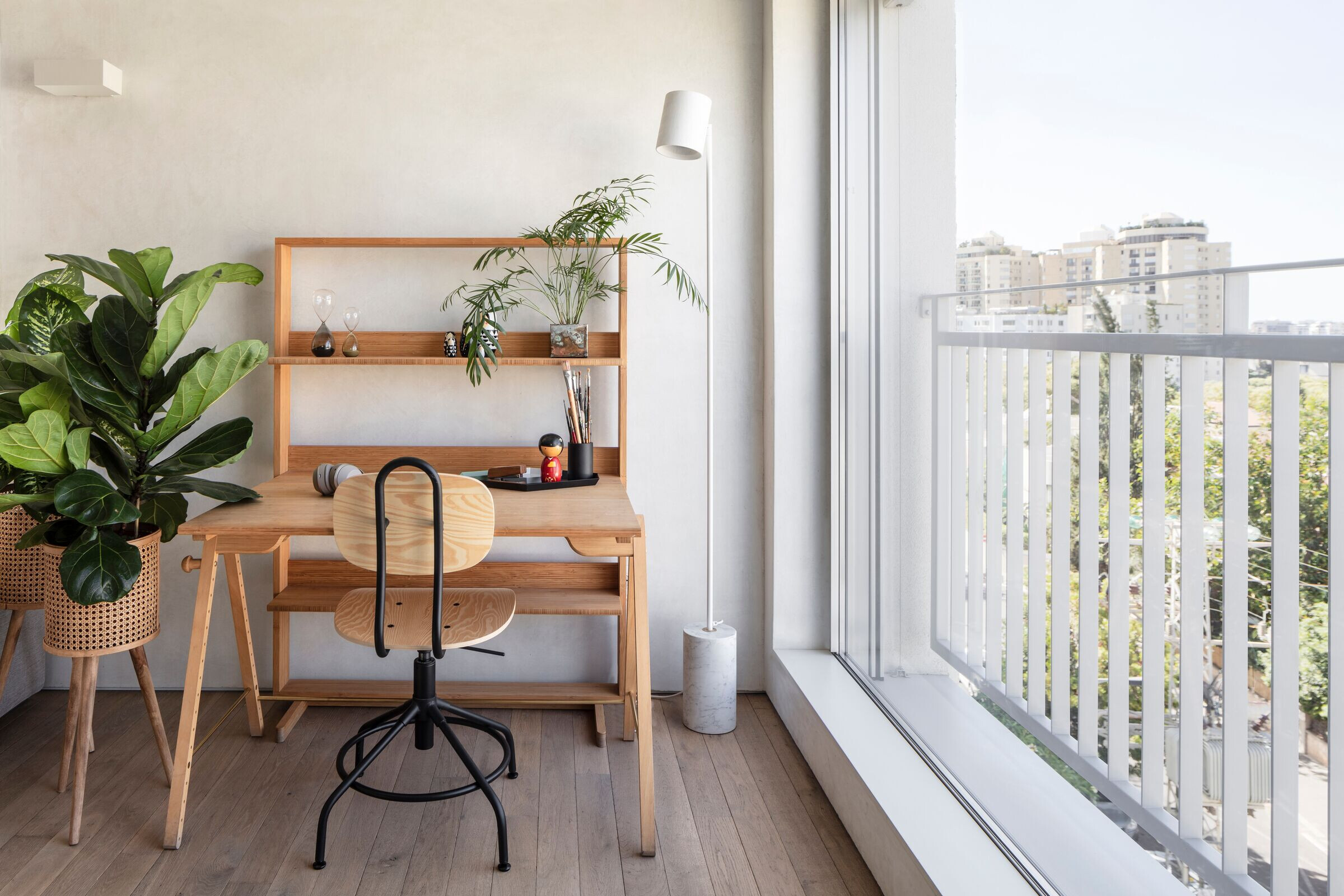 The staircase required great design care and close collaboration between us and the ironmonger, the structural engineer, the parquet supplier and the joiner. The stairs are made of steel and was hung from above with only one anchor point holding it down to the floor – a small walk – in entrance wardrobe under the landing. The handrail was custom punctured according to the general design scheme. Parquet planks were inserted into 'steel baths' flush with the steel edges.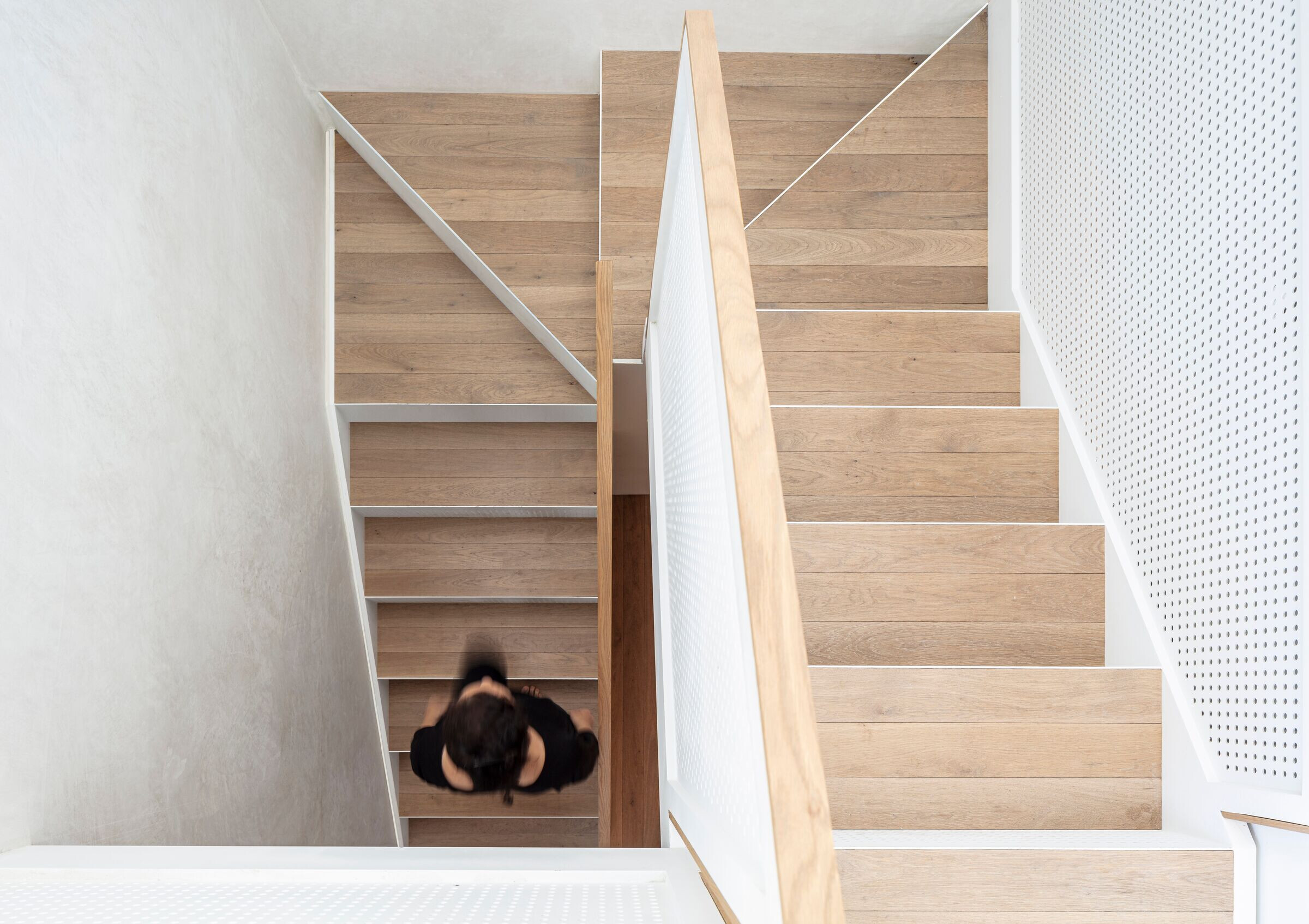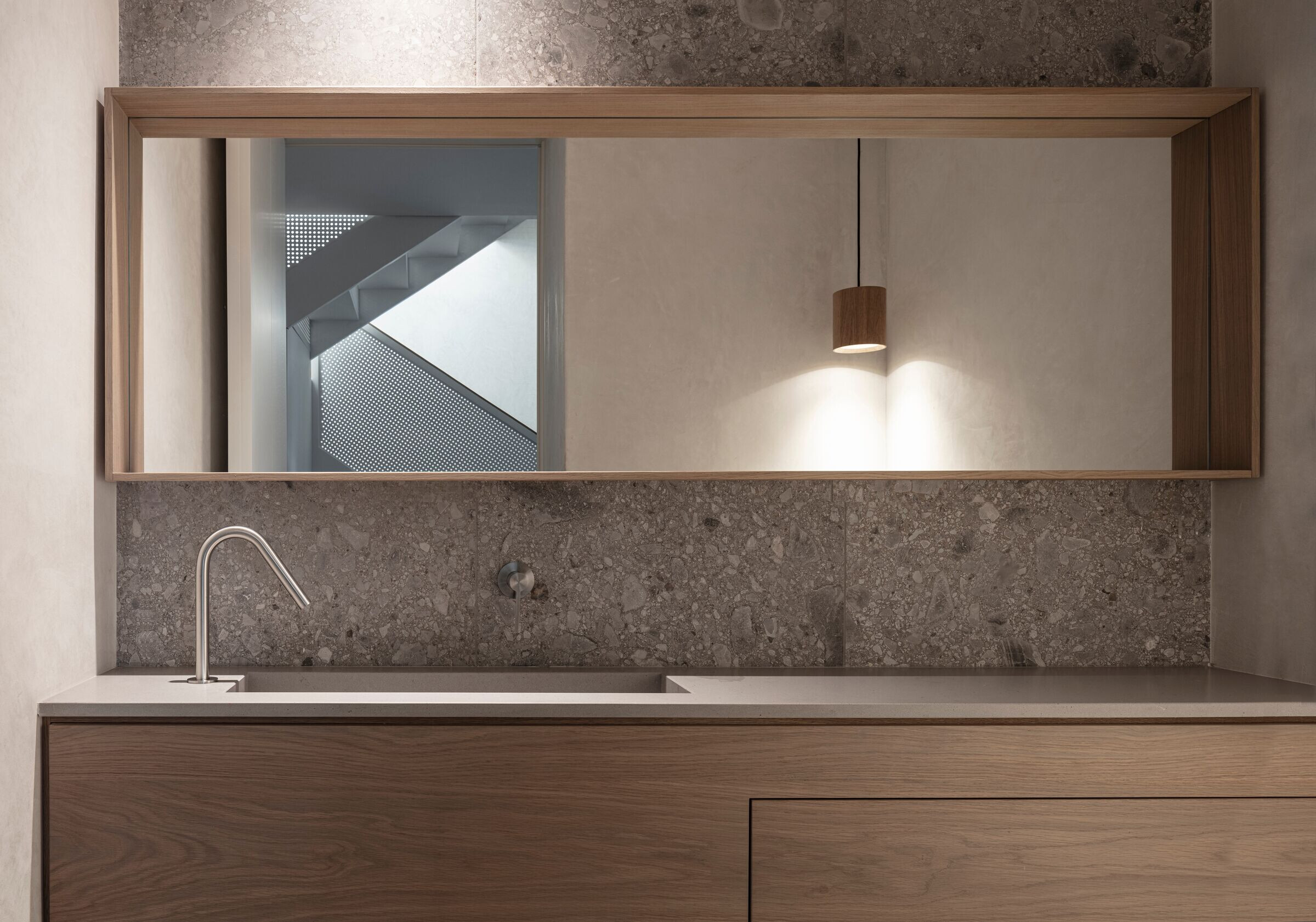 The guest WC is hidden behind a bank of entrance cupboard doors camouflaged and understated.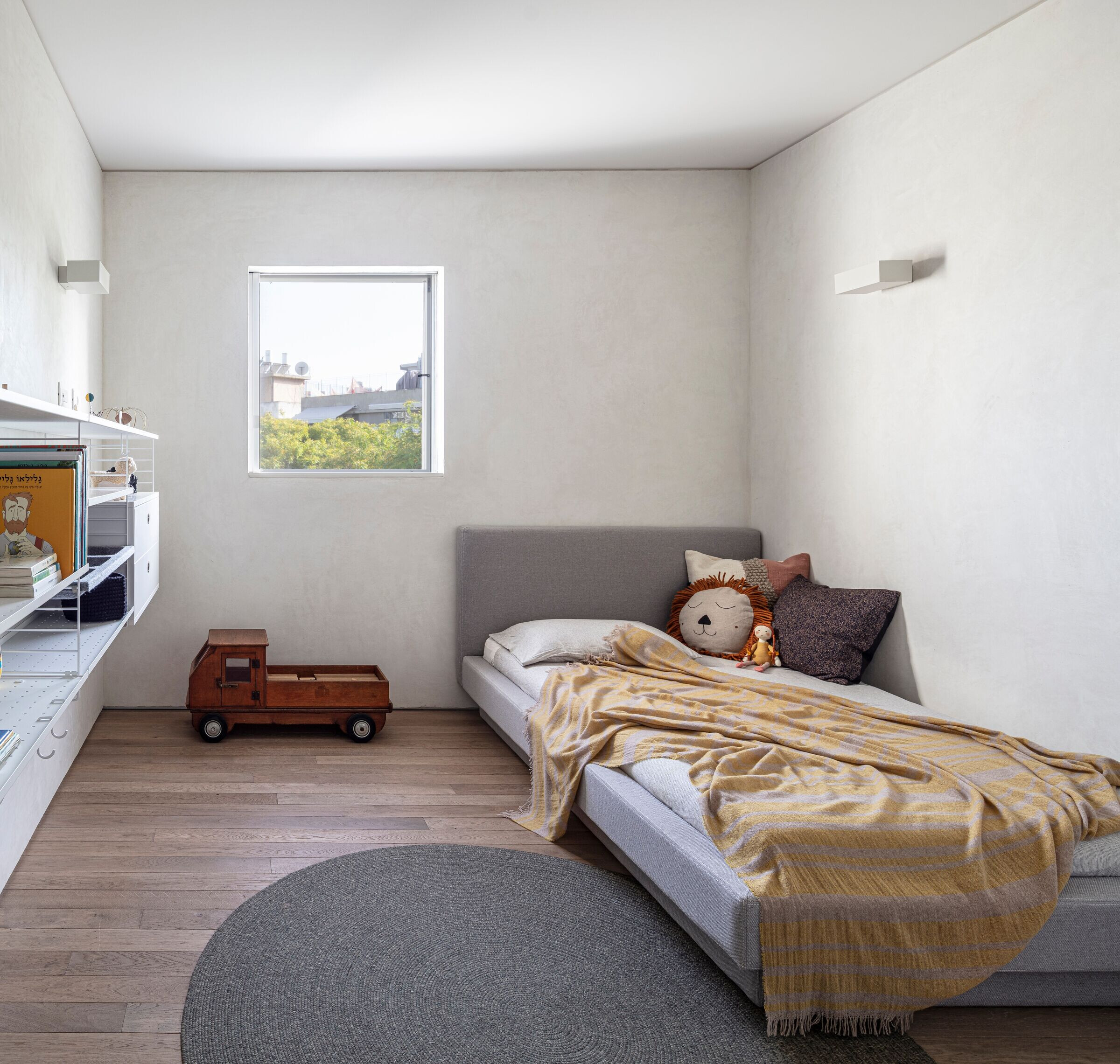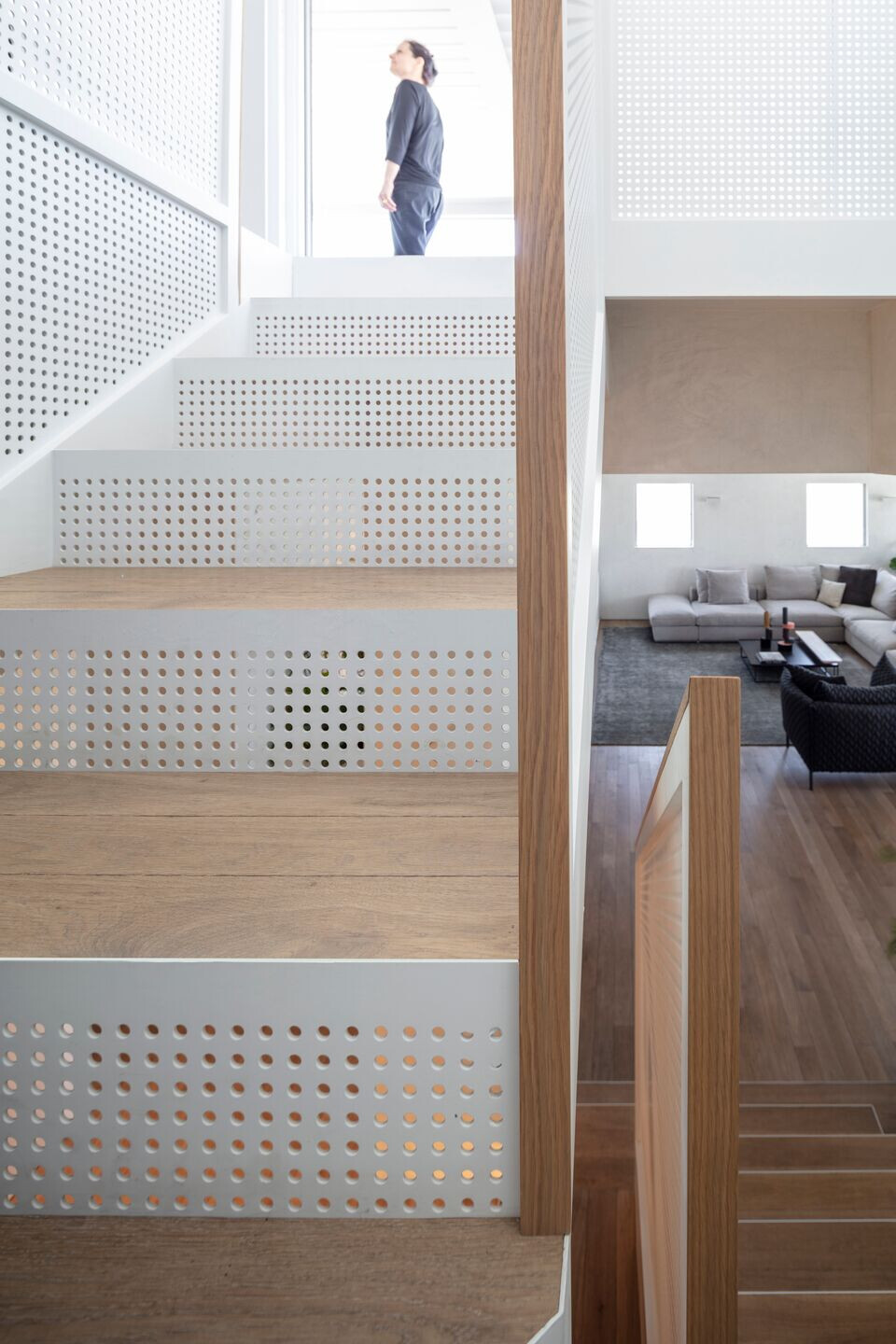 The parquet is solid wood, the Moroccan Tadelakt plaster is made of natural materials, the taps are solid stainless steel, natural stone and cast concrete blocks were all carefully articulated in search for quiet harmony, high quality finishes. In spite of the choice of natural materials that would, in many case, be used in a heavier manner, all the finishing details are minimal and with shadow gaps and thin contours defining the different materials.
The roof has a small foyer with a guest WC and a kitchenette and storage.
The roof terrace overlooks 3 directions of the Tel Aviv skyline and the sea. The couple, who both love different types of sports, asked to have a comfortable, spacious, relaxed space for exercising and for family time. The design also includes an outdoor kitchen, a hot tub, a dining area and lounge.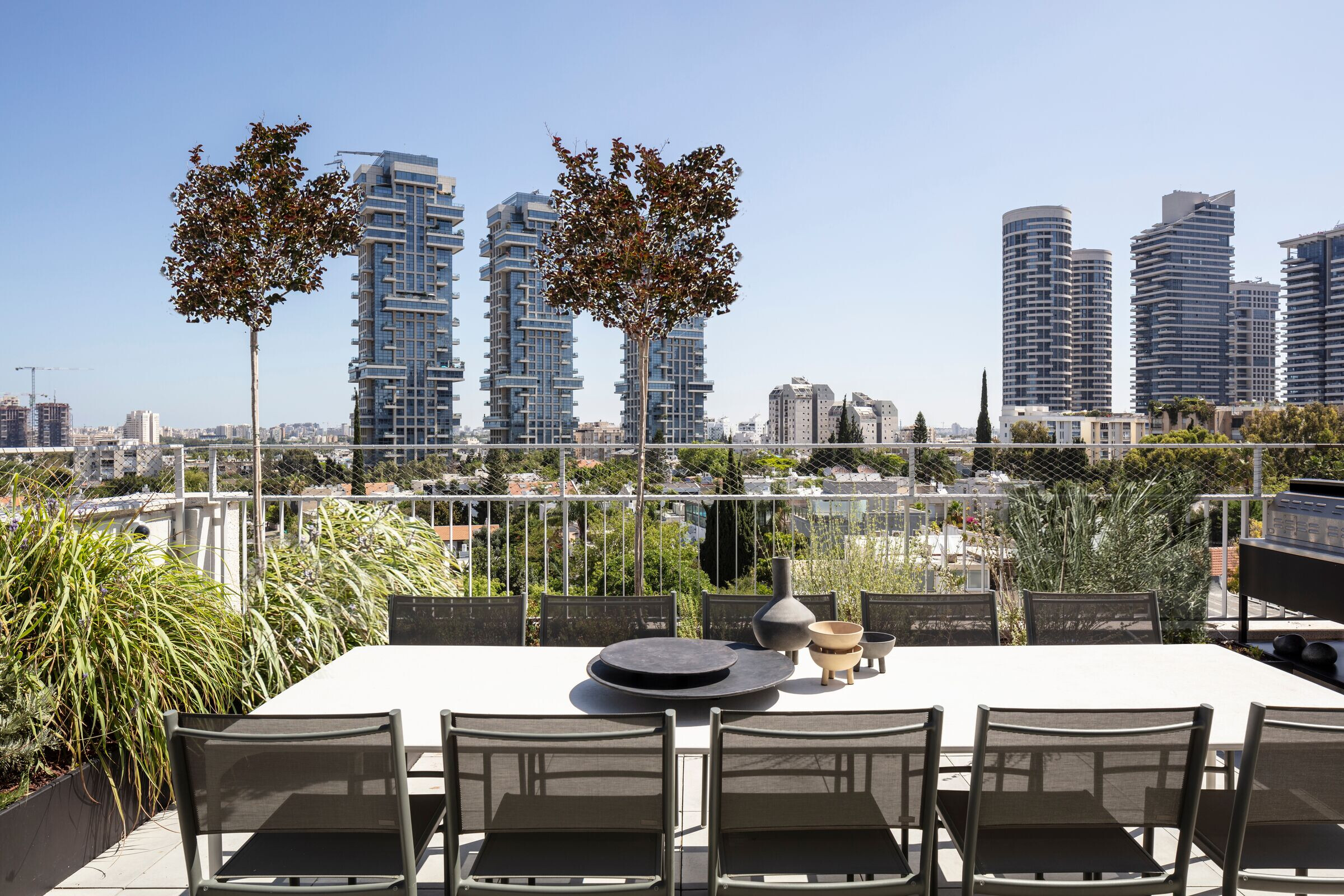 The gardening is a special light weight gardening technique offering rich vegetation in a light soil substitute with an intelligent draining system and materials.
The furniture in the project is a combination of old family pieces and new items that were purchased together in different stores.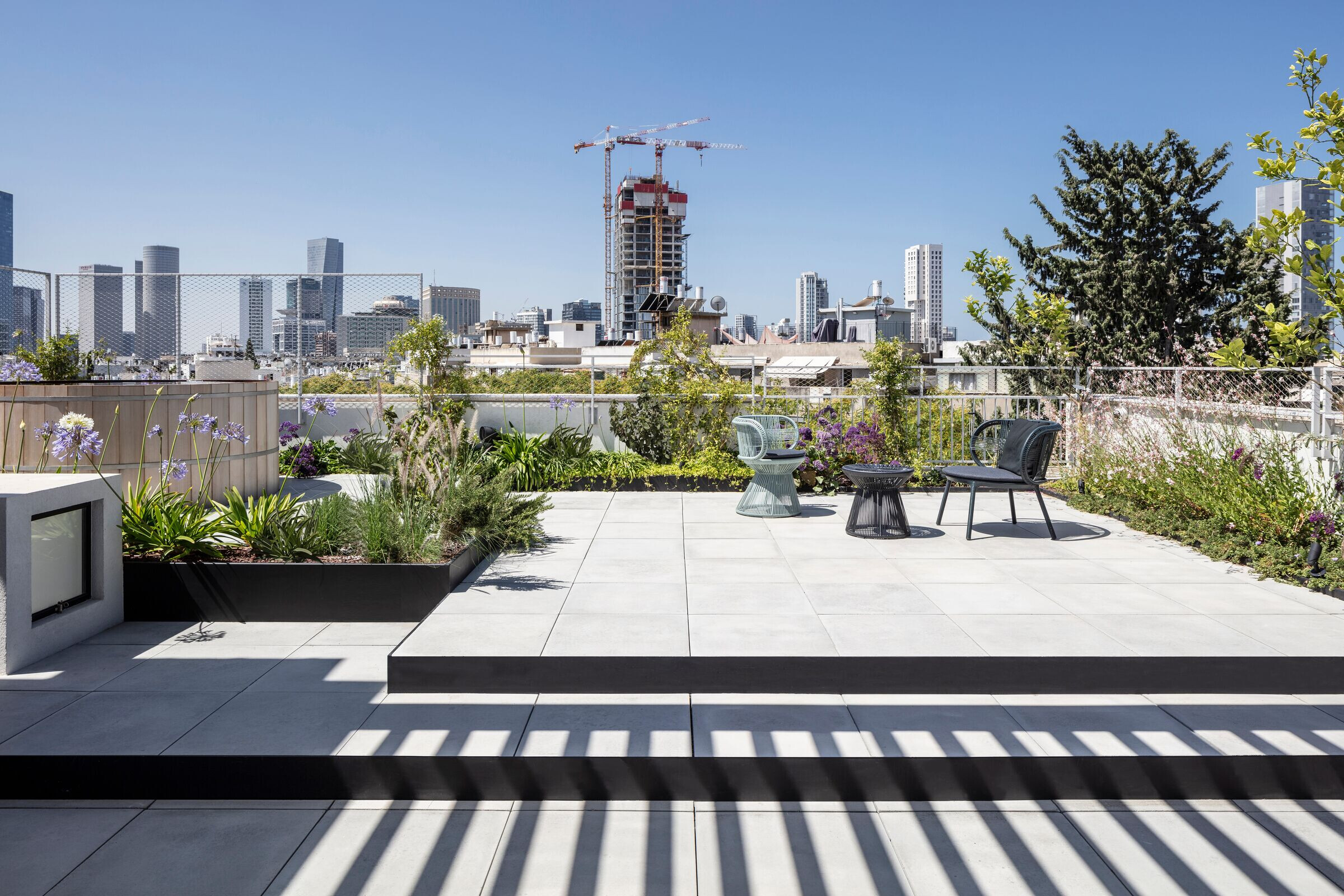 Team:
Interior design: Jacobs-Yaniv Architects
Design Team: Keren Blumenzweig, Yuval Erez, Oshri Yaniv, Tamar Jacobs
Head of design team: Keren Blumenzweig
Project management: Elisha Yaakobi
Contractor: Amit Marshansky
Lighting design and consultancy: RTLD
Photographer: Amit Geron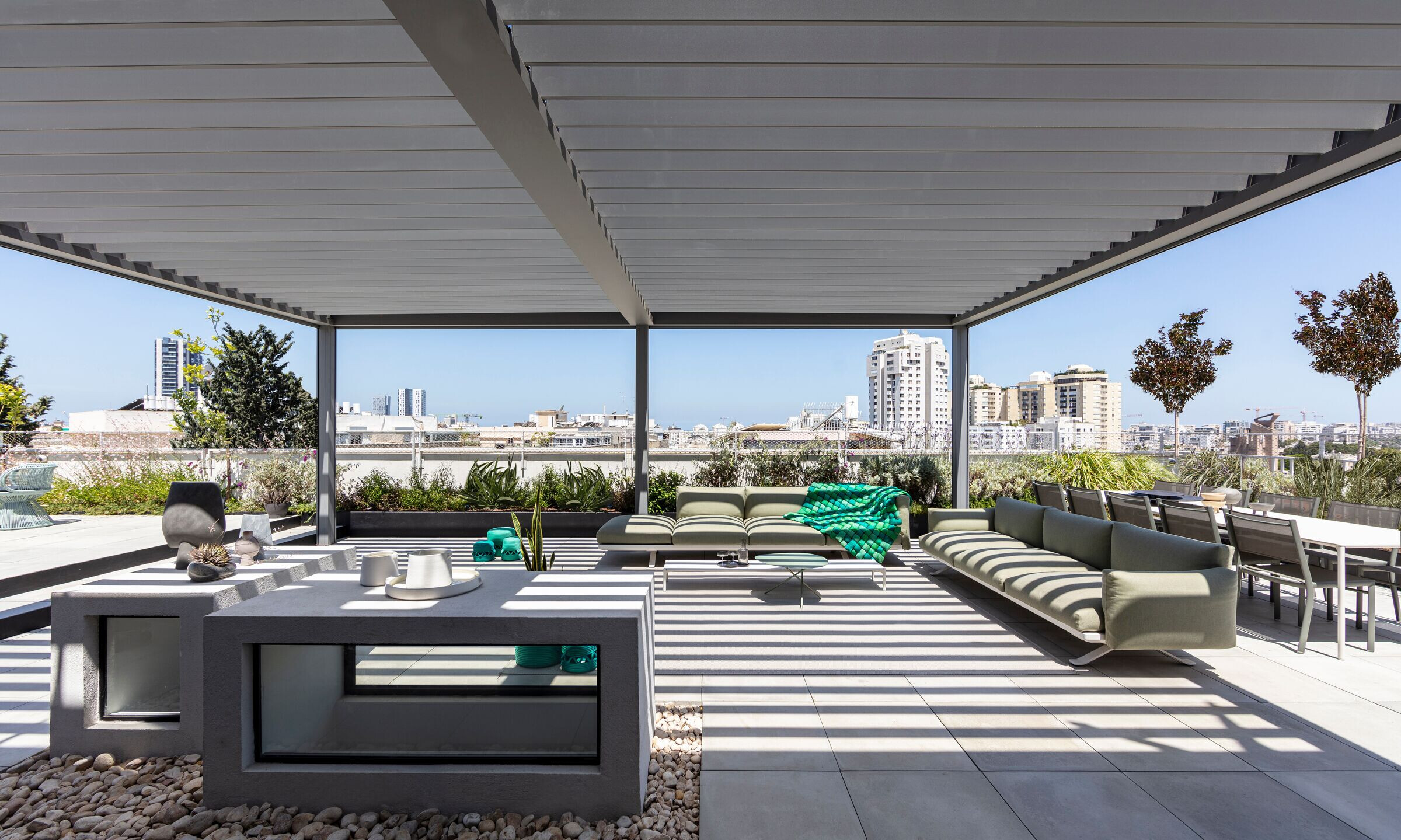 Materials used:
Windows: Wintec
Sanitary fittings: Mody
Parquet: Mody
Stone and ceramics: Avney Tal
Kitchen: Bulthaup
Joinery: Asi Lerner
Metal work: Benzi Grinberg
Furniture: Tollmans, Habitat. Hibino, Sarit Shani Hay
Lighting: S.T.Or, Asaf Weinbroom,Studio Vayehi
Pergola: Avieli Aluminum
Terrace gardening: Green Roofs