Low to the ground and high on a hill is the Roxbury House, marrying art and landscape in intimate moments and broad gestures. Located so as to minimize site disturbance and maximize meadow views, the Roxbury House expresses a oneness with its site. Deep roof overhangs mirror the slope of the topography, accentuating the interior experience's ability to expand beyond the built extents of the home.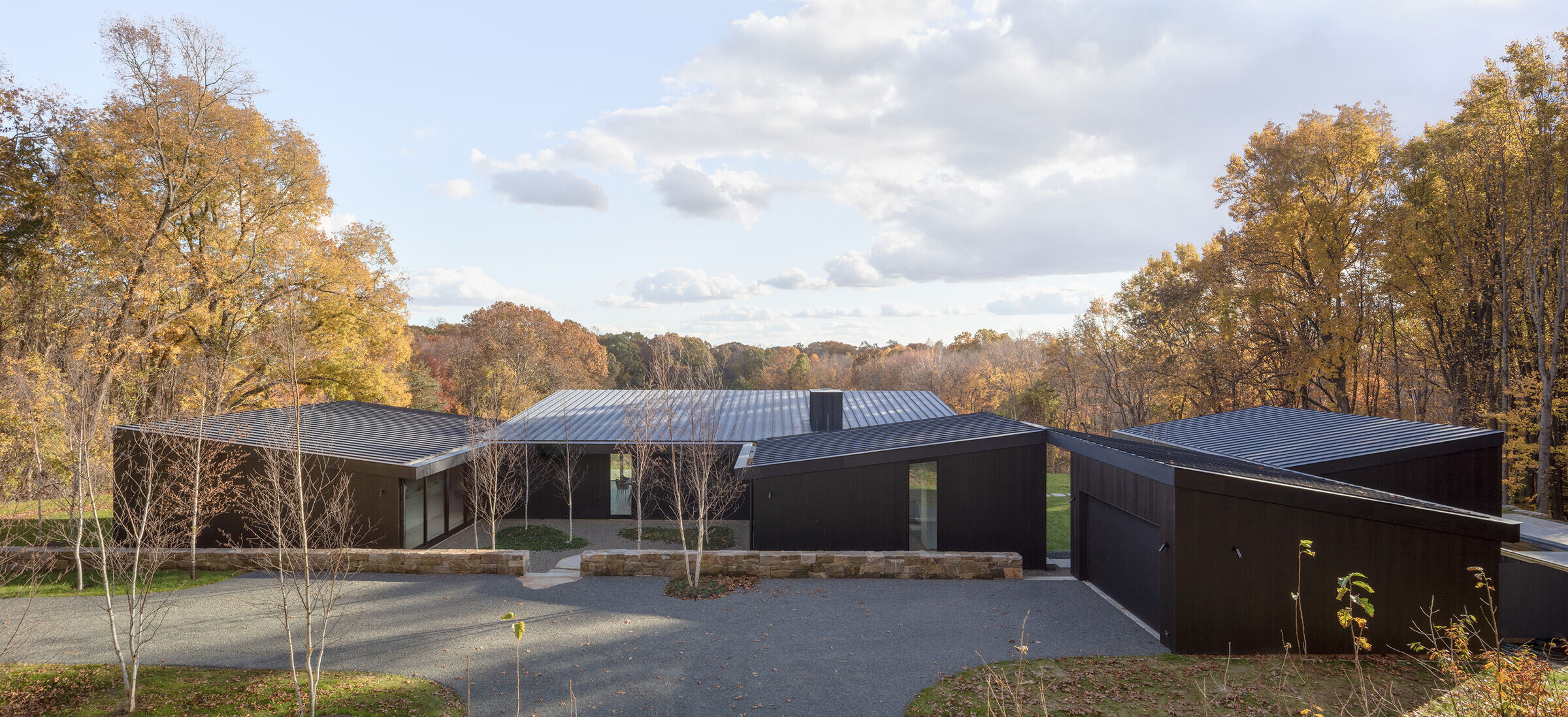 The lines between art and landscape are similarly blurred; organized as an undulating cluster of forms, the program meanders around two courtyards that showcase built and natural environments. This strategy allows the courtyards to become "outdoor rooms" embedded within the home, providing alternating views to nature and art that are focused at times, and expansive at other moments.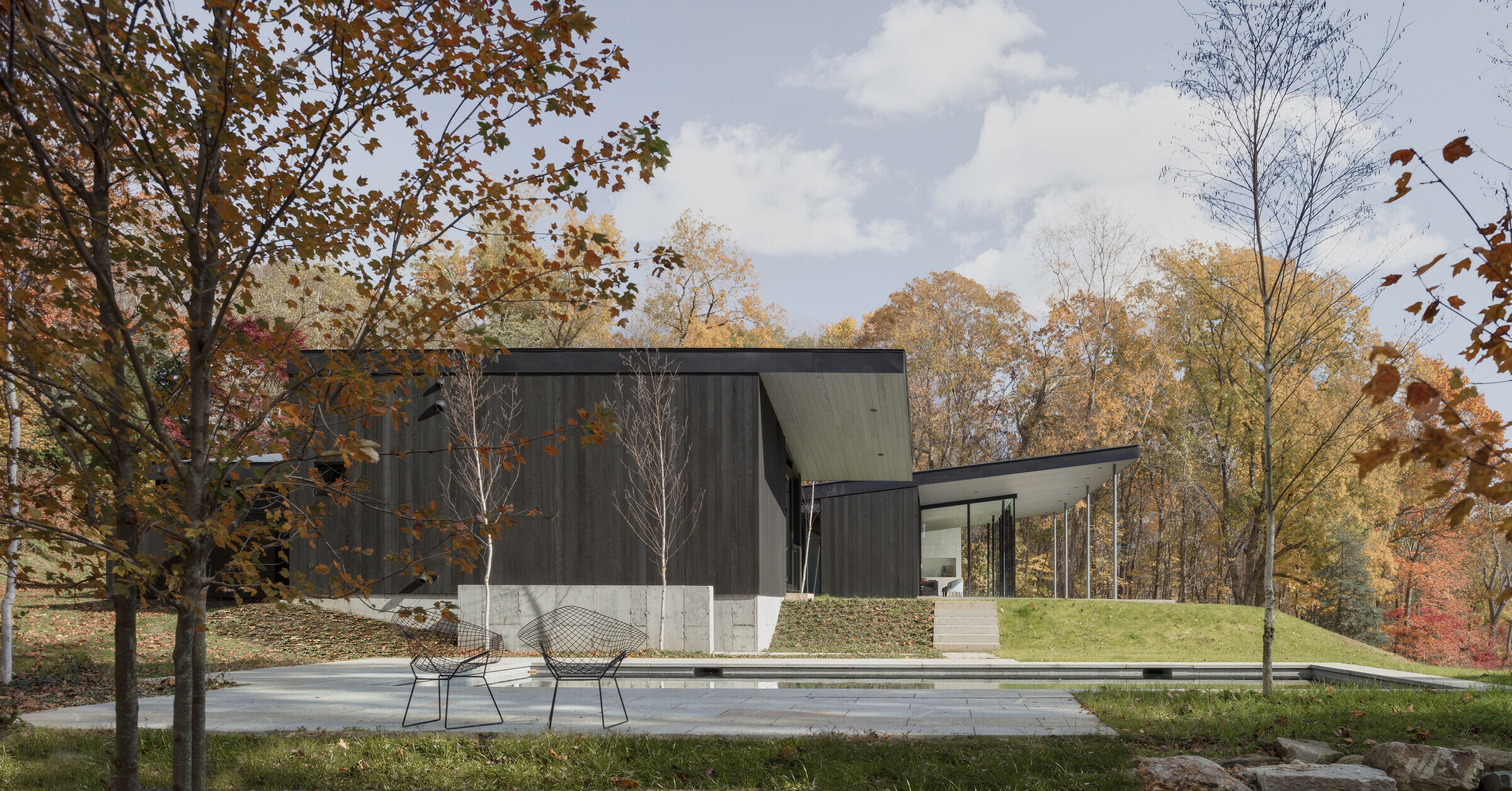 The clients, art gallery owners, wanted the flexibility to use their home as an extension of their New York gallery, a place to display artwork by the contemporary Latin American artists that they represent. They also wanted to leave portions of the site open for site-specific outdoor art installations. The home needed to be flexible enough to support an artist-in-residence program, so a guest house wing was included in the concept.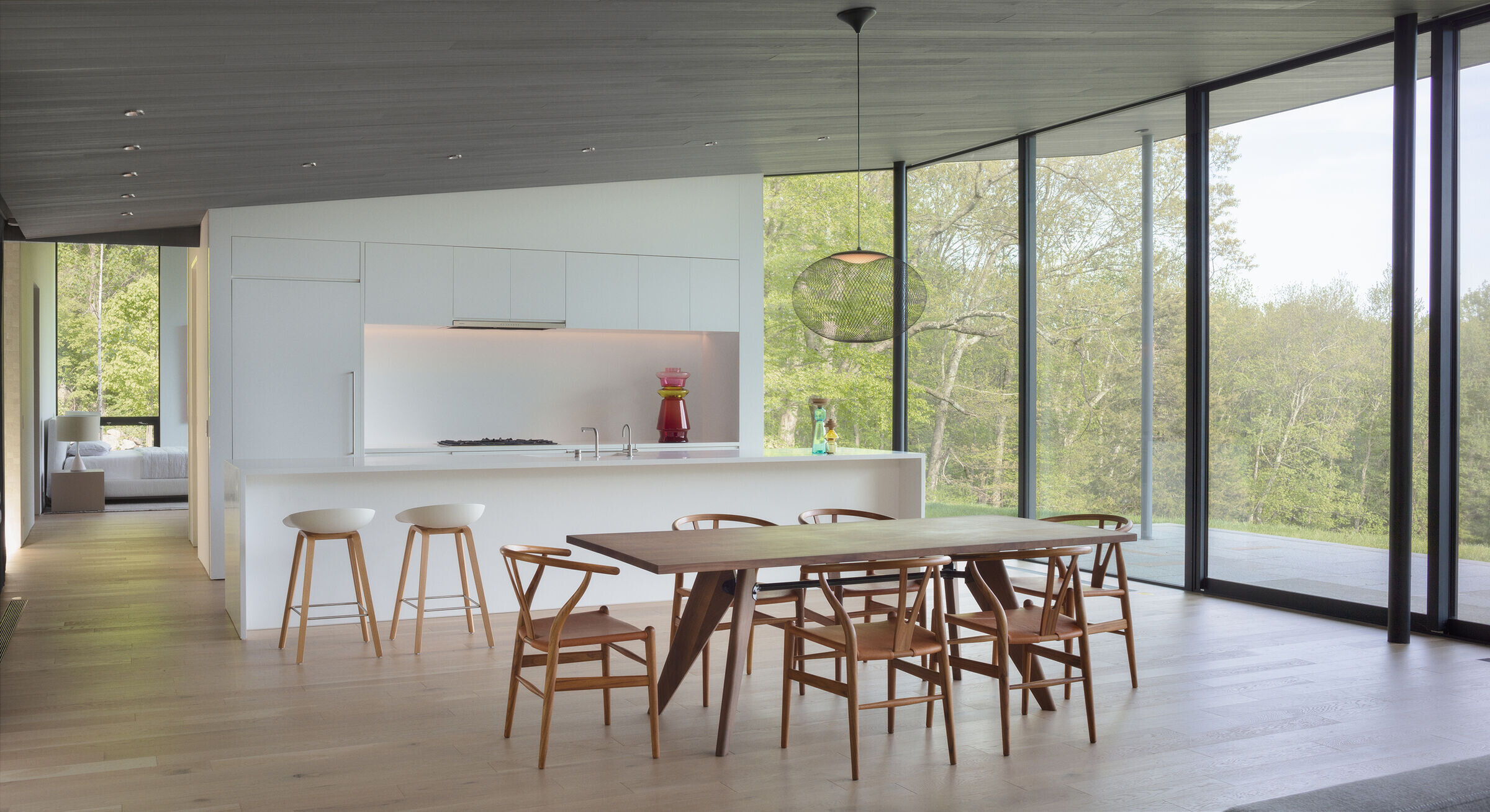 To achieve an open and natural flow of space while simultaneously providing varied opportunities for art display, indoor spaces and outdoor courtyards oscillate at different scales with long axial views through the house. Beautiful layers of materials and light link spaces together, while curated moments of transparency culminate with distant views to the landscape. This strategy allows natural materials to perform as art, and for art to merge into the landscape. Native birch trees embedded in the courtyards exemplify this blend, in their performance both as column and tree, architecture and landscape.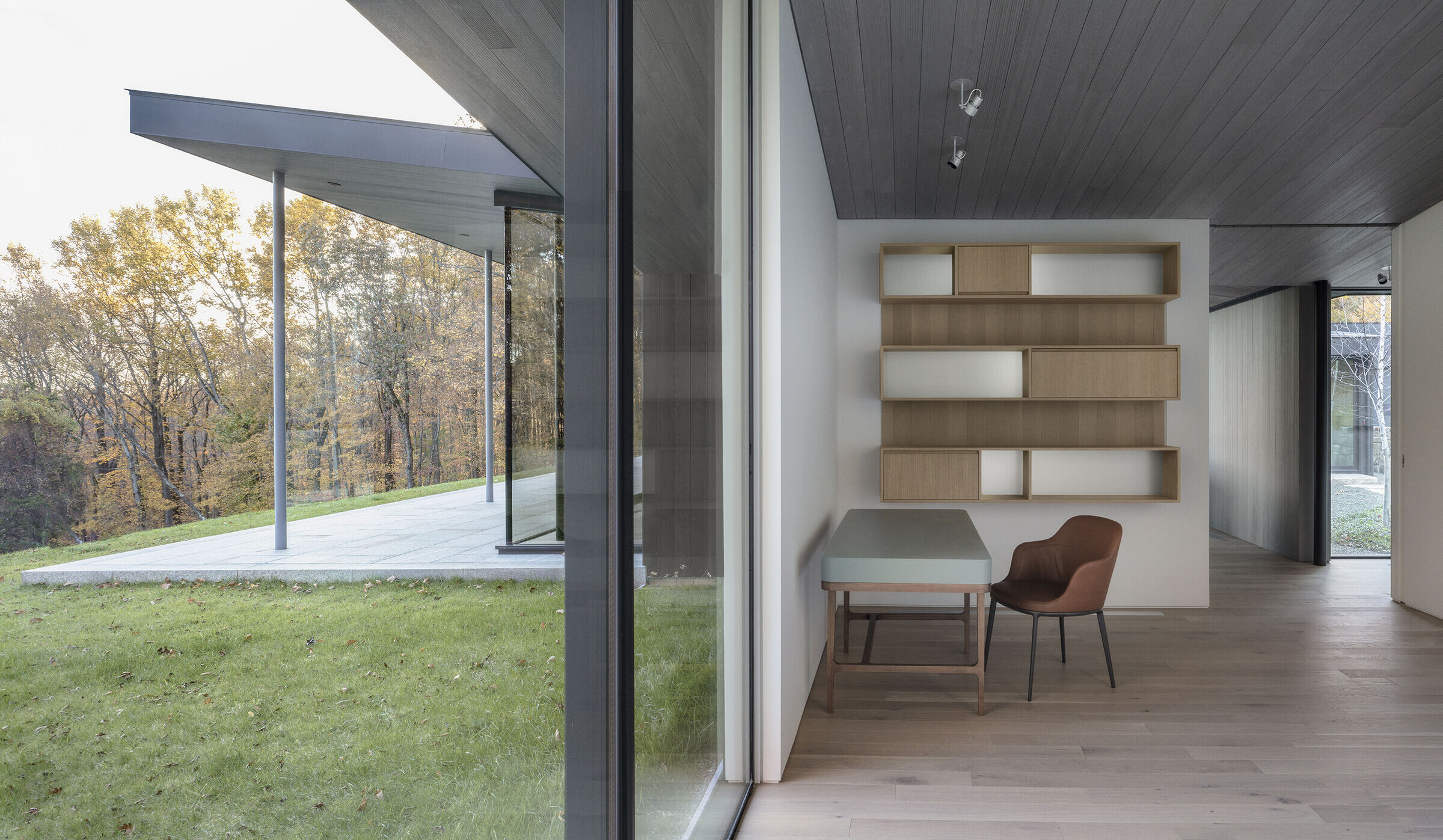 The birch trees connect the surrounding forest to the art experience; they are also a threshold, blurring the boundaries between the natural and built environment of the site. Hallways, flanked by floor to ceiling windows, simultaneously serve as gallery space and frame the courtyards.

The graphic exterior of the house is clad in cedar wood that has been lightly charred in a technique known as "shou sugi ban."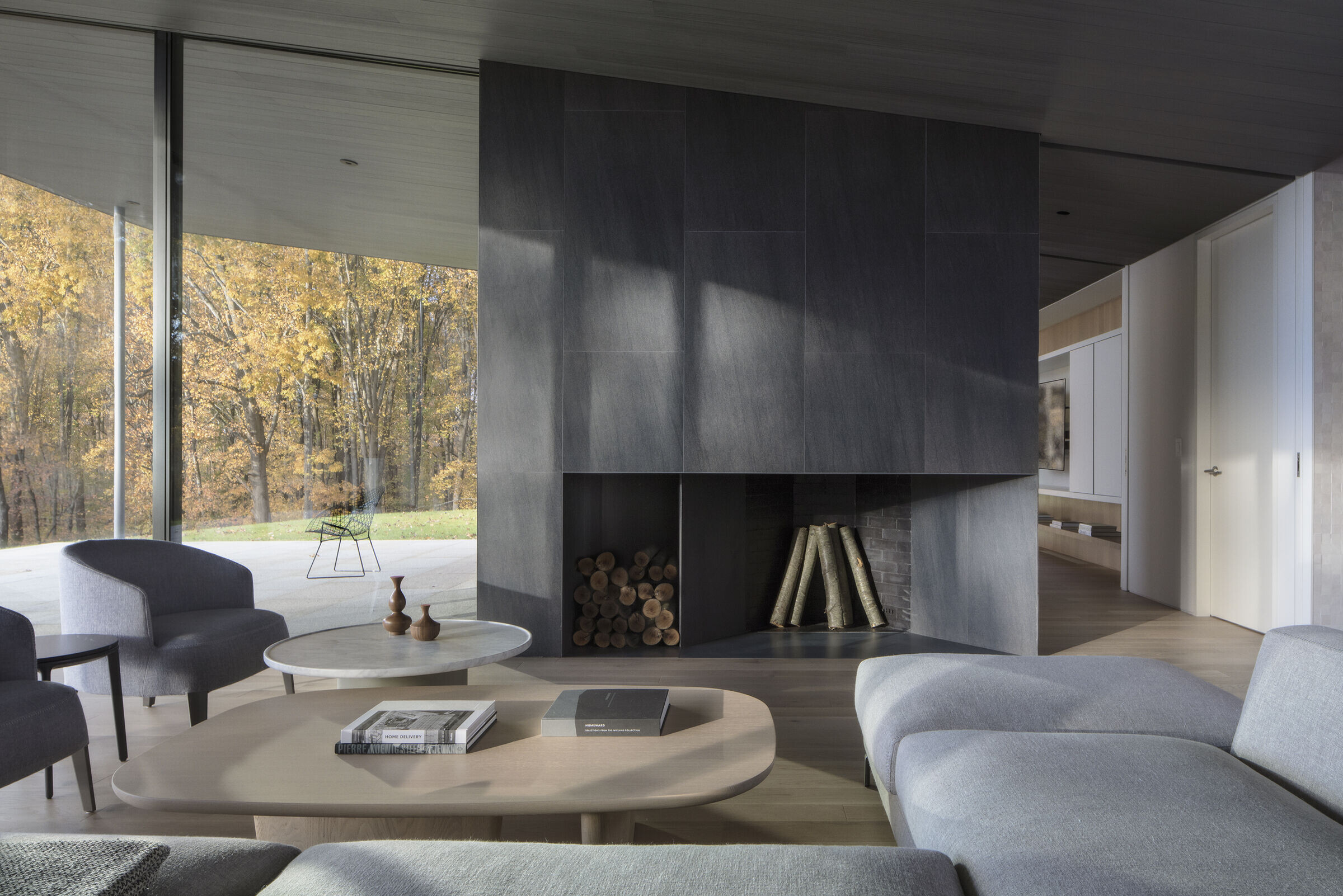 This traditional Japanese method of charring wood makes the façade rot resistant, bug resistant and maintenance-free, and increases its longevity and durability. Shou sugi ban wood is carried inside on the walls & ceilings as well, blurring boundaries between indoors and outdoors. A lighter charring on the interior provides the vaulted spaces with a soothing color and smoother texture.

Handmade clay wall tiles along the connecting hallways of the courtyard produced in Mexico reference the client's cultural origins and their work with Latin American artists.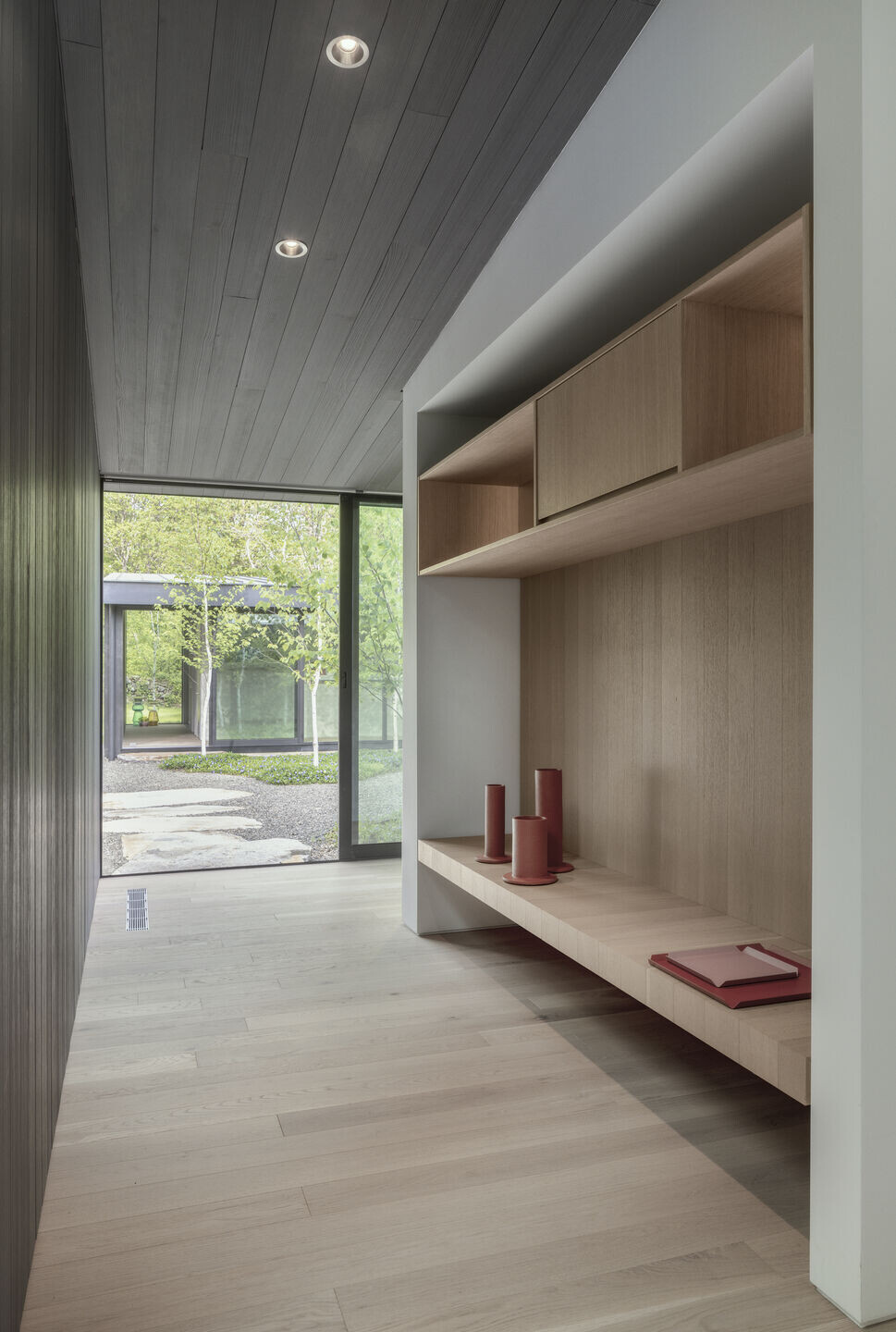 The thickly glazed mosaic surfaces provide a subtly iridescent backdrop to the rotating collection of artwork on display, evocatively bouncing sunlight throughout the day. Elsewhere, the distinctive Raku-crackled ceramic tile walls resemble the texturing of the shou sugi ban wood facade, strengthening the material connection throughout the home.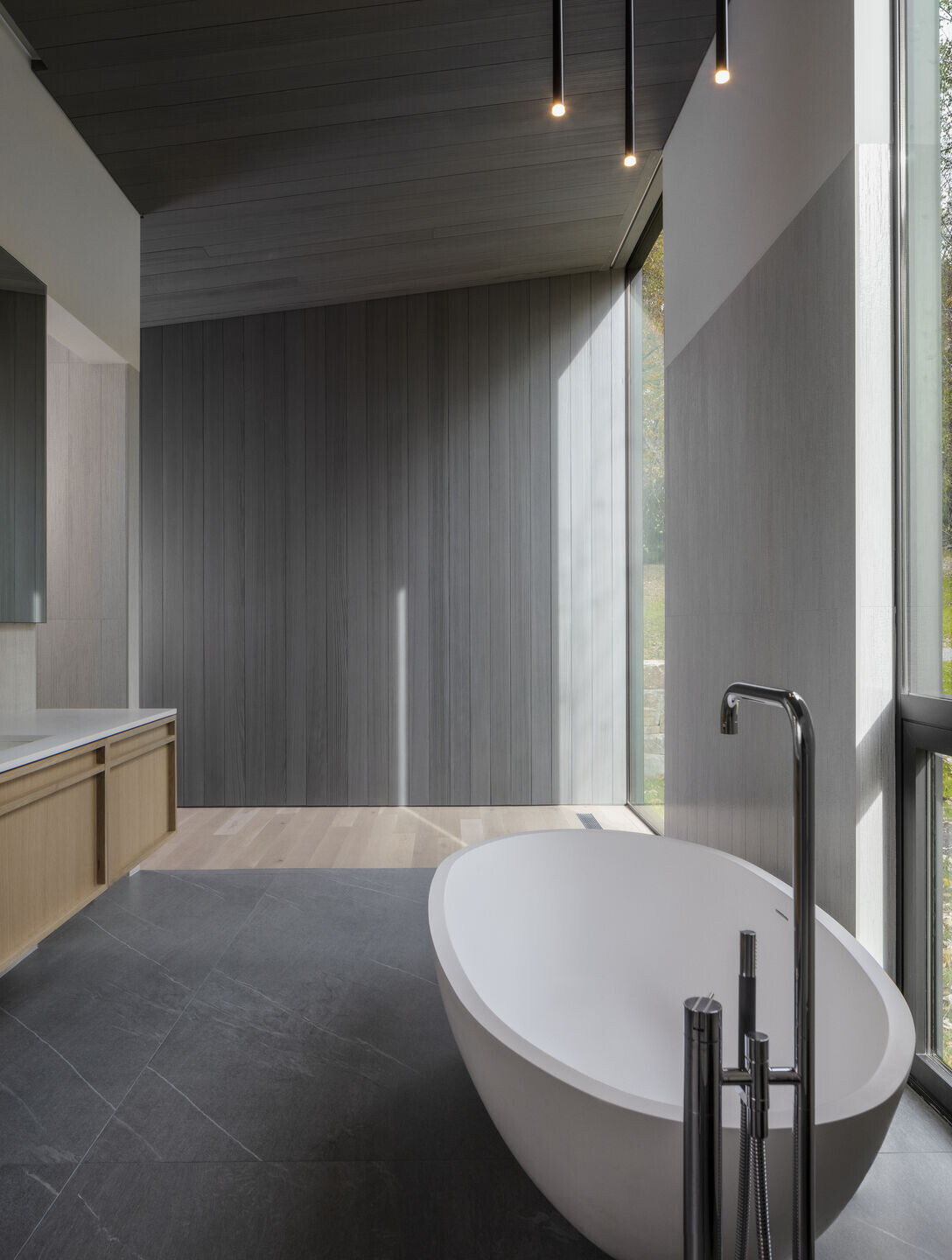 Team:
Architects: Desai Chia Architecture
Structural: Murray Engineering
Civil: A.H. Howland Associates
Landscape: LaGuardia Design Group
Lighting: Christine Sciulli Light + Design
Millwork: Elephants Custom Furniture
Contractor: Berkshire Wilton Partners
Photographer: Paul Warchol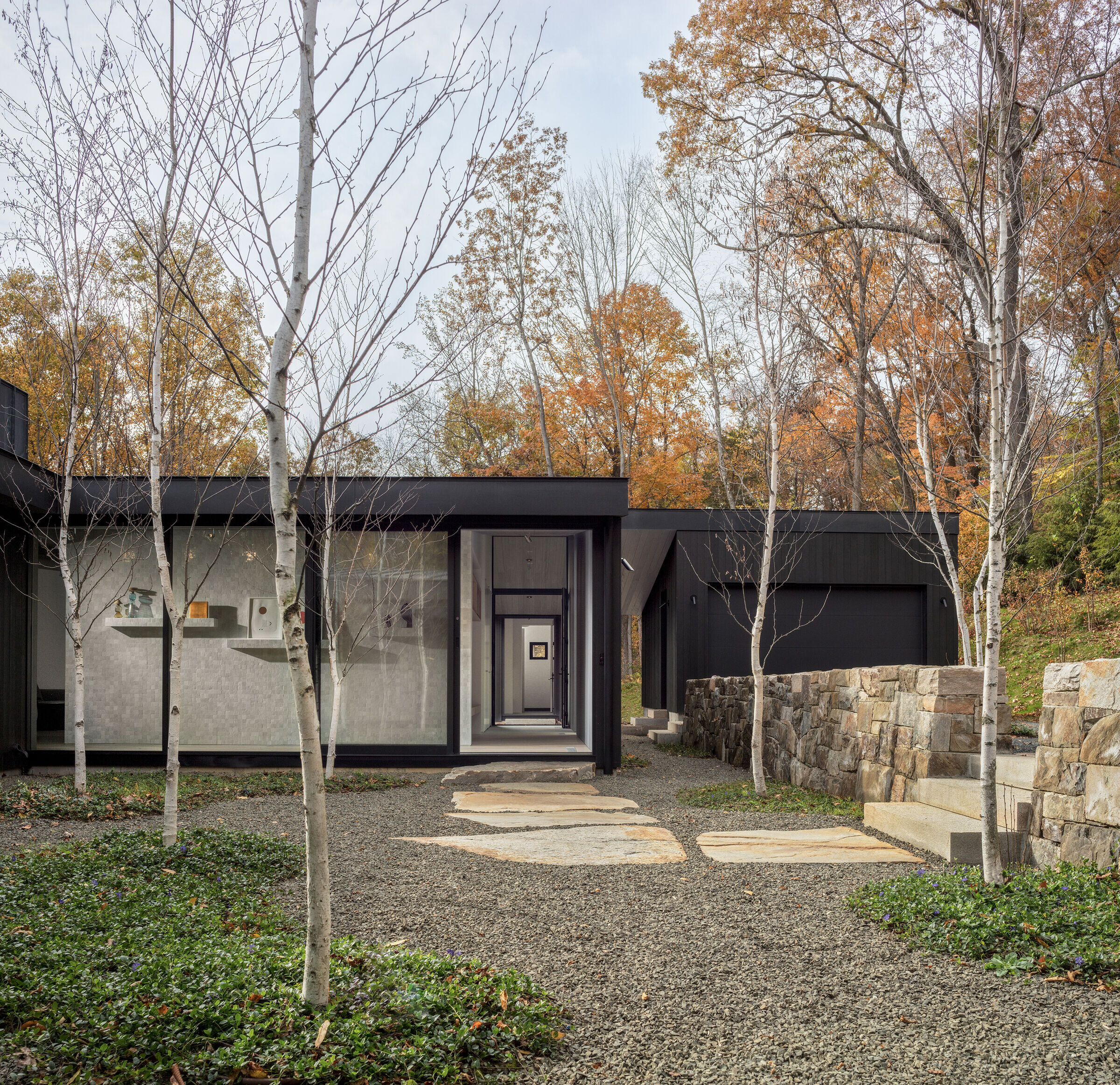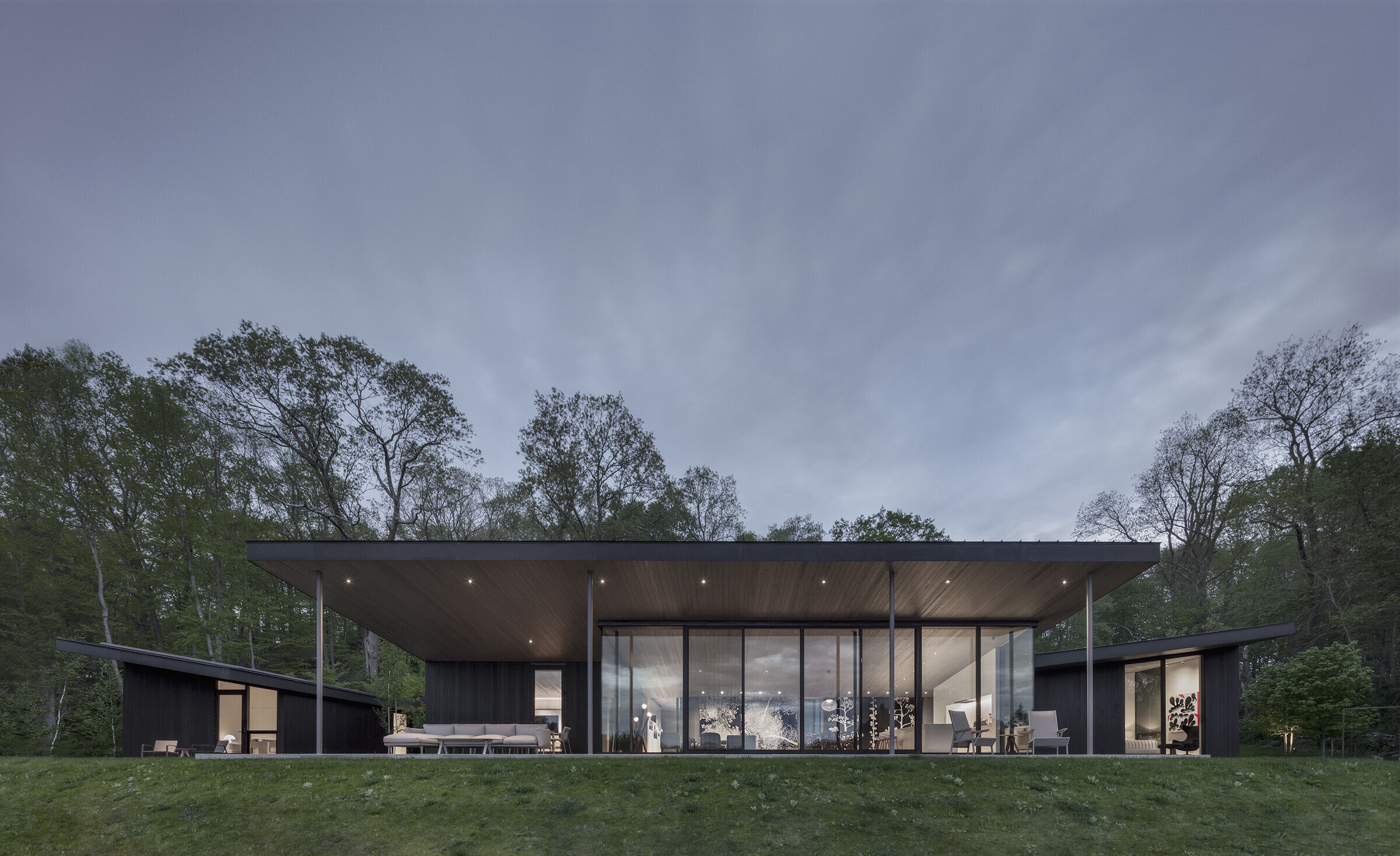 Materials Used:
Facade cladding: Shou Sugi Ban Cedar Siding, Dire Wolf, Delta Millworks
Flooring: Wood flooring, 'Stile' Rift & quarter sawn white oak, LV Wood
Stone flooring, 'Basaltina Volcano', Nemo Tile
Tile flooring, Direto Fluid Marble, Nemo Tile
Wall tile: Broken Joint, Artistic Tile
RCEEF-1 Mosaic Tile, Mosaic House
Fusion Hexagon, Nemo Tile
Basaltina Stone Project, Nemo Tile
Yaki Stucco, Nemo Tile
Paint: Benjamin Moore
Windows: Fleetwood Windows & Doors
Roofing: Zalmag
Metal trim: PacClad
Door Hardware: Latchset, Valli & Valli
Pivot Hinges, Rajack
Butt hinges, Stanley
Floor stop, Baldwin
Door pulls, Sugatsune
Sliding door latchset, FSB
Sliding door hardware, Hawa
Ball catch, Rajack
Plumbing: Sink, Corian
Kitchen faucet, CEA
Bathroom faucet & shower fittings: Vola
Bathroom sink: Lacava
Toilet: Toto
Toilet: Duravit
Shower drain: Cohen
Tub, AFNY XL Tub
Appliances: Fridge, cooktop, oven, microwave, hood, Gaggenau
Dishwasher, Miele
Undercounter wine fridge, Subzero
Laundry machines, Miele
Garbage disposal, Insinkerator
Interior lighting: Monopoint downlights, Edison Price Mini Wand
Recessed downlight, Element
Pendants, Moooi, Artemide, Vibia, Peerless
Undershelf lighting, Pure Edge
Wall Washer, Nulux
Outdoor lighting, BK Lighting
Interior furniture: Living Room Sofa, coffee table, chairs, B&B Italia
Media Room Sofa & Ottoman, Design Within Reach
Built-in wall furniture, Resource Furniture
Dining Chairs, Carl Hansen
Dining Table, Vitra