When the young couple purchased the home in the fall of 2019, they immediately hired Karina Marshall to redesign the main living space, including the kitchen, living room, dining room, and family room. There was an immediate alignment of aesthetics, evident in the accidentally matching outfits worn by the client and designer in the very first meeting. The aim was to bring the home back to its Eichler roots while modernizing the space. Wood, white, and black served as the clean palette for the new design that centered on a window backsplash that became an instant icon and top client-requested feature for BLAINE + Marshall Eichler designs.
The brief was to redesign a kitchen, living room, dining room, and family room and bring the Eichler back to its roots.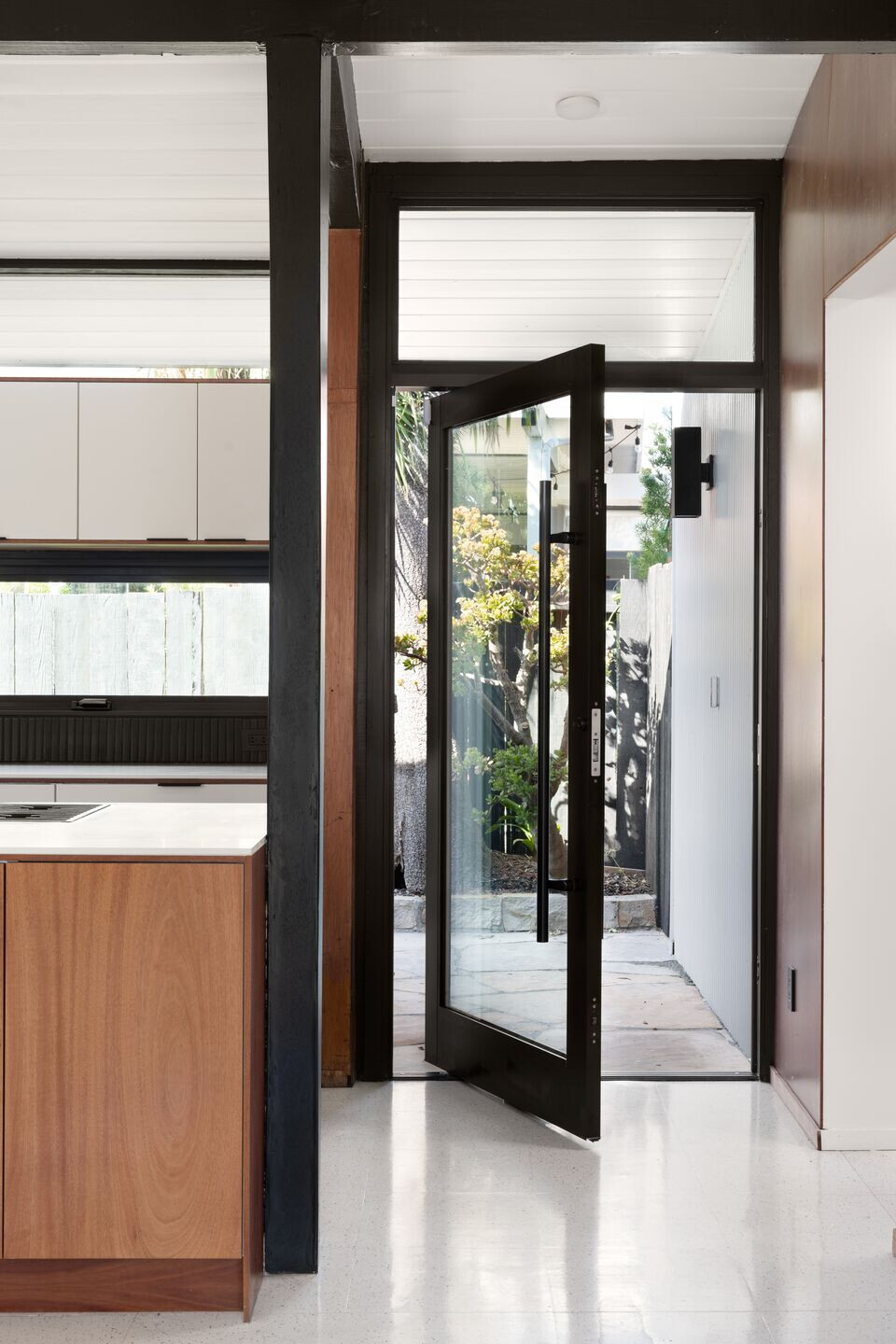 There were three key design challenge to this project. First was how to bring in additional light into the space on the kitchen side without putting too much emphasis on the view, given the kitchen looked out to a narrow walk way and fence.
The second challenge was how to be respectful of Eichler's mid-century modern design while bringing in more contemporary aesthetics.Finally, the client requested a cooktop on the island, but it was important that a hood vent did not obstruct the beautiful view of the kitchen.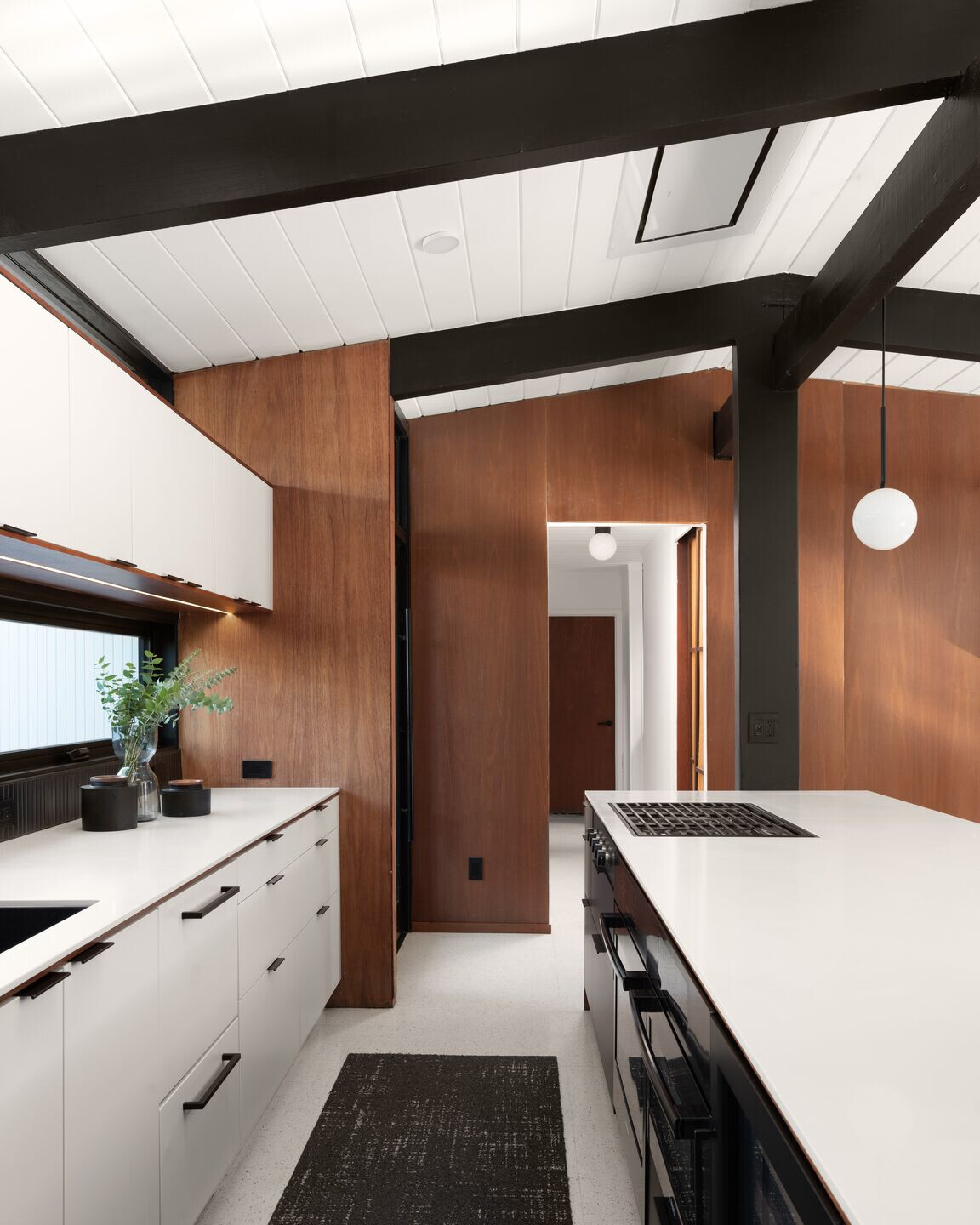 The first solution was to bring in light below and above eye-level in the kitchen using a window backsplash, with operable windows that allowed the kitchen to be aired out, and stationary glass above the seemingly floating upper cabinets. In addition, a large clear glass pivot door replaced an outdated wood door that made the side entry to the home feel light and majestic.
The second solution was to design a palette that was a sophisticated mix of mahogany wood, white, and black that were balanced throughout the home. Contemporary furnishings and furniture enabled the space to feel both mid-century modern and contemporary at the same time.Finally, we solved the challenge of a hood vent above the island by developing a construction detail to recess a hood insert into the roof structure.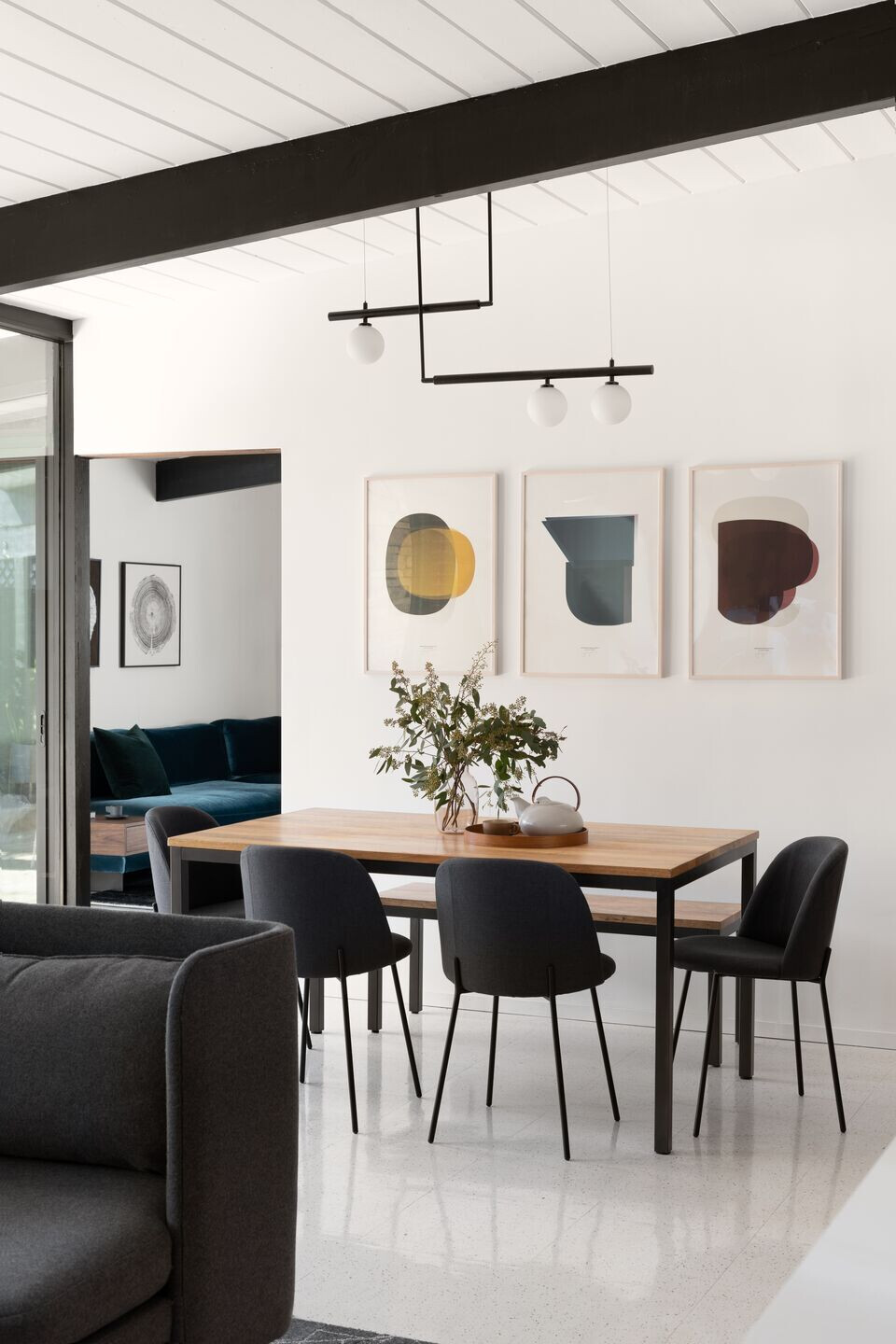 Team:
Architecture & Interior Design: Blaine Architects + Marshall Interiors
Designers: Karina Marshall,Megan Blaine
Photographer: Jean Bai
Materials used:
Custom Cabinetry: Woodcraft Plus
Backsplash: Fireclay 1x6 Tile in Basalt
Cabinetry: Combination of custom cabinetry in Mahogany and Ikea boxes with Semihandmade doors in Supermatte White and Supermatte Black
Cooktop & Hood Vent: Wolf
Doors & Windows: Western Windows
Floors: Tarkett Cortina Grande Solid VTC in White/Black