Located in the new rising contemporary urban area, well-planned and well-duplicated, the core of the architect's approach is actually to move away from the feeling of living in the identical 'hanging boxes' - by the asymmetrical curve wall finished in the non-flat texture style, giving it a unique and natural character.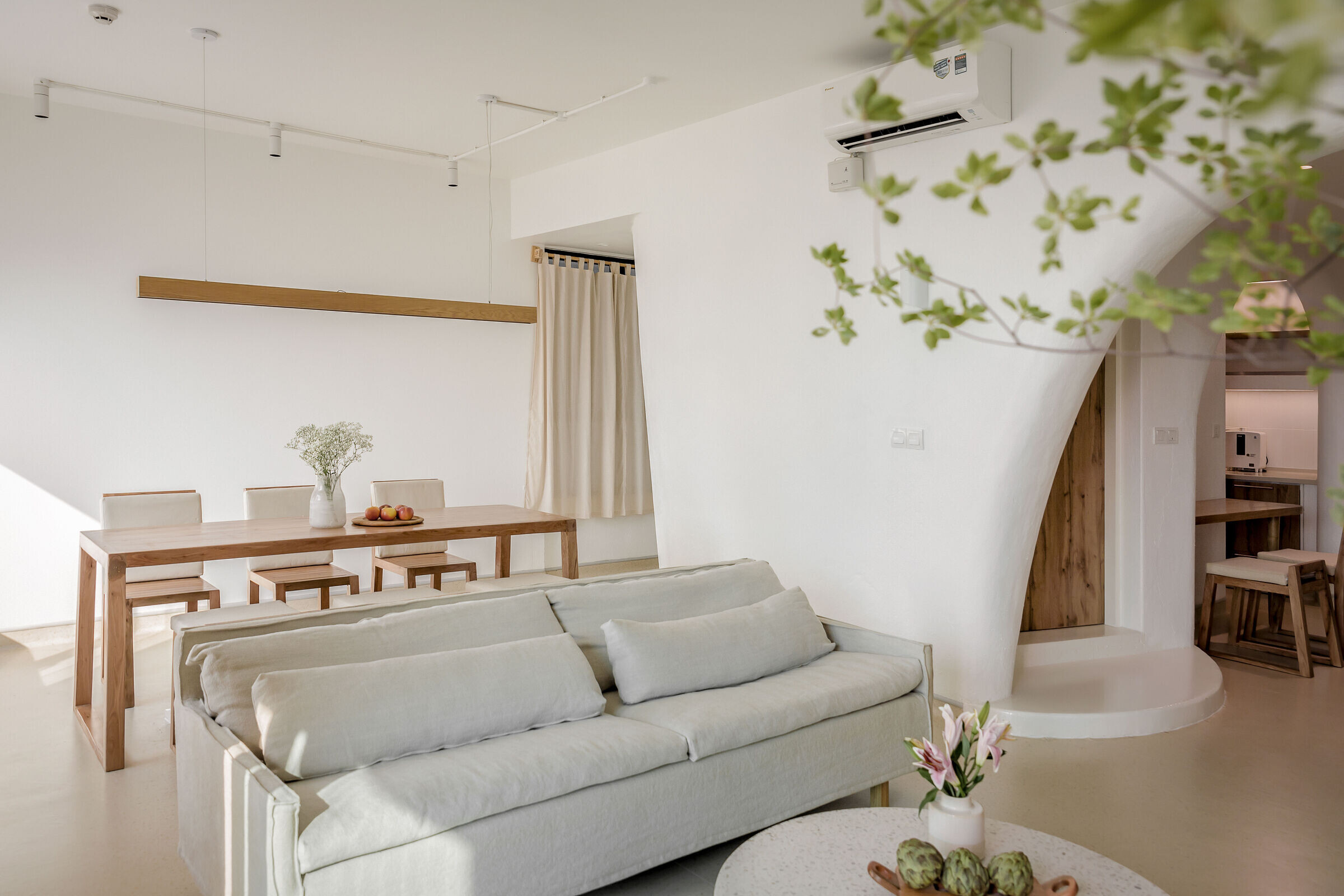 The project was designed with the idea of praising the simple living style of the owners, the architect simplifies all of the unnecessary details and furniture styles. This is reflected from the living space on the ground floor to 02 bedrooms upstairs. The off-white color tone reminds users of relaxation. And of course, the free curves soften all of the conventional angles.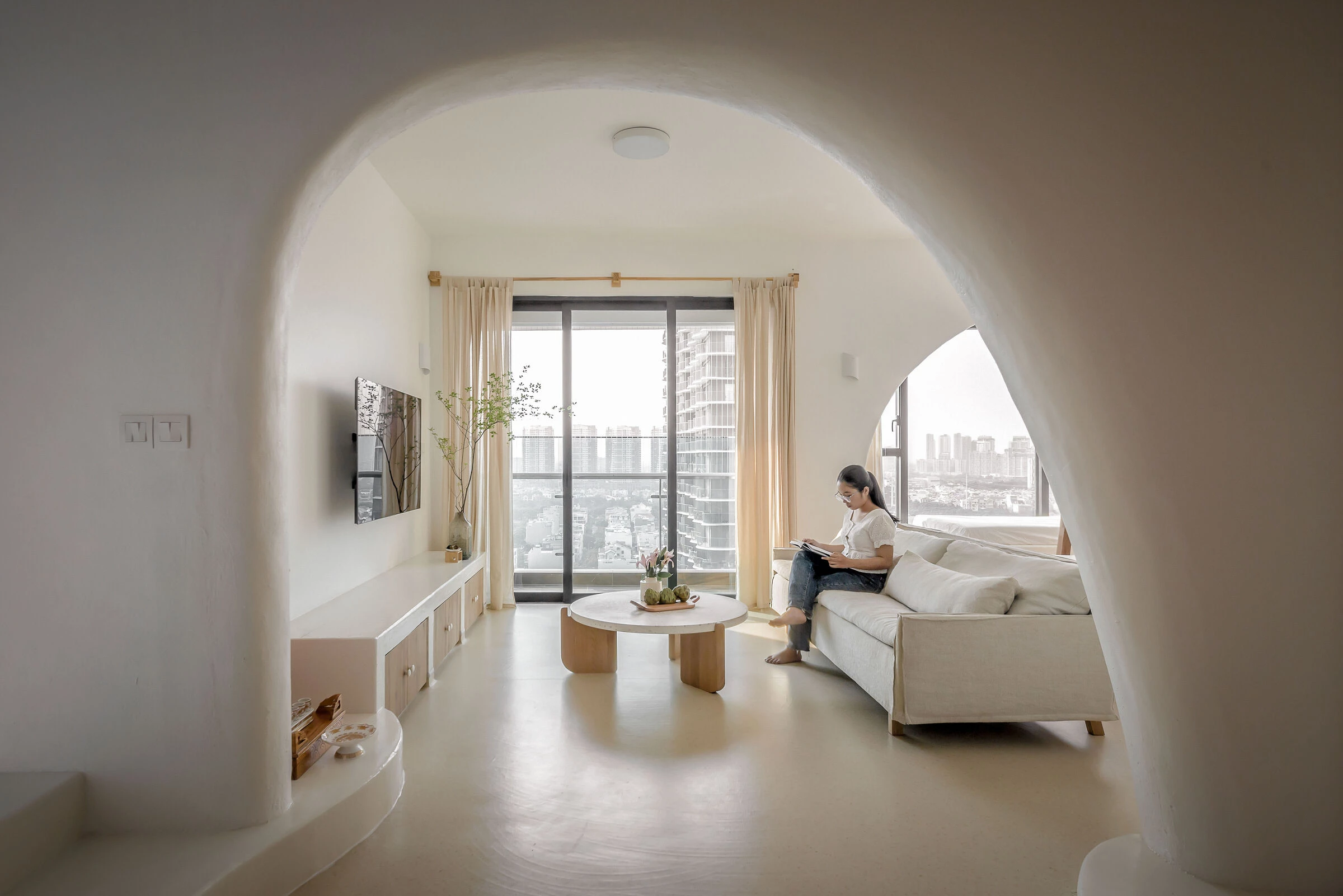 The original layoutliving room, dining area, kitchen anduplex is approximately 138 meters square with 3 bedrooms and 3 bathrooms. Based on the living style of the owners, the pre-planned layout of the duplex is redesigned. In order to redistribute the space with two bedrooms on the upper floor, the demolition of one bedroom on the ground floor made it possible to expand living room. The kitchen area is much smaller than a normal apartment due to the simple cuisine style of the owners. By this, the living room is optimized, receiving maximum natural light thanks to the big windows.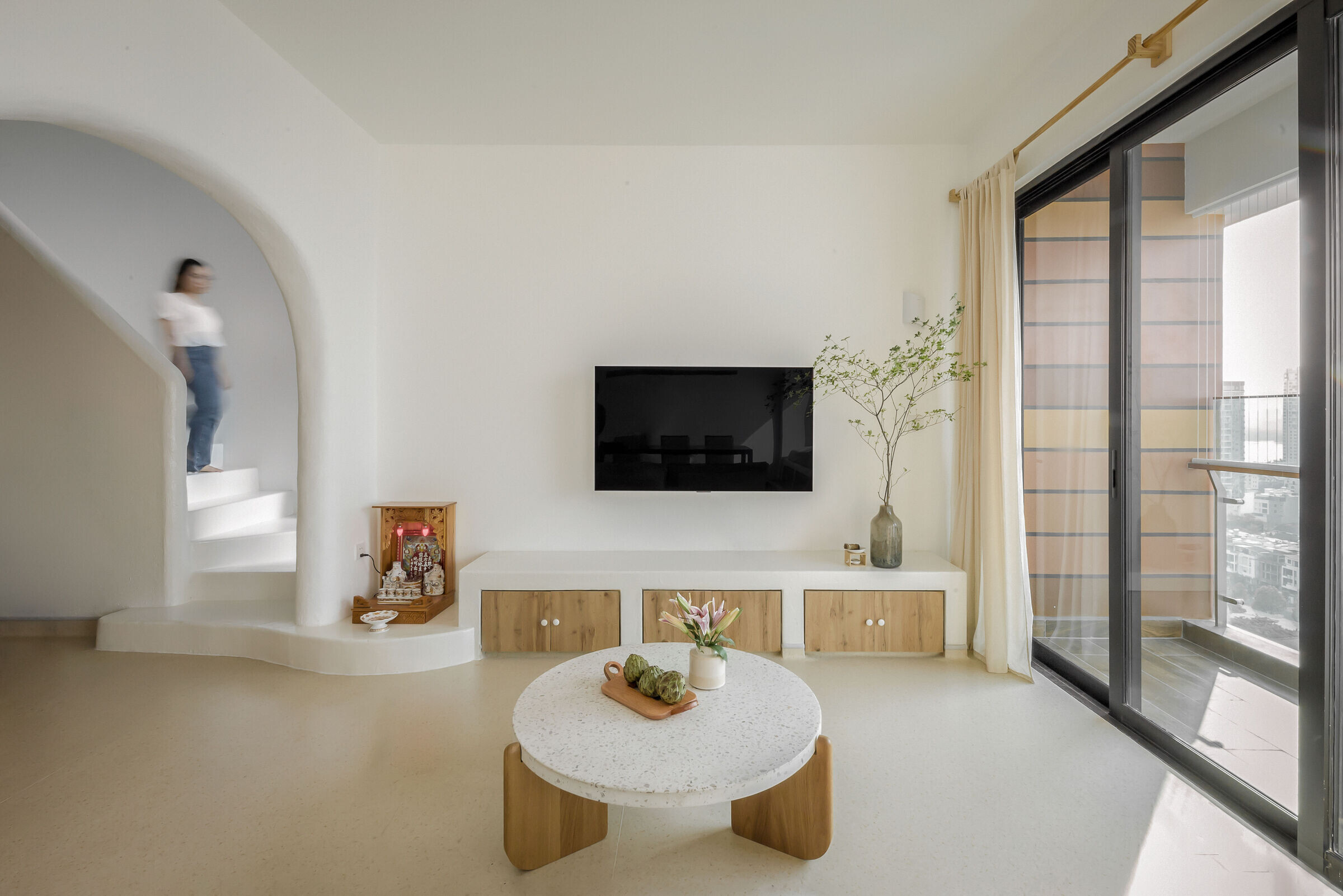 The ground floor, which is the open 'public' space where family members can interact the most, is focused on undefinability. Undefinability is defined by the wabi-sabi living style of the owners - which is a lifestyle all about finding beauty in imperfection - by the organic curve, by the very basic furniture style, and by the function layout. The big table in the middle of the space can be a working station or a dining station. The window niche can be a real sleeping place or a reading area.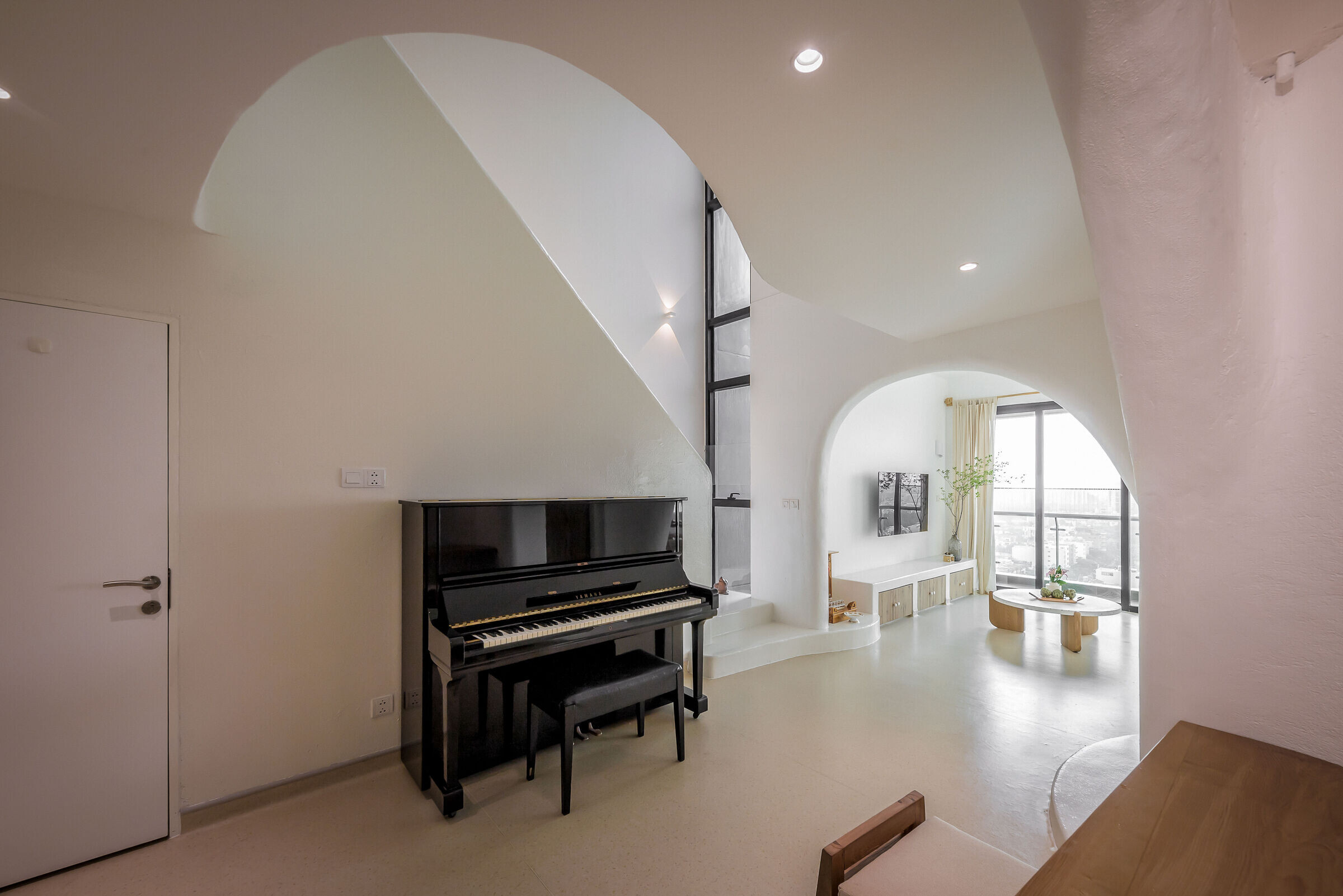 The bench can be a TV cabinet or vice versa. A mixed-used entry. All the curves of the space achieve two things: an unconventional orientation compared to a traditional room-divided apartment, and connecting spaces better. The void with wide and long windows is fully covered by natural light, which also blurred the orientation as a traditional apartment. The staircase acts like the boundary between the public (ground floor) and the private (upstairs with separate bedrooms).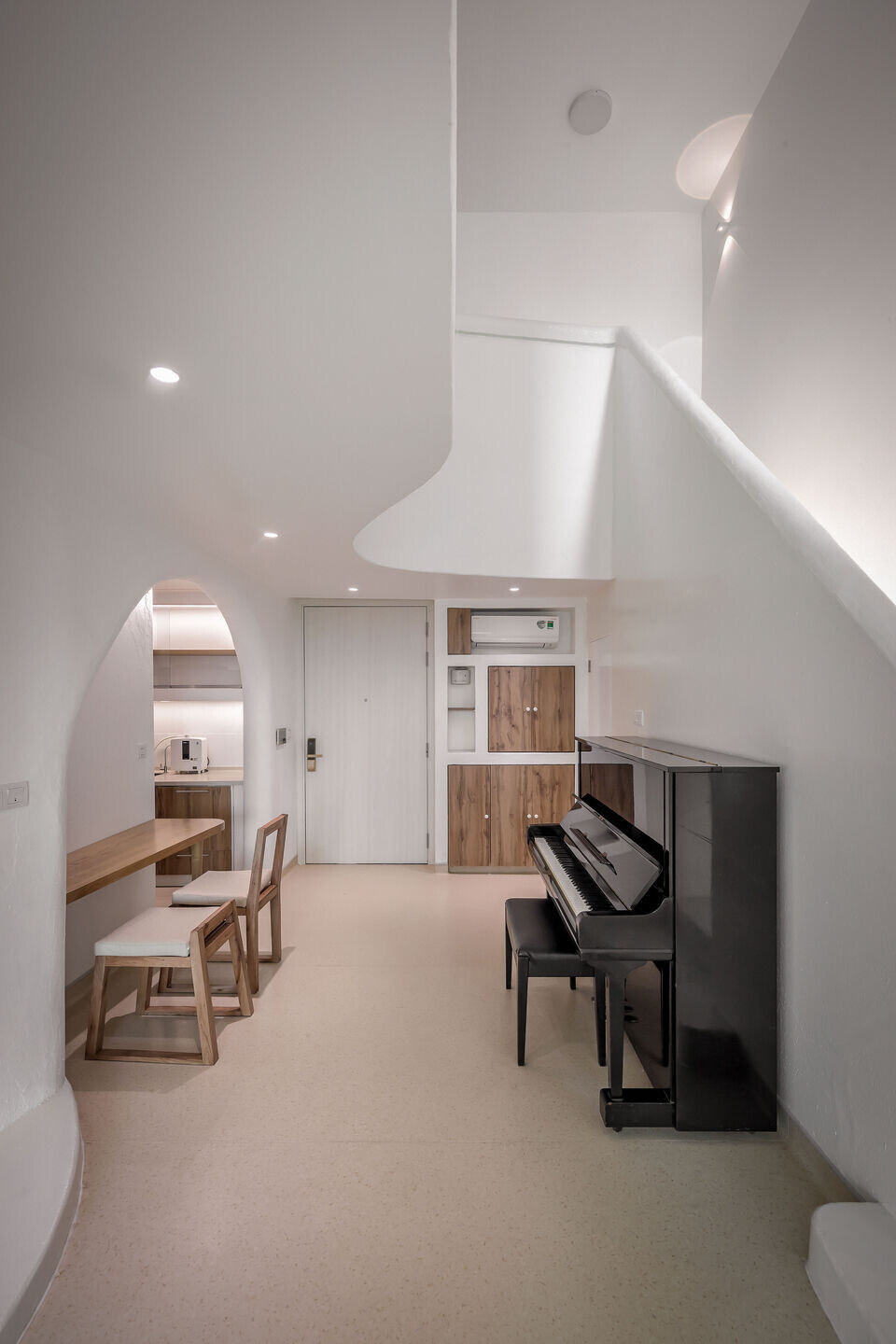 The void has 4 meters of free height, which guarantees natural lighting for the apartment. Vinyl materials were picked for the material of the ground floor, with the intention to eliminate all the visible seams of the traditional ceramic tiles - which will lead attention more to the curved walls with an unfinished look. Everything is well connected so the owners can form a deep connection to their own living space.