MVRDV completed the new flagship store for French lingerie brand Etam, located on Boulevard Haussmann directly across from the Galeries Lafayette department store. Inspired by the lingerie on display the architects wanted to make the store both revealing and intimate.
MVRDV wanted to highlight the building's clean classical appearance by stripping back the exterior as much as possible. The same approach was continued indoors by removing a part of the entresol floor and inserting a glass floor. The transparency reveals the original stone structure and allows natural light to flood the basement level.
The glass floor grants visitors to see products and people above or below them. The floor is treated with a film that makes it transparent when looked at at an angle, and clouded when looked at directly above or below. For those standing on the glass floor this provides privacy and prevents vertigo.
"'Unravelling beauty' is almost a generic and eternal value that can be learned somehow from the world of lingerie. The revealing – but directional – glassification of the store allows for a delicate balance between transparency and privacy, for intimacy and distance, unravelling the beauty of Haussmann and Etam's products, users, and visitors. In the stores we design, we often like to try new, unexpected materials and love to play with different types of glass. The Etam flagship store is the first time we have brought these approaches to a building where so much of the existing structure must be maintained."

Winy Maas, Founding Partner MVRDV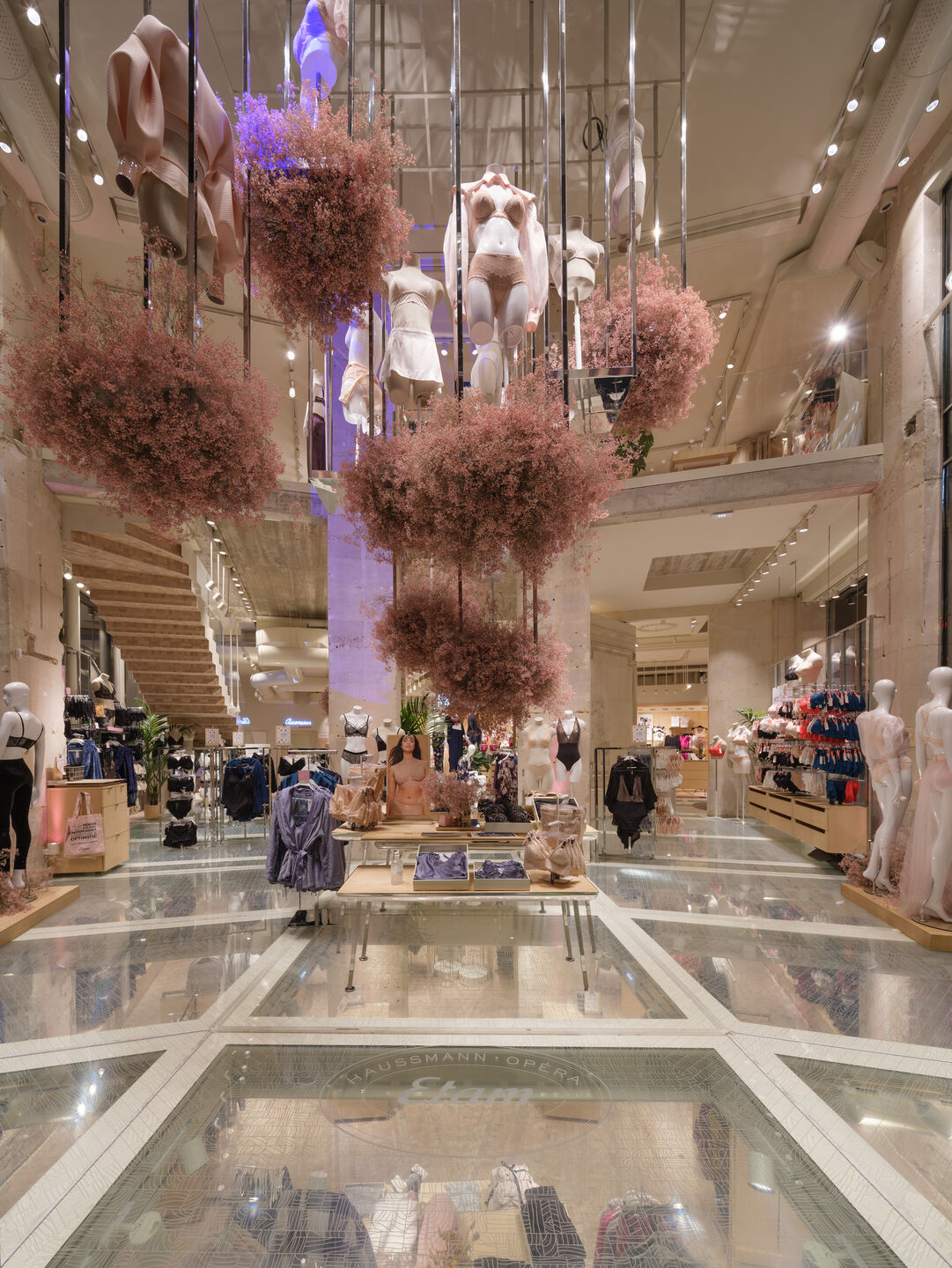 The basement level is accessed via a grand staircase. This staircase and the basement level flooring are finished with wood laid on its end that is inspired by the cobbled streets of Paris. The same pattern is developed into a non-slip pattern that was applied to the glass floor to unify the two different flooring types.