"A brief from the team to the team"
The new 4SPACE Design offices are designed for the team. The leaders put together a questionnaire asking the team to imagine their new workspace. Overall, the team wanted there to be an intrinsic sense of wellbeing and belonging within the space. They wanted light. And lots of it. Neutral monochromatic schemes and a large breakout area with a games and relaxation space for the team to draw breath and find a sense of peace from a busy day.
Concept
"When brutalism meets minimalism with a twist of industrial". 4SPACE has paired unfinished concrete breeze blocks with a smooth monochromatic pallet and verdant trees to nod to biophilic living. Richly covered modern furniture, exposed piping, stainless steel accessories, and fluorescent lighting create exciting spaces for work, meetings, and play.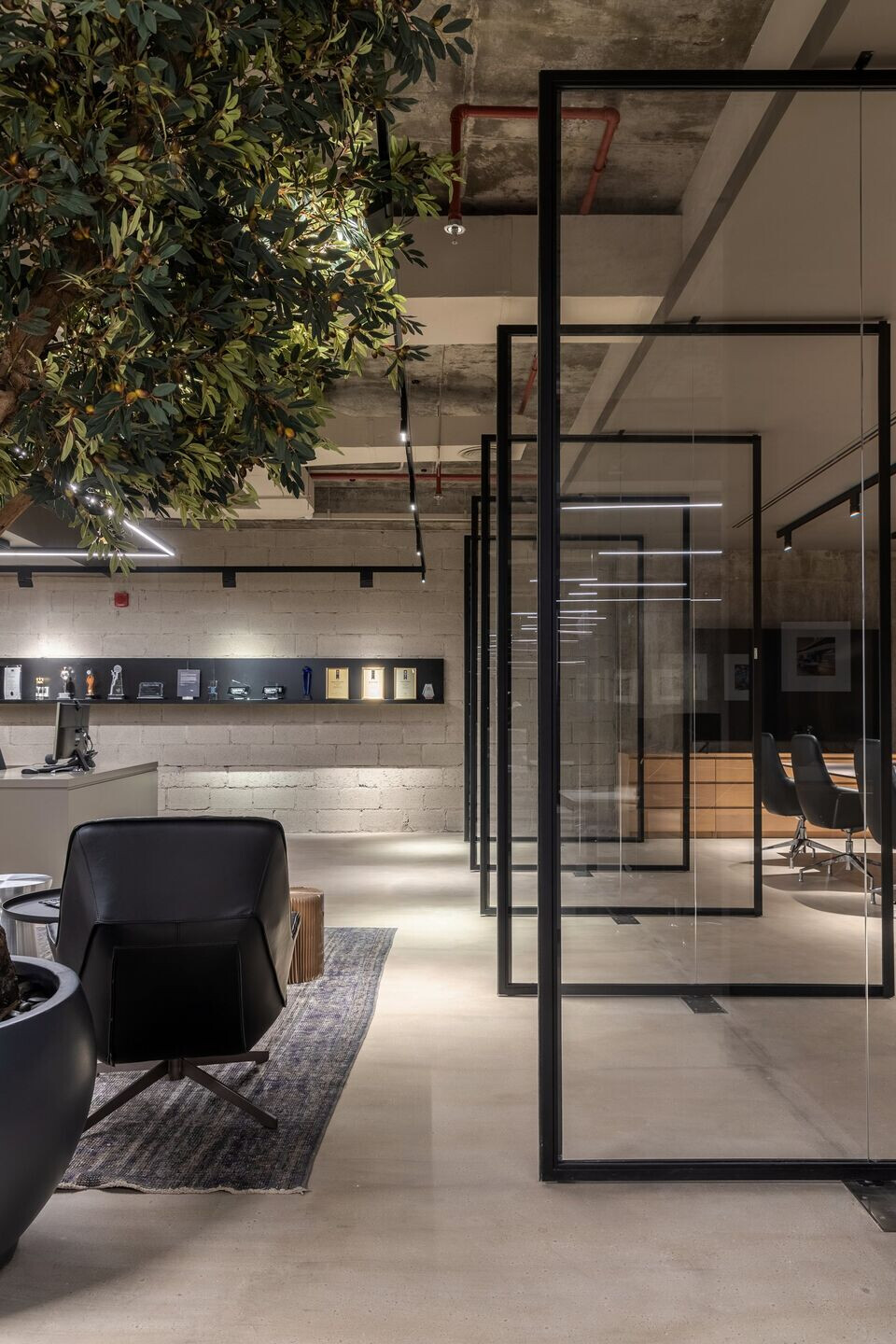 Various design elements
The 4SPACE Design offices are exciting. The exposed breeze block walls are treated with sealer material to enhance and preserve the brutalist look. It's raw, unfinished, and playful. Modern angular lighting bounces light throughout the open spaces and communal workstations.
The central atrium of the offices boasts a beautifully preserved, semi-artificial olive tree that has been hand-fashioned by craftsmen in Dubai. The trees have come from historic groves across the region. Olive trees are known to flourish until they are several thousands of years old. Introducing biophilic design elements into a space can help alleviate stress, improve cognitive function, and enhance mood and creativity. The space is multi-functional, with open spaces for teams to assemble, but the team can create private spaces with impressive pivotal doors forimportant meetings.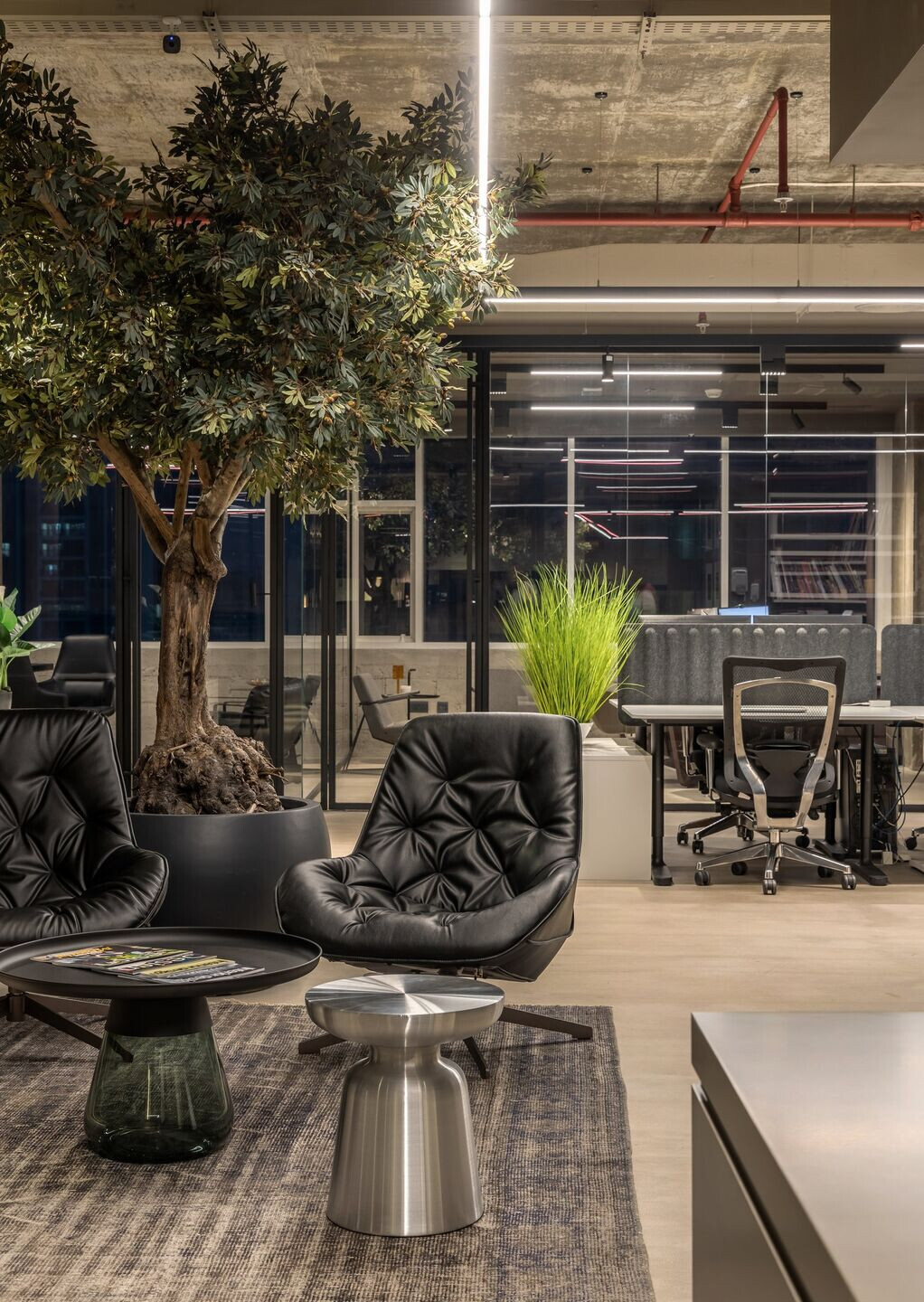 About the execution
This project was extraordinarily fast and only took a month to complete. It was a complete family affair where the 4SPACE design team, contractors and suppliers all contributed to the seamless execution of the new office space. Each person provided valuable support to achieve the tight timeline for the transition from the old offices to the new.
About the ambience
The 4SPACE office has the appeal of a solid but inviting fortress. The distinctive concrete modernism provides lighthearted intrigue yet is minimalistic and intimate. The office is set amidst endless city skyscrapers. As a result of the open workspaces, the office possesses spectacular views across the Dubai waterfront and the iconic Dubai Eye.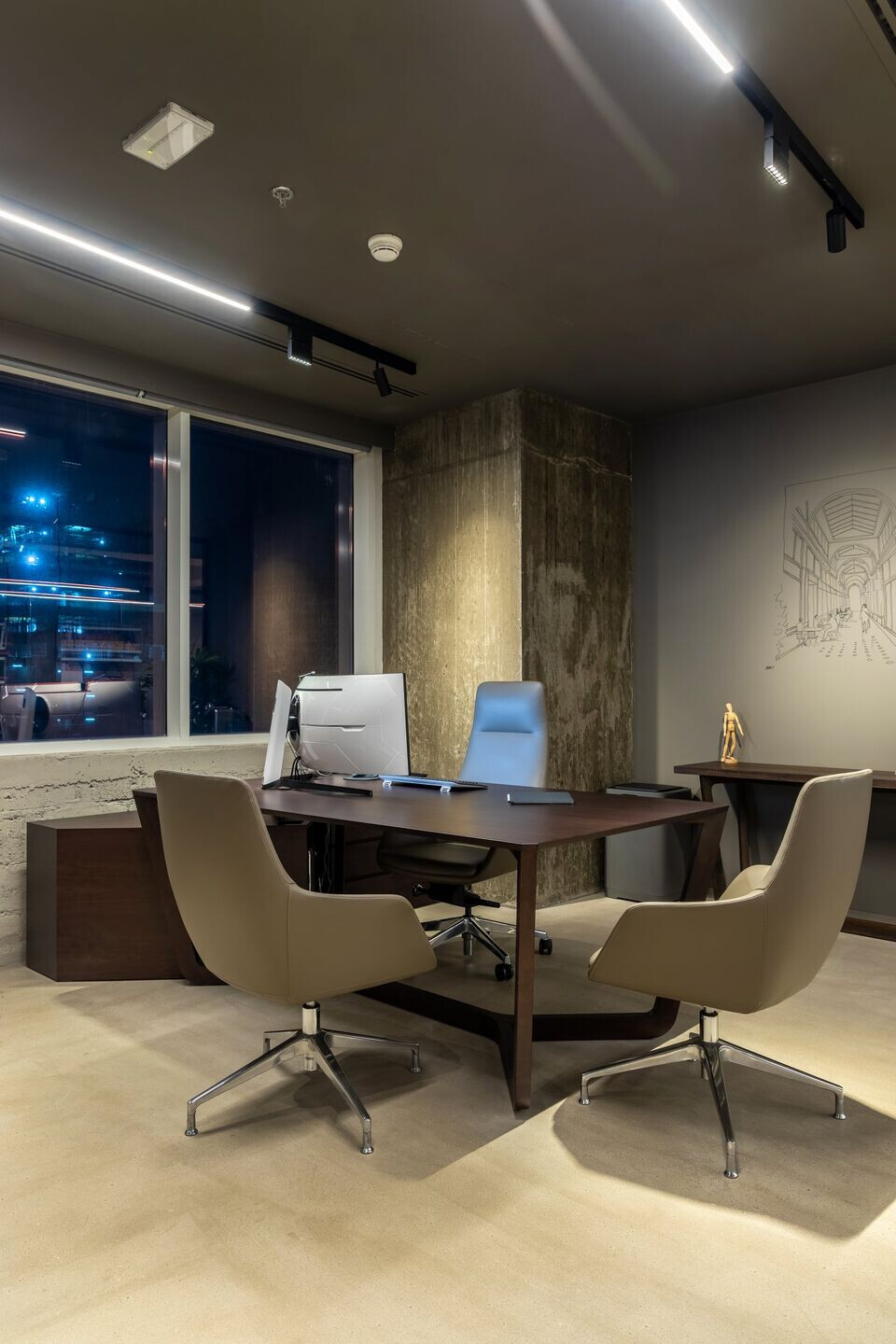 Challenges overcome
Contractors struggled to manoeuvre 2.70-metre glass partitions in the elevators; their hard work and brave efforts have created a remarkable installation. The concrete flooring was quite challenging; it had to be poured, dried and levelled precisely. From the questionnaire, the entire design process and construction took a mere 45 days.
Unique and key features
There are many focal points, but the most exciting key features are the olive tree, concrete and exposed breeze blocks, the neutral monochromatic colour scheme and the open ceiling concept with exposed industrial metal piping.
Material selection
Concrete, glass, metal, aluminium, wood and black leather.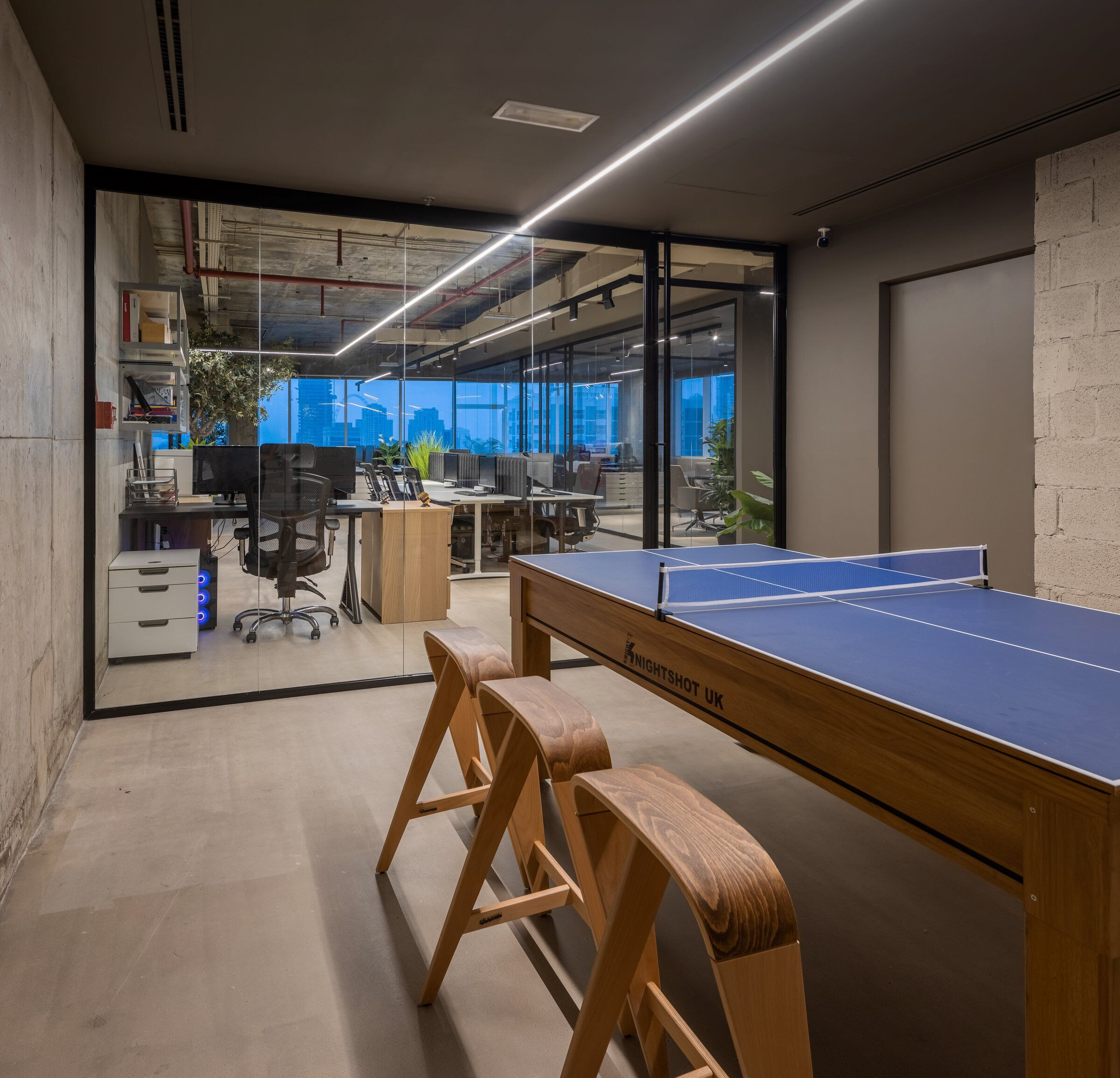 Material Used :
1. Trox Middle East - Central Air Condition
2. Think Tank Cross Concept - Plants
3. PNMC Technical Services - Fit Out Contractor
4. BConnection - CCTV/IT
5. Ebarza - Furniture
6. Interior 360 - Furniture
7. VOC Lighting - Light Fixtures
8. IKEA