Bank Barn is a private residence located in the Green Mountains of Vermont. The house is sited on an open meadow on twenty-seven acres of sloping land. The parcel has an agrarian heritage and is surrounded by farmland. The steeply sloped meadow transitions to an upper bench high on the site and then continues uphill aggressively to the edge of the forest, demarked by a stone wall. The flat grade at the upper bench proved to be the ideal site, a natural promenade to the view with an opportunity to embed the house into the landscape with an eastern slope at the arrival point. Master planning involved infrastructural improvements including; geothermal well locations, septic design, well location, photovoltaic array planning, road, power and house siting.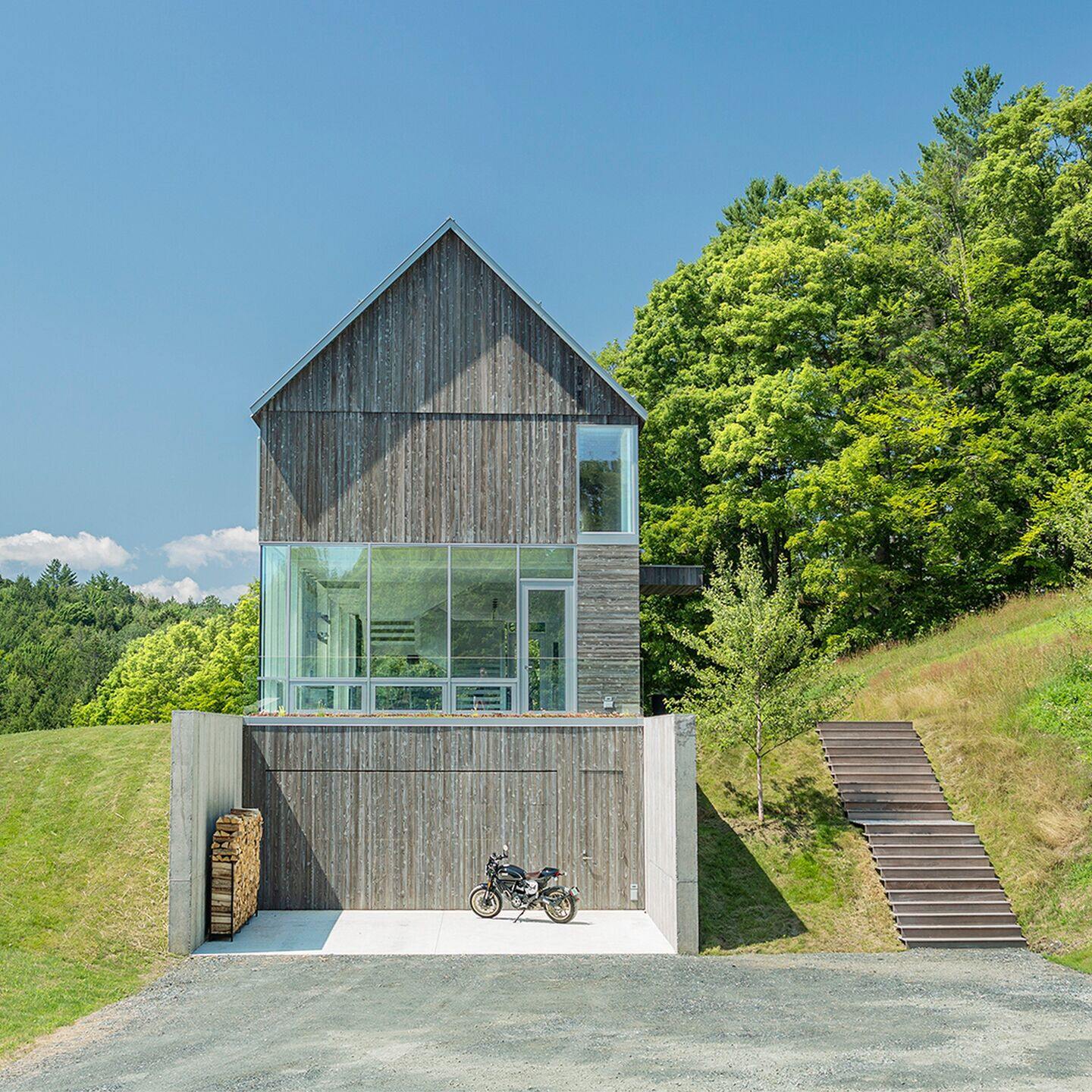 The client's program outlined a three-bedroom house with an open-plan living arrangement and an attached garage, deck, hot tub and firepit. The unique design solution, and genesis of the bank barn concept, was to program the garage and support spaces at the lowest grade and to project the foundation walls east and west of the building envelope. On the east side this extension creates a deck off the gable end which transitions into a green roof overlooking the auto court below. To the west, the concrete rails captures the deck space, hot tub and extends into an apron for the firepit and wood storage bookend.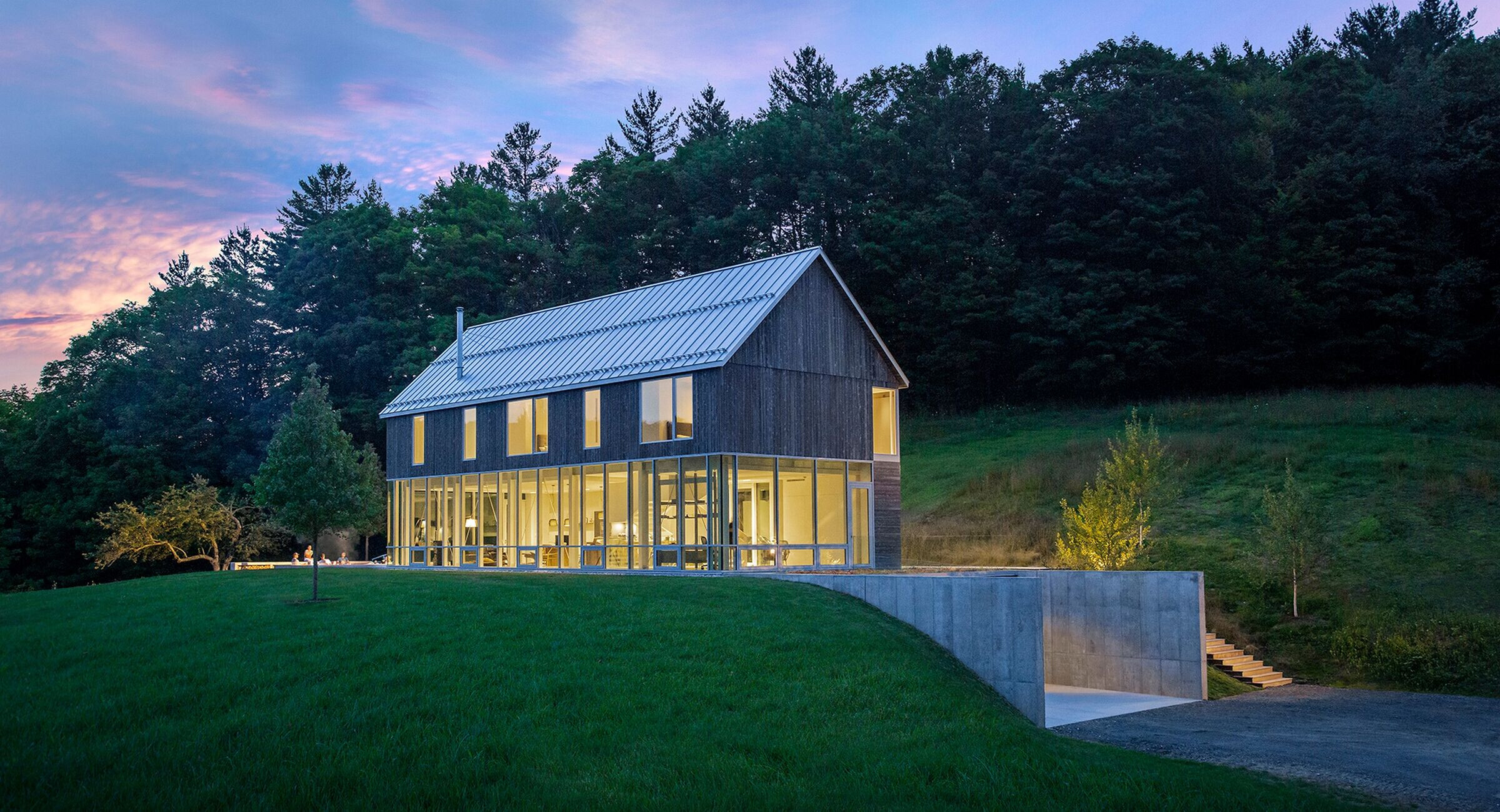 Grade transitions are a feature of bank barns and the main entry path accentuates the topography. A large wood staircase provides a transition from the lower level to the wooden canopy of the main level entry. This area features an open living arrangement in a minimalist palette of exposed steel, plaster, concrete and curtainwall with expansive and uninterrupted views beyond. A central freestanding steel staircase provides a connection between the three levels and creates a sculptural expression to the ensuite bedrooms above. The second story windows are accentuated with deep jambs and window seats articulating the extended pastoral views.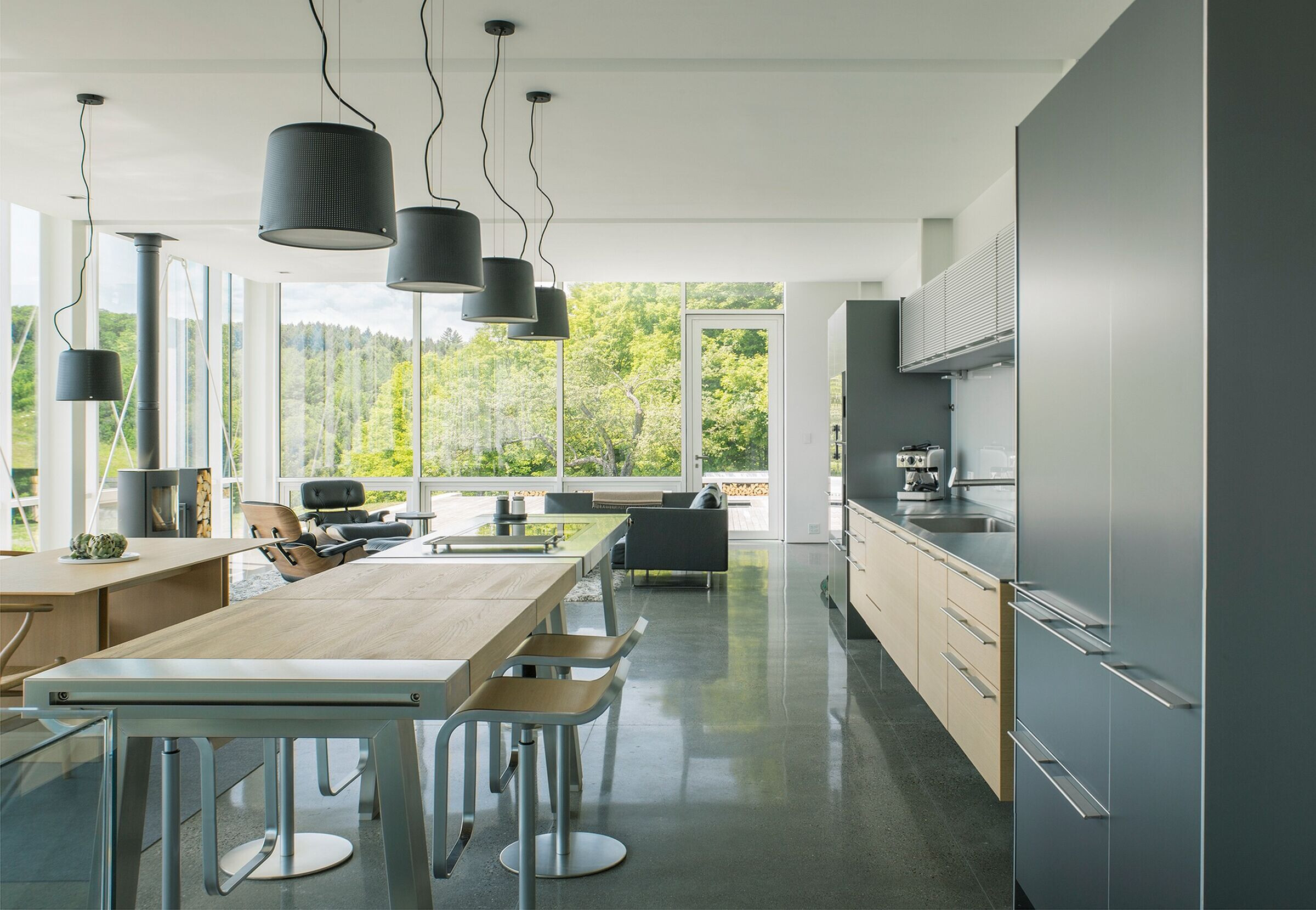 Intensive energy consultation and modeling developed the technical specifications on the building's envelope and mechanical system design. Geothermal heating and cooling through water-to-water and water-to-air systems created an electricity-based energy system. The project was designed to be a net-zero residence pending a future 18 kw solar array. Construction detailing employs thermally broken R-40 walls and R-60 roof systems along with closed-cell polyurethane foam cavities. The high performance, triple glazed curtainwall was specified with a 0.15 U-value, low-E film and minimal air infiltration requirements.