Three-room apartment project for a young family. This project was a real challenge for us, since the customers wanted the most monochrome interior, and we think we coped with this wish. We also carried out serious work with planning solutions in order to create a truly comfortable and functional space.
The apartment in the residential complex "Forum City" was commissioned by the developer in a completely open-plan format. Together with our customers, we have done a great job to create a planning solution that would take into account all the wishes for the future space of the apartment. We did not share the space of the apartment with a corridor - instead, we organized a small hall and maximized the kitchen - living room. It was possible to accommodate a large wardrobe and a bathroom in the bedroom, and the children's room turned out to be large and comfortable with a built-in wardrobe and a spacious area with shelves and a work desk.
Despite the limited color palette, the project looks interesting. The warmth of the interior is brought by the floor, laid out with an engineered board. This natural material always looks appropriate, is pleasant to the touch and adds comfort to our interior. The walls in all rooms are finished with matte paint, for the bathrooms we used a combination of moisture resistant paint and large format tiles. All doors are concealed to be painted in the color of the walls.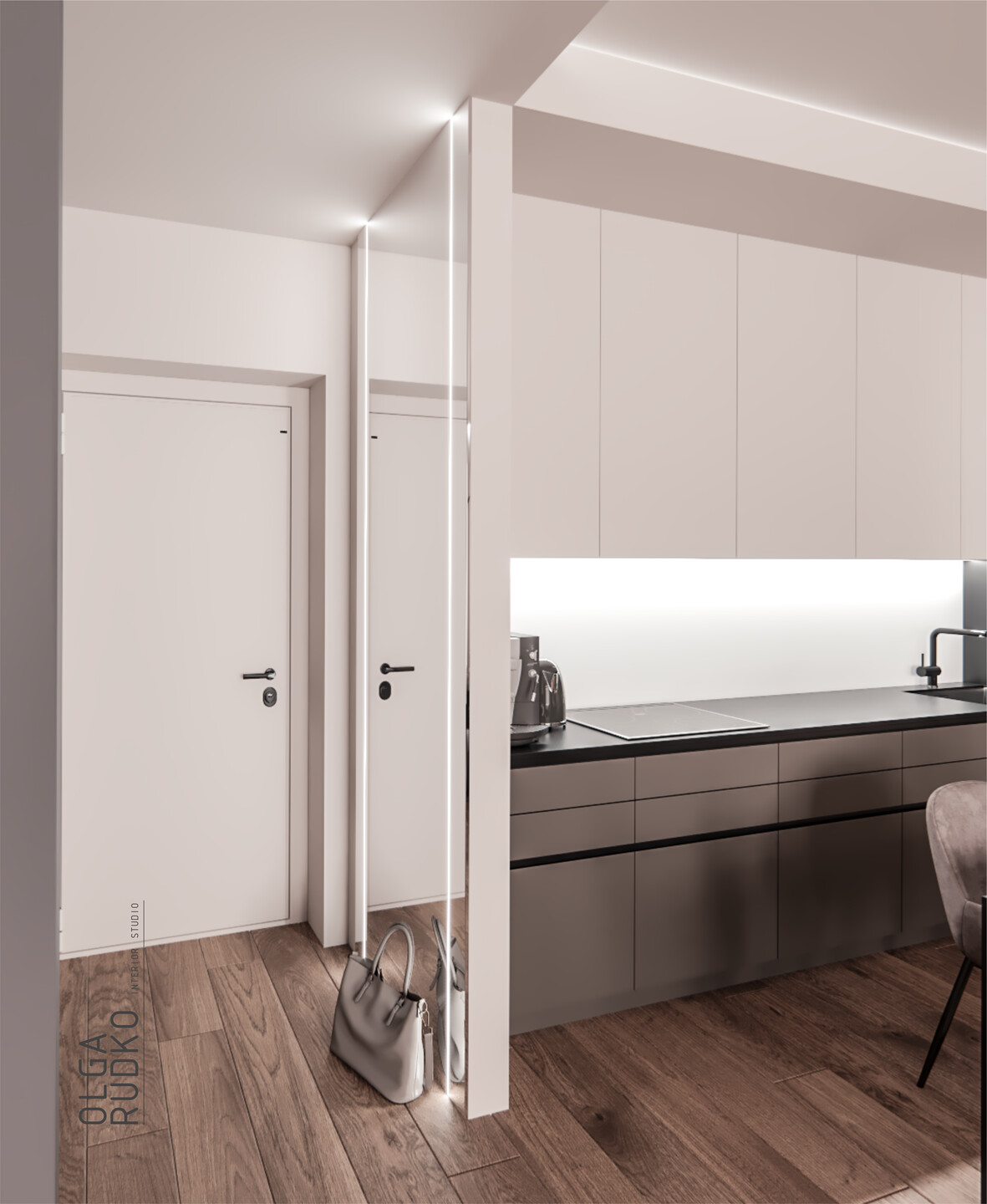 To create a single space, and to emphasize minimalism in the interior, we used two types of lamps that are repeated in each of the rooms. With the help of illumination, they additionally highlighted areas with mirrors in the hall, bedroom, bathrooms and enhanced the lighting of the dressing room. To turn on the backlight, we designed touch switches on the mirrors and furniture housings.
Doors, kitchen unit facades and cabinet facades are made of dark gray painted MDF. This material is chip and moisture resistant. We have offered a practical artificial stone for the kitchen countertop. We used black accents for furniture and doorknobs, dining table, and dusty pink in living room textiles.
The dressing area of the bedroom is made of modular sections "Aristo" in black. Against the background of the bedroom, it is distinguished by the black color of the walls and the ceiling box, as well as an unusual glass partition with photo printing.