What was the brief?
Carbón Negro is a fusion of traditional authenticity and craftsmanship in an urban and welcoming space. Here, the classic and contemporary meet in a unique setting.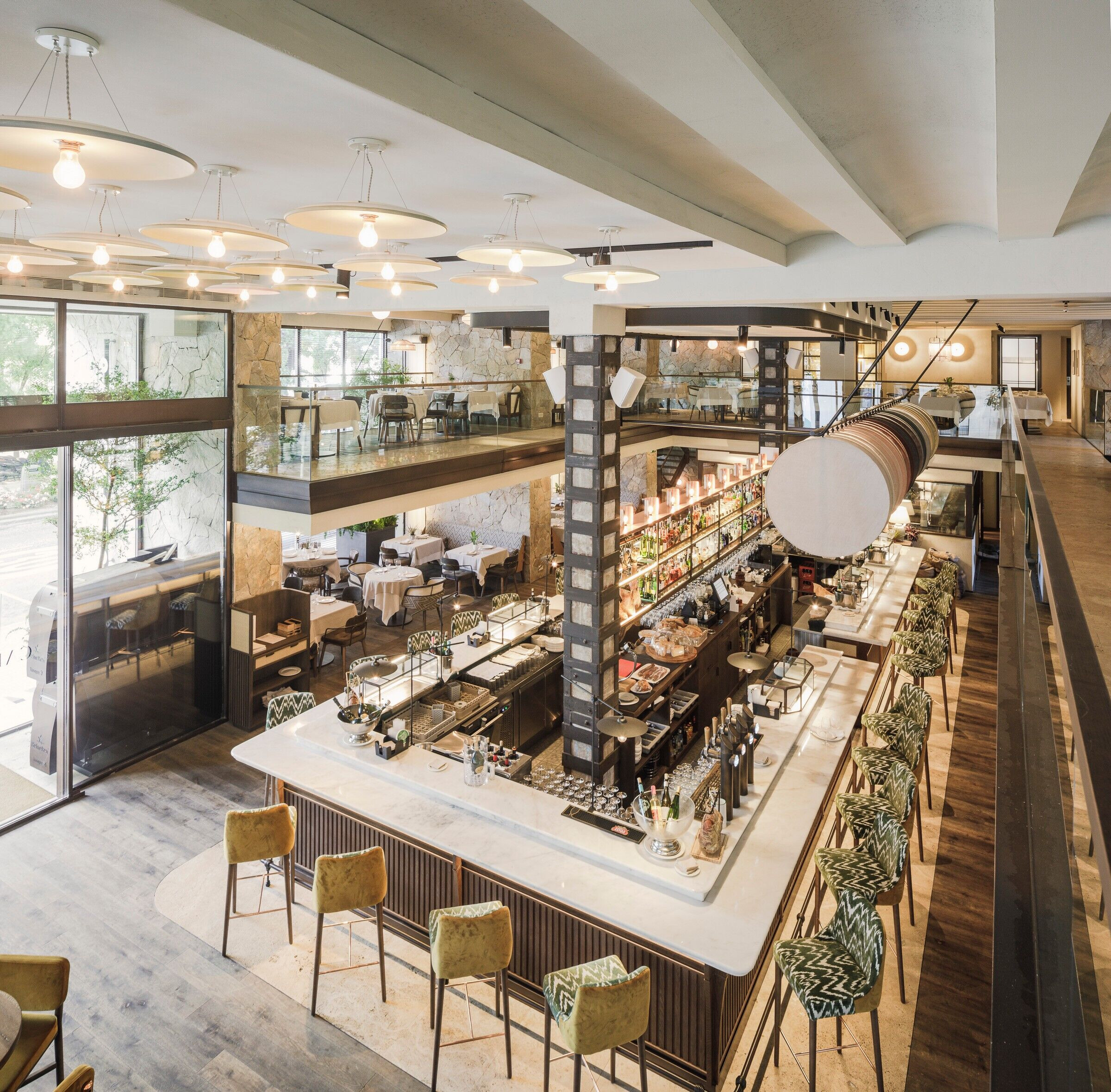 What were the key challenges?
Keeping our project brief in mind, we designed a harmonious environment where the simplicity and delicacy of the rustic tradition are reenvisaged in the centre of Madrid. Taking our cue from the exterior botanics, we created an opening in the existing structure, unlocking a breath-taking space where the bar and charcoal grill, key elements of the project, are showcased in a locale with a modern twist. Using thick stone walls both to hide the installations and divide the space in the dining area. The six-meter high windows transcend both floors and enhance the vertical aspect of the trees, eliminating the sensation of being on a single level; vertical uniformity brings a contemporaneous feel to the project.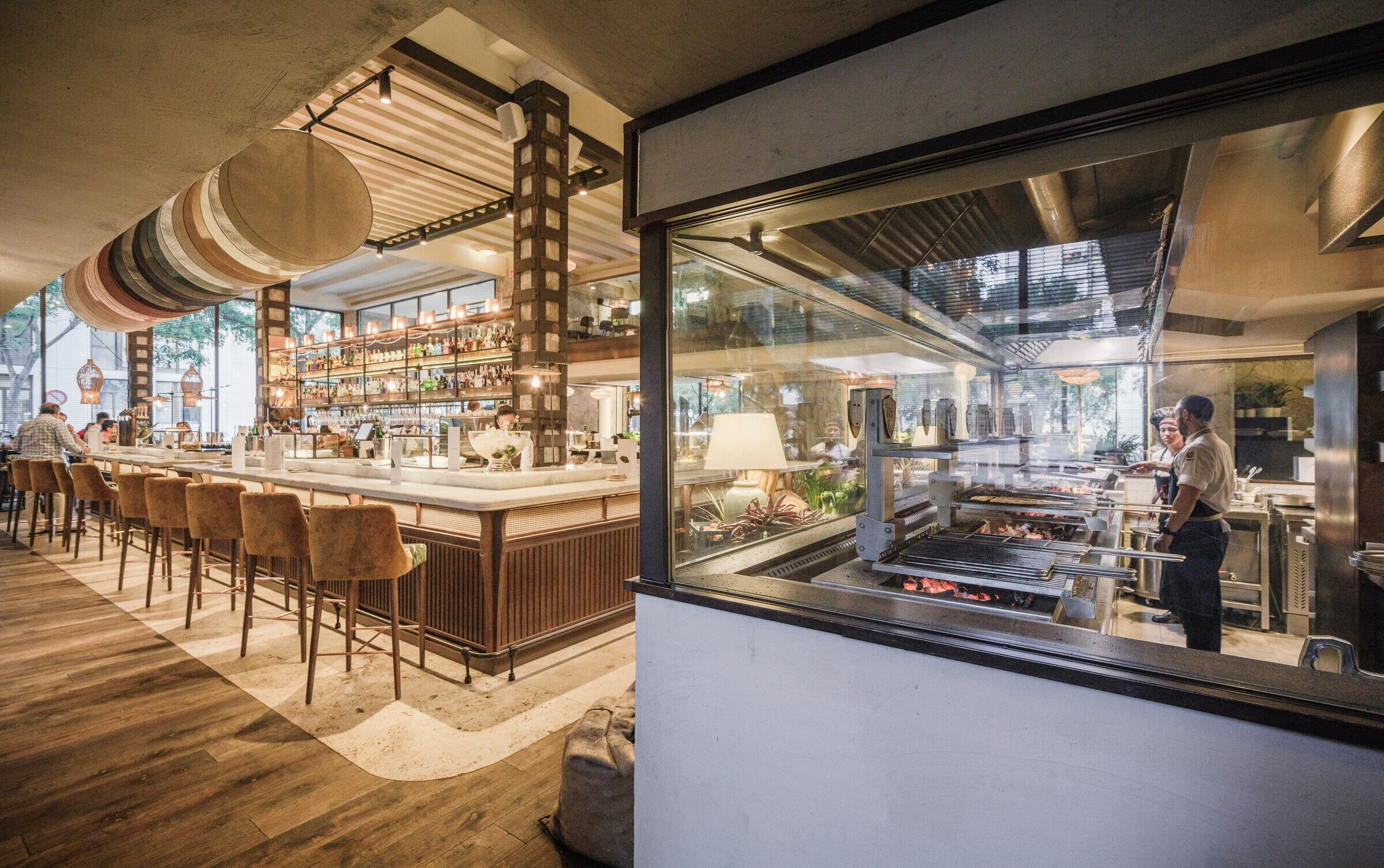 What materials did you choose and why?
The project was inspired by a profound desire to understand and reinterpret tradition while maintaining authenticity. We wanted our architectural decisions to incorporate the values of a traditional and quality cuisine: an architecture that doubles up as a home environment where you can enjoy a family meal or have a drink with friends.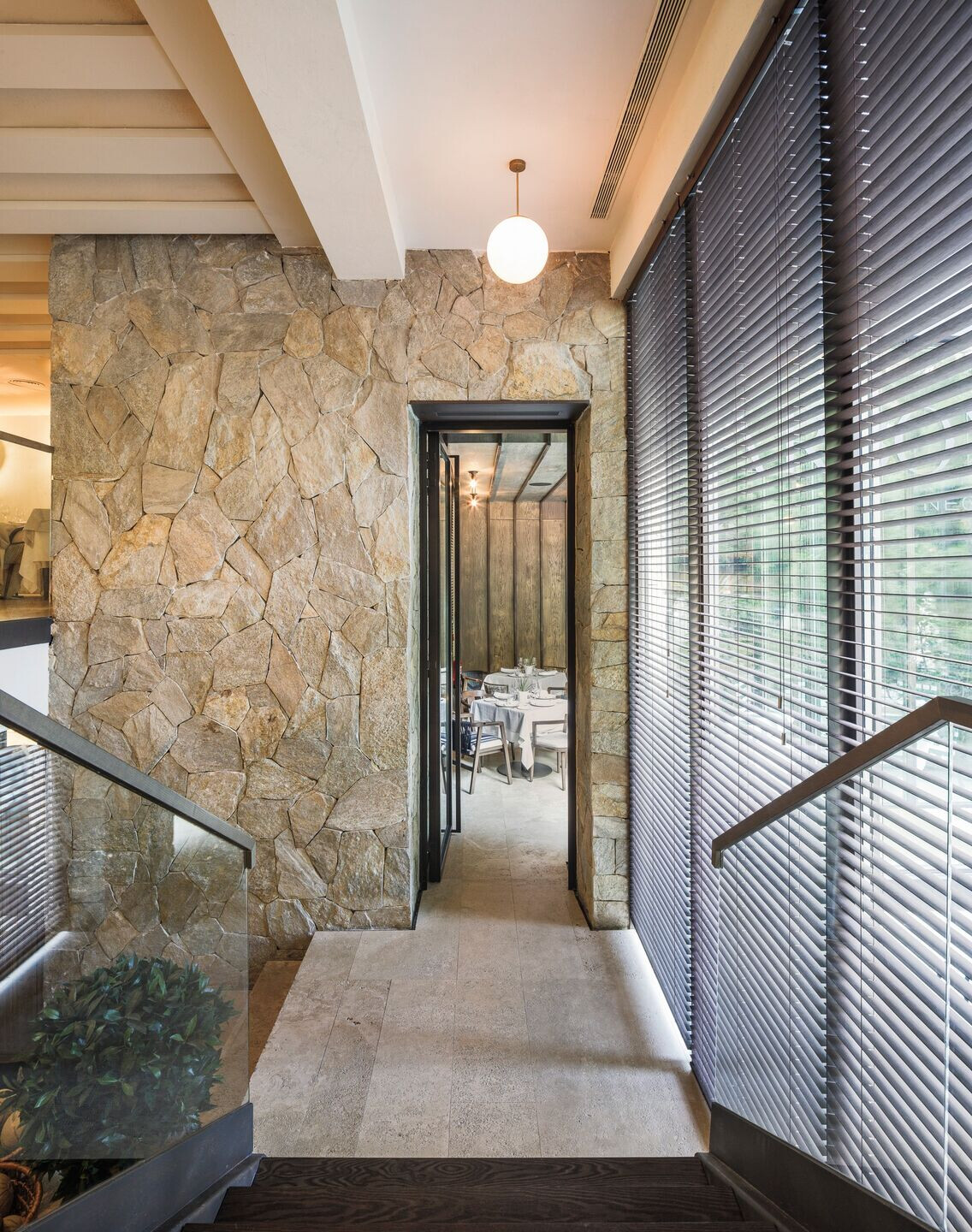 Carbón Negro is a venue that transports our clients to the countryside without them having to leave the city. Natural materials and abundant greenery create a lush and serene atmosphere without diminishing the urban sophistication at the heart of this winning project; this is showcased by the impressive bar visible from both floors. The authentic and transparent principles that guide the project ensure our guests always feel at home.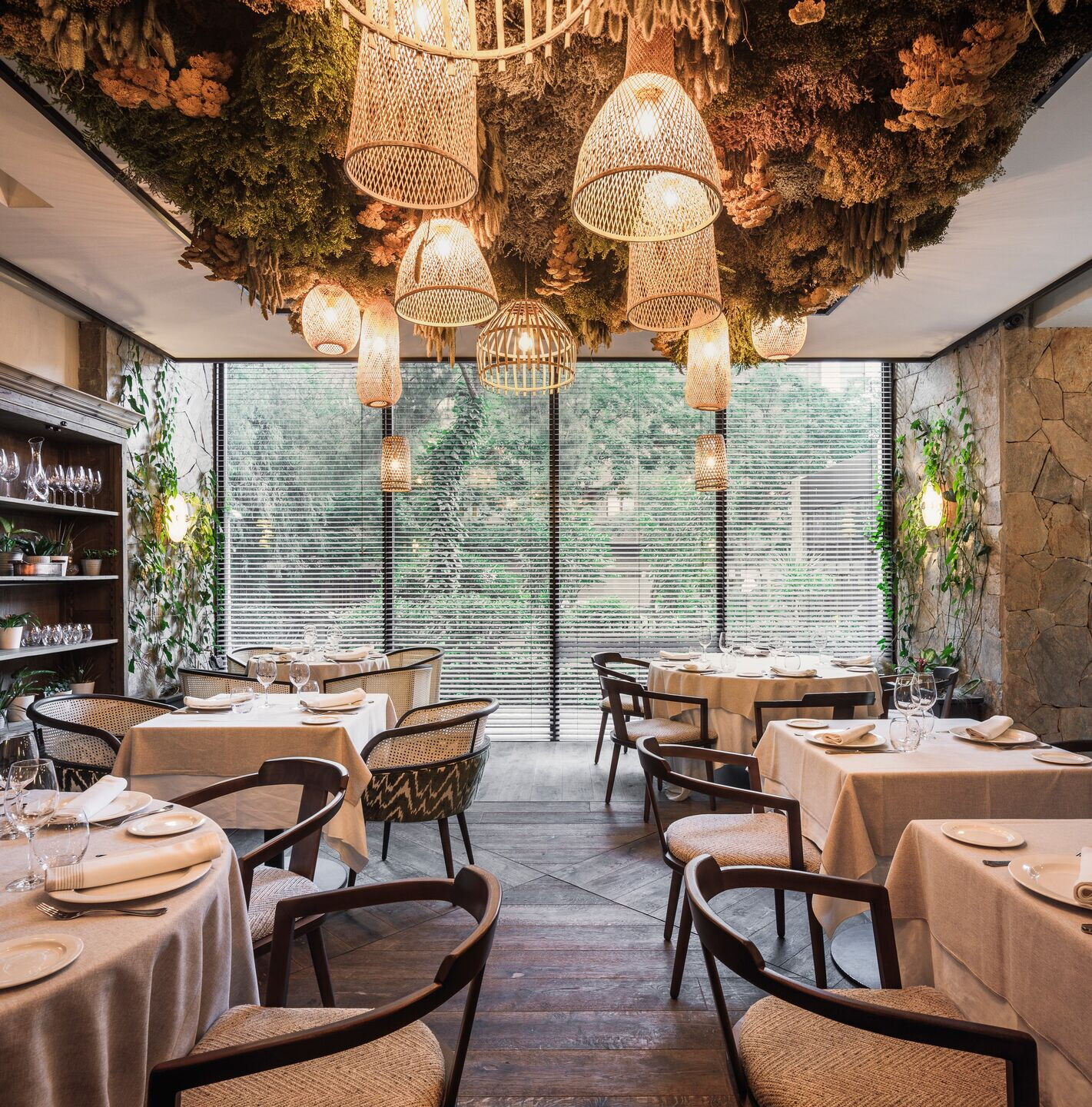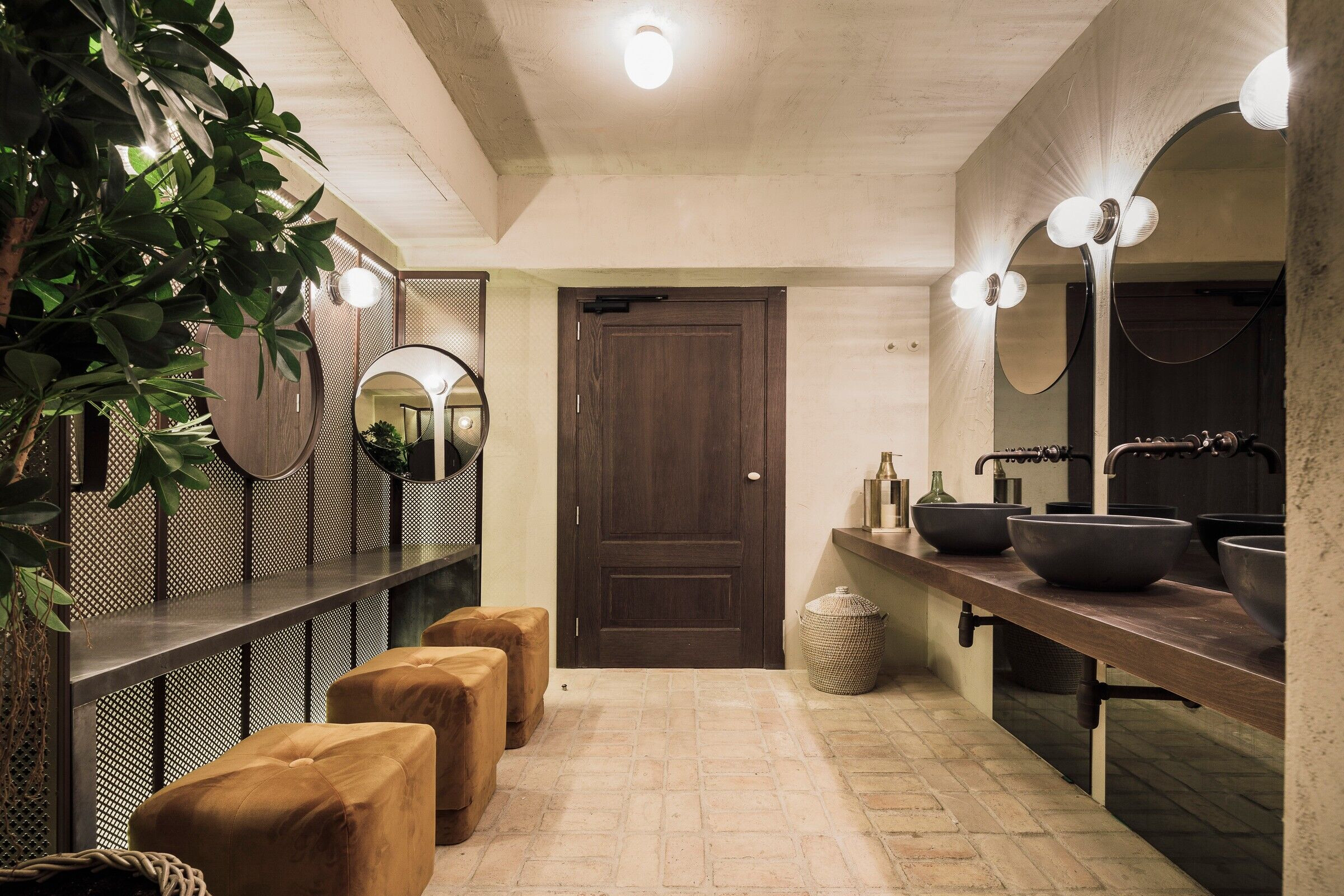 Material Used :
1. Facade cladding: Natural Granite, natural stone from Galicia
2. Flooring:
Different materials: Laminated wood, Caliza Toscana and treated
natural clays in different shades.
3. Doors: Natural and laminated wood. Bespoke models.
4. Windows: Aluminum and security glass with an air cavity. Bespoke
5. Roofing: Upholstered mineral wool for acoustic comfort.
6. Interior lighting: Ceramic, metal and glass. Natural fibers. MC Lighting
7. Interior furniture:
Stools: wooden and metallic structure. Velvet and pattern upholstery.
Chairs: Wooden structure, rattan and fabric by Gastón y Daniela.
Martínez Otero.
Tables: Marble table top and cast iron stand. Natural wood table top and stand.
Auxiliary furniture: Natural oak wood, Francisco Segarra