Gramercy Senior Housing is an affordable housing complex on a block-length lot formerly owned by the City of LA and used as a towing yard. One of the first developments to utilize city-sponsored Supportive Housing (Prop HHH) funds, this project provides much-needed housing options to low-income and homeless seniors in one of America's most expensive housing markets.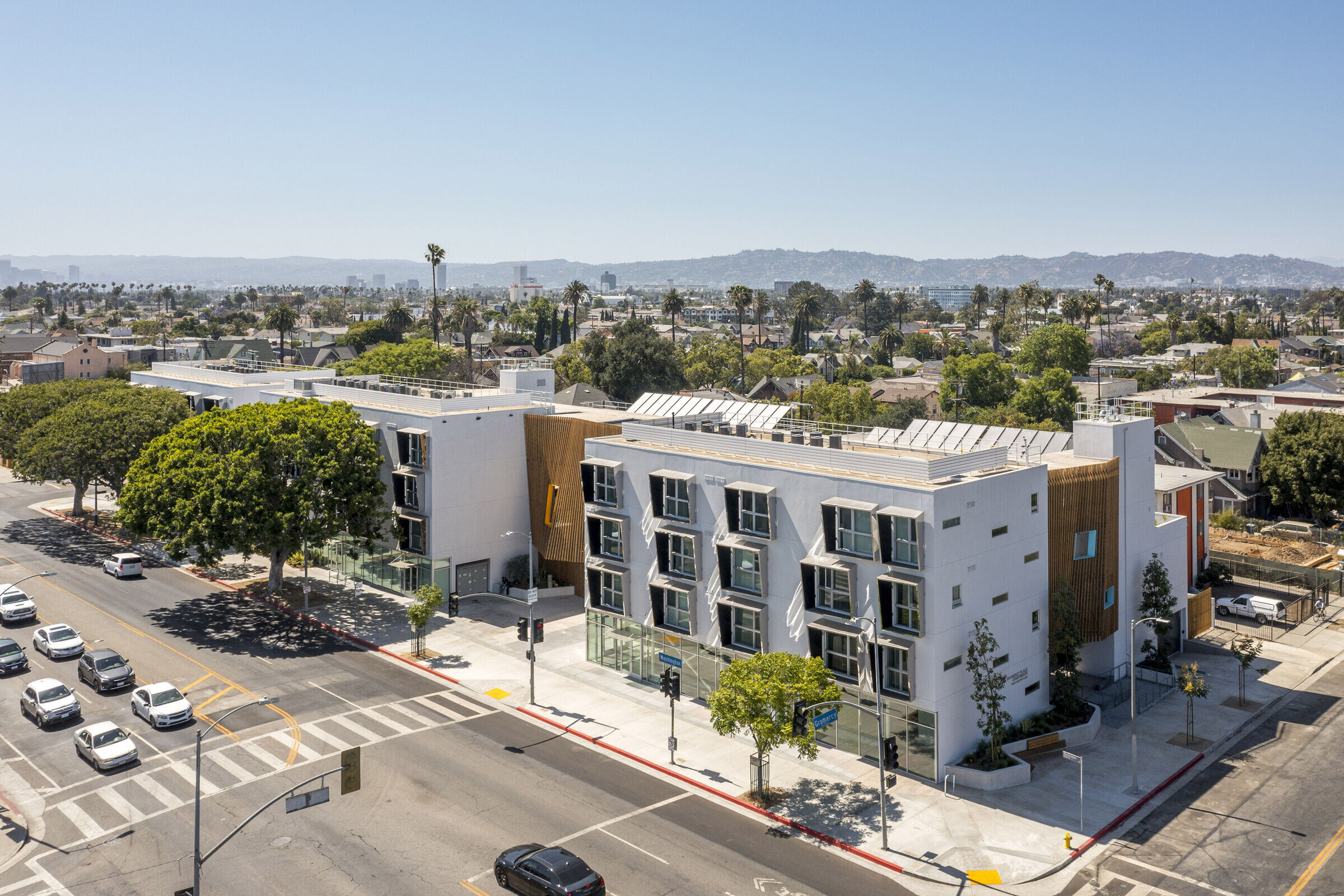 The site, long marked for redevelopment, sat untouched for decades, presenting an unsightly blank-fenced façade to the neighborhood. After numerous false starts, in 2016 a competition process was held to determine the site's future, and affordable housing developer Hollywood Community Housing Corporation (HCHC) was selected to lead the new building plans.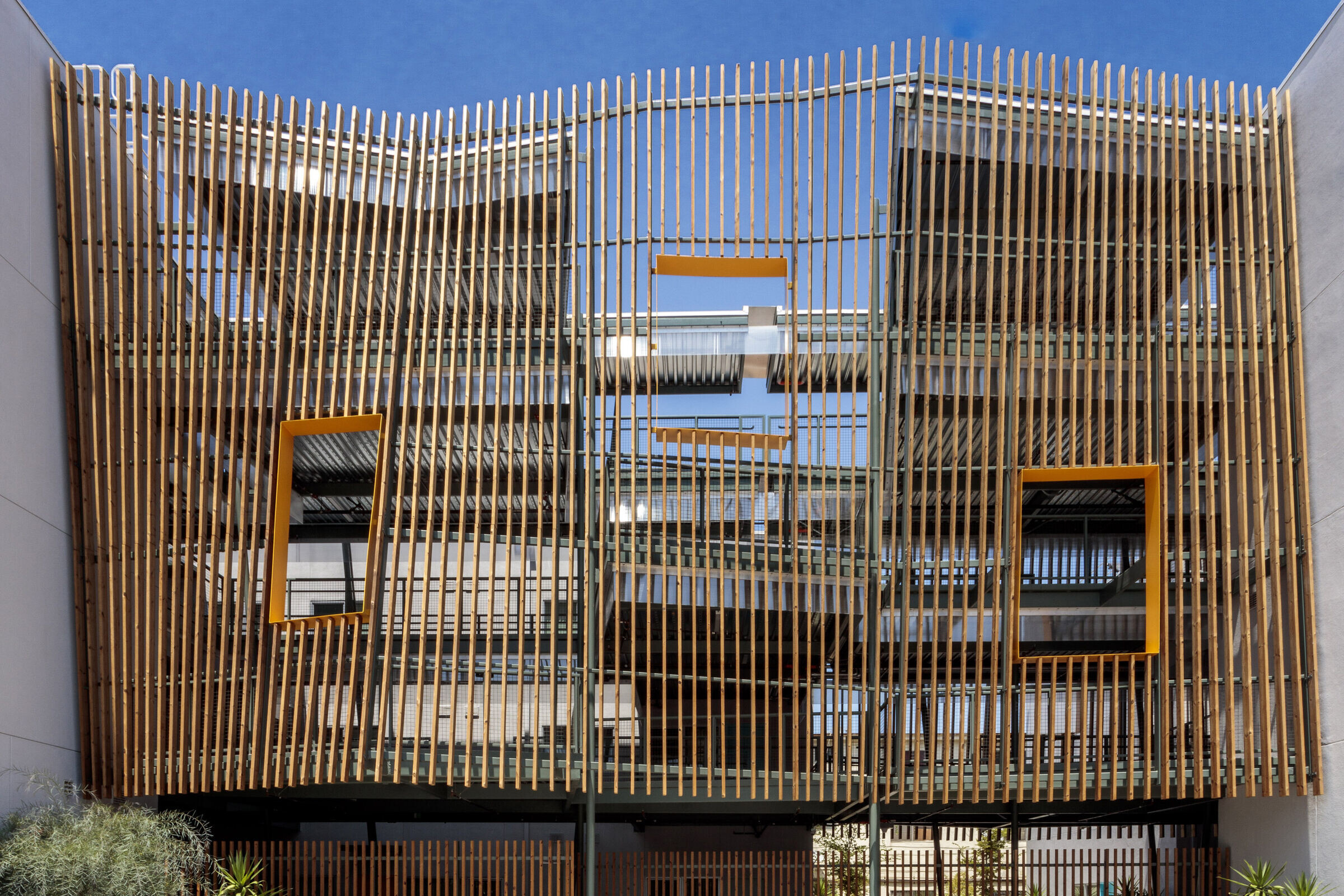 The 70,000SF mixed-use, high-density project includes 64 new apartments for senior (55+) residents making less than 50% of the area's median income levels (with half designated for those who were formerly homeless), a commercial café, community spaces, and public plaza on the entry level.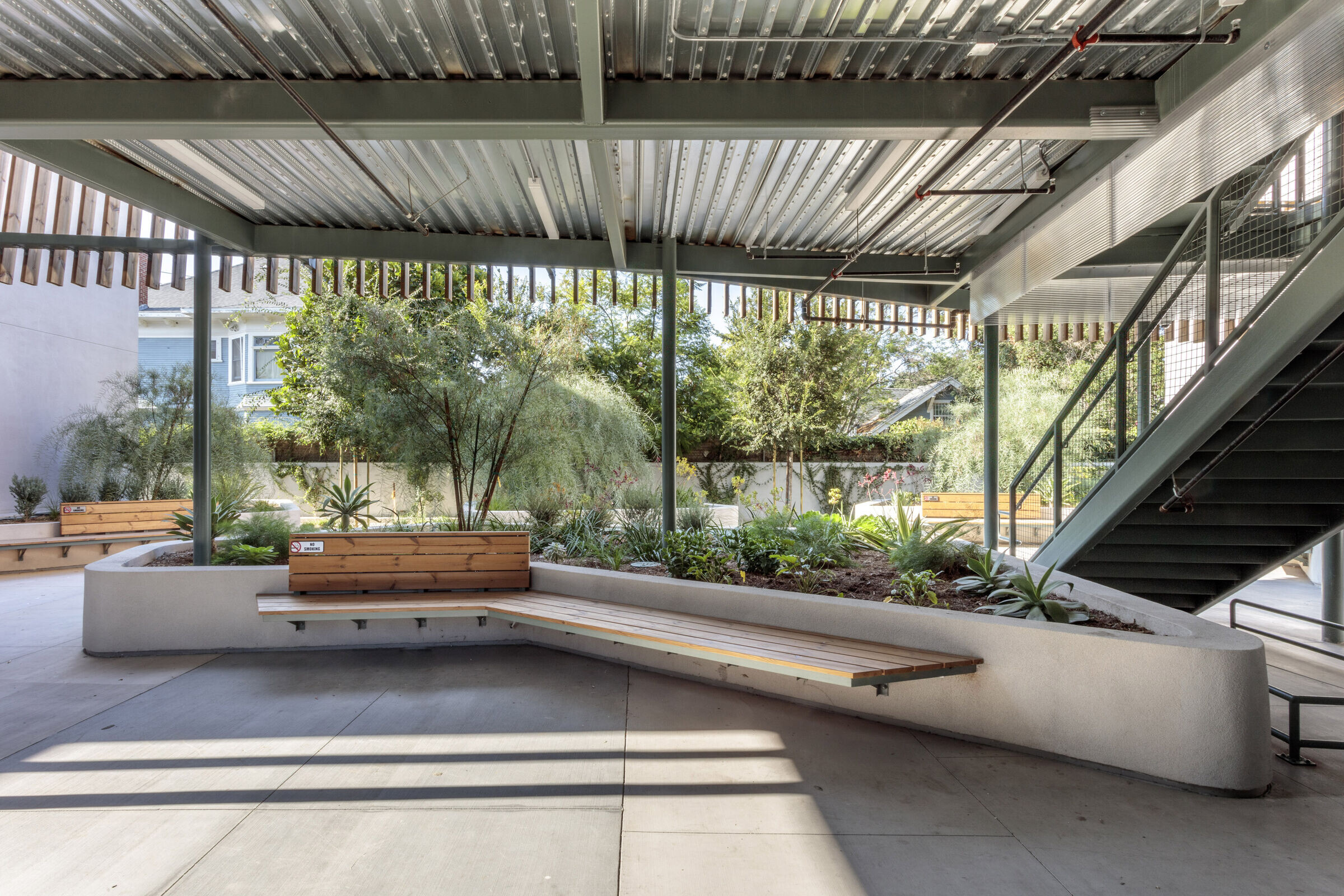 Extensive public outreach informed kdA's development process. The project is designed as six discrete buildings, reflecting the scale of the surrounding single-family residences. Constructed in a narrow lot bordered by busy Washington Boulevard on the west and craftsman homes to the east, the complex appears as a linear array of six separate structures connected by an exterior walkway system finished with an organic, loose trellis intentionally contrasted with the rationally organized residential blocks.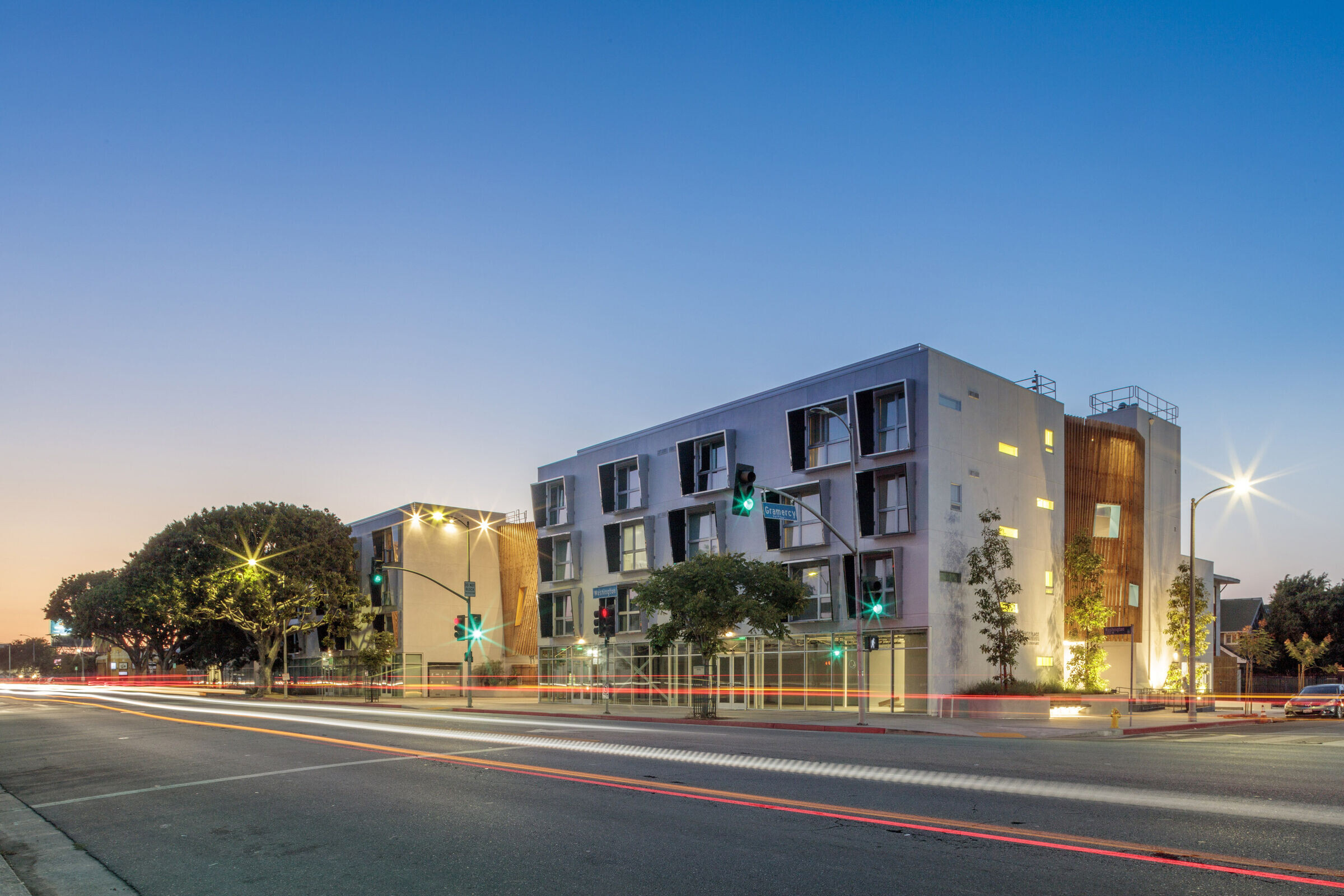 The massing of the buildings along Washington Boulevard are designed to be taller in order to shield those on the other side, providing additional privacy to residents and maximizing available light to surrounding parcels. Optimized for modular construction, the highly efficient floor plans in each structure allow for natural light and ventilation from both ends, while courtyard spaces outside of the apartments serve as shared living rooms for residents to gather. A rooftop edible garden offers additional shared community space.
Team:
1. Structural Engineering + Shoring Design: John Labib & Associates
2. MEP/Sustainability: PAE Engineers
3. Civil: KPFF Consulting Engineers
4. Landscape Architect: place
5. Code / Fire: Simpson Gumpertz & Heger
6. Acoustic: Newson Brown Acoustic Engineers
7. Specifications: CGA Associates, LLC
8. Trash & Loading: American Trash Management, Inc.
9. Lighting: Oculus Light Studio
10. Environmental Graphics: Lucy Newson Design
11. Waterproofing: James West
12. Soils/Geotech: Geocon West
13. CASP: RJC Group Inc
14. Methane Mitigation: Methane Specialists
Material Used:
Exterior
1. Windows: Alpine Windows. Acoustically enhanced vinyl windows with 1" insulated glazing units. Series A680-80, A6-81-80 and A6-82-80.
2. Storefront: CR Laurence. US Aluminum Series FT601 2x6 for 1" insulated glazing units. Vitro Solarban 70 XL clear glazing and Opaci-Coat 300 warm gray spandrel glazing.
3. Exterior Doors: Masonite Vista Grande patio doors and Door Components Inc. honeycomb core hollow metal doors.
4. Interior Doors: Masonite Flush Series particleboard core and hollow core.
5. Door Hardware: Schlage, Pamex and Ives.
6. Design/Build Roof Truss: Elliott/Drinkward Construction, Inc.
7. Wood Slats: Thermory. 2x6 Scots Pine.
8. Traffic Coating: Tremco. Vulkem 351. Slate Gray.
9. Concrete Paving: Davis Colors pigment additive, Outback, Silversmoke and Dark Gray.
10. Planters: Tournesol Boulevard, Green-form Bonsai and Green-form Osaka.
11. Light Fixtures: Lithonia, Kuzco, Rab and BL Lighting.
Interior
1. Tile: Daltile. Portfolio Colorbody Porcelain. Ice 12x24 wall tile and Iron Gray 2x2 floor tile.
2. Waterproof Deck Coating: Pli-Dek system over plywood substrate.
3. Vinyl Floor: Mohawk Group. Pro Series Luxury Vinyl Flooring. Travane 6x48 TV35 Golder Oak.
4. Vinyl Wallpaper: Astek wall coverings. Dornick, Morning Light and Climbing Eucalyptus.
5. Countertops: LG Hi-Macs. Platinum Granite.
6. Architectural Casework Cabinets: Centerline Wood Products with Snergy thermally fused laminate finish. Folkstone Gray and Deep Blue Sea.
7. Appliances: GE EnergyStar Certified.
8. Drop-In Showers: Fiber Care. HES62-36BF-T stall. 3 wall handicap accessible with trench drain, grab bars and seat.
9. Plumbing Fixtures: American Standard and Delta.
10. Light Fixtures: Elite LED lighting.
11. Solar Hot Water System: Cal Solar.