The roughly 900sf Loft remodel is in Chelsea, one of the most vibrant and cultural neighborhoods in the heart of Manhattan. The Loft is located on the 6th floor of 'The Cammeyer' facing north overlooking the "Limelite Marketspace" - an inspiring commercial space operating in the former Episcopal Church building.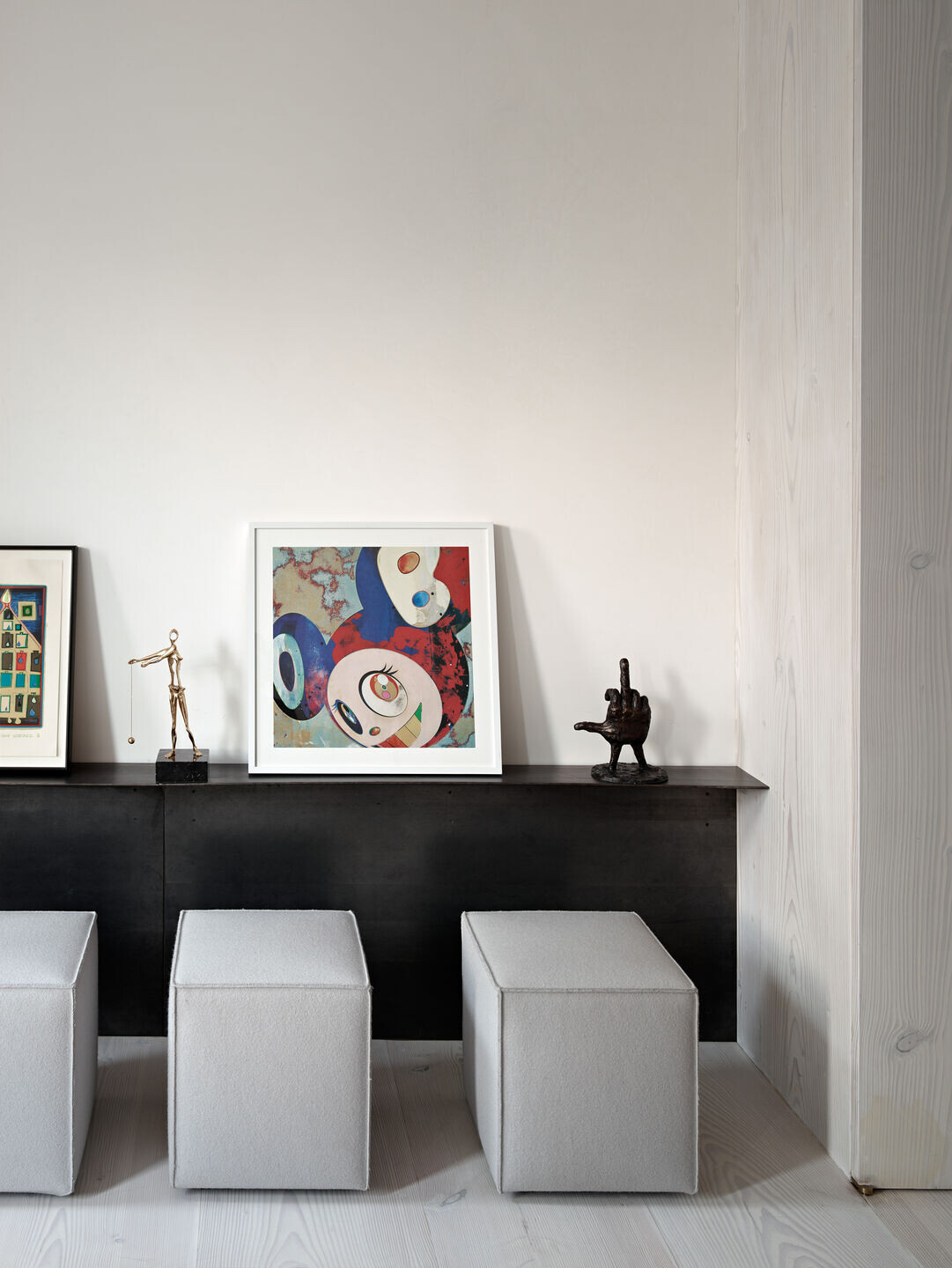 The goal had been to change the atmosphere of the open floor plan to living within zones. Each Zone stays consistent in material quality yet is distinct to its uses of: Cooking, bathing, sleeping, dining, lounging, and studying.
The existing kitchen and bathroom remained, while closets were removed, and ceiling heights increased. Insulation and sound proofing were introduced where needed for increased privacy and a ceiling HVAC unit had been introduced for purpose of convenience and least obstruction.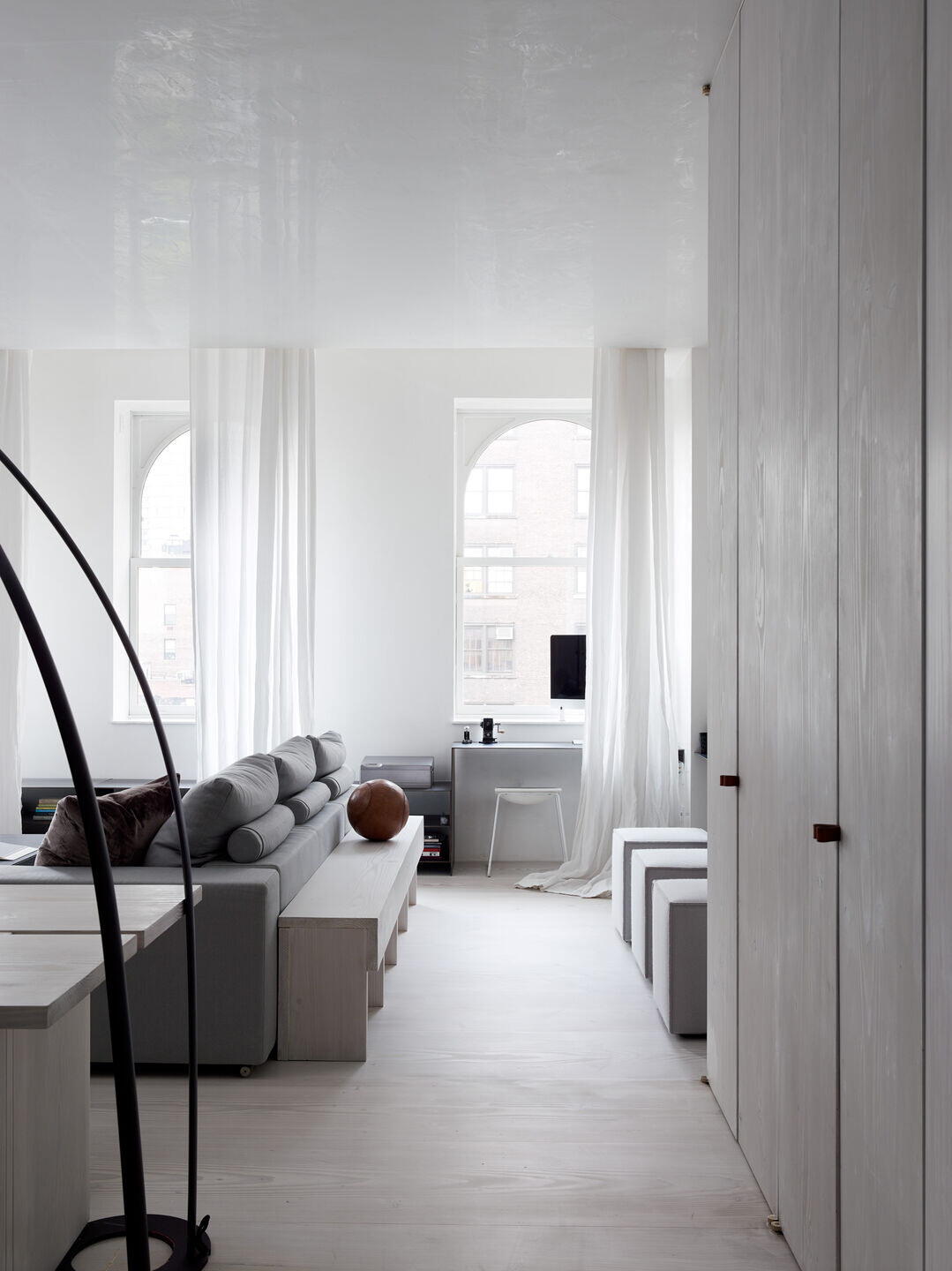 'Venetian Marmorino Plaster' in a highly reflective white sheen builds the new ceiling and wall finishes. Whitewashed 'Dinesen -Douglas Fir' solid wood planks span wall to wall building the new floor. Brass finished floor outlets increase the flexibility and use throughout the open plan with its new distinct zones of living.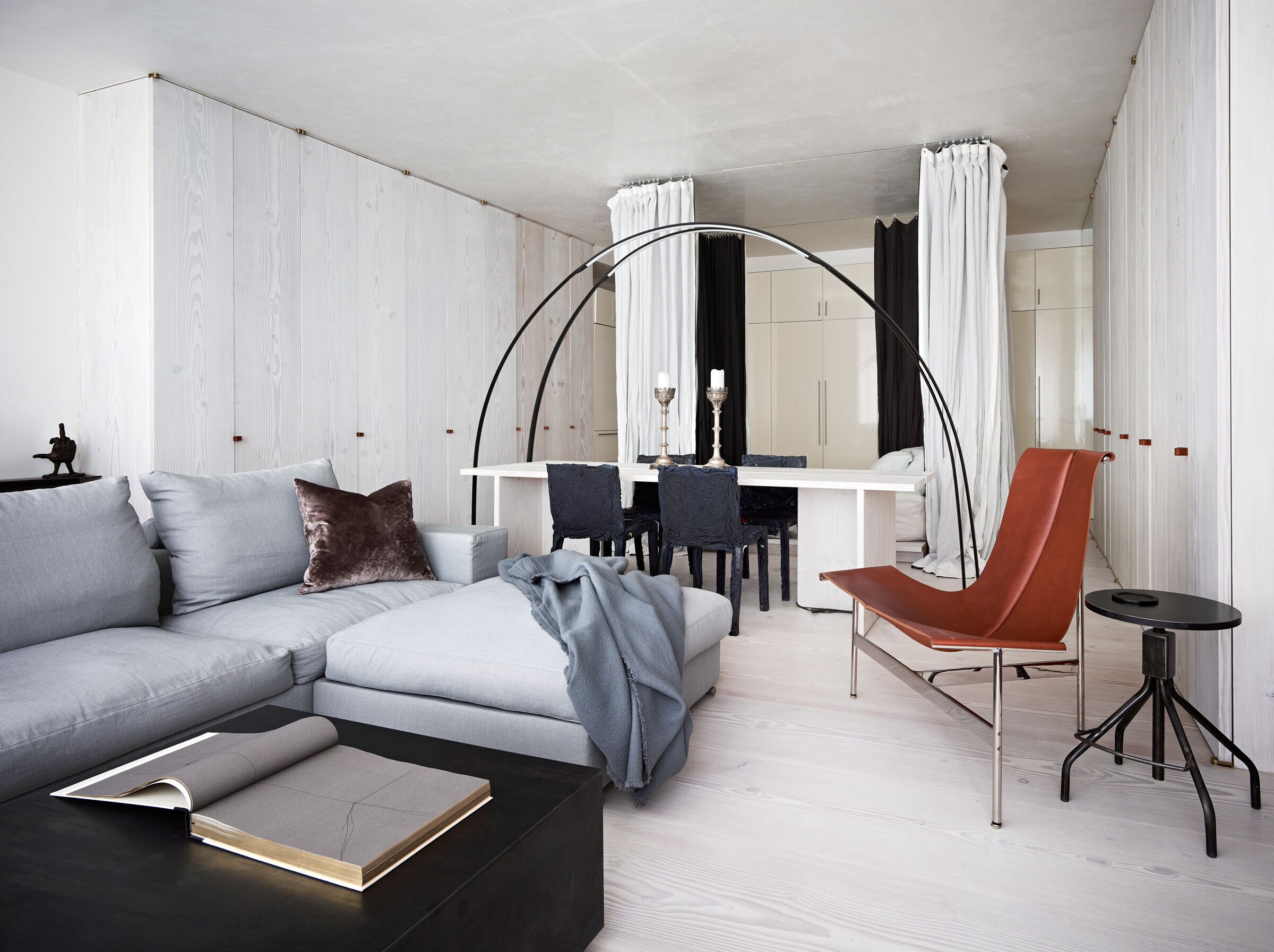 Maximized Closet space established via floor to ceiling pivot doors align with the 17.7" wide Dinesen floor planks and build the interior elevations to each long-side of the space. The slim steel structure with birch board inlay by 'neue tische' provides the minimal organizer system.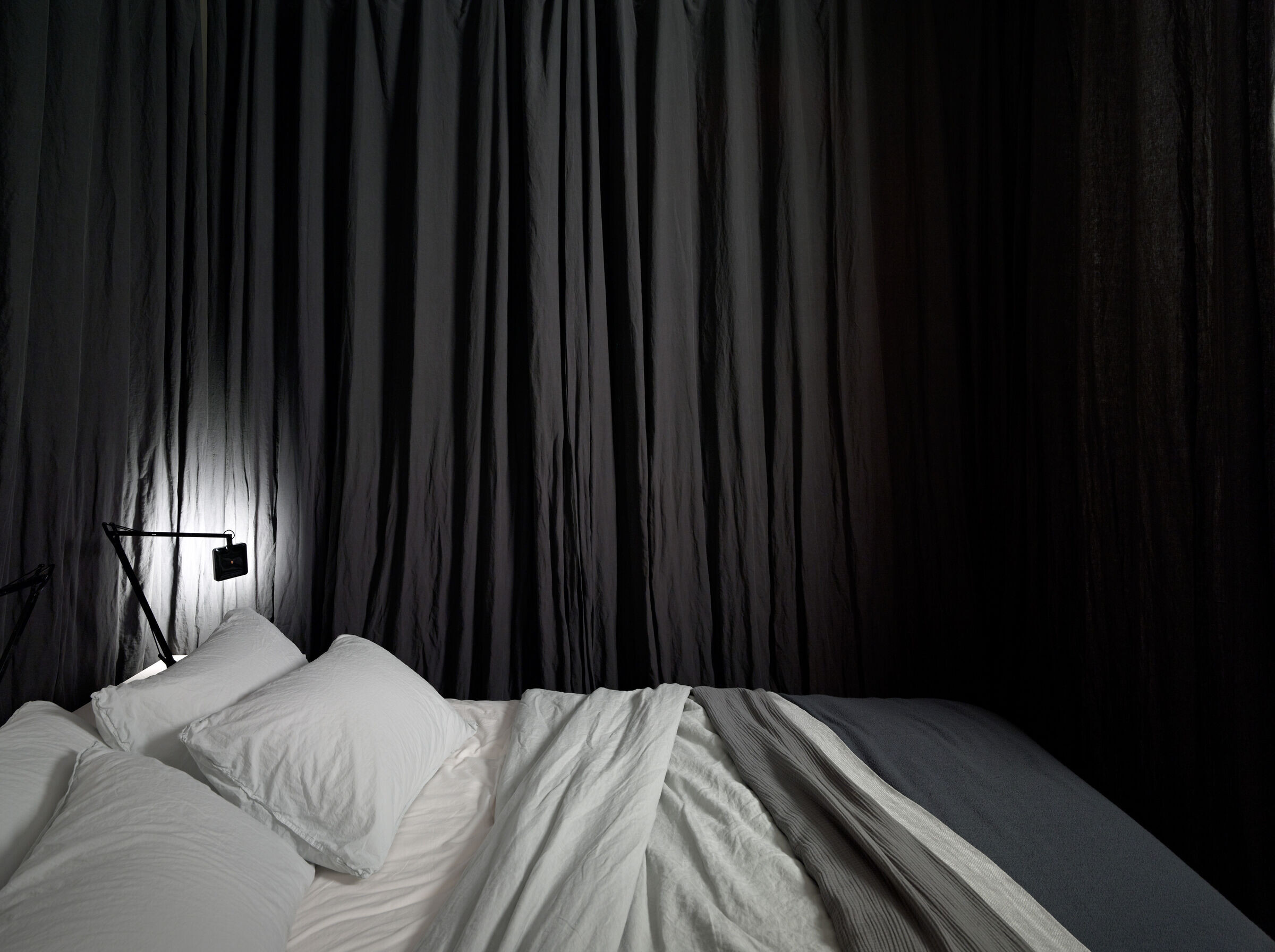 Low custom and inbuilt mill steel shelving spans wall to wall and rises from the bookshelf and seating to a desk-workstation. Other sideboards in dark mill steel balance the generally very light-colored white atmosphere of the loft. The white sheen of the plaster carries the daylight deep into the loft.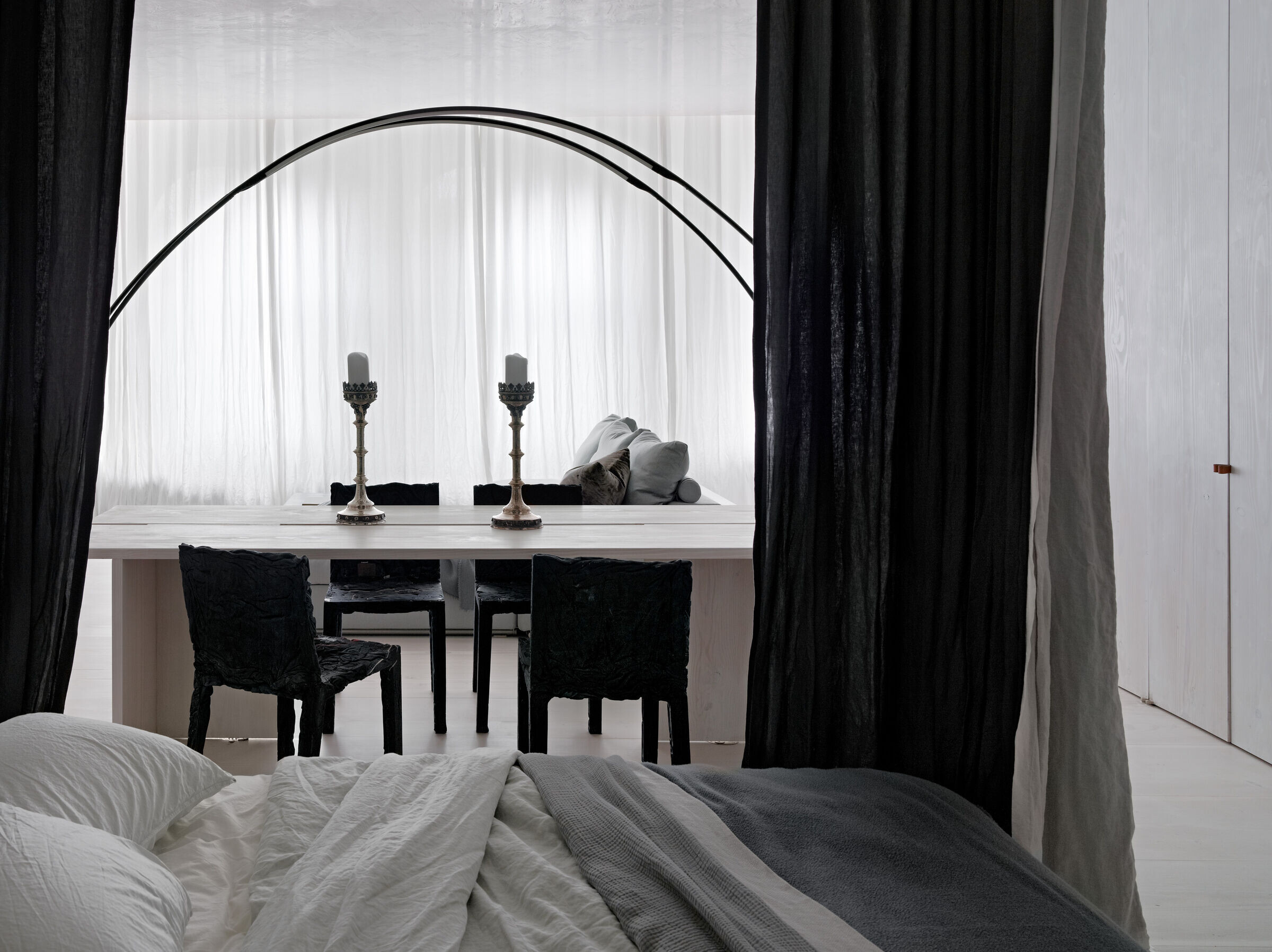 The 100% natural linen sheer curtains at the window-wall diffuse the northern daylight and modulate the light intensities throughout the space. For visual comfort and blackout at night, a double layer of dark and white sheer curtains enclose the sleeping zone of the queen-size bed.