The villa is located on the edge of a small town surrounded by numerous vineyards for the production of Prosecco wine. The land owned covers an area around 25,000 square meters almost entirely suitable for building and is crossed by an irrigation canal with the south-east portion of the lot dedicated to vineyards.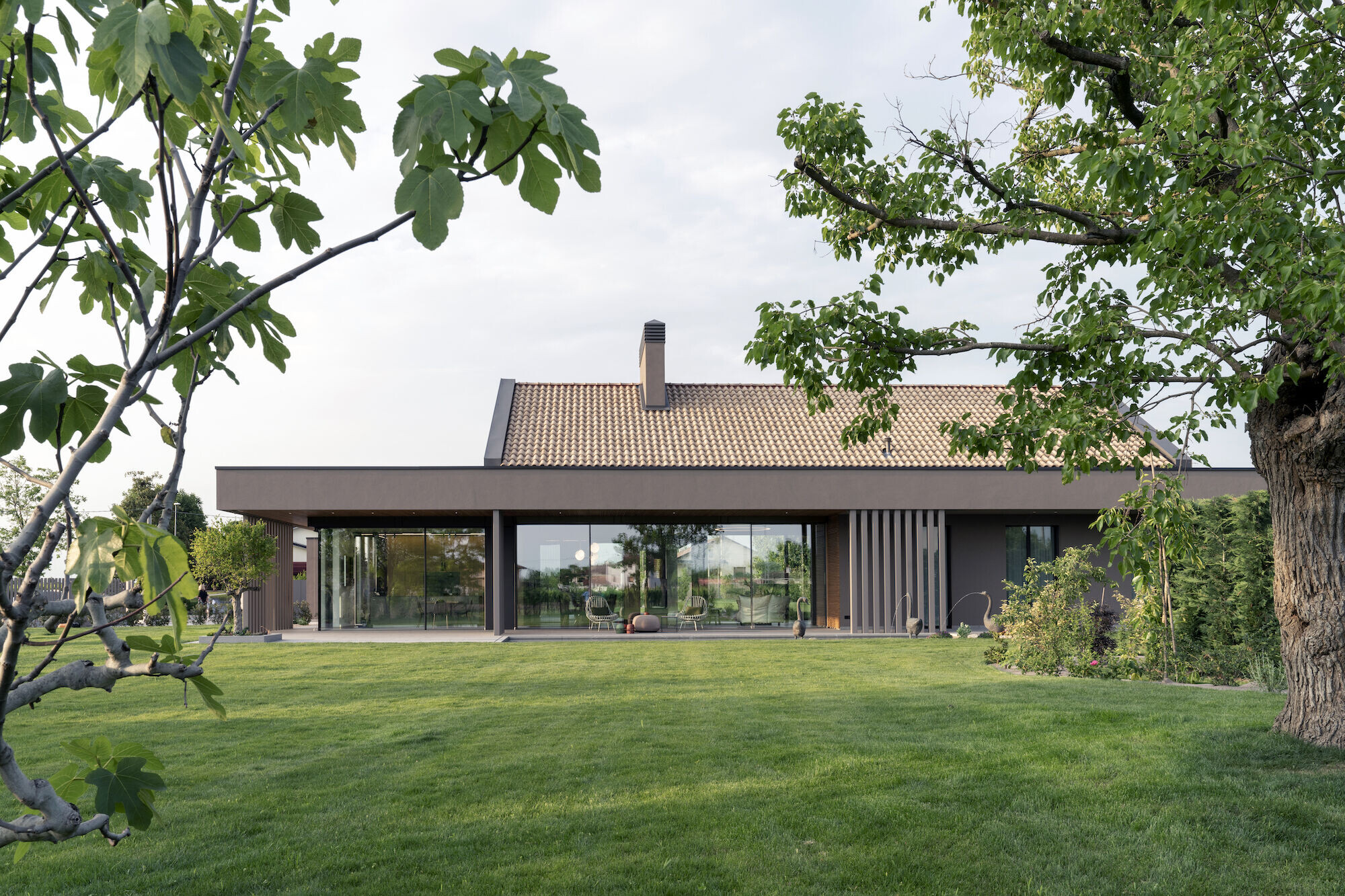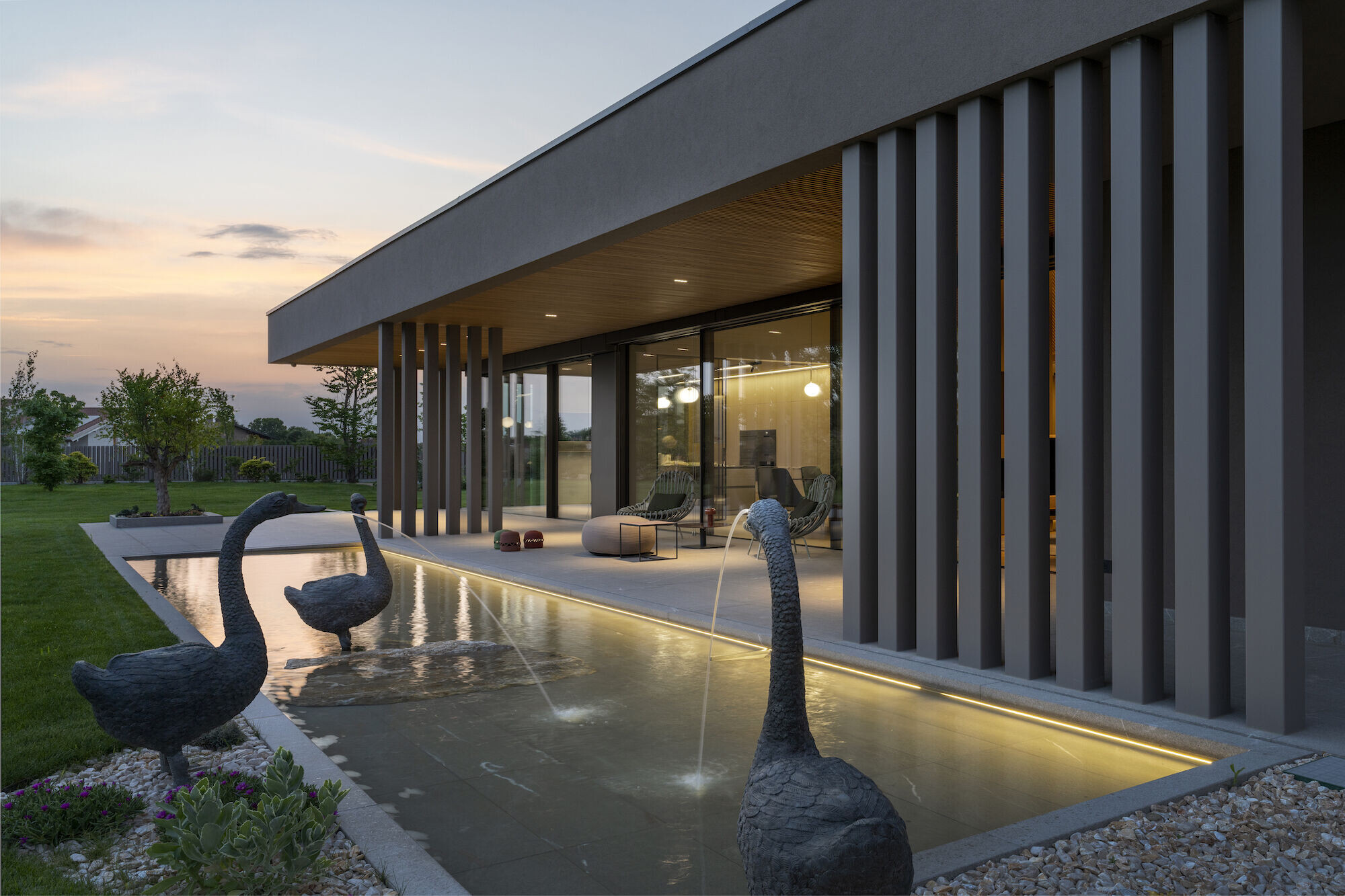 During the construction of the house, the owner came up with the idea of abandoning the building plans to plant olive trees, separating in this way the house from the main road and the rest of the town; an olive grove of 400 trees was born which covers an area of about 2 hectares.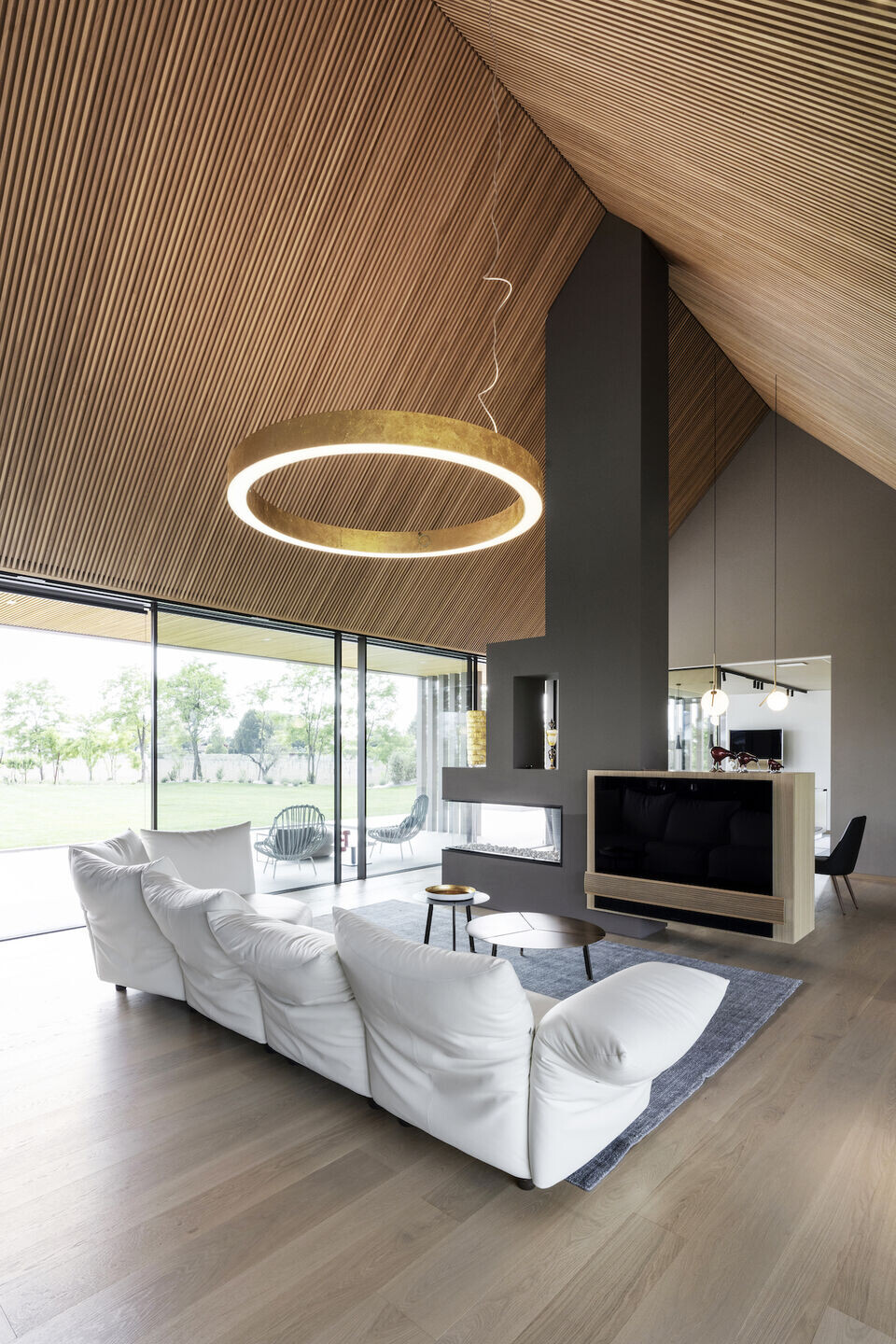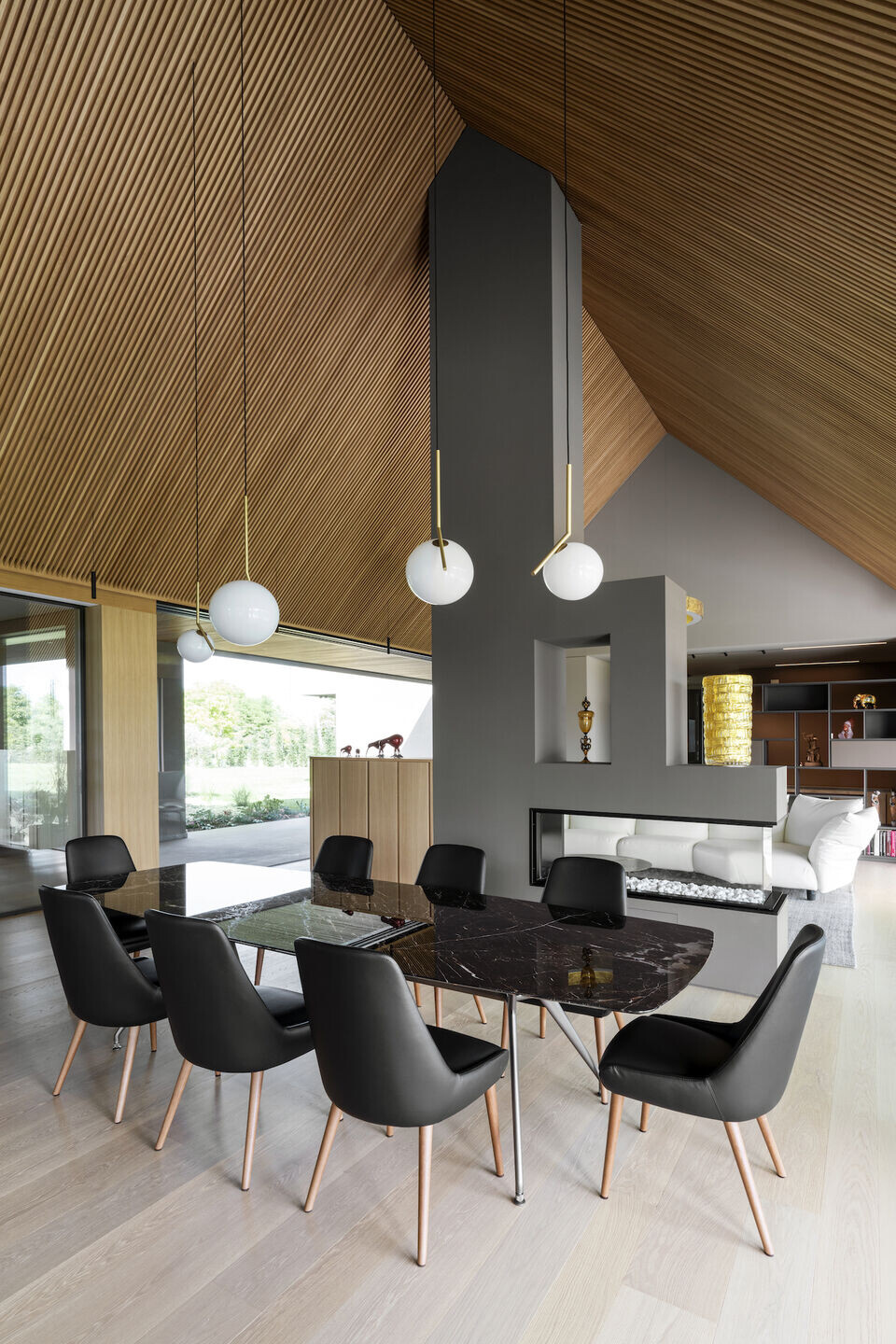 The desire of the client, an a hyperactive and constantly moving entrepreneur, was to create an oasis of relaxation for the weekend where children and grandchildren could gather to distract themselves from the daily routine.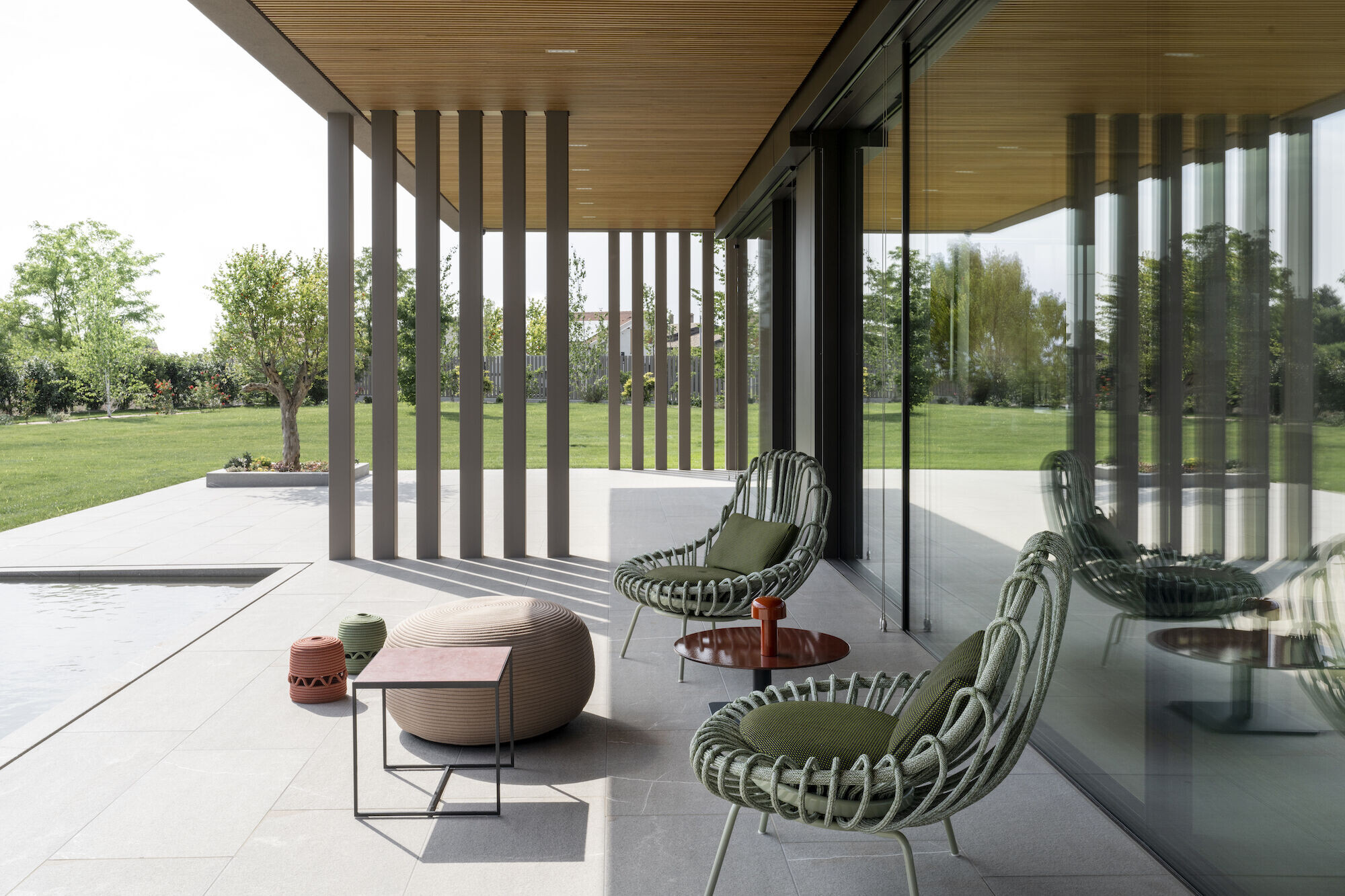 The entrance to the villa is attested to the north with a pedestrian path separate from the entrance intended for cars, you cross a long porch with brickwork covered in natural split Credaro stone, while all the external flooring including the front of the garage is in typical local Piasentina stone slabs.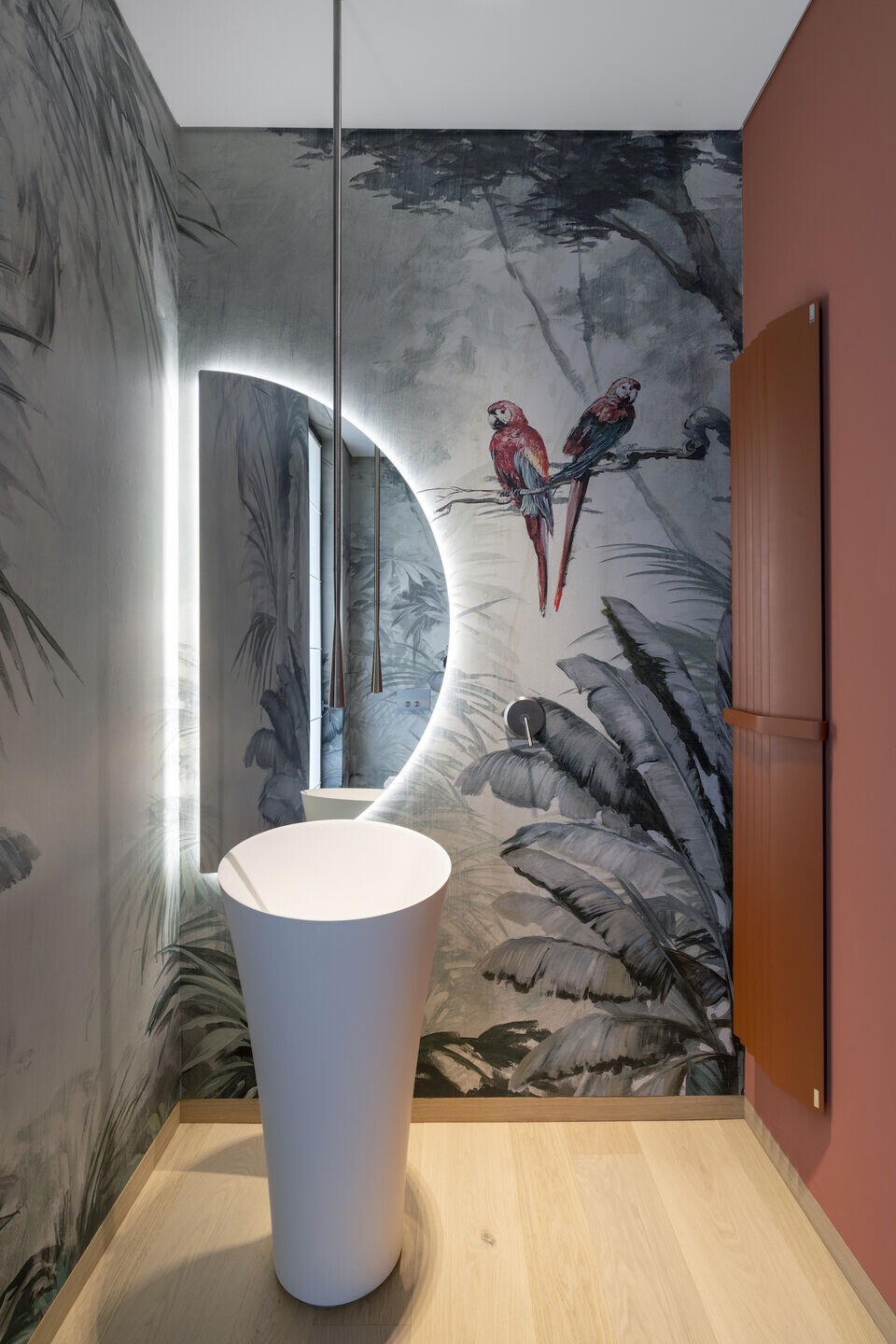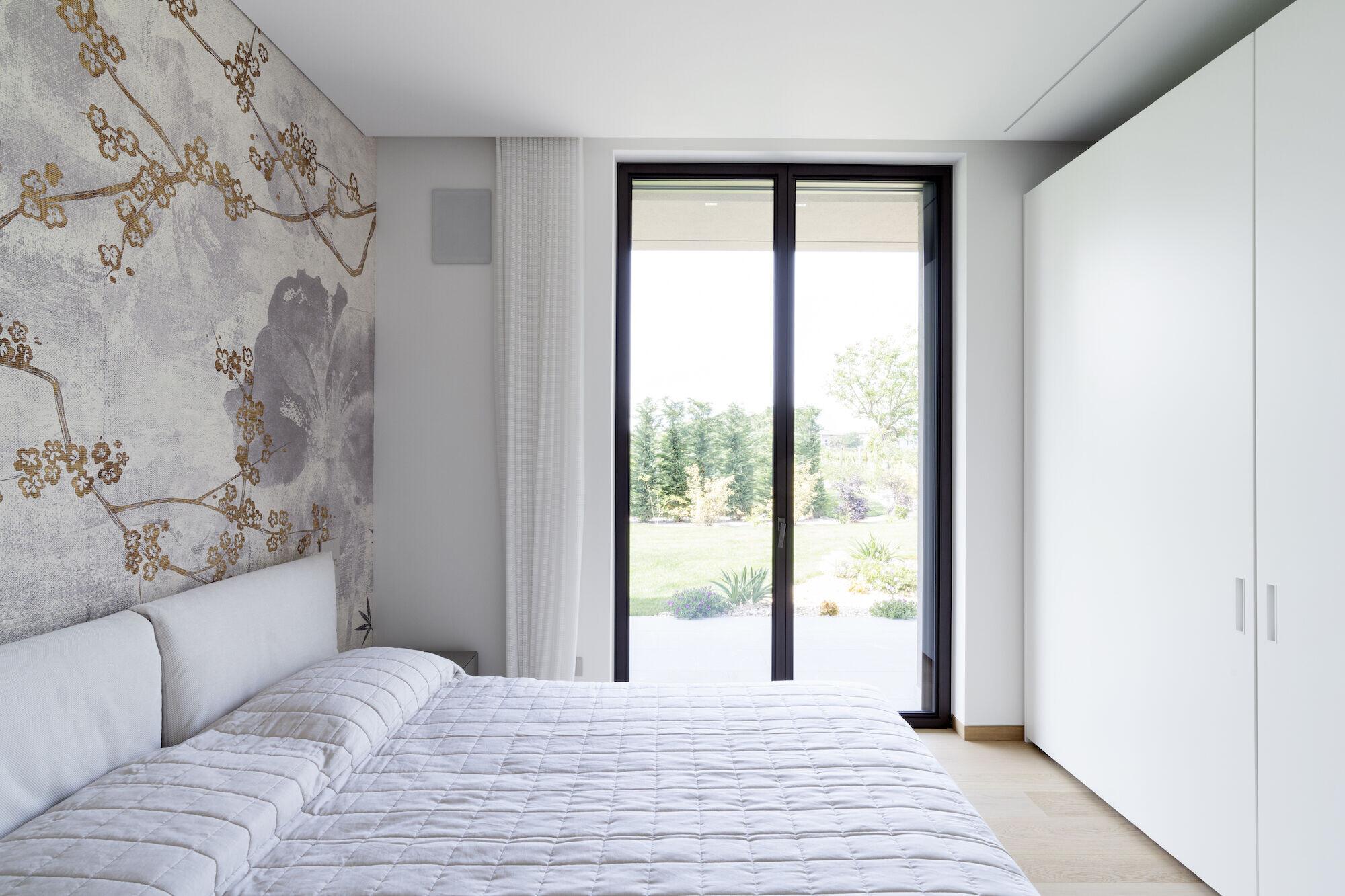 The living room, the central core of the house, is entirely glazed on the south and north sides, allowing a continuous view of the garden even through the built body.
To the right of the living room, separated by the fireplace, the dining room and kitchen and some service areas with access to the garage. On the left, the sleeping area with two bedrooms separated by a shared bathroom for grandchildren, a master bedroom with access from a dressing room and a private bathroom connected to the fitness area.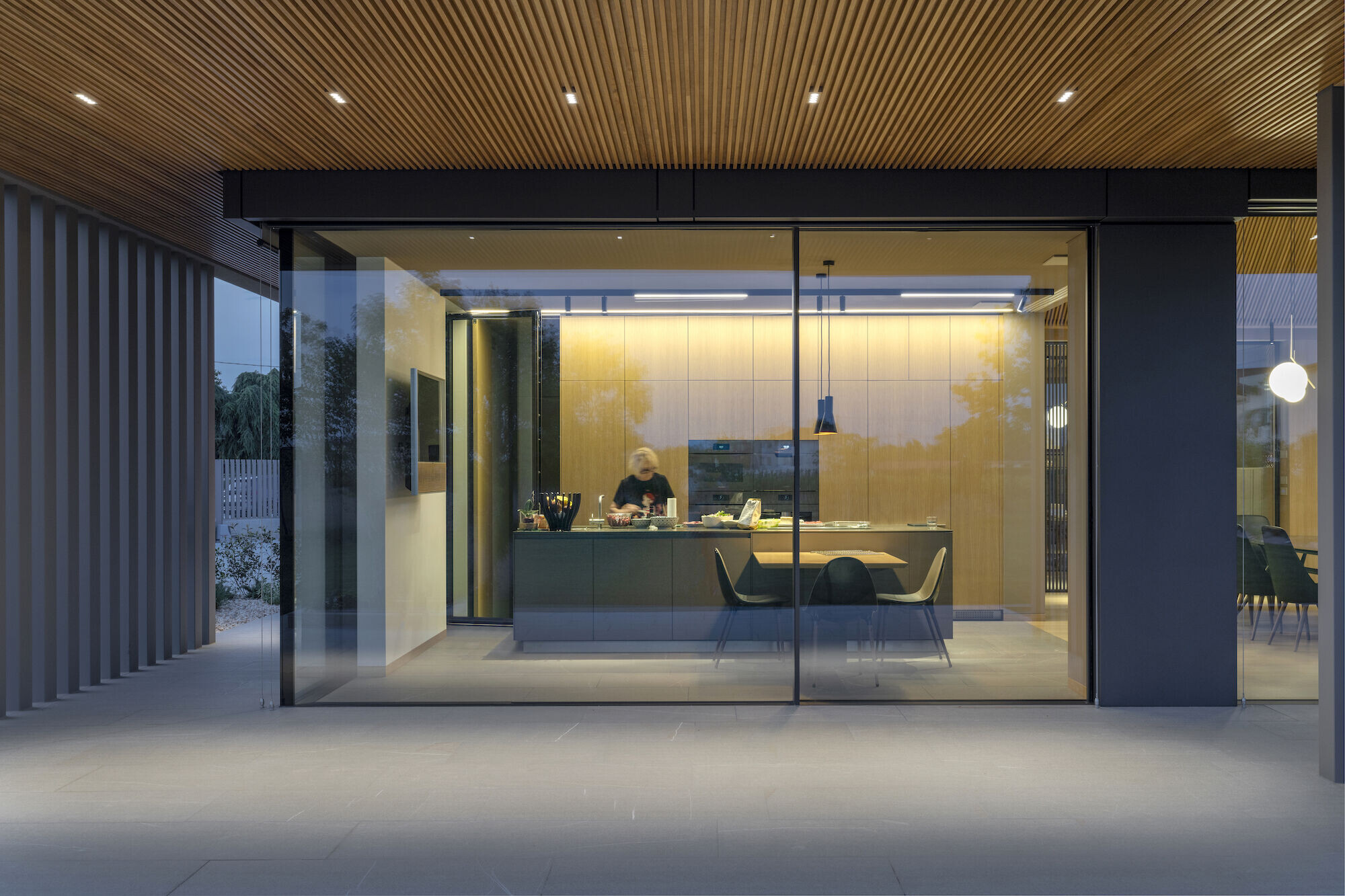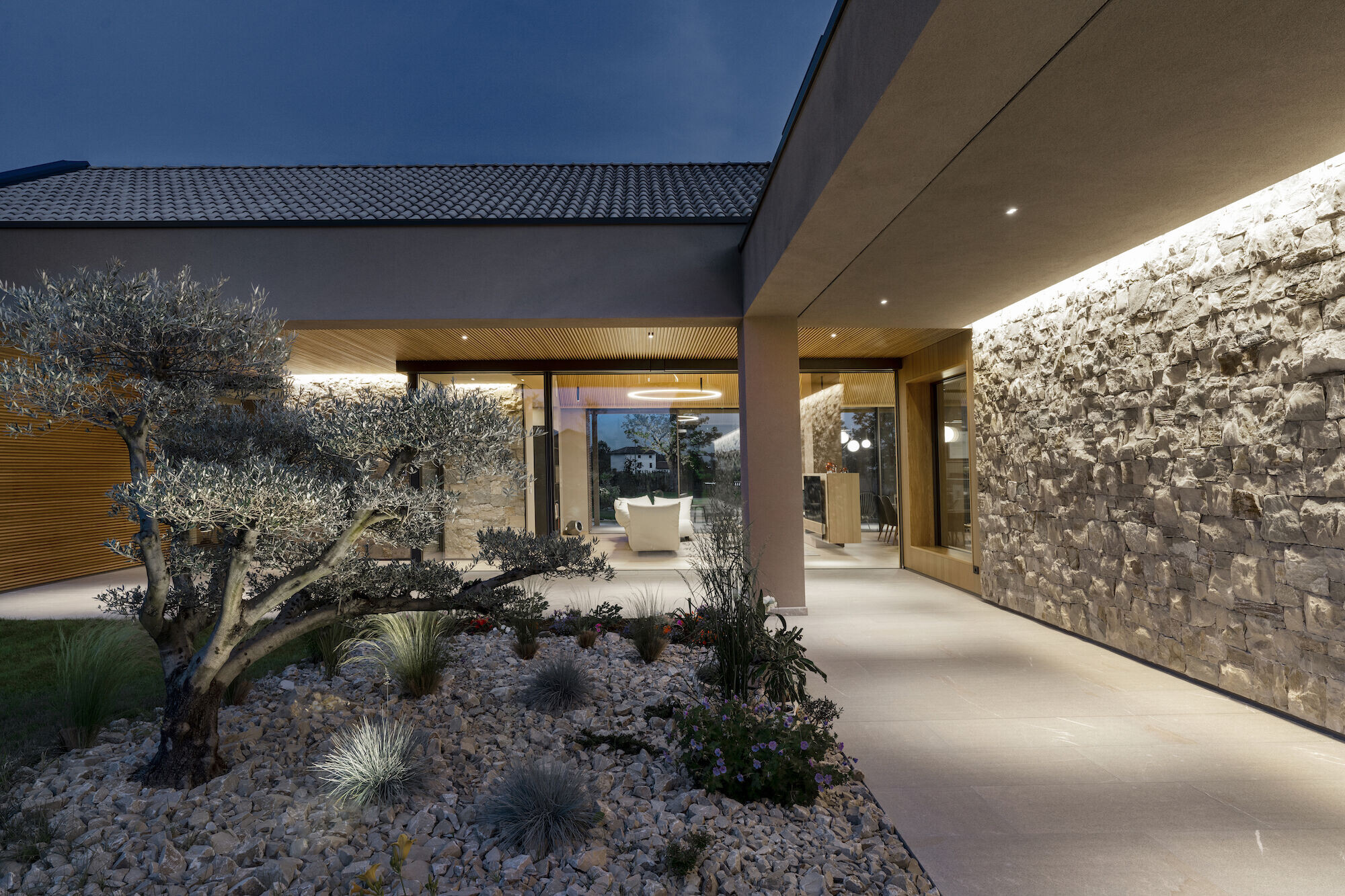 Team:
Architects: Damilanostudio architects
Arch. DUILIO DAMILANO
Arch. ENRICO MASSIMINO
Collaborators: Geom. LORENZO ROMANO, Arch. MARCO BORSOTTO
Eng. ANTONINO COLUSSI - STRUCTURE PROJECT
Eng. SILVIO MASSIMINO - THERMAL SYSTEM AND INSULATION PROJECT
Eng. ALESSANDRO COZZA - ELECTRICAL SYSTEM PROJECT
Arch. CAMILLA BARBERO AND PAOLO ROAGNA - GARDEN PROJECT
BUILDING WORKS:
Edile Castionese di Pagura Lino & C. S.n.c.
EXTERNAL WINDOWS:
Imprint - Via Roma Lancenigo TV
ELECTRICAL SYSTEMS:
Ndz Snc - via baracca
AIR CONDITIONING AND THERMAL SYSTEMS:
Della Torre Impianti srl
ALARM SYSTEM:
Elettrosat Sas di Driol Mirco
PLASTERBOARD:
SCS di Sabino Antonio
WOOD FINISHES: (oak floors, oak countertops)
G.T.G. Len S.n.c.
INTERNAL WINDOWS INTERNAL DOORS:
Rimadesio (Velaria and Moon doors)
COVERING TILES:
Fornace Laterizi Vardanega Isidoro Srl
STONE FINISHES: (Piasentina stone floors, external wall cladding in Pietra Di Credaro, internal porcelain stoneware cladding):
Francescut Marmi srl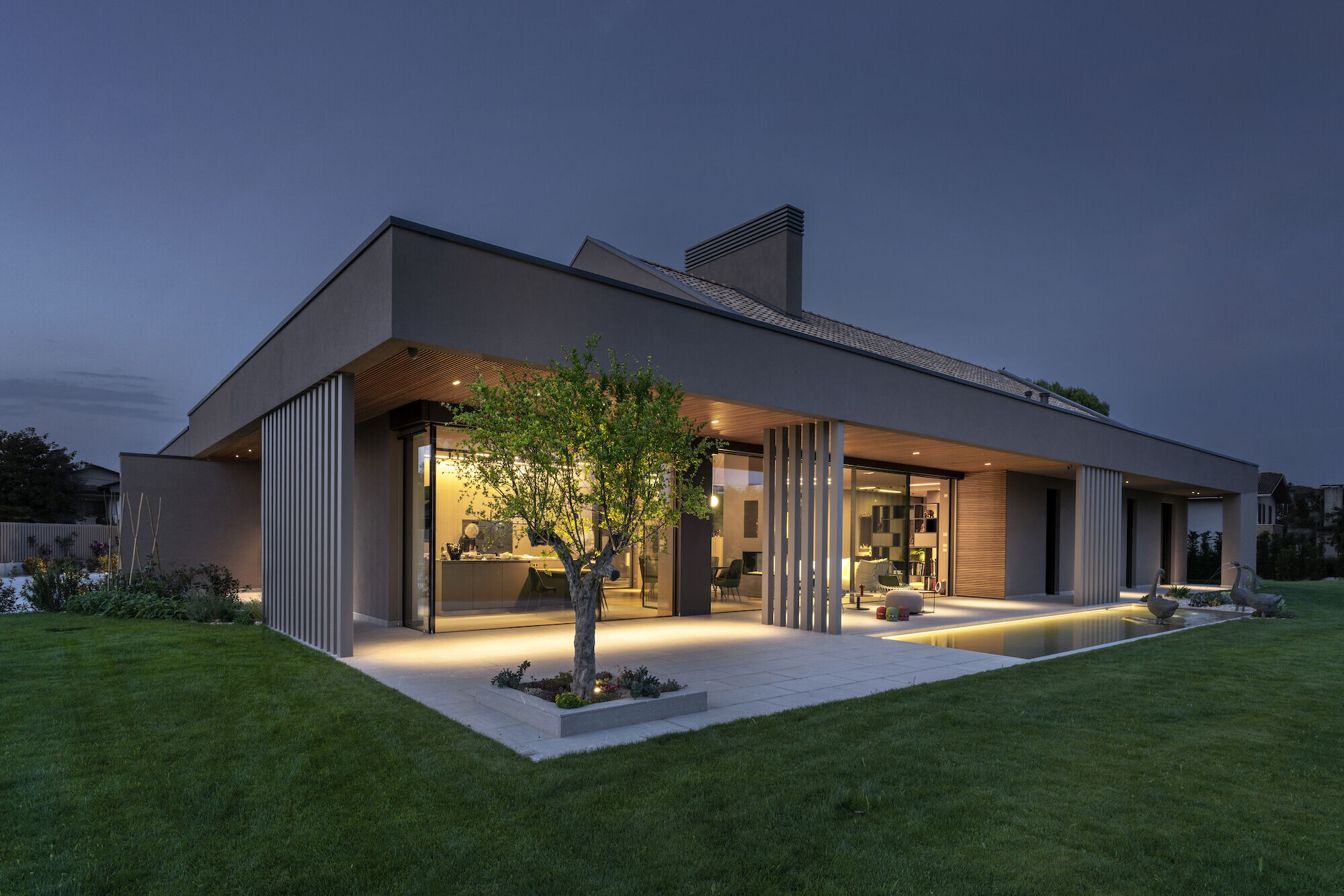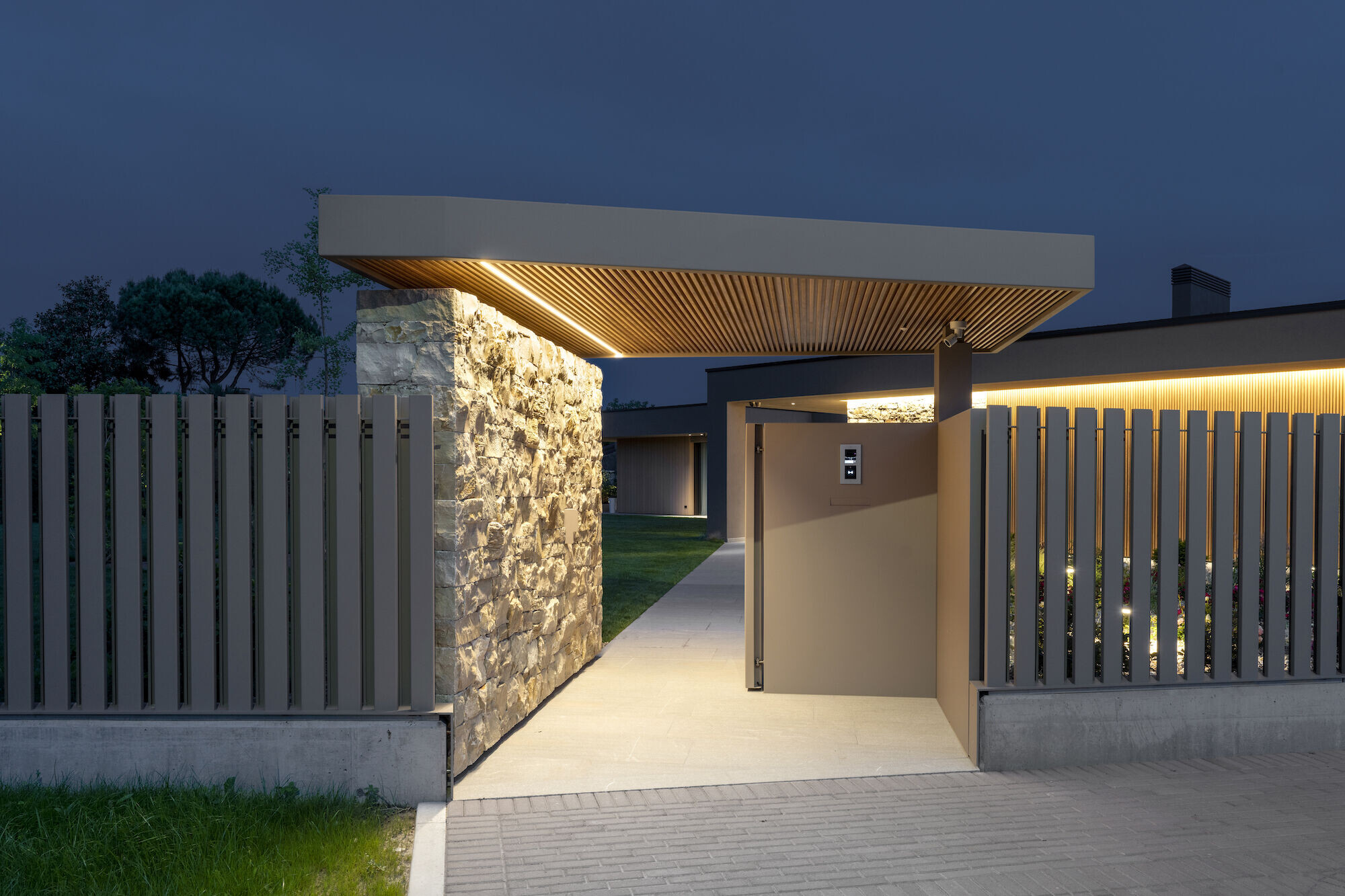 Materials Used:
Structure in reinforced concrete and masonry, internal finishes in plasterboard, oak wood and Piacenza stone on the floor, natural split credaro stone on the external walls.
Geothermal heat pump system with underfloor heating and ceiling cooling and air exchange, powered by photovoltaic panels on the roof.
FURNITURE:
LUNCH STAY:
Rimadesio (Manta table), Edra (Standard sofa),
MASTER BATHROOM:
Antonio Lupi's "Il Bagno" sink, Gessi taps, Tubes towel warmer radiator (step by step);
GUEST BATHROOMS:
Sanitary ware and bathrooms: Glass Design sink, Gessi taps, Tubes towel warmer radiator (step by step);
Wallpaper: inkiostro bianco (toilet);
STUDY:
Glass window: Velaria side panels - Rimadesio, structure: 14 Brown / Glass finish 67 Reflective Clear, central panel Sail, structure: 14 Brown / Glass finish 67 Rifl. Clear
KITCHEN:
Piasentina stone floor
Kitchen: Bulthaup with oak finish;
Window: Velaria panel - Rimadesio, structure: 14 Brown / Glass finish 67 Reflective Clear
MASTER ROOM:
Bed: Cassina Volage Bed Philippe Stark;
Mirror: Frame DeCastelli
Armchair: P22 Cassina
Coffee table: Cicognino by Cassina
GYM:
Graphis Plus panel - Rimadesio, structure: 14 Brown / Glass finish 67 Light Reflective
DOORS:
Moon FS swing door - Rimadesio
Glass finish 403 Diamond Bronze, structure: 14 Brown
ROOMS:
Senzafine wardrobe mod. New Entry - Poliform, white 01 matt lacquered doors, beige mel canvas structure.
GIRL
Giselle bed - Twils, fabric art. E08 bali col. 100
cushion with flywheel 50x50 fabric art. 679 col. 093
cushion with fabric covered edge art. 679 col. 019
Cliff coffee table - Novamobili, lacquered as per sample
Juta bedside table - Flou, dove gray textured laminate
BABY
Custom-made bed, natural oak panel with upholstered headboard
"Abbinabili" bedside table - Poliform, matt gray lacquered