When our clients bought this 1965 Eichler home for their growing family, it was in good shape already but the old kitchen was not connected to the living spaces or to the garden. Our clients wanted a family home with touches of modern and minimalism but that would also be comfortable and warm, where they could frequently have friends and family over. They also wanted touches of surprises and unexpected, reflecting their risk taking and fun personalities.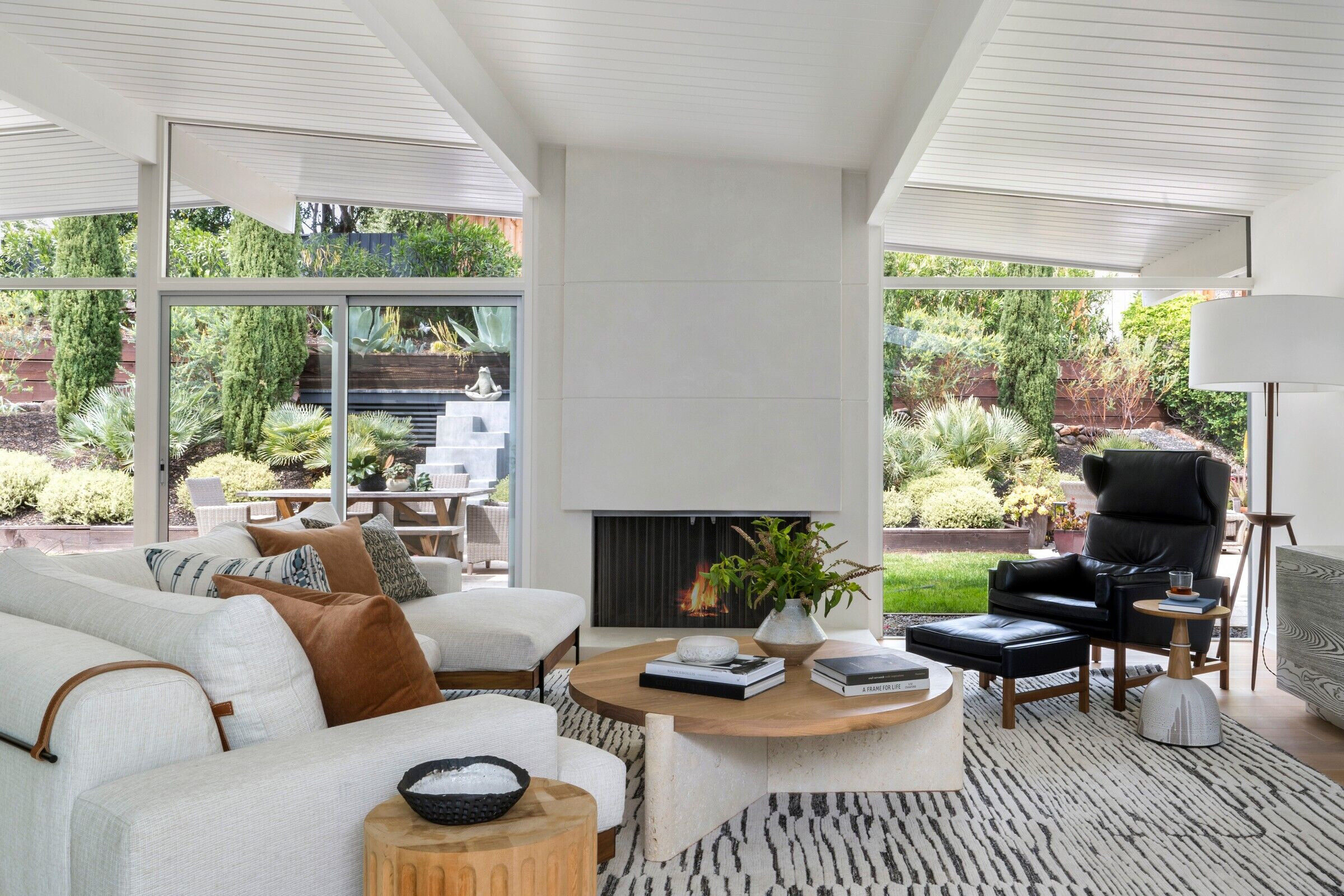 Our clients started working with Tim Lawlor Construction and Precision Cabinets to reconfigure half of the house and to create a new kitchen that would be part of the great room and that would have access to outside. Our clients had a great vision of what they wanted but brought me on board to help them refine the vision, consult on all the finishes for the kitchen and fully furnish their new home.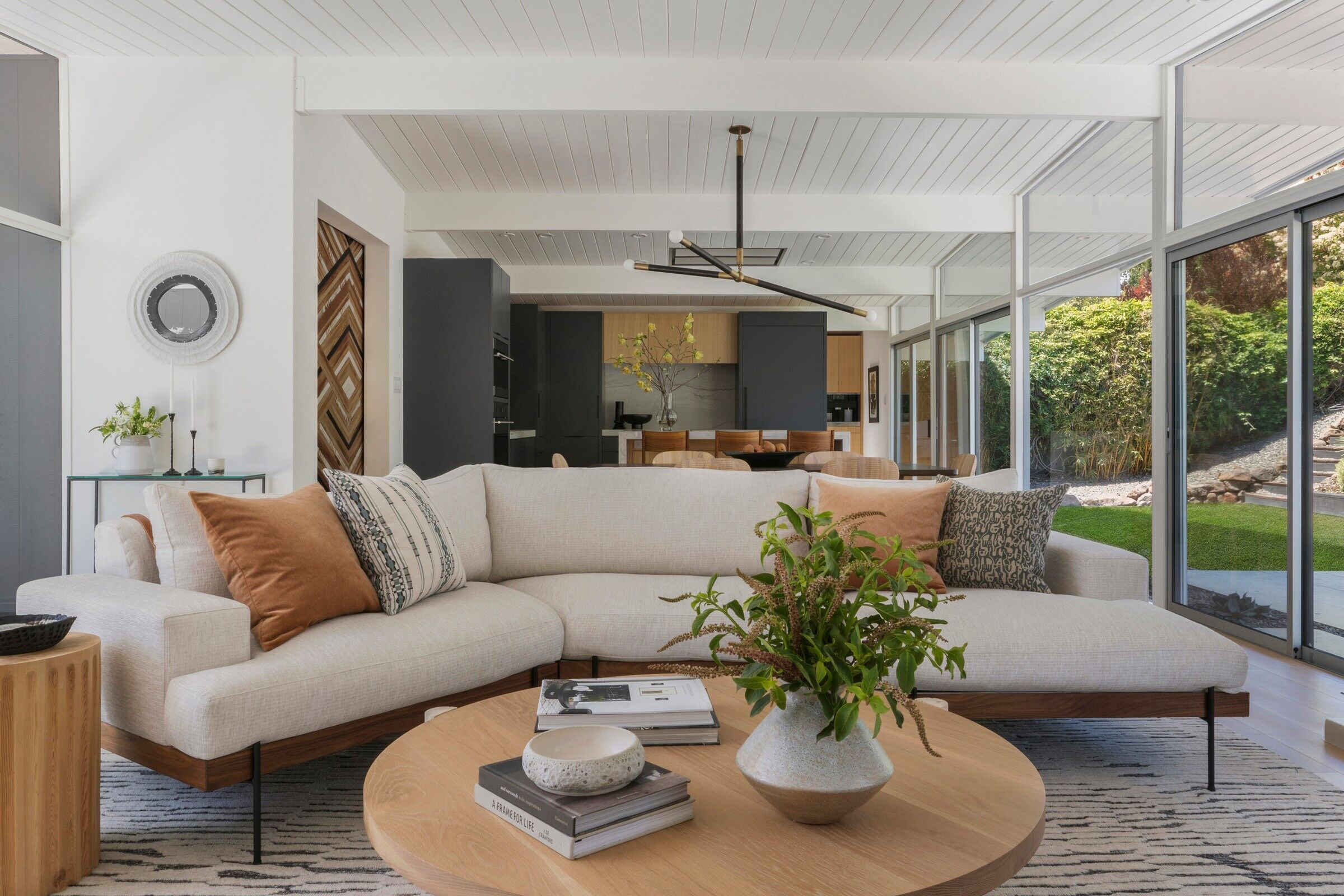 During the design phase, we wanted to be respectful of the Eichler architecture of the home and its origin but also wanted to take the interior into the 21st century rather than designing a replica of a mid-century interior.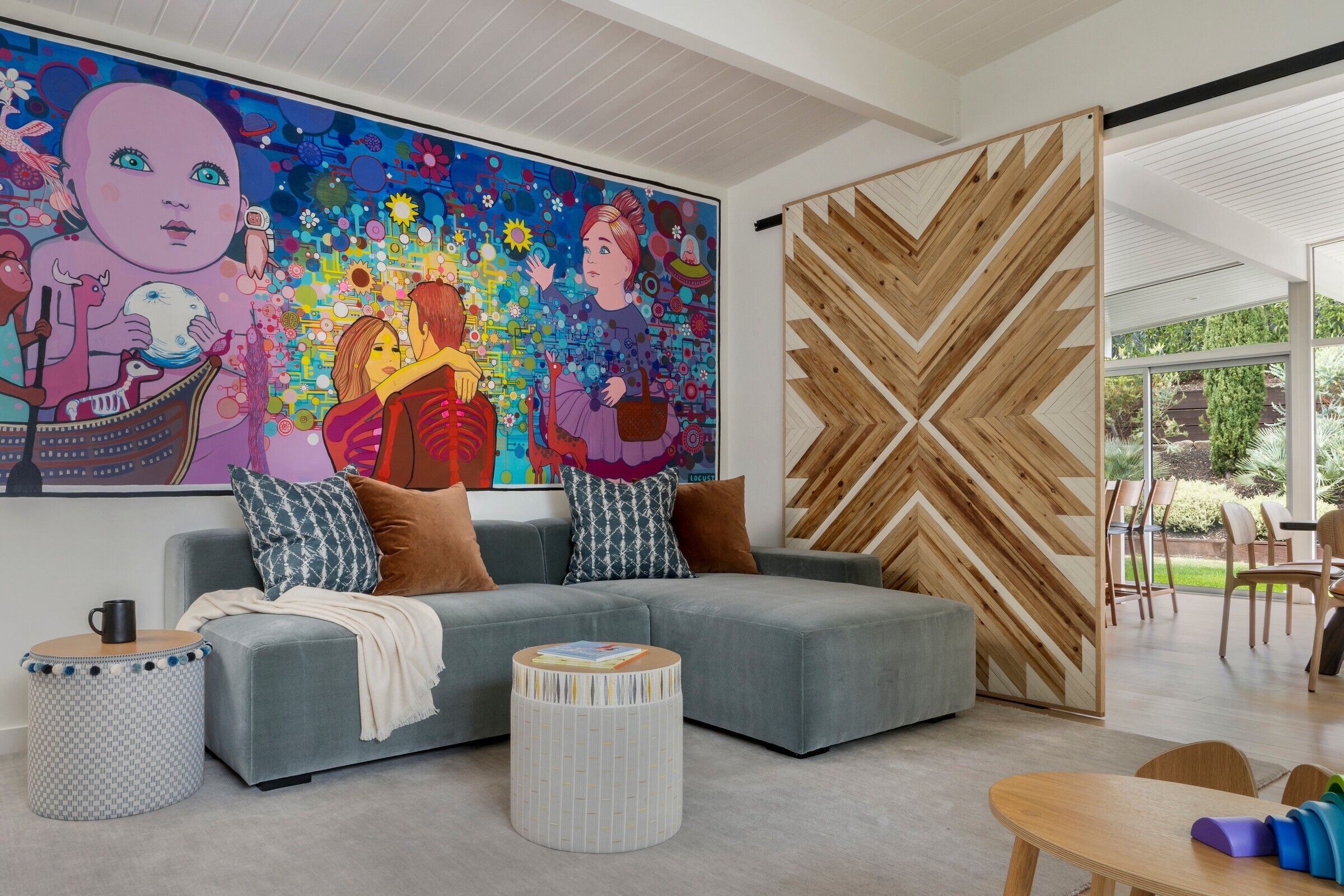 We embraced some of the attributes of modern design like the use of clean lines, natural materials, streamlined silhouettes and a warm color palette but put them into today's context and way of life. Some of the materials throughout are white oak and walnut wood, limestone, leather and wool. The countertops in the kitchen are quartzite, a great mix of durability and looks, and some of the accessories throughout are porcelain pieces from local artists. The unusual finish on the sideboard by Aronson Woodworks provides just a little interest and tension in the living room. In the family room, our clients commissioned a lively mural, that represents their growing family, by local artist Locust as well as a textural sliding door by Oakland based artist Aleksandra Zee.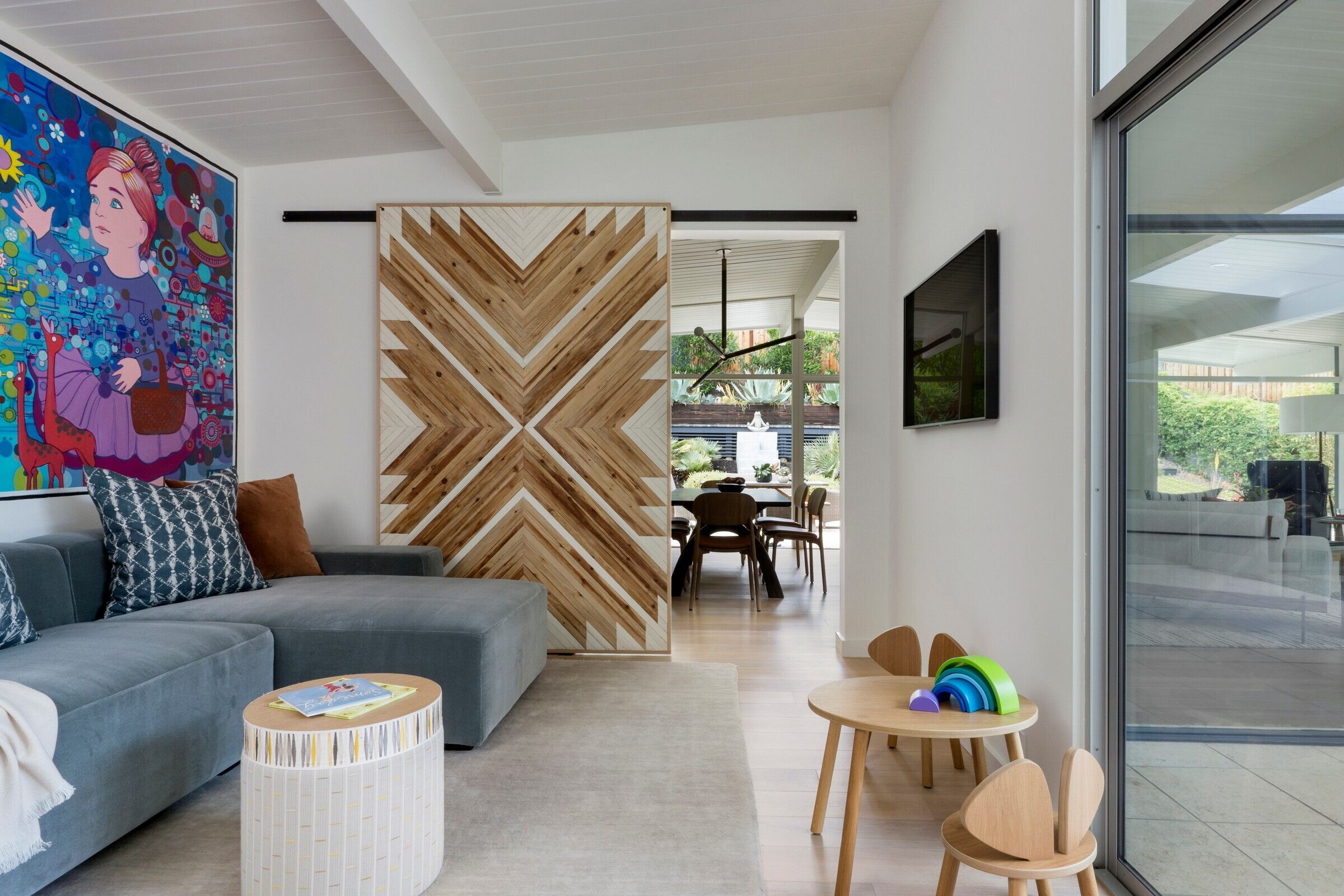 Eichler homes have small size bedrooms for today's standards so making sure the bedrooms felt comfortable and still looked good was a bit challenging. In the living room, placing the sofa was tricky because we didn't want to walk into the back of a sofa when entering the home but we also wanted a sofa shape that would allow for conversations and to stretch your legs when watching TV. We came up with a custom angular sofa with a chaise. We taped the dimensions on the floor down to the inch before placing our order to make sure the dimensions worked well for the space and for comfort.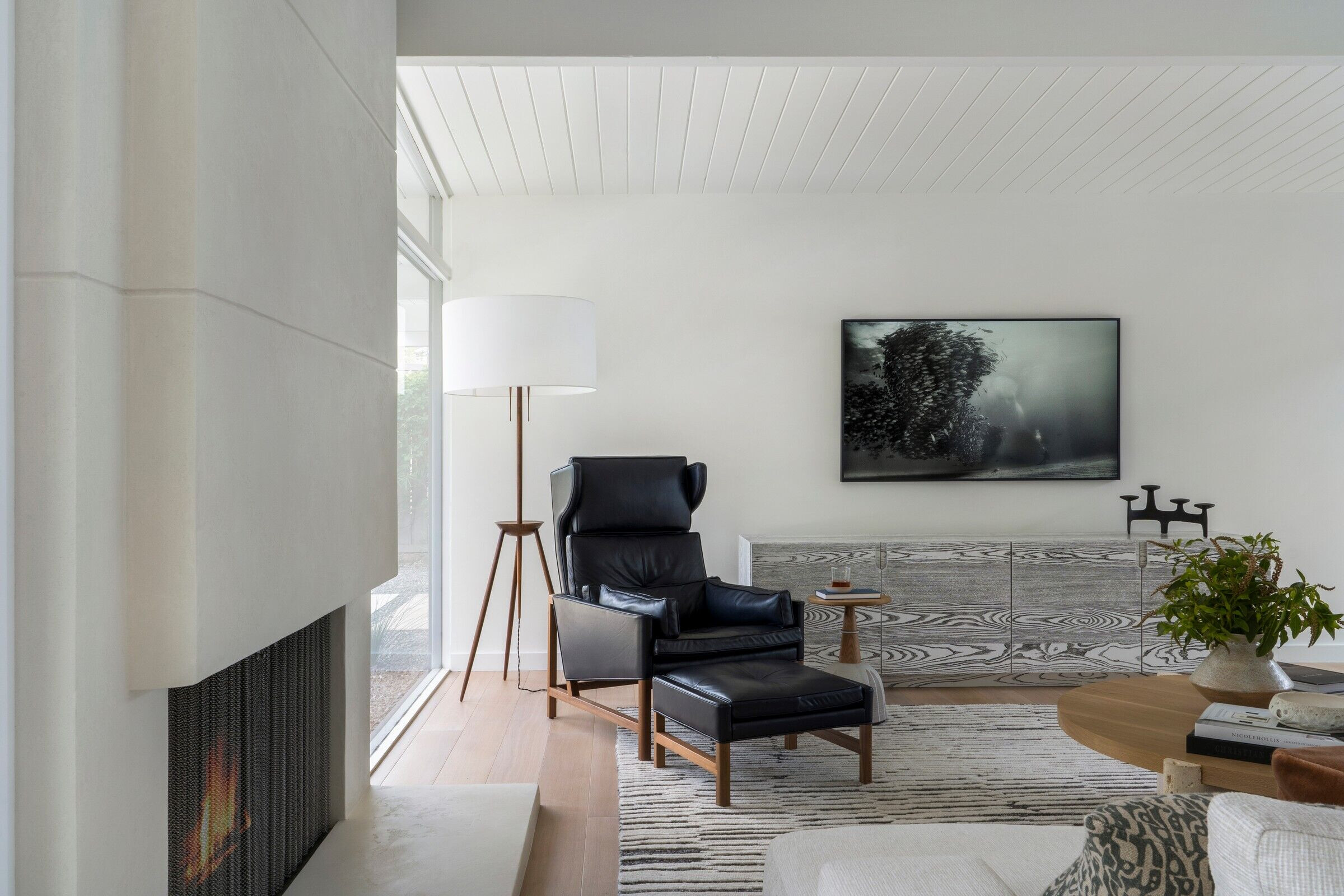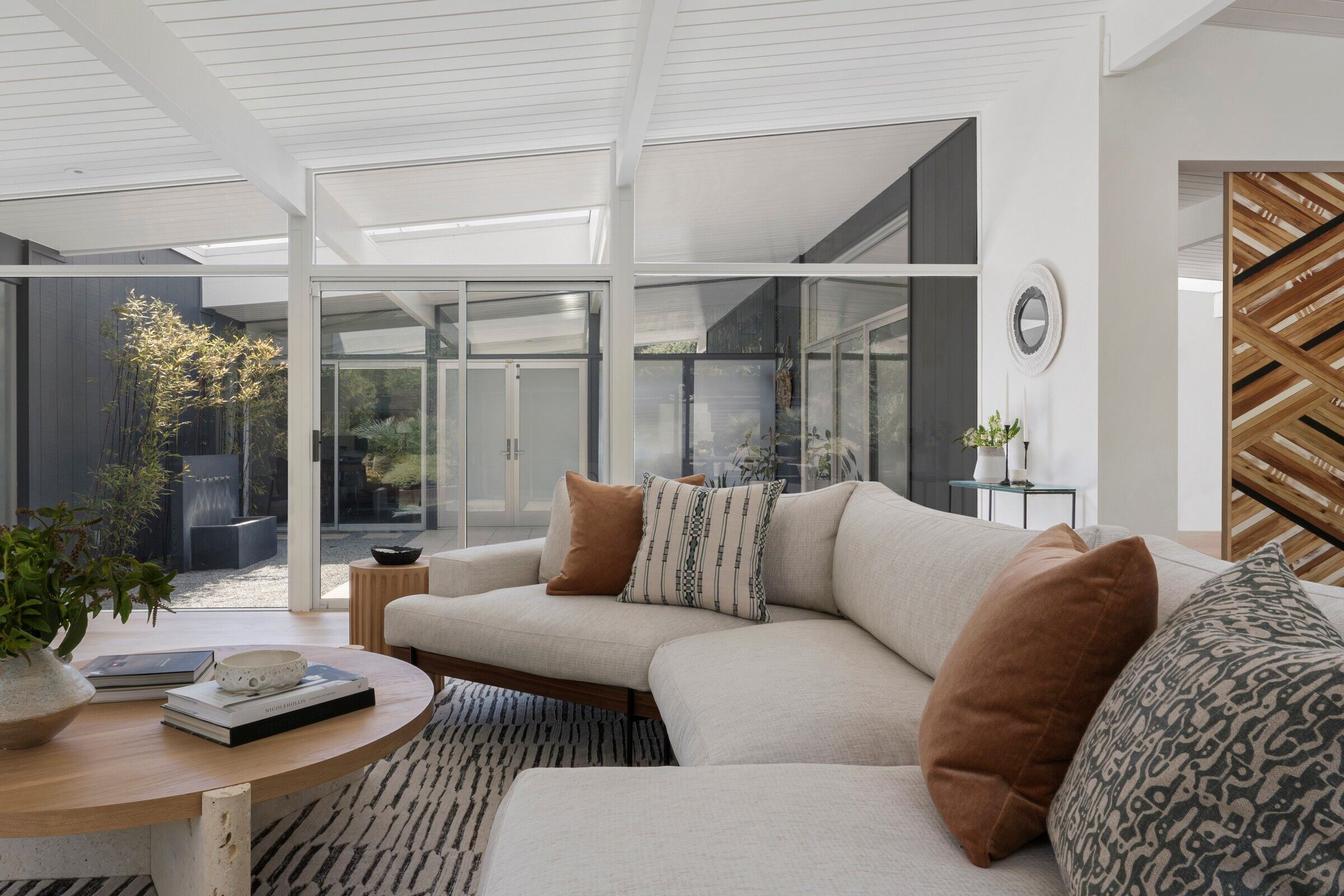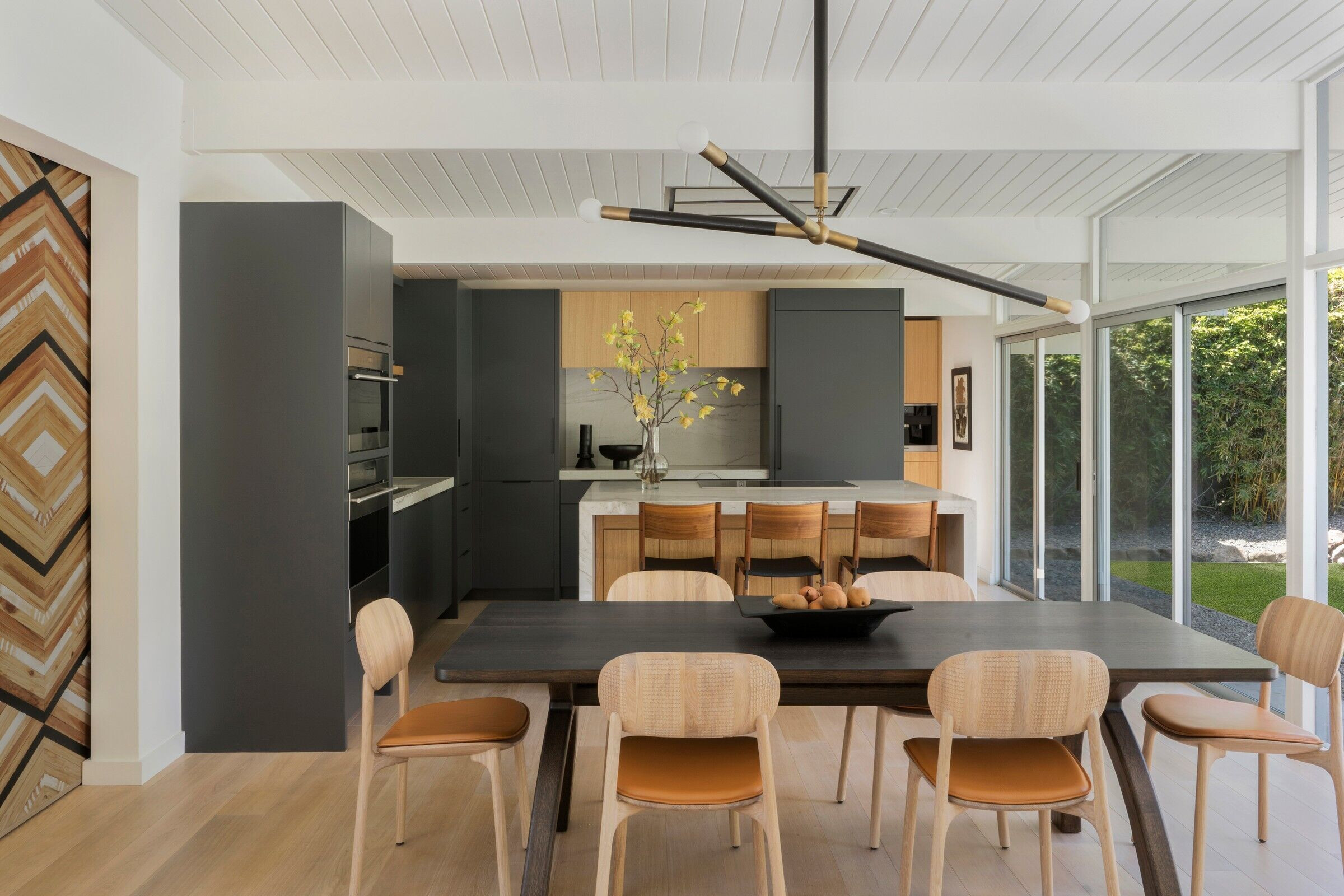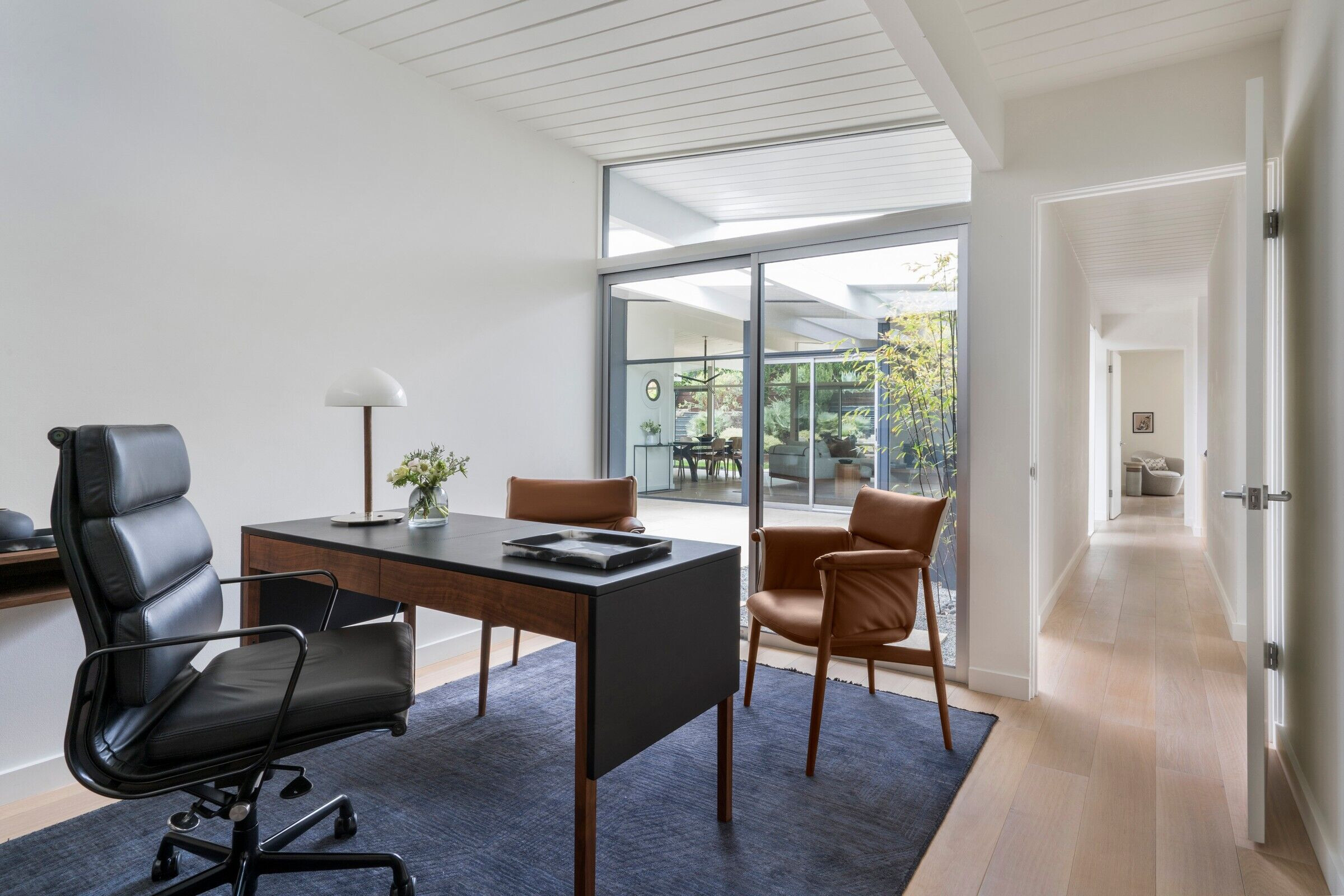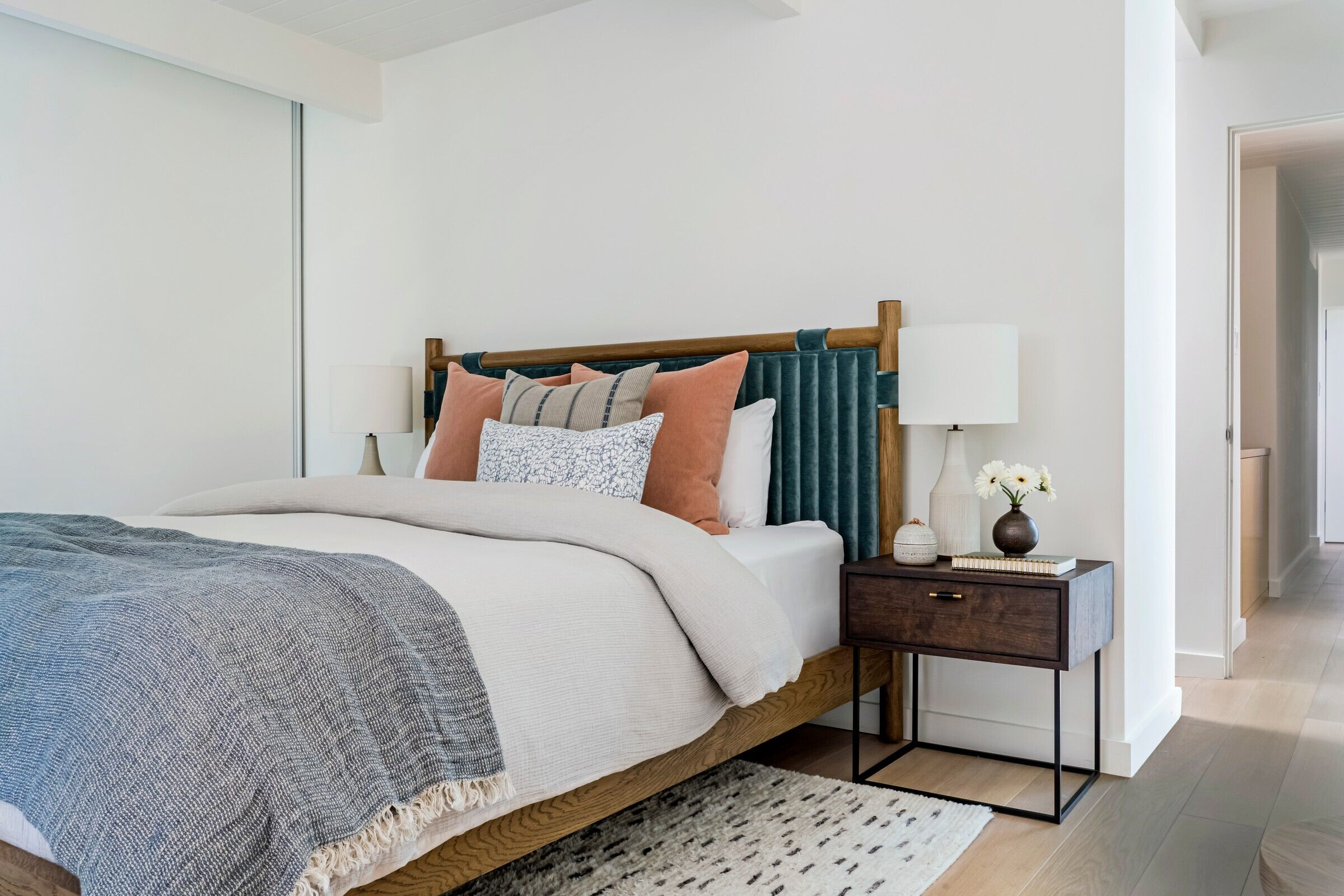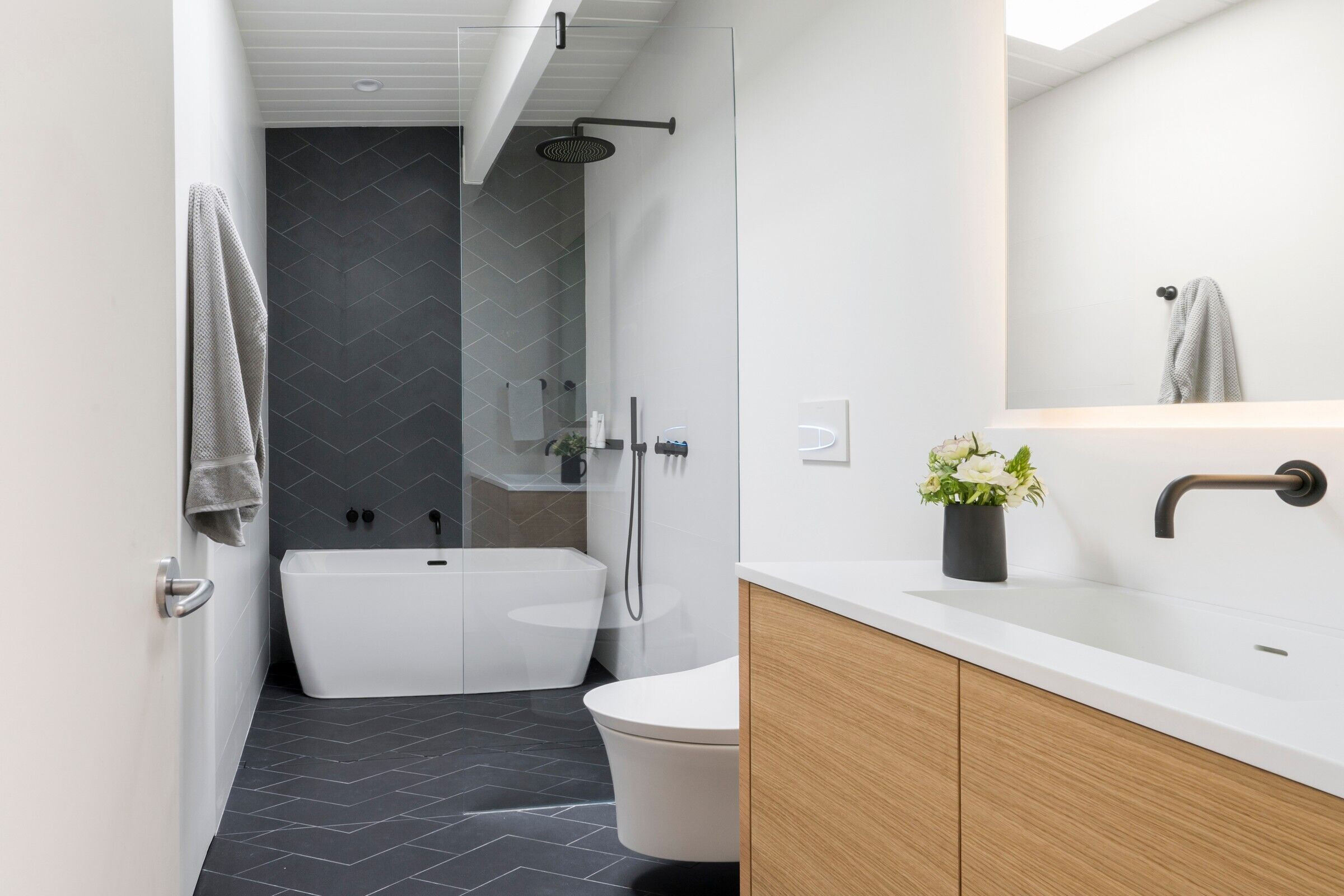 Material Used :
LIVING ROOM:
1. Bassam Fellows chair and ottoman
2. Marc Phillips area rug
3. Aronson Woodworks custom sideboard
4. BDDW Tripod floor lamp
5. Croft House custom sofa
6. Side Table by Tazi Designs
7. Side Table by Victoria Morris
8. Coffee Table by Yucca Stuff
9. Berry bowl by Tracey Kessler
DINING ROOM:
1. Dining Table by Jacob May Design
2. Arrow Light Fixture by Apparatus
3. Zanat dining chairs via JAK W
KITCHEN:
1. Counter stools by Fyrn
2. Custom cabinetry by Precision Cabinets/Precision Design Source
FAMILY ROOM:
1. Custom sliding door by local Oakland artist Aleksandra Zee
2. Custom mural by local artist Locust (@locustsongs on Instagram)
3. Custom sofa, ottomans and cabinet by Florence Livingston Interiors
4. Rug by The Rug Establishment
OFFICE:
1. Rug by Vaheed Taheri
2. Carl Hansen Embrace armchairs
3. Eames executive chair by Herman Miller/DWR
4. Drape desk by De La Espada (via The Future Perfect)
PRIMARY BEDROOM:
1. Bed by Lawson Fenning
2. Marc Phillips area rug
3. Nightstands by Thomas Hayes Studio
4. Ceramic box by Len Carella
5. Table lamps by Victoria Morris
6. Lica Swivel chair by DWR
7. Side table by Stahl & Band
8. Artwork on wall by Kaylee Dalton
GUEST BEDROOM:
1. Bed by BluDot
2. Marble side table by Croft House
3. Stone table lamp by Crate & Barrel
4. Walnut nightstand by Room & Board
5. Throw pillow by Fayce Textiles
BATHROOM:
1. Custom cabinetry by Precision Cabinets/Precision Design Source
2. Boomerang porcelain tiles via Ceramic Tile Design