Caves, waterholes and campfires. These are the diverse spaces for intergenerational learning in a new purpose-built campus in Hamburg, Germany. Architectural firm LAVA joined forces with urban agricultural collective Cityplot to design LIFE Hamburg, a new figure eightshaped building of three levels that is energy self-sufficient, and brings inside and outside together into one continuous landscape.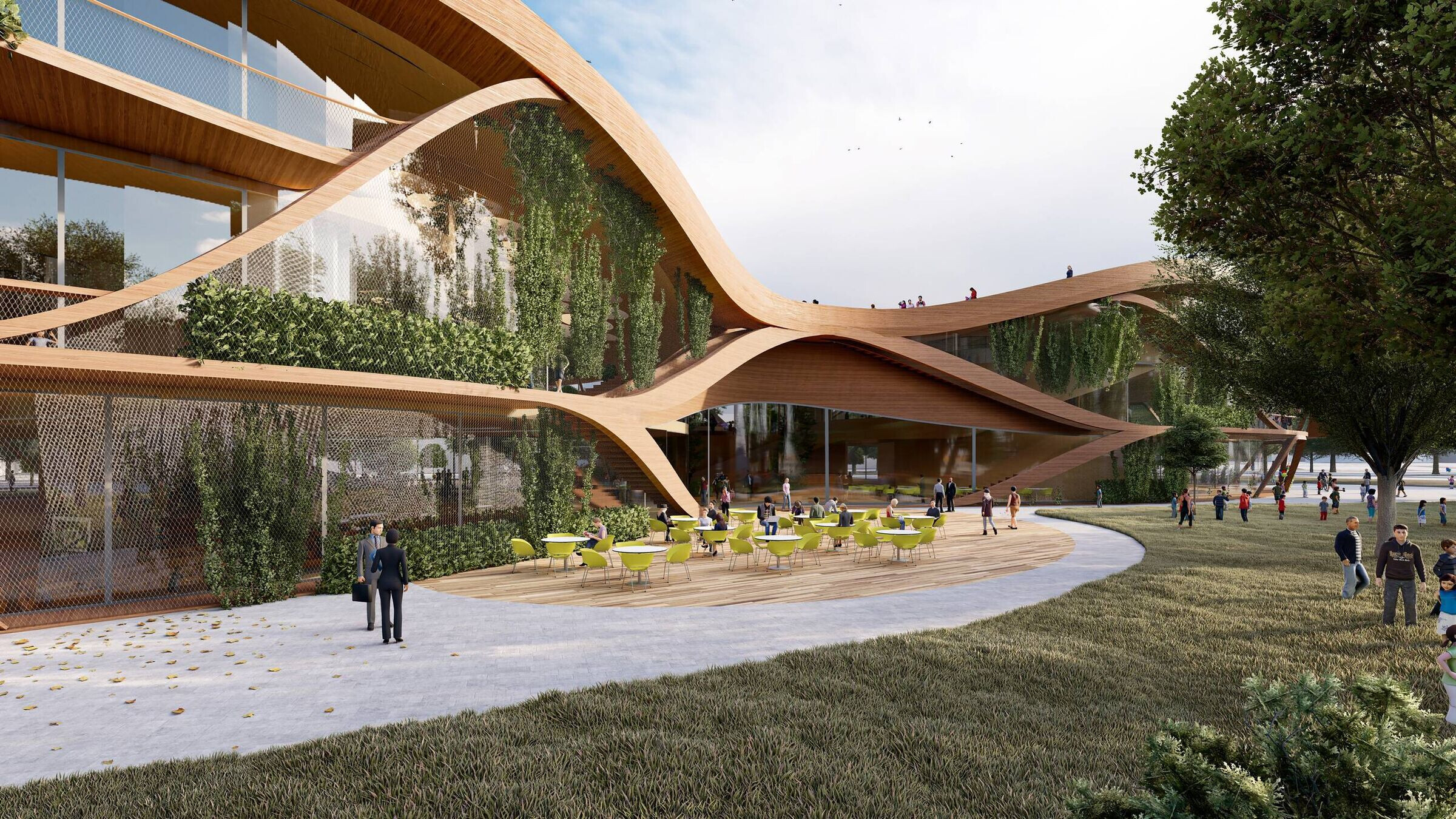 Based on the educational paradigms of Learnlife (purpose-inspired and personal learning) and American futurist David Thornburg (variety of spatial typologies), a new type of landscape building will reinvent learning for 800 children and 800 adults, opening in 2023. Tobias Wallisser, LAVA director, said: "Variety and diversity are the spatial prerequisites for creative learning. And LAVA's design enables the optimal conditions: connection to outdoors, integration of green spaces, fresh air and daylight, unobtrusive technical support and flexibility." "We combined the differentiated learning spaces of Thornburg with our nature-inspired design approach.
Instead of homogeneous rooms, there are spaces with different levels of brightness, openness, plantings and connections to the exterior. Based on Thornburg's concepts they include expressive spaces (mountain top) for groups; open communicative environments (watering hole) for conversations with peers; hands-on spaces (sandpit) for workshops and manual experiments; group spaces (campfire) meeting areas and lectures; introverted spaces (cave) for individual quiet reflection." "So kids will enjoy open spaces for active, experiential learning, whilst for teens think caves for concentration."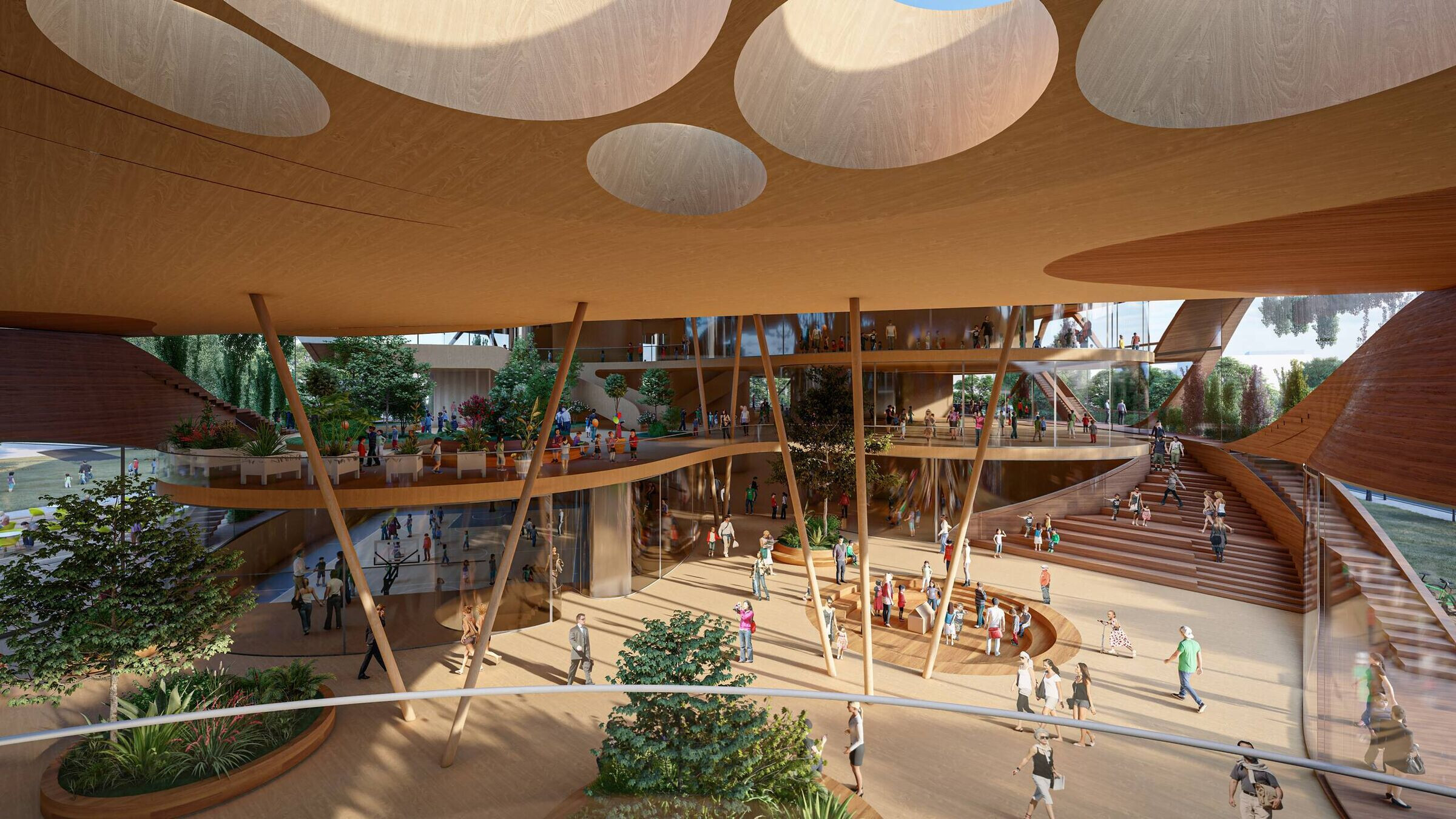 The organic-shaped building features a central agora housing core facilities, a food court and sports area and links, via spacious staircases, the two parts of the building. Split-levels and connecting staircases allows flexible uses within the three-dimensional system, both vertically and horizontally.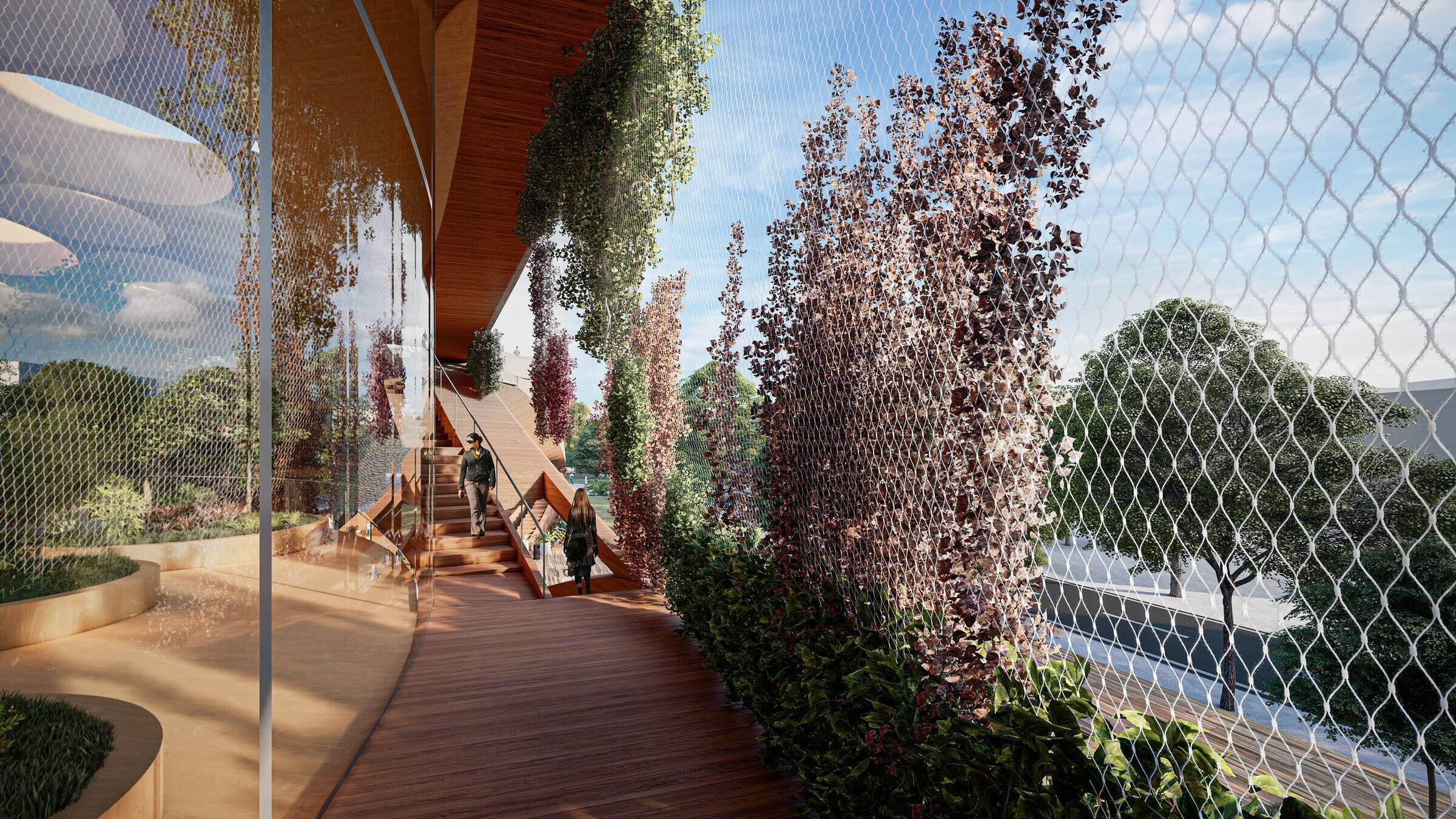 The design is inspired by five elements found in nature: waves, spirals, cells, branches and nests are applied to layouts, structural systems, ceilings and plantings. There are wave-shaped balconies, spiral terrace layouts, branching structural systems, honeycomb ceilings, nesting greenery. "And of course it's all about sustainability – its CO2 neutral, with lots of greenery, and lots of space.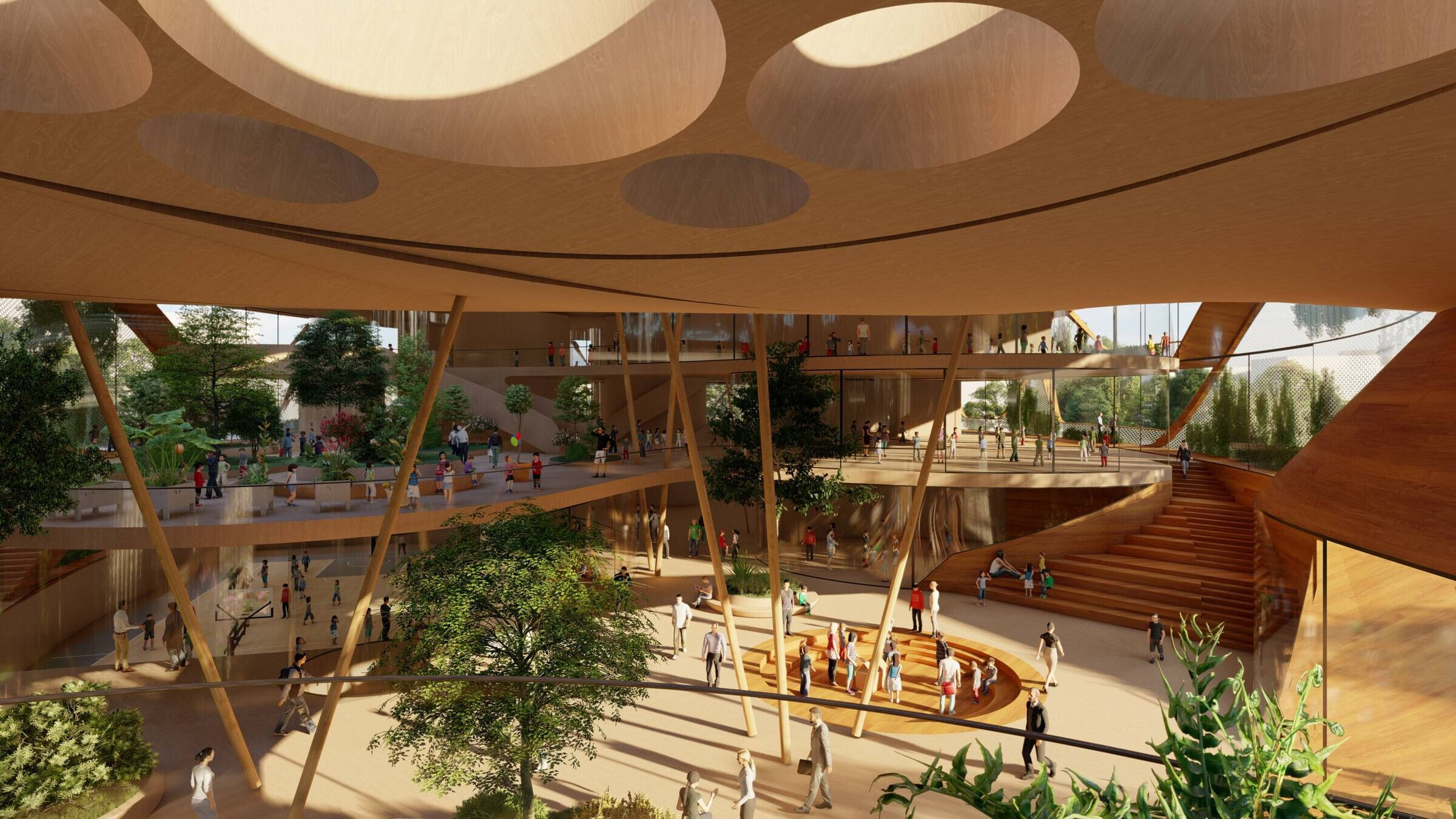 The entire envelope of the building has a highly insulated generously glazed shell, allows plenty of daylight in and connects to the exterior. There's a PV roof, and the load-bearing wood structure is formed of solid wood elements and wooden supports, resulting in an excellent CO2 balance." A surrounding second shell of the facade is planted with seasonal greenery balconies, and absorbs CO2. Continuous garden landscapes flow from outside to inside - first to the central agora and then to open terraces and up to the roof top garden featuring edible gardens of herbs, views and outdoor learning in the fresh air.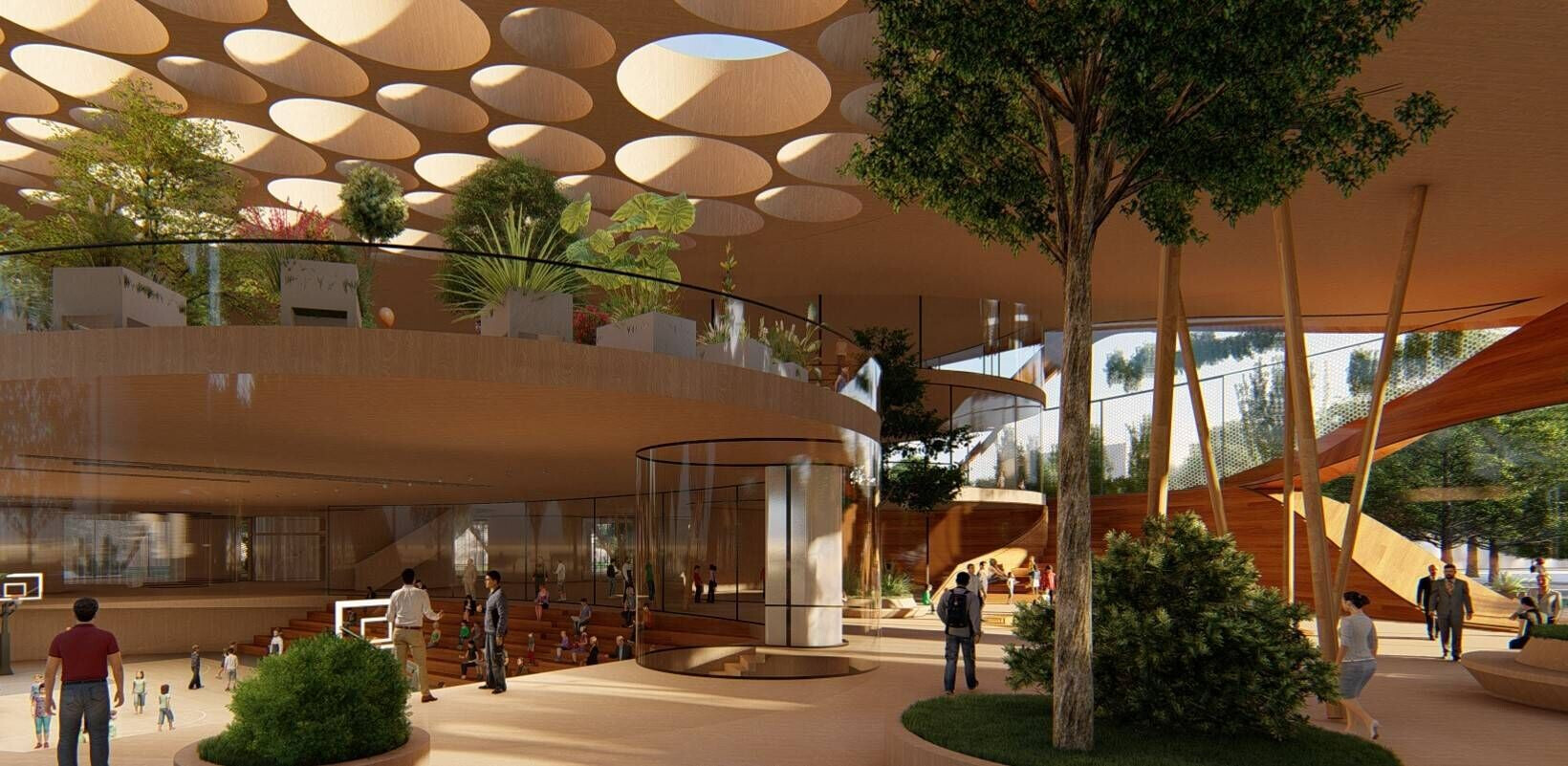 Inside and outside combine to form a unity. Leonie Woidt-Wallisser, founder of Cityplot, added: "We use principles of permaculture and edible landscapes to help shape local built environments. By co-developing this project with LAVA from the very beginning, green spaces will not only offer places of contrast, beauty and repose, but will also perform important educational, social and ecological functions.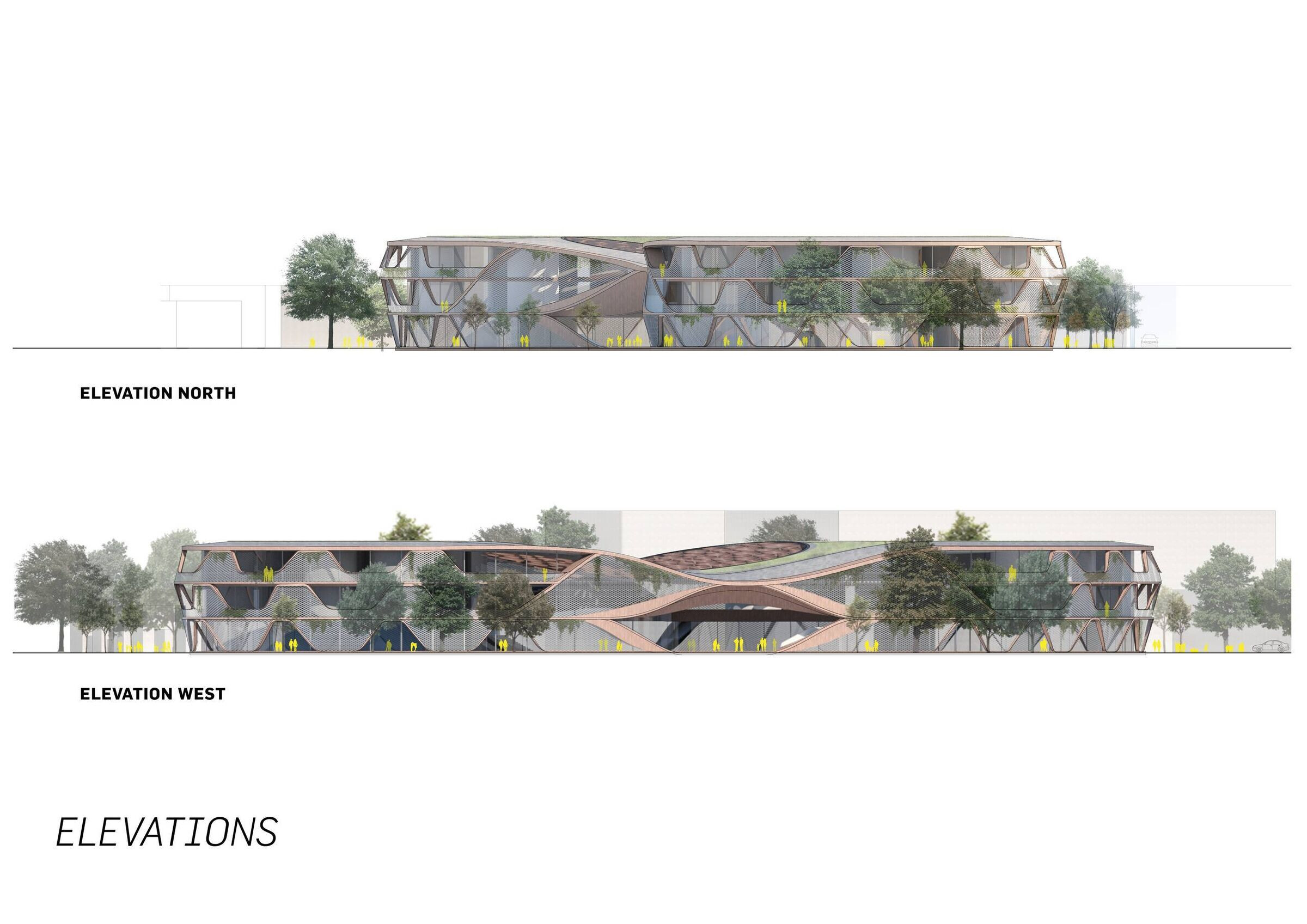 The opportunities to cultivate organic food will strengthen the role we play in nature's cycles, right across the generational spectrum". Added Wallisser: "New spatial typologies combine with innovative social and natural landscapes and self-sufficiency. The open, inventive and sustainable building offers optimal conditions for learning – kids, teens and grannies together". LAVA won an invited competition earlier this year and has commenced feasibility work, with construction due to be finished in 2023.