What was the brief?
A sanctuary for productivity, Cyber Park Calicut is an IT hub with parted by small difference conceptualized spaces. Sapling Creations was small space at their; the 2,300sqft workspace takes advantage of the openness by revealing the lush vegetation for views with a feel-good atmosphere that explore the space.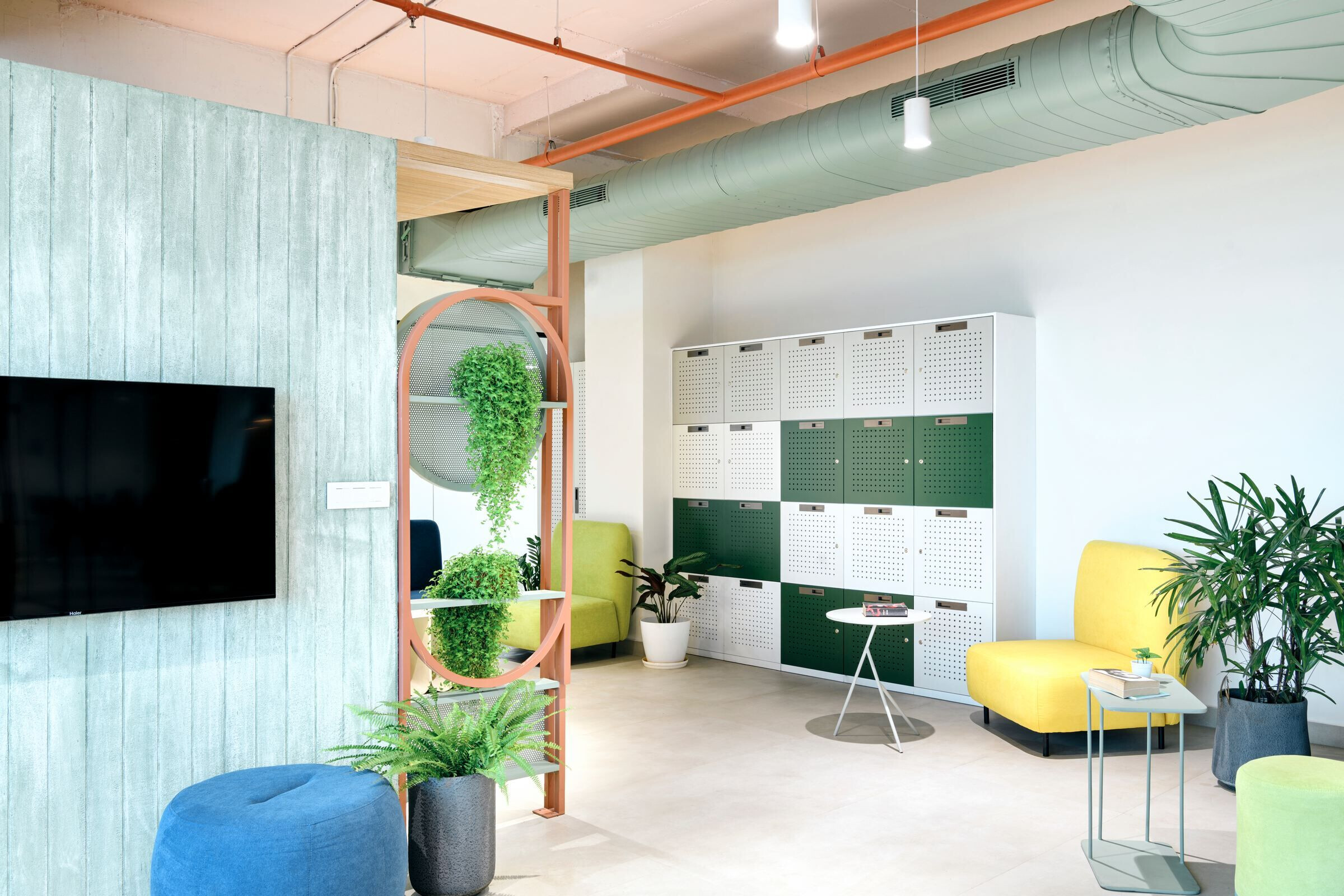 Sapling is renowned for a delicate use of tactility and color, the interior features a warm, pastel color palette enhanced by precious natural material. Other than pastel colors a bright yellow and orange has been used in particular places for a vibrant feel. The office design also factors in position of the sun, designed in such a way that sunlight can be maximum utilized.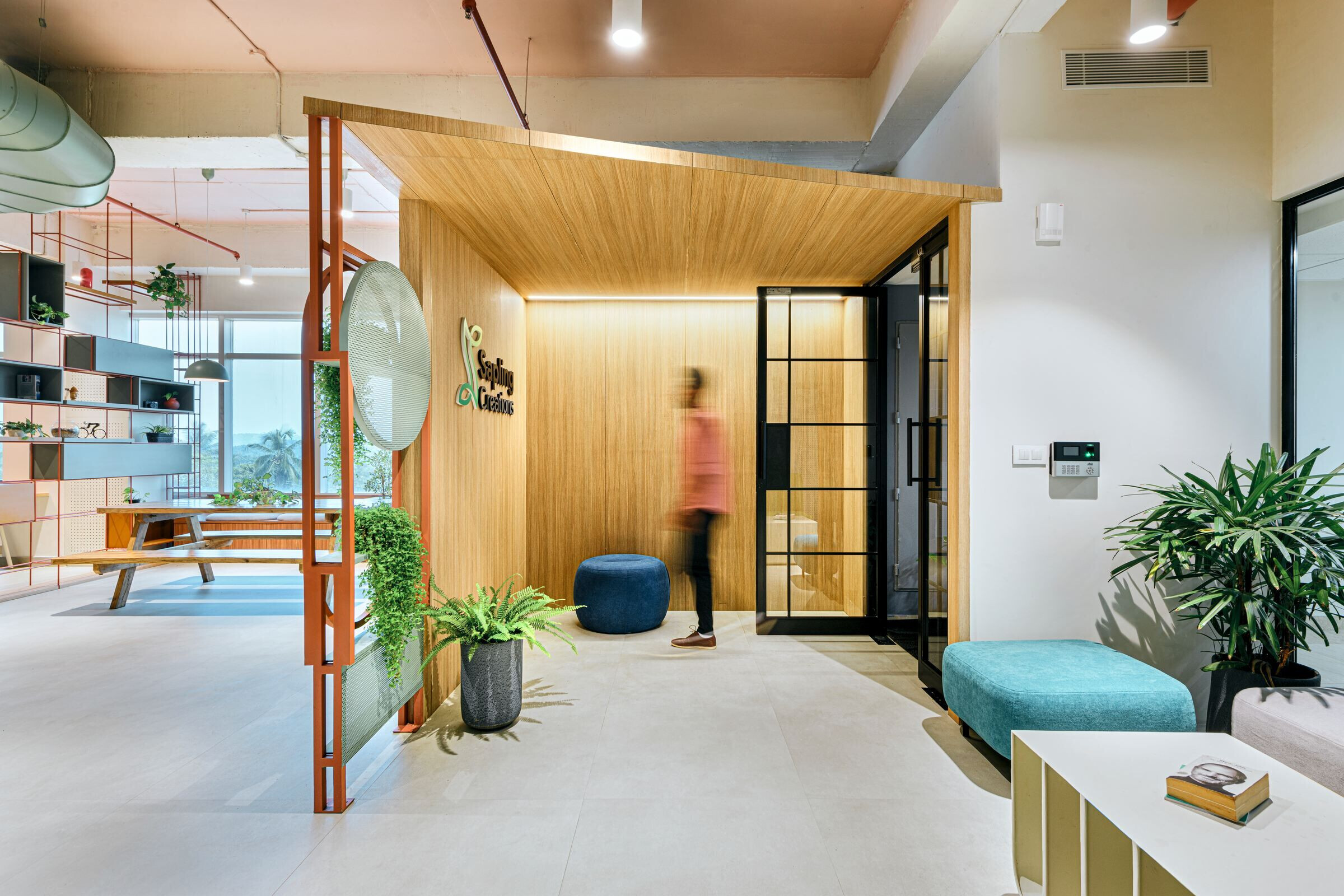 Creates soft-seated spaces for meeting and private work stations. Dressed in a typical scandium minimal yet warmth, it's the little details that put a smile on our faces. Boulevard is a minimalist seating system designed to pause in an active space. We found that to be essential in a work space. In form it is a soft wave-like affair but in terms of behavior it makes a bigger sense in modern world.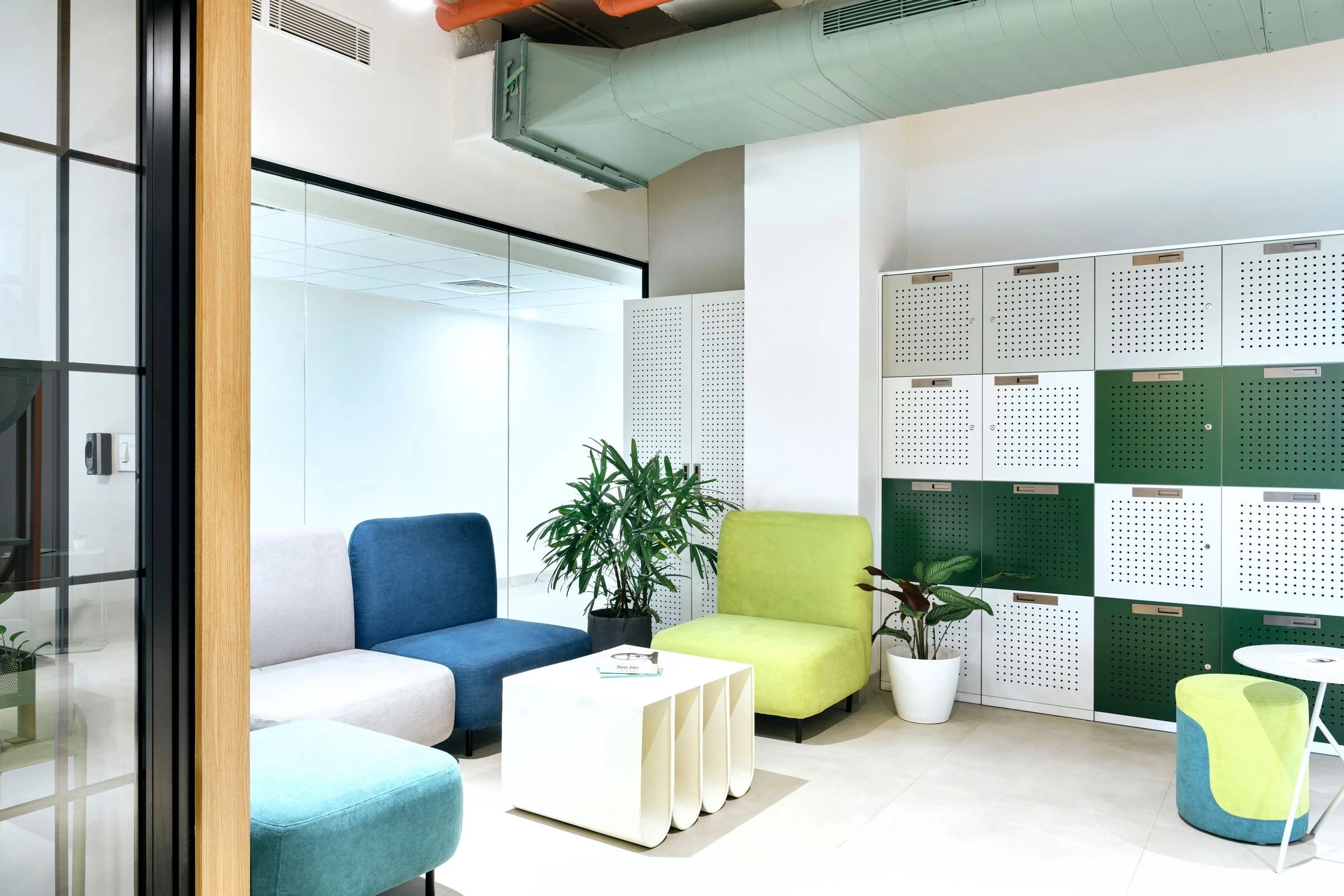 "We want to see a world where people are comfortable to be around one another, in their own spaces but in a sociable way. We craft things for people to use it with uneasiness. Today people are on the move, they don't have time to think where they are sat on, so when they are so much in to it is our responsibility to make them feel pleasant.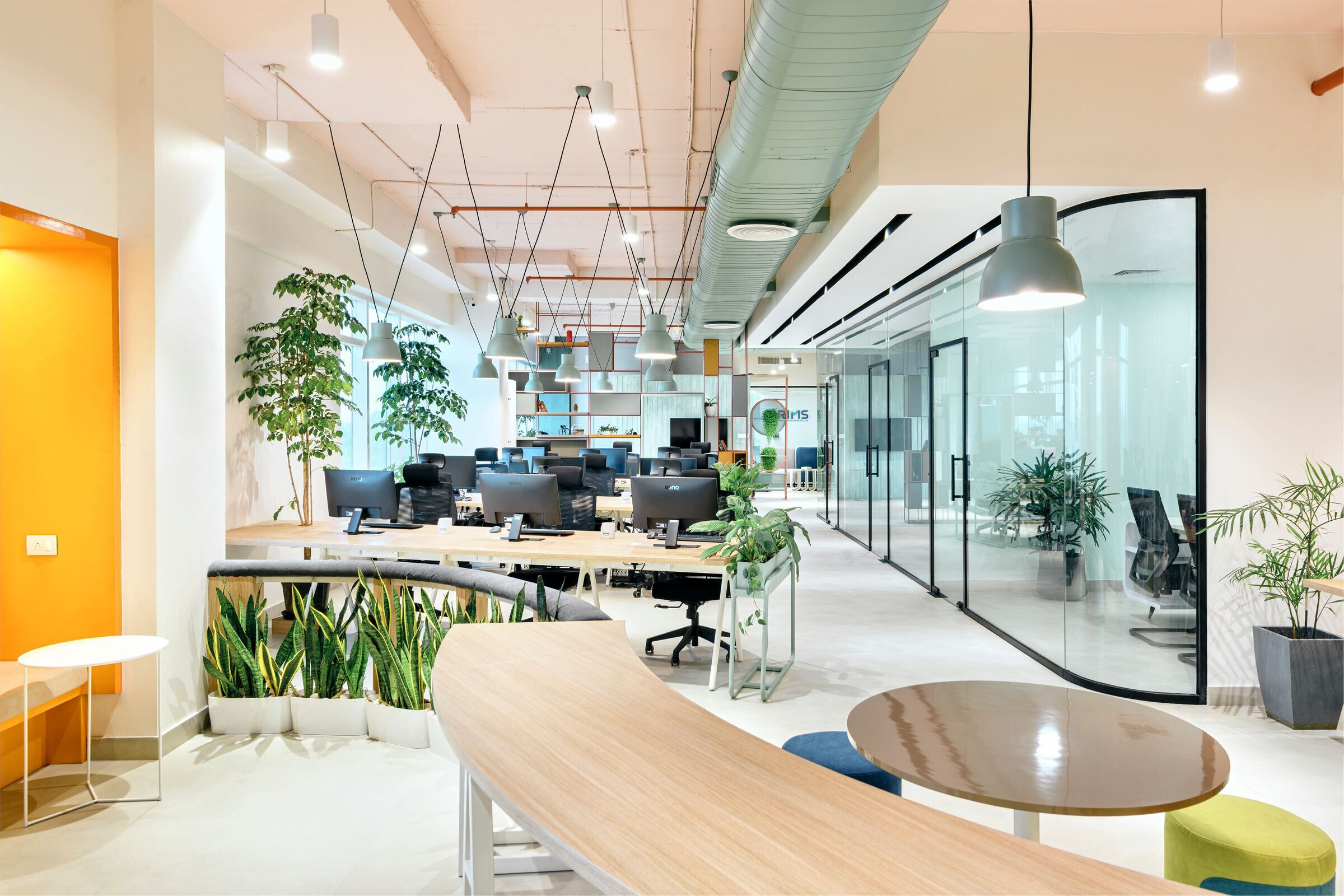 We believe, if you make a piece of furniture designed specifically for this purpose then you valorize it, it brings the purpose of short - dwelling to life. Keeping that in mind all the furniture is custom made by us in house carpenters in the supervision of our designers.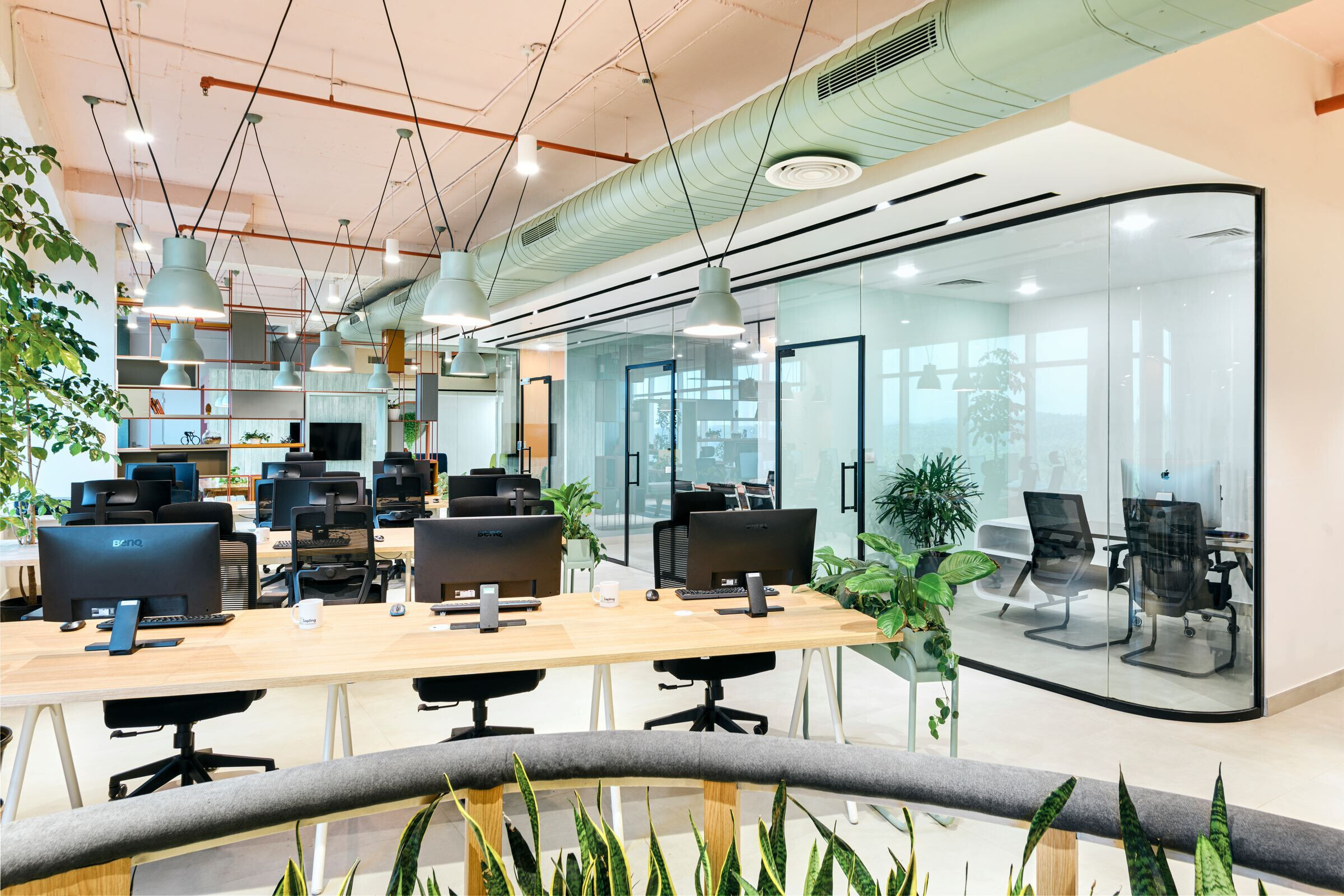 Employees can choose their workstation depending on their activity; in addition to their personal individual work station, relaxing sea, private box, brainstorm area, discussion area, picnic tables, etc. CEO cabin and, account room, conference room, these rooms are separated from the open space by partition wall systems.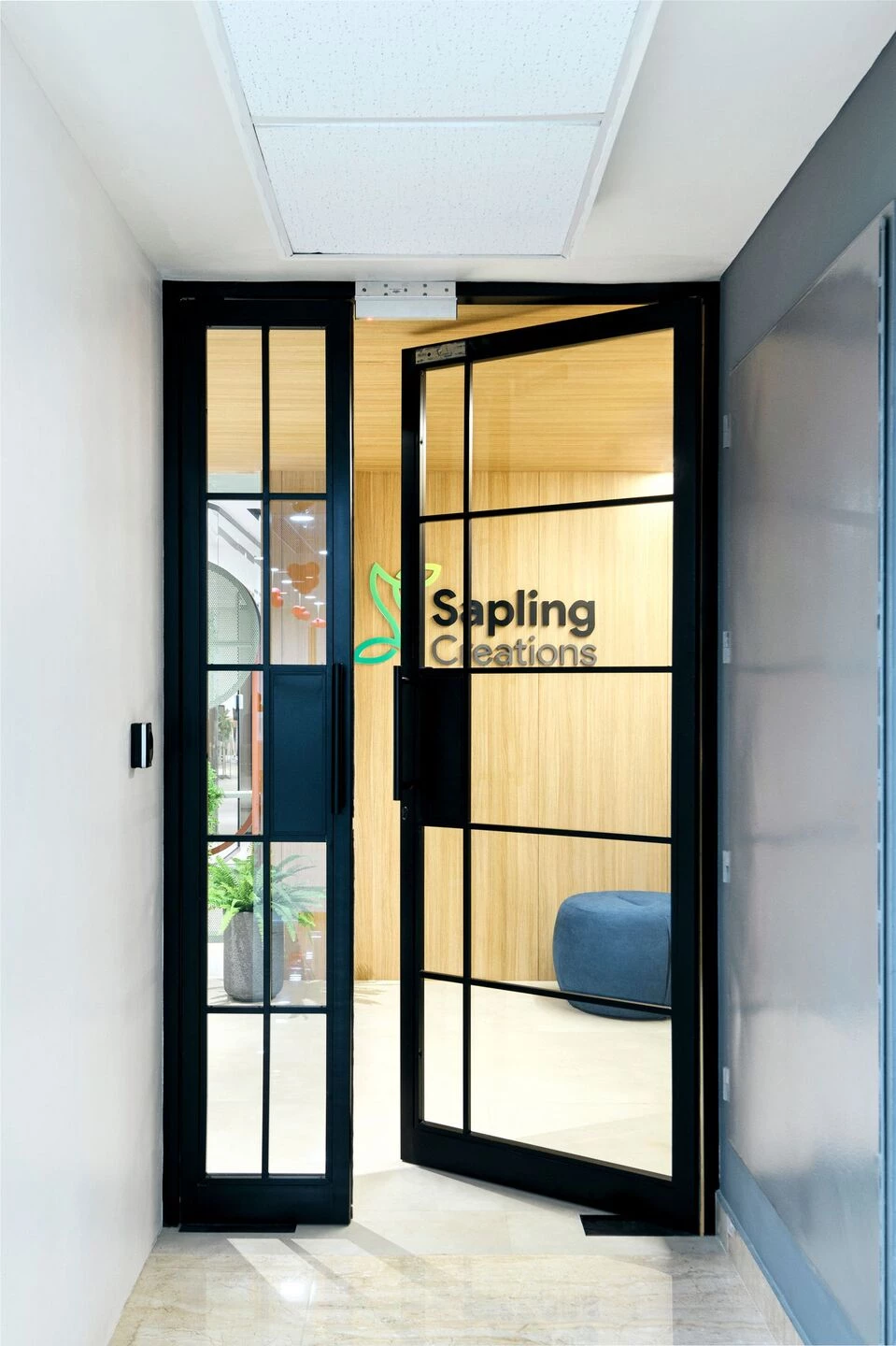 Also there are many small areas that covers" work from anywhere" policy, employees are free to work in that areas other than the allotted workspace, also they can make discussion in small groups rather than going to conference room or discussion area.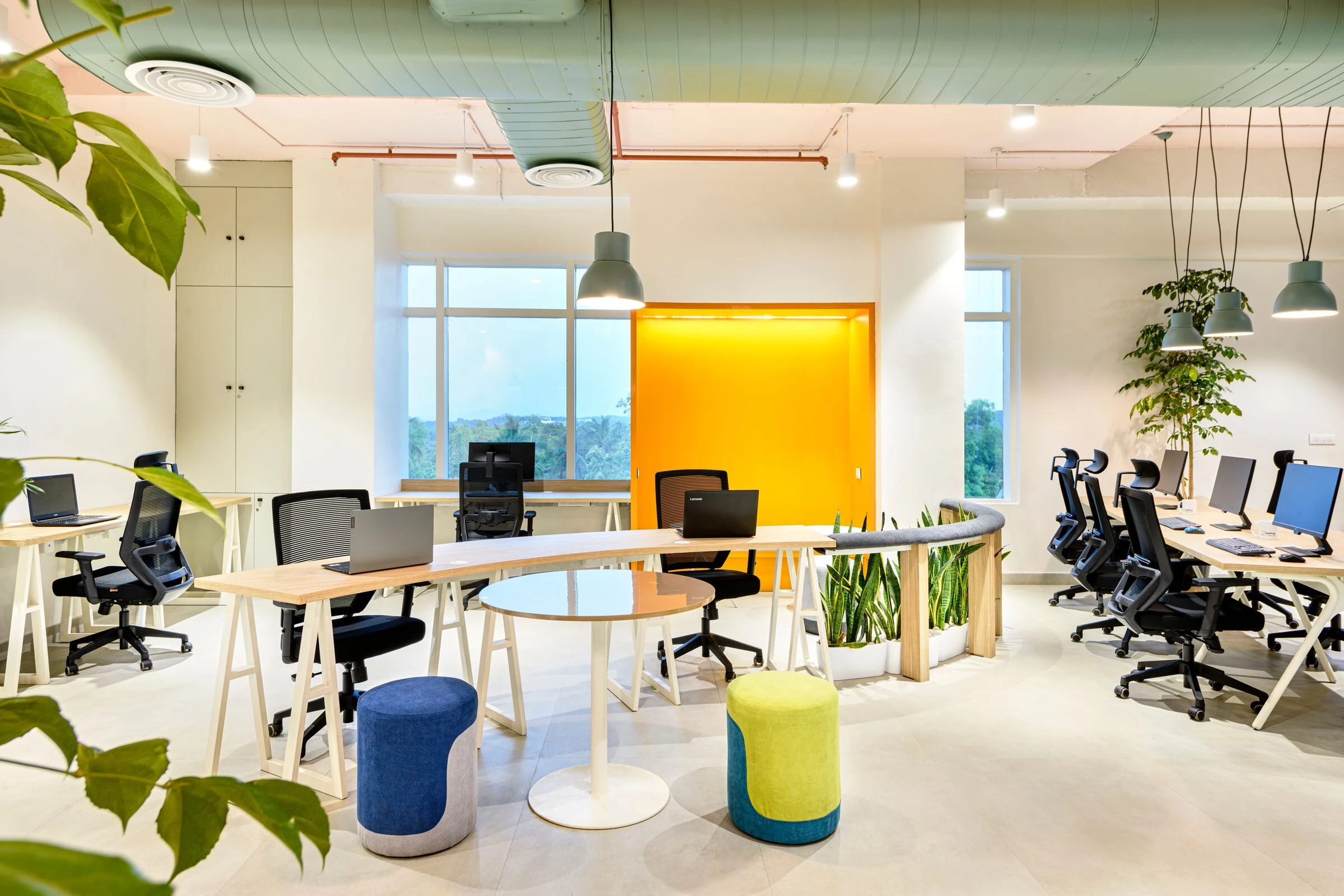 To make Office space and discussion area two parts and involve each other while also remaining distinct, we introduced a permeable wall. The wall is porous in the form of a mild steel grid – parts of which are fitted with painted multiword boxes some for storage and some to house plants Adjoining the discussion area is pantry with window glass walls that provide views of the outer environment which has lush vegetation.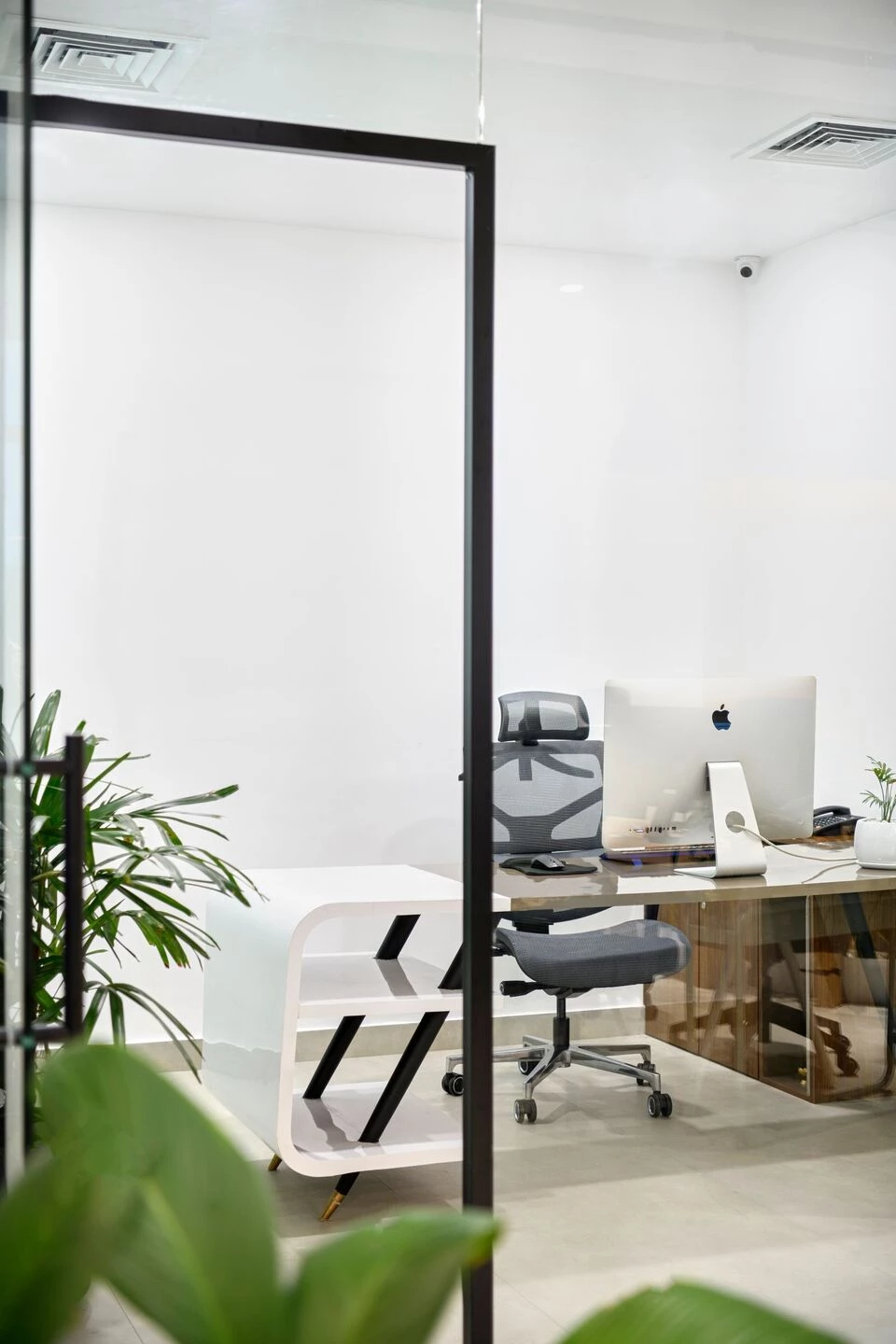 Personal storage was our client's requirement, we thought to make the cabinets to match up with the interior also helps to optimize office storage space, increase office productivity and allow a secure place for employees to store their belongings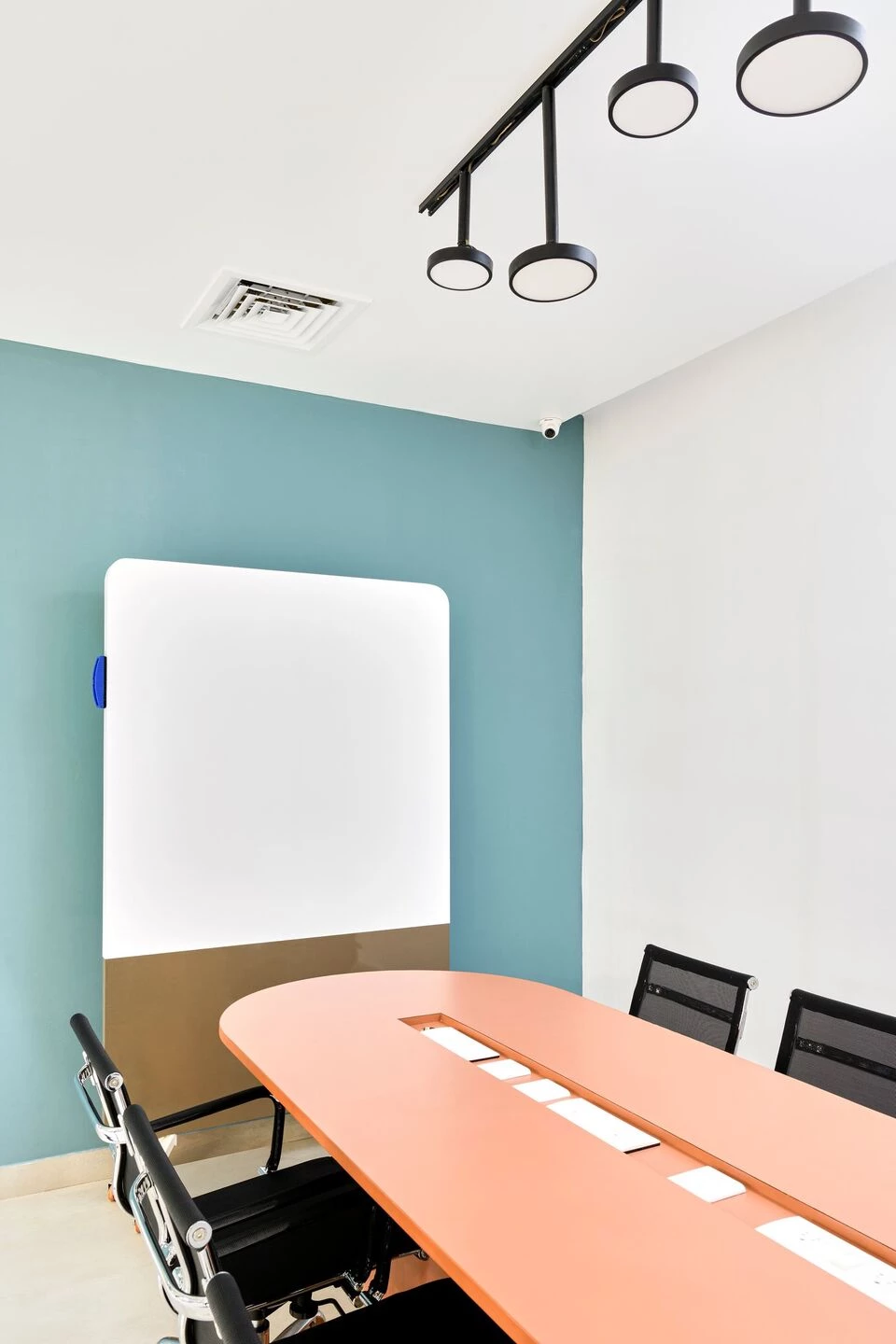 What were the key challenges?
The layout was challenging actually there were a specific space allocated for pantry and it should be built there only that was in the front itself when you open the door you could see the pantry but we covered it with the patio wall the holds the company's name sapling creation. Also should hold the seating desktop space in the 2300 sft area.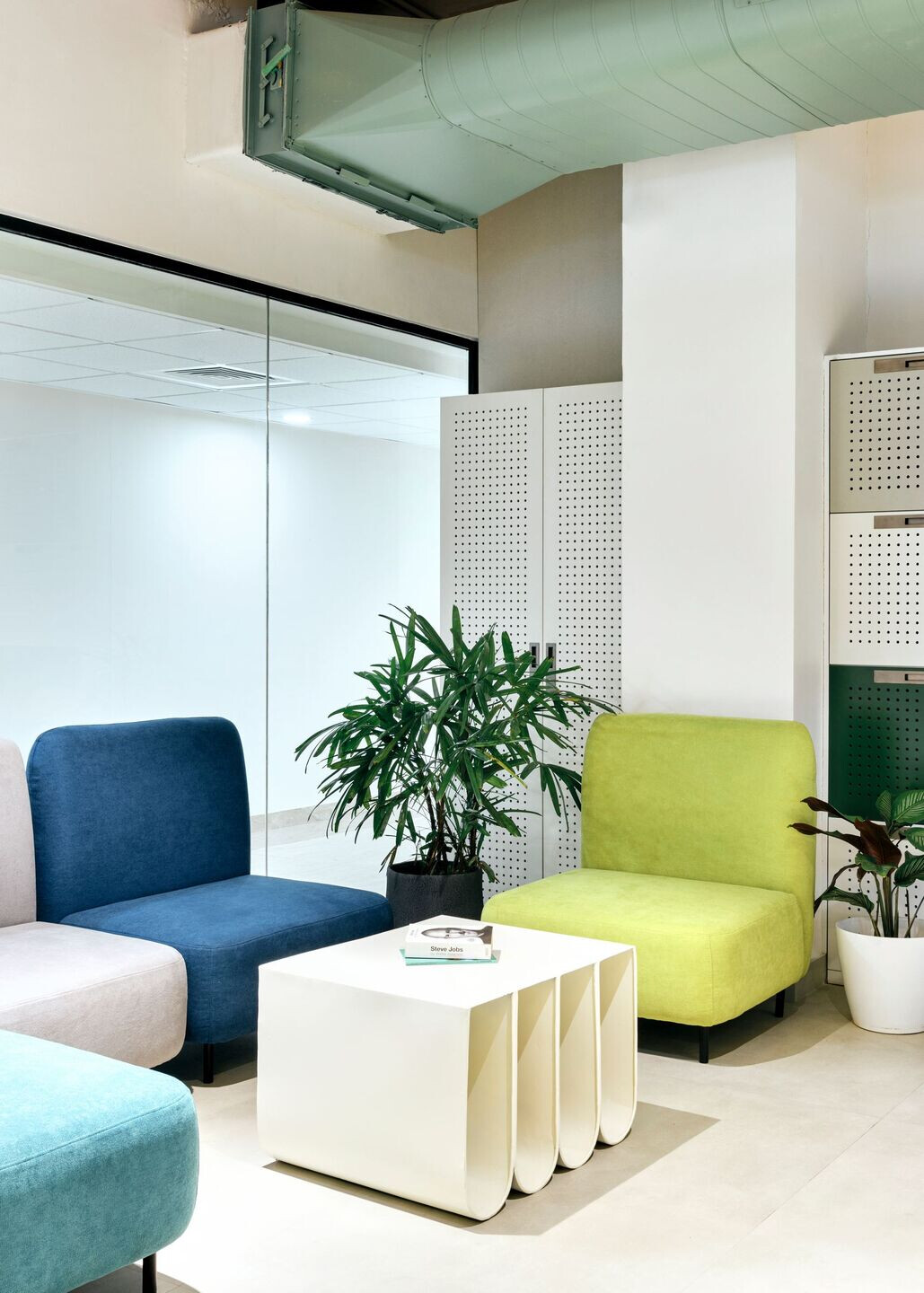 What materials did you choose and why?
we are used material are common items, furniture is plywood with lamination, we create all furniture are custom design and size, and partition are some kind of area we used gypsum partition and cabins area face area full glass with aluminum partition, because we need to enter natural light into the cabins, entry way we used plywood partition with lamination, because this place was very important area based on our plan, entry to the office area very close to pantry and brain storm area, we need hide pantry from the front entry way so we put the partition wall as per the design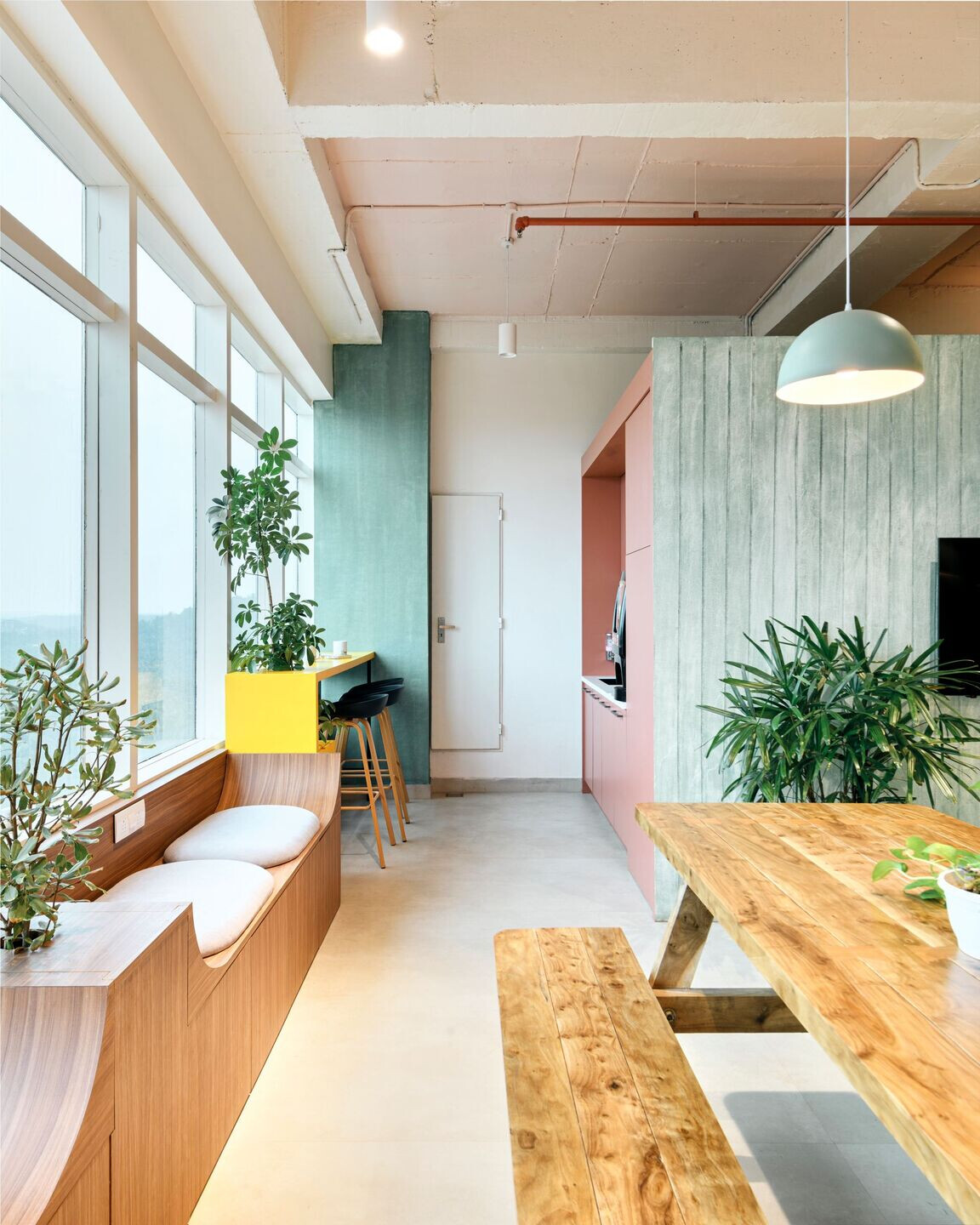 WE have used pastel colours on cushions and light colours on the furniture and to balance the light shade in one or two spaces vibrant orange and yellow color is used. Like in desert dishes we put some salt to balance the sweetness.