Today, Los Angeles-based firm Kadre Architects unveils its second Project Homekey 2.0 collaboration with Hope the Mission and Los Angeles County. The Woodlands brings 100 new transitional housing units online for families currently experiencing homelessness. By using the studio's signature graphic applications of color, reimagining a sprawling asphalt parking lot into a cohesive, vibrant, pedestrian friendly community gathering and play space and implementing aggressive sustainability initiatives, Kadre Architects has transformed a dilapidated building in the San Fernando Valley into a welcoming, forward-thinking and complete community for its residents.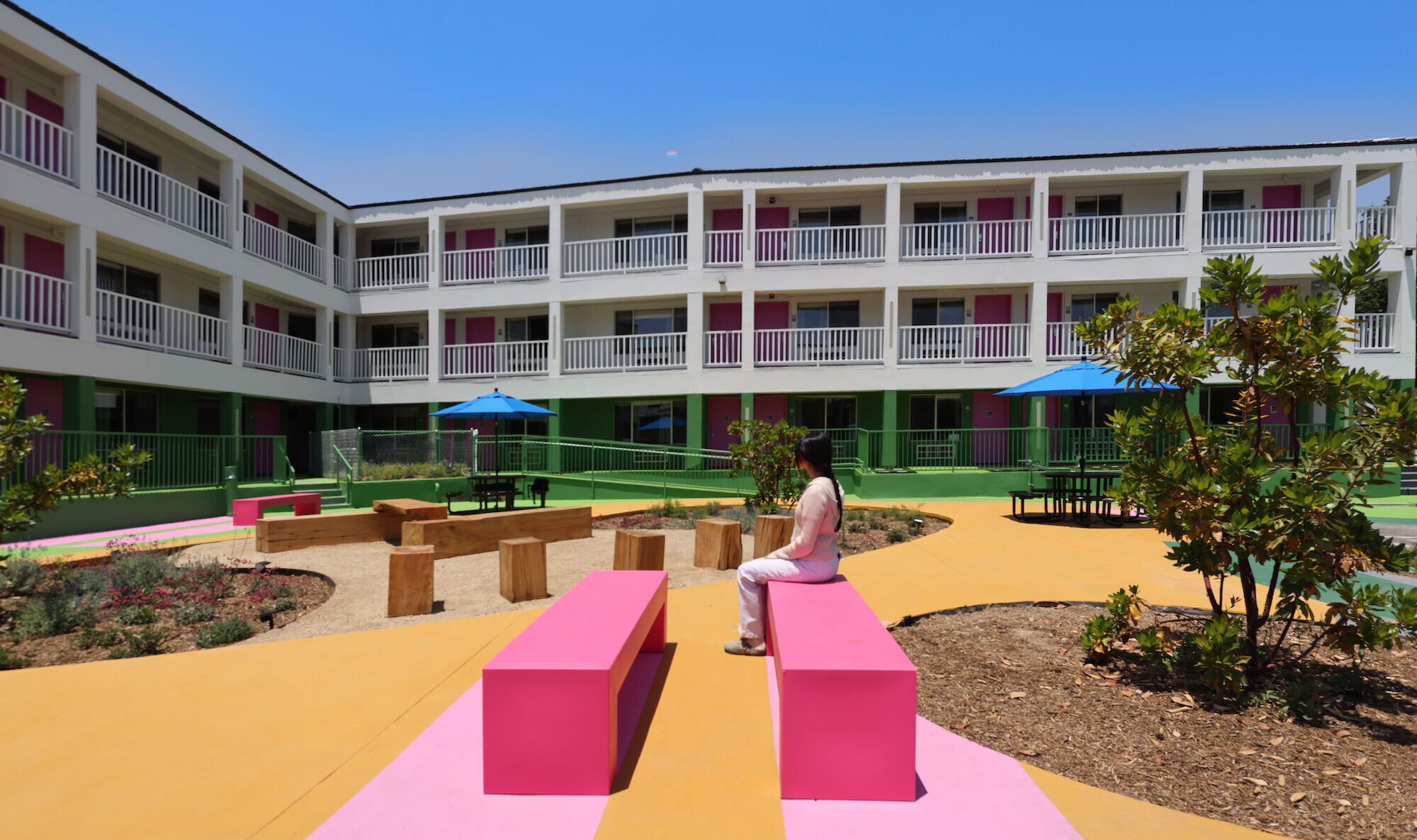 The Woodlands is part of the emergency, state-wide response to Governor Newsom's order to purchase old, underused hotels and rapidly transform them to transient and permanent housing for the currently unhoused population of the State of California. This new prototype for rapid conversion of existing hotel stock into transitional housing shatters construction stereotypes by delivering a massive project - from start of design to end of construction - in under 8 months. The speed of execution is made possible by an unprecedented level of collaboration between owner, architect and contractor, to deliver a crucial transformation on a lightning-quick timeline.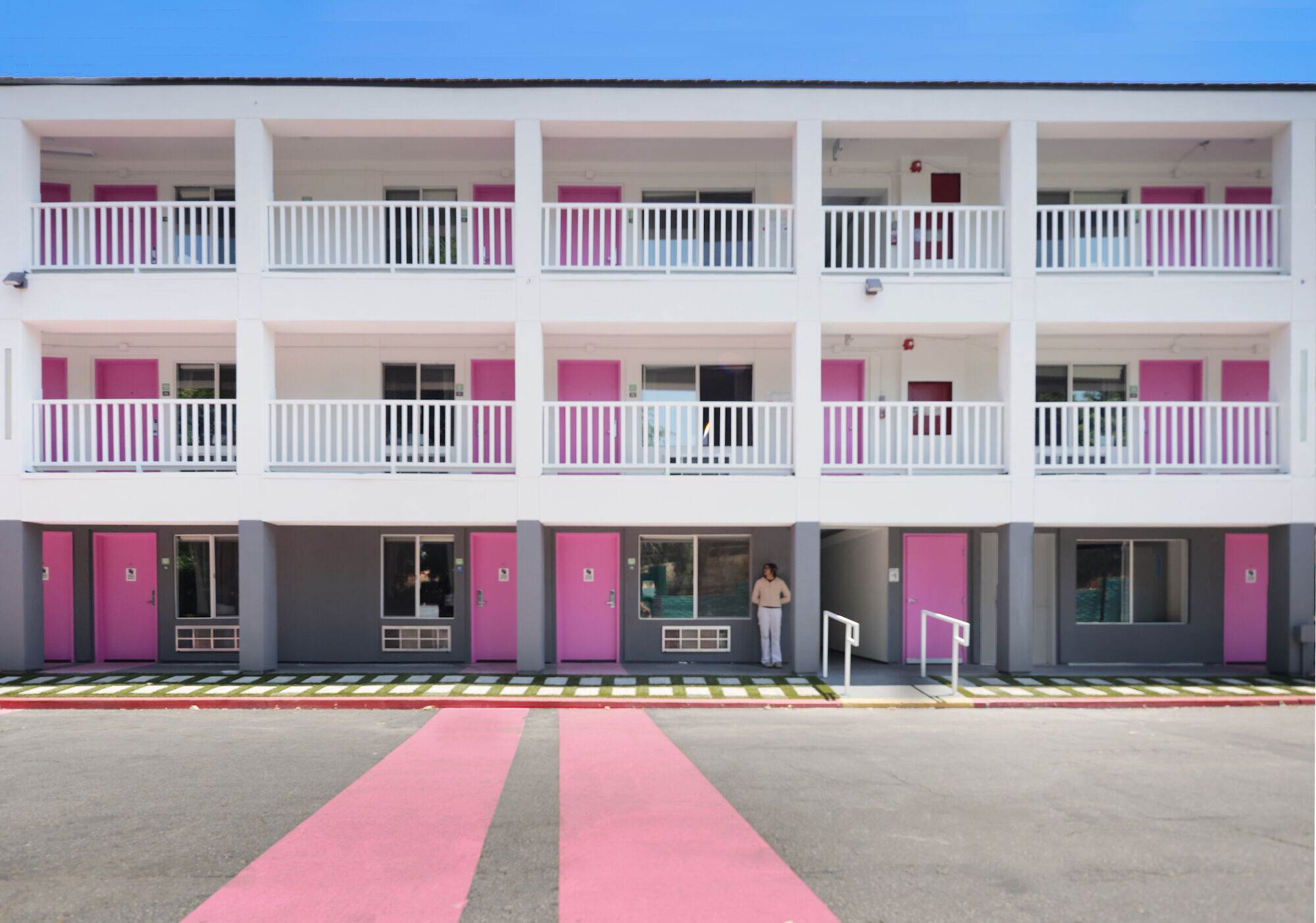 The architects reimagined the 2 acre complex which includes the 100 room former motel, a sprawling surrounding parking lot and shuttered Denny's restaurant, into a colorful composition and a pedestrian play haven for residents. Shades of bright green are complemented with touches of yellow, pink, ochre and cobalt blue to create a playful, welcoming, and uplifting campus environment, contrasting with the airy and bright white exterior of the building. A new central plaza is created out of the former parking lot, connecting the housing on one side to the new community center on the other. Strategic landscaping and planting softens the space, transforming it to a park-like atmosphere, designed to provide a safe play space for the Woodlands' youngest residents. The site's former Denny's restaurant is also being overhauled by the architects, and will soon be reborn as a dedicated preschool serving tenant's children whilst parents are at work. Case management, 3 meals a day and other support services will be provided on site.
"As architects committed to social impact, we see the Homekey Program as both an opportunity to provide shelter to the houseless and as a chance to revitalize our city – to lift these aging, tired buildings, to take them from blight to light and into a green future," says Nerin Kadribegovic, Founder, Kadre Architects.
Kadre Architects is committed to advancing the State's sustainability goals by using leading-edge technology to future-proof these buildings for the next generation of residents. Significant resources are spent towards making the buildings energy neutral and setting a rigorous template for how these types of projects should be developed in future. In their first Project Homekey 2.0 project, The Alvarado in Los Angeles, the firm was able to remove fossil fuels entirely from the 40+ unit property and at The Woodlands, a new photovoltaic array provides 50% of energy needs for the building. Soon, pending approval of the sustainability grant, there is a plan to provide 100% renewable energy and a switch to only electric fuel. With strategic use of low cost, high impact design techniques like color, drought tolerant landscape and graphics, the firm was also able to reduce the heat island effect - a much needed relief in the San Fernando Valley.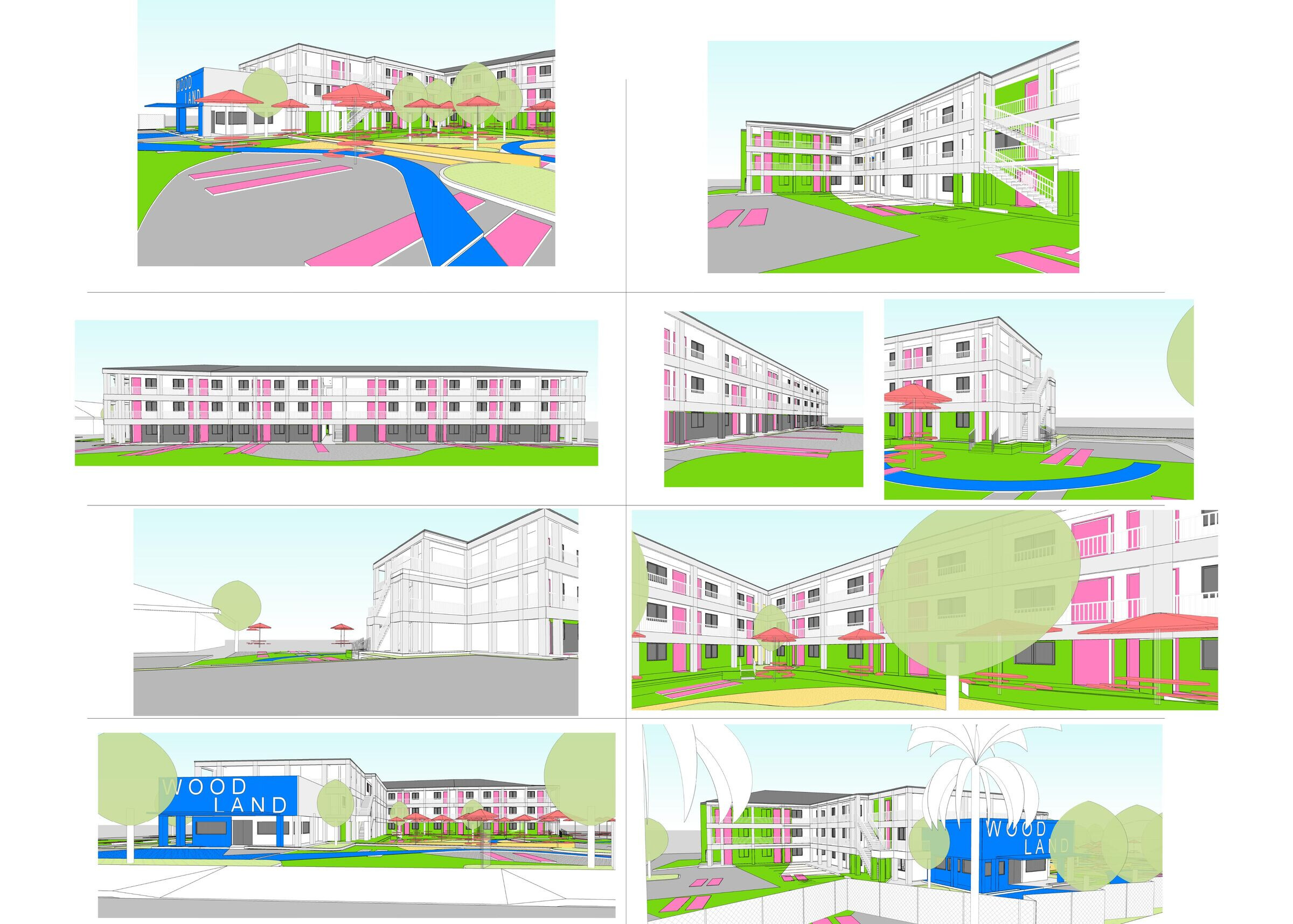 Kadre Architects was founded in 2022 by veteran architect Nerin Kadribegovic. Prior to launching Kadre, Nerin was a partner at the award-winning firm of Lehrer Architects. When the pandemic brought needed urgency to protect Los Angeles's most vulnerable population, Nerin led passionately in creating a template for tackling and ameliorating the city's 60,000-person homelessness issue. During the height of the health crisis, he led the team through an accelerated, aggressive timeline to provide bridge housing. His designs – in collaboration with the City government, first on the AETNA Bridge Home, followed by designs for Tiny Home Villages, now serve as the lodestar to ending the homeless crisis in the City of Los Angeles. These projects have raised and set the City's design standards for sheltering the homeless. A third-generation architect who endured displacement as a refugee of the wars in Yugoslavia and Bosnia, Kadribegovic directly experienced the impact of chaotic social and environmental disruption on people and society. The wartime reality imposed a fragility on life and shelter, that ignited his resolve in solving complex problems. Instilling hope and safety during hardship has become second nature, embedded into his mindset, both in design and leadership for social cause.
The Woodlands began admitting residents on May 31st and is currently providing shelter and support for 100 formerly unhoused families. Kadre Architects and Hope The Mission are currently in construction on a third complex in Lancaster which will be complete in September.