Paris has a unique and rich architectural history that any architecture firm based in the city must contend with. We selected 25 Paris firms meeting that challenge with ground-breaking and distinctive work in and outside the city. From international powerhouses to smaller firms building momentum, we rounded up 25 studios that are leading their peers and embodying the best of what architecture and design have to offer the world. Designing from offices all over Paris, these 25 practices are defining French architecture today. Working with a dedication to the human experience and client needs (both public and private), these firms are moving the industry forward with innovation and thoughtful dedication to their discipline.
Lacaton & Vassal was established by Anne Lacaton and Jean-Philippe Vassal in Paris in 1987. Their first joint project was a hut made of local branches in Niamey, Niger. Over the past three decades the firm has garnered significant international acclaim, most recently winning the Pritzker Prize in 2021. The firm focuses on preserving and improving existing spaces for their human inhabitants. In 2009, Lacaton & Vassal completed the Nantes School of architecture in Nantes, France.
Founded in 1994 by Jean Nouvel, the Paris-based firm has nearly 150 professionals. Nouvel's breakout project was the IMA in Paris, which received significant international attention. Since then, Ateliers Jean Nouvel has built dozens of noteworthy projects in countries around the world. From the Cartier Foundation in Paris to Dolce & Gabbana Seoul, the firm's work defies expectations and breaks new ground.
3. Renzo Piano Building Workshop
Responsible for 25 major museums worldwide, Renzo Piano Building Workshop was established in 1981 by architect Renzo Piano. The 150-person firm has an office in Genoa, Italy as well as Paris. The workshop uses a participatory method, where architects collaborate with engineers, designers, and builders. RPBW works to integrate abundant natural light and local building materials into all their projects, as well piazzas, gardens, and green roofs.
4. Dominique Perrault Architecture
Dominique Perrault Architecture was established in Paris in 1981 by Dominique Perrault. His first major project was the French National Library for President François Mitterrand in 1989. The firm has since designed ground-breaking works around the world, from the DC Tower in Vienna to the EWHA Women's University in Seoul. DPA recently received worldwide attention for the renovation of the Pavilion Dufour at the Château de Versailles.
5. Christian de Portzamparc (2Portzamparc)
Christian de Portzamparc won the Pritzker Architecture Prize in 1994, the first French architect to be awarded the prize. He now works, alongside Elizabeth de Portzamparc, under the firm name 2Portzamparc on all types of building projects. From the LVMH Tower in New York to the Paris La Défense Arena, the projects are commanding and unique. Christian de Portzamparc's passion for music has led to entry — and awards for — numerous music halls.
Led by Tokyo-born architect Shigeru Ban, the firm has a Paris office in partnership with Jean de Gastines. Shigeru Ban Architects is well-known for disaster relief work, including design and construction activities in earthquake-stricken areas and for COVID-19 vaccination centers. In Biel, Switzerland, the firm recently completed a dramatic and sinuous headquarters for Swatch. In 2010, they completed Centre Pompidou-Metz, an annex for Paris' Pompidou Center.
7. AREP
A multidisciplinary practice headquartered in Paris, AREP was founded in 1997 by Jean-Marie Duthilleul and Etienne Tricaud. It is now a 700-person firm, and subsidiary of SNCF Gares & Connexions, that works on all areas of architecture, city planning, and construction. Projects, both enormous and small, are focused on meeting the global challenges of climate change. Recent work includes the Belfort-Montbéliard TGV Station.
8. Viguier
The firm was founded in 1992 by Jean-Paul Viguier. Now led by Viguier, alongside a dozen partners, VIGUIER works worldwide from Chicago to Seville. The firm has been extensively awarded for their work, which masterfully integrates the four disciplines of architecture, interior design, urban planning, and landscape design. In Paris, the firm recently completed the Canadian Embassy and Cultural Center. In 2002, the firm won an international competition for the Water Tower Sofitel in Chicago.
9. Wilmotte & Associés Architectes
Established in 1976 by architect Jean-Michel Wilmotte, Wilmotte & Associés Architectes is now a 240-person firm headquartered in Paris. The firm is currently working on many projects, including the masterplan for the transformation of the Gare du Nord in Paris, a hotel in Agde, France, and a building for the Senegalese government near Dakar. Dedicated to site integration and thoughtful materiality, the firm works on a range of projects from stadiums and residential developments to hospitals.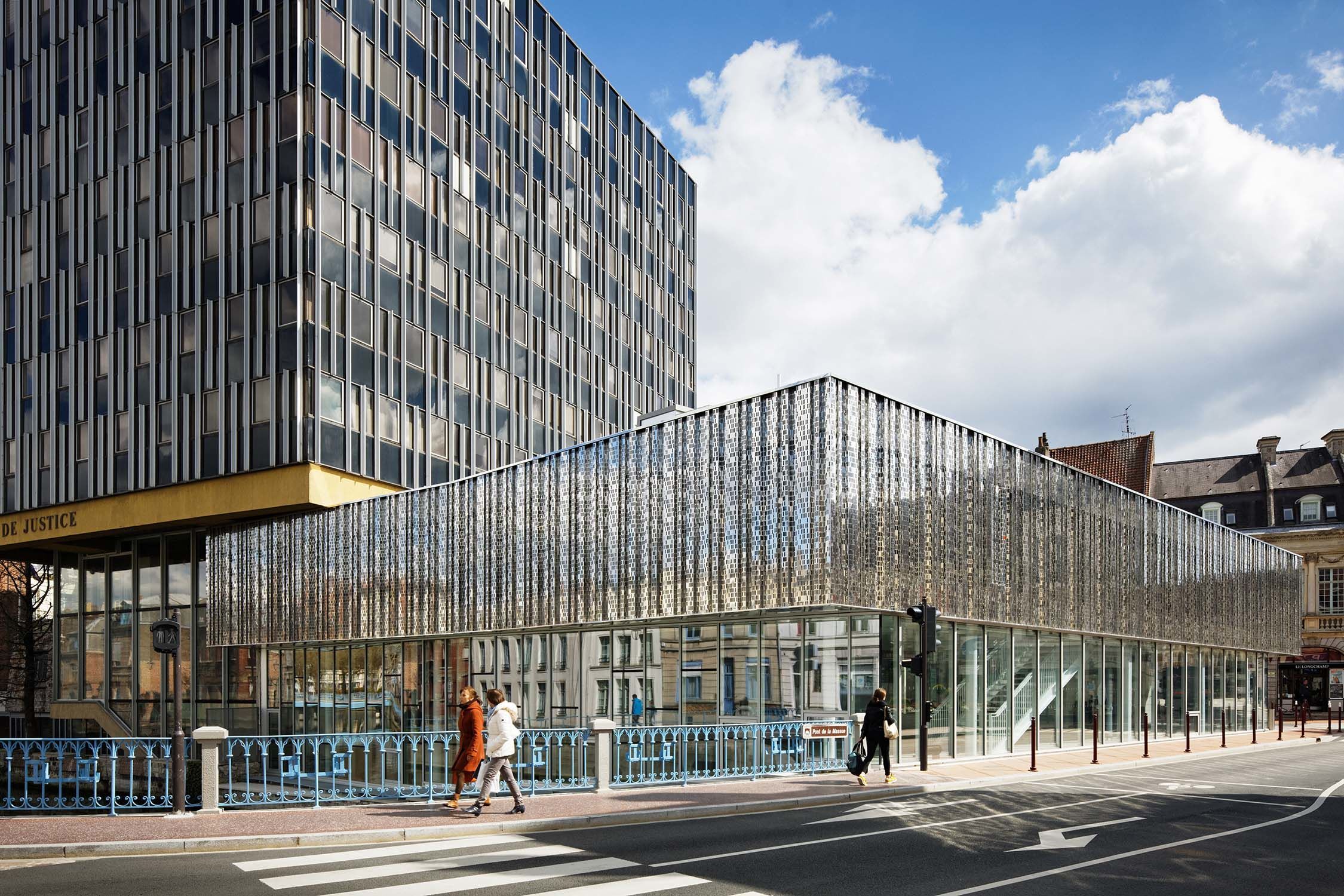 Founded in 1997, the award-winning firm is now led by architects Gaëlle Hamonic, Jean-Christophe Masson, and Marie-Agnès de Bailliencourt. The firm's breakout project was the Maison Métal in Paris' Parc de la Villette, completed in 2003. More recently, Hamonic+Masson & Associés created a distinctive courthouse in Douai, France, with a stainless-steel façade. The firm works across sectors, constructing office buildings, residences, public works, and more.
Founded in 1998 by architects Dominique Jakob and Brendan MacFarlane, Jakob + Macfarlane works around the globe on public works, office buildings, housing developments, and other projects. Work by the architecture firm has been widely exhibited in museums, and they have won numerous awards. Jakob + Macfarlane thinks of themselves as an experimental laboratory that integrates digital culture. In 2010, they completed a distinctive "orange cube" office building in Lyon, France.
12. AZC Atelier Zündel Cristea
Established in 2001 by Irina Cristea and Grégoire Zündel, architecture firm AZC is now twenty professionals working on a variety of projects. The majority of their work has been in France, but AZC has also worked elsewhere in Europe. Their portfolio includes municipal projects, education, housing, and health care. AZC created a pavilion in the shape of a flower, with an inflatable PVC roof, for the IGA Berlin 2017 exhibition.
Architect Edouard François founded the firm in 1998 with an emphasis on architecture, urban planning, and design. Celebrated projects in Montpellier, France, and Paris helped to launch the architect's career. Maison Edouard François, composed of dozens of professionals, works around the globe. The firm recently completed exterior architecture for Cheval Blanc Paris, a luxury hotel in the building that once housed the La Samaritaine department store.
14. BFV Architectes
BFV ARCHITECTES was founded in 2018 by architects Jean Bocabeille, Olivier Fassio, and Jean-Brice Viaud. Shortly thereafter, the firm completed a wooden-frame office building and student residence, both in Paris, as well as housing units in Nanterre, France. In 2014, in Pantin, France, BFV designed a white-concrete office building with rooftop photovoltaic panels that provide the energy used in the building.
15. SOA Architectes
Founded in 2001 and led by Pierre Sartoux and Augustin Rosenstiehl, SOA Architectes has a special expertise in housing, education, and public space. SOA includes a research laboratory, created in 2012, dedicated to innovative land use planning. For a nursery school in Saint-Gratien, France, the firm mixed chestnut with stainless steel cladding for a distinctive building structure and façade.
16. Marjan Hessamfar & Joe Vérons architectes associés
Established in 2004 by Marjan Hessamfar and Joe Vérons, the practice has offices in Paris as well as elsewhere in France (Toulouse and Bordeaux). Marjan Hessamfar & Joe Vérons architectes associés works on a range of projects including housing, education, and cultural facilities. Their architecture focuses on site context and the human experience. The majority of their work is in France, near their offices. For a school in Pau, France, the firm utilized protruding concrete slabs and slatted wood alongside a perforated copper-alloy skin.
17. Manuelle Gautrand Architecture
The architecture firm was founded in 1991 by Manuelle Gautrand. Partner Marc Blaising now helps to lead the firm of over 15 architects. The firm's projects, all led by Gautrand in a collaborative process, experiment with form and color while staying grounded in function and client need. From their offices in Paris, Manuelle Gautrand Architecture has conceived of distinctive projects in Paris and elsewhere. An office building in Lyons-la-Forêt, France, completed in collaboration with other architects, is both beautiful and rigorous.
18. LAN (Local Architecture Network)
LAN Architecture was established in 2002 by architects Benoit Jallon and Umberto Napolitano and was awarded the New Albums of the Young Architects Award two years later. Over the last twenty years, the firm has worked on a variety of projects in Paris and beyond. In Strasbourg, France LAN created a theater that is both imposing and intimate.
19. H2O Architectes
Founded in 2005 by architects Jean-Jacques Hubert and Charlotte Hubert, h2o architects is an architecture firm known for thoughtful restoration of historic monuments as well as building conversions. Most of their work is near Paris, but they also work elsewhere in France. An office in Bourg-lès-Valence, in a historic monument, preserves existing buildings while inserting new life and energy into the spaces.
20. Opus 5
Opus 5 specializes in restorations while also working on new builds and renovations. Based in Paris, the firm is currently led by Bruno Decaris, Agnès Pontremoli, and Pierre Tisserand. In 2019, Opus 5 received attention for the Elancourt Music School, a two-story structure in hand-made brick outside Paris. In 2014, the firm completed a library in Pontivy, France, integrating both spaces with abundant natural light and protected storage areas.
21. Studio Razavi Architecture
Led by Alireza Razavi, Studio Razavi Architecture is based in Paris with offices in New York and London. The multidisciplinary firm designs buildings, interiors, and furniture — all with an interest in elegance, use, and materiality. The firm has been extensively published around the world and has won numerous design and architecture awards. For an apartment in Lyon, France, existing architecture plays against new interventions and a distinctive color palette.
22. Studio KO
Studio kO was founded in 2000 by Karl Fournier and Olivier Marty after they met at the Beaux-Arts school of architecture in Paris. The firm has offices in both Paris and Marrakech. Their global projects, both residential and public, are inspired by site and history. In 2017, Studio kO completed the Yves Saint Laurent Museum in Marrakech, blending natural materials and a contemporary outlook.
23. SABO project
Founded and led by Alexandre Delaunay, SABO project has offices in both Paris and New York. The firm has garnered significant international press for original architecture with unexpected twists. For a loft in the 11th arrondissement of Paris, SABO project inserted a perforated golden structure that contains sleeping areas. Always looking for unexpected solutions, the firm took its name from the word sabotage.
24. XTU Architects
Established in 2000 by Anouk Legendre and Nicolas Desmazières, XTU architects works on projects around the world. The firm has built offices, cultural projects, schools, housing developments, and more. They have won dozens of awards and been nominated for the Mies van der Rohe prize. XTU designed the French Pavilion for the Milano Expo in 2015.
25. Vincent Parreira Atelier Architecture AAVP
Vincent Parreira established his firm, AAVP, in Paris in 2000. Parreira works alongside partners Marie Brodin and Éric Crochu. Over the last two decades, AAVP has built housing developments, schools, cultural works, and other projects. A private residence in Paris features a golden metallic façade over its black-painted original structure.
The selection curated by the Archello editorial team is based on a mixture of the amount of featured projects and the views they generated. For a more comprehensive list of Paris architects you can take a look here.