Tokyo's architecture scene today is both vibrant and multi-faceted, and Tokyo-based architects are both eyeing the world while considering their unique city. We rounded up 25 studios pushing forward toward a new vision for architecture and design. Some are giants in the industry and some have more than a century of experience. Others are newer and emerging, but they are showing themselves as talents to watch. Together, these 25 firms are defining architecture in Tokyo and beyond. Many firms working in the Japanese capital are innovative and forward-thinking, while some are more devoted to Japanese architectural history and tradition. Throughout, we found architecture firms dedicated to creating new spaces and experiences for diverse users.
Architect Kengo Kuma established Kengo Kuma & Associates in 1990. Since then, the award-winning firm has designed architectural works in over 20 countries. Kuma credits Kenzo Tange's Yoyogi National Gymnasium for the 1964 Tokyo Olympics as inspiring his journey into architecture. Kengo Kuma & Associates consistently seeks alternatives to concrete and steel in their work. The firm recently designed a retail pavilion for Amanpuri in Thailand.
Led by Tokyo-born architect Shigeru Ban, Shigeru Ban Architects in well-known for disaster relief work, including design and construction activities in earthquake-stricken areas and for COVID-19 vaccination centers. Keita Sugai and Grant Suzuki are partners in the Tokyo office. The firm also has offices in Paris and New York. A restaurant in China incorporated the firm's signature paper tubes.
With offices in both Tokyo and Paris, Sou Fujimoto Architects is known for innovative work around the globe. At 41, Sou Fujimoto was the youngest architect to be invited to design a temporary structure for the prestigious Serpentine Gallery. The latticed structure evoked Fujimoto's earlier work, including the distinctive House NA in Tokyo, with a white-steel structure.
4. Tadao Ando
Osaka-based architect Tadao Ando's influence is worldwide, and his practice has had an outsize impact on practices in Tokyo and beyond. His firm, Tadao Ando Architect & Associates, was established in 1969. Since then, he has been awarded major prizes include the Pritzker Architecture Prize. His work has been featured in solo exhibitions at New York's Museum of Modern Art and Paris' Centre Pompidou.
5. Toyo Ito
Seoul-born architect Toyo Ito started his firm, Toyo Ito & Associates, Architects after a brief stint working for Kiyonori Kikutake Architects and Associates. His firm was originally called Urban Robot (URBOT). Over the decades, Toyo Ito has created private residences, cultural projects, educational buildings, retail environments, and more. In 2010, the firm completed the Toyo Ito Museum of Architecture, a museum devoted to architecture and design.
6. SANAA / Kazuyo Sejima + Ryue Nishizawa
Founded in 1995 by architects Kazuyo Sejima + Ryue Nishizawa, SANAA is dedicated to the notion that architecture can function with the boundaries and circulation of a public park. Honored with the Pritzker Architecture Prize in 2010, the firm works worldwide on ground-breaking projects across sectors. Notable projects include the New Museum of Contemporary Art in New York and the Dior flagship in Tokyo.
Fumihiko Maki founded Maki & Associates in 1965. The firm is now four dozen professionals working in architecture and urban design. Maki oversees projects and is available to help meet client needs. The firm has been awarded numerous international prizes including the Pritzker. In 2014, Maki & Associates completed the Aga Khan Museum in Ontario, Canada, which aimed to reinterpret Islamic architecture for a contemporary context.
8. Junya.Ishigami + Associates
Established in 2004 by Junya Ishigami, Junya.Ishigami + Associates has completed ground-breaking projects in Tokyo and around the world. From a visitor center in the Netherlands to an educational space in Kanagawa, Japan, work is bold and aesthetically pleasing. The firm has participated in the Venice Architecture Biennale twice, winning the Golden Lion for Best Project in 2010. Junya.Ishigami + Associates designed London's Serpentine Pavilion in 2019.
9. Schemata Architects / Jo Nagasaka
Schemata Architects was founded in 1998 by Osaka-born architect Jo Nagasaka. Schemata Architects works worldwide, and the practice has experience with both architecture and industrial design. From furniture to private residences and beyond, work is both cool and contemporary. The firm recently transformed a Burger King into a retail environment for FREITAG in South Korea.
Originally founded in 1900 and restarted after World War II, Nikken Sekkei has a long history in Japan. Today, the firm is over 1,800 professionals working in six groups. Integrated services include architecture, interior design, research, city planning, construction management, and environmental work. Throughout their work, Nikken Sekkei shows an attention to the contemporary while honoring time-tested traditions.
11. Nobuo Araki / The Archetype
Established in 1997 by Nobuo Araki, the Archetype has designed private residences, commercial projects, institutional works, and more. Their Ginza Sony Park project demolished an older building to make way for a lively square with expansive outdoor space. The firm has also created products including door hardware, umbrella stands, accessory racks, and a desk. The founder is also a visiting professor at the Nishinippon Institute of Technology.
Established in 1991 by Astrid Klein and Mark Dytham, Klein Dytham Architecture focuses on architecture, interior design, public spaces, and installations. Both Klein and Dytham worked in Tokyo for Toyo Ito before founding their own firm. Yukinari Hisama joined the firm in 1996. As well as an award-winning practice, Klein and Dytham created PechaKucha Night, which has inspired creatives around the world.
13. Nendo
Founded by Oki Sato, Nendo is known for playful industrial design as well as dramatic interiors and architecture. The firm is devoted to creating surprising works, from large commercial and retail projects to tiny accessories. Clients include Lexus, Minotti, Toyota, Louis Vuitton, and many others. For a private house in Tokyo, Nendo inserted a stairway into the rear yard that creates a strong gesture while holding functional spaces.
Hiroshi Nakamura founded his own firm in 2002, NAP, after five years working for Kengo Kuma & Associates. The award-winning practice relies on thoughtful use of materials and forms to create thought-provoking work. Nakamura also consults on urban development and furniture projects. Recently, he has been inspired by traditional Japanese architecture and garden design — but he devises contemporary works.
The roots of Mitsubishi Jisho Sekkei Inc. go back to 1890, when the Marunouchi Architectural Office was established. In 1894, the office completed Japan's first modern office building. In recent years, Mitsubishi Jisho Sekkei has completed the Palace Hotel Tokyo, JP Tower, Peninsula Toyko, Taipei Nanshan Plaza, and more. The practice is currently led by President and CEO Soichiro Hayashi.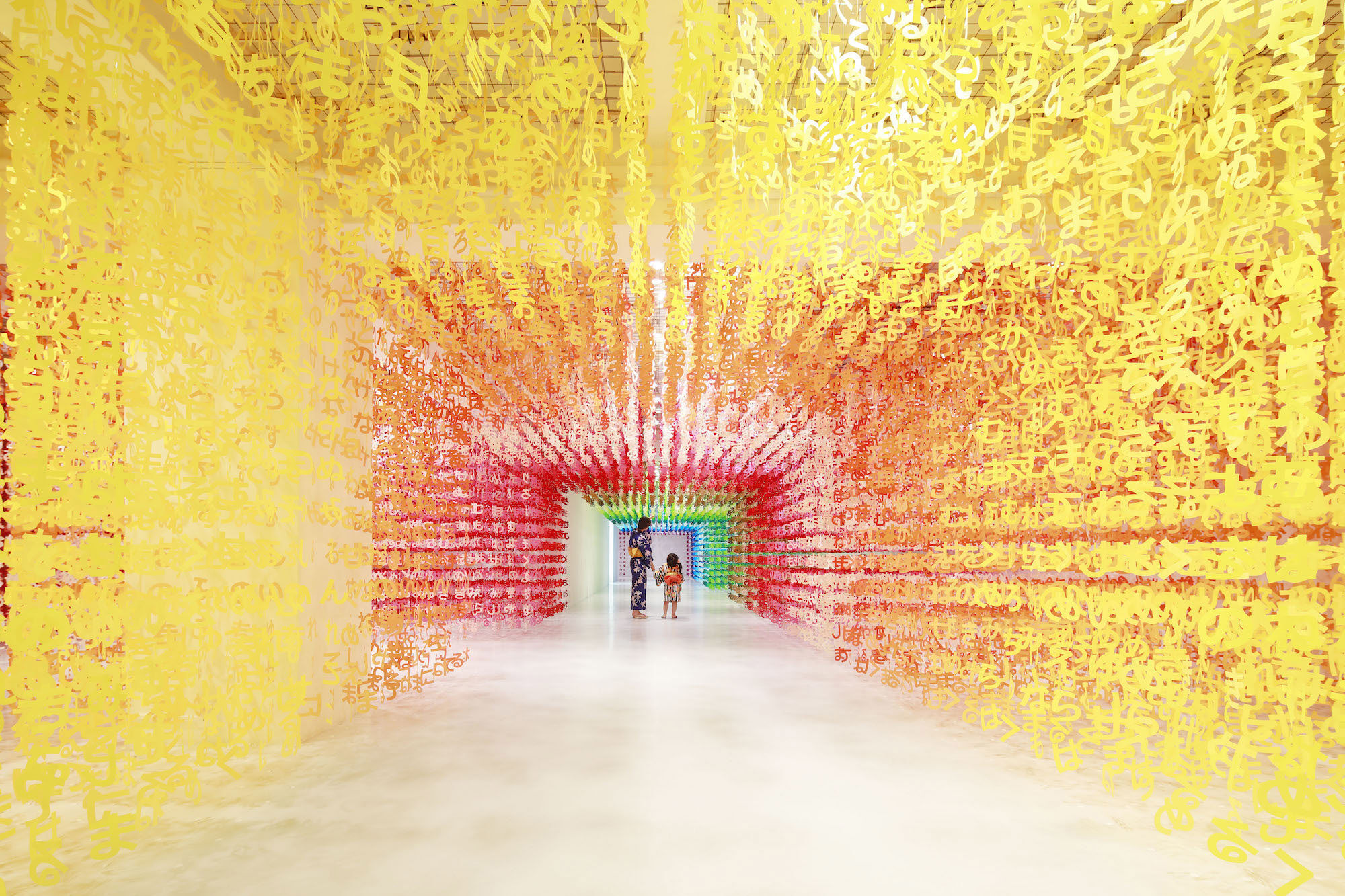 16. Emmanuelle Moureaux Architecture + Design
Emmanuelle Moureaux is a French architect based in Tokyo, where she established her firm in 2003. Emmanuelle Moureaux Architecture + Design is known for bold and colorful installations, sometimes for corporate clients including Uniqlo and Issey Miyake. An installation series "100 colors," inspired by the colors of Tokyo, has been exhibited widely within and outside Japan. The practice has won dozens of awards and been published in international publications.
17. Katagiri Architecture+Design
Katagiri Architecture+Design was founded in 2014 by architect Kazuya Katagiri after he spent years working for Kengo Kuma & Associates. The practice has created serene homes throughout Japan, in Tokyo and elsewhere. Katagiri Architecture+Design also works internationally, with projects underway or completed in the U.S., Taiwan, Mexico, and more. For Paper Cloud in France, the studio created a luminescent structure from 2,000 pieces of plastic laminated rings.
18. Mount Fuji Architects Studio
Architects Mao Harada and Masahiro Harada established Mount Fuji Architects Studio in 2004. Both maintain a teaching schedule while running a busy architectural practice. Mount Fuji Architects Studio has been widely published and honored with numerous awards over the years. Their portfolio includes residential, commercial, and cultural works. They have also designed a few products.
19. EQUIP Inc.
Founded in 2011 by CEO Hiroaki Date, EQUIP works on both architecture and interior design. The firm also consults on real estate and construction. The firm works to make building easier by integrating additional services and offering regular consultations. Most of their work is private residences in and around Tokyo, but EQUIP has also designed commercial and hospitality projects.
20. Yusuke Seki
Led by architect Yusuke Seki, the firm works in Tokyo and beyond. For the KUMU hotel in Kanazawa City, Yusuke Seki utilized Traditional Japanese joinery for a dramatic timber grid in the lobby. Inspired by minimalism and striving for simplicity, their portfolio includes both residences and commercial projects.
After years working for Toyo Ito Architects, Florian Busch established his own firm. Florian Busch Architects is a multi-disciplinary practice working in architecture, research, and urban planning. FBA supplements their own professionals with engineers based around the world. The practice has been published internationally and recognized with various awards. FBA specializes in distinctive private residences as well as cultural centers.
Keiji Ashizawa established Keiji Ashizawa Design in 2005 after working in architecture and steel fabrication. The firm works in architecture, interior design, and industrial design. International clients have included MUJI, IKEA, Dior, and Blue Bottle Coffee. The award-winning practice works throughout Japan, as well as in China and India. Ashizawa has also supported earthquake relief.
23. DDAA / DDAA LAB
Founded by Daisuke Motogi in 2010 after he was at Schemata Architects, the practice is composed of an architectural studio (DDAA) and a research laboratory (DDAA LAB). DDAA works in architecture, city planning, landscape, interior design, and product design. DDAA LAB aims to solve social challenges. Clients have included Bang & Olufsen, Issey Miyake, and Nike. DDAA has devised unique residences and offices as well.
24. BE-FUN Design
Founded in 2008 by architect Tsuyoshi Shindo, Be-Fun Design aims to bring the creativity and fun of childhood to the serious business of architecture. Now composed of several professionals, Be-Fun Design has won about a dozen architecture and design awards. The practice specializes in houses and apartments, but they have also designed hotels and commercial projects. A hotel in Tokyo was inspired by traditional Japanese houses.
25. Kashiwa Sato
A leading creative director, Kashiwa Sato also works in interior design and as a brand architect. For the global headquarters of Takeda Pharmaceutical Company in Tokyo, Sato provided interior design direction. Kashiwa Sato's clients have included Rakuten, Uniqlo, and the National Art Center in Tokyo.
The selection curated by the Archello editorial team is based on a mixture of the amount of featured projects and the views they generated. For a more comprehensive list of Tokyo architects you can take a look here.