Los Angeles natives Jamie Price and Brad Schlei engaged organic architecture experts Kristopher Conner and James Perry of Conner + Perry Architects to design a home that seamlessly fits their family and lifestyle, while also showcasing a world-class art collection and effortlessly blending into this beloved section of Santa Monica Canyon.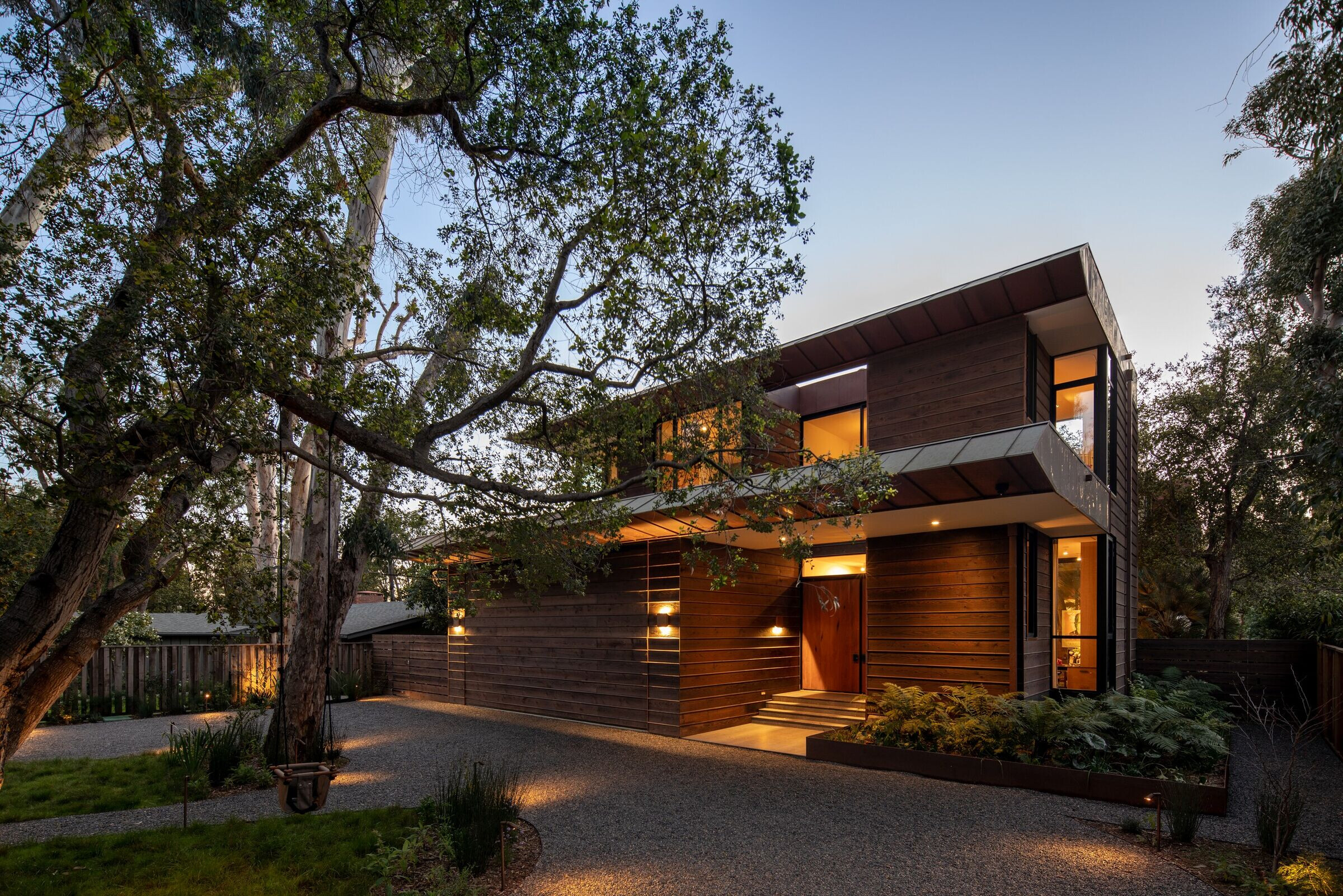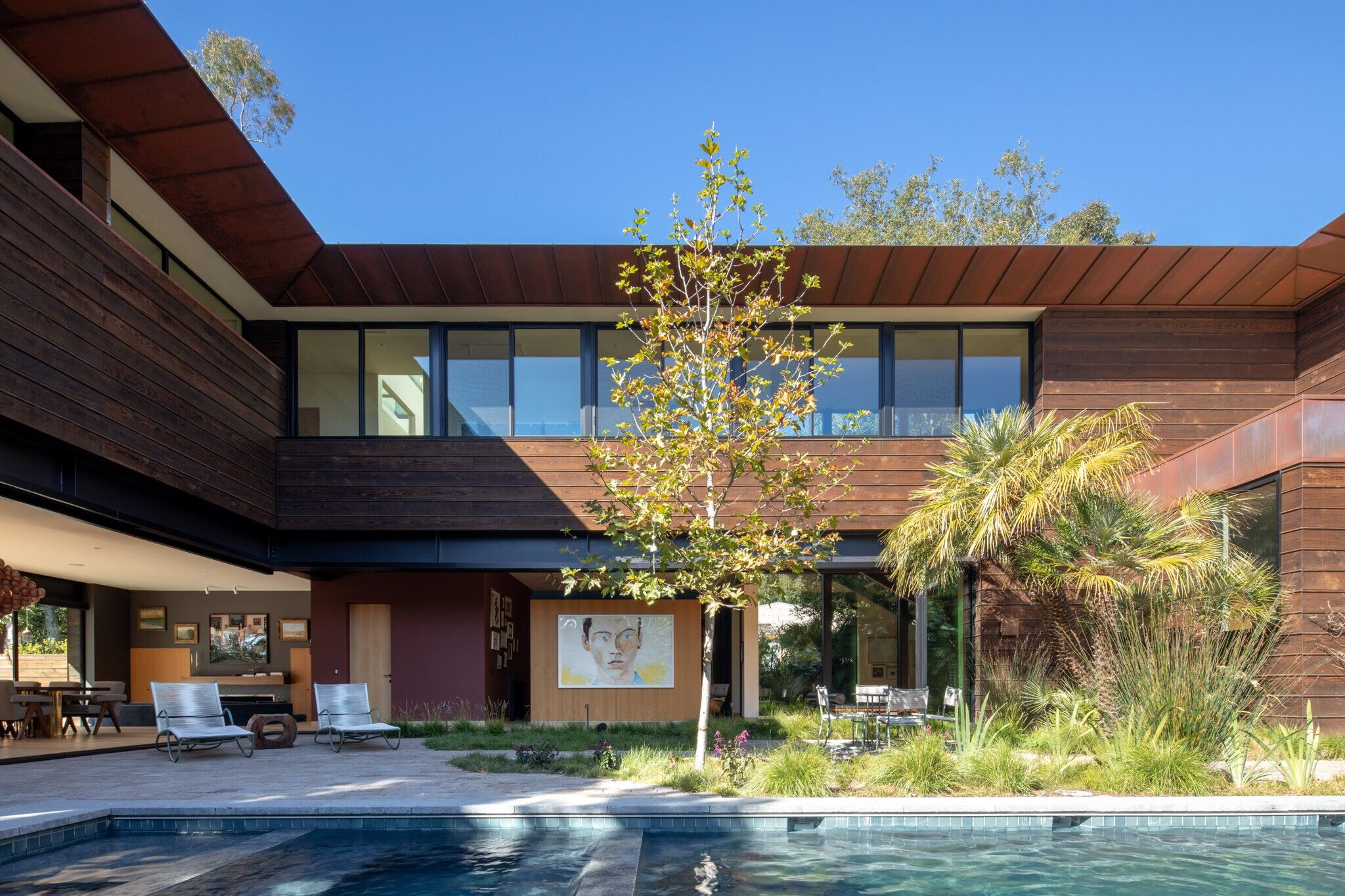 Taking cues from the property's surrounding Oak and Eucalyptus trees, the firm designed a residence that allows for reflection, openness, and serenity. Key design features include windows that frame the magnificent trees, extended canopy-like, cantilevered eaves and fully pocketing glass exterior walls that open to a central courtyard to offer the perfect balance of indoor-outdoor living. Every view in the house was designed to captivate with either nature or art. Initial plans by John Lautner protégé, architect Duncan Nicholson, set the stage for Kris and James, formerly with Nicholson's office, to complete and enhance the project, despite his untimely passing.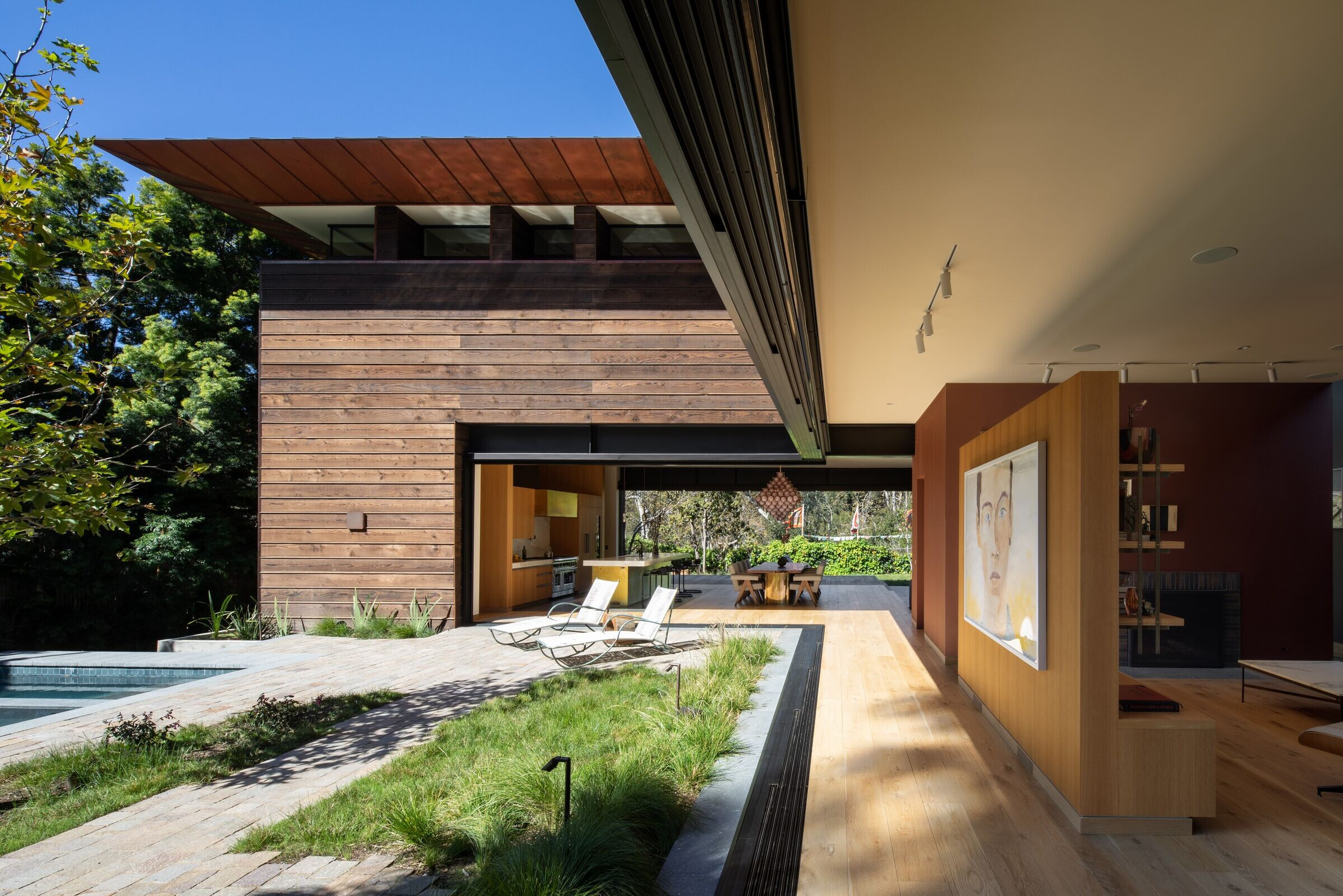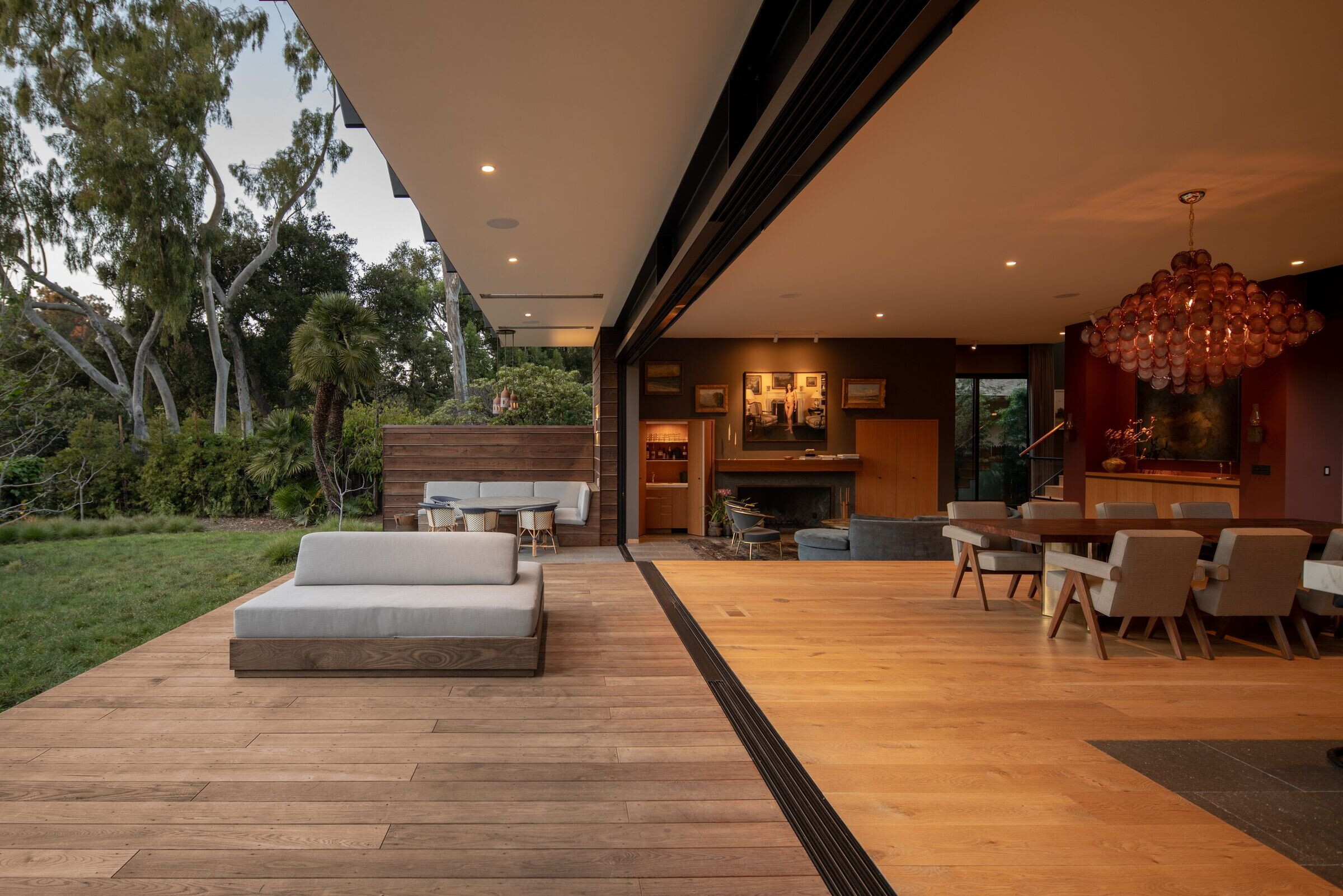 Originally a classic California 1940's cabin, it was important that Jamie and Brad honor this history and salvage as much of the original house as possible. Given their love for the neighborhood and its majestic trees, they repurposed fallen Eucalyptus wood found on the property into outdoor seating and key elements within the house. In keeping, exterior materials for the new home were selected for their organic nature, ability to age in place, and compatibility with the climate, such as charred wood siding (Shou Sugi Ban), copper, exposed steel and concrete. Interior materials were chosen to reflect the nature outside, including a mix of massangis grey limestone and french oak for the flooring, weathered brass, blackened steel elements, and a variety of marbles and tiles, including art tiles by Lubna Chowdhary.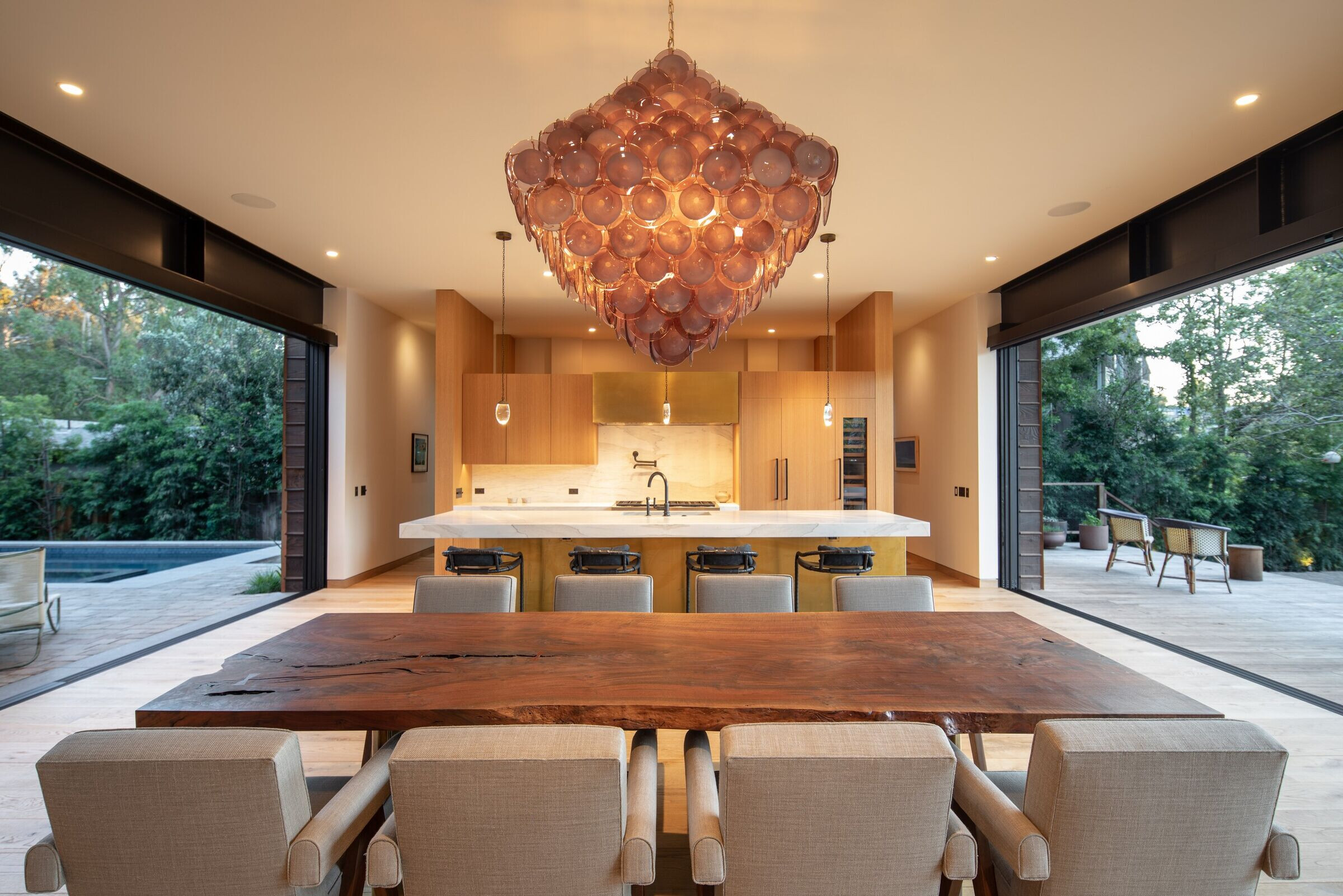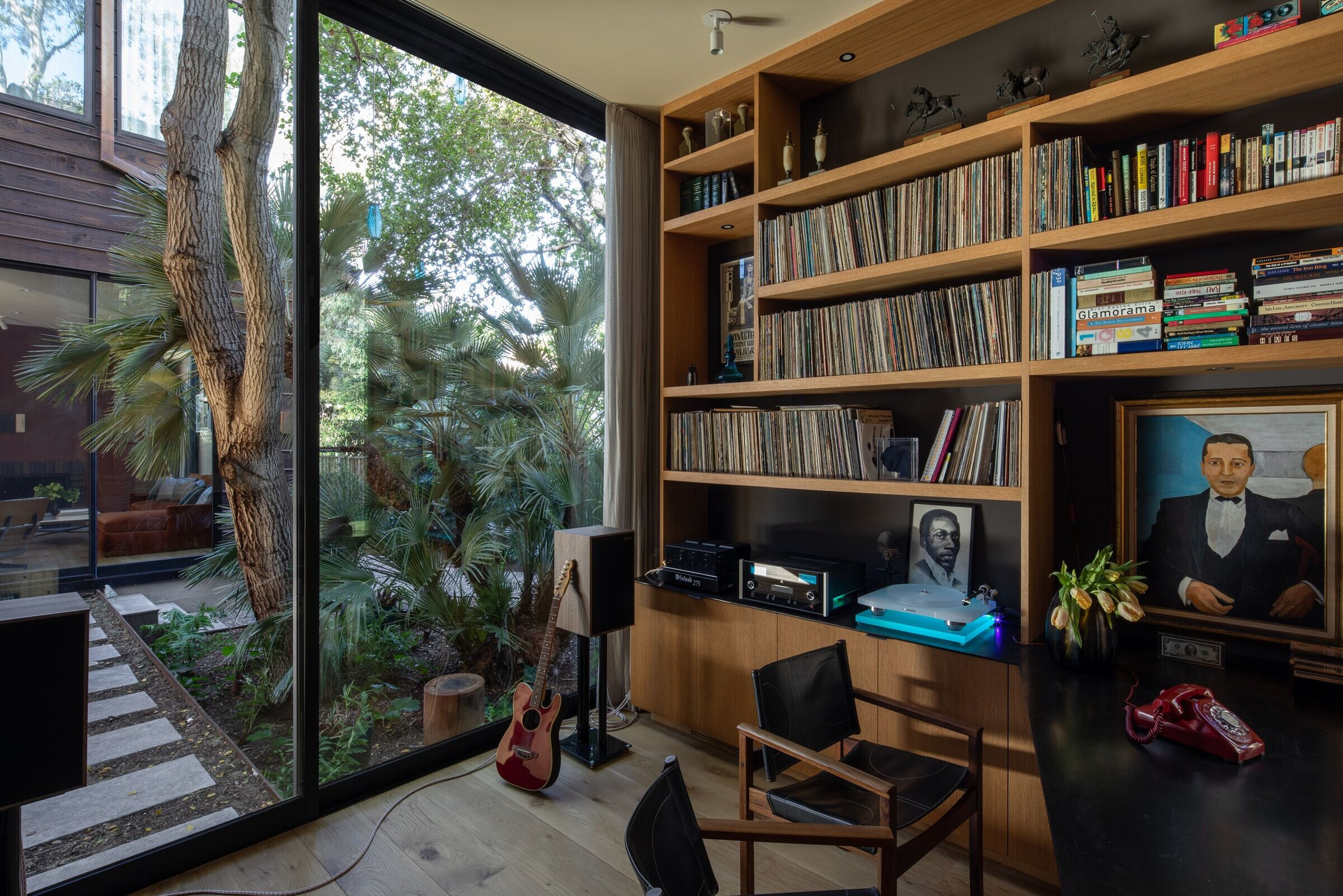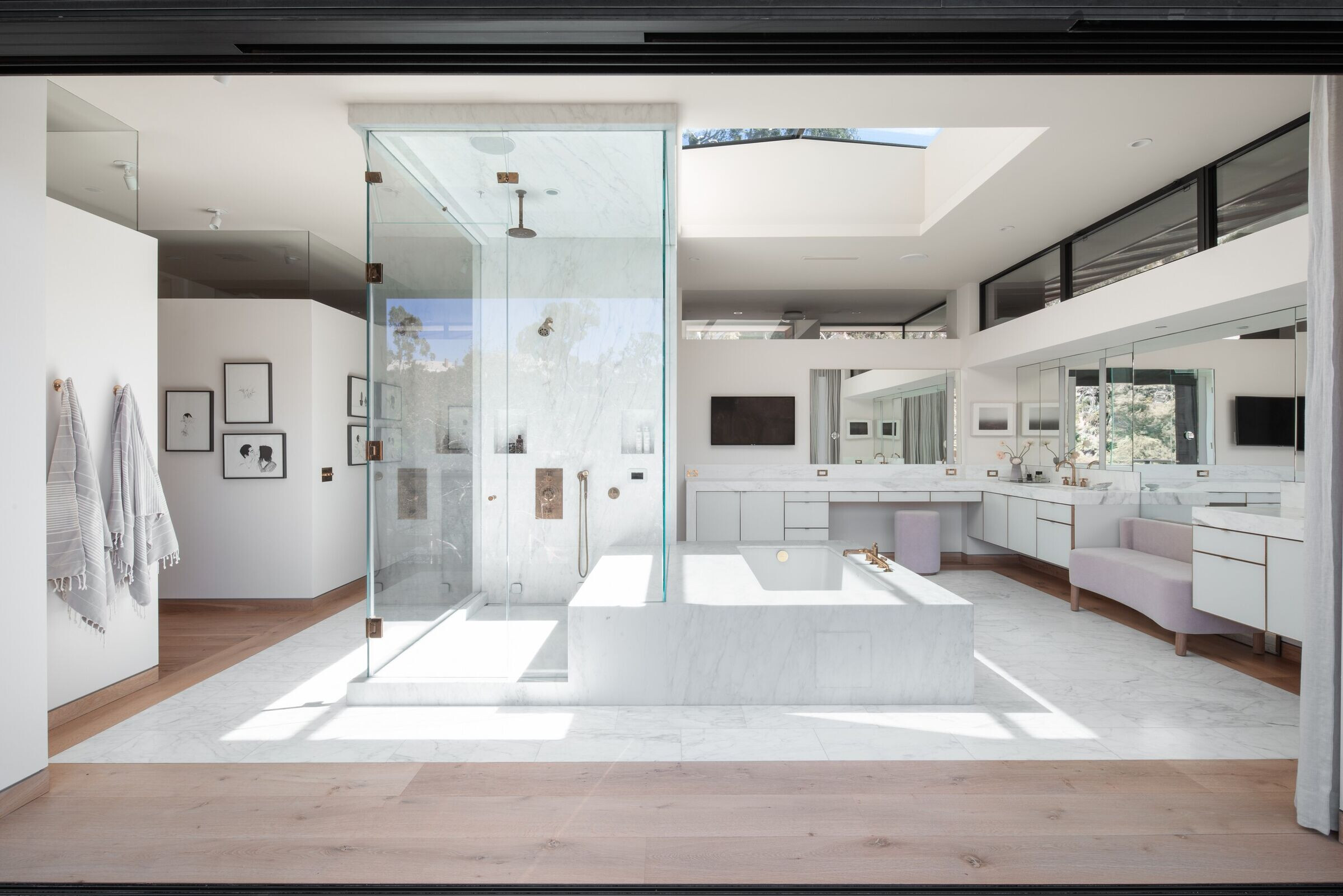 Key Architecture + Design Features:
● Corten steel fences, gates, and planters
● Custom profile charred wood (shou sugi ban) siding with copper accents
● Custom copper exterior sconce lighting fixtures
● Airplane hangar style garage door finished with charred siding that "disappears" when closed
● Double height glass atrium garden surrounding protected California live oak trees.
● Full pocketing glass and aluminum sliding doors at pool patio and rear deck
● Unique large cantilevered eaves with plaster soffits to match interior ceiling for seamless transition inside to out and angled copper parapet detail to emphasize opening up of view to sky and tree canopies
● Palette and paint colors from Les Colours by Le Corbusier.
● Directly impacting the finishes of the built-ins, the door pulls for the main entry and master bedroom are vintage 1970s door pulls from an Italian bank went out of business.
● "Live finishes" were used to patina, so that they will age in place
Key Interior Design Elements:
● Paint throughout house – Drikolor
● Plumbing fixtures Throughout house – Waterworks Henry collection
● Door hardware throughout house – Lerou Belgium
● Cabinetry hardware throughout house – Lerou Belgium
● Front Door hardware – Vintage from Amsterdam
● Dining Room Pendant – Vintage 60's Found in Los Angeles
● Bar pendant lights – Ochre
● Master bedroom Chandelier – Murano, sourced from Mass Beverly Beverly Hills
● Hall paper pendant – Isamu Noguchi
● Perch Pink pendant light – Phenomena Pendant, Sourced from Mass Beverly
● Guest bedroom pendant lights – Stahl and Band Venice
● Brass sconce lights in Perch, powder, Guest bathrooms – Robert Long Lighting
● Brass wall Lanterns in the living room – Vintage from Reform Gallery LA
● Exterior Sold Eucalyptus tables and stools – Custom made from trees on the property
● All light switch plates and switches throughout – Forbes and Lomax