Alloy has unveiled the model residence at its latest project, 168 Plymouth, designed by Rebecca Robertson. The last historic factory to residential loft conversions in Brooklyn's Dumbo neighborhood, two 100- year-old paint factory buildings, an 1891 Brick and Timber and a 1921 Daylight Factory, have been attentively transformed by Alloy's architecture team. Alloy preserved the buildings' many historic elements while introducing clean and modern interiors, which Rebecca Robertson of RR Interiors used as the backdrop for her vision for a contemporary Brooklyn family's loft.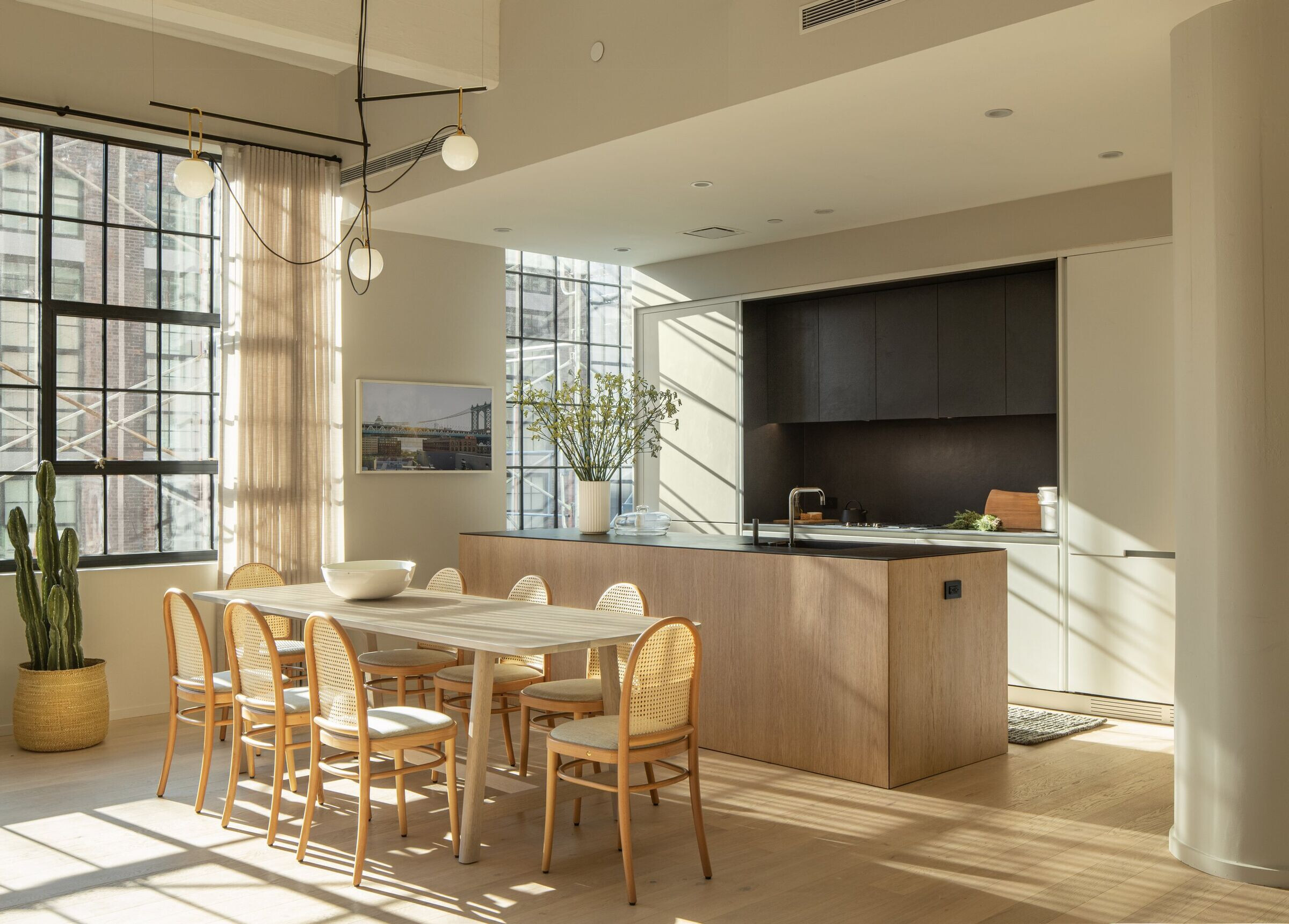 The unique open floor plan of the living areas, tall ceilings, ample natural light and historic texture of the building led Robertson to design based on her experience living in a historic NYC loft. She defined distinct living areas within the larger space through different furniture groupings and rugs, brought together through a unified color palette. The daylight factory windows enveloping the space present bright and airy rooms with ample natural light. Robertson chose a warm color palette with hints of black to echo back to the strong architecture of the windows.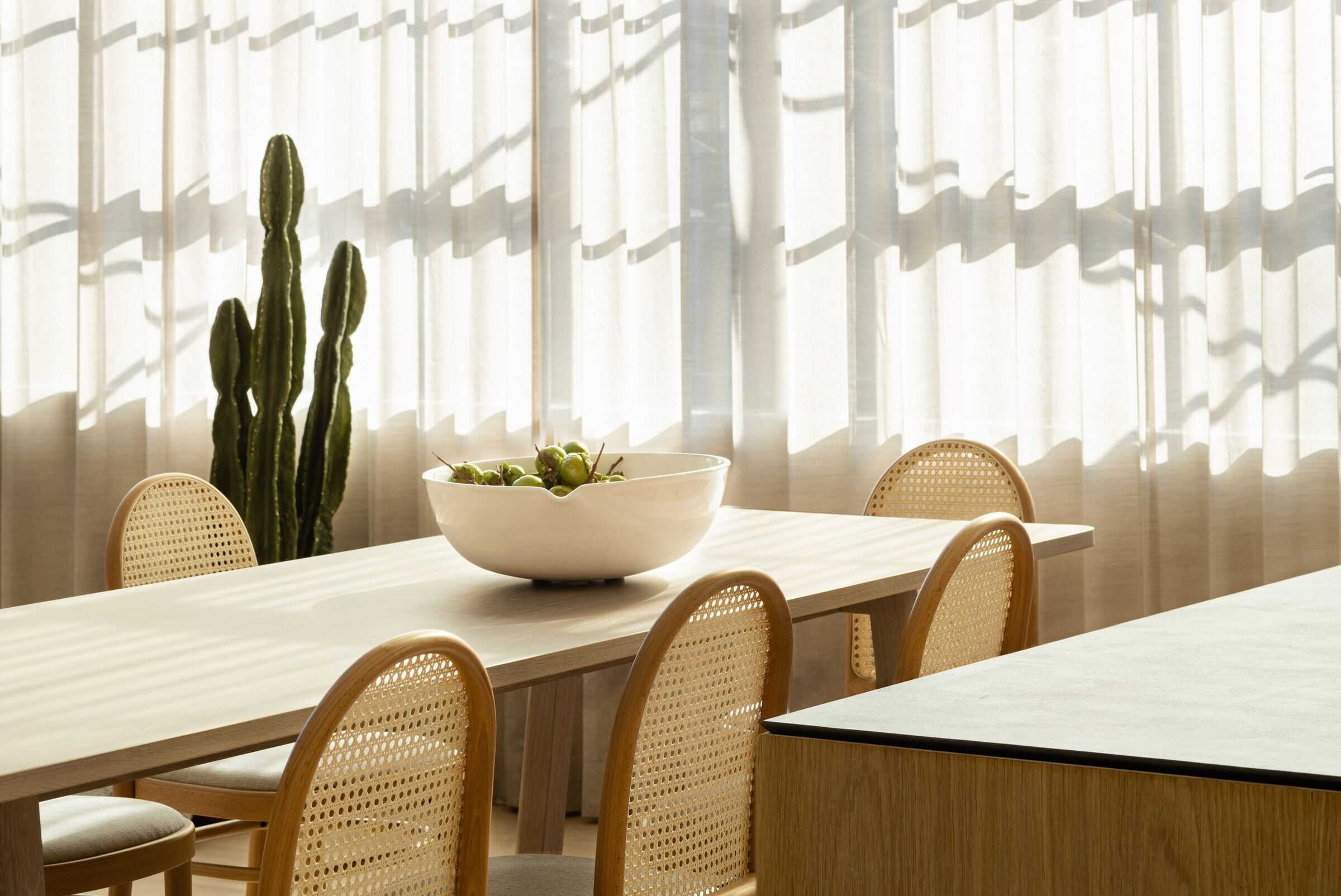 Layering in soft, organic textures, furnishings, artwork and accessories, Robertson sought to create a space that feels lived-in rather than decorated. Her firm's emphasis on sourcing from small vendors and crafts people resulted in accessories that feel found and collected by the apartment owners, a feeling Robertson thought was necessary in a successful model apartment. The recent shift in homes as the new center of work, family and personal lives, was taken into consideration throughout the design of the space. Robertson's design prioritizes establishing separate corners to work, study or enjoy the family life, as well as offering flexibility. One notable piece of furniture is a long desk for two created in collaboration with Alloy and Braga Woodworks. The furnishing can be reassembled to make two desks that can be moved throughout the apartment.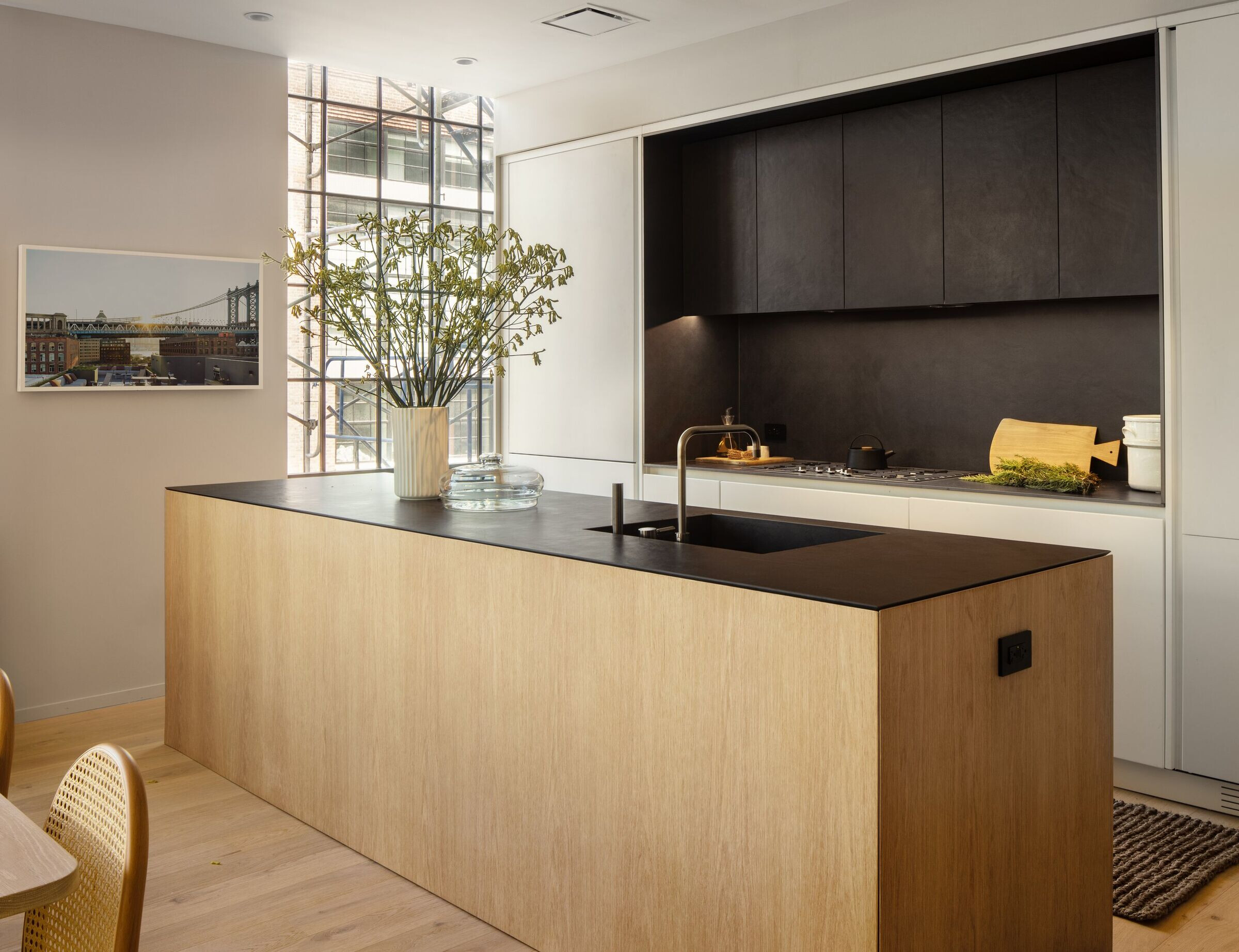 The master bedroom presents a calming atmosphere, with neutral color palette. A white oak Tambor wood wall behind the headboard conceals the master closet. The kids' room features a wallpaper mural by Rebel Walls entitled "Bellewood." Everyday elements, such as the Crate and Barrel bunk bed, are balanced with distinct pieces like the Lamp de Marseille designed by Le Corbusier. Another playful detail is the table and elephant chairs by Scandiborn.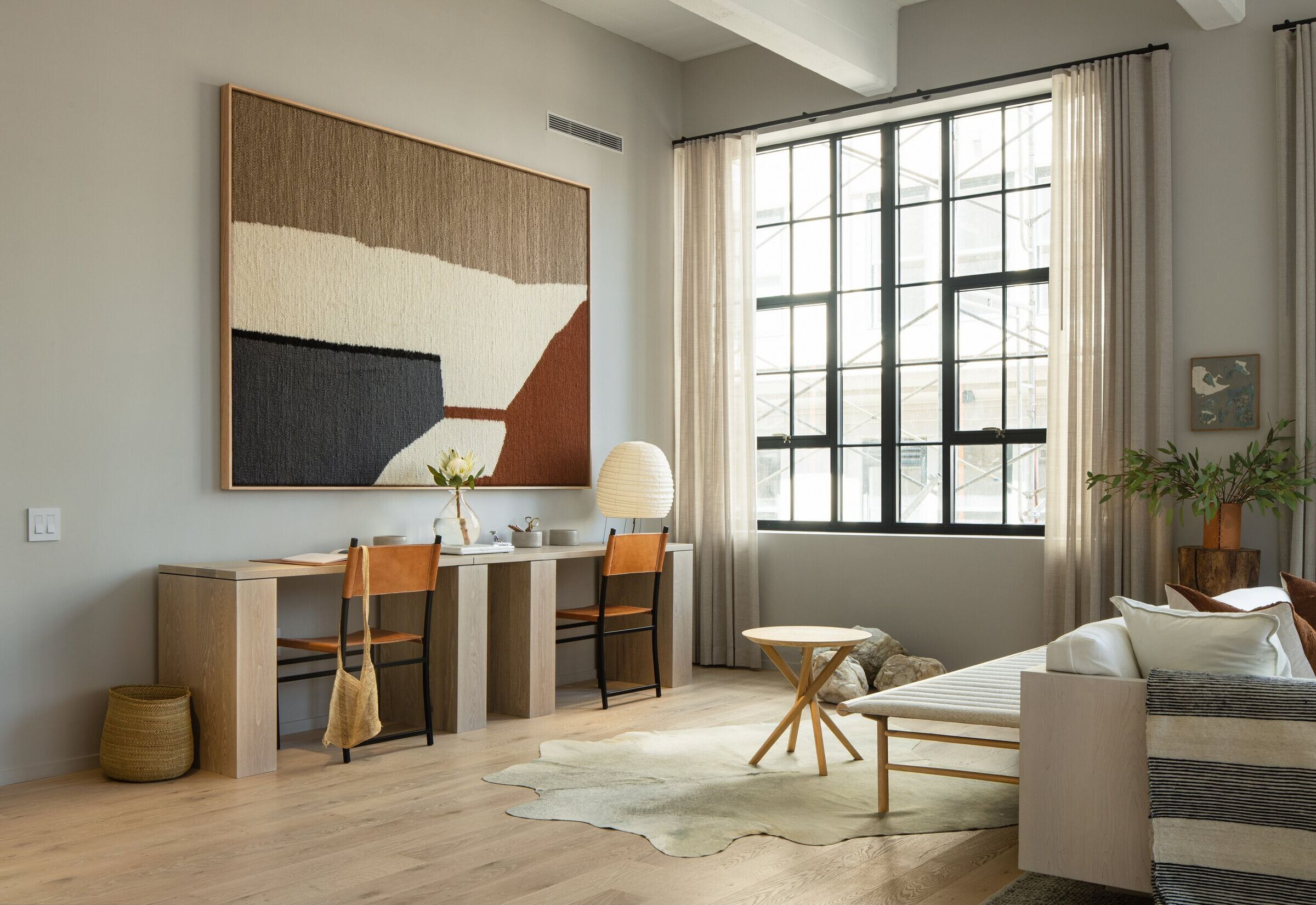 The artwork in the home includes a Don Ross photo of "Marr and Gordon Quarry," which frames the entry opposite an abstract by artist Thomas Eberharter. The living room boasts an abstract collage by twentieth-century painter Ralph Dubin, in addition to prints from Danish design studio Hein in Copenhagen. Vintage constellation prints from Stephen Scarloff liven the master bedroom. The home also showcases a South African tapestry found by Robertson, which was framed to make a large, impactful statement piece in the home's open living room. Well-versed in antique furnishings and one-of-a-kind finds, Robertson also seamlessly incorporated vintage tables, lamps and accessories throughout the home.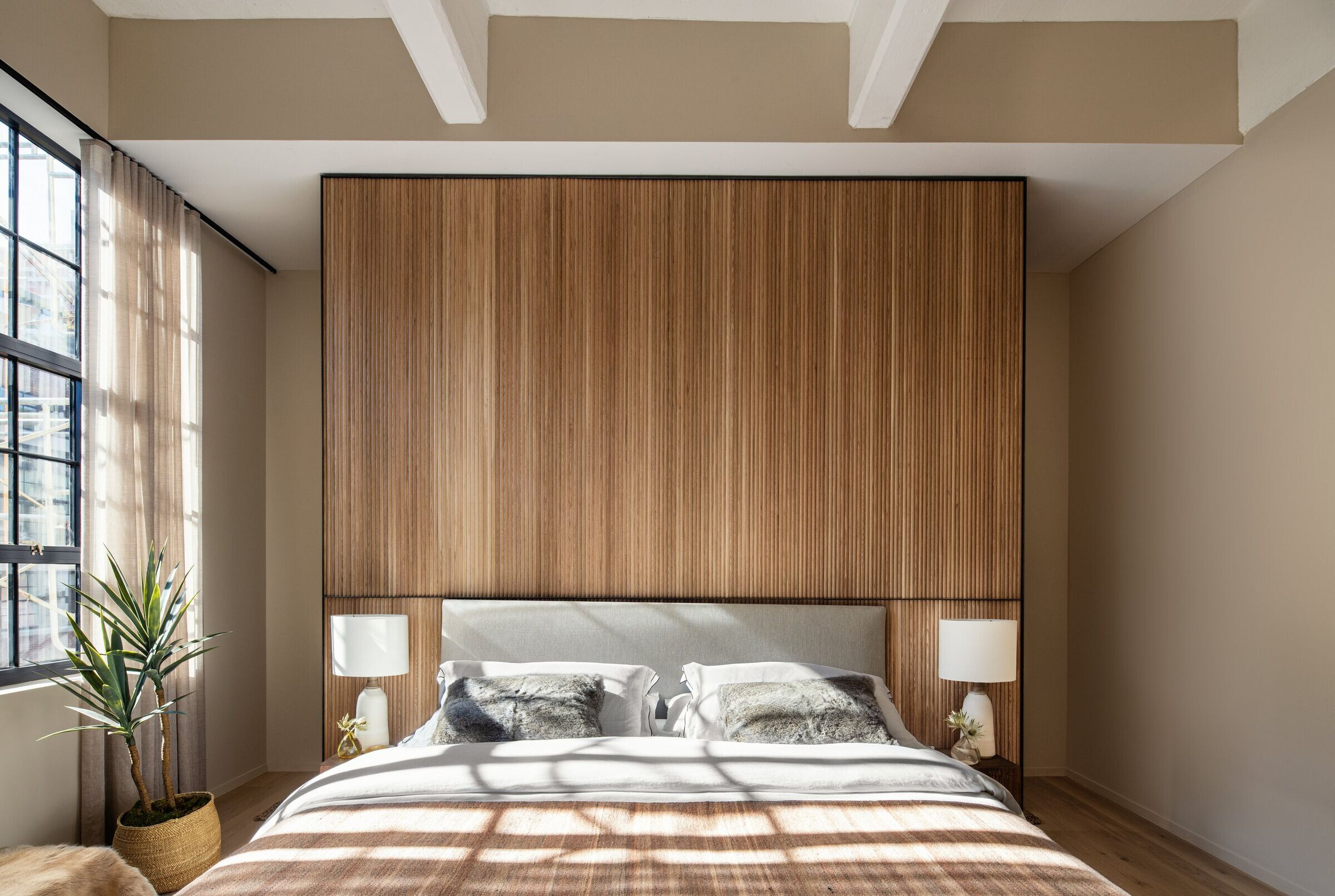 Material Used :
Living room:
-Engineering white oak flooring – Grato
-Daylight factory windows – Kilroy Concealed door frames – EZ Jamb
-Coffee table-Etsy: Designed with Purpose, based in Baltimore Maryland
-Sofa: Braga Woodworks
-Circle chairs-sculptural and modern
-Desk: custom designed by Alloy and Braga Woodworks, will also be used in the lobby
-Desk chairs: "Judd" chair -modern minimalism/rustic warmth/Paraguayan leather from Jayson Home
-Grey wool loop rug
-Large (we framed it) tapestry: Karu/ produced in South Africa
-Small vintage abstract collage by 20th c painter Ralph Dubin
-Antique round butcher block table
-Neutral sheer curtains throughout the apartment (same color throughout) add a soft line to the frame of the windows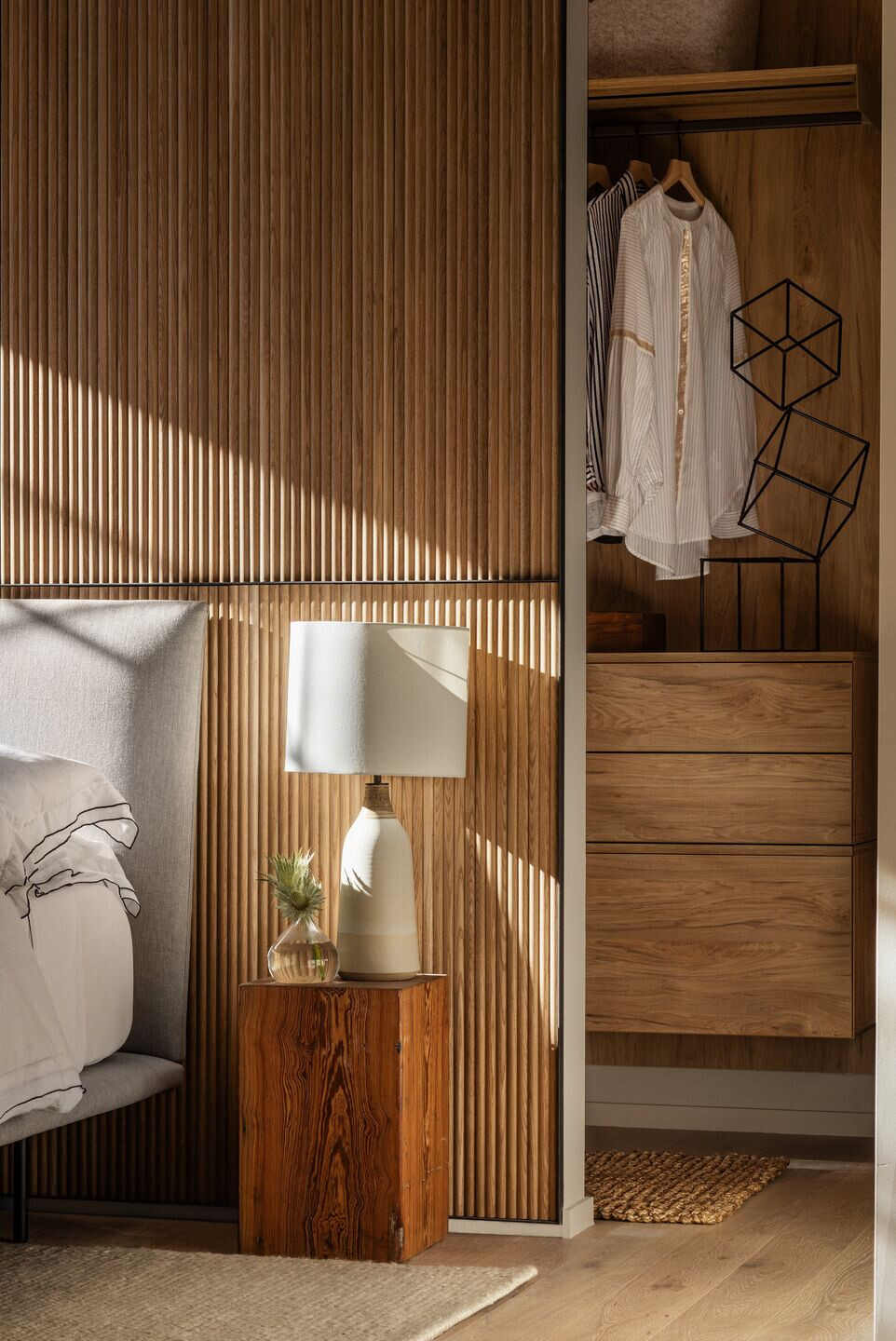 Entry:
-Credenza: Ethnicraft
-Stools: Skagerak Vent
-Oval Mirror: Norm Architects
-Don Ross "Marr and Gordon Quarry" photo Plush Beni rug-Cote A Coast
-Abstract art over stools: artist Thomas Eberharter
Kitchen/Bath:
-Millwork – RIFRA
-Appliances (refriferator, cooktop, oven, dishwasher) – Miele
-Bathroom plumbing – Dornbracht
-Stone and tile – Nemo Tile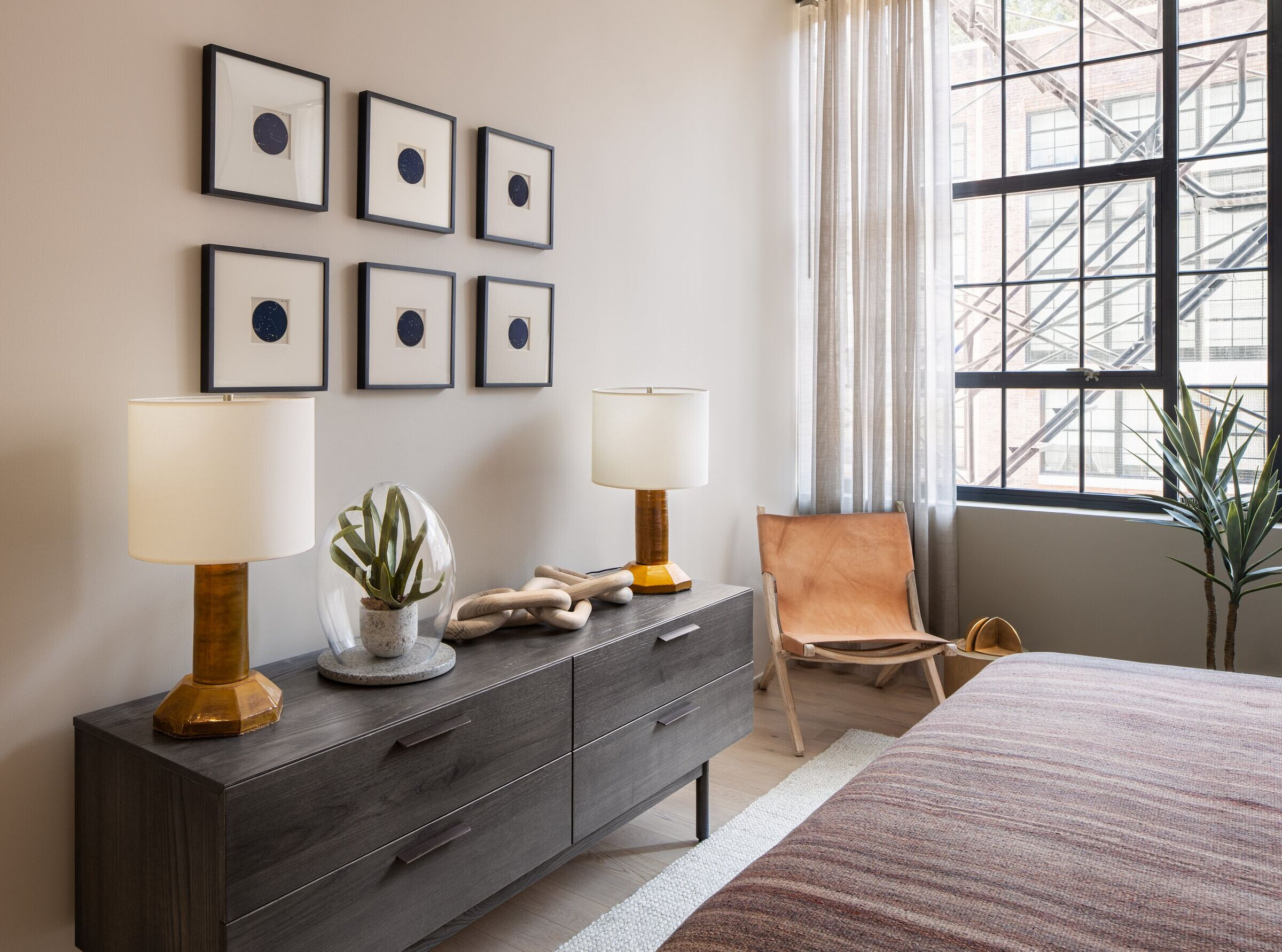 Dining:
-Dining chairs by Thonet Vienna, Morris chair, Weiner GTV Design
-Dining table: Braga Woodworks
-Chandelier: Artemide designed by Neri and Hu, NH S3 Suspension lamp
Master Bedroom
-Tambour wood wall
-Avera custom closet design with Container Store
-Wool platform bed: Room and Board
-Grey stained dresser: Blu Dot
-Natural leather Lounge chair: Lulu and Georgia
-Vintage constellation prints from Stephen Sclaroff
-Oversized white oak mirror-Cote A Coast
-Vintage ceramic lamps-Collected and Co store on Etsy
-Vintage bed covering
-Bedside tables are cut from columns in one of the Dumbo buildings that Alloy renovated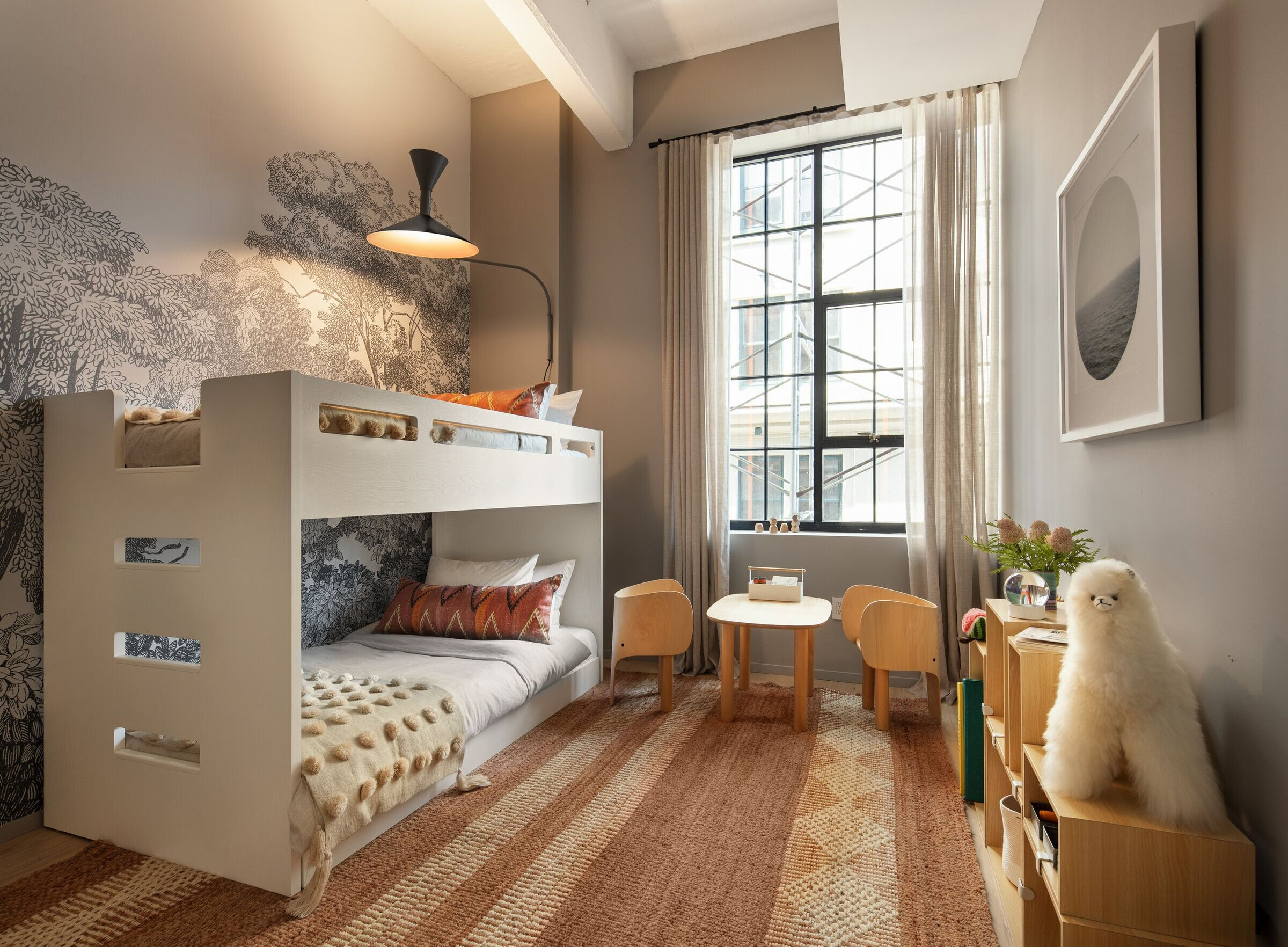 Kids' room
-Wallpaper mural "Bellewood" by Rebel Walls
-Wall Lamp: Lamp de Marseille designed by Le Corbusier
-Carpet by Pampa (they source goods made in rural Argentina)
-Kids table and elephant chairs: Scandiborn
-Bunk bed: Crate and Barrel-we love how the ladder is incorporated into the frame cube bookshelves allow you to customize size and shape
Artwork throughout:
-Tappan Collective: Misc. works - "With a mission to discover and support exceptional emerging artists, we are committed to investing in out artists' careers, supporting development through exhibitions, residency programs and strategic partnerships, while offering an opportunity to connect directly to their collectors."
-Hein Studio/Danish design studio creates prints in Copenhagen