The design for Google's first ever purpose-built headquarters is rooted in a single question: how can you make the office more human?
Created by Heatherwick Studio and BIG (Bjarke Ingels Group), the new campus spans two sites in Mountain View, California: Bay View and Charleston East. Bay View, the first phase to be completed, features three of the most sustainable workplace buildings in the world and establishes a 17.3-acre park and wetlands reserve.
Below ground, the project has the largest geothermal pile system in North America. Above ground, under the Californian sun, the tent-like enclosures are made of waves of dragon-scale photovoltaic tiles, which turn energy generation into a spectacular design feature.
The typical tech headquarters in Silicon Valley is a low-rise fortress surrounded by parking. But this design proposes a new, greener, more flexible model for the workplace, in tune with Google's values and ambitions. Inspired by the long-span structure of a 1930s airship hangar next to the Bay View campus, the design solution has three components. First, a lightweight, power-generating canopy. Second, under this shelter,
a 'village' of different functions, with basement-level infrastructure. Finally, the site itself, which reconnects the workplace with the Californian landscape.
The building's lateral connectivity follows Google's core ethos, "focus on the user and all else will follow." Everyone works together, under the same sky, instead of in cramped floors stacked above a spacious office lobby for guests.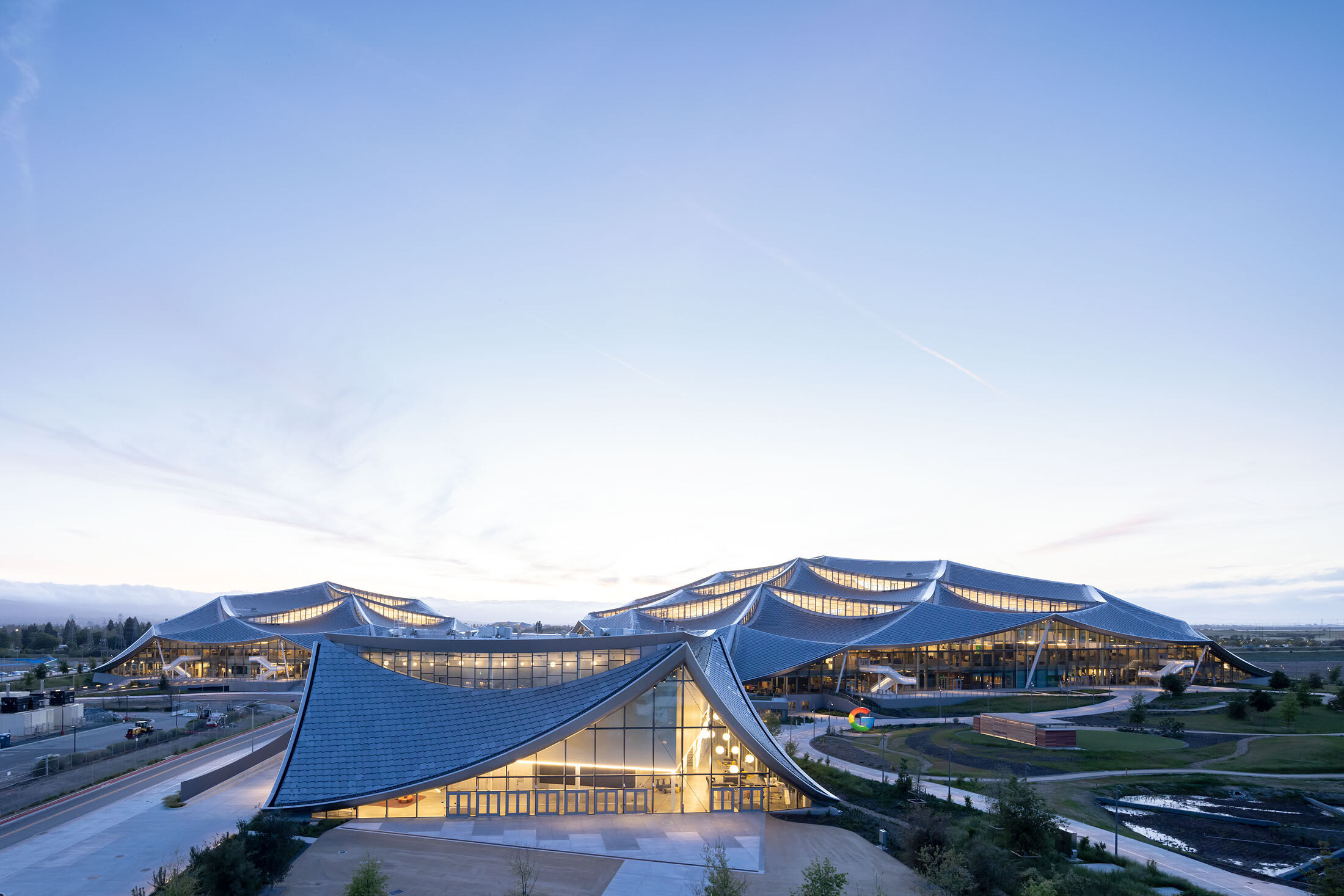 The resulting design is a very simple two- level structure: a mat of interconnected 'tables', joined together by accessible ramps, with the tables acting as the roof of a town-like arrangement of ancillary spaces, such as meeting areas, bathrooms, cafés, gym and other amenities. In this way, the campus becomes a giant canopy, human- centred, filled with life and prompting people to connect and experiment.
To give each area a sense of individuality, the design team drew on core urban planning principles. Each table is conceived as a neighbourhood for 40 to 80 people and is organised around its own distinctive courtyard incorporating works of art. As in a city, a hierarchy of circulation routes connects these neighbourhoods, from main avenues to small laneways.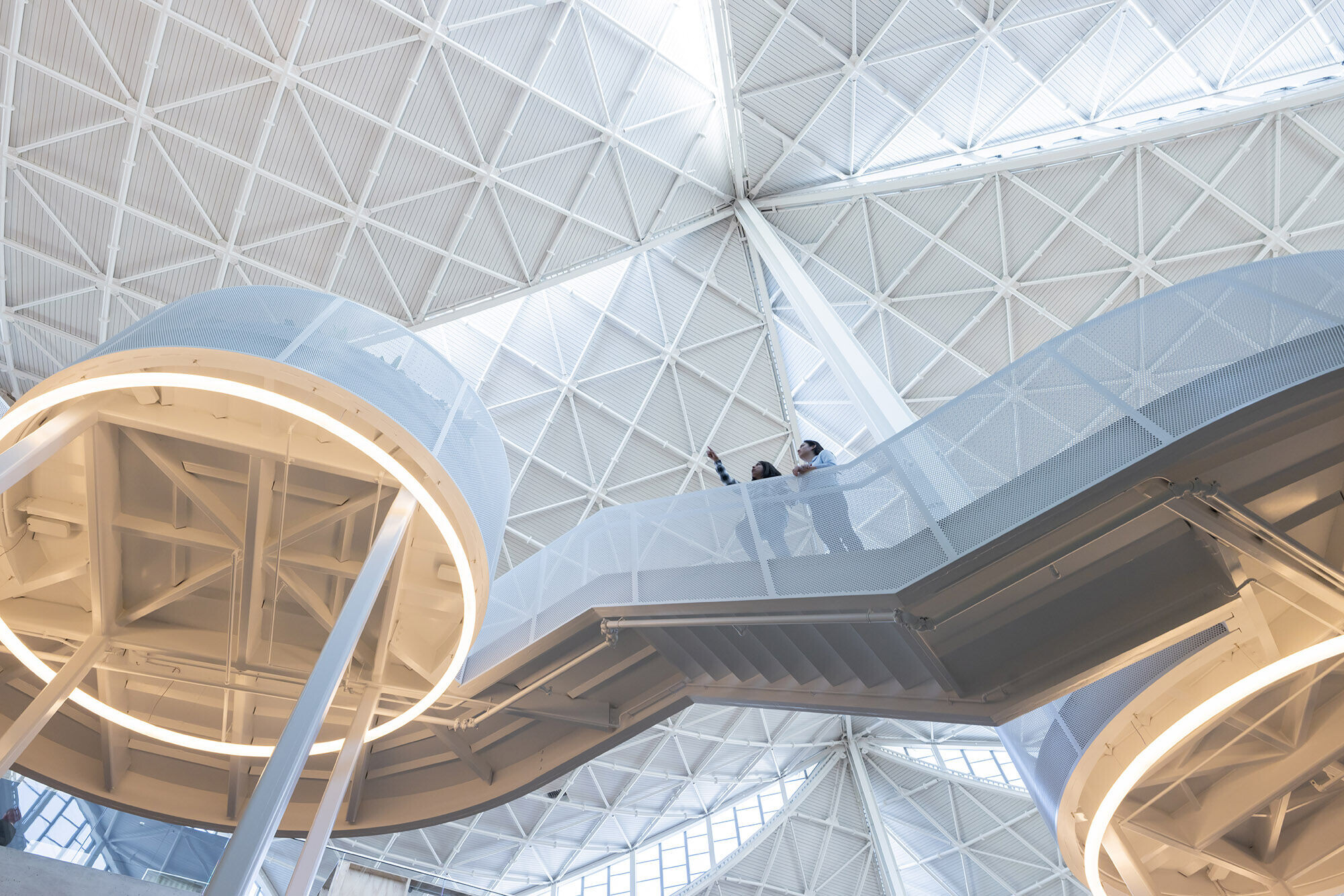 The canopy itself is a lightweight but rigid catenary structure. Between the columns, the tension in the structure is adjusted, allowing the enclosure to peel back and create wave-like clerestories. Even at the heart of the building, in the centre of its floor plate, there is still a connection with the natural world. Careful analysis and modelling determined the ideal balance between solid and glazed areas. The aim was to give the sense of working in the open air, while creating optimal lighting, temperature, acoustic and air quality conditions. And for the times when teams need to work in a quiet, focused space, there are demountable prefabricated units.The project delivers a pioneering approach to the large-scale use of integrated photovoltaics. The solid areas are clad in dragon-scale tiles which will generate 40% of the buildings' annual energy needs. On the windows, an automated system of blinds tracks the path of the sun to eliminate glare. And the high-performance canopy integrates rainwater harvesting as part of a water- positive strategy that puts Bay View on track to achieve 'Water Petal' certification in the International Living Future Institute's Living Building Challenge.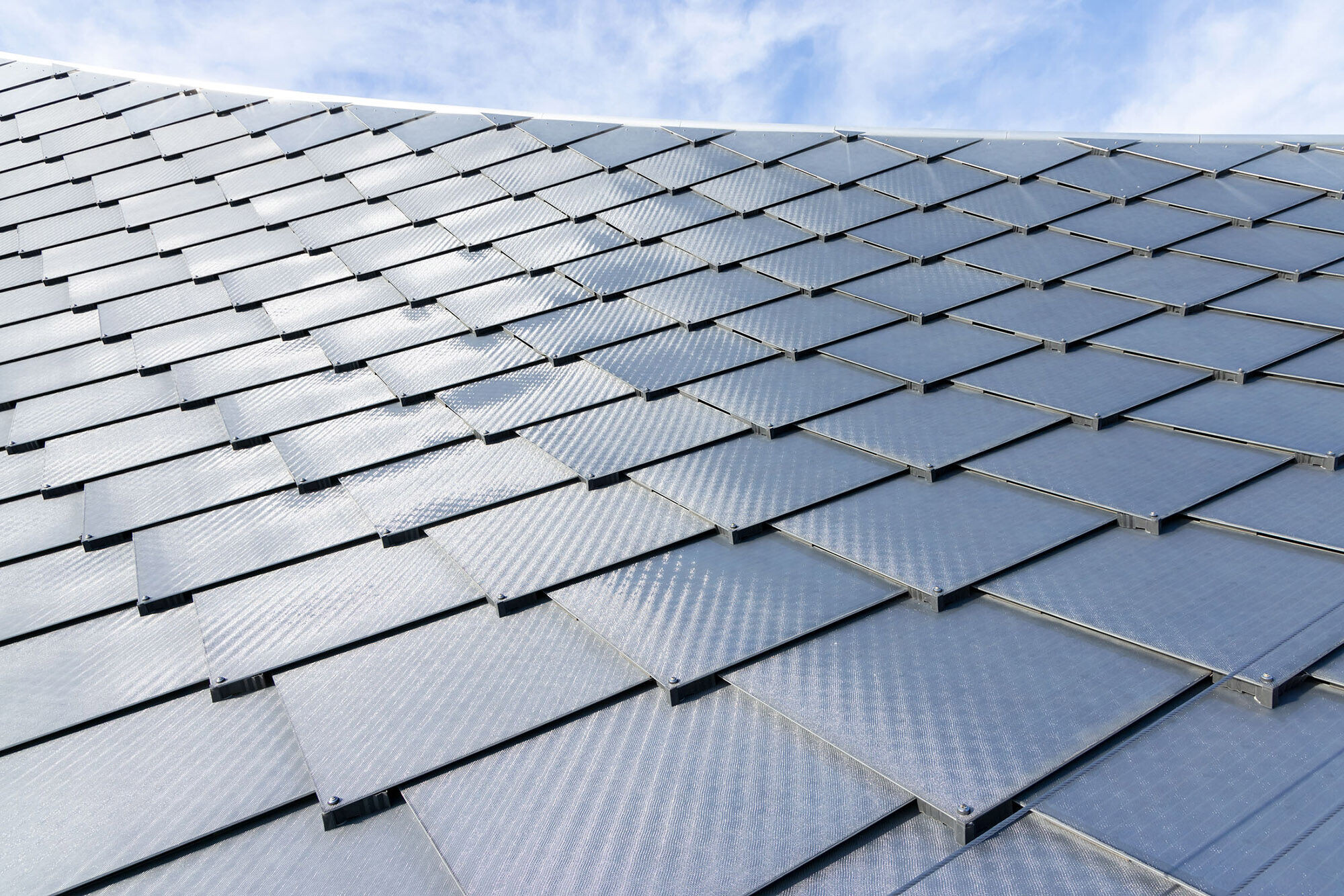 One of the most significant impacts of the project has also been the restoration of meadow, woodland and scrubland wildlife habitats. It establishes new willow groves, which had almost entirely disappeared from the South Bay area. Set these achievements alongside the largest geothermal pile system in North America – with pipes that stretch almost 100 miles and cover a surface area equal to 12 American football fields – and it becomes clear how this campus can lay claim to being one of the greenest of its kind in the world.
Workspace design was already moving far beyond conventional notions of efficiency before the catastrophe of Covid. Now it is grappling with ideas about how to trigger people's imagination, and the emotional engagement of one team with another and with the wider purpose of the business.
The campus at Bay View illustrates how we start creating a whole different atmosphere for work.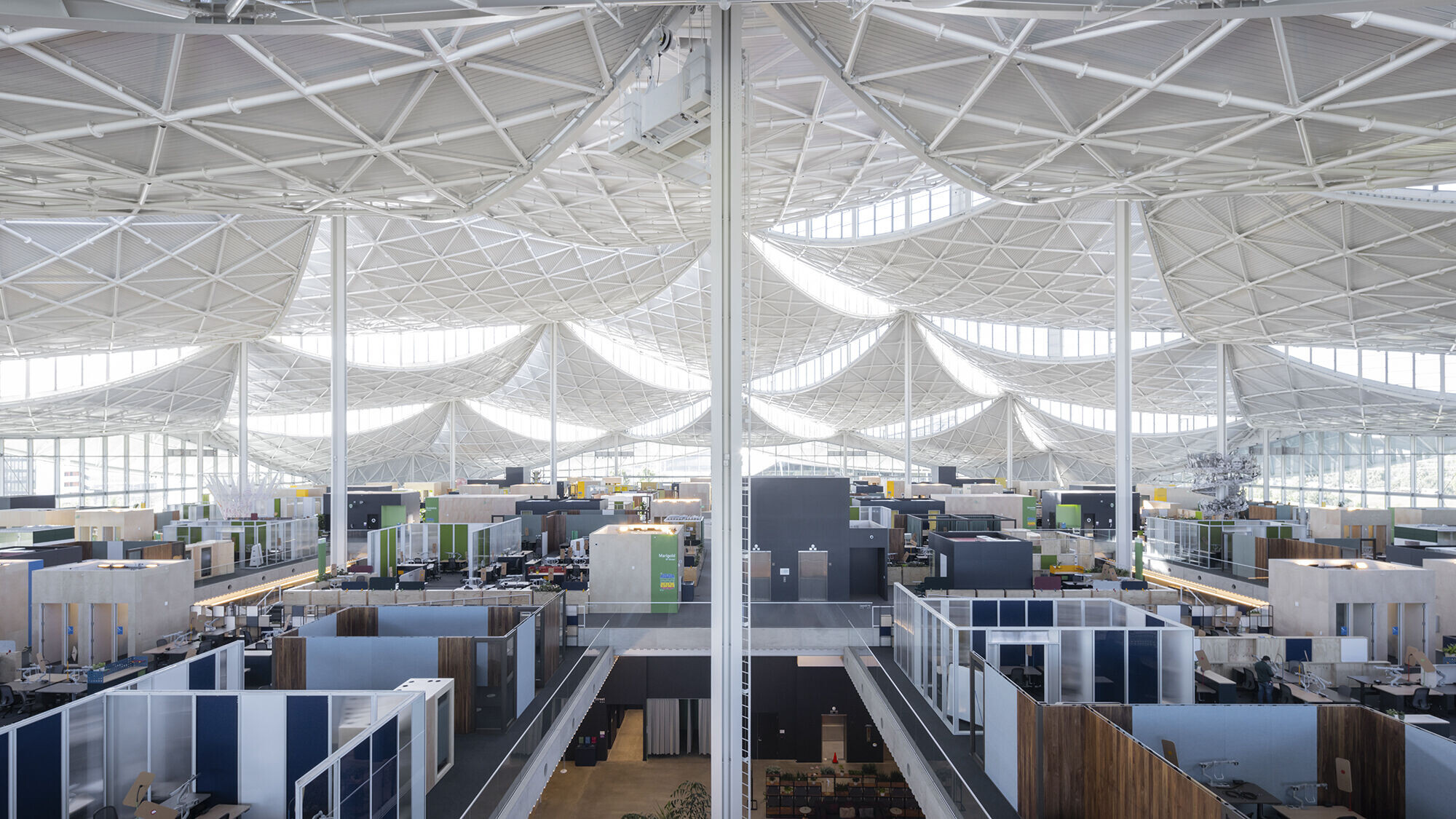 Sustainable Design
Google Bay View is pursuing multiple green building certifications as
part of the company's commitment to operate every hour of every day on carbon-free energy by 2030. The site is expected to achieve a LEED-NC v4 Platinum certification and become the largest facility ever to attain the International Living Future Institute (ILFI) Living Building Challenge (LBC) Water Petal Certification.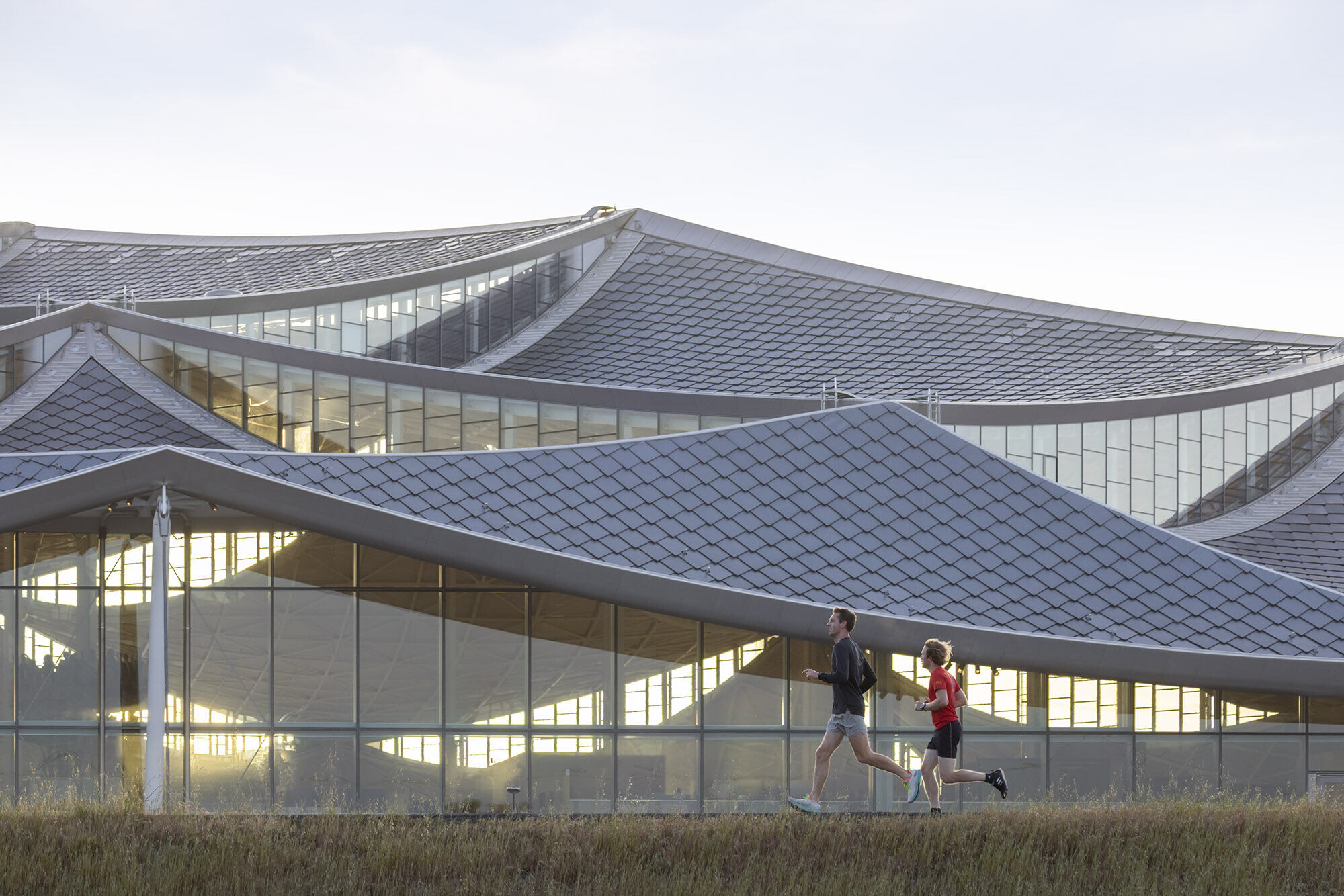 Solar Harvesting
The dragonscale solar skin draped across the canopy of Bay View
is equipped with 50,000 silver solar panels. This creates capacity for 7 megawatts of power per hour (4 megawatts for Bay View). That's roughly 40% of the energy demands of the buildings – or enough to power about 2,300 homes. The size of the building's footprint and the sweeping forms of the canopies also create an orientation that will harvest energy from the sun throughout the day, particularly in the late afternoon.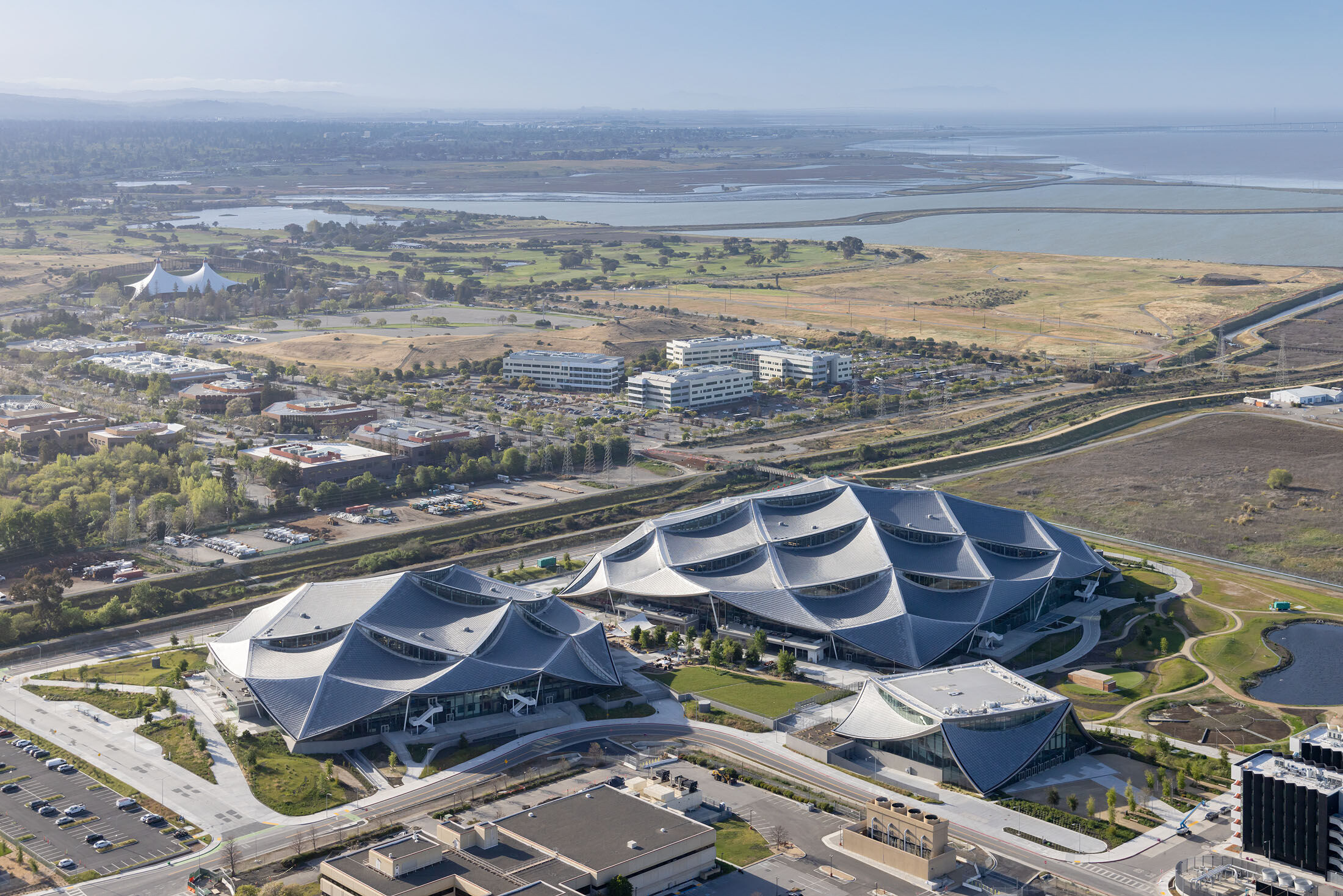 Energy Reduction
Traditionally, heating and cooling accounts for a large portion of a building's energy usage. The height of the canopies here allows for a highly efficient displacement system that naturally vents hot air. Meanwhile, underneath, the largest installation of geothermal piles in North America almost eliminates the need for water-hungry cooling towers, reducing carbon emissions by an estimated 48% and the amount of water used for cooling by 90%. These highly efficient systems enable a 100% fresh air system, creating a much healthier environment for Googlers to work in.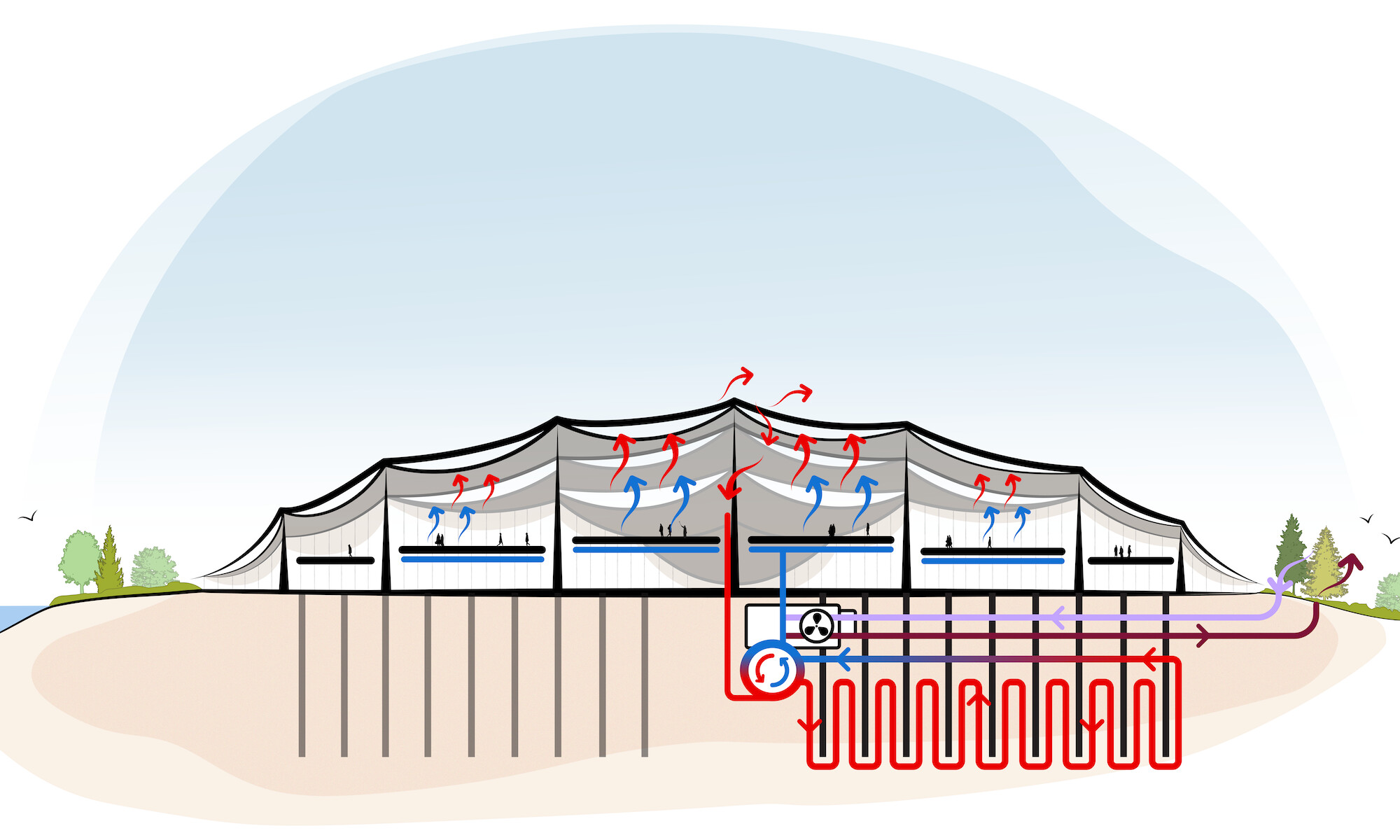 Water Conservation
Water is a precious resource in California. So Bay View has retention ponds that capture roughly 7m gallons of storm water and create new wetland habitats for flora and fauna. In addition, it has a natural system onsite to collect, treat and reuse wastewater. Together, this means Bay View can meet 100% of the demand for non-potable water, as well as having the capacity to treat wastewater from neighbouring sites and give it back to the city.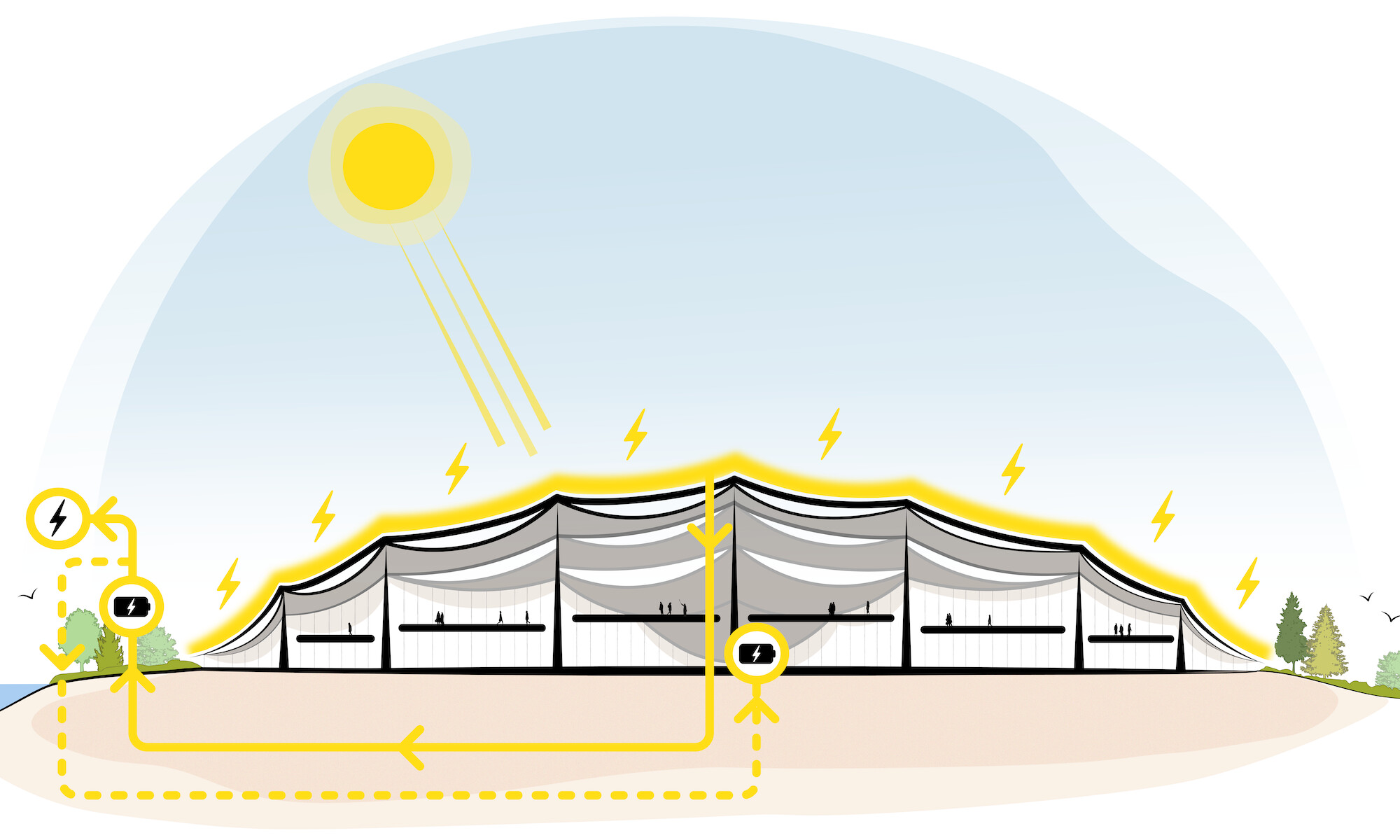 Team:
Client: Google
Designed by: Heatherwick Studio / BIG
Design Director: Thomas Heatherwick
Group Leader: Eliot Postma
Project Leader: Sarah Gill / Christopher McAnneny
Deputy Project Leader: Kyriakos Chatziparaskevas
Technical Design Leader: Stuart Macalister
Project Team:
Sam Aitkenhead, Nick Arthurell, Angela Bailen Lopez, Megan Burke, Michael
Chomette, German De La Torre, Nilufer Kocabas, Andre Kong, Steven Howson,
Matthijs La Roi, Francis Lam, Adrienne Lau, Barbara Lavickova, Michael Lewis,
Gabriel Piovanetti, Tom McKeogh, Arturo Revilla, Miguel Rus,Ville Saarikoski,
Ricardo Sosa Mejia, Chris Stone, Skye Yuxi Sun, Cassandra Tsolakis, Priscilla Wong
Head Of Making: Mark Burrows / Jeff Powers
Making Team:
Hannah Parker, Luke Plumbley, Erich Bruer, Freddie Lomas, Matt Pratt, Ben Dudek,
Antione Van Erp, Ling Li Tseng
Executive Architects: Adamson Associates
Main Contractor / General Contractor: Whiting Turner
Structural Engineer: Thornton Tomasetti
Civil Engineer: Sherwood Design Engineers, Arup Civil, BKF Engineers
MEP / Electrical Engineer: Intergral Group
Interior Designer: Studios
Collaborating Design Architects: BIG
Owner Rep: Sares Regis
Facade Consultants: Arup Facades
Landscape Architect: Olin
Certification: The site is expected to achieve a LEED-NC v4 Platinum certification
and be the largest facility ever to attain the International Living Future Institute
(ILFI) Living Building Challenge (LBC) Water Petal Certification.
Photographer: Iwan Baan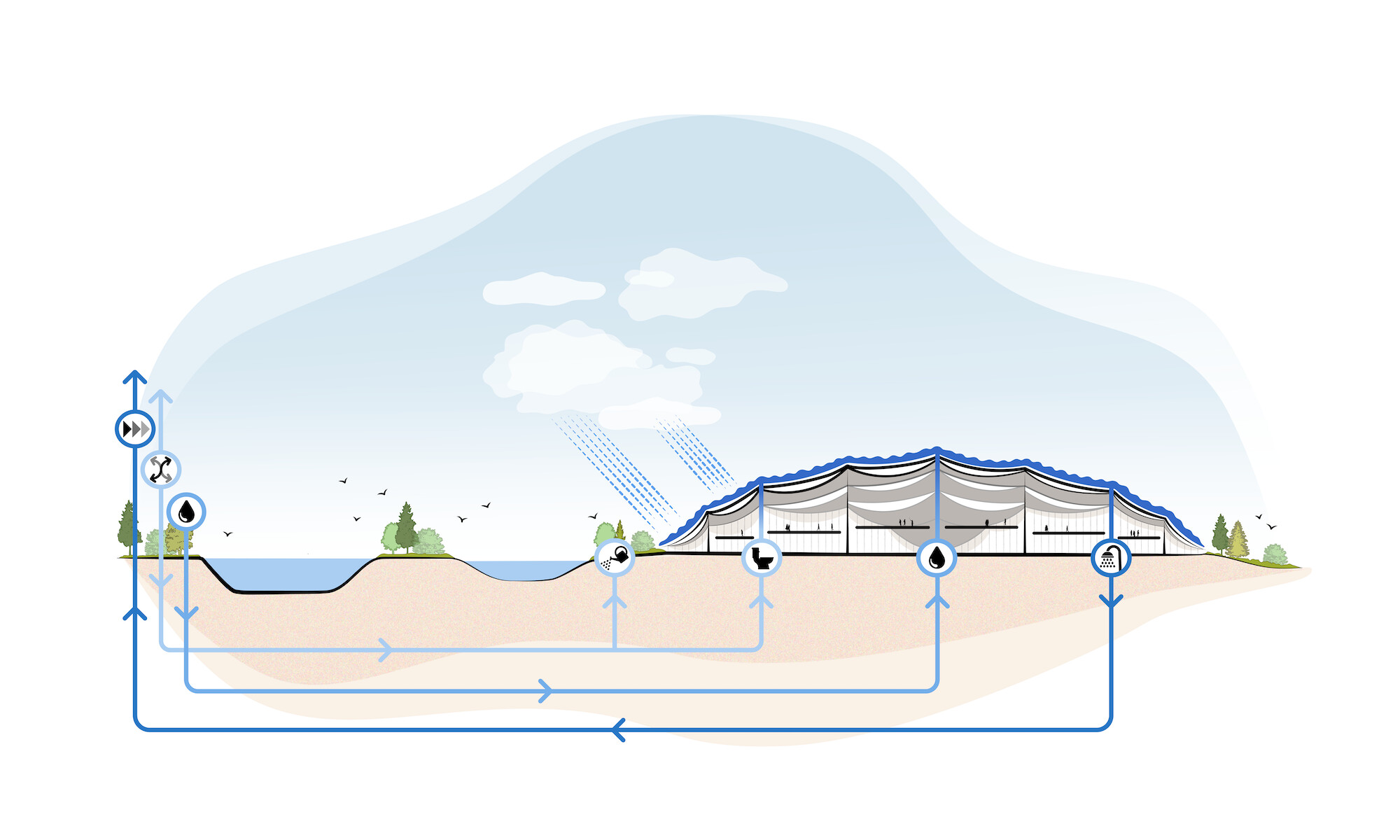 Materials Used:
Hardware:
Locksets: Schlage
Closers: Allegion
Exit devices: Von Durpin
Pulls: Schlage
Hinges: Hager Companies, Marray
Security devices: BEA
Other special hardware: Assa Abloy
Interior Finishes:
Acoustical ceilings:
Alusion Aluminum Foam, Rockfon, USG, Armstrong, 9Wood, BŌK Modern, Gordon Inc - ALPRO®
Suspension grid: USG, Armstrong
Demountable partitions: AraucoPly
Cabinetwork and custom woodwork: Solid timber millwork made with Resawn Timber Charred Wood Tycoon, Windfall Lumber, Delta Millworks, American Walnut, Anthology Woods,
Paints and stains: Benjamin Moore, PPG, Penofin, Surecrete
Wall coverings: Rebel Walls, Marlite
Curtains and Drapes: Maharam, Kvadrat, Carnegie, Knoll, Hewi, Rose Brand
Paneling: Columbia Forest Products, Reclaimed Redwood from Hangar One, reSAWN TIMBER co., CW Keller Custom GFRC, Chemetal Aluminum Panels, DEK-ING Corrugated Metal, Forms+Surfaces, Mafi, Claridge, Wall Controls, Muratto
Acoustic Paneling: Tectum Acoustic Panels, Autex, Lamvin, Phonstop, Devorm, Owens Corning, Pinta Acoustics, Sonex, SoundStop
Laminate: Chemetal, Panolam, Nevamar
Solid surfacing: Caesarstone, Neolith, Eurostone, Hanstone, Silestone, DuPont, Krion
Special surfacing: Parex USA
Floor and wall tile: Tabarka Studio, Heath Ceramics, Fireclay, Vives Ceramica, Daltile, jausás & co, Crossville, 41ZERO42, Marble Systems, Artistic Tile, Spec Ceramics, Stone Source
Resilient flooring: Forbo, Plae, Tarkett, Sherwin Williams
Carpet: Interface, J+J Flooring, Patcraft, Atlas Carpet Mills
Wood Flooring: TerraMai, Wickam Hardwood Flooring
Special interior finishes unique to this project: Lego Wall, Scandia Moss, Valley Rope & Supply
Furnishings:
Upholstery: Sina Pearson, Luum, Anzea Textiles, Arc-com, Luna, Knoll, Momentum Textiles, Brentano
Lighting:
Interior ambient lighting: Visa custom globe pendants of varying diameter, Artemide Alphabet of Lights custom fixtures
Downlights: Barbican custom linear light, Selux Linear Pendants
Conveyance:
Elevators/escalators: Kone
Accessibility provisions:
Energy:
Photovoltaic system: Sunstyle