With an available site footprint of only 45 sqm, our brief and primary design challenge was to create a unique and energy efficient addition to a double storey terrace house on a steeply sloping site in inner city Melbourne. This addition incorporates a kitchen and living space, a study, bathroom, laundry and bedroom. All spaces needed to connect seamlessly to each levl of the existing building.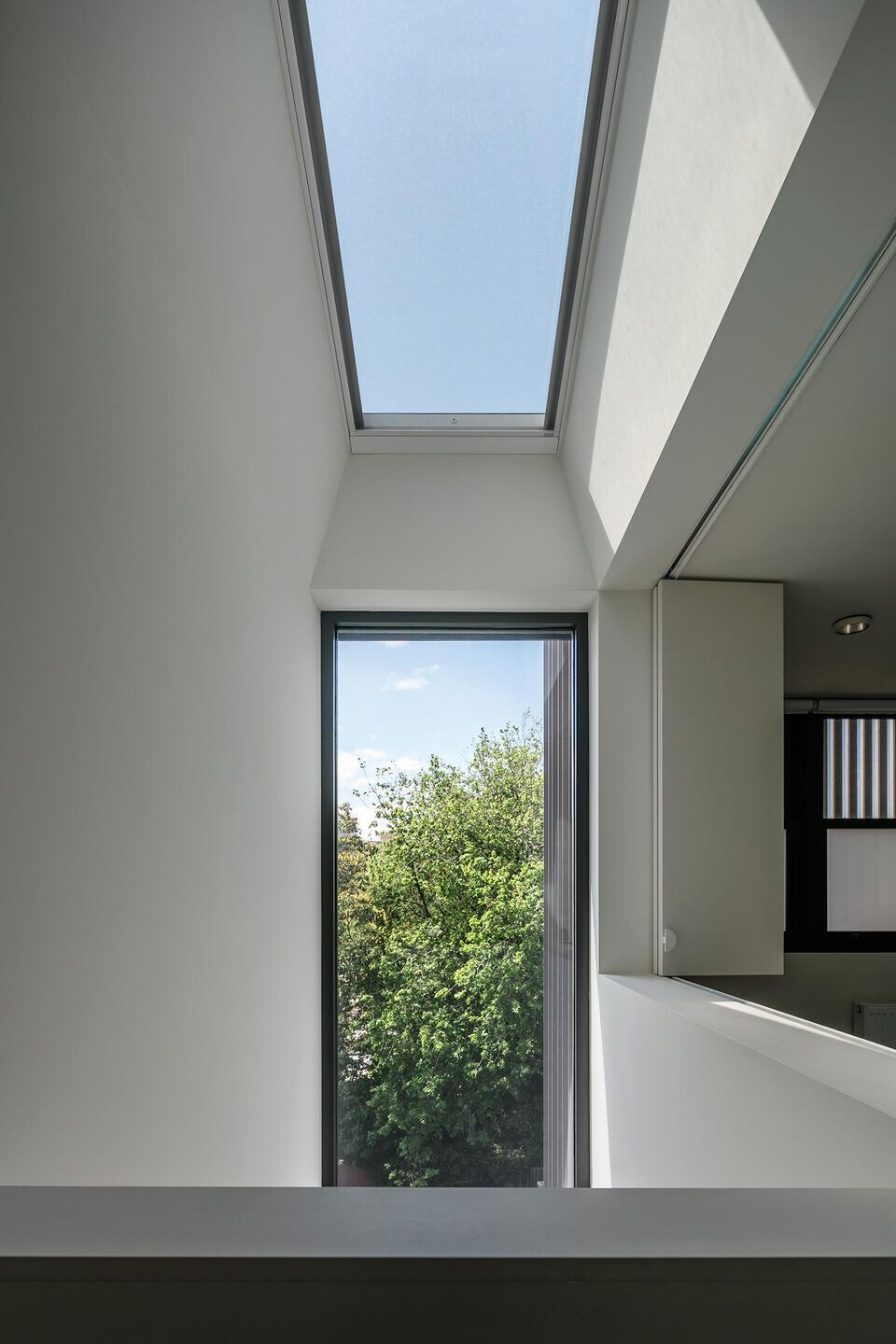 A three-storey vertical addition contemplated as a series of interlocking 'stacked' spaces and volumes connects intuitively to every level of the existing house. A series of sculptural light shafts are used to visually extend spaces, control views, and provide an energy efficient means of naturally ventilating the house. At the end of a traditional Victorian hallway occupants are met with a view of the sky and a soaring vertical space that connects old and new.
A lower ground level kitchen and family living room are flooded with natural light from above. This space feels deceptively open and spacious despite its compact size and semi-submerged location. At mid-level a study, laundry and bathroom is access from the hlf landing of the original staircase. These spaces , with their view of the city skyline are both unexpected and delightful. At the top floor, an open loft style bedroom overlooks the three-storey sky lit void.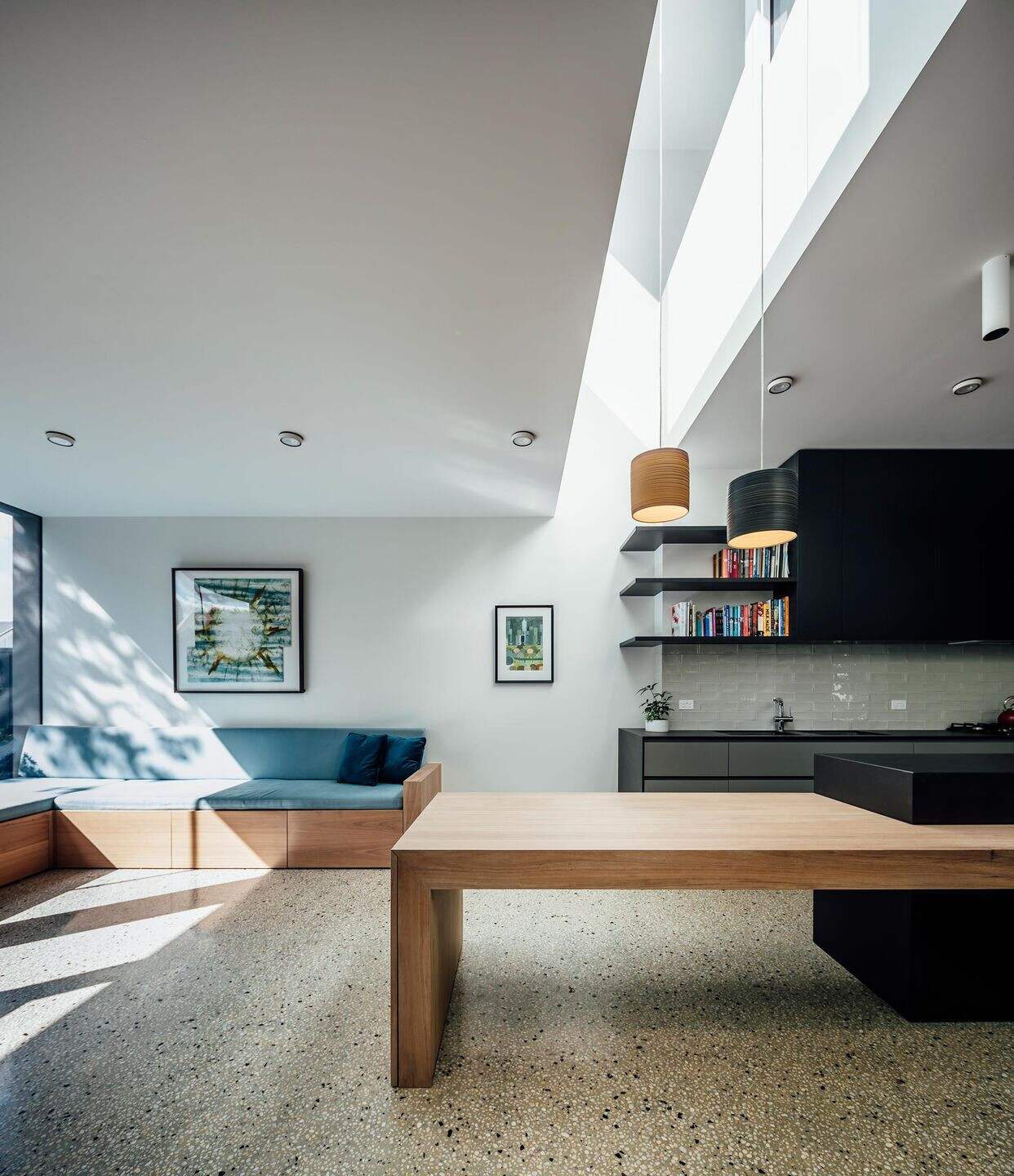 ARCHITECT'SSTATEMENT
The design of this three storey 'vertical' addition is uniquely shaped by the existing site conditions. Our only opportunity to add to this home was to the rear of the building where a shear two storey brick wall dominates a compact and steeply sloping rear garden. As one of a series of terraces houses along the street it became clear that overlooking and building massing were going to be considerable challenges for this project. A series of interlocking spaces are vertically stacked and keyed into each level of the existing house. The 'extension' is experienced at every level and allowed us to curate a series of views through the house to the urban landscape beyond.
KEY FEATURES
• Ultra compact alteration and addition to a doubel storey Victorian terrace house on a steeply sloping site.
• Planning and design to minimise the building footprint by creating a series of stacked and interlocking spaces cleverly connected to the existing building at every level.
• The configuration of spaces takes advantage of long views whilst maintaining a strong sense of privacy.
• Vertical voids are used to create thermal flues and light wells to regulate interior temperatures within the building and flood the interior with sunlight.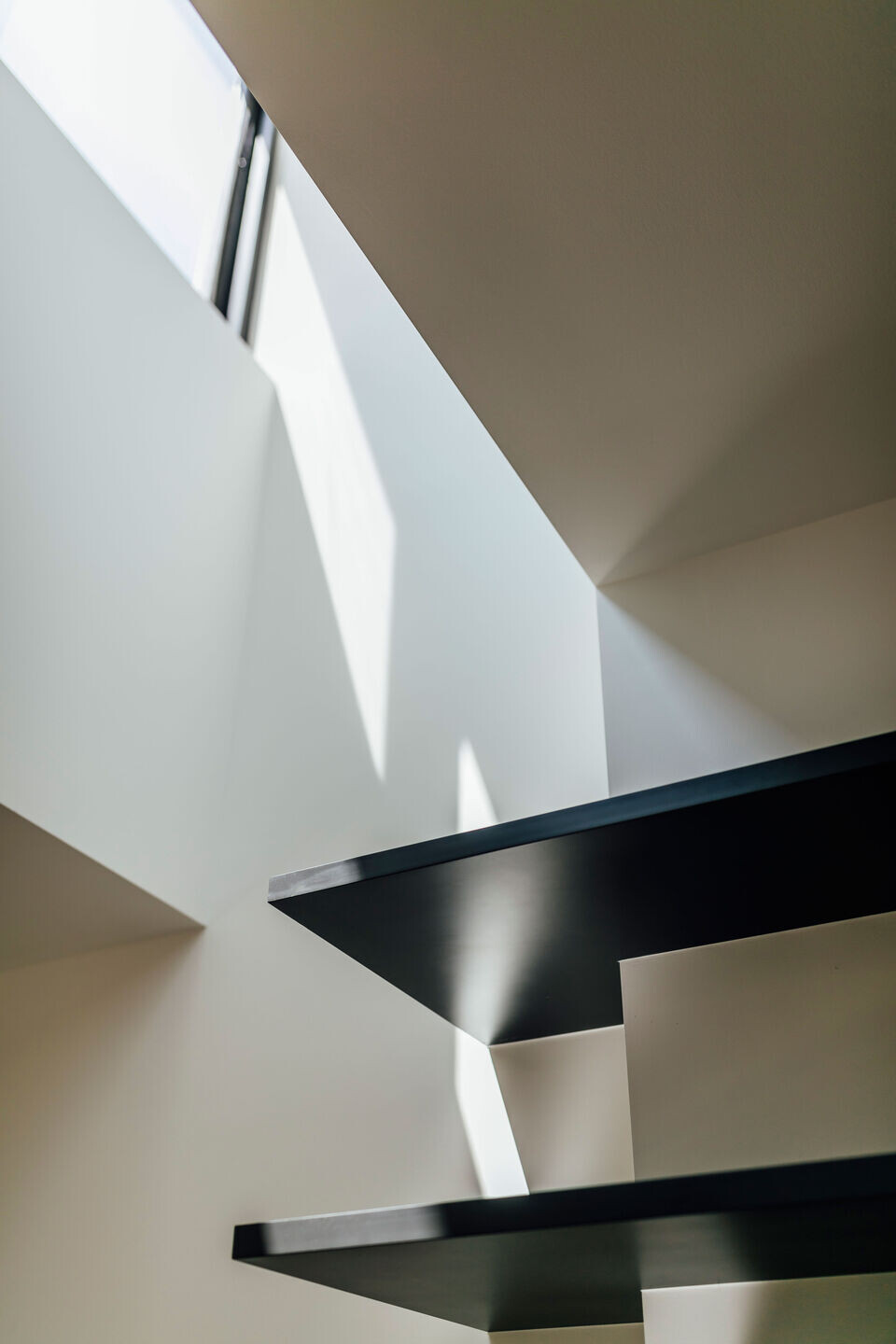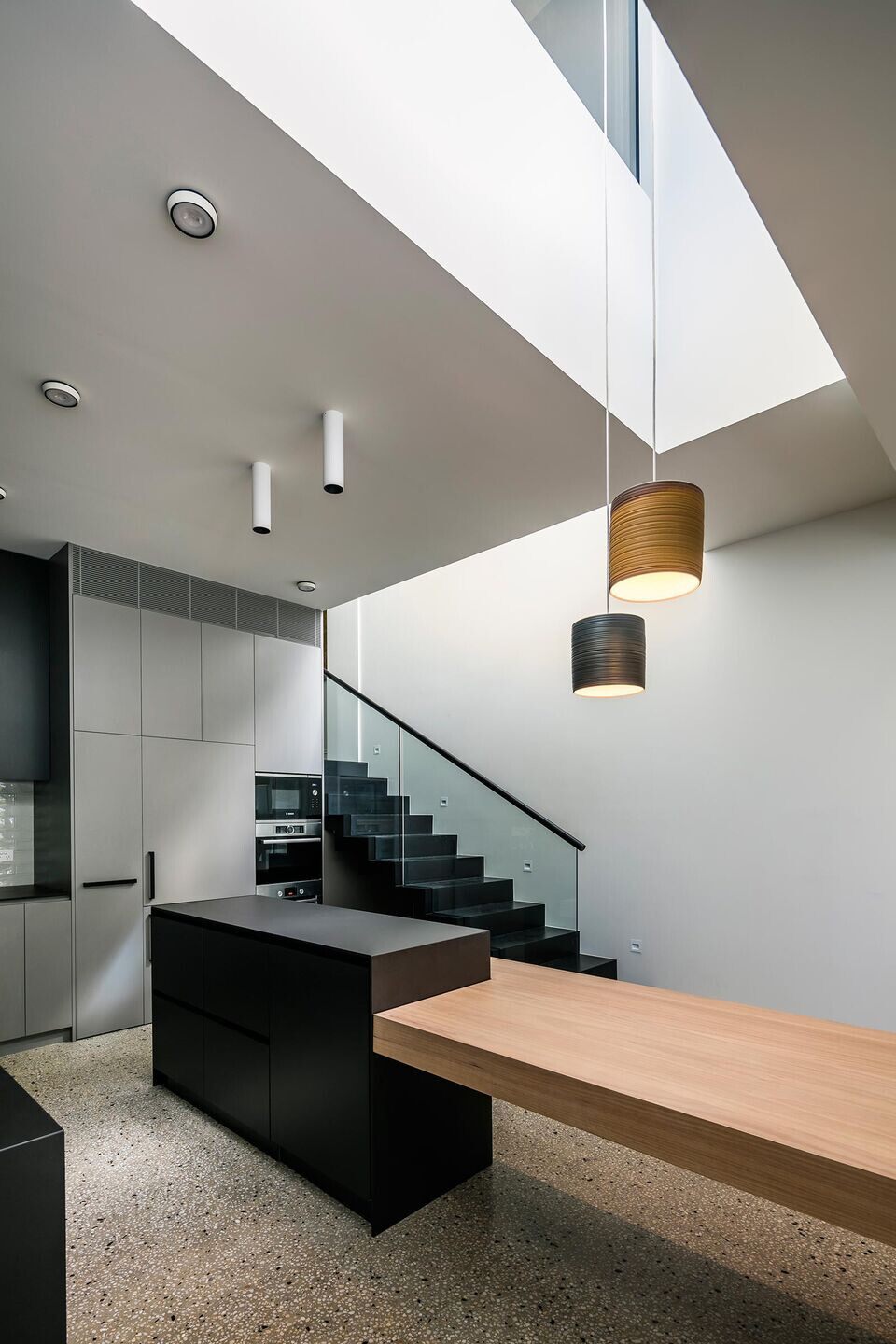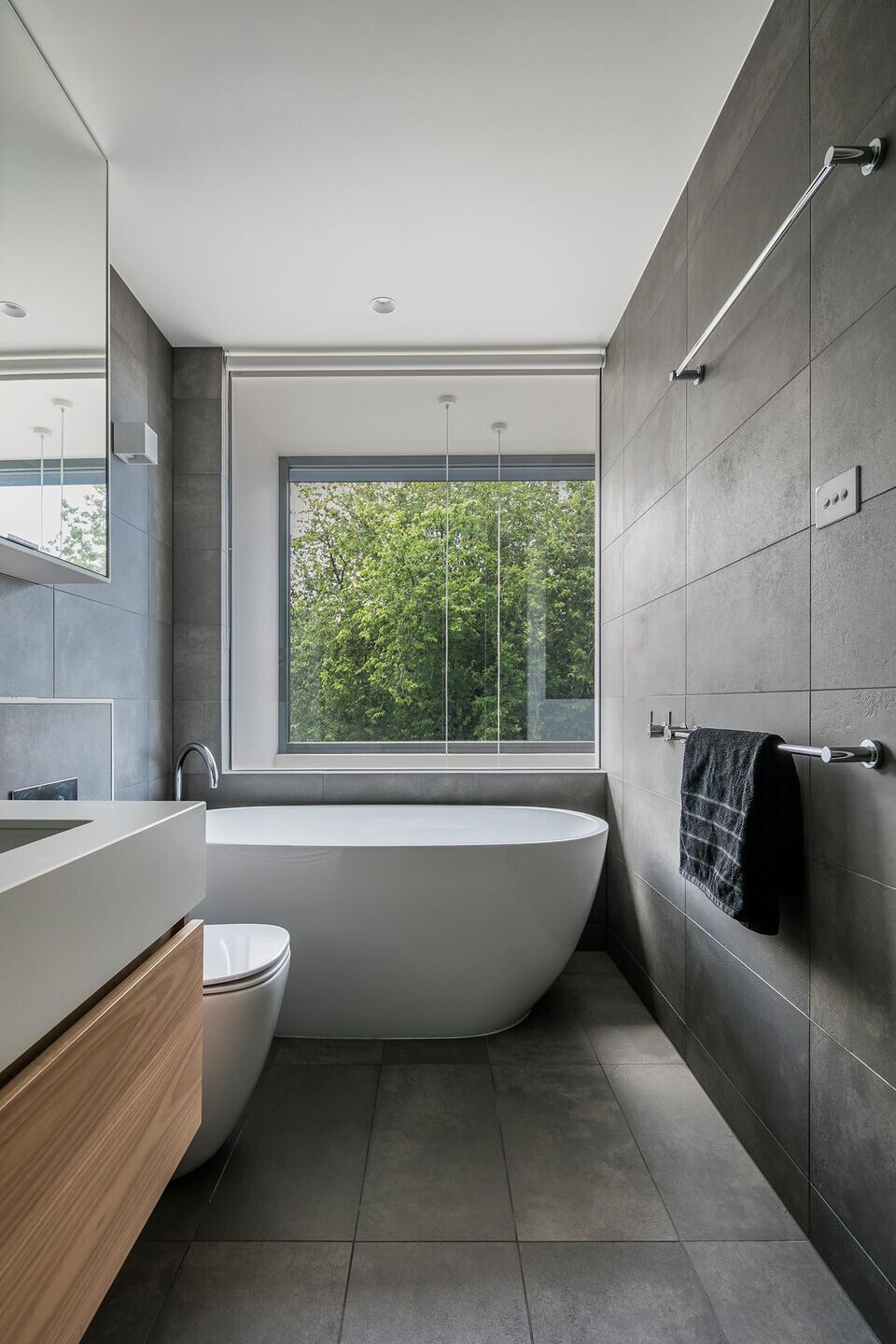 Material Used :
1. External walls:
Cement render, Aluminium composite cladding, Accoya timber batten rainscreen, Quantum Timber
Finishes Quantec stain
2. Roofing: Lysaght Kilp Lok 700 metal deck roof
3. Internal walls
Resene paints
Plasterboard walls & ceilings
Academy Tiles porcelain tiles
4. Windows & doors
AWS Aluminium door and window frames
Velux Skylights
Designer Doorware hardware
5. Flooring
Polished Concrete Flooring
Accoya timber decking
Quantum Timber Finishes Black Japan stain
Acedemy Tiles porcelain tiles
6. Lighting & Electrical:
Masson for Light downlights & LED strip lighting, Bright Green downlights, INLITE downlights, ISM Objects wall lights
Clipsal electrical switches
7. Kitchen:
2 pack polyeurethane joinery paint fi nish
Consentino Dekton countertops and splashback
Solid Blackbutt Timber joinery
Treetex Hardwax OIl
Hafele fi ttings
8. Bathrooms
Consentino Dekton ultra compact surface benchtops
Blackbutt timber veneer joinery
Astra Walker tapware & fi ttings
Caroma sanitaryware
Veitch shower grate
9. Laundry:
Polytec Melamine joinery fronts and benchtop
Abey laundry trough
Astra Walker tapware
10. Window Furnishings: Helioscreen internal and external blinds