EXISTING
Barn B is a renovation project, converting an existing flint barn into a series of open living spaces. The barn is situated amongst a cluster of agricultural buildings which together form a sheltered courtyard high upon a hill.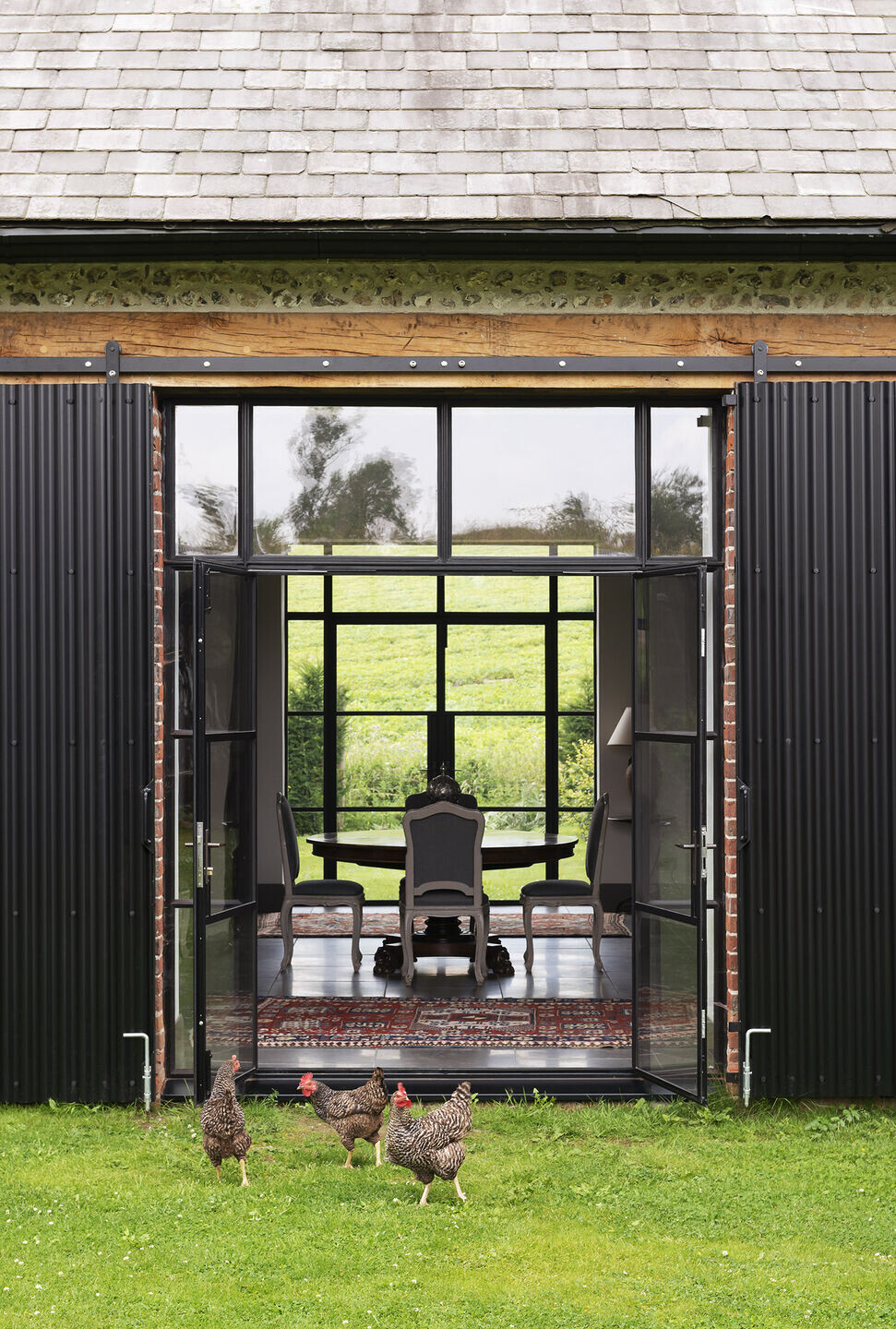 Prior to works commencing, the interior of the main barn featured exposed solid stone walls that supported four timber trusses. Natural daylight filled into the barn from high level gable end windows. Meanwhile, two arched external doorways cut through the central axis of the barn, connecting the sheltered courtyard on one side to the countryside on the other.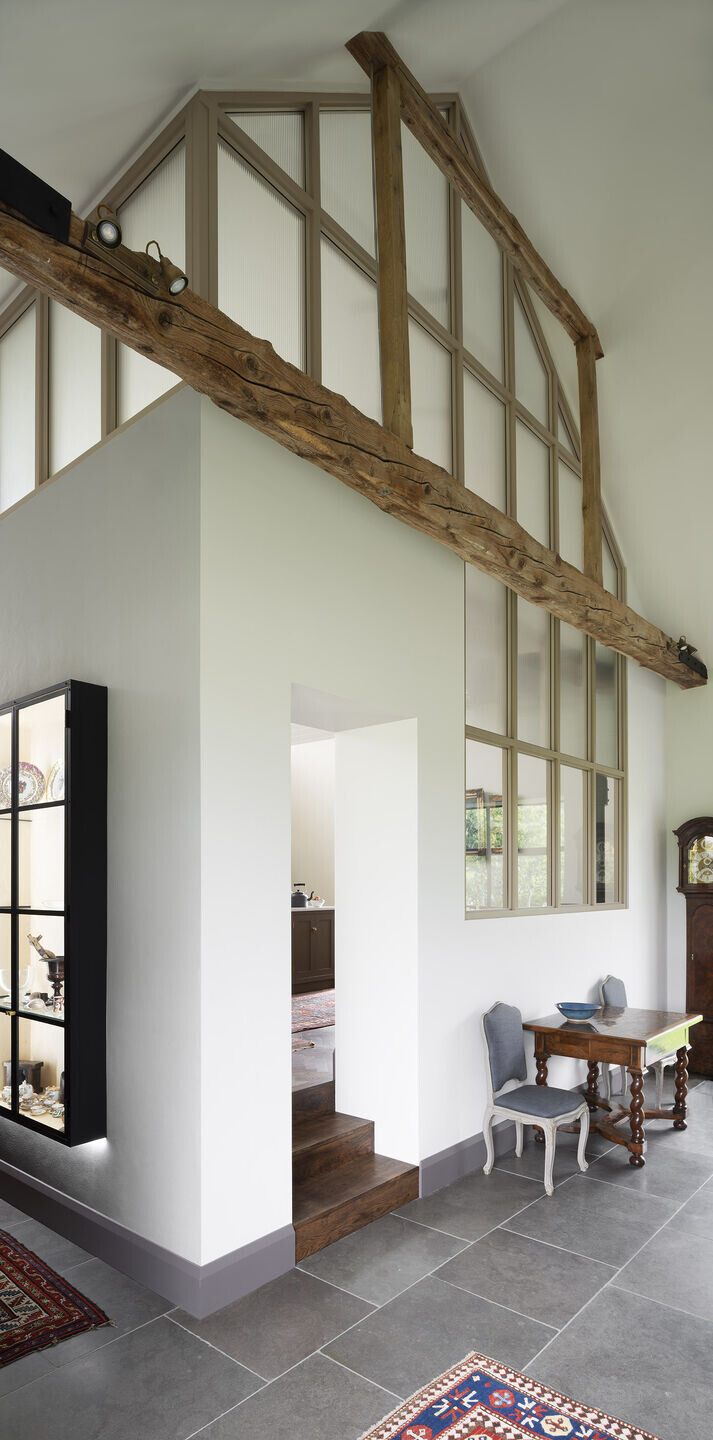 BRIEF
The brief was to renovate this historic barn to introduce a new kitchen, dining hall, sitting room and mezzanine study, creating a new focal point within the site. The old barn also required thermal upgrades to its existing envelope, with the need to adopt breathable insulation and lime plaster to sympathetically preserve the historic stone walling.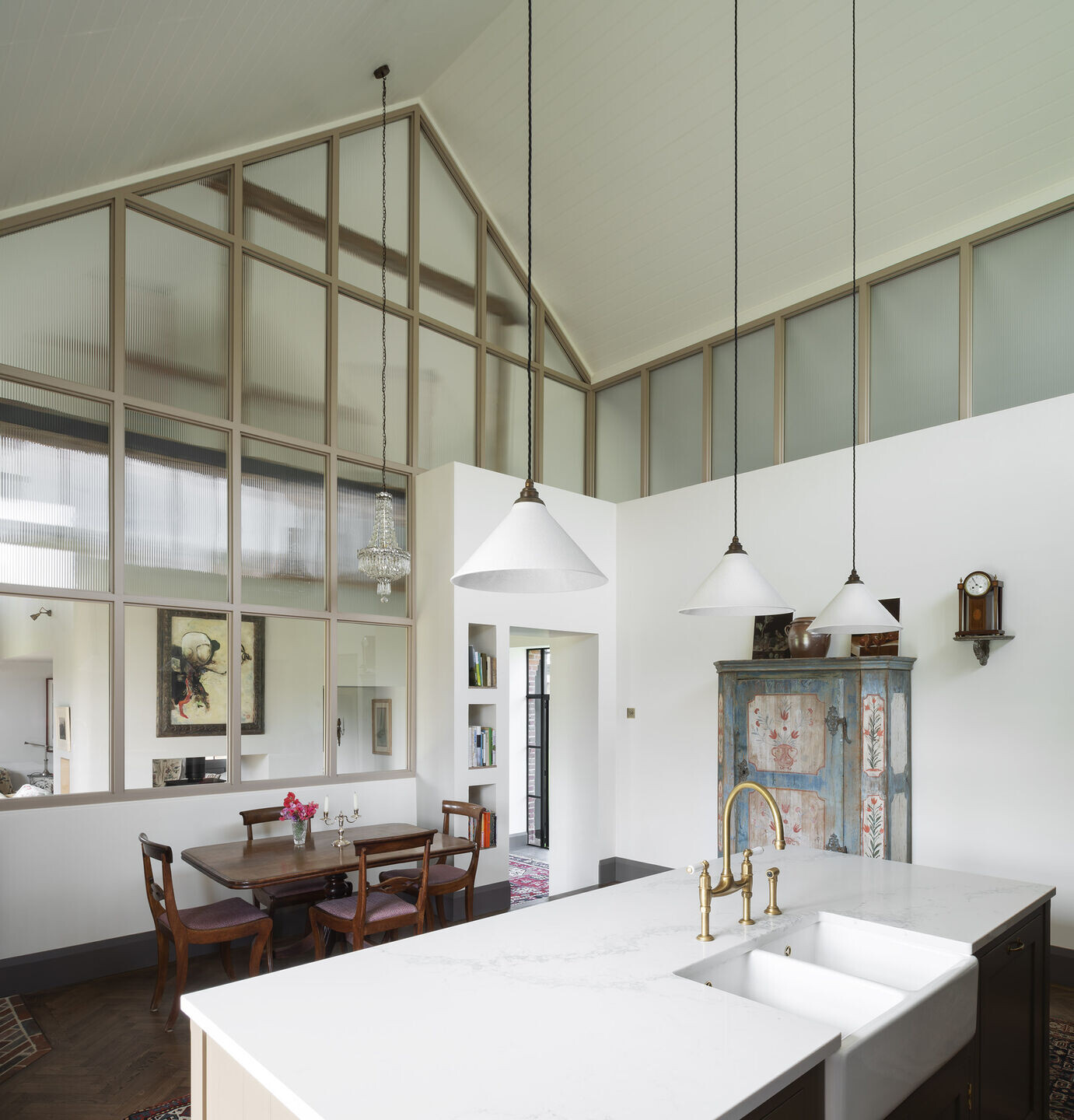 In terms of the spatial quality, the clients' intention was to steer clear of a traditional barn conversion, with a wish to avoid the familiar moves of exposed rafters and brick archways. Alternatively, it was the scale, situation and light of the building that were to become the main assets to express within the renovation works.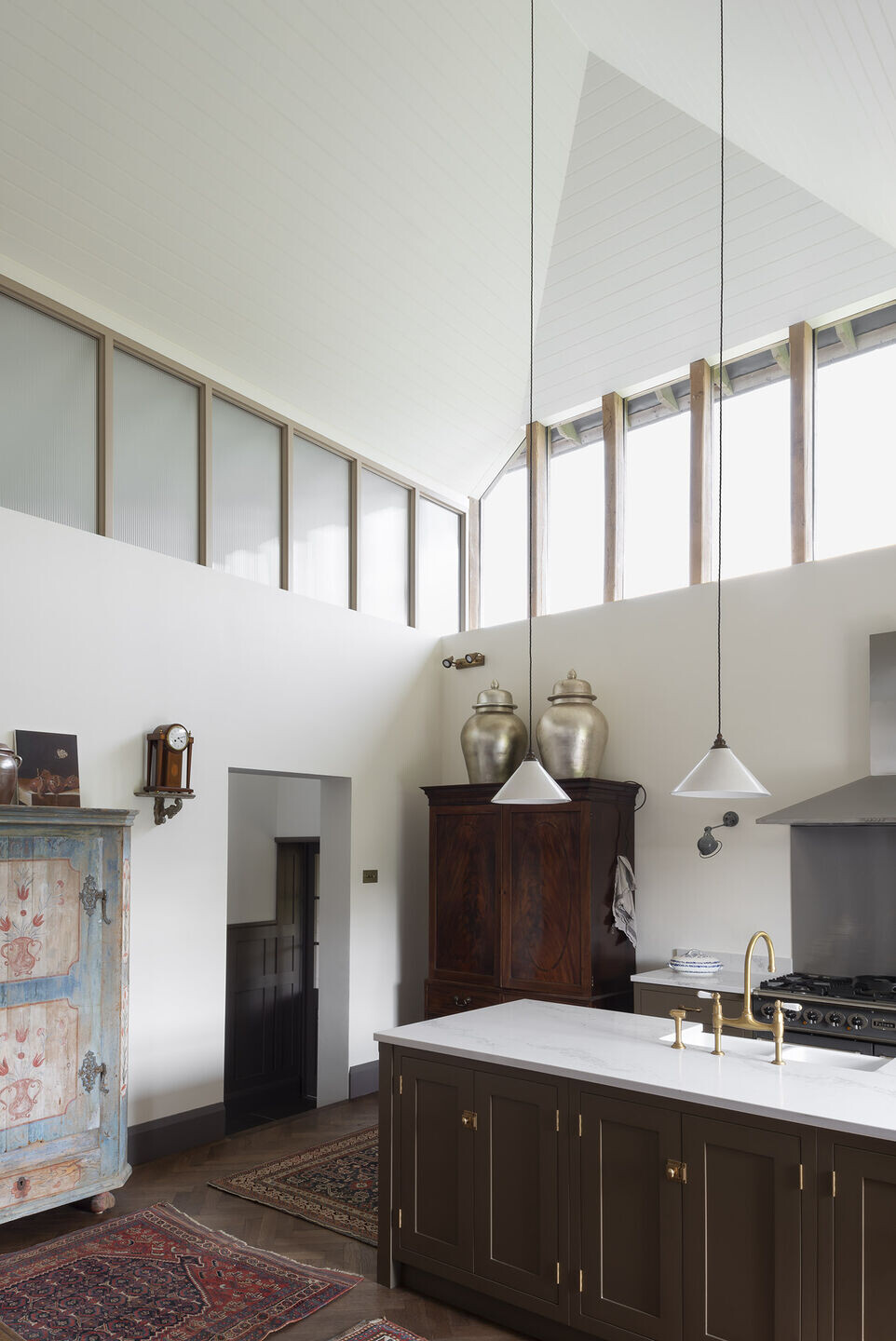 DESIGN
The project commenced with the removal of two existing trusses, creating two uninterrupted volumes either side of a central dining hall. To one side of this central hall is a new kitchen, with a stained oak floor elevated 600mm above the typical ground level. This kitchen is visually connected to the rest of the barn, with large internal glazing screens enclosing the space and forming an 'L-shape' in plan.
To the other side of the central hall, a textured lime plaster wall creates a second 'L-shape' in plan, this time to establish a more intimate sitting room at ground level and a mezzanine study above.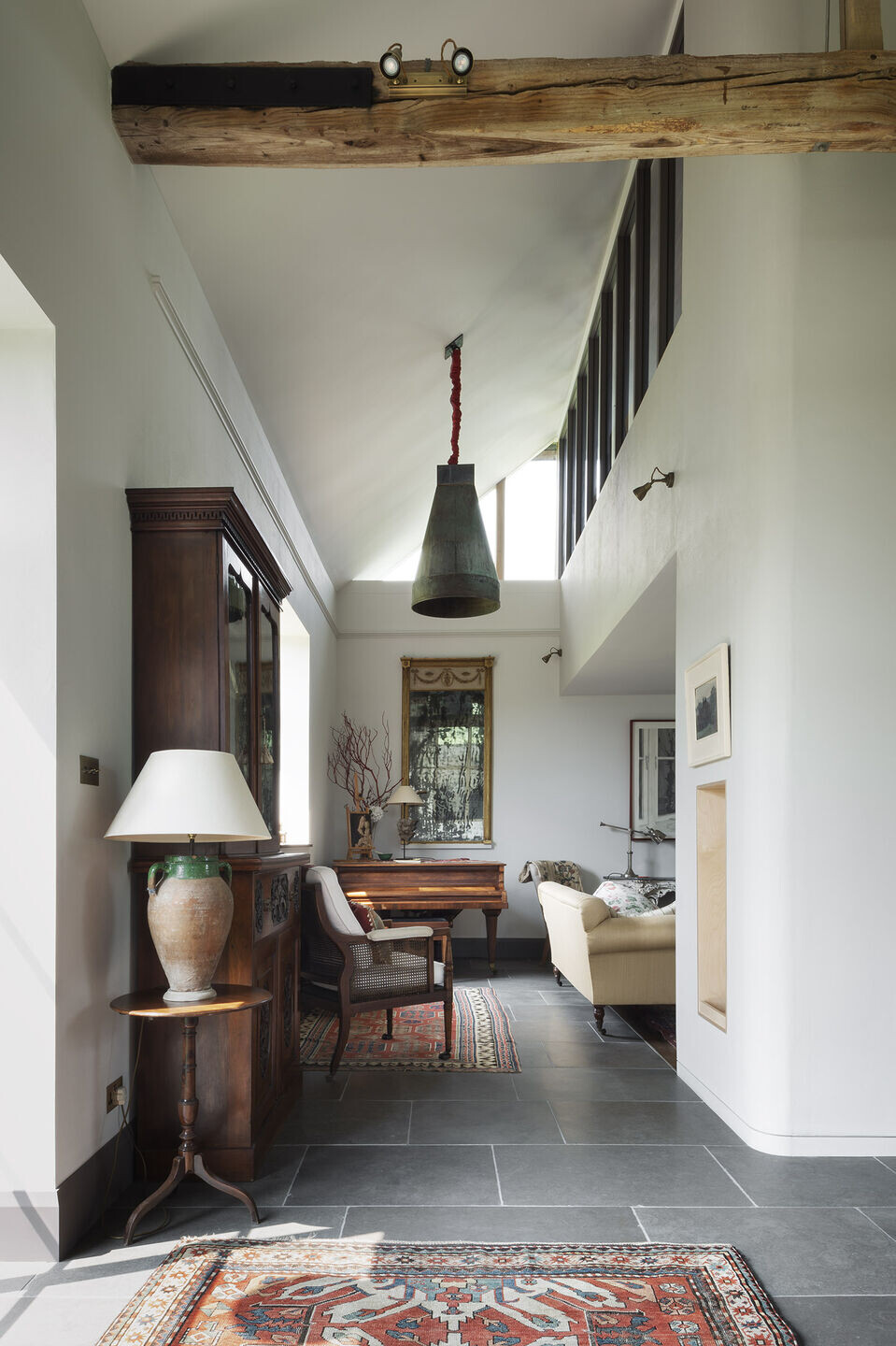 As a counter to the glass screens, this textured lime wall reads as a heavy sculptural mass, enclosing a double sided fireplace and a hidden staircase which leads to the mezzanine study. At this first floor level, the occupant is afforded with panoramic views across the countryside, with the habitable space now utilising windows that were previously too high to access.
Together, this offsetting of floor levels, glass screens and sculptural walls introduces a play of visual connections and reflected light through the barn.